1Password Review 2023: Is This the Right Password Manager for You?


Ad disclaimer:
For links on this page, EXPERTE.com may earn a commission from the provider. This supports our work and has no influence on our editorial rating.
One password to rule them all. Sounds a little bit like Lord of the Rings, doesn't it? In the digital realm, you won't have to worry about Orcs, Sauron, or Gollum, but criminals who are just as aggressive and dangerous. To protect against these threats, 1Password secures and encrypts all of your passwords and sensitive data.
All you have to do is remember a single master password. In this review, we'll let you know whether 1Password lives up to its name, or if you'd better search for safety elsewhere.
What Is 1Password?
1Password* is a password manager developed by AgileBits that was originally available only for macOS but is now offered for Windows, iOS, and Android. Unlike most of its competitors, there's no free version of 1Password, which is sure to frighten away some potential users. However, there is a two-week trial, allowing anyone to test the program out.
We reviewed the program on Windows and Android.
1Password Review
Installation & Usage
8.6 / 10
Wide selection of features
Chat support is only for Business subscribers
1Password's registration process is well-thought-out, and each step is explained along the way. First, you'll need to craft a master password for your account. Unfortunately, 1Password doesn't set any minimum requirements for this. We recommend choosing one that you can remember easily, but would be difficult for others to crack.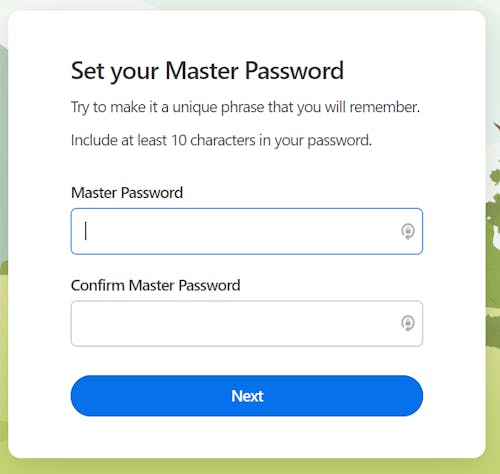 The first step with 1Password is setting your master password.
Immediately after registration, we learned that 1Password's name isn't too accurate. This is because you'll actually need to remember two passwords, the other being the so-called "Secret Key". This allows you to enable 1Password on other devices and is part of the "Emergency Kit". The "Secret Key" also provides access to your passwords on other devices. Follow the service's instructions and don't lose the "Secret Key".
After this, you'll be taken to 1Password's web dashboard, and the program will recommend that you install the desktop version and mobile app. To do this, you'll need both your master password and the "Secret Key". Registering for the smartphone app is easier since all that's needed is your "Emergency Kit" QR code.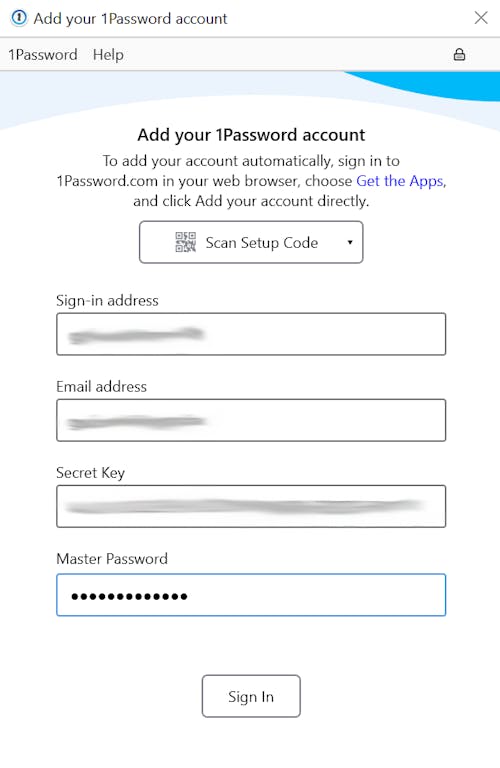 Don't lose your "Secret Key" or else you won't be able to install the service's applications.
After you've installed any applications that you're interested in, it's time to start configuring the program. If you're switching from another password manager to 1Password, you can import all of your saved data sets. This can only be done in the web dashboard since the app just supports 1Password file imports.
1Password supports imports from some of the more popular solutions like Dashlane and LastPass, as well as CSV files. When importing a LastPass CSV file we didn't have any issues: Categories we had set became tags and all information wound up where it was supposed to.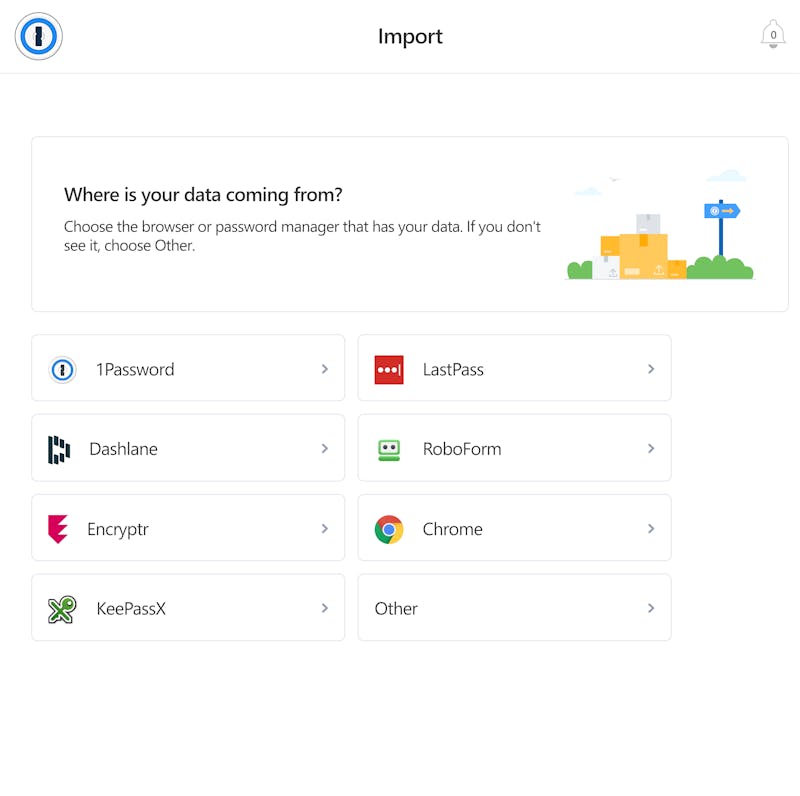 Import your data from browsers or other password managers to 1Password.
As mentioned above, the browser extension needs to be installed separately. In the past, 1Password offered two of these: A rather simple browser extension, and an extension known as 1Password X, which operated independently of the desktop version. We found this to be unnecessarily complicated, and welcome the simplification to a single browser extension that includes all of 1Password X's features.
User interface
Like most password managers, 1Password is divided has a desktop app and a browser extension. Since the web and desktop apps are nearly identical, we've concentrated on the latter.
Desktop app
The desktop app seems to focus on showing off 1Password's features. As a result, the column-based interface might cram your screen. On the other hand, if you like having a wide selection of features and tools at your fingertips, 1Password doesn't disappoint.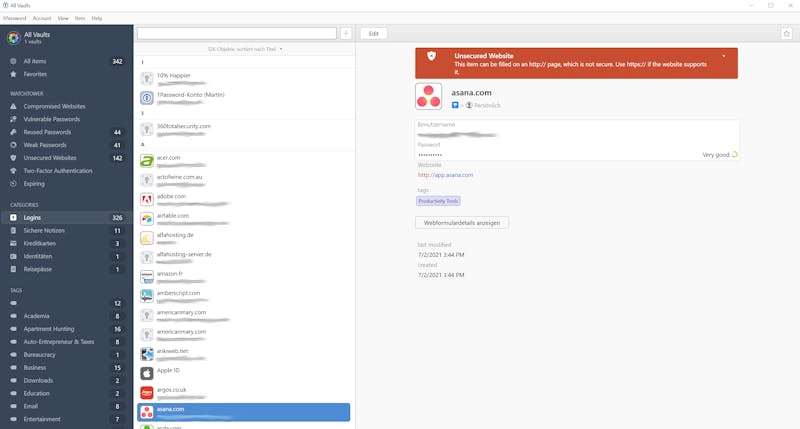 Minimalism looks a bit different: 1Password's desktop interface is fairly cluttered.
You can create as many vaults as you like, and secure each with a separate password. This means that users can create multiple profiles for all sorts of purposes.
Click on the "Plus" sign to add a new entry to your vault. You'll likely use this most to save login data and passwords, however, it also comes in handy for protecting your payment methods, IDs, software licenses, and WiFi router information. You can even include sensitive pictures, like copies of your driver's license or passport. Every entry can be tagged and assigned a customizable icon. It's also possible to create custom fields.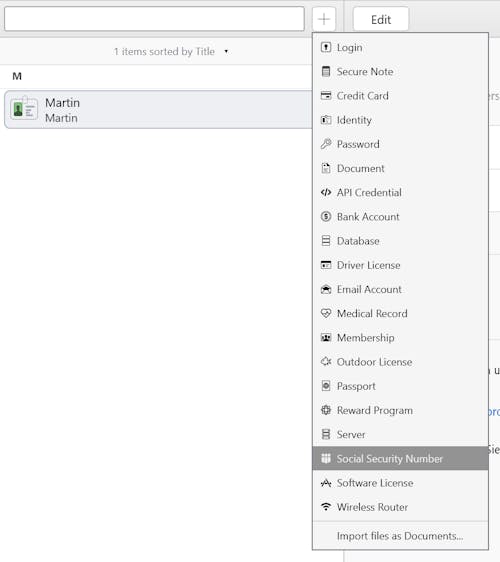 1Password comes with a number of preset entry categories.
In the upper menu bar, you can access settings, check for updates, or customize the app's appearance.
Browser extension
The browser extension should be seen as the agile long arm of the desktop version. This is because it provides easy access to important information stored in your vault(s). With that said, for most adjustments or modifications, the extension will forward you to the desktop version. By clicking on suggestions, you can view data sets for the website you're currently visiting, as well as banking information and accounts that you've saved.
Last, but not least, this is also where you'll find the password generator, which is useful for creating secure passwords.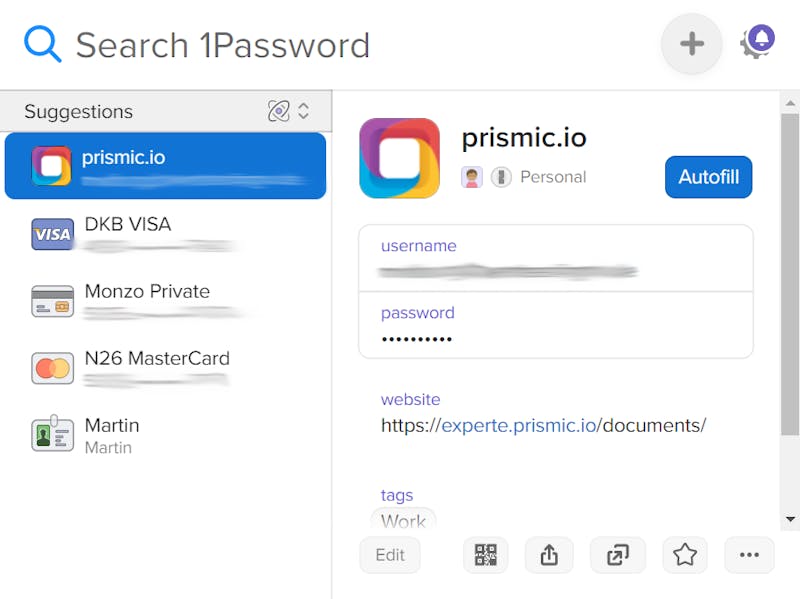 1Password's browser extension is a mini version of the desktop app.
1Password's user interface is a bit too cluttered for our tastes, and it takes somewhat longer to discover all of the features the program offers. Other password managers have done a better job of combining features and ease of use.. All the same, we felt well taken care of by 1Password's applications.
Installation & Usage
8.6 / 10
1Password comes with plenty of features, offering all of the basics along with a number of nice surprises.
Watchtower
This serves as your security dashboard, providing a comprehensive overview of how safe your passwords are as well as alerting you to any potential dangers or problems. "Watchtower" marks re-used and weak passwords, as well as those that have been compromised in data leaks.
You won't find a handy password-changing tool like Dashlane offers though. This means that you'll need to manually change compromised passwords. The notification feature conveniently helps to stay on top of expiring documents like passports or driving licenses.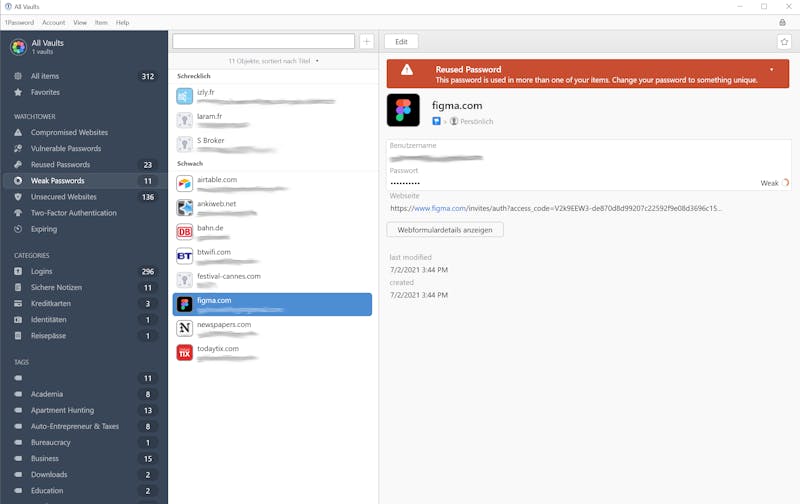 "Watchtower" helps you keep tabs on which passwords you should change as soon as possible.
Password generator
Like most password managers, 1Password comes with a password generator. However, 1Password's solution is unique because you can adjust minimum requirements and even generate passphrases. For now, this feature is limited to English words.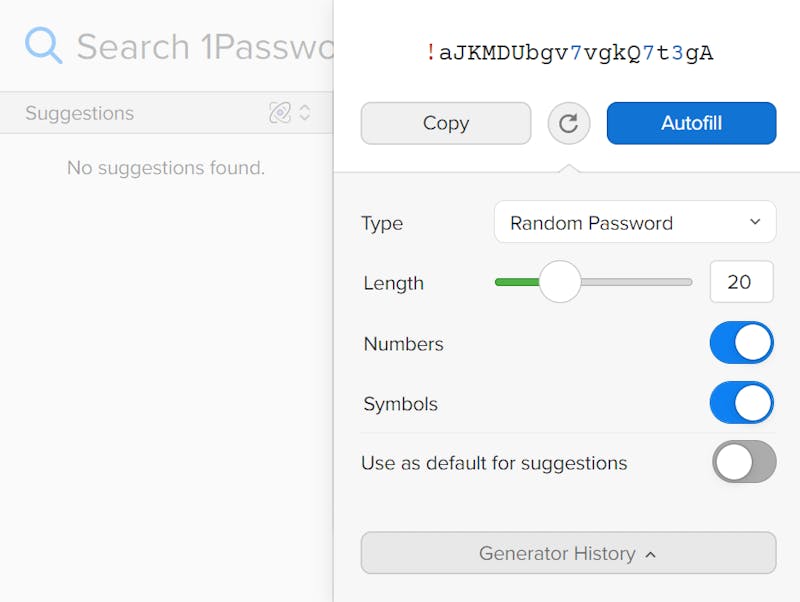 1Password's generator allows you to create passphrases.
Reliable autofill
One of the most important aspects of any password manager is its autofill, and more specifically, how reliable it is. This is responsible for automatically supplying login credentials or other stored information to the appropriate fields on websites. Whenever you visit a website where you've stored a data set, after clicking on the input field, the 1Password symbol should appear. Click on this, and the necessary information should be automatically input.
During our test, this worked well, even on websites that have a multi-page or pop-up login process. New registrations are automatically stored, and if needed, you can directly generate a secure password without leaving your browser.
All in all, 1Password's autofill is very reliable.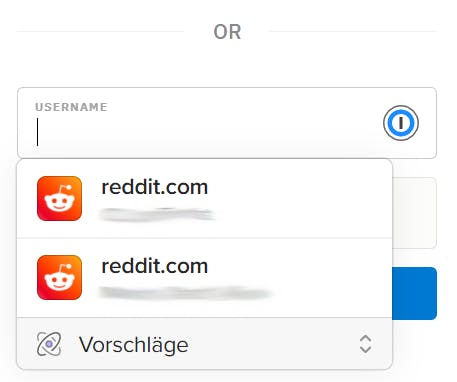 1Password's autofill proved reliable during testing.
Travel Mode
In case you'd like to give your accounts some extra security when traveling for work or pleasure, you can easily configure which vaults are available on your devices in "Travel Mode".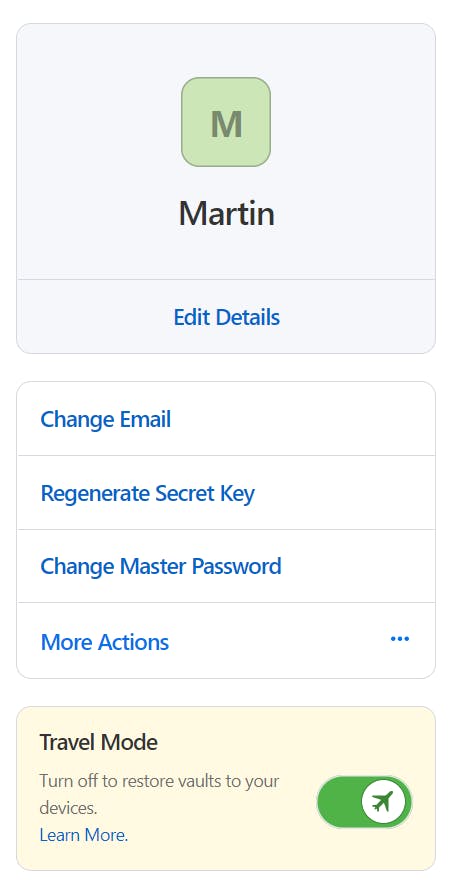 "Travel Mode" lets you secure your password vaults when jetting around.
Password sharing is possible with 1Password, but only for Family or Business subscribers. Individual subscribers cannot share data sets or vaults with other 1Password users, which is disappointing.
1Password serves plenty of useful features, far surpassing what its competitors bring to the table. An extensive security center, excellent autofill, plenty of highly customizable data set categories, and extras like "Travel Mode" all make 1Password one of the most comprehensive solutions on the market. The only sore spot is the lack of password sharing for lower-priced subscribers.
Like most password managers, 1Password uses AES 256 encryption, which is highly secure. The developers embrace the zero-knowledge proof, meaning that your password isn't stored anywhere and only you know it. There aren't any account/password recovery options.
1Password offers users the ability to add two-factor authentication to their logins, which makes them even safer. The service is compatible with common apps like Google Authenticator and Authy.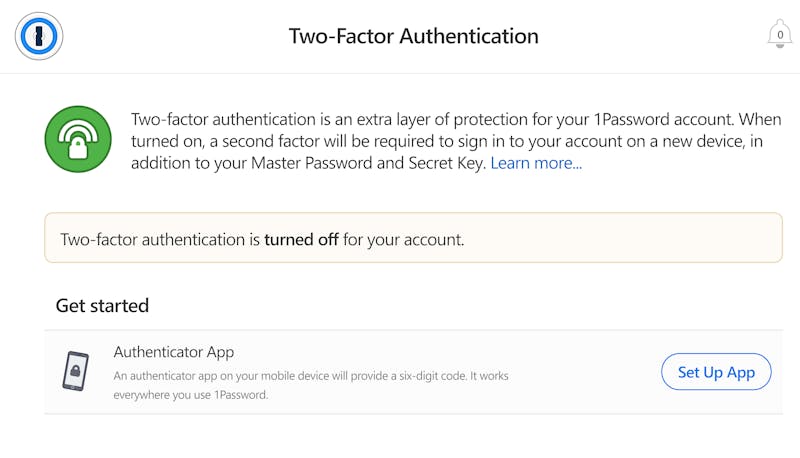 Two-factor authentication makes it trickier for would-be cybercriminals to access your account.
Another area where 1Password stands out is its "Secret Key". This 128-bit key is generated locally and not stored by 1Password. You'll need it for logins on new devices, but be careful: If you lose it, it cannot be recovered and any data that it protects will be lost.
1Password also allows users to choose where they want their data stored, namely, on servers hosted in the US, Canada, or Europe.
The 1Password app is available for Android and iOS. Both are intuitive and offer excellent autofill, just like their desktop counterpart. 1Password's app also comes with an integrated browser, which you can use to open websites automatically with your login credentials. Autofill also works with other browsers and even applications.
Data sets are clearly arranged in the app, and sortable by categories and tags. Favorites are listed separately, which makes it easy to access the most important entries whenever you need them.
Several features from the desktop version, such as "Watchtower", are also included in the smartphone version.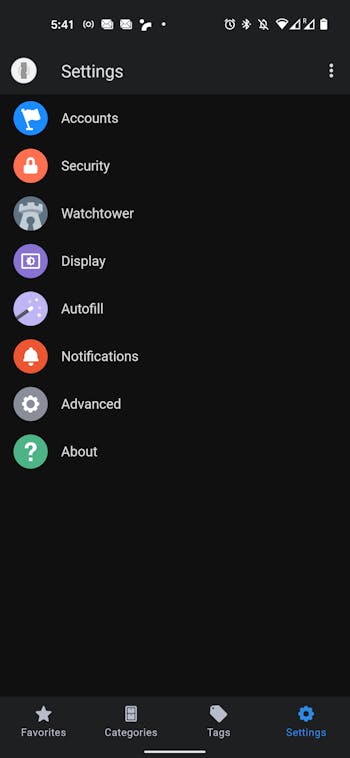 1Password's smartphone app is a reliable companion for on the go.
Overall, we liked the mobile app quite a bit: During our last review, features like "Watchtower" were unavailable in the mobile version, and it wasn't possible to create new data sets. Thankfully they've been added since then.
1Password doesn't offer hotline support, and only Business subscribers can use its live chat. If you have a pressing question, you'll need to be patient and wait for an email response. Alternatively, you can try your luck on X (formerly known as Twitter).
Despite support channels being few and far between, we did receive an answer within a few hours. If user and customer reviews are to be believed, this appears to be the rule rather than the exception.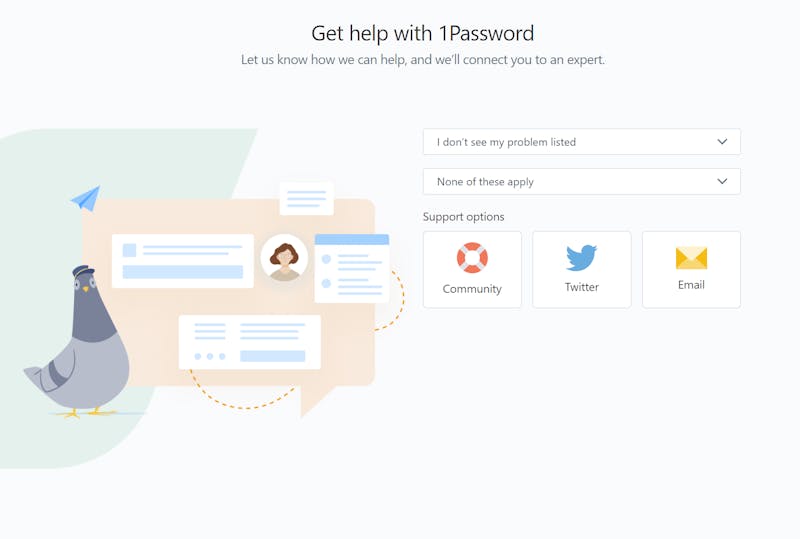 1Password might not offer many support channels, but its response times are excellent.
Static support is also good, with plenty of articles and guides offered for DIY types.
For private users, 1Password offers two subscriptions: Individual and Families. The second is for up to five users.
There are also business rates, whereby 1Password differentiates between smaller groups (Teams and Business) and larger ones (Enterprise). The Business package charges a flat fee per user, whereas Teams is for up to 10 users. An Enterprise subscription is tailored to the customer's needs.
Below, we've included a summary of current prices:
Standard
Families
Business
Teams Starter
Set-up Fee
$0.00
$0.00
$0.00
$0.00
Base Price per Month
$2.99
$4.99
$0.00
$19.95
Price per User
-
-
$7.99
-
Contract Period (Months)
12
12
12
12
Limits
Number of Users
1
5
unlimited
10
Number of Passwords
unlimited
unlimited
unlimited
unlimited
Number of Devices
unlimited
unlimited
unlimited
unlimited
Features
Sync Multiple Devices
Password Sharing
Teams
Zero-knowledge Encryption
Emergency Contacts
Two Factor Authentication
Local Storage
Browser

Internet Explorer

Edge

Chrome

Firefox

Safari

Opera

Internet Explorer

Edge

Chrome

Firefox

Safari

Opera

Internet Explorer

Edge

Chrome

Firefox

Safari

Opera

Internet Explorer

Edge

Chrome

Firefox

Safari

Opera

Platforms

Cloud / SaaS

Windows

macOS

Linux

iOS

Android

Cloud / SaaS

Windows

macOS

Linux

iOS

Android

Cloud / SaaS

Windows

macOS

Linux

iOS

Android

Cloud / SaaS

Windows

macOS

Linux

iOS

Android
All subscriptions apart from Enterprise packages can be tried for 14 days at no charge. However, the developer does not offer a money-back guarantee.
Conclusion
Installation & Usage
8.6 / 10
1Password is a powerful password manager that can do much more than the bare minimum. Subscribers benefit from a highly secure app that's packed with features, especially thanks to "Travel Mode" and the "Security Key".
Unfortunately, there's no free version. Beyond that, its applications might appear too crowded for some users, which makes it difficult to find the features needed. Other password managers do a better job of balancing these and ease of use. Still, 1Password is one of the best password-managing programs on the market.
1Password Password Manager
1Password's password vault is filled to the brim with features, including handy extras such as the travel mode. With excellent security and a solid user interface on top, 1Password is one of the best password managers out there.
zero-knowledge encryption
reliable autofill function
8.7

good
Passwords
Devices
Users
Contract Period
1Password Standard
$2.99
monthly price
Visit Website*
Free 30 days trial
Customer Ratings
User reviews for 1Password are consistently positive, with the service's helpful customer support often coming in for special praise. The score we've created below shows how well 1Password does on reputable review portals:
Customer Ratings
20,875 Bewertungen
Visit Website*
We analyzed the reviews and ratings from various portals and found 20,875 ratings with an overall rating of 4.4 out of 5 .
Alternatives
1Password is a premium password manager that charges users for the features it offers. If you don't want to pay and you're okay with a limitation or two, try some of the freemium solutions like NordPass or Bitwarden. Neither limits how many data sets can be saved or the number of devices that can be synced with.
Below, you can find more of the best alternatives to 1Password:
Dashlane Password Manager
Dashlane is a great all-rounder that makes managing your logins and other account details as easy as pie thanks to its many features, a strong security posture, and an easy-to-use interface.
user friendly and intuitive
zero-knowledge encryption
comprehensive security center
automatic password changer
9.1

excellent
Passwords
Devices
Users
Contract Period
Dashlane Free
$0.00
monthly price
Visit Website*
Try for free
Keeper is one of the best password managers on the market thanks to its many features, high reliability, and extensive configuration options.
Passwords
Devices
Users
Contract Period
Keeper Security Unlimited
$2.04
monthly price
Visit Website*
Download Keeper
NordPass Password Manager
NordPass stands out with its beautiful design and ease of use, and offers a fully-fledged free version that allows you to create and synchronize an unlimited number of passwords.
full-featured free version
few options for customizing data sets
8.5

good
Passwords
Devices
Users
Contract Period
NordPass Free
$0.00
monthly price
Visit Website*
30-day money-back guarantee
Bitwarden Password Manager
Bitwarden can impress with easy-to-use apps, reliable autofill, and a few handy security features. Plus, it's pretty affordable – and offers a solid, feature-rich free plan.
user-friendly applications
good security, externally tested
paid features (e.g. password sharing)
8.4

good
Passwords
Devices
Users
Contract Period
Bitwarden Free
$0.00
monthly price
Visit Website*
Enpass offers intuitive application with solid features and reliable autofill. Handy: the connection to the cloud is optional, and you can synchronize locally if you prefer.
one-off price instead of subscription
optional cloud connection
not great for password sharing
8.2

good
Passwords
Devices
Users
Contract Period
Enpass Free
$0.00
monthly price
Visit Website*
FAQs
1Password is a password manager developed by AgileBit. The software is available for Windows, macOS, Android, and iOS. It safely stores passwords, logins, credit card data, software licenses, and other sensitive data. User security and privacy are the app's main foci.
How much does 1Password cost?
⊖
Unlike most other password managers, there's no free version of 1Password. Premium plans start at $2.99 per month. 1Password offers special rates for families and businesses. Families can be used by up to five family members and will set you back $4.99 a month. For businesses, fees range from $3.99-7.99 per user, per month for small to medium-sized organizations. Larger enterprises can request a personalized quote.
1Password is considered to be highly secure. Like many other password managers, the app encrypts user data using AES 256. Thanks to the zero-knowledge principle, the provider never has access to your passwords. To further secure your data, you can enable two-factor authentication. 1Password also comes with a few unique security features like "Secret Key".
With an EXPERTE.com score of 4.3 / 5, we consider 1Password to be good. We really liked the wide selection of features it comes with and its great security tools, like "Travel Mode". However, we felt that the user interface was too cluttered, and that password sharing could have been better implemented. There also isn't any free version of 1Password.
* Ad disclaimer:
For links marked with an asterisk, EXPERTE.com may earn a commission from the provider. The commission has no influence on our editorial rating.

Martin Gschwentner majored in American Studies and Media Studies in Germany, the USA and France and works as a freelance editor in Paris. He is a doctoral student at the Institute for English and American Studies at the University of Paris Diderot, where he is researching the influence of money on US politics. On EXPERTE.com he writes about IT security, data protection and software for the self-employed and small businesses.

Translation: D Bare
Continue Reading
Reviews
Comparisons
Tools & Guides