Avira Password Manager Review 2023: How Good Is It?


Ad disclaimer:
For links on this page, EXPERTE.com may earn a commission from the provider. This supports our work and has no influence on our editorial rating.
No one carries around keys without a key ring, or pieces of paper with essential phone numbers scribbled on them. Most people use organizers, like a key ring or their smartphone's contacts list. These days, password managers offer a similar solution for digital data.
There are plenty of free and premium password managers that can help organize your online information. In this review, we took a look at one of these, Avira Password Manager.
What Is Avira Password Manager?
Avira Password Manager* is a password manager offered by a well-known German antivirus software developer. With it, you can generate, store, and manage your logins. The software includes a web dashboard, browser extension, and mobile Android and iOS apps.
All components can be used and synchronized with one another for free. Our review reveals what limitations Avira has, what its Pro version offers, and how Avira Password Manager stacks up against its competitors.
Avira Password Manager Review
Installation & Usage
7.4 / 10
Easy-to-use and intuitive apps

Well-rounded free version with syncing and no data set limits
Security center only for Pro users
Since there is a free version of Avira Password Manager, registration is simple: Just enter your email address and set a master password. You'll use this to access any data you store with the software. However, select your password carefully since Avira doesn't offer any recovery options or store a copy of it.
Once you've set your master password, you'll be taken to Avira's web console to configure the software to your preferences. For example, Avira will prompt you to install its browser extension, which is available for Chrome, Firefox, and Opera. The service doesn't have a dedicated desktop application. This means that Windows and macOS users have to do everything through their Internet browser.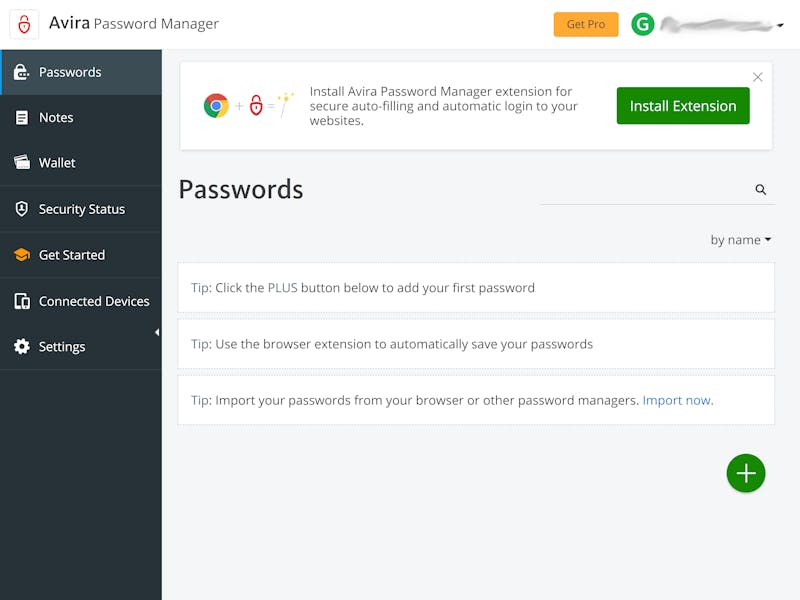 To use autofill, you'll need to install the Avira Password Manager browser extension.
Should this not be your first experience with a password manager, you can import data sets made with other programs into Avira. To ensure that usernames, passwords, and URLs are saved in the correct field, columns can be freely arranged.
Avira did well with the LastPass CSV file we imported. The only criticism we have is that our categories weren't transferred. Entries can be tagged, however, it isn't possible to convert these into categories.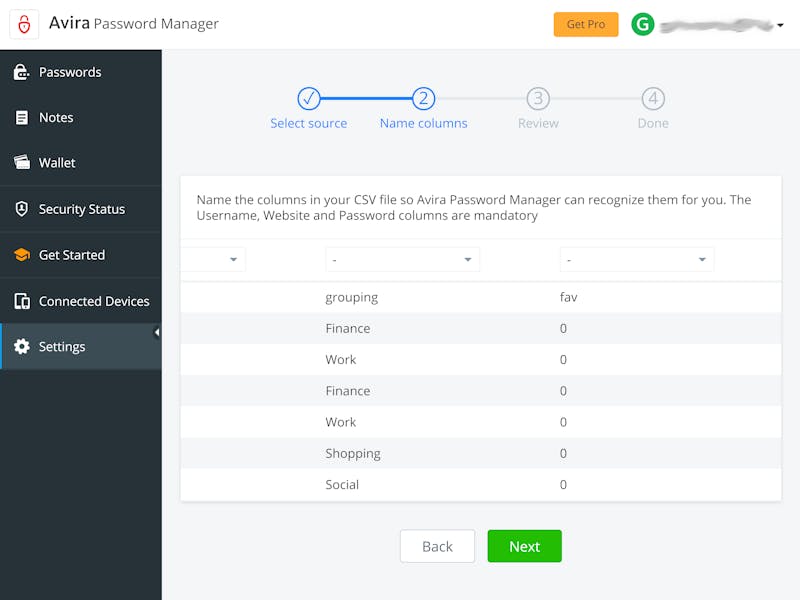 Import CSV files from other services into Avira Password Manager.
Browser-based desktop usage
For desktop users, Avira is divided between an online dashboard and a browser extension. This makes sense, however, some users might prefer a dedicated app, so that they won't have to jump between tabs when surfing.
Online dashboard
Avira Password Manager's browser dashboard is where you control your logins and passwords. The interface is divided into two columns: On the left, you can toggle between different features, whereas entries are edited in the middle. All of your logins are displayed in the "Passwords" area and can be sorted by user-defined tags. To add a new data set, click on the plus sign.
Once you've set your password, the software shows you how much time it would take hackers to crack it. Beyond that, you can tag entries and attach notes to them. Pro subscribers can also attach files or images. It isn't possible to create custom fields.
Thanks to the somewhat limited number of features on offer, managing passwords is both easy and intuitive.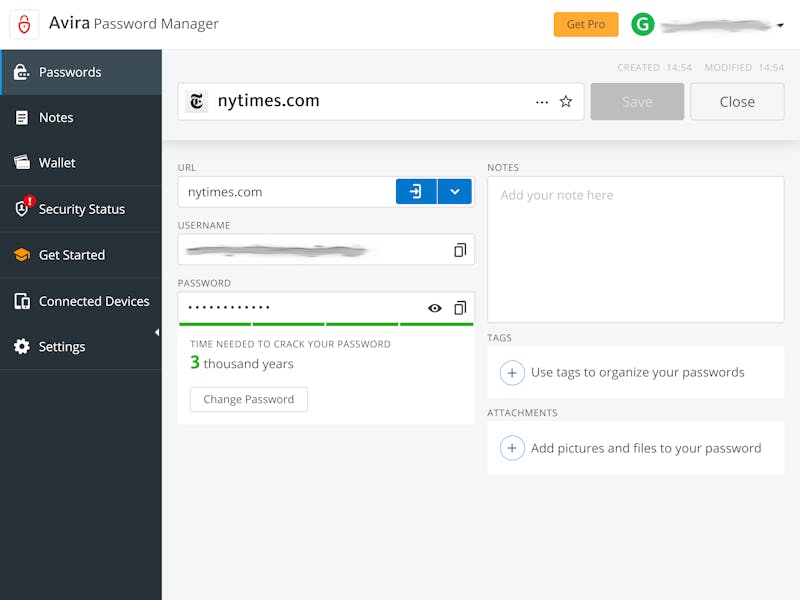 Find your footing in Avira Password Manager's online dashboard.
It's only possible to label data sets as passwords or secure notes with Avira Password Manager. This means that everything that isn't a password must be saved as a note. Over time, keeping track of these can become difficult. You can sort notes with tags and colors, however, we felt that this was a bit rudimentary for a password manager.
Browser extension
You won't have to manually save new logins: So long as you installed the browser extension, fields for usernames and passwords are automatically identified. If desired, any information you input will be saved. Click on the Avira symbol to create a new, secure password directly in your browser with the extension's password generator.
Apart from that, the browser extension works like a mini version of the web console. You can view your logins and notes, copy usernames and passwords, and adjust a few settings. To edit data sets, you'll be redirected to the online dashboard.
We were disappointed that the password generator couldn't be opened in the browser extension. It was also surprising that relevant data sets for sites that you're visiting aren't moved to the top of the list when you open the browser extension.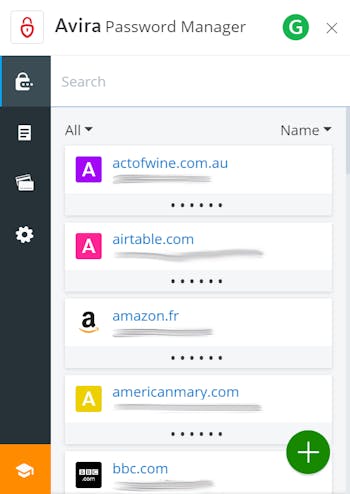 Log in quickly from anywhere with Avira Password Manager's browser extension.
Avira Password Manager is intuitive because of its focus on the essentials. The lack of a desktop version is unfortunate, especially since the web console and browser app are far from perfect. User-friendliness is limited, only a few categories are offered, and features are hard to come by, but more on that in the next section.
Installation & Usage
7.4 / 10
Avira Password Manager is all about simplicity, however, this comes at the cost of functionality. Below, we've taken a look at which features Avira Password Manager offers and which it lacks.
Password generator
No password manager can do without a generator for secure passwords and Avira gives users the ability to automatically create unbreakable combinations. Unfortunately, it can only be opened in the dashboard when creating an entry, or in input fields in your browser.
Compounding this, password options are limited compared to what is offered by other password managers: You can specify the length and whether to use numbers or special characters, but there aren't any options for upper/lower case letters or readability. The generator also cannot create passphrases.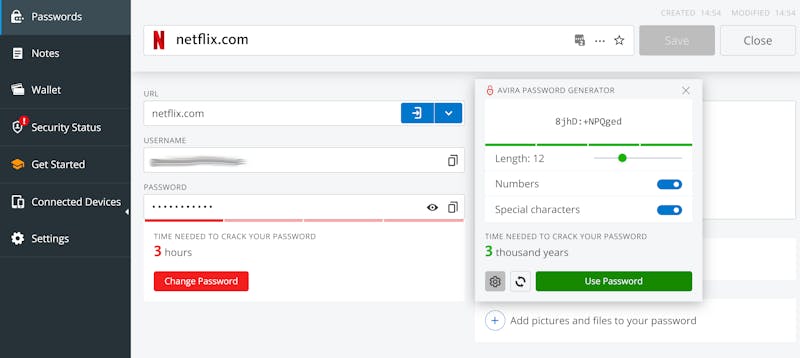 Create unbreakable passwords with Avira's password generator.
Security status
The only significant paywall appears when you click on "Security Status" in the menu. Avira limits this to Pro subscribers, offering them extra security as a bonus. Some of its competitors, like LastPass, make these important features available to everyone.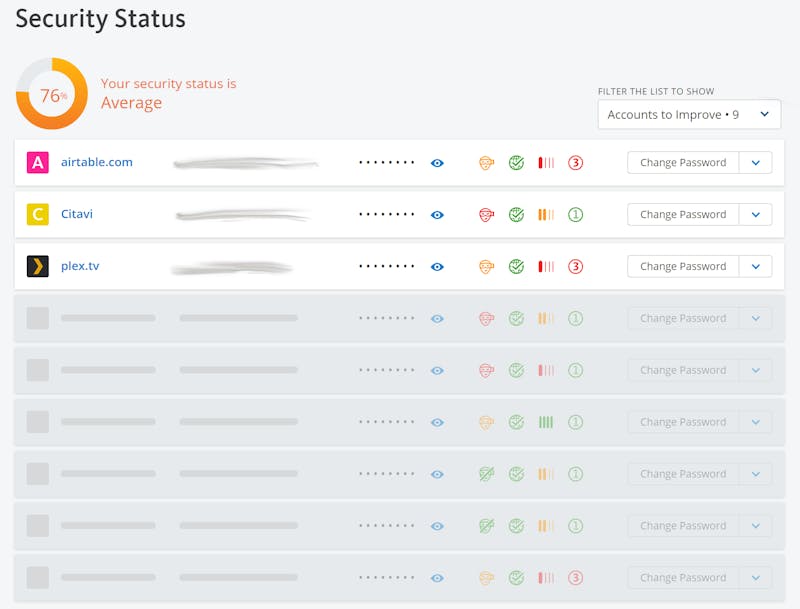 Change weak passwords as quickly as possible.
Autofill
You can save lots of time by using Avira Password Manager's browser extension. Its autofill, in particular, makes sure that login data is automatically supplied whenever there's a relevant stored data set.
This is only convenient if the extension is reliable and capable of correctly identifying input fields. We're happy to report that during our testing, this was the case with login data and multi-step login windows, like on Reddit or Amazon.
We were less thrilled with autofill for account data: Saved credit card information cannot be automatically added to Amazon or Argos since the Avira symbol didn't appear in the input field. The browser extension does help to manually copy and paste this information, however, other solutions are more convenient.
Avira automatically adds a new entry the first time you log in to a service or website and the software also helps to create new passwords.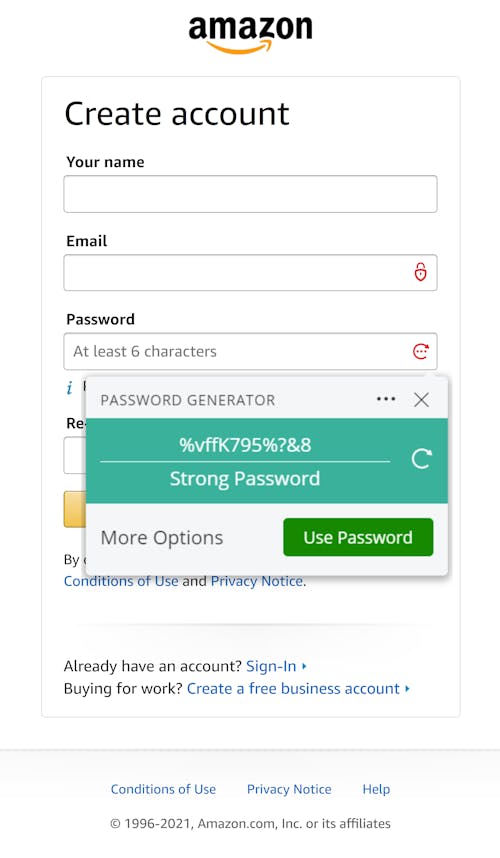 Create a new password directly in the password field.
A number of other features are nowhere to be found, even for Pro subscribers. These include secure password sharing, which most password managers include. The same goes for the one-time sending of data sets, emergency access, a travel mode, or the ability to create a digital will/last testament.
Instead, Avira Password Manager concentrates on user experience. This means that there aren't many bells and whistles. However, data set categories and password sharing aren't really extras, but core features of most password managers, and we were disappointed not to have them.
On top of that, it's unfortunate that security features are limited to paying customers, especially since other password managers make these available to everyone. The only plus side is that Avira doesn't set limits on how many devices you can sync or the number of data sets that can be saved.
Like most password managers, Avira embraces the zero-knowledge proof: Only you know your passwords, and Avira doesn't store a backup of them anywhere. Data is encrypted using highly secure AES 256, and your master password is encrypted and stored on Avira's servers, putting it out of harm's way.
All users can take advantage of 2-factor authentication, which offers enhanced security. Simply enter your phone number, and a code will be sent to you when logging in that you can use to confirm your identity. Authenticator apps or other authentication methods aren't supported.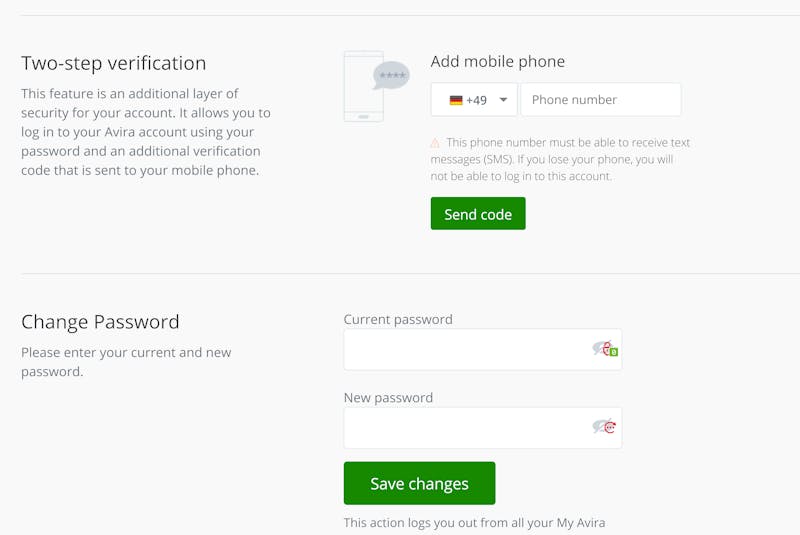 Give your account extra security with 2FA.
Since Avira Password Manager lacks recovery methods and emergency access, there are no security gaps. As such, the solution upholds the company's long-standing reputation as a security specialist.
Avira offers a free password manager app for Android and iOS devices. The mobile app, like its desktop counterpart, is also all about simplicity. Since there are only two categories in the app, you can easily keep track of all logins and notes you've created. Automatic syncing ensures that all data sets are shared between your desktop and mobile device(s).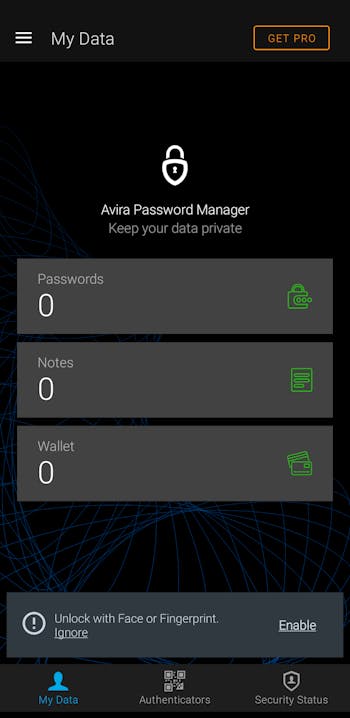 All stored passwords and notes can be found in Avira Password Manager's smartphone app.
When first using the mobile app, you'll have to grant it permission to open in your browser and other applications. The app doesn't have its own browser, unlike several of its competitors.
Unfortunately, autofill did not perform as well on our smartphone as it did on the desktop. We had to manually copy login data several times since the Avira window did not appear or only opened briefly. For some websites, it took several tries for the Avira symbol to appear in the input field. Even with these occasional lapses, the app did not do terribly.
Since its password manager is just one program in Avira's portfolio, there isn't a dedicated help center. Instead, Avira's customer service page features a full-text searchable sub-area for the password manager which includes guides, and video tutorials.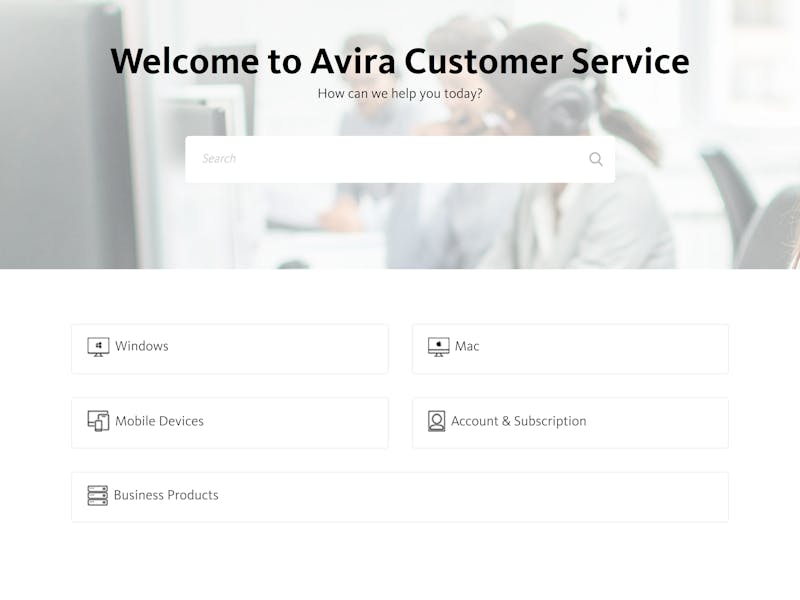 It took 28 hours for Avira's support team to answer our question.
Free version users can only ask questions in the forum since direct contact is reserved for Pro subscribers. Paying users can request help either over the phone or through support tickets. During testing, we had to wait 28 hours for a response, which is slightly longer than we're used to.
We were satisfied with Avira's support, however, a more personalized experience and extra resources would be good. A live chat would also be an excellent addition.
Pro subscriptions can be booked either monthly or yearly. As usual, you'll pay less per month with an annual subscription than you would a monthly one. There's also a smartphone-only subscription.
Those who purchase a Pro subscription get access to all of the program's security features. If you don't need these, the free version might be enough, since it doesn't impose any data set limits or throttle desktop/mobile app syncing.
As of the time of writing, Avira Password Manager doesn't offer any business subscriptions.
An overview of current prices can be found below:
Free
Pro
Set-up Fee
$0.00
$0.00
Base Price per Month
$0.00
$2.99
Price per User
$0.00
-
Contract Period (Months)
0
1
Limits
Number of Users
1
1
Number of Passwords
unlimited
unlimited
Number of Devices
unlimited
unlimited
Features
Sync Multiple Devices
Password Sharing
Teams
Zero-knowledge Encryption
Emergency Contacts
Two Factor Authentication
Local Storage
Browser

Chrome

Firefox

Opera

Chrome

Firefox

Opera

Platforms

Cloud / SaaS

iOS

Android

Cloud / SaaS

iOS

Android
Avira offers annual subscribers a 30-day, money-back guarantee. Monthly subscribers have 14 days to try out the service.
Conclusion
Installation & Usage
7.4 / 10
Avira has carved out a respectable position for itself in the highly competitive password manager market. Its apps are intuitive, provide access to the most important features, and don't limit data sets or cross-platform syncing. Autofill worked well in both versions we tested, however, it did have some occasional issues.
If you're looking for more than just the basics, the software's limits could be problematic. Many features, like password sharing, aren't included, and the security center is reserved for Pro subscribers. Nevertheless, anyone who can do without the missing features and who values simplicity will be pleased with Avira Password Manager.
Avira's password manager delivers high security standards, strong usability, and reliable autofill, but a few features we'd like to see (such as password sharing) are missing.
free plan with unlimited data sets
simple and intuitive applications
7.5

good
Passwords
Devices
Users
Contract Period
Avira Free
$0.00
monthly price
Visit Website*
Customer Ratings
Reviews are often little more than a snapshot, particularly since things like support response times can vary from day to day. For that reason, it's a good idea to look at what users or customers have to say about the service on verified and reputable review portals. We've gathered a number of these for you below, and aggregated them into a numerical score:
Customer Ratings
707,471 Bewertungen
Visit Website*
We analyzed the reviews and ratings from various portals and found 707,471 ratings with an overall rating of 4.7 out of 5 .
Alternatives
Avira's isn't the only free password manager out there. We also liked the free versions of NordPass and Bitwarden since neither limits the number of data sets or devices you can sync with.
The best-performing service from our evaluation, Dashlane, excelled thanks to its large number of features, top-notch security, and ease of use.
For more of the best alternatives to Avira Password Manager, be sure to check out the services below:
Dashlane Password Manager
Dashlane is a great all-rounder that makes managing your logins and other account details as easy as pie thanks to its many features, a strong security posture, and an easy-to-use interface.
user friendly and intuitive
zero-knowledge encryption
comprehensive security center
automatic password changer
9.1

excellent
Passwords
Devices
Users
Contract Period
Dashlane Free
$0.00
monthly price
Visit Website*
Try for free
1Password Password Manager
1Password's password vault is filled to the brim with features, including handy extras such as the travel mode. With excellent security and a solid user interface on top, 1Password is one of the best password managers out there.
zero-knowledge encryption
reliable autofill function
8.7

good
Passwords
Devices
Users
Contract Period
1Password Standard
$2.99
monthly price
Visit Website*
Free 30 days trial
Keeper is one of the best password managers on the market thanks to its many features, high reliability, and extensive configuration options.
Passwords
Devices
Users
Contract Period
Keeper Security Unlimited
$2.04
monthly price
Visit Website*
Download Keeper
NordPass Password Manager
NordPass stands out with its beautiful design and ease of use, and offers a fully-fledged free version that allows you to create and synchronize an unlimited number of passwords.
full-featured free version
few options for customizing data sets
8.5

good
Passwords
Devices
Users
Contract Period
NordPass Free
$0.00
monthly price
Visit Website*
30-day money-back guarantee
Bitwarden Password Manager
Bitwarden can impress with easy-to-use apps, reliable autofill, and a few handy security features. Plus, it's pretty affordable – and offers a solid, feature-rich free plan.
user-friendly applications
good security, externally tested
paid features (e.g. password sharing)
8.4

good
Passwords
Devices
Users
Contract Period
Bitwarden Free
$0.00
monthly price
Visit Website*
* Ad disclaimer:
For links marked with an asterisk, EXPERTE.com may earn a commission from the provider. The commission has no influence on our editorial rating.

Martin Gschwentner majored in American Studies and Media Studies in Germany, the USA and France and works as a freelance editor in Paris. He is a doctoral student at the Institute for English and American Studies at the University of Paris Diderot, where he is researching the influence of money on US politics. On EXPERTE.com he writes about IT security, data protection and software for the self-employed and small businesses.

Translation: D Bare
Continue Reading
Reviews
Comparisons
Tools & Guides