Create a Website: 10 Website Builder Reviewed

Websites are an absolute must for any business in the 21st century, particularly if you want to be found by potential customers or clients. This is because the majority of humanity spends their time online. In the past, strong arguments could be made against creating a website, framed in terms of cost, difficulty, or the expenditure of resources. With the advent of so-called website builders, these have ceased to hold water. Now, site creation has transitioned from a specialized craft requiring detailed programming knowledge to a process accessible to nearly anyone capable of using a keyboard and mouse.
A website builder is a web-based program that allows users to create a digital presence without any prior knowledge of programming or coding. Through a combination of ready-made templates and a straight-forward, visually-oriented interface (typically drag and drop) pretty much anyone can design a professional-looking site in a relatively short period of time. From simple blogs to extensive online shops, the sky is truly the limit.
With that said, each website builder differs somewhat from the next, but most do share a number of features:
Templates and Designs
Should you want to create a site using a website builder, you don't need to start from scratch. Ready-made templates endow your site with a uniform appearance, making it possible to focus all of your energy on filling your pages with unique content.

Visualization
Site builders transform complex coding processes into visible output which can be modified through their editors. Most facilitate the dragging and dropping of ready-made website elements.

Blogging Features
Blogs are one of the most popular and successful types of websites. Any builder worth its salt should include specialized features that facilitate the creation of such sites.

Ecommerce
Online shops can also be easily created using a website builder. The best site builders offer inventory control, plenty of options for personalization, and the ability to configure a number of settings, including taxes, shipping costs, and payment. Ecommerce capabilities are one key area in which website builders distinguish themselves from one another.

Image Galleries & Editing
Websites are the visible extensions of businesses and individuals. As a result, the inclusion of stock image galleries and intuitive image editing are important features to watch for.

Analytics & Statistics
In order to understand how your website operates as well as what works (and what doesn't), a website builder should make certain analytical tools available (or at least, allow for the easy integration of external software that does this).

App Market/Center
Despite what their promotional materials may claim, no website builder includes every feature that all of its users may need. For that reason, many providers enable access to app markets, where additional extensions and third-party add-ons can be sought out and installed either for free or at cost.

Mobile Apps
Many website builders have mobile companion apps, allowing users to make adjustments or perform certain functions while on the go.
Even though all website builders basically seek to bring their users to the same end result and provide them with all of the features they desire for doing so, there are significant differences between them. In the next section, we'll highlight what these are.
Provider Comparison
Each of the 10 platforms we assessed differs in terms of the quality of its ready-made design templates to the variety of features on offer. Some are more welcoming to beginners than others. In order to make selecting the right site builder as easy as possible, we evaluated all 10 providers in our sample side-by-side on the basis of six different scored categories. These were: "Configuration and Usability", "Features", "Templates & Design", "Ecommerce, Marketing & SEO", "Customer Support", and "Pricing". Below, we'll present the site builders that performed best in our assessment.
Wix beats out the competition with an unmatched variety of features, intuitive editors and a jam-packed app store. Overall, the platform offers the best balance of usability and features on the market today.
lots of features and elements
simple & intuitive interface
9.6

excellent
Space
Domains
Templates
Contract Period
Wix Free
$0.00
monthly price
Visit Website »
Try for Free
Wix ⇱ unifies quality and quantity in an unrivaled website builder. The Israeli service is geared towards both beginners as well as those with some knowledge of site design or programming, epitomized by its two editors that users can switch back and forth between at will. In the standard editor, you'll be able to construct your site by dragging and dropping items, whereas, in the simplified ADI editor, you're limited to the modification of specific sections, which can be arranged according to your preferences.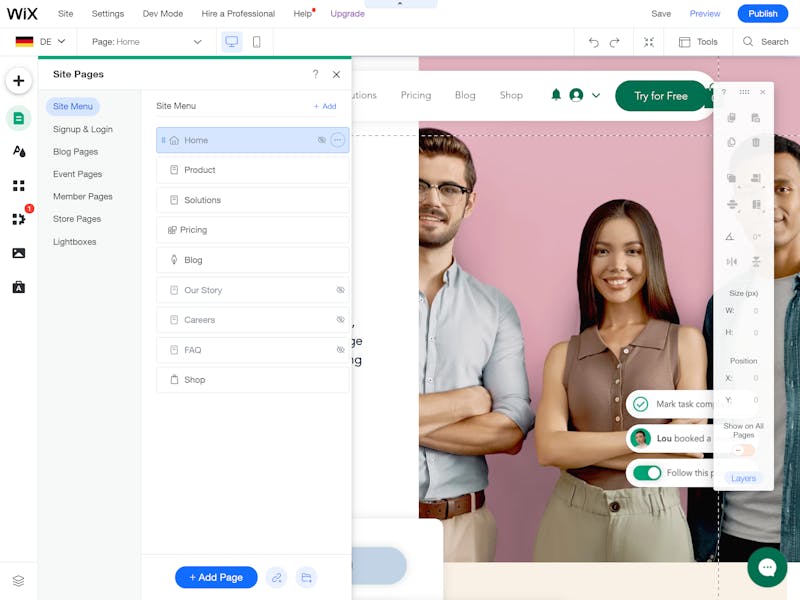 Wix's standard editor offers users a freer hand in designing than its ADI editor.
Both editors contain ready-made blocks and elements, which come in handy for personalizing your website. The service also stands out owing to its well-stocked app market, where you can find pretty much any extension you might need.
As such, Wix emerged as the top platform in our assessment, offering the best overall site-building package out there, at least in our opinion. We recommend beginners to give the standard editor a shot, as the ADI editor is a bit too restrictive for our tastes.
Numerous design templates

Highly convenient drag and drop interface
ADI editor somewhat lacking in features
Marketing, SEO & Ecommerce
10 / 10
Templates & Design
9.4 / 10
Configuration & Usability
9.4 / 10
Squarespace Website Builder
Squarespace can impress with flawless designs and high quality templates, which make the creation of professional websites a piece of cake – but comes at a higher price compared with the competition.
Space
Domains
Templates
Contract Period
Squarespace Personal
$16.00
monthly price
Visit Website »
14 Days Trial Period
While the markings of a Squarespace ⇱ site are unmistakable, it's largely a matter of taste whether its designs are minimalist and elegant, or sterile and generic. One thing is certain though: Squarespace sites look professional. This is thanks in large part to the platform's smart editor, which somewhat reduces the user's degree of control (at least in comparison to pure drag and drop editors) while significantly boosting the design harmony of any sites created with it.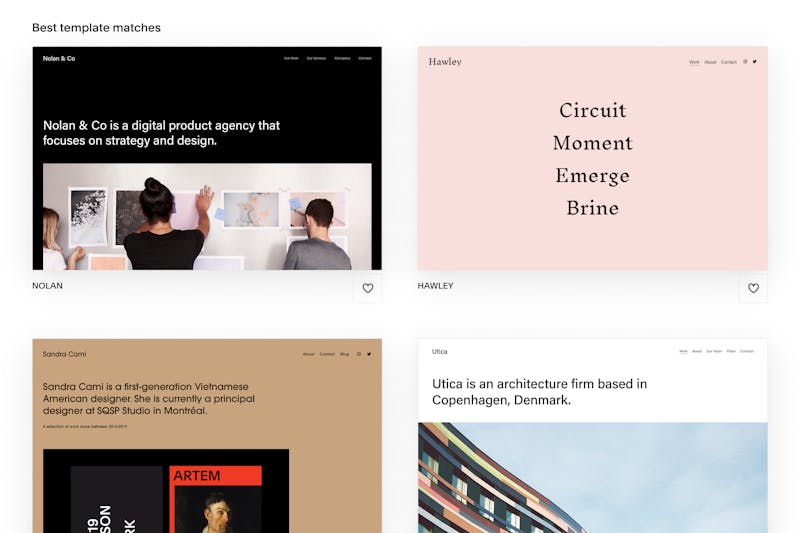 Squarespace designs have become iconic
The end-products are sleek pages that are optimized for all devices, which might look a little bit too similar to one another. Another cost of this visual harmony is third-party software since instead of offering a dedicated app center or market, Squarespace only provides a few integrations. Similarly, in terms of price, the New York-based platform is slightly more expensive than our sample's average.
For anyone who likes the Squarespace 'look', there's good news, namely, that you won't have to work hard to impart it to your site. This guarantee of elegance (or being one of the herd - take your pick) is what makes the service one of the most popular on the market today.
Visually-appealing, high-quality templates
Lacks a true app marketplace and only offers a few extensions

Expensive, no free version
Configuration & Usability
10 / 10
Marketing, SEO & Ecommerce
8.6 / 10
Templates & Design
8.0 / 10
Due to its rather complex editor, IONOS MyWebsite comes with a bit of a learning curve, but rewards those who stick with it with wide-ranging creative possibilities that enable unique websites.
supports multilingual sites
not all templates are great
8.8

good
Space
Domains
Templates
Contract Period
IONOS Starter
$8.00
monthly price
Visit Website »
30 days risk-free
MyWebsite ⇱ by 1&1 IONOS isn't as beginner-friendly as the other two site-building platforms in our Top 3. When opening its high-powered editor, you'll likely be overwhelmed by all of the service's settings and pop-up notifications.
As such, MyWebsite by 1&1 IONOS also has a far steeper learning curve than Wix, Squarespace, and the others, however, this does pay dividends, as you'll be given a free hand in terms of design, as well as lots of content and element options.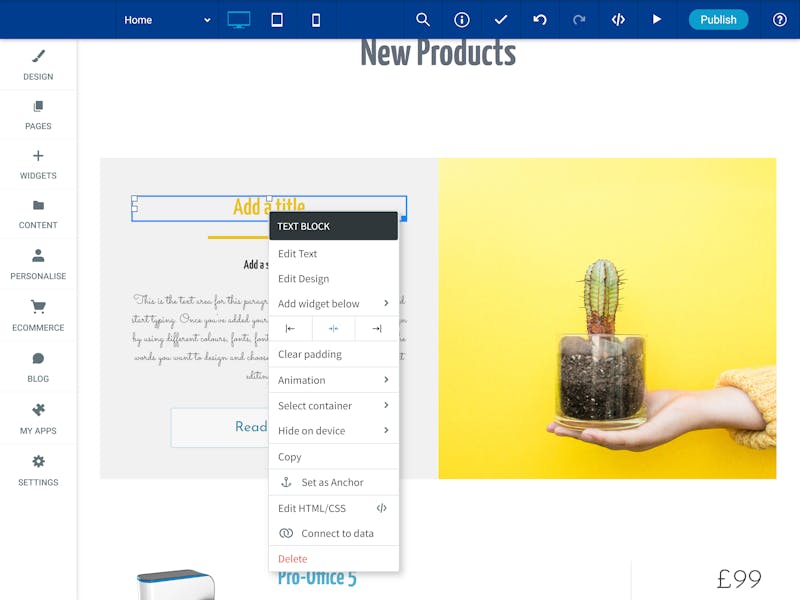 MyWebsite by 1&1 IONOS has a steeper learning curve than some of the other providers from our sample, however, it allows users a considerably higher degree of customization.
MyWebsite by 1&1 IONOS offers more than 400 sleek and elegant templates, however, the majority of these can't really compete with what other services serve up. Nevertheless, the platform does provide enough customization and personalization options for your prospective site, making your imagination the only limit to what can be achieved.
Powerful editor which greatly facilitates personalization

Customizable, client-specific marketing possible
Somewhat tricky and overfilled editor

Templates geared more towards quantity than quality
Templates & Design
8.6 / 10
Marketing, SEO & Ecommerce
8.6 / 10
Configuration & Usability
8.0 / 10
Webflow is a hybrid between website builder and CMS, and requires a basic understanding of coding logic. It's less suitable for beginners – but its visual design tools are a great way for more advanced users to create dynamic websites.
mix of CMS & website builder
more powerful than WYSIWYG editors
learning platform "Webflow University"
visual design with zero code
8.7

good
Space
Domains
Templates
Contract Period
Webflow Starter
$0.00
monthly price
Visit Website »
Start for Free
Webflow ⇱ is the first website builder we examined that doesn't cater specifically to beginners. Even though programming knowledge isn't explicitly required, the service does rely heavily on coding logic, which is visualized in a user-friendly manner. Put plainly: You'll need to understand (or be willing to learn) how website elements are structured in programming terms to be able to harness the platform's full potential.
Webflow's builder is based on the "box model", which should be familiar to any programmer. For those that aren't, every element is placed within a container (box), which in Webflow's Photostop-esque user interface, can then be dragged and dropped. Beginners will need to first come to terms with this manner of doing things before they can make full use of the service, something that Webflow's counterparts don't require. All things being equal, the results that can be achieved are worth it.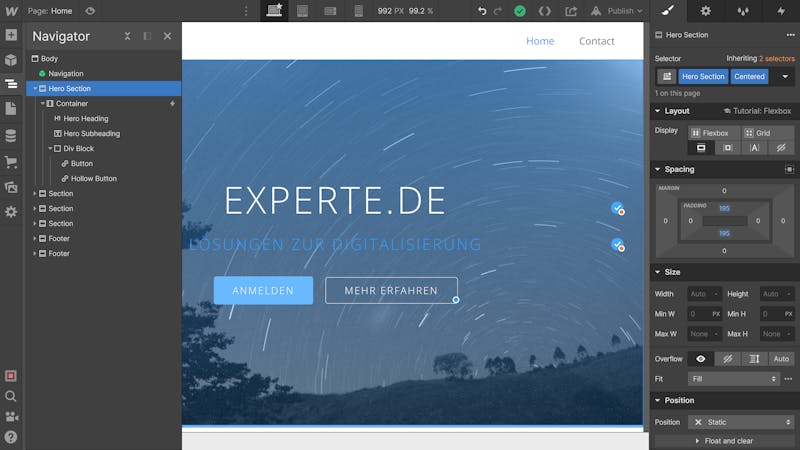 Webflow has a much steeper learning, however, this can yield impressive results.
Webflow operates similarly to other website builders but might overwhelm those lacking any background knowledge in programming or crafting their first site. Thanks to its intuitive visualization of website creation, which doubles as a high-quality content management system (CMS), the platform is an excellent tool for its target group. Similarly, those who want to dive into programming can also make their first forays into this with Webflow, as it doubles as a fantastic resource for visually learning HTML and CSS.
Still, if you're a beginner without coding skills and looking for a simple website builder, Webflow is probably not the right service for you.
Offers nearly unlimited possibilities

Straightforward ecommerce integration
Prior knowledge of design and/or programming basics beneficial
Templates & Design
9.4 / 10
Marketing, SEO & Ecommerce
8.6 / 10
Configuration & Usability
7.4 / 10
With its intuitive drag-and-drop functionality and an unrivaled smartphone app for mobile website building, Weebly makes homepage creation easy even for beginners.
Space
Domains
Templates
Contract Period
Weebly Free
$0.00
monthly price
Visit Website »
Try for Free
Weebly ⇱ impressed us thanks to its versatile ecommerce tools as well as its high degree of user-friendliness, even among the already hospitable market segment of site builders. Should you want to open a digital store, the service helps greatly in creating a catalog of products and grouping them into categories as well as offering coupons and sales.
We particularly enjoyed Weebly's mobile app, which provides a user-friendly browser editor on your smartphone, making it possible to tinker with your site while on the go. Weebly's app center is less remarkable than that of Wix, but it still includes a number of useful extensions. As such, you can readily create a website with the platform while expending an absolute minimum of effort.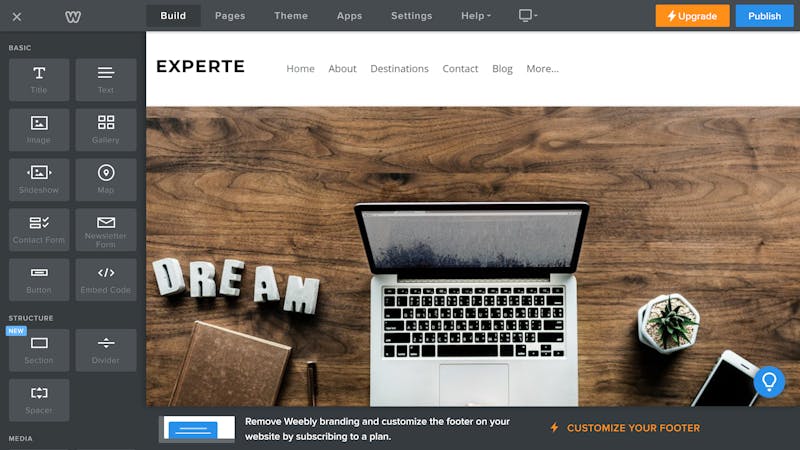 Weebly's mobile app is great for anyone interested in building their site on the go.
We were less thrilled with Weebly's selection of templates, which in comparison to those offered by other providers from our sample, is rather disappointing. Beyond that, the design options users are afforded, limited by the editor's drag and drop capabilities, can't compete with those found in other site builders.
In sum, Weebly is well-suited for creating elaborate online shops, and thanks to its user-friendliness, highly accessible for any kind of user, particularly beginners.
Great mobile app for site building on the go

App center for third-party extensions

Powerful ecommerce features
Limited site customization options
Marketing, SEO & Ecommerce
9.4 / 10
Configuration & Usability
8.0 / 10
Templates & Design
7.4 / 10
Overall Result
Determining which website builder is the best for you depends on a number of factors. If you're looking for a beginner-friendly option, we recommend Wix, Weebly, Squarespace, or Jimdo, as opposed to something like Webflow. In terms of price, there are differences between each provider and their subscription options. MyWebsite by 1&1 IONOS provides more design freedom than Squarespace, whereby the latter has a definite advantage in terms of templates.
In sum, each website builder has advantages and disadvantages, offering a range of varying design elements and catering to different types of users. We've made finding the right service based on your needs easier thanks to our comprehensive reviews of ten website builders, including detailed descriptions and comparisons of their editors.
Create a Website: Website Builders vs. Other Methods
Should you want to create a website, site builders offer only one of several methods for doing so. The popularity of this approach is relatively easy to explain. The biggest advantages they enjoy are their simplicity and convenience. However, even though site builders are mostly designed with beginners in mind, don't let that fool you: Many experienced designers also prefer them since they offer all-in-one packages that include designing, hosting, and even domains.
For those with enough programming know-how, it's possible to work directly with the site's source code, making it easy to enjoy the best of both worlds.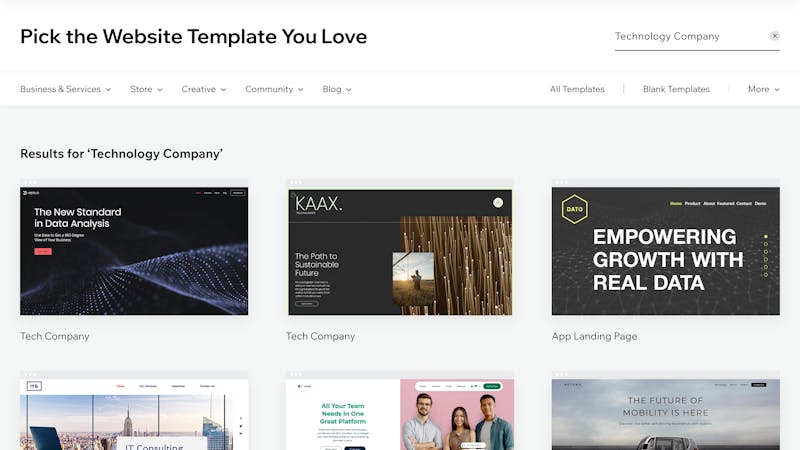 Select a template, add content, and publish: With site builders like Wix (pictured above), you can create a website in no time at all.
In contrast to other methods, when using a website builder, you're only ever a few steps away from launching a finished website:
Select a type of website
Generally speaking, when creating a website, you should start by determining what kind of website you want to set up (i.e. a blog, an online shop, a portfolio, a business page, etc.).

Personalize its design
All site builders offer ready-made designs to get started from. Once you've selected a template, you can customize it in the editor, adding text and media, as well as adjusting various settings.

Manual or automatic
As an alternative, most providers offer users the choice between standard and simplified editors. For example, if you're using Wix, you can toggle between its standard and ADI editors, the latter of which creates a site for you after answering just a few multiple-choice questions.

Set your site's address
Once you've finished designing your site and filling it with content, all that's left to do is select a web address. From then on, your site will be online.
Website builders are definitely the easiest way to establish a digital presence, however, like everything in life, they have both advantages and disadvantages.
Advantages of Website Builders
Cater primarily to beginners lacking programming or design know-how

Offer a good selection of ready-made designs

Provide technical support for problems or issues
Disadvantages of Website Builders
Depending on the service, may offer limited features

Often inadequate for complex projects

Somewhat more expensive than self-hosting
What are the alternatives? Should you not want to put the creation of your site in the hands of someone else (which can be rather expensive) there exist only two real alternatives to website builders: Either you opt for a more complex CMS or program the website on your own.
Alternative: Create a Website Using WordPress
A CMS like WordPress strikes a compromise between site builders and self-programming. This is because site builders are really nothing more than highly-simplified CMSs. Shifts have occurred in the opposite direction too, with WordPress launching its own hosting service, subscriptions to which include access to its CMS as well as hosting, domains, and sometimes maintenance and support. In this manner, creating pages using WordPress has become easier and easier.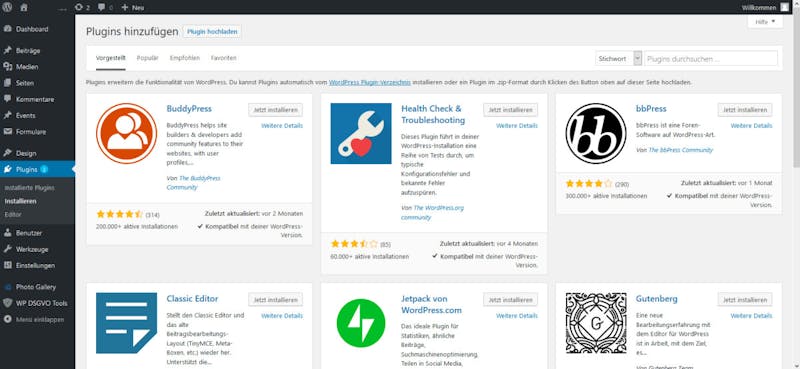 WordPress is the leading CMS worldwide.
Here, we've used WordPress as a proxy for all CMSs, but we should also mention a few others, like Joomla, TYPO3, or Kirby, each of which is a solid alternative. Still, as the market leader, WordPress is undoubtedly the most-used system, with an estimated 40% of all websites in existence being based on it ⇱.
The reason for this is simple: With WordPress, a variety of projects can be realized, ranging from simple blogs (for which WordPress was originally conceptualized) to full online shops, to complex web applications offering a range of features.
Advantages
Depending on your level of dedication and the plugins you select, can be very inexpensive

Allow for complex projects to be realized

Numerous integrations and extensions available
Disadvantages
Far more complicated than site builders

Some background knowledge of programming and design is required

High maintenance and security vulnerabilities
Alternative: Self-Program a Website
If you want to self-program your website, you won't only need detailed knowledge of HTML, CSS, and other programming languages, but also have to see to everything else that website builders provide in their service packages. This entails designing a logo and background to organizing hosting. To code a complex website yourself, you'll need several years of programming experience, as well as some skill, talent, and a large amount of patience.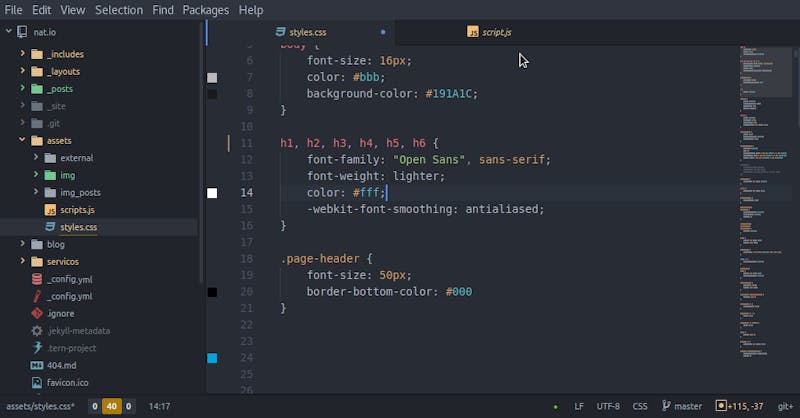 Should you be able to self-program a website, you won't need a site builder. You could contract this work out to a professional, however, it will likely be expensive.
Alternatively, you could let professionals handle this. However, good programmers, designers, and agencies don't come cheap, with even relatively simple projects quickly costing thousands or even tens of thousands of dollars.
At the same time, should a website be built from the ground up, the only limitations to design, structure, or functionality are those of the programmer's capabilities and imagination.
Advantages
Maximum flexibility and individuality

No limits to project complexity
Disadvantages
Knowledge of programming is necessary

If using an external agency or developer - extremely expensive

Difficult to gauge the amount of effort needed at the outset
Conclusion
Taking the alternatives into consideration, website builders provide the easiest means to create a digital presence both for regular users, as well as those who like to keep things as simple and straightforward as possible. Such platforms are particularly useful for basic website projects, such as corporate or business pages, blogs, and online portfolios. They also don't require prior knowledge or experience in programming and include everything that a website needs (hosting, domain, email, etc.).
In addition, they aren't strictly designed for beginners, also making it easier for those with coding experience to visualize their work and designs.
However, not all site builders are created equal, and some providers offer services better-suited for certain projects than others. Our comprehensive review series will help you decide which of these services best meets your requirements.
FAQs
How can I create a website?
⊖
Generally speaking, there are four ways to create a website: You can program it yourself, pay professionals to program it for you, use a CMS like WordPress, or (most easily) make it with a website builder. Particularly for beginners, we recommend the fourth option, since site builders allow you to create professional websites without any prior coding or programming knowledge. As an additional benefit, they provide everything needed to get your site up and running, including hosting and a domain.
What is a website builder?
⊖
A website builder is an online tool that those lacking in programming knowledge can use to create a website. These function by visualizing complex coding processes in an intuitive user interface. Ready-made templates can be modified to meet individual needs, and content can be arranged by dragging and dropping it.
How much does a website cost?
⊖
If you create a website with a website builder, you'll pay a monthly subscription fee (sometimes, this is calculated annually, usually for a lower price). Depending on the provider, subscription, and additional features, this can range from $5 to $30 per month. Importantly, commercial sites, or those which have online shops, are usually twice, or even several times more expensive to host than non-commercial sites.
How can I create a free website?
⊖
Website builders also offer free, ad-financed packages that include subdomains. While useful when starting out, these appear less professional owing to their URL addresses or banner ads, both of which distract attention away from your content or product. Acquiring unique domains always comes at an extra cost.

Martin Gschwentner majored in American Studies and Media Studies in Germany, the USA and France and works as a freelance editor in Paris. He is a doctoral student at the Institute for English and American Studies at the University of Paris Diderot, where he is researching the influence of money on US politics. On EXPERTE.com he writes about IT security, data protection and software for the self-employed and small businesses.

Translator & Editor: D Bare
Continue Reading