Using Hotspots Safely: How To Avoid the Pitfalls of Public WiFi


Translation
Lisa Torelli-Sauer
Ad disclaimer:
For links on this page, EXPERTE.com may earn a commission from the provider. This supports our work and has no influence on our editorial rating.
WiFi hotspots offer free, wireless Internet access to anyone within reach of them. Whether you're in a café, train, or airport, they make it possible to turn any location into an office. But just because we can use hotspots as often as public power outlets or water fountains, should we?
The truth is, we're exposed to more digital dangers on public WiFi than at home or a secure network at work. But with the right tools and some security precautions, you can minimize these risks without forgoing the convenience of public hotspots.
In this article, we'll cover the dangers associated with public hotspots and how you can safely use them.
The Risks of Public WiFi Networks
One reason public WiFi networks are so convenient and practical is that they are open, meaning that they can be accessed by anyone close enough to receive a signal from them. However, this also makes them a popular playground for hackers. Users have no control over the network's security and sometimes don't even know which (if any) encryption standards they utilize.
The good news is that public WiFi is more secure today than ever before. This is partly because encrypted HTTPS pages have become widely used, guaranteeing a secure connection between the web server and browser. However, HTTPS isn't 100% foolproof, and even it if were, surfing on a public hotspot would still expose you to certain risks, such as:
Lack of (or poor) encryption
Most networks, including those at home, are well encrypted and protected with a secure password. Encryption is often absent on public WiFi networks, making passwords that users input on them vulnerable to prying eyes. Even encrypted hotspots could have security gaps if they rely upon poor or outdated protocols.

This makes it possible for other users on the same WiFi network to intercept data and track your activity. Here is where the above-mentioned HTTPS standard comes in handy; it encrypts your traffic, shielding it from third parties. However, not every website uses HTTPS, and even amongst those that do, hackers can circumvent their protective measures.

Man-in-the-middle attacks
Man-in-the-middle attacks are a consequence of missing or poor encryption. During these, hackers get in between you and the server to spy on your activity and steal sensitive information. Potential loot includes credit card data or the ability to smuggle malware onto devices without their owner being any the wiser.

Spreading malware
You're more susceptible to certain kinds of malware attacks on public WiFi. It can be smuggled onto your device by malicious hackers, shady hotspot operators, or other oblivious users of the same hotspot.

Malicious hotspots
Every risk mentioned so far is present on legitimate WiFi hotspots operated by real businesses or other entities. But what if the entire hotspot itself is a sham? Imagine you're sitting on a train, and you find a hotspot called Amtrak_WiFi_Free. How do you know that it's really an official Amtrak hotspot?

By creating carefully placed and cleverly named hotspots, cybercriminals try to lure unsuspecting users to connect to their network. Because the hackers have complete control over the network they operate, they can launch targeted attacks on any device unfortunate enough to connect.
While you're safer on public WiFi networks today than in the past, you still shouldn't underestimate the security risks that connecting to them entails. Fortunately, there are a number of ways to make yourself less vulnerable.
How to Safely Surf on Public WiFi
While on public WiFi networks, your security depends on several factors, some of which you have control over. If you use the Internet mindfully, choose the right device settings, and employ a few helpful tools, you'll be much safer on public hotspots.
Responsible Practices
Online security always begins with the user. While connected to a public hotspot, your first lines of defense are your common sense and attentiveness. Among other things:
Make sure the hotspot is legitimate: You can often identify malicious hotspots just by looking at their names. If you're unsure, you could ask an employee, or consult official printed materials of the hotel or transportation service.

Stick with HTTPS: Make sure you only visit secure HTTPS sites when on public WiFi. You can recognize them by the lock symbol that appears to the left of the address bar. Non-secure websites are usually flagged as such, and your browser should readily recognize faulty or forged certificates. Heed any security warnings issued, and leave the site.

Don't share sensitive information: While connected to public WiFi, limit your activities to the essentials and try not to share important information. For example, avoid accessing online banking or your email accounts.

Regularly update your operating system and software: Because hackers can exploit any potential security gaps, outdated software poses a significant security risk. Accordingly, it's important to ensure that your operating system and software are current.

Use a mobile network instead: In the age of 5G and unlimited data plans, it's not always necessary to rely on public WiFi hotspots. Use your cellphone provider's Internet coverage to surf, or create your own mobile hotspot to access the Internet with other devices.
Settings
There are also settings on your device that can enhance your security on public WiFi:
Disable file sharing: If certain file and directory sharing is enabled on your device, it may be visible to other users on the same network. You can disable sharing in the settings on your laptop, tablet, or smartphone. On Windows, for example, you can find the necessary settings under Control Panel > Network and Internet > Network and Sharing Center > Change advanced sharing settings.

Turn off automatic connections: Adjust your device's WiFi settings to prevent it from automatically connecting to public WiFi networks.

Activate your firewall: An active firewall protects you from many public WiFi threats.
VPN
A VPN (virtual private network) is a helpful tool that shields you and your data from prying eyes on public WiFi (and everywhere else). It anonymizes your Internet activity by routing your traffic through a secure server and encrypting the connection.
As a result, your identity is kept secret from the destination server, making it impossible to associate you with your surfing behavior. Because your traffic is invisible to hackers on the same WiFi network, you'll be protected from man-in-the-middle attacks.
With the right software, you can set up a VPN tunnel on your laptop, tablet, or smartphone with just a few clicks.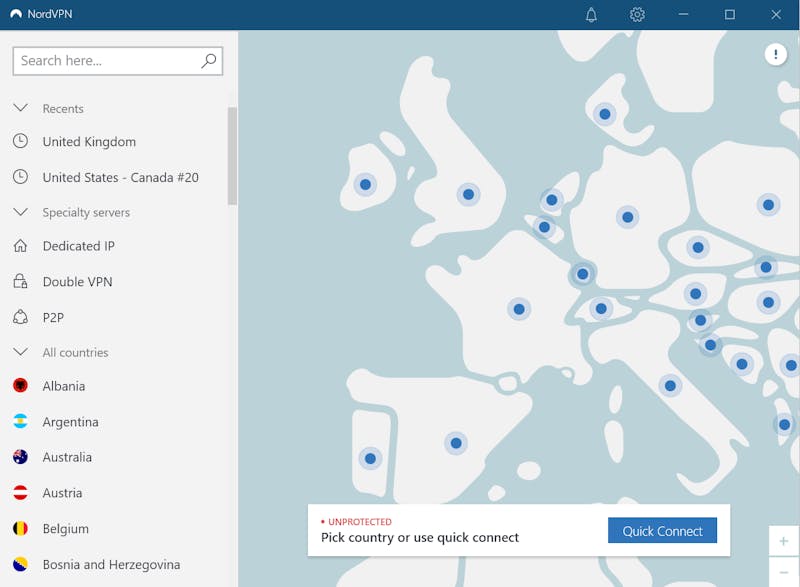 With a service like NordVPN, you can establish a secure VPN connection and use public WiFi with confidence.
Not every VPN is created equal (and they don't all offer the same degree of security). In our comprehensive EXPERTE.com VPN comparison, we put 22 providers to the test and examined their security standards, among other criteria. The top-performing service from our assessment, NordVPN, delivered the best overall package. It combines excellent security standards and high user-friendliness—all at a rather affordable price.
NordVPN is our number one VPN because it combines speed, ease-of-use, and functionality in a slick package that's also pretty affordable.
5,500+ servers, 60 countries
affordable 2-year package
9.4

excellent
Data Volume
Devices
Protocols
Contract Period
NordVPN 2-year plan
$3.79
monthly price
Visit Website*
30 days money-back guarantee
Want to enjoy the benefits of a VPN while surfing public WiFi, but aren't ready to pay for it? Be sure to consult our guide on the best free VPNs out there.
Reviews
Comparisons
Tools & Guides
Password Manager
The theft of your passwords and identity is one of the greatest dangers posed by hacking on public WiFi. If your passwords are particularly weak or identical for multiple services, the risk is compounded; hackers only need to crack a single password to gain access to multiple accounts.
Guides
Tools
Password Manager
You can protect yourself with a password manager, which assigns a unique password to each service. Because these programs rely on strong encryption, hackers won't be able to get to your passwords—even if they manage to access your data on public WiFi.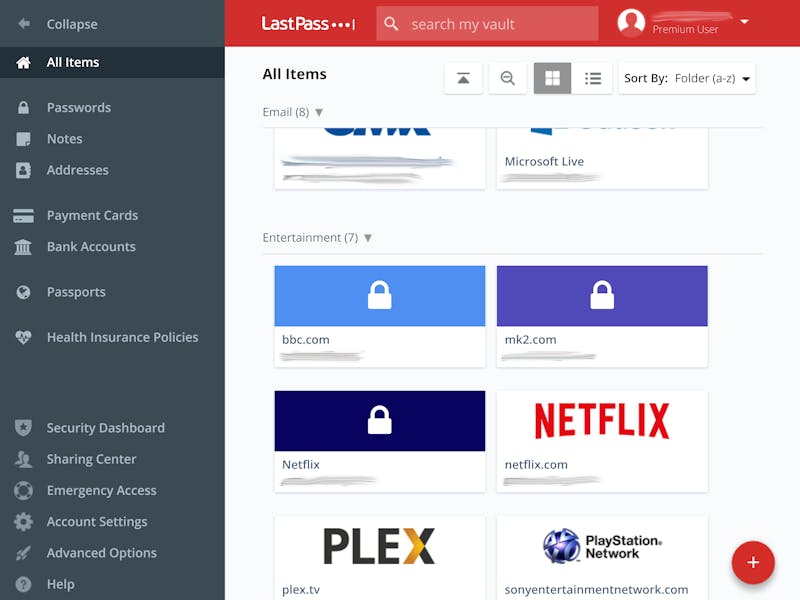 Password managers, such as LastPass, help protect your accounts with extremely secure passwords.
EXPERTE.com can also help you choose the right password manager. We tested 14 of the most popular programs and compared them according to their "Features", "Security", and "Mobile Use", among a host of other aspects. Dashlane, our best-in-show, came out well ahead of the competition thanks to its reliable autofill, user-friendly apps, and wide selection of features.
Dashlane Password Manager
Dashlane is a great all-rounder that makes managing your logins and other account details as easy as pie thanks to its many features, a strong security posture, and an easy-to-use interface.
user friendly and intuitive
zero-knowledge encryption
comprehensive security center
automatic password changer
9.1

excellent
Passwords
Devices
Users
Contract Period
Dashlane Free
$0.00
monthly price
Visit Website*
Try for free
The tips, tools, and settings listed above can help you minimize the risks associated with using public WiFi. Combining these methods will ensure maximum security.
Conclusion
Fortunately, public WiFi is safer than ever before. However, there are still dangers lurking in hotspots that simply don't exist on your home or office network. For example, you could unknowingly connect to a malicious hotspot or fall prey to hacking on legitimate WiFi networks.
But, you can protect yourself from a number of threats by exercising caution. Make sure that the hotspot is reputable, and avoid sharing sensitive information when connected to public WiFi. Taking time to check that the right settings are configured on your system or device will help keep your information secure as well; e.g., turning off file sharing and automatic WiFi connections.
Specific tools that minimize your exposure while on public WiFi (and on the Internet in general) can enhance your security even further. These include VPNs, which anonymize your traffic, preventing you from being spied upon by hackers and other third parties, as well as password managers, that make your passwords difficult to crack and invisible to prying eyes.
FAQs
What are the dangers of public WiFi?
⊖
Public WiFi networks are weakly encrypted and open to everyone. As a result, they're more susceptible to hacking. This includes "man-in-the-middle" attacks, which involve someone sneaking in between you and the server to intercept your data. There also exist strategically positioned and cleverly named malicious hotspots, designed to entice users to connect with the sole purpose of spying on them.
What shouldn't you do on public WiFi?
⊖
Refrain from sharing particularly sensitive information over public WiFi. You also shouldn't make important transactions while using public hotspots. Ensure that you only connect to legitimate networks in the first place, since there do exist malicious hotspots that try to deceive users with reputable-looking names.
How can you protect yourself on public WiFi?
⊖
Security starts with you. First, make sure that the hotspot you're using is legitimate, and refrain from sharing sensitive information over it. Ensure that your device settings don't have any security vulnerabilities. For example, enable your firewall and disable file sharing. You can also use a VPN to encrypt your traffic and secure your accounts with a password manager.
How secure is a VPN on public WiFi?
⊖
A VPN encrypts all data that you transmit, making it one of the best security accompaniments when using public hotspots. It will help you remain anonymous online, and keep third parties away from your information—even if they're on the same network.
* Ad disclaimer:
For links marked with an asterisk, EXPERTE.com may earn a commission from the provider. The commission has no influence on our editorial rating.

Martin Gschwentner majored in American Studies and Media Studies in Germany, the USA and France and works as a freelance editor in Paris. He is a doctoral student at the Institute for English and American Studies at the University of Paris Diderot, where he is researching the influence of money on US politics. On EXPERTE.com he writes about IT security, data protection and software for the self-employed and small businesses.

Translation: Lisa Torelli-Sauer
Continue Reading