Email Marketing Software Review: GetResponse

Ad disclaimer:
For links on this page, EXPERTE.com may earn a commission from the provider. This supports our work and has no influence on our editorial rating.
Regular contact with visitors and potential customers is important whether you do business online, or in the real world, and a key component of any marketing strategy. As such, a good email marketing tool should help you to optimize your business online, and make the most of the resources available to you. Through analysis, contact management, and automation, you'll be able to target specific groups of visitors, turning them into clients.
But, which service lives up to the promises in its promotional or advertising materials? To find out, we've taken a look at a number of reputable and well-known email marketing service providers in order to help you make a more informed decision. In this review, we'll examine GetResponse.

What is GetResponse?
GetResponse* is an email marketing provider with roots in Poland. Some of the company's servers remain in Poland, however, with 350,000 clients spread across the world, GetResponse has gone global, even making a name for itself in the US as one of the top dogs in the market. The service offers access to extensive newsletter and marketing automation features, as well as client management, statistics, and marketing optimization.
One of GetResponse's most unique features, however, is its Conversion Funnel (formerly known as Autofunnel), which allows users to create special landing pages for automated subscriber-generating processes, or optimizing sales. In this test, we'll let you know what else GetResponse is capable of, and what, if anything, it has difficulty doing.
Review
Configuration & Usage
10 / 10
Tracking & Statistics
10 / 10
Wide selection of templates supported with a powerful editor

Straightforward and logical automations

Conversion Funnel for campaigns

Highly-detailed statistics and additional features
Transactional emails only available as an add-on in the "Max" package
Even though GetResponse doesn't offer a dedicated free version, you can try out the service for free for 30 days, without inputting any payment information.
After confirming your email address through a link, you'll be forwarded to the dashboard. Here, you'll be shown some video tutorials, as well as helpful hints for getting started with the service.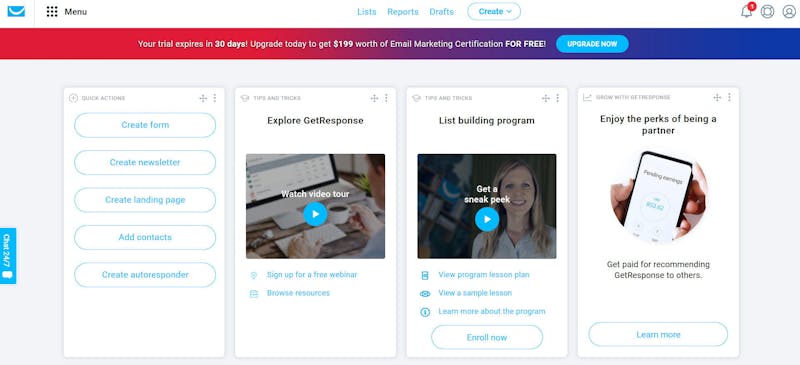 Tutorial videos in GetResponse's dashboard.
As can be seen in the screen capture above, the dashboard is comprised of widgets that can be arranged at will. Of course, you could also wait to do this until after you've created your first campaign and contact list to see which features are most important, or you can start right away if you have a rough idea of what you'll need closest at hand. Using the widget library, you can add as many or as few quick links to your dashboard as you'd like.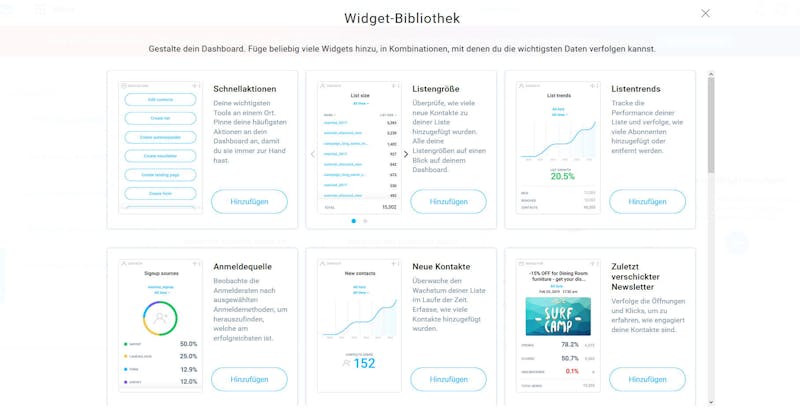 The dashboard's widgets help you to keep tabs on the service and access the features you use most.
Through My Account -> Manage Account you can access basic settings. Thankfully, these include an option for GDPR-compliance, which automatically ensures that all forms you create adhere to the EU's data protection laws.
Beyond this, you can also confirm your email via a link, or authenticate your sender address using SPF and DomainKeys, which will improve its deliverability. It's also possible to create and authenticate an individual domain for landing pages through a DNS entry.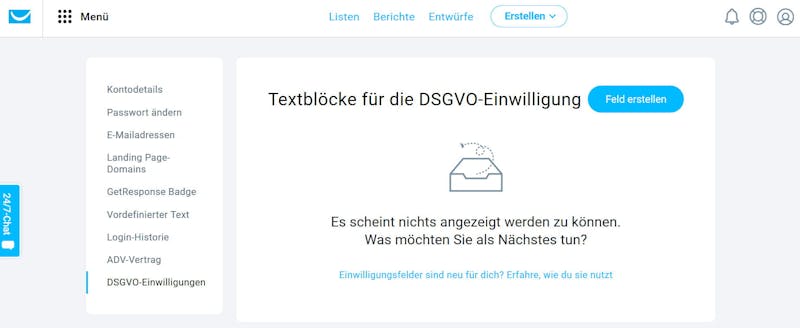 Automatic GDPR-compliance in GetResponse.
Through the Menu button in the upper left, you can gain an overview of the most important features offered by the service. These include access to different communication and growth tools. In addition, you'll also find Integration & API, where you can monitor all of your integrations and plugins.

GetResponse supports a number of ready-made plugins and integrations for services like WooCommerce, Magento, Amazon Payments, PayPal, Etsy, or WordPress. In this way, you're not only able to integrate forms in your CMS, but also directly link customer data from your shopping system or payment provider. Additionally, you can monitor customer behavior on your website in order to raise your conversion rate.
Individual connections can be created through GetResponse's API, for which a number of guides are provided in GetResponse's help center.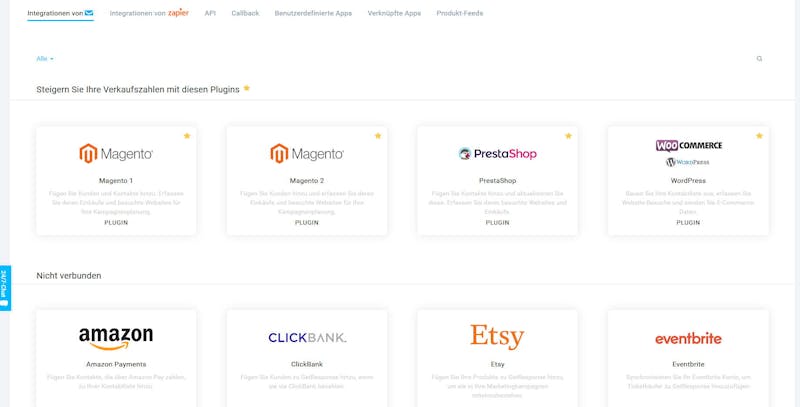 GetResponse's integrations.
All-in-all, starting out with GetResponse isn't all that tricky. The email address that you register with is automatically verified as your sender address, allowing you to get started right away. And don't expect to spend hours tinkering around with settings to get everything just right either; GetResponse is ready for use out of the box.
The service has a clear layout, with all functions and settings reachable within at most two clicks. We particularly liked the ability to add or remove widgets from the dashboard, which we'll take a closer look at in the Tracking & Statistics section of this review. Thanks to the individual data protection agreements and double opt-ins for newsletters, ensuring GDPR-compliance won't take up hours of time.
GetResponse manages to expertly balance between providing users with an extensive range of features while maintaining clarity in design and layout; for us, a winning combination!
Score: 5 / 5
GetResponse offers five different means of creating and importing email addresses and contact data; these are:
Inputting them manually

Uploading a file with contact data

Importing them from a service (MailChimp, ActiveCampaign, AWeber, or Constant Contact)

Copying and pasting them from a file

Importing them through an integration or plugin (for example, Google Contacts, Salesforce, Zendesk, or Magento)
As can be seen, GetResponse makes practically every means for importing contact data into its interface available. Even for the less spectacular options, like manually inputting contact data, the service adds a degree of sophistication, allowing you to create user-defined fields and assign contacts to them, by default.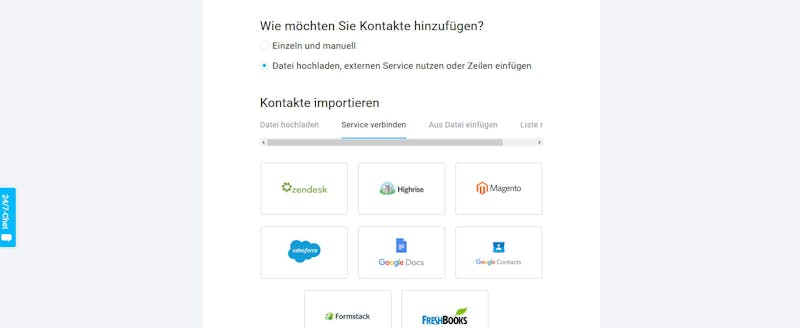 Adding contacts and subscribers in GetResponse.
Through the main menu, you can access the Forms and Surveys tab, where it's possible to create sign-up forms for gathering email addresses and subscriber data. Not only can you create forms using the List Builder Wizard, which has drag and drop functionality, but also integrate some of GetResponse's builder apps, like its Download or Shake boxes.
Should you not be a fan of the list builder, you can also upload your own form as HTML code or link it directly to Facebook, Joomla, Drupal, WordPress, or PrestaShop. To help in the latter, GetResponse offers native webform apps which can be accessed through the Integrations section of the menu.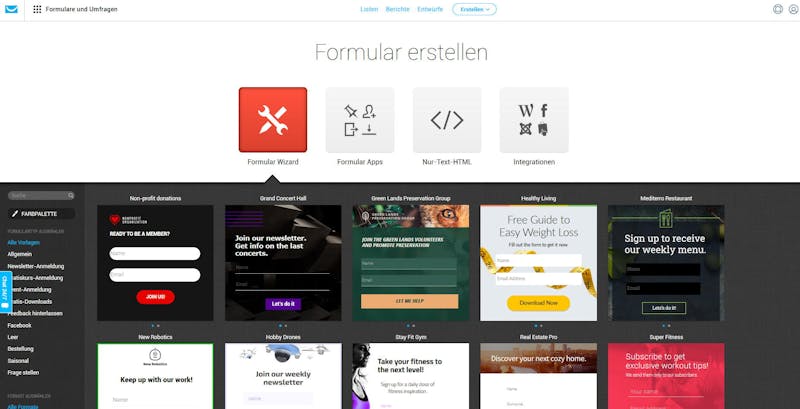 Creating forms in GetResponse.
GetResponse's form editor allows you to create new forms from scratch. If this sounds too challenging, you can also start with one of the numerous design templates, customizing it to your liking. The interface is self-explanatory, since you can include as many fields and elements in the form as desired.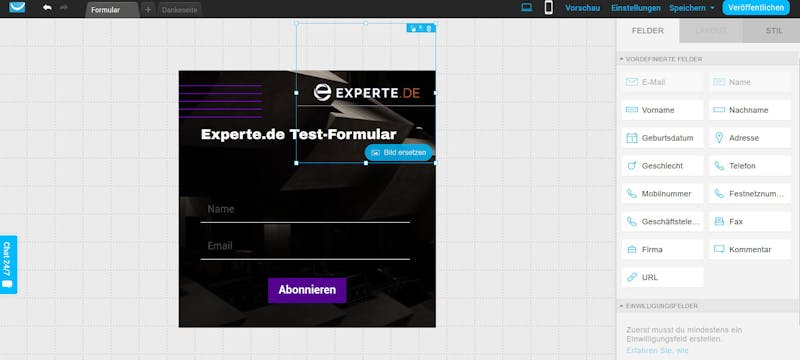 Editing and creating forms in GetResponse.
Beyond that, you're also able to make custom landing pages that you can use to gather contact information. If needed, you can also use them as your own domain. The Landing Page Creator is similarly designed to the form editor, and comes with a wide selection of templates to choose from, while also offering alternate methods for creating pages as well.
Double opt-ins, reCAPTCHAS, and tracking can all be integrated seamlessly. GetResponse covered all the bases and makes it easy to create professional-looking landing pages, surveys, and forms.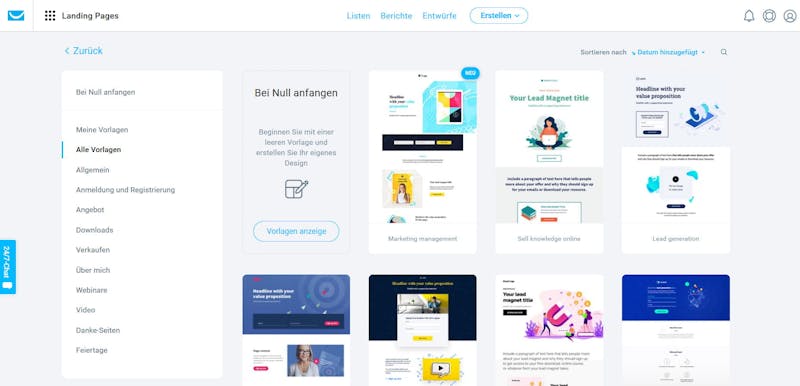 GetResponse comes with a wide array of design templates for landing pages, forms, and surveys.
One of GetResponse's most interesting features is its Conversion Funnel, which links targeted landing pages to lead magnets that you customize, helping optimize how you create contact lists, and to boost sales.
It doesn't take long to realize that the tool also provides a more powerful type of email automation, and its use for optimizing targeted campaigns is a no-brainer.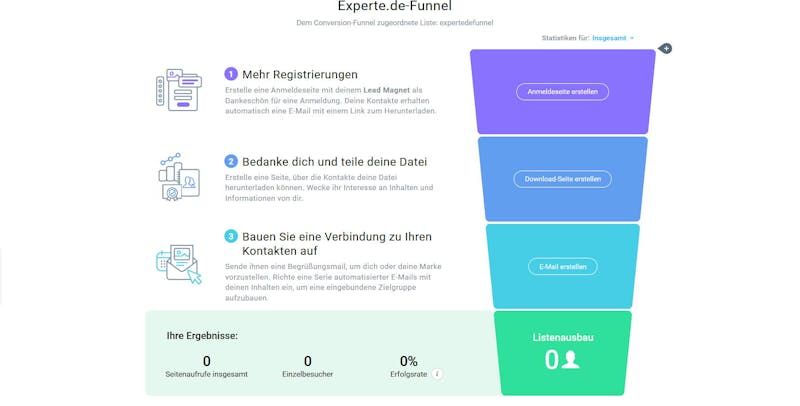 GetResponse's Conversion Funnel is one of the service's highlights.
As noted on its site, GetResponse "does all the heavy lifting" in terms of creating lists and gathering contact data, providing users with an excellent assortment of tools and features.
The service's wizard, editors, and builders are powerful, easy to use, and provide a lot of options. Thanks to the inclusion of numerous integrations, individual fields, user groups, and GDPR-compliance, it's possible to do pretty much everything you need to for optimizing how you communicate with your site's visitors and/or customers.
Score: 5 / 5
GetResponse offers four different means of communicating with your subscribers:
Email Marketing (classic newsletters, A/B tests, and RSS-to-email)

Autoresponder (for automatic emails generated after subscribing to a newsletter)

Webinars (for communicating directly, in real-time)
Classic newsletters are easily and quickly created. In the Email Marketing section, you're able to launch an A/B test campaign using different templates, which can provide you with insight into which of your marketing approaches is the most effective. This also goes some distance in optimizing how you communicate with your audience and customers. Beyond this, you can configure RSS feeds to be sent automatically to your customers at specific intervals.
GetResponse greatly facilitates the creation of newsletters and configuring an autoresponder, not least owing to the plentiful selection of ready-made templates on offer, as well as the ability to create one from scratch. In addition, all custom templates you make can be saved, and you can easily add HTML code, or compose text-based messages. All templates are grouped into categories which makes finding the right option for you a cinch.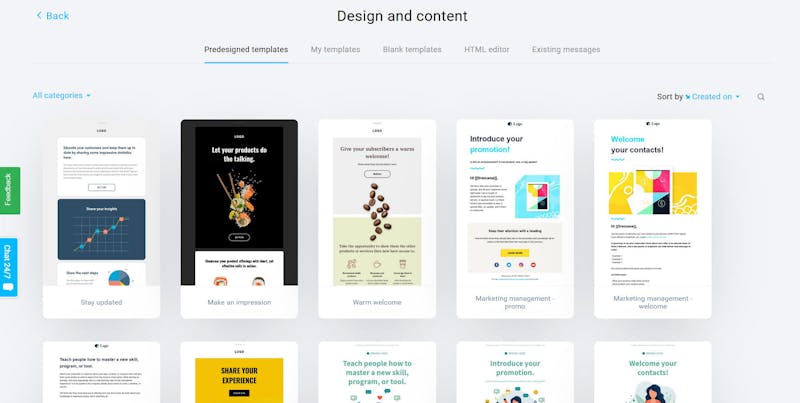 Different newsletter templates in GetResponse.
Similar to the landing page creator and the form editor, the Newsletter Creator takes all of the hassle out of designing a newsletter, thanks in no small part to its drag and drop functionality. All elements can be arranged at will, and you can check how things look in a preview. A number of templates are responsive, meaning that they are designed with mobile devices in mind.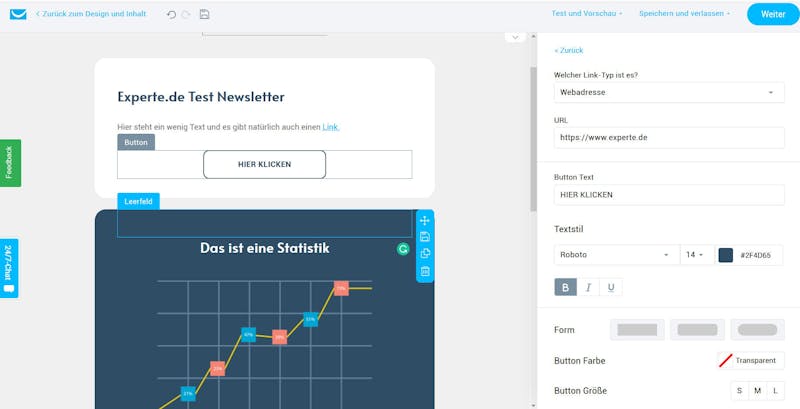 GetResponse's Newsletter Creator.
Under Automation, it's possible to create workflows. Here, you're able to choose from different templates based on what it is that you are planning to do, such as winning back clients, retargeting, promoting, and so on. As in the Autoresponder section, you can also set up simple workflows for welcome or thank you messages.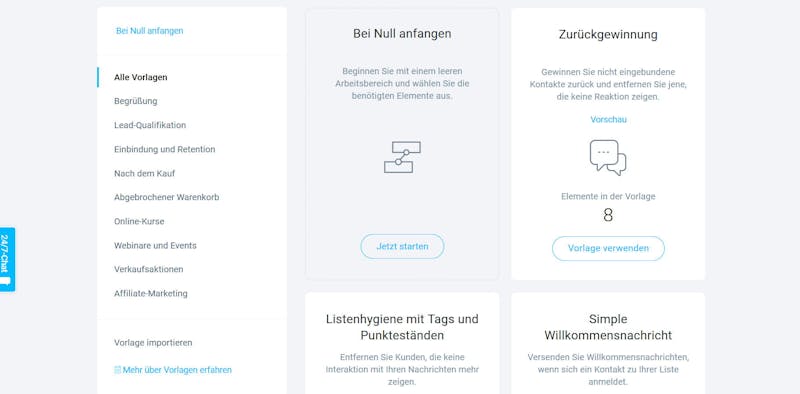 GetResponse offers access to a number of workflow templates.
In GetResponse's workflow editor you can react to specific events that involve your contacts or subscribers. Thanks to extensive tagging and tracking options, you're also able to set up complete email sequences as well as targeted campaigns or sales for specific scenarios. This means, for example, that you can move contacts to different lists or groups after they've completed a purchase, customizing their user experience on your webstore further.
Of course, it's important to keep in mind that transactional emails, which are sent when specific conditions are met in your webstore, are only available as an add-on in the most expensive package, and must be paid for separately. Should you be looking for this functionality, but not engage in high-volume campaigns, GetResponse might not be the best solution for you.
At first glance, the workflow editor is a bit overwhelming, however, after a bit of good old fashioned trial and error, it isn't difficult to get a feel for it. The editor itself is intuitive, well-structured, and offers a nice range of possibilities.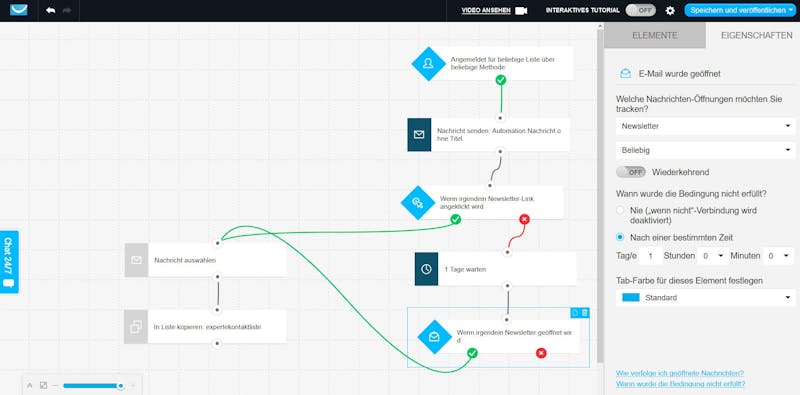 GetResponse's workflow editor.
Another feature unique to GetResponse is the integration of live and on-demand webinars. These can serve as a nice supplement to your efforts in customer relations and are easily integrated into campaigns, the funnel, and workflows. Such webinars serve the dual purposes of both communicating with your customers, as well as helping in creating contact lists, making them a pragmatic addition to any modern email marketing campaign.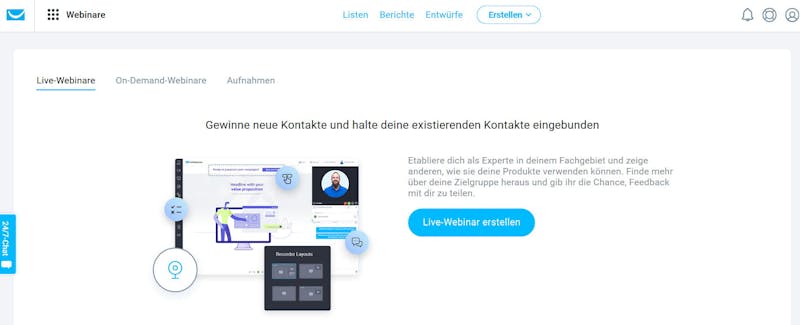 GetResponse allows you to create live or on-demand webinars for communicating with your client or subscriber base.
After a newsletter has been sent, GetResponse will forward you to a confirmation page, in which you have 60 seconds to abort the dispatch. Once sent, you can follow how your message is opened in real-time by recipients. We liked the inclusion of this feature since it opens in the window you're working in, rather than on a separate page.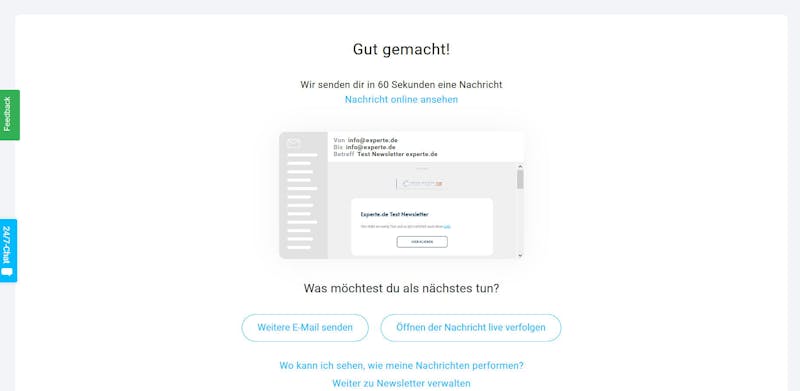 Campaign confirmation message from GetResponse.
Taken together, sending emails with GetResponse is easy, with a number of possibilities on offer for automation and optimization of your campaigns. The service is easy to use, its editors, creators, and builders are impressive, and the selection of templates is top-notch.
It's unfortunate that transactional emails can't be automated. Even in the most expensive subscription package, this feature is only offered for a fee, as an add-on.
Apart from that, there really isn't all that much to gripe about. During testing, our deliverability rate was high, and not a single email we dispatched landed in a spam folder.
Score: 4.3 / 5
GetResponse provides first-class tracking, reports, and statistics. As mentioned above, after sending an email, with a single click, you'll be taken to a live overview of its progression, which you can use to follow your campaign in real-time. Unfortunately, during testing geo-tracking didn't work, as we weren't able to view any of our contacts' locations. It should be noted, however, that this could be due to the limited number of recipients we sent our test messages to.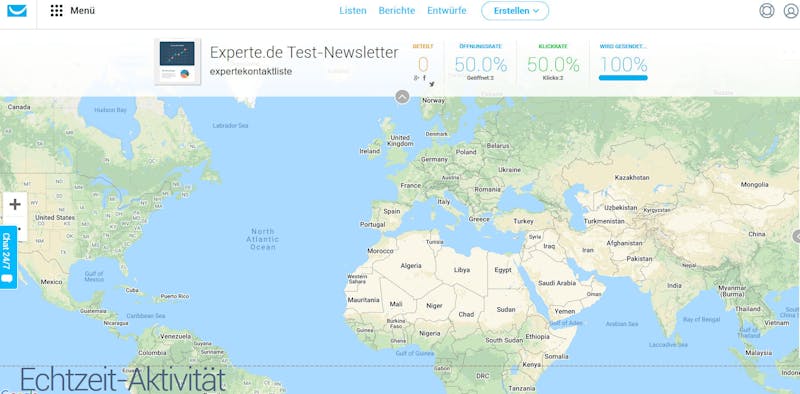 Recipient activity can be followed in real time with GetResponse.
The ability to customize the dashboard as mentioned earlier in this review, also shows itself again here, since you're able to include all statistics and reports on your main screen. Below, we've included a screen capture to show you what exactly this looks like:

Our customized dashboard in GetResponse.
Users are also provided with extensive statistics for individual messages or campaigns, which can easily be compared with similar campaigns with a single click. This works perfectly even if you haven't set up any A/B tests.
In addition, GetResponse provides all of the usual information about open and click rates, cancellations, providers, bounces, and more. Four delivery attempts are made to addresses believed to be soft bounces before those contacts are automatically removed from your mailing list.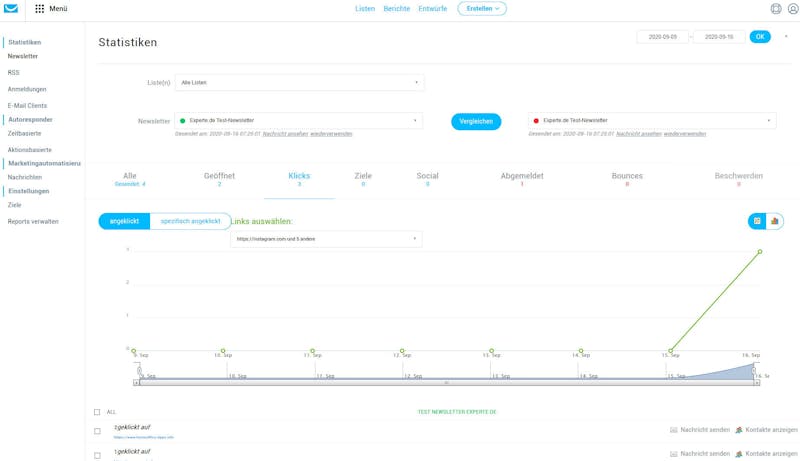 Statistics in GetResponse.
Overall, we couldn't find anything to complain about in terms of GetResponse's approach to reports, tracking, and statistics.
Score: 5 / 5
GetResponse's live support chat is available 24 hours a day. In addition, there's also a support ticket system. Our email sent using the latter was answered in around three hours.
A full-text search of the FAQ section is provided, allowing users to find exactly what it is that they're looking for, in addition to a number of useful guides and tutorials.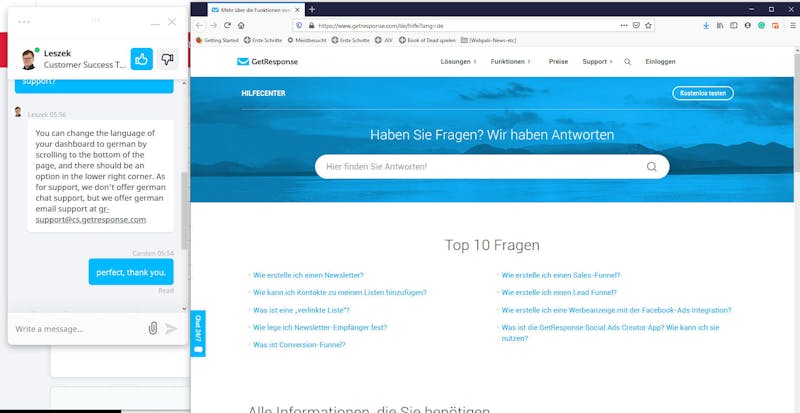 Support options with GetResponse.
The help center really excels owing to its tutorial videos. All-in-all, we were delighted with the variety of options GetResponse provides for solving issues or getting help.
Score: 4.3 / 5
In contrast to several of its competitors, GetResponse does not offer a free version. The closest it comes is a 30-day free trial, which doesn't require the input of a credit card or payment method.
When paying for the service, there are differences in the functionality provided depending on the package selected. Within the individual packages, there's also a degree of variety since the total price depends on the number of contacts you intend to address. For example, in the basic plan, you're only able to use a single Conversion Funnel and will have to make do without multiple users (available starting with the "Plus" package), transactional emails (only provided as a paid add-on in the "Max" package), or unlimited automation builder (offered starting with the "Professional" package).
The tables below show the monthly price for GetResponse based on the number of contacts on your subscriber list:
| Contacts / Provider | 500 | 1,000 | 5,000 | 10,000 ▲ | 50,000 | 100,000 |
| --- | --- | --- | --- | --- | --- | --- |
| Mailjet | $0 | $0 | $10 | $19 | $167 | $334 |
| MailerLite | $0 | $0 | $30 | $50 | $210 | $360 |
| GetResponse | $15 | $15 | $45 | $65 | $250 | $450 |
| AWeber | $0 | $26 | $46 | $66 | - | - |
| Mailchimp | $0 | $0 | $50 | $75 | $259 | $499 |
| Sendinblue | $0 | $0 | $66 | $81 | $229 | $379 |
| Constant Contact | €18 | €40 | €57 | €83 | €292 | - |
| Campaign Monitor | €9 | €29 | €49 | €99 | €329 | - |
| CleverReach | €15 | €20 | €55 | €100 | €400 | €900 |
| ConvertKit | $0 | $0 | $79 | $119 | $379 | $679 |
| ActiveCampaign | $15 | $29 | $89 | $139 | $299 | $459 |
| Klaviyo | $20 | $30 | $100 | $150 | $700 | $1,200 |
Owing to its flat-rate pricing, GetResponse is particularly attractive for those planning to send large volumes of messages to a moderate or small number of recipients. If you're planning to send fewer emails to a large list of recipients, other providers will give you more bang for your buck.
All subscription packages can be readily adjusted depending on the growth of your business or organization.
Basic
Plus
Professional
Set-up Fee
$0.00
$0.00
$0.00
Price per Month
from $15.00
from $49.00
from $99.00
Contract Period (Months)
1
1
1
Limits
Contacts
up to 100,000
up to 100,000
up to 100,000
Emails
unlimited
unlimited
unlimited
Features
Segmentation
Tagging
Marketing Automation
Ad Free
Open-Rate Tracking
Click Tracking
A/B-Testing
Conclusion
Configuration & Usage
10 / 10
Tracking & Statistics
10 / 10
GetResponse impressed us thanks to its emphasis on user-friendliness, customizability, extensive statistics, and numerous templates for forms, pages, and workflows. This powerful email marketing tool is perfect for anyone looking to stay in touch with less than 1,000 contacts, or those who send in larger volumes and are interested in having as many features at their fingertips as possible.
Plainly speaking, GetResponse only has a few shortcomings, such as the inability to create transactional emails except in the more expensive packages. We're not asking for this as a handout, but it would be nice if users could book it as an add-on. Apart from that, and a few minor issues which aren't even worth repeating here, we can wholly recommend 'getting' GetResponse.
GetResponse stands out with its ease of use, excellent customization options, extensive statistics and numerous templates. It is suitable for both beginners and frequent senders.
Contacts
Emails / Month
Marketing Automation
GetResponse Basic
$15.00
monthly price
Visit Website*
30 days free trial
User Reviews
If you're still undecided about whether or not to give GetResponse the nod, the user reviews we've compiled from authoritative and reliable sources here might help in making up your mind.
Customer Ratings
5,458 Bewertungen
Visit Website*
We analyzed the reviews and ratings from various portals and found 5,458 ratings with an overall rating of 4.1 out of 5 .
Alternatives
If you're looking for a provider that offers a free version of its service, CleverReach is worth checking out. The German provider offers integrations with an extensive list of plugins, as well as the ability to create complex types of automation.
Should you be more interested in statistics and/or greater design freedom when creating emails or forms, ActiveCampaign might be more up your alley. The service comes with a wide range of features, however, it isn't as easy to use as GetResponse.
Sendinblue is a fully recommendable email marketing service with a wide range of features and ease of use. It is particularly suitable for sending automated campaigns.
unlimited number of contacts
loads of newsletter templates
9.4

excellent
Contacts
Emails / Month
Marketing Automation
Sendinblue Free
$0.00
monthly price
Visit Website*
ActiveCampaign is a fully integrated sales and marketing platform including CRM system, complex automation and multi-channel marketing.
Contacts
Emails / Month
Marketing Automation
ActiveCampaign Lite
$15.00
monthly price
Visit Website*
CleverReach is an European email marketing service, which shines with well thought-out functions, intuitive editors and many features and also provides a free plan for beginners.
Contacts
Emails / Month
Marketing Automation
CleverReach Lite
$0.00
monthly price
Visit Website*
Try CleverReach for Free
Contacts
Emails / Month
Marketing Automation
Campaign Monitor Basic
$9.63
monthly price
Visit Website*
wide selection of templates
numerous integration options
Seite und Support nur in Englisch
8.8

good
Contacts
Emails / Month
Marketing Automation
Mailchimp Free
$0.00
monthly price
Visit Website*
* Ad disclaimer:
For links marked with an asterisk, EXPERTE.com may earn a commission from the provider. The commission has no influence on our editorial rating.

Carsten Podszun studied computer science and business administration and was self-employed in the retail industry for 15 years. Since 2014 he is a consultant for startups, freelance author and writes at EXPERTE.com about homepage, hosting & IT security.
Continue Reading
Other languages
Deutsch