Creating a Newsletter - Review of 12 Email Marketing Providers

Ad disclaimer:
For links on this page, EXPERTE.com may earn a commission from the provider. This supports our work and has no influence on our editorial rating.
How many unopened emails do you relegate to your trash folder without a second thought? Statistically speaking, only one in four emails is ever opened, and newsletters are often those that fare worst. With an efficient email marketing tool, you can give your mailings a significant edge, increasing the likelihood that they'll be read. Here, we'll let you know how you can use such a tool to create a newsletter for your business or organization.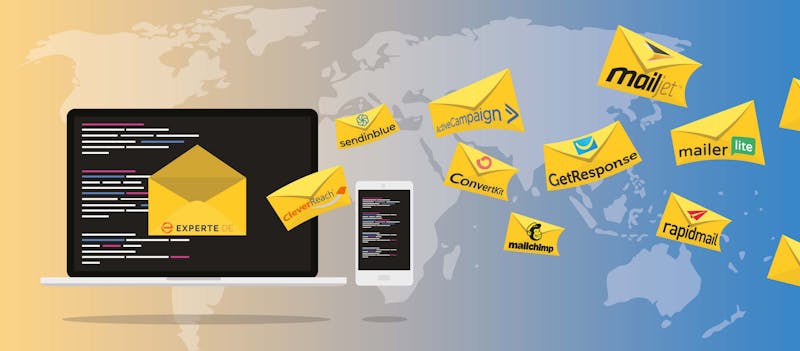 As part of our comprehensive EXPERTE.com review, we took a careful look at twelve of the most well-known newsletter tools on the market. In particular, we paid a great deal of attention to what the services made available for creating, sending, and automating newsletter campaigns.
Below, in four easy steps, we'll show you how to start your own newsletter campaign with an email marketing tool.
Step 1 - Select a Newsletter Service
The first step is also, probably, the most important in creating a professional email campaign, namely, the selection of a service provider. There are a number of good solutions on the market, however, our advice is to determine precisely what it is that you want to accomplish, how many recipients you'd like to reach, and in what volume you'll be writing to them before committing. With that said, we'll show you a few of our top picks to help get your juices flowing:
1.
GetResponse - Our Winner
GetResponse stands out with its ease of use, excellent customization options, extensive statistics and numerous templates. It is suitable for both beginners and frequent senders.
Contacts
Emails / Month
Marketing Automation
GetResponse Basic
$15.00
monthly price
Visit Website*
30 days free trial
GetResponse is a particularly nice choice for anyone looking for extensive statistics to optimize future campaigns. Although there's no free version offered, there's still a lot to love about the service. Its beginner-friendly dashboard is easy to use, so much so that you can send your first newsletter within just minutes of registering.
Speed is not GetResponse's only advantage though: Thanks to its robust tracking and nifty Conversion Funnel (formerly known as Autofunnel), you can thoroughly analyze, monitor, and optimize automated emails. In addition, the service can be effortlessly integrated into most systems and comes with an efficient workflow editor for all types of automation. To top it all off, GetResponse provides its users with round-the-clock support.
Beginner-friendly and easy to use newsletter creator

Clever Funnel and extensive optimization statistics

Highly versatile options for automation, as well as plugins for existing systems
Configuration & Usage
10 / 10
Tracking & Statistics
10 / 10
2.
Sendinblue - The Best Free Version
Sendinblue is a fully recommendable email marketing service with a wide range of features and ease of use. It is particularly suitable for sending automated campaigns.
unlimited number of contacts
loads of newsletter templates
9.4

excellent
Contacts
Emails / Month
Marketing Automation
Sendinblue Free
$0.00
monthly price
Visit Website*
If you're not a high volume sender and want to get your feet wet with a free version before plopping down cash on a subscription, we recommend Sendinblue. We were greatly impressed with the service during testing, thanks to its ease of use and extensive newsletter, landing page, and form templates. Even if you're completely new to newsletter tools, we promise that you'll quickly find your way around Sendinblue.
However, don't let that fool you; Sendinblue isn't just for beginners. The French service offers extensive options for analysis and optimization, allowing users to create and launch both automated email and SMS campaigns. For paying subscribers, even greater functionality awaits, as do additional features and support.
Feature-filled and highly functional free version

Excellent for beginners; offers a range of newsletter, landing page, and form templates

Comprehensive tracking and statistics
Configuration & Usage
10 / 10
Tracking & Statistics
10 / 10
Other Providers
As cliche as it might sound, none of the other six services we examined performed poorly; rather, two excelled, while the remainder evidenced consistent performances with some doing better in certain areas than others. Finding the ideal solution for your individual or organizational needs could lead to a provider different than our top two picks. The remainder of the providers, as well as their review scores, can be viewed in the table below:
Generally speaking, creating a newsletter campaign is pretty much the same in every email marketing tool. Of course, there can be slight differences in how functions or features are named from provider to provider or the exact steps that must be taken. As a result, this short guide relates specifically to our Overall Winner, GetResponse. Details for other providers can be found in their individual reviews.
Step 2: Gather Contacts
Once you've settled on a provider, you'll need to collect contact data for your recipients, specifically, their email addresses. Nearly all services allow you to upload this in the form of a file (such as a Microsoft Excel spreadsheet) or to manually input it. This first contact list (alternatively referred to as a 'recipient list' among some providers) will grow automatically as new users subscribe to your newsletter, either after placing an order in your webstore, or entering their information on your site's form or landing page.
Practically all of the services we examined offer form and landing page editors (alternatively referred to as 'creators', or 'builders' among some providers) which allow you to create professional-looking widgets or forms for gathering contact information from visitors. If doing business with customers or individuals in the European Union, it's highly recommended to ensure that the service you've selected makes staying GDPR-compliant as easy as possible.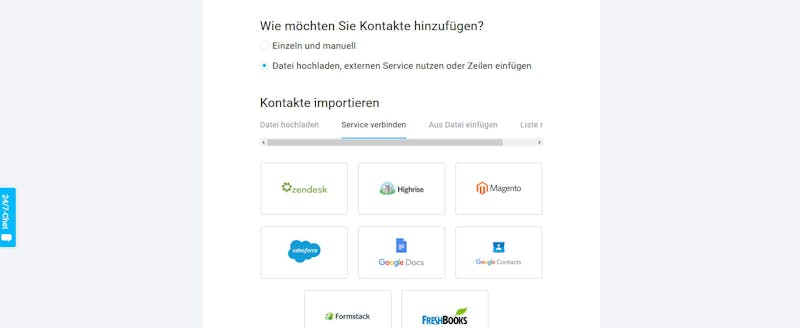 Each newsletter tool allows for contact lists to be created, imported, and managed.
GetResponse also makes it possible to directly input contact information by copying and pasting it, or importing it from other services like Mailchimp, ActiveCampaign, Google Contacts, Salesforce, Zendesk, or Magento. You can also link the contact list with Facebook, Instagram, or a content management system like WordPress or your shop system.
Thanks to integrations it's also possible to assign specific tags to contacts based on certain conditions, helping to categorize or segment them further within your general list. This makes it possible to later personalize and optimize newsletters sent to your subscriber base.
Step 3: Sending Emails
With GetResponse's newsletter creator, you can quickly design a professional-looking newsletter using a wide selection of templates and layouts. Each service we reviewed also offers the ability to automate mailing, which comes in handy for dispatching recurring newsletters, such as those sent to new subscribers, or those celebrating birthdays. The advantage of automation is that this is taken care of automatically, meaning you won't have to send the messages one-by-one yourself.
Whether the emails are sent using the provider's server, or your own domain is up to you. The first option is easier since you won't need to configure or modify any settings. If high deliverability and full domain integration are important to you, you can authenticate your sender address via SPF and DomainKey.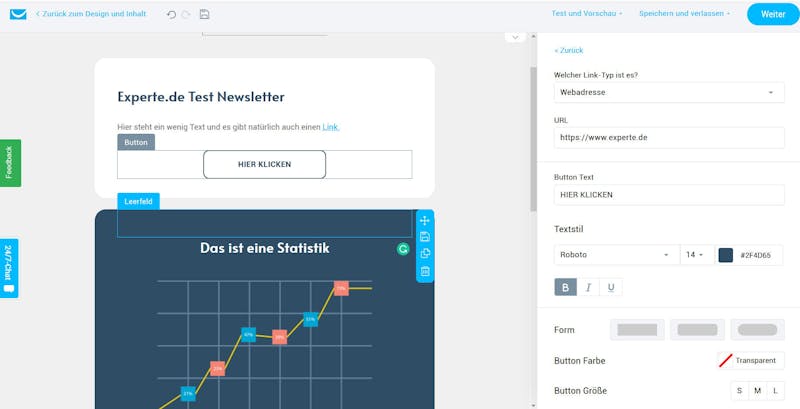 Thanks to its solid creator tool, it's easy to create a professional newsletter or email sequence with GetResponse.
With GetResponse, it's also possible to visualize more intricate email processes and sequences in its workflow editor. Beyond that, you're given the ability to create transactional emails, which are sent automatically when specific events occur on your website or store (i.e. placing an order is interrupted).
Similarly, A/B tests (sometimes referred to as 'split tests') can help to optimize your campaigns, making it easy to directly compare variants of them and select the best. Rounding out the list, GetResponse really removes all the hurdles, so that you can even create newsletters from RSS feeds, or host on-demand or live webinars, helping you to communicate effectively with your subscribers.
Step 4 - Evaluation
At this point, you might be wondering why it's necessary to use a newsletter tool at all since you could do everything we've described above through your CMS. However, this changes drastically once you've sent your newsletter; at this point in time, newsletter tools show their advantage, namely, in tracking and tabulating statistical detail highly relevant to your campaigns which allows you to optimize them down the road.
In addition to behavior analysis among different recipient groups, A/B tests and detailed statistics also help to gauge your newsletter's performance (for example, its open rate, click rate, and deliverability). Only once you know which kind of newsletter makes a good impression with which segment of your audience, can you prepare targeted measures for enhancing the efficacy of your campaigns.

Tracking and evaluating the performance of newsletters is one of the main advantages offered by newsletter tools.
GetResponse's Conversion Funnel comes into play here, showing off the provider's recipe for success. Optimizing newsletters helps not only to raise your conversion rate but also to ensure that your newsletter will be opened and viewed more frequently. No one wants to waste time reading spam; only when your newsletter is adjudged to pique someone's interest, can your message be effective.
Conclusion
With a solid newsletter tool at your side, you'll be able to optimize your marketing and communications. The easier it is to create professional types of automation and dispatch your newsletters, the more time you'll have for evaluating and improving them.
A professional newsletter tool should not only be seen as an alternative to an email client, but rather, a marketing assistant that helps your campaigns to reach a greater audience, more effectively transmitting your message to them. These tools allow you to reach out to individual subscribers and interact more effectively with them. Once you've experienced what they bring to the table, we're confident that you won't ever want to do without them!
* Ad disclaimer:
For links marked with an asterisk, EXPERTE.com may earn a commission from the provider. The commission has no influence on our editorial rating.

Carsten Podszun studied computer science and business administration and was self-employed in the retail industry for 15 years. Since 2014 he is a consultant for startups, freelance author and writes at EXPERTE.com about homepage, hosting & IT security.
Continue Reading
Other languages
Deutsch