Shopify Review 2023: How Good Is the Ecommerce Software?

Author
Janis von Bleichert
Ad disclaimer:
For links on this page, EXPERTE.com may earn a commission from the provider. This supports our work and has no influence on our editorial rating.
Search, order, receive: This is what customers expect when shopping online. To meet this need, more and more ecommerce platforms provide business owners with these capabilities. However, you don't have to be Jeff Bezos to cut yourself a slice of the online sales pie.
One of the most well-known names in the market is Shopify, and in this review, we'll take a closer look at what they bring to the table.
What Is Shopify?
Shopify is an all-inclusive ecommerce platform from Canada that caters to both small and large businesses looking to do business online. From its humble beginnings as a sales platform for snowboards, it has grown into one of the world's leading ecommerce solutions, servicing more than 1 million businesses.
There's no mincing of words here: Shopify is our sample's giant. All the same, in this review, we're going to take a look at whether its dominance is deserved, or if it's vulnerable to challengers.
Shopify Review
Configuration & Usage
9.4 / 10
Marketing & Analytics
9.4 / 10
Product Management
8.6 / 10
Personalizing Your Store
8.6 / 10
Easy to set up; free trial version

User-friendly dashboard with straightforward navigation

No-nonsense site builder for personalizing your store

Excellent support center featuring numerous FAQs, a video library, and podcasts
Poor support response time

User-defined checkouts only for Shopify Plus customers

Transaction fees, if using external payment gateways
Like nearly every provider we have examined, Shopify offers a free trial version of its platform (14 days), which doesn't require you to supply payment information. Registering for the service is easy: Simply enter your email address on Shopify's homepage, and in the next window, a password and name for your store. Next, you'll be asked a few questions about your business, which Shopify uses to make recommendations in the dashboard, later on.
After that, registration is complete and you can start building your store.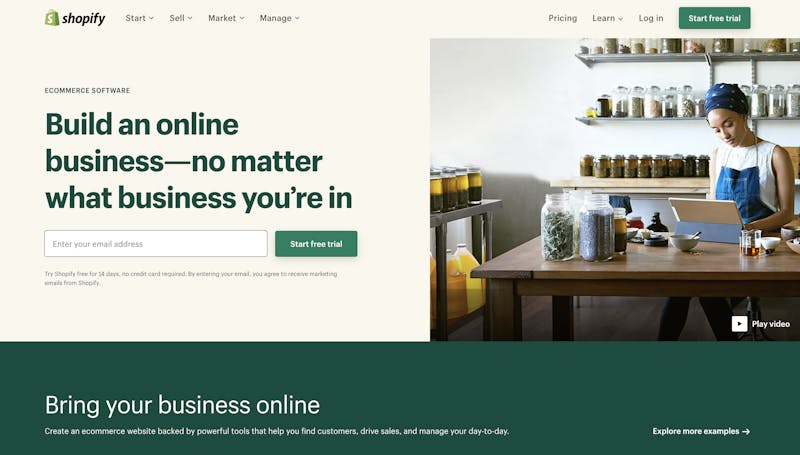 All that separates you from creating your own online store are a few clicks; what are you waiting for?
Shopify's dashboard is logically arranged. In the Home area, where you'll wind up after finishing registration, the first content blocks walk you through how to start creating a functioning online store. These include adding new products (more on that below), adjusting the theme, linking to a domain, setting shipping costs, and including legal information.
A search bar, which you can use to take quick actions or look for guides, figures prominently at the top of the page. In the menu to the right, you can make adjustments to your user account, as well as general and security settings.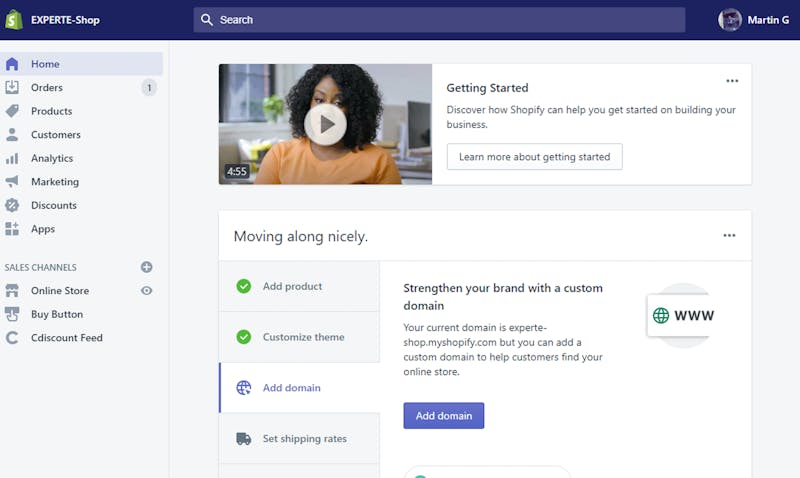 Shopify lends a helping hand right off the bat.
The left of the interface features a sidebar menu, which you can use to navigate between the Home, Orders, Products, Customers, Analytics, Marketing, and Apps areas. Here, you can also find different sales channels, should you offer your products elsewhere.
In the bottom left, you'll see Settings: This is where you can edit general information about your business, such as its name and address, or make changes to payment methods, checkout, delivery, taxes, and more.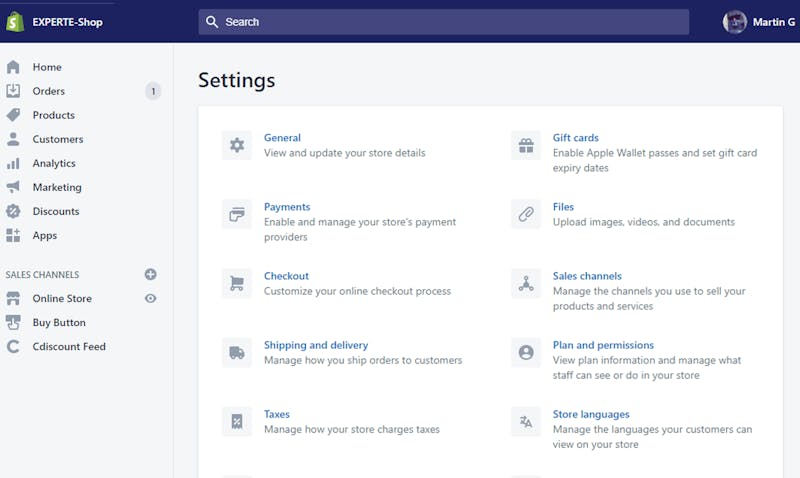 All of the most important settings are easily reachable.
Overall, Shopify seems to do everything in its power to make the first steps of creating an online store as easy and accessible as possible, scoring with its user-friendly dashboard and simple, no payment-info registration process. The platform also offers Android and iOS apps, which you can use to work on your store on the go.
Configuration & Usage
9.4 / 10
Selling your products is the reason why you're opening an online store in the first place, and most likely, what you'll spend the most time doing. We always pay attention to how ecommerce store builders handle adding new products, or editing and managing existing ones.
In Shopify, you can manage your offerings through Products in the sidebar. After clicking on it, you'll see All Products, Inventory, Transfers, Collections, and Gift Cards sub-areas.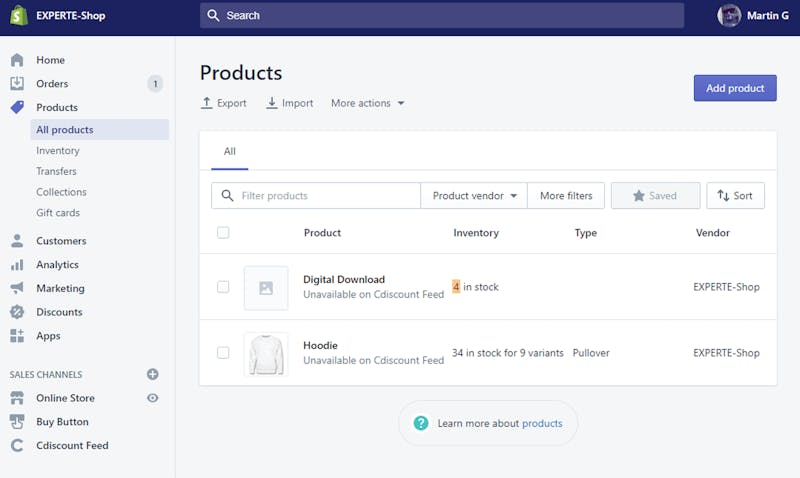 Product management in Shopify.
If you already have a CSV file of your products, it's easy to import it into Shopify. Otherwise, you can manually input products through the dashboard. Just give them a title, a description, and add pictures.
To be able to sell a product, you'll need to include some additional information, such as its price, quantity available, shipping costs, SKU, or tax status. It's also possible to sell services and digital articles, which don't require shipping, weight, or similar details. If you want to provide your customers with a download link directly after purchase, you'll need to get an additional app from the App Store.
You can create variations of your physical products, changing their size, color, or material. Three's the limit though, as you can't offer more options for a single item than that, which is a bit frustrating and not found on any of the other platforms we reviewed.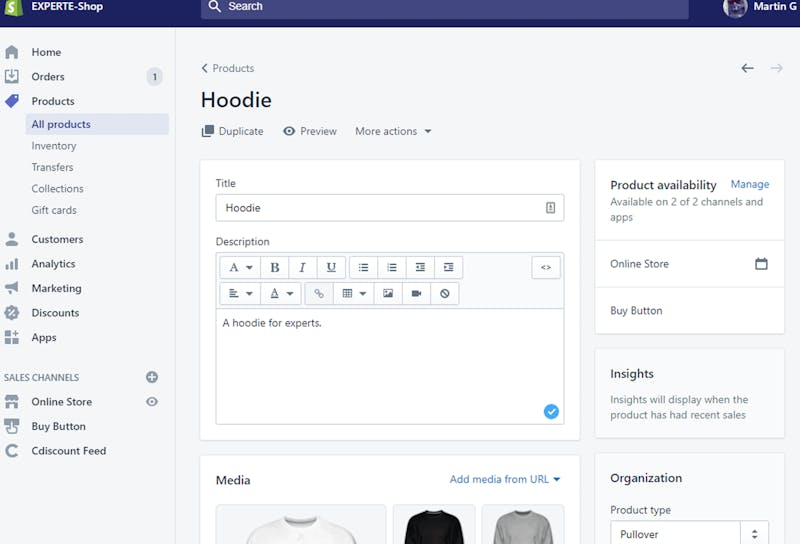 Shopify allows you to quickly add new products to your store.
You can upload a unique picture for each variant, showing customers an item looks in reality. In the bulk editor, it's possible to edit multiple variations at the same time, however, if these have different pictures, you'll need to manually change each of them. The bulk editor could be a bit more intuitive in this regard, however, it doesn't take long to manually change the pictures.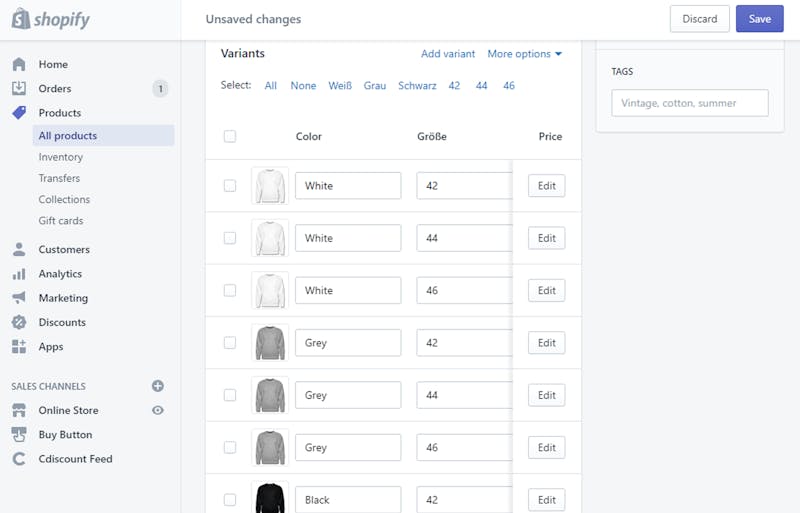 Shopify supports the creation of multiple variations of individual items.
Alongside brand information and the product's type, you can also assign items to a collection (category), to help your customers in their search. For an apparel store, this could be a summer collection, or for a book store, employee recommendations.
It's possible to manually add products to collections individually or to base this on the meeting of certain conditions, which will see products automatically assigned to categories. For example, products of a certain type will be automatically included in a category when they reach a certain in-stock quantity.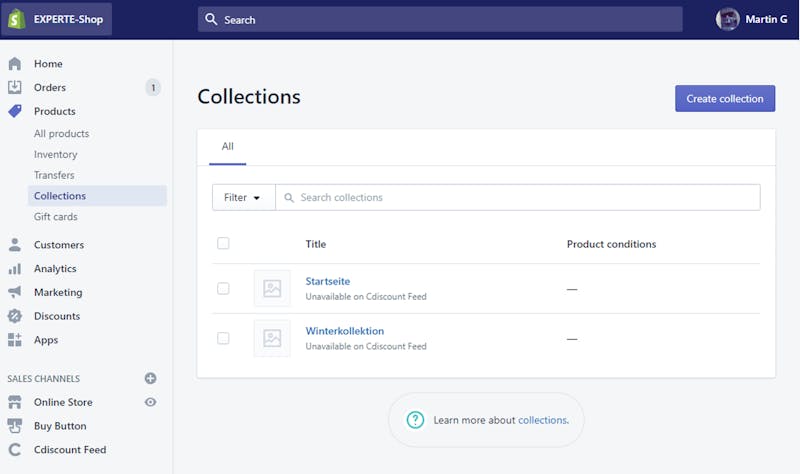 With Shopify's collections, it's possible to manually or automatically group your products into categories.
Inventory is managed through the similarly-named sub-menu. Here, you can manually set how much of a specific item you have in stock, or add new stock to your existing quantities. In the Transfers sub-menu, you can follow orders you've placed for more stock, and track their progress. Here, you're also able to see the number of incoming articles and their expected delivery date, after which, your inventory will be automatically updated to reflect the new quantity.
Payment options can be adjusted in Settings.
Taken together, Shopify makes it simple for any kind of user to manage their products and create a digital catalog. The nifty automations for incoming inventory or category creation save time and help those overseeing large portfolios of products.
Unfortunately, there are some basic features that require third-party apps, such as download links for digital purchases. In other areas, Shopify could easily make certain aspects of its platform more straightforward. Limiting the number of variant characteristics to three is odd. All the same, Shopify provides pretty much everything you need to be able to market and manage your products online.
Product Management
8.6 / 10
3.
Personalizing Your Store
By clicking on Online Store in the Sales Channel menu, a sub-menu will open, which serves as a kind of mini-CMS for your store. Here, you can create blog entries or add sub-pages. To adjust the appearance of your store, just click on Themes.
After registration, Shopify automatically selected the Debut theme for us. In the Themes Store, you can choose something else, with nine free options available.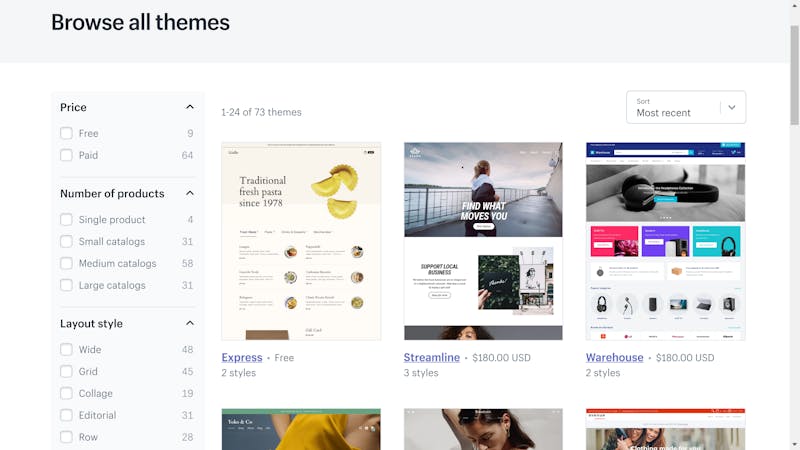 Shopify offers a wide selection of themes, most of which cost extra.
Regardless of whether you stick with the theme assigned to you, or want to make a change, by clicking on Customize, you'll be taken to Shopify's editor, where you can modify your store's user interface. For anyone with site-building experience, it won't take long to find your feet. In contrast to traditional site builders, your freedom is somewhat limited, which translates into greater ease.
Shopify automatically creates all default pages, such as a homepage and shopping cart. You're able to jump between different areas using the navigation bar in the upper part of your screen. Instead of manually editing all elements by dragging and dropping them, content is arranged using the sidebar on the left. Here, it's possible to add new sections and adjust text or images.
In addition, you can also edit the theme's general settings, such as its color scheme or font. By clicking on Edit Code you can work directly with the source code of your store's theme. Shopify's themes are based on Liquid, an open-source template language created by Shopify, the source files of which can be freely edited. If coding isn't an issue for you, then the themes are highly flexible, and basically fully customizable.
In the middle of the screen, you'll see a live preview of your store, through which it's possible to immediately view any changes that you make in the sidebar. As a result, you can customize your store without a great deal of skill or background knowledge. Once you're satisfied, click on Save.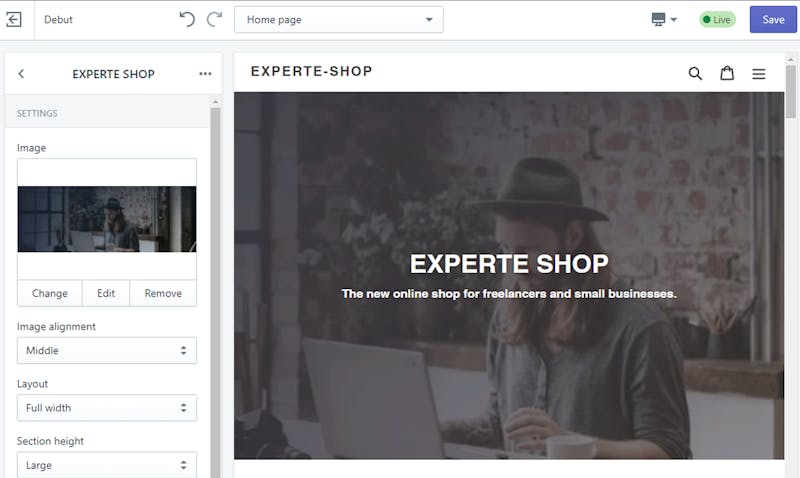 Shopify's editor is streamlined to make it easy to use, however, it's absence of drag and drop functionality is unfortunate.
It isn't possible to directly edit all elements in the store builder. Parent menus, for organizing your online store, can be added in the Navigation section of the admin area.
By default, each theme comes with a main menu and a footer menu, however, depending on the theme which has been selected, additional menus might also be included. It is possible to create drop-down menus and group certain products into them.
To understand how menus work in Shopify (and their creation), we recommend taking a few minutes and playing around with them. The entire process is well-explained In the help center, so you won't be left in the dark.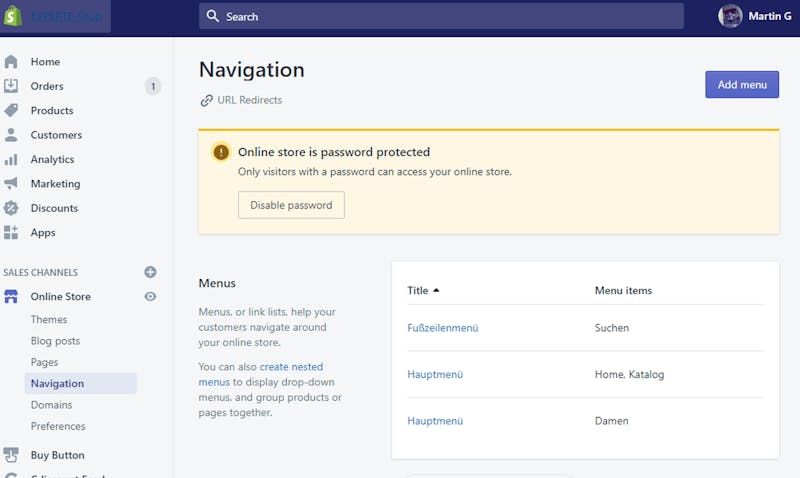 Adding menus takes a little bit of getting used to, but Shopify's guides walk you through the process.
Set alongside editors with full drag and drop functionality, Shopify comes up a bit short. At the same time, you aren't limited to using Shopify's default configuration for your store's user interface: In the Apps area, you can check out the App Store, and browse the numerous extensions and add-ons for the platform, some of which are free.
For example, the Buildify app adds drag and drop functionality to Shopify, making it possible to create entirely user-defined websites, albeit, for a monthly fee.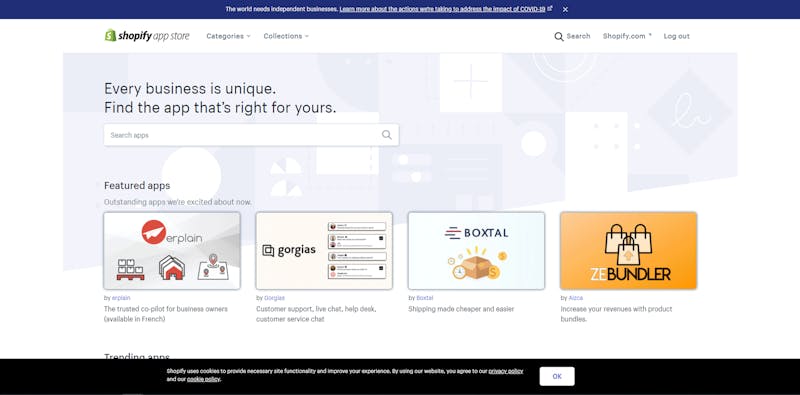 Shopify's App Store includes numerous free and premium extensions.
Shopify's editor makes it fairly simple to design an attractive-looking online store. Of course, this ease comes at a price, since you'll have to make do without drag and drop functionality. Similarly, the service's free templates are far from groundbreaking, and throwing in a few more free options wouldn't be the end of the world. At the same time, you can freely interpret your store's design with Liquid - Shopify's own theme language.
If that's not your cup of tea, there are plenty of paid theme and software options in the App Store.
Personalizing Your Store
8.6 / 10
Time to start selling. To prepare for this, you'll need to decide which payment methods your customers will be able to use. You can specify these by clicking on payment settings, with both PayPal and Amazon Pay available for immediate integration.
To enable card payments, you'll need to add a credit card gateway, like Stripe or PaymentExpress by clicking on the Add a provider button. Shopify's own payment solution, Shopify Payments, is also available.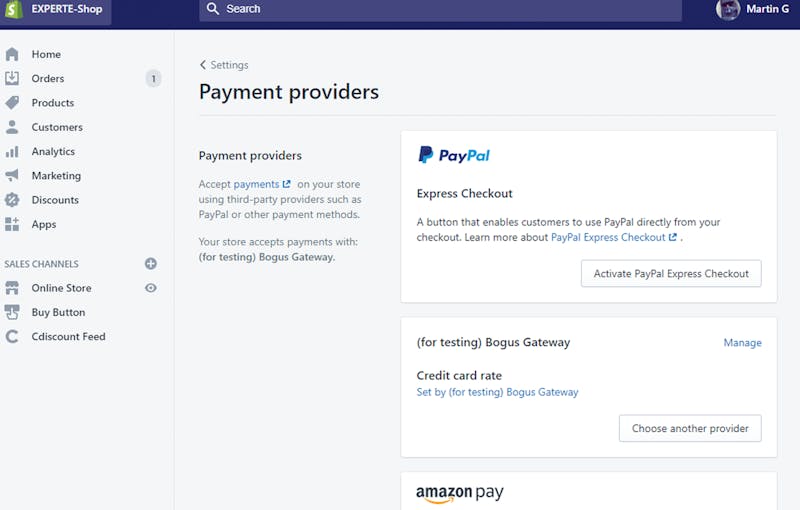 Shopify supports all major payment methods.
By clicking on Checkout in the settings menu, you can manage how customers place orders. These allow you to specify which contact information your customers need to supply, which information the checkout form requires, and if shoppers can review their order before placing it. The only downside is that you're bound to Shopify's standard layout - user-defined checkouts are only available to Shopify Plus subscribers.
Taxes are automatically calculated, however, you can overwrite this manually if necessary. Both before-tax and after-tax prices can be displayed to shoppers, and it's possible to adjust taxes for different countries or regions.
Delivery settings can be adjusted in the Shipping and Delivery submenu. There, it's possible to set rates for different delivery regions, local delivery, and pickup, as well as package sizes. You're also provided with an invoice template, which you can edit using HTML.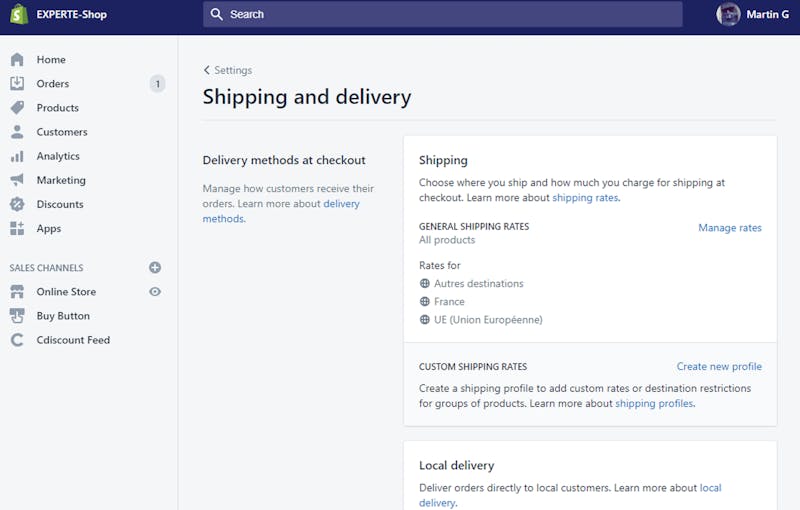 Delivery options can be found under Settings.
You can manage orders in the similarly named sidebar menu option. Here, each order that a customer has placed in your store is listed, and sortable on the basis of four criteria (unfulfilled, unpaid, open, and closed).
Clicking on the order number opens a detailed overview, displaying information about that particular customer as well as an activity timeline. The service also includes a very nifty fraud analysis tool, which gauges the likelihood that an order is genuine.
Individual orders can be marked as completed, and it's also possible to inform your customers about the dispatch of their items and send a tracking number.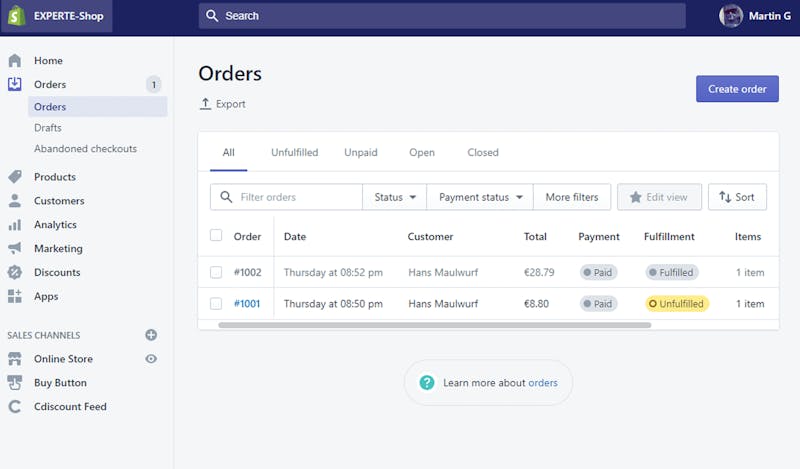 You can keep tabs on all orders you've received in the order overview area.
It is possible to integrate additional sales channels into Shopify, such as Facebook, Instagram, or Amazon. These can be added directly to your Shopify admin area so that you can follow all of your orders from a single location.
In the sidebar, under Sales Channels, a number of options are listed, the most interesting of which is the Buy button. You can add this to specific products or collections, even on different sales channels that you use, with a snippet of HTML code, making it possible for customers to buy the item through your store elsewhere.
Dropshipping and point of sale (POS) are also possible with Shopify.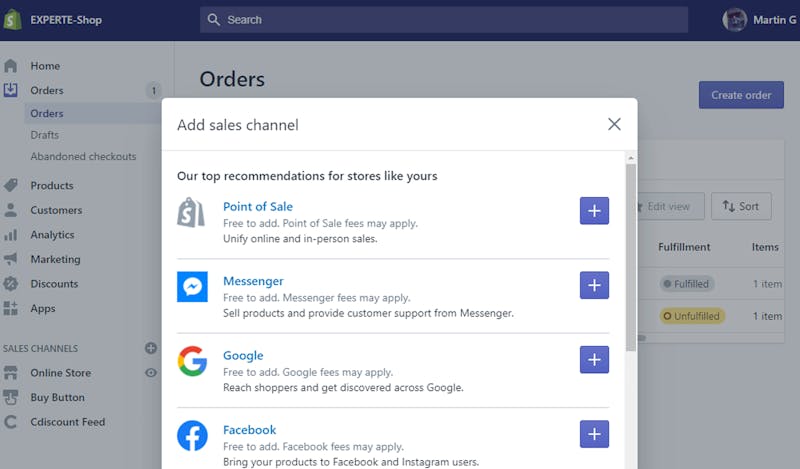 Follow all of your orders from a single place.
Shopify isn't great for doing business internationally. There's no direct way to create multi-lingual stores, even though there are some plugin-based workarounds. While you can sell in multiple currencies with Shopify Payments, you'll need to set this up under Payments in the Settings menu. The service doesn't exclude you from selling worldwide but does make it more complicated than some of its competitors.
Overall though, when it comes to selling online Shopify definitely excels. It isn't perfect, as the platform can be too rigid in certain areas. We're certain that Shopify could improve this without sacrificing any of its ease of use.
In terms of marketing, Shopify offers pretty much everything. It's possible to create digital coupons in the Products area and send them to customers either directly or through alternative sales channels. To offer gift certificates you'll need a (free) extension, Shopify POS.
You're also given the ability to entice customers with sales and discounts. In Shopify, these can be offered as manual or automatic discounts and made valid for certain periods of time. They can be limited to specific collections or products, as well as a minimum order amount or quantity.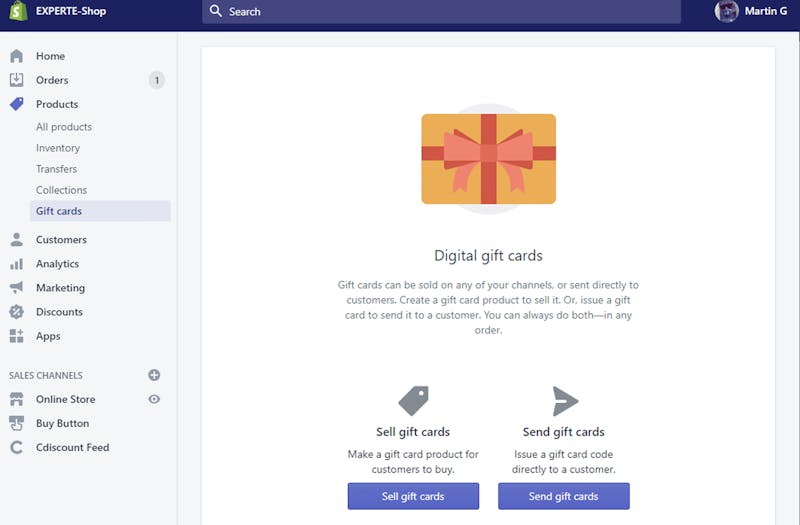 Gift cards and certificates, as well as discount codes are easy to create.
Perhaps the most important marketing aspect of Shopify is its email marketing tool, Shopify E-Mail. With this, you'll be able to create email newsletters featuring your store's branding and send these to selected groups of customers. You can choose which groups of customers should receive these too: For example, new clients, those who haven't purchased anything, or even visitors from a specific country.
In the marketing overview, you can keep track of your campaigns, their costs, and how many sales they've generated.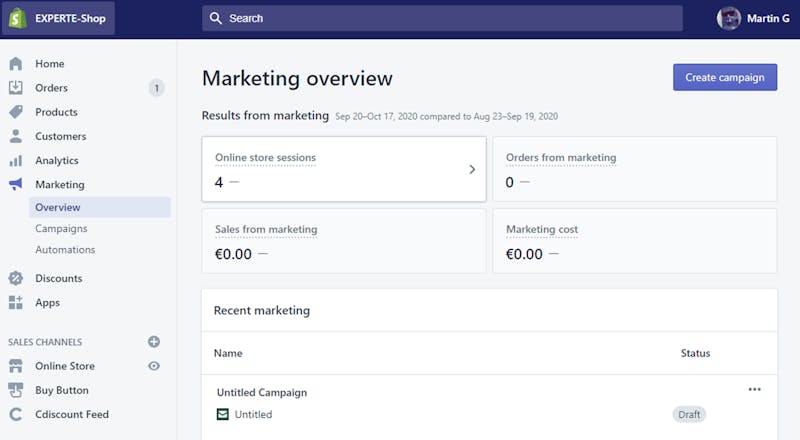 You can check how effective your marketing campaigns are in the marketing overview.
You'll manage your customers and customer groups through the sidebar menu. Should you already have a customer list in a CSV file, it's also possible to import it here.
Of course, Shopify E-Mail can't really hold a candle to dedicated email marketing tools in light of how limited its features are, but, it is useful for simple campaigns. Additionally, Shopify is one of the few ecommerce platforms to include an integrated email marketing tool, so, we applaud its presence.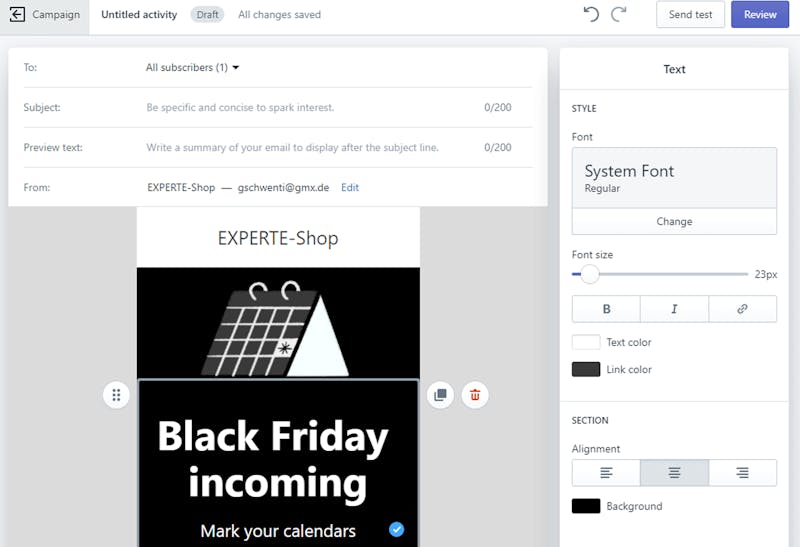 Shopify E-Mail allows you to create basic email campaigns with just a few clicks.
Should you want to advertise on other channels, you can use the free extension for platforms like Facebook, Google, or Snapchat.
Thankfully, Shopify offers easy SEO: Each theme is optimized for OnPage SEO, meaning that you'll only need to supply the desired keywords, titles, meta titles, and tags in the editor and product descriptions. If you really want to boost your SEO rankings, you'll find a number of tools and apps in Shopify's App Store.
To gather customer reviews and testimonials you'll also need a separate app, Product Reviews. This gives your customers the ability to leave star-based reviews on your product pages.
Analytics
In the Analytics area, you can gain greater insight into your sales and customer/visitor behavior. Each subscription package includes an overview of total sales, sessions, returning customers, average order totals, and conversion rates. Top sellers, the most visited landing pages, and marketing-based sales are all displayed in the dashboard.
More detailed information can be found by heading to the Reports submenu. Its usefulness depends largely on the subscription package you've purchased. Sales reports, which include information about orders based on criteria such as "sales over time" or "sales by product" are offered to Shopify subscribers and above. User-defined reports with individual filters are reserved for Advanced Shopify and Shopify Plus subscribers.
You can monitor real-time developments and activity in your online store through Live View, which includes a world map, customer activity, and page requests per minute.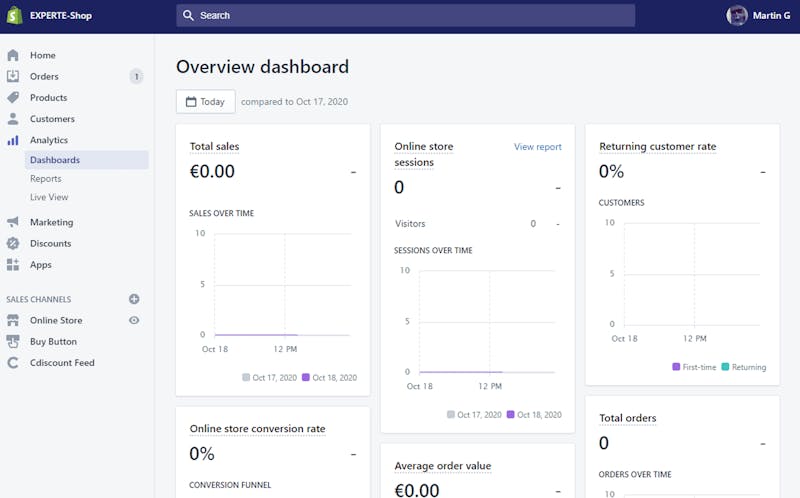 The level of detail provided by Shopify's reports depends entirely upon your subscription package.
If you would like additional insights, it's possible to integrate Google Analytics and Facebook Pixel.
Overall, Shopify ticks all of our boxes as far as marketing and analytics are concerned. For anything missing, or not provided by the platform, you can be sure that apps and extensions will offer the needed functionality.
Marketing & Analytics
9.4 / 10
Shopify's guides include detailed explanations of all features, as well as walkthroughs for the platform. The help center is very informative and well-structured. In the dashboard, you'll also find links that take you directly to relevant FAQ sections of the website. During testing, these allowed us to figure out some issues on our own, without the need for support team intervention.
In addition, there's also a video library, which contains video guides and topical podcasts. Webinars on specific topics, like "SEO for Beginners" or "The Basics of Store Design" are also frequently held.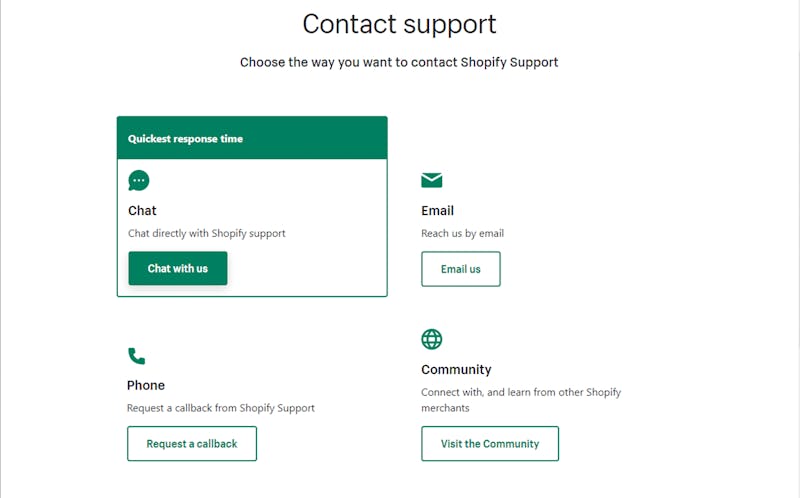 Shopify provides a great deal of both live and DIY support.
We were slightly underwhelmed at the possibilities provided by Shopify for getting in touch with live support. The service guarantees responses to email queries within 48 hours, however, we waited 288 hours (or 12 days). Even though the staffer apologized and blamed the matter on higher-than-expected email traffic owing to COVID-19, no one should have to wait (nearly) two weeks for support to respond.
Shopify does provide a support chat, however, the waiting times advertised don't really match what we experienced. We were told to expect a response within 40 minutes, however, the actual time was closer to an hour. The staffer was very helpful and enthusiastic though, readily apologizing for the longer-than-expected wait.
With more than 1 million customers, it's little surprise that Shopify's support is overwhelmed. As we've noticed elsewhere, larger digital service providers tend to beef up their non-live support, offering excellent guides, FAQs, and tutorials, in the hope that it will reduce live support queries. This is more of an economic necessity than anything else, but Shopify still needs to step up its live support game.
Shopify is available in three different subscription packages: Basic Shopify, Shopify, and Advanced Shopify. These differ largely in terms of the number of user accounts they include (2, 5, or 15) and some features. Professional reports are provided from the Shopify package up, and only Advanced subscribers can make use of advanced reporting features or live integrated shipping costs.
Transaction fees are only charged if using a payment gateway other than Shopify Payments. These are 2% for Basic subscribers, 1% for Shopify users, and 0.5% for Advanced customers.
In addition to the regular subscriptions, Shopify Plus is offered as a special solution for larger companies or businesses. Shopify Lite, on the other hand, allows you to add products and accept payments to an existing site.
Shopify's 14-day free trial is a nice touch, as is the fact that you don't need to supply your payment details to access it. You'll only have to give these to Shopify if you decide to accept payments. Even then, it's possible to back out of any subscription so long as you do so before the first payment is scheduled.
An overview of Shopify's rates can be found here:
Basic
Standard
Advanced
Price per Month
from $29.00
from $79.00
from $299.00
Transaction Fee
2 %
1 %
0.5 %
Contract Period (Months)
1 - 12
1 - 12
1 - 12
Product Management
Number of Products
unlimited
unlimited
unlimited
Product Filters
Product Variants
Product Reviews
Digital Products
Features
Multilingual
Multiple Currencies
Sales Channels

Amazon

eBay

Google Shopping

POS

Facebook

Instagram

Amazon

eBay

Google Shopping

POS

Facebook

Instagram

Amazon

eBay

Google Shopping

POS

Facebook

Instagram

Payment Options

Credit Card

PayPal

Apple Pay

Amazon Pay

Google Pay

Stripe

Cryptocurrency

Credit Card

PayPal

Apple Pay

Amazon Pay

Google Pay

Stripe

Cryptocurrency

Credit Card

PayPal

Apple Pay

Amazon Pay

Google Pay

Stripe

Cryptocurrency
To better compare the prices of all of our sample's providers, the table below shows the annual price for a plan that includes at least 100 products.
1.
2.
3.
4.
5.
6.
7.
8.
Conclusion
Configuration & Usage
9.4 / 10
Marketing & Analytics
9.4 / 10
Product Management
8.6 / 10
Personalizing Your Store
8.6 / 10
It's not hard to see why Shopify has become one of the most popular ecommerce platforms. You can easily create an online store easy and make use of plenty of features within a sleek user interface. On top of that, it's possible to quickly add products, launch a marketing campaign, or stay on top of your orders and sales.
Of course, there are a few blips here and there. The platform could be more flexible, allowing users without a background in programming to really design a store. And live support is perhaps the area most in need of improvement.
All said though, Shopify's position at the top of the heap isn't undeserved, but that doesn't mean it's the undisputed best. Still, the platform is one of the strongest all-in-one options available.
Shopify is a great all-rounder for small, medium, or larger shops. If you're looking for a platform that's more powerful than a regular website builder, but not as complicated as other ecommerce platforms, Shopify might offer the right mix.
Number of Products
Transaction Fee
Sales Channels
Payment Options
Shopify Basic
$29.00
monthly price
Visit Website*
14 day free trial
Customer Reviews
Even though a detailed review is good, we couldn't possibly cover all aspects of the service. For that reason, we've compiled user reviews for you here, to help shed more light on some areas that we might have overlooked.
Customer Ratings
53,421 Bewertungen
Visit Website*
We analyzed the reviews and ratings from various portals and found 53,421 ratings with an overall rating of 4.1 out of 5 .
Alternatives
If you lack programming know-how and feel unnecessarily constrained by Shopify's design limitations, you can try other ecommerce platforms with more powerful and versatile editors, like 1&1 IONOS and Wix. With 1&1 IONOS, you'll need to make do with deficits in terms of marketing, and the absence of a free trial version. Wix, which was our overall winner, can easily go head-to-head with Shopify.
More popular alternatives can be found here
Wix has built a shop solution on the foundation of its powerful website builder. The result: a beginner-friendly platform with strong personalization and ecommerce features, which is best-suited for smaller shops.
beginner-friendly interface
supports lots of sales channels
9.1

excellent
Number of Products
Transaction Fee
Sales Channels
Payment Options
Wix Business Basic
$22.00
monthly price
Visit Website*
14 day free trial
BigCommerce boasts well-designed product and inventory management features, solid marketing and analytics capabilities, and support for many sales channels. Possibly too complex for smaller shops, it's ideal for larger ecommerce projects.
many features 'out of the box'
up to 600 variants per product
supports multiple currencies
too complicated for smaller shops
8.7

good
Number of Products
Transaction Fee
Sales Channels
Payment Options
BigCommerce Standard
$29.95
monthly price
Visit Website*
Start Free Trial
Using its powerful website builder as a starting point, IONOS' ecommerce platform adds a solid set of sales features that should cover all the needs of smaller shops and websites with sales pages.
powerful editor for customization
affordable first-year prices
intuitive inventory management
limited marketing features
8.6

good
Number of Products
Transaction Fee
Sales Channels
Payment Options
IONOS Starter
$19.50
monthly price
Visit Website*
First Month Free
Ecwid works best as a plugin for other platforms: it can easily be integrated into a CMS, a website builder, or a social media site, and streamlines the sales process across these and other channels. The free tier is a nice extra.
easy to integrate with other platforms
many features behind paywalls
7.9

good
Number of Products
Transaction Fee
Sales Channels
Payment Options
Ecwid Free
$0.00
monthly price
Visit Website*
Sign up for free
Volusion offers a powerful ecommerce platform with impressive marketing and analytics features. Sadly, the user interface is more complicated than it needs to be, and there aren't as many ways to customize your site as with other solutions.
great analytics capabilities
many marketing & discount features
many sales channels (dropshipping, POS..)
complicated user interface
7.7

good
Number of Products
Transaction Fee
Sales Channels
Payment Options
Volusion Personal
$31.50
monthly price
Visit Website*
14 day free trial
* Ad disclaimer:
For links marked with an asterisk, EXPERTE.com may earn a commission from the provider. The commission has no influence on our editorial rating.

Janis von Bleichert studied business informatics at the TU Munich and computer science at the TU Berlin, Germany. He has been self-employed since 2006 and is the founder of EXPERTE.com. He writes about hosting, software and IT security.
Continue Reading