Wix Stores Review: Our Overall Winner 2023

Author
Janis von Bleichert
Ad disclaimer:
For links on this page, EXPERTE.com may earn a commission from the provider. This supports our work and has no influence on our editorial rating.
Modern ecommerce platforms make it easy to create a professional-looking online store in just a few steps. Unfortunately, choosing from among the 600 different solutions available is not so simple. In this review, we'll be taking a closer look at one of the most well-known of these, Wix Stores.
What Is Wix Stores?
Wix is a cloud-based site-building platform with more than 154 million users, making it one of the most popular solutions on the market. We've already shown in our site builder review that the company's popularity is fully deserved, thanks to its ease of use, wide selection of features, and excellent app market.
The Israeli provider also offers an ecommerce platform, Wix Stores. Below, we'll let you know if it's as good as its site builder.
Wix Stores Review
Personalizing Your Store
10 / 10
Configuration & Usage
9.4 / 10
Product Management
9.4 / 10
Marketing & Analytics
8.6 / 10
Relatively free hand in terms of design

Supports dropshipping, multi-channel, and POS sales
Templates can't be changed

Storage limits across all subscriptions

Certain marketing platform features cost extra
To start building your store, you'll need to create a Wix account, which only takes a few seconds. After clicking on "Create an Online Store", set your password, log in, and start choosing a design.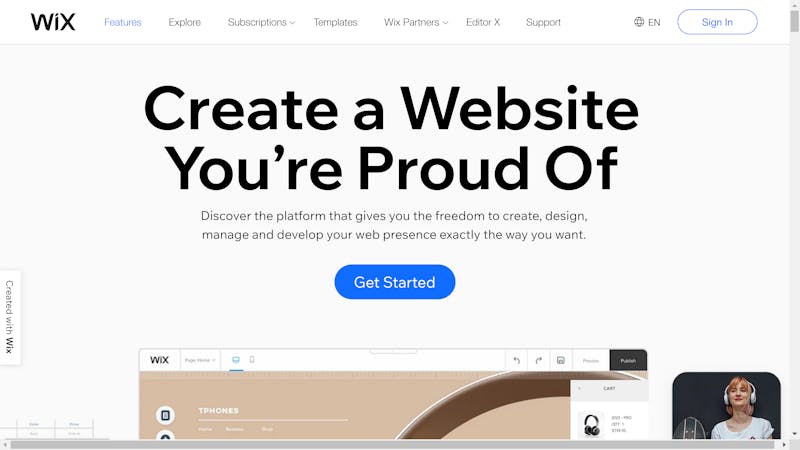 Registration requires an email and password. Alternatively, you can log in using social media (Facebook, Google, etc.).
Don't be surprised if you lose track of time in Wix's template gallery browsing through its more than 500 layouts, thematically sorted into groups like Fashion & Clothing, Home & Decor, or Electronics., but more on that below. Once you've selected a template, your online store will be created, and you'll be taken directly to the store/site builder.
Here, Wix Stores takes a noticeably different approach than its competitors. In most of these, you manage your store through an administrative dashboard, one component of which is the actual store builder. With Wix Stores, this builder is much more prominent, allowing you to do almost everything in a more familiar environment. This pays dividends, as it makes designing your site less abstract.
Wix Stores' site builder is framed by three different menus. On the left, buttons list the tools that you'll use to build your site, such as menu creation, image editing, page backgrounds, and adding new elements. Off to the right is the tool menu, which you can move around at will, and edit elements that you select.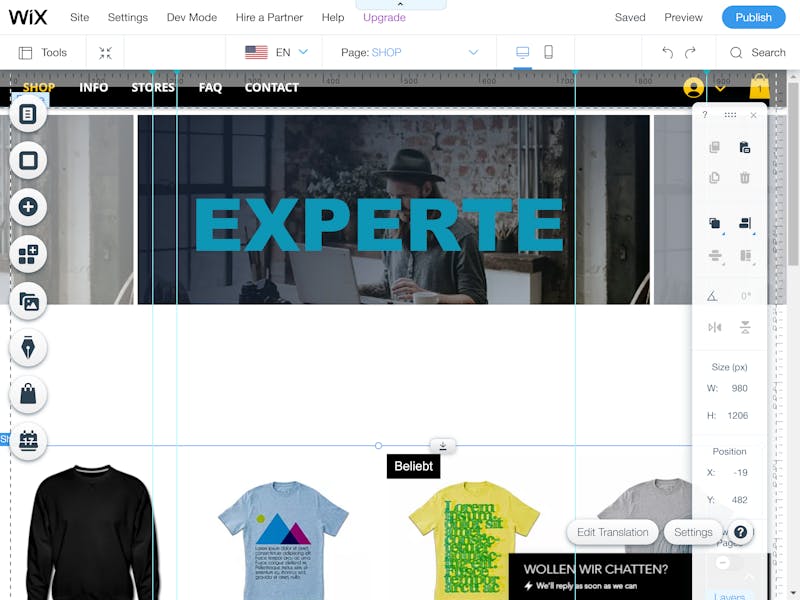 Wix Stores' powerful builder is the ecommerce platform's engine.
Finally, there's the upper menu bar, which is divided into two rows. In the lower of the two, you can quickly navigate between different pages and see how these are displayed to visitors, whereas in the upper row, you'll find a help section, developer mode, as well as general settings for your store and site. This last menu is primarily for managing your store's website.
The administrative dashboard includes a sidebar menu with typical ecommerce features: Store Products, Store Orders, Marketing & SEO, and Analytics & Reports. In the Settings area, you can input your business information, and adjust tax and shipping details.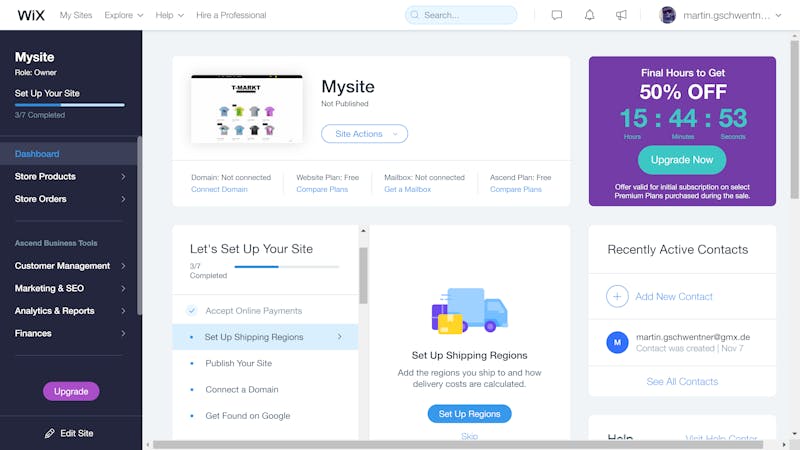 You can manage your products, orders, and store directly in the dashboard.
Wix Stores is both easier to use and more detailed than other ecommerce platforms from our sample. Beginners will have to adjust to how the menus are arranged, and the way in which information is presented on screen.
At the same time, it's far more powerful and intuitive than many of the other solutions we reviewed. The emphasis on its site/store builder means that the distinction between the dashboard and your store is clear, helping to improve the overall user experience.
Configuration & Usage
9.4 / 10
There are two ways to manage your products in Wix Stores: In the dashboard, or directly in the store builder. For the latter, you only need to click on the product field and the "Manage Products" button, which will open a pop-up window. There, you'll find all of your items, and be able to sort them by collection, quantity available, type, and visibility. If you've already created a product list, you can import it into Wix Stores as a CSV file.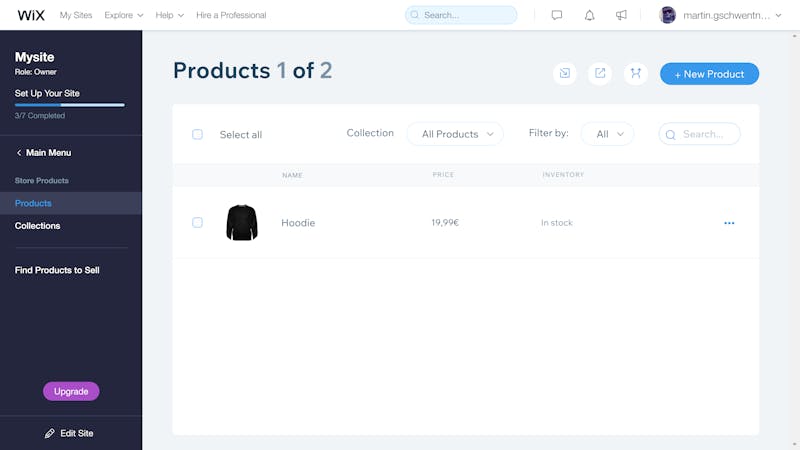 You can specify what you'll offer to your customers in the product management area.
Should you want to add a new product, you'll first have to specify whether it's a physical or digital good. In the next window, you'll be asked to name the product and describe it, as well as assign it a price and upload pictures or a video of it. You can also add individual information sections to be displayed on the product's page.
In addition, it's possible to provide information about the quantity available and shipping. If you're a drop shipper, this is where you'll be asked to specify your vendor.
One unique feature of Wix Stores is that you can also offer your customers product subscriptions. This is particularly useful if you deal in foodstuffs or household items since it allows you to sell on a regular schedule.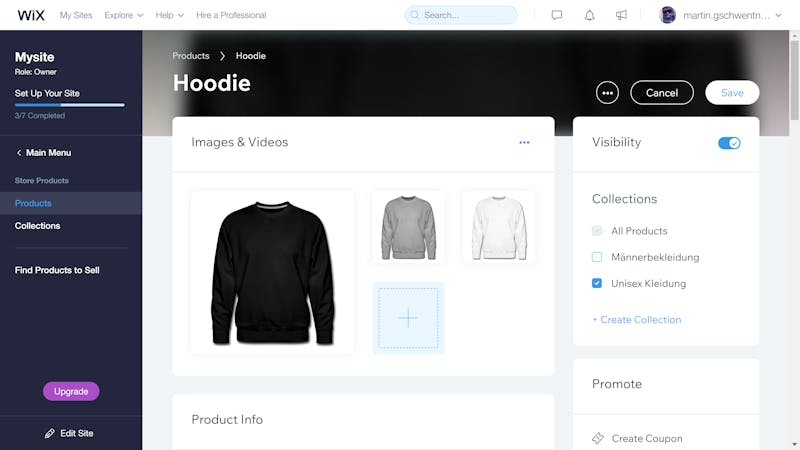 Upload images of your product, and describe them so that customers will be able to find and buy them easier.
To help your customers when browsing, you can also group your products into collections directly in the product window.
Product variations are possible. To create these, click on Product Options and enter a term (i.e. "Colors" or "Sizes") and list the available options (black, white, green; or "S", "M", "L"). Once input, you can add different pictures, so that clients who select a shirt or blouse in black will see it and, not its green variation. Some providers, such as Ecwid, offer a bit more creative freedom here, making it possible to select multiple variations of a single item.
If desired, it's also possible to add unique prices, available quantities, weights, and SKUs to each variation.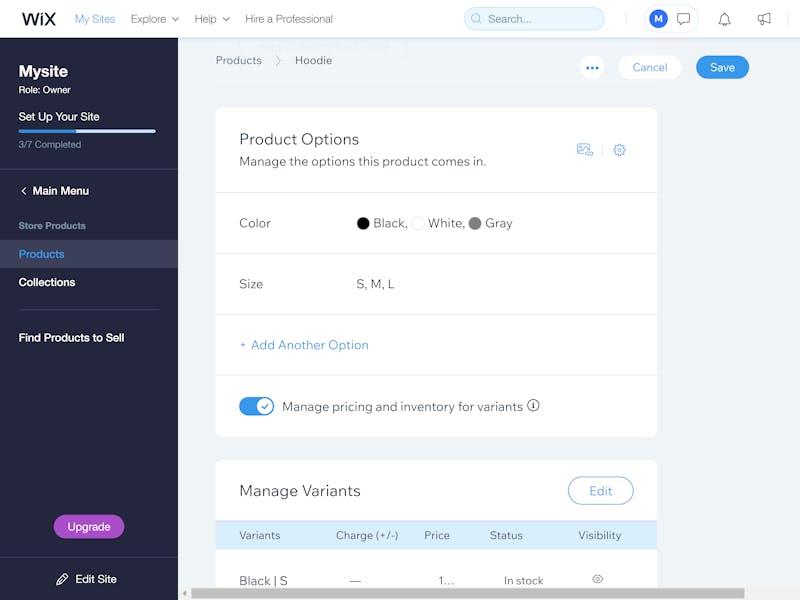 In the Product Options area of the dashboard, you can add variations of your goods.
These variations can be displayed either in a drop-down menu, or a color chart. We would have liked to see an embedded product preview tool here that would make it possible to immediately see how each product's page looks to customers. To do this, you'll need to jump over to the store builder and click on the product.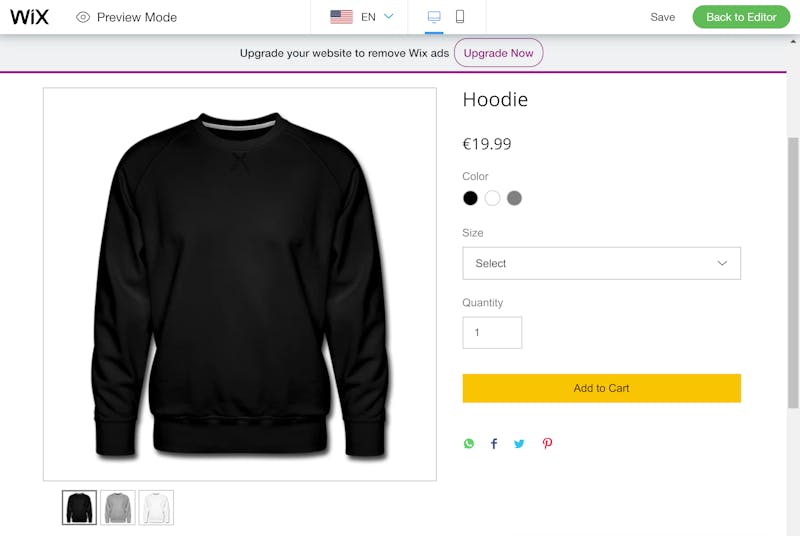 How customers see your product.
If you plan on offering digital products, you'll need to upload the file(s) in the product window. Images, audio files, documents, and zip archives are supported. Once a customer purchases a digital product from you, they'll receive a direct download link - in other words, the entire sale is automated.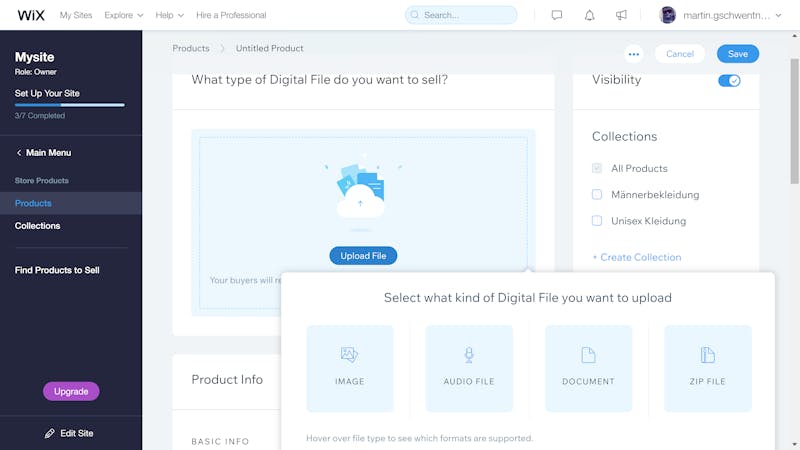 Wix Stores also allows for digital products to be sold.
Wix Stores covers pretty much all of the bases in terms of product management and even sneaks in a few nice surprises, like product subscriptions. Of course, other providers offer more variant options, and the need to switch over to the store builder to preview a product's page is a bit tedious. Overall though, we don't have too many complaints.
Product Management
9.4 / 10
3.
Personalizing Your Store
Most ecommerce platforms attempt to balance freedom and simplicity, ultimately failing to do so. Because these services want to appeal to as large an audience as possible, simplicity often wins out, limiting design freedom. This isn't the case with Wix Stores, since it only slightly limits users' creativity, just like the company's site builder.
Wix Stores offers genuine drag and drop functionality, meaning that you can move nearly all elements at will. New content can be added by clicking on the "+" button and choosing from seemingly endless countless ready-made page elements.
In addition to text fields and images, you can also add entire content blocks like lists, useful for testimonials or about us pages. Shop elements ranging from product galleries to the shopping cart button can also be moved and arranged to your heart's content.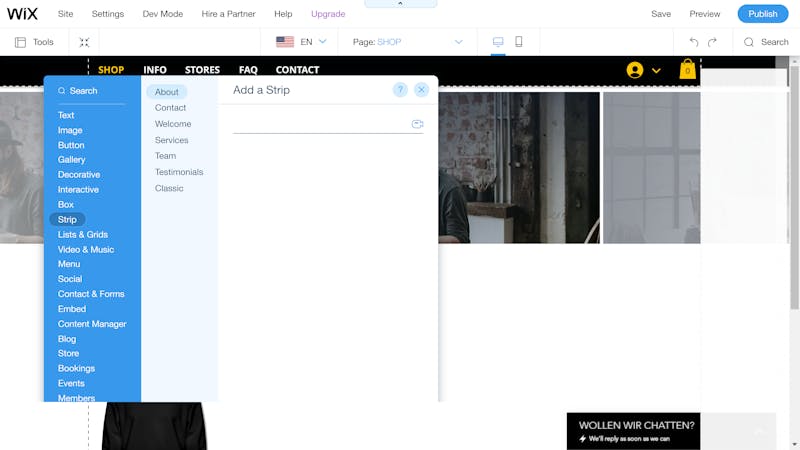 Wix Stores' builder affords users considerable design freedom.
Store navigation can be configured by clicking on the Menus & Pages button. There, you can create new pages and configure settings for every subpage. For example, it's possible to password-protect specific pages or limit access to them to logged-in users. You're also able to adjust some aspects of SEO here, such as slugs, descriptions, and meta-tags.
To make navigating to the different pages of your store even easier, you can use the drop-down menu in the upper menu bar. This allows you to fine-tune texts and designs in your online store that will be visible to customers, from the start page to the shopping cart.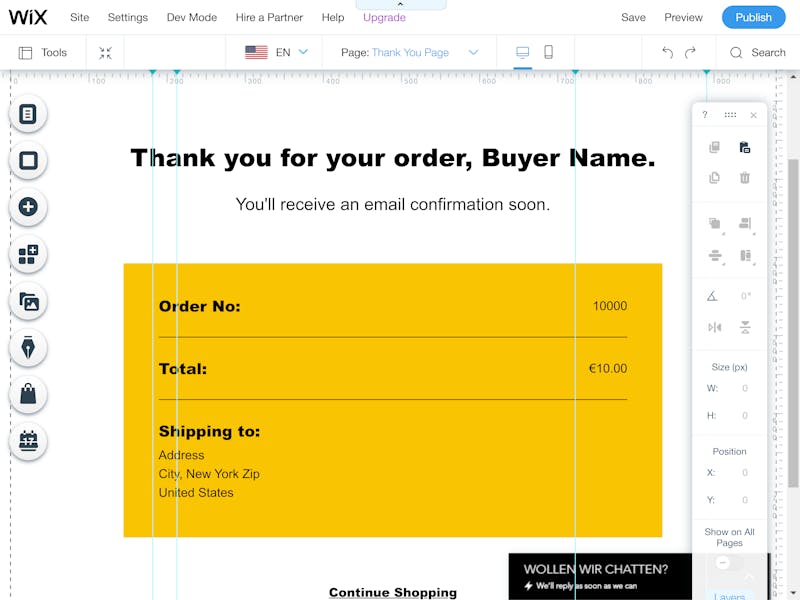 In Wix Stores, it's easy to customize each of your store's pages.
The level of difficulty depends largely on how much you want to do, and how satisfied you are with the template's default settings. In Wix Stores, it's important to carefully select a template, since you won't be able to change it once you start designing, without losing all progress and having to start from scratch.
If you're looking for specific design elements or features, you can also check Wix's App Market. There, you'll find extra features and tools, some of which allow you to create different kinds of content for your store. There are also marketing tools, as well as media elements like galleries for images or videos, search bars, and much more.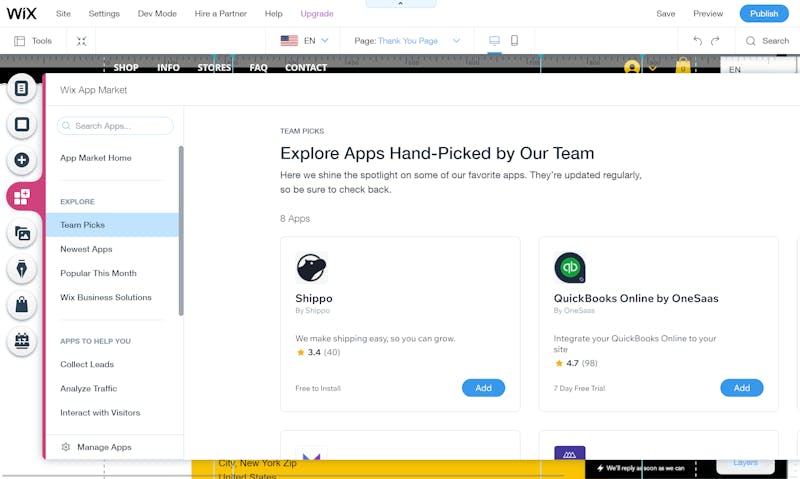 If you can't find the feature or element that you need, check out Wix's well-stocked App Market.
Creating multiple language localizations is not a problem in Wix Stores. Simply click on Settings > Multilingual to set (or change) your primary language or add additional languages. After this, a language menu will appear on your store's page, which your customers can use to view the store in a different localization. Alternatively, you can set your store's language to automatically match that of the customer.
Content that you've already added to your store can be translated directly in the multilingual menu. For new content, you can alternate between different localizations of your store in the site builder and manually make changes.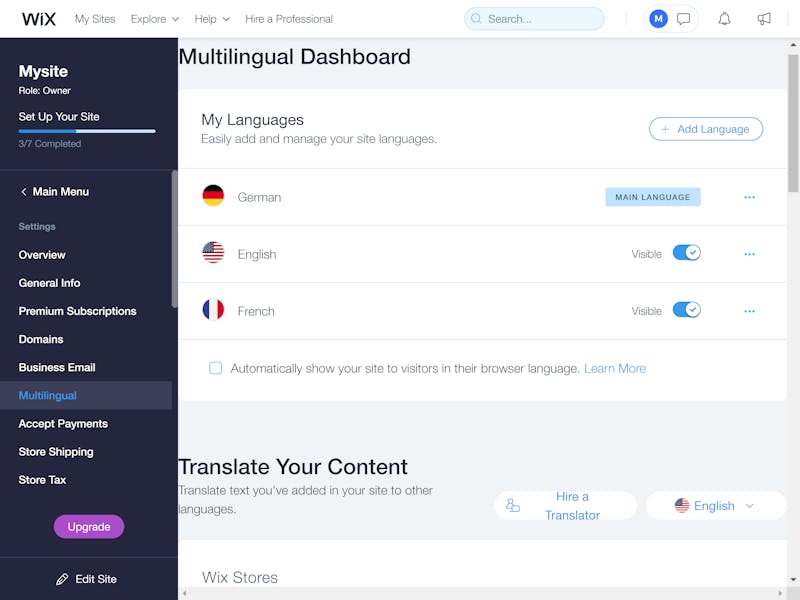 Wix Stores offers impressive support for multilingual stores.
Wix Stores provides quite a bit of creative freedom, however, taking advantage of this, especially if less experienced, can create some issues: A button might be out of line, or a menu item could lead to a blank page. Generally speaking, the more freedom users have in designing their stores, the greater the likelihood that something will go wrong. You'll need to decide for yourself how much creativity you want to express.
For beginners, we recommend sticking close to the templates and not making too many changes to their settings or menu arrangements. Even with this 'safe' approach, Wix Stores still offers more options and is easier to use than other platforms. In case you'd like to express your creativity, Wix Stores will allow you to do so more than many of its competitors.
In addition, it's worth noting that in Developer Mode you can insert individual code and APIs, meaning that those few barriers which the service does erect can be easily bypassed.
Personalizing Your Store
10 / 10
Once you've added products and built up a storefront, you can finally start thinking about selling. For this, you'll need to make a few payment methods available to your customers, by heading to Settings > Payment Methods. In addition to PayPal, numerous credit and debit cards are accepted through gateways like Stripe, Lyra Collect, Braintree, and SumUp, as well as more country-specific payment methods like AliPay or iDeal.
In the US, the UK, the Euro Zone, Switzerland, and Brazil, it's possible to use Wix Payments. For the US, this charges 2.9% of the order total + $0.30. The fees for other countries/currencies vary, ranging from 1.9% of the transaction fee to 2.3%.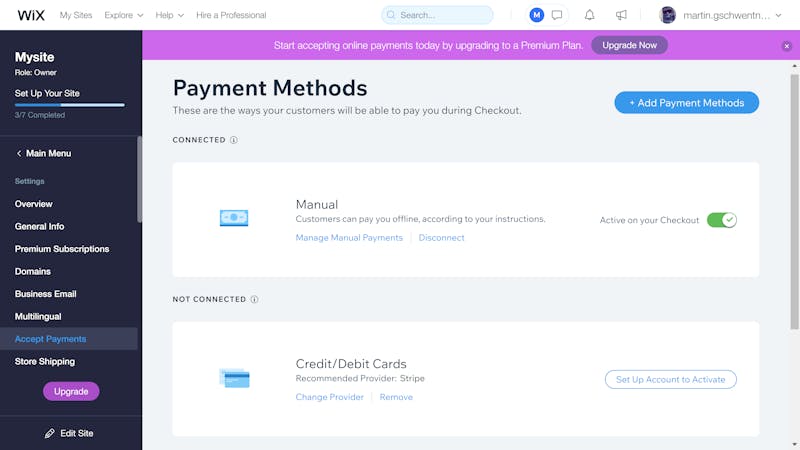 Wix Stores allows your customers to pay using the most common methods.
Shipping options can be added directly in the settings menu under payment methods. There, it's possible to create shipping regions and specify conditions for each. You can offer a flat-rate fee, link shipping to the weight or price of the order, or even offer free shipping for a certain amount.
Should you use an external fulfillment service for storing and shipping your products, you can also add it here and identify which of your products it is responsible for.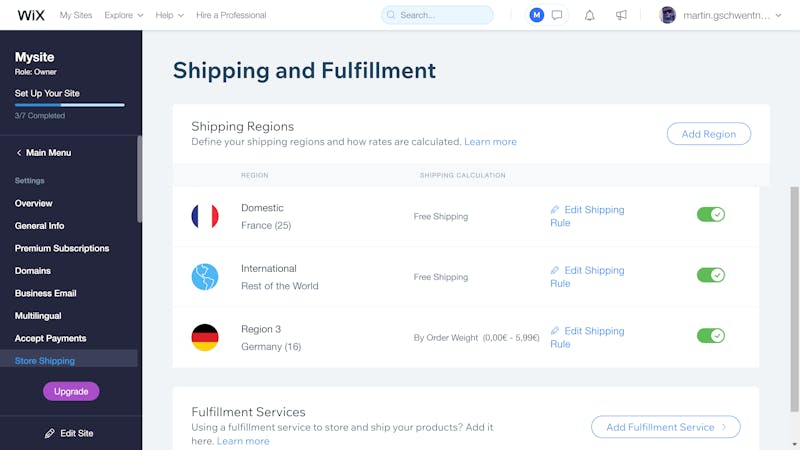 Wix Stores offers plenty of shipping options available as well.
Tax information can be specified under settings, either manually (for each country/region) or automatically with Avalara. Real-time calculations are only available to Premium subscribers.
It's possible to specify whether VAT should be included in your prices, or automatically added at the time of purchase. Shipping can also be taxed.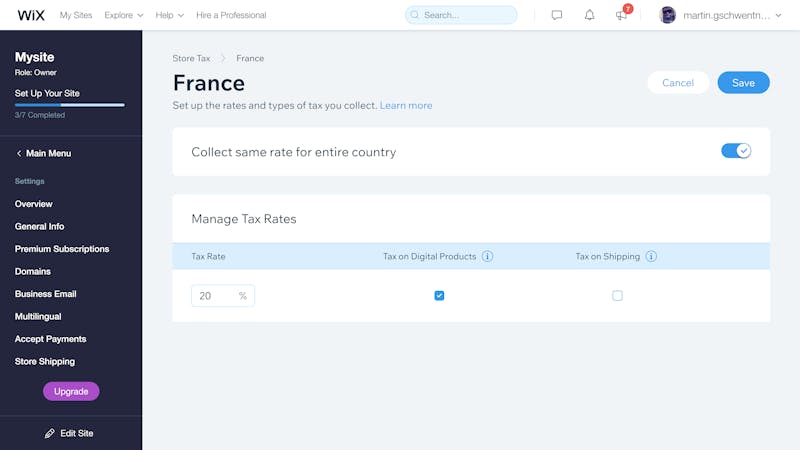 It's possible to show before tax or after tax prices.
You can view orders in the similarly named dashboard menu. These can be searched manually, or filtered on the basis of their status, date received, products, subscription status, or sales channel. It's possible to add tracking numbers to the order overview, change the status of an order, cancel it, or authorize a refund.
Dropshipping is possible in Wix Stores, albeit only through extensions from the App Market. As of the time of writing, Spocket, Modalyst, Printify, and Printful can be integrated.
Multi-channel sales are supported by Wix Stores. Facebook and Instagram can be added by clicking on Marketing Tools > Sales Channels. If you want to add even more online marketplaces, you can do so using the Multiorders app; Google Shopping can be integrated through AdScape. With the Wix mobile app, it's possible to configure points of sale (POS), to sell your products on the go.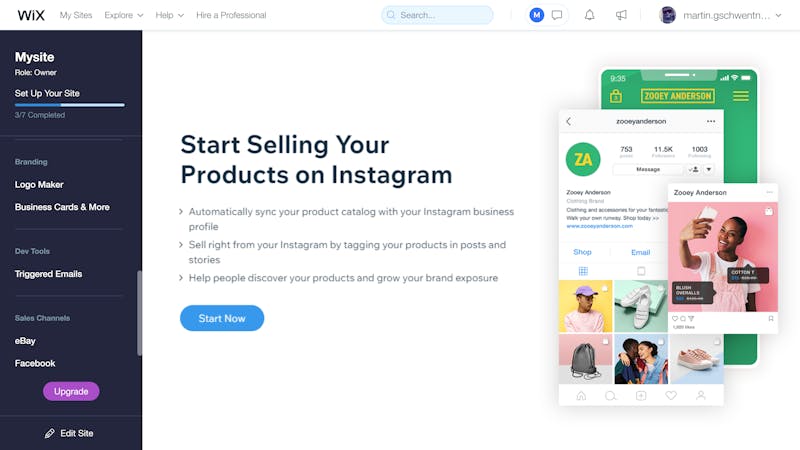 Wix Stores can be easily integrated into your multi-channel sales strategy.
Unfortunately, it isn't possible to sell in multiple currencies. You can add a currency converter from the App Market that shows prices in the customer's preferred currency. All told, other providers perform better here.
Apart from that little issue though, there isn't much to take Wix Stores to task for in terms of sales.
Ascend, Wix's marketing solution can be found in the dashboard by clicking on Business Tools by Ascend. It entails four main areas, namely, Customer Management, Marketing Tools, Statistics, and Financial Tools.
With Customer Management, you can contact those who have ordered products from you. The Inbox contains all messages from your customers, allowing you to answer them directly in the chat or via email.
The Contact List contains information for all of your store's visitors. To start an email campaign simply mark one (or all) of these, and message those you've selected automatically. With Automations it's possible to create automated messages, greet new customers, or remind existing ones about items left in their shopping cart.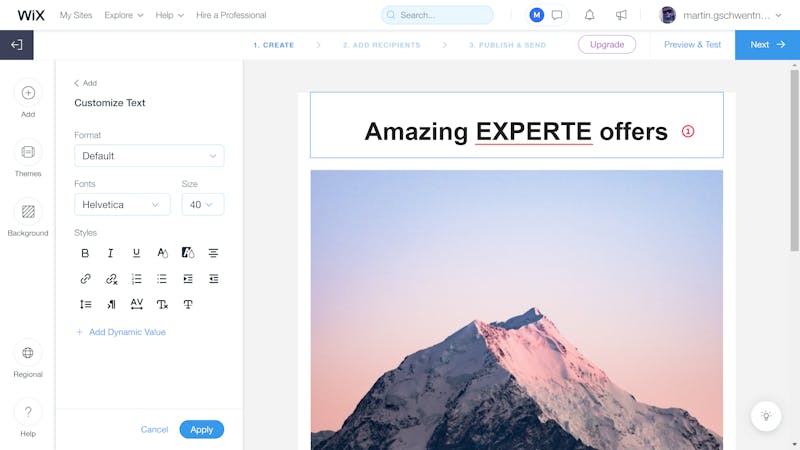 Ascend makes it possible to conduct email marketing, albeit at cost.
Ascend is nominally free, however, to get the most out of it, you'll need a paid subscription. For example, in the free version, you're limited to three email campaigns per month, five forms, and two automations.
In the Marketing Tools area, you can create coupons, giving your customers discounts and enticing them to purchase your goods. In total, there are five different types of coupons: Fixed amount, Percentual, Free shipping, Sales Price, and Buy X get Y free. Each can be limited to specific items, collections, or a minimum order total.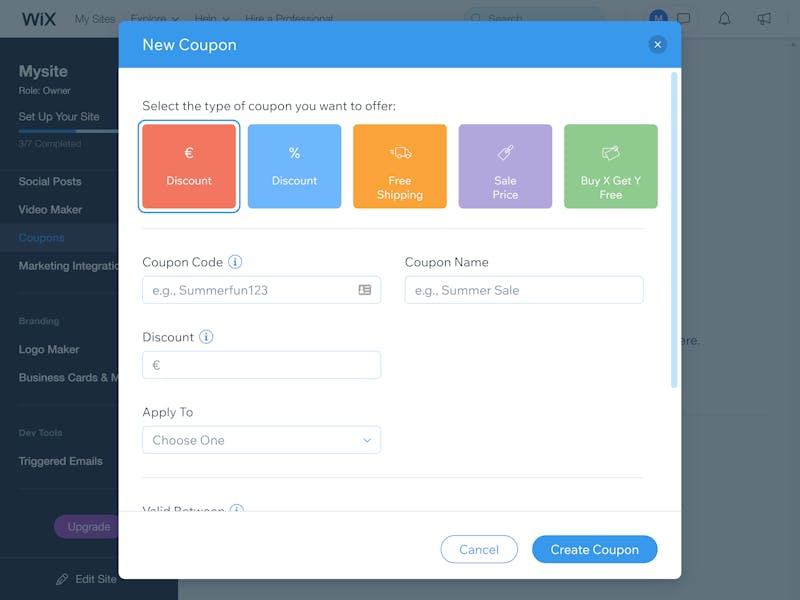 Motivate your customers by making special offers.
It's worth returning to Ascend, since it offers a few more features we'd like to note. With Video Maker, you can create professional videos for your online store and share them on platforms like Facebook, Instagram, or YouTube. By clicking on Social > Entries you're also given the ability to create social media posts that are useful for drawing new visitors to your store.
Here again, there are some limits: With a free Ascend account, you're limited to four advertising videos and three social media posts.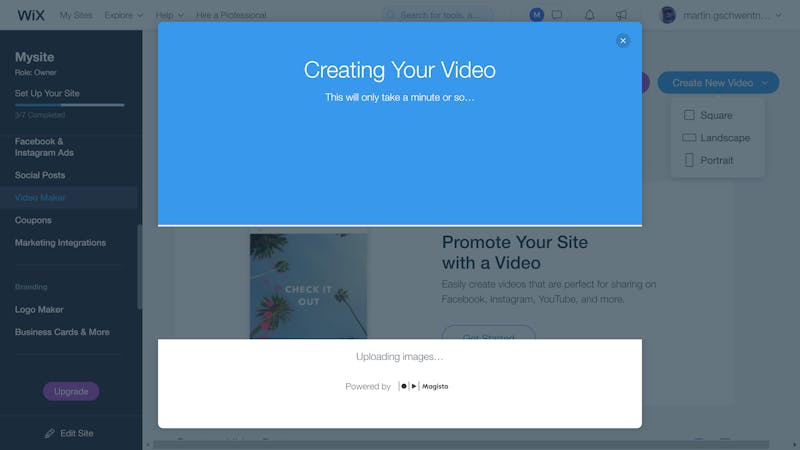 If you like advertising on social networks Wix Stores offers a few nice features through Ascend.
As far as SEO is concerned, you'll get all of the standard SEO settings and much more. By clicking on Marketing Tools > SEO, you'll be taken to the SEO Wiz which guides you step-by-step through configuring SEO for your store and creating a user-defined plan. Of course, this isn't a substitute for professional SEO assistance, but it's still a nice feature.
You can also adjust the SEO Wiz's settings in the SEO tools area, or hire an SEO expert in the marketplace.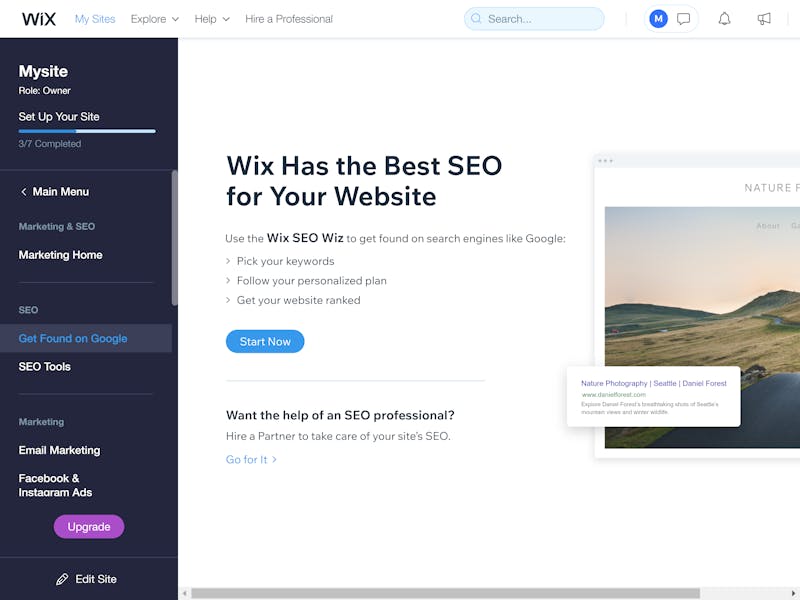 SEO helps ensure that your store is found by those who are looking for it.
Analytics
Wix Stores makes extensive statistics available in the dashboard. These relate to traffic, earnings, and visitor/customer behavior. Beyond that, you're also supplied with detailed reports on specific topics, such as sales per region, daily traffic, or your most profitable customers.
In addition to internal analytics, you can configure third-party tools like Google Analytics, Facebook Catalog, or Yandex Metrica by clicking on Marketing Integrations. This makes Wix Stores capable of keeping you informed about the ins and outs of your online store.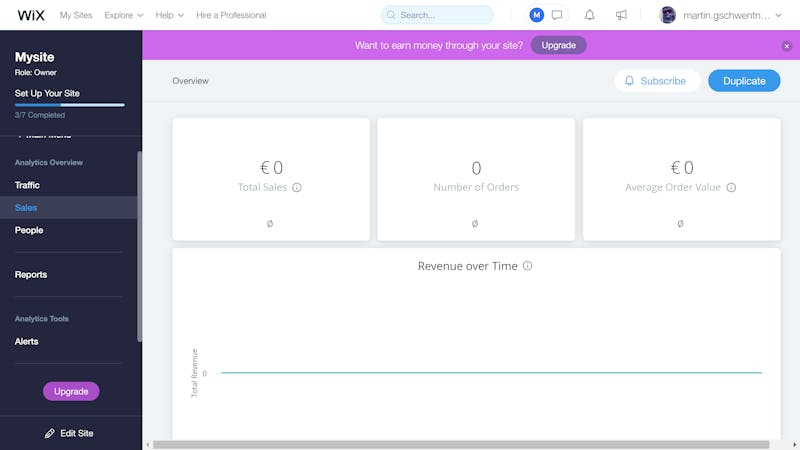 Wix Stores includes internal analytic features and makes integrating external tools easy.
Wix Stores has a powerful marketing component, allowing you to promote your online store through discounts, special offers, email campaigns, and social media posts. However, to tap into the full potential of the service, you'll need to pay for Ascend on top of the regular subscription price.
Marketing & Analytics
8.6 / 10
Wix's help center is neatly arranged and packed with useful information, all of which can be found thanks to the integrated full-text search. Articles are well-written and informative, including pictures, Gifs, info-boxes, and videos, all of which make solving any issues or learning about new features, highly convenient.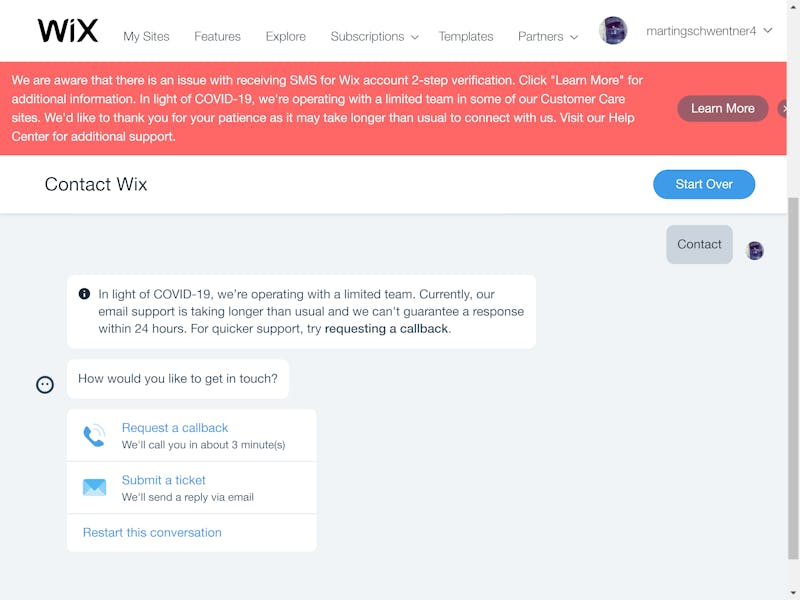 Wix Stores has a good help center, but only offers limited contact possibilities.
To get in touch with direct support, you'll have to go on a bit of a quest. According to the service's site, this is owing to the ongoing global pandemic, however, the absence of a "Contact" button in the dashboard creates the impression that Wix wants users to try to find solutions on their own, rather than reach out for help.
Should you want to write to a Wix staffer, you'll need to go to the help center and search for an article about support. Only in that article is a link provided for writing directly to the company's support team. Or so we thought: Next, we had to go back and forth with a chatbot before we were allowed to file a support ticket. We were warned to expect longer wait times, but our question was answered within less than half an hour.
At the end of the day, Wix's support isn't all that bad, however, the hassle of finding a contact form rubbed us the wrong way.
Although we've discussed Wix Stores in this review, the company's site-building software is, for all intents and purposes, identical to its ecommerce platform, differentiated only by the subscription plans (Website and Business & eCommerce, respectively). Only as a subscriber to the latter, is it possible to accept online payments.
In comparison to most other solutions available, Wix Stores is very affordable. The service comes in three different packages: Business Basic, Business Unlimited, and Business VIP. Each of these offers unlimited bandwidth but differs in storage space (20 GB, 35 GB, and 50 GB, respectively). These limits are a bit tight when set alongside those of other ecommerce platforms, however, there aren't any restrictions on products or sales.
Certain features, like subscriptions or marketplace integrations, are only available in the two more expensive packages. The main highlight for Business VIP subscribers is premium support.
Payment fees depend largely on the gateway which you use. As mentioned above, with Wix Payments, for a USD-based store, these entail 2.9% of the total +$0.30.
With all of that said, we do want to discuss the lack of transparency regarding the features available (or not available) in each subscription. No free version of Wix Stores is available. While you can create a website (or store) for free, you cannot accept payments without paying for a Wix Stores subscription. The best that the Israeli provider can do is a two-week money-back guarantee.
An overview of Wix Stores' prices can be found below:
Business Basic
Business Unlimited
Business VIP
Price per Month
from $22.00
from $25.00
from $45.00
Transaction Fee
0 %
0 %
0 %
Contract Period (Months)
1 - 24
1 - 24
1 - 24
Product Management
Number of Products
unlimited
unlimited
unlimited
Product Filters
Product Variants
Product Reviews
Digital Products
Features
Multilingual
Multiple Currencies
Sales Channels

Amazon

eBay

Google Shopping

POS

Facebook

Instagram

Amazon

eBay

Google Shopping

POS

Facebook

Instagram

Amazon

eBay

Google Shopping

POS

Facebook

Instagram

Payment Options

Rechnung

Credit Card

PayPal

Apple Pay

Stripe

Rechnung

Credit Card

PayPal

Apple Pay

Stripe

Rechnung

Credit Card

PayPal

Apple Pay

Stripe
To better compare the prices of all of our sample's providers, the table below shows the annual price for a plan that includes at least 100 products.
Unfortunately no matching providers were found!
Ascend Costs
To unlock the full power of Wix's Ascend marketing platform, you'll need to pay a surcharge in addition to the regular subscription fee. Alongside the limited free version, there are three subscription packages: Basic, Professional, and Unlimited. Each of these provides different numbers of email campaigns per month (5, 20, unlimited), forms (10, 20, unlimited), and automations (7, 20, unlimited).
Conclusion
Personalizing Your Store
10 / 10
Configuration & Usage
9.4 / 10
Product Management
9.4 / 10
Marketing & Analytics
8.6 / 10
Wix Stores is a powerful ecommerce platform built on the company's excellent site builder, adding useful sales and marketing features. It impressed us owing to its countless design options, content elements, and add-ons. The platform grants users a considerably freer hand in designing and building their online store than most other ecommerce platforms, all the while taking care not to overwhelm beginners.
Our biggest criticism of Wix Stores is the very tight limits on storage space. To compare, other platforms, like Shopify, don't limit storage at all. Additional, minor points of critique, relate to the inability to sell in multiple currencies (without third-party extensions), and the 'use it or lose it' nature of templates, which can only be changed by opening a completely new store.
Despite these issues, Wix is definitely one of the best ecommerce platforms we reviewed, performing excellently across the board. At the end of the day, we're confident that its quality will be readily appreciated by both beginners and more advanced users alike.
Wix has built a shop solution on the foundation of its powerful website builder. The result: a beginner-friendly platform with strong personalization and ecommerce features, which is best-suited for smaller shops.
beginner-friendly interface
supports lots of sales channels
9.1

excellent
Number of Products
Transaction Fee
Sales Channels
Payment Options
Wix Business Basic
$22.00
monthly price
Visit Website*
14 day free trial
Customer Reviews
We only examined Wix Stores over the course of a few days. Some strengths and weaknesses, which take time to appear, will become apparent only to those with longer experience with the service. For that reason, we've compiled and summarized user reviews for you, here.
Customer Ratings
86,854 Bewertungen
Visit Website*
We analyzed the reviews and ratings from various portals and found 86,854 ratings with an overall rating of 4.4 out of 5 .
Alternatives
If a free hand in designing your online store is important to you, but Wix Stores' storage limits are off-putting, you might want to consider the ecommerce platform designed by 1&1 IONOS. The only downside of the German service is its poor marketing features.
Should design not be your thing, and you'd prefer to spend as little time as possible creating a professional online store, Shopify or BigCommerce are worth checking out.
A complete list of alternatives to Wix Stores can be found here:
BigCommerce boasts well-designed product and inventory management features, solid marketing and analytics capabilities, and support for many sales channels. Possibly too complex for smaller shops, it's ideal for larger ecommerce projects.
many features 'out of the box'
up to 600 variants per product
supports multiple currencies
too complicated for smaller shops
8.7

good
Number of Products
Transaction Fee
Sales Channels
Payment Options
BigCommerce Standard
$29.95
monthly price
Visit Website*
Start Free Trial
Shopify is a great all-rounder for small, medium, or larger shops. If you're looking for a platform that's more powerful than a regular website builder, but not as complicated as other ecommerce platforms, Shopify might offer the right mix.
Number of Products
Transaction Fee
Sales Channels
Payment Options
Shopify Basic
$29.00
monthly price
Visit Website*
14 day free trial
Using its powerful website builder as a starting point, IONOS' ecommerce platform adds a solid set of sales features that should cover all the needs of smaller shops and websites with sales pages.
powerful editor for customization
affordable first-year prices
intuitive inventory management
limited marketing features
8.6

good
Number of Products
Transaction Fee
Sales Channels
Payment Options
IONOS Starter
$19.50
monthly price
Visit Website*
First Month Free
Ecwid works best as a plugin for other platforms: it can easily be integrated into a CMS, a website builder, or a social media site, and streamlines the sales process across these and other channels. The free tier is a nice extra.
easy to integrate with other platforms
many features behind paywalls
7.9

good
Number of Products
Transaction Fee
Sales Channels
Payment Options
Ecwid Free
$0.00
monthly price
Visit Website*
Sign up for free
Volusion offers a powerful ecommerce platform with impressive marketing and analytics features. Sadly, the user interface is more complicated than it needs to be, and there aren't as many ways to customize your site as with other solutions.
great analytics capabilities
many marketing & discount features
many sales channels (dropshipping, POS..)
complicated user interface
7.7

good
Number of Products
Transaction Fee
Sales Channels
Payment Options
Volusion Personal
$31.50
monthly price
Visit Website*
14 day free trial
* Ad disclaimer:
For links marked with an asterisk, EXPERTE.com may earn a commission from the provider. The commission has no influence on our editorial rating.

Janis von Bleichert studied business informatics at the TU Munich and computer science at the TU Berlin, Germany. He has been self-employed since 2006 and is the founder of EXPERTE.com. He writes about hosting, software and IT security.
Continue Reading