Conversion Rate: How to Calculate and Compare It


Boosting the number of visitors to your website is well and good, but paying customers is what really keeps the figurative lights on. Unfortunately, the former doesn't always transform into the latter. When too few visitors make purchases, experts denote a conversion rate that is "too low". So, what does this mean and how can you calculate it?
In this guide, we'll briefly introduce you to the various methods available for determining your store's conversion rate, as well as explain which factors can influence it. After that, we'll fill you in on how to boost your conversion rate and what you should pay attention to when doing so.
What Is the Conversion Rate?
The conversion rate reflects what percentage of people in a particular situation complete a specific action. As an example, this can be how many people who open an email or visit a website afterward go on to complete a purchase from that same store or business.
For ecommerce, the conversion rate most often reflects the ratio of those who visit an online store to its number of customers. In other words, if your web store has 100 visitors, and 3 of them complete a purchase, your conversion rate is 3%.
Of course, conversion rates don't only have to indicate sales being equally informative about other metrics, such as:
The percentage of recipients who open an email newsletter;

The number of visitors to a site who download a particular file from it; or,

How many people click on a call-to-action (CTA) button on a website
As such, conversion rate is among the most important key performance indicators (KPIs) in the world of ecommerce.
How Is the Conversion Rate Calculated?
You already know the basic formula for calculating the conversion rate: Simply divide the number of conversions by that of visitors within the same timeframe. For our example above, this was fairly easy, however, websites such as Webfx offer handy tools for less straightforward calculations.

Calculating your conversion rate is easy.
As with many things though, the devil is in the details, since not all "visitors" are equal and conversions can be counted differently. For these reasons, it's important to clearly delineate your calculation methods, since these will impact the meaningfulness of your conversion rate.
Simple Calculation by Website Impressions
Impressions are one starting point for calculating your conversion rate. Each impression represents either a site visit or the display of an ad. Should a sale result from the site visit, or the ad be clicked on after being displayed, one conversion has been completed.
However, figuring out a conversion rate using the number of impressions is a bit inaccurate: For example, a customer might visit a website multiple times, but only make a purchase once. In addition, visits by bots, who never buy anything, are also lumped in. For these reasons, you'll need a more detailed method to accurately calculate your conversion rate.
Accurate Calculation Based On the Number of Unique Visitors
Even if someone visits your website several times, they can be counted once if you've configured your website to record them as a unique visitor.
Doing this is easy to accomplish by introducing cookies on your website. The web server then recognizes whether a visit to your website comes from someone who has visited it before or a new unique visitor. Analytics programs, such as Google Analytics are particularly nifty for this since they transfer all sorts of data from your website, presenting it in easy-to-understand dashboards.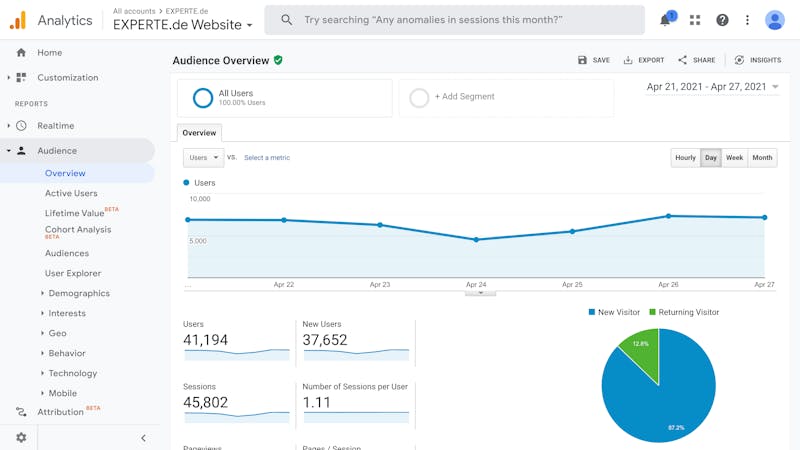 Programs such as Google Analytics can help you determine how many new and recurrent unique visitors your website has.
Of course, even this method isn't perfect: If two visitors from the same network (and same IP address) visit a particular website, they'll only be counted once. At the other end of the spectrum, other visitors on VPNs or proxy servers, who use these to change their IP address, will be counted multiple times, even though they're a single person. Still, these are exceptions, and as such, using the number of unique visitors as a starting point is significantly more accurate than relying on impressions.
How High Should the Conversion Rate Be?
Determining how high your conversion rate should be depends on a number of factors, foremost among them, what it is that you're measuring. Purchases, subscriptions, or clicks? Complicating this, there are differences from branch to branch, as well as between buyer-to-buyer (B2B) and buyer-to-customer (B2C) businesses.
For ecommerce, studies have failed to reach a consensus and a variety of benchmarks exist. Generally speaking, a normal or 'good' sales conversion rate should range from 1% to 5%.
Market conversion rate data is summarized by platforms such as IRP Commerce, which constantly update their figures for different branches. As of August 2022, the average ecommerce conversion rate was 1.62%, whereby the top performing category, "Arts & Crafts", was 2.85%, with "Baby & Child" being the worst performing at 0.75%.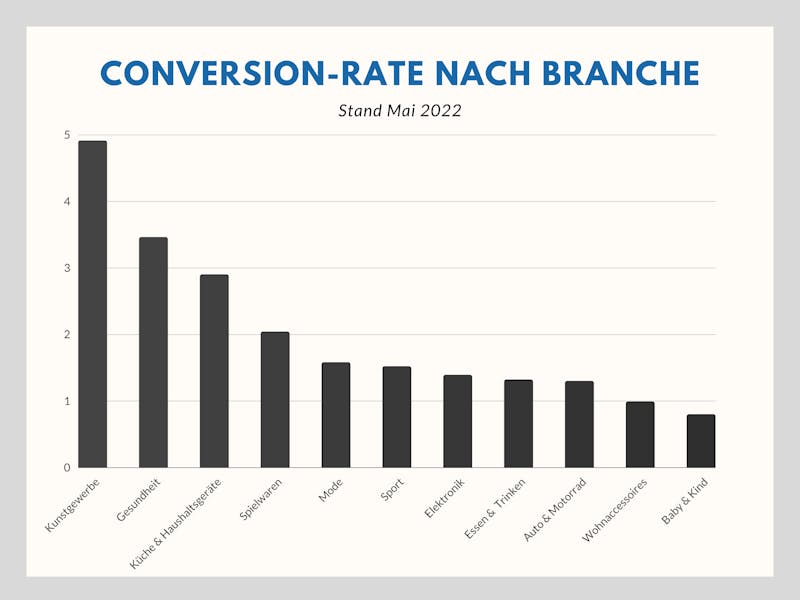 Average conversion rates differ from brand to branch (Data sourced from: IRP Commerce).
Other studies look at different branches and use alternative evaluation criteria, causing them to reach varying conclusions. Unbounce, a marketing solutions provider, combines the conversion rates of 16 different branches (ecommerce is counted as a unique branch), aggregating an average and median. The latter provides greater insight since it isn't skewed by exceptions or particularly high or low conversion rates, which would be statistically speaking, outliers.
Unbounce's ecommerce conversion rate medians vary from 2.4% to 9.8%, with "Catering & Restaurants" and "Media & Entertainment" the top performers. As a whole, the median ecommerce conversion rate is 5.2%, putting it just above the high point of IRP Commerce's "normal" spectrum for ecommerce conversion rates.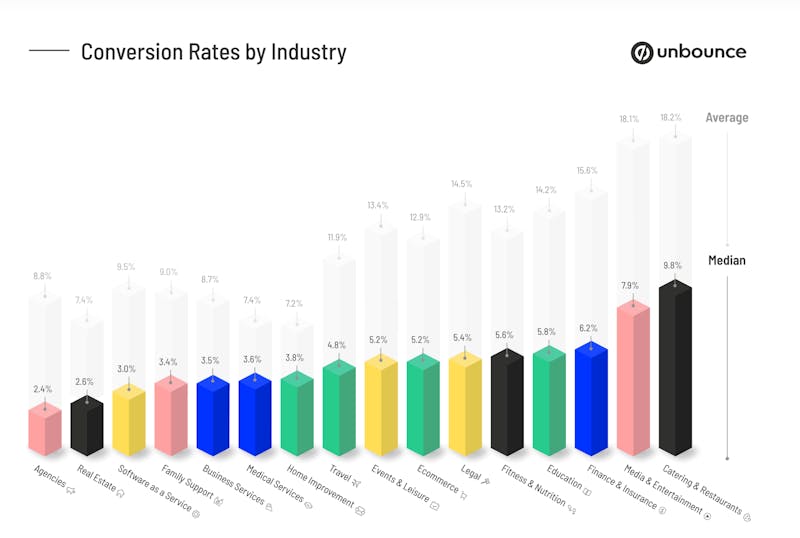 Compare Conversion Rates: What Factors Impact Conversion Rates
Conversion rates can be influenced by a number of different factors. This is important to keep in mind when comparing the conversion rates for different products, stores, or projects with one another. Below, we've summarized exactly which aspects to pay attention to:
Type of conversion rate
Right off the bat, you should be clear about what it is that the conversion rate reflects. When purchases are being analyzed (and money is a factor), conversion rates will be lower than if you're tracking the number of clicks or times an email is opened. The basis for calculation is also important, that is to say, whether the number of impressions or unique visitors is being calculated. Everyone loses when inflated conversion rates are compared with one another.

Branch
One of the most important factors is the branch that the business or service is in. If taking a glance at Unbounce's data above, catering businesses and restaurants have very high conversion rates. This is almost certainly because a restaurant's website with delivery features is visited far less to 'browse' than to place an order. The need is less urgent, for example, when shopping around for baby or childcare products, since parents or friends usually want to research what their loved one will be consuming before concluding a purchase.

Price and type of product
Closely related to the branch is of course, the kind of product that's being sold and its price point. When purchasing a car or a new state-of-the-art computer, buyers will likely be more cautious than if picking up some odds and ends for around the house. This, in turn, exerts an influence on the conversion rate. Stores specializing in high-ticket items will likely pay far less attention to conversion rates for their most expensive offerings since they generate higher profits per sale.

Seasonality
The majority of people don't buy Christmas decorations in June, or beach chairs in January. For ecommerce stores specializing in apparel, it's important to factor this in when analyzing conversion rates for summer or winter collections if they're out of season. The bottom line: Remember the season when reflecting upon your conversion rates for specific types of products.

Returns
Not every sale remains a sale: If customers return items, you should reflect these as "non-sales" in your conversion rate. In the event that you're using A/B testing to determine which landing page generates more purchases, to maintain accuracy, you'll need to take returns into account. This doesn't make returns any less annoying, however, sensible and fair return policies (such as free shipping), have been shown to boost conversion rates in the long run, since customers feel good about repeatedly patronizing these kinds of businesses.

Design and usability of your online store
Poor design is punished by low conversion rates. In order to motivate your clientele to open their wallets, it's advisable to make your website as easy to navigate as possible. Complicated registration processes, poorly-placed CTA buttons, or other difficulties could discourage even the most dedicated shopper from pulling the trigger.
This list is only a summary, as plenty of other factors exist which vary from branch to branch. The first step is to identify any potential areas for improvement, which we'll explore in greater detail in the next section.
Positive Effects: How to Boost Your Conversion Rate
You don't have to accept a low conversion rate: Even though most of the factors we detailed in the last section are outside of your immediate control, there are still a number of steps you can take in order to make visitors to your store more willing to become customers.
Take These 8 Steps to Improve Your Conversion Rate
2. Make your website mobile-friendly
If your analytics tool shows that smartphone users either don't make or regularly abandon their purchases, there might an issue with the mobile responsiveness of your online store. Poor smartphone user experiences can have a very negative impact on your conversion rate. Use EXPERTE.com's bulk mobile-friendly test to quickly find out if your website or store is optimized for mobile devices.

3. Improve your landing page
Landing pages drive conversions. They should funnel visitors interested in your ads directly to the product they want to purchase and make a customer out of them. For that reason, they need to be well thought out, with each image, header, and CTA making the path toward completing the sale as clear and direct for the customer as possible. For tips and tricks on how to build an effective landing page, be sure to check out our guide.

4. Get more newsletter subscribers
Not every visitor to your website will be immediately ready to conclude a purchase. That's okay, especially if they find your store enticing enough to want to know more about upcoming releases or sales. This leads to what is called a "micro-conversion", or when a unique visitor signs up for your newsletter. The easiest way to stay on top of this is with a dedicated email marketing platform. We thoroughly assessed 13 of these, and let you know our top picks.

5. Optimize your online store's usability
Plenty of problems that can arise along the user journey have non-technical roots: Some visitors might not like your website's design or find it difficult to navigate. Other casual browsers might be unable to find exactly what they're looking for since your catalog is too limited.

We recommend viewing your online store through the eyes of your visitors, to help better identify potential weaknesses. Should you need professional help, you can contact a user interface (UI) specialist.

6. Streamline ordering
From the customer's point of view, lots of things can go wrong during the ordering process: Maybe you didn't sufficiently clarify your return policy, the shipping costs are too high, or you don't accept their preferred payment method. Whatever the case, we recommend keeping the ordering process as simple as possible, while offering your customers a nice selection of delivery and payment options.

7. Enhance your product pages
Lots of shoppers are picky, wanting to know as much as possible about the item they're intending to purchase. Unlike brick-and-mortar stores, ecommerce shops don't have changing rooms or free samples, so, you'll need to do your best to give them the same amount of information and insight digitally, as they would have in person.

When contemplating a purchase, potential customers are likely to trust reviews left by others. If you stand behind the quality of your wares, it's a good idea to allow customers to leave feedback on your product pages.

8. Offer sales
Who doesn't love a good sale? Markdowns and rebates are great motivators to complete purchases. From a psychological point of view, the price is often less important than the amount of money saved. To that end, give your prospective customers a nudge in the right direction by offering discounts.
How to Improve Your Conversion Rate
The easiest way to get started optimizing your conversion rate is by identifying any areas for improvement. Instead of investing time and energy into fixing what isn't broken, or won't significantly boost your conversion rate, we recommend approaching the issue more systematically, by going through the following steps:
1.

Determine why your store's conversion rate is low
In order to start improving your conversion rate, you'll need to understand why it's low or declining. When do customers abandon purchases? If they're only on your website for a few seconds, they might find its appearance, navigation, or design off-putting. More seriously, they could feel that it doesn't look reputable or trustworthy. On the other hand, if they've added items to their shopping cart and started the ordering process, the culprit is more likely to be found elsewhere along the user journey.
To gain insights into what exactly is going wrong, you can use the above-mentioned analytics solutions, customer questionnaires, and/or A/B testing.

2.

Identify areas for improvement
Once you've gathered relevant and accurate data, the next step is to explore where potential improvements can be carried out. You should be able to implement enough of these on your own, particularly technical ones, which need to be ironed out as quickly as possible. However, don't be afraid to test hypotheses and experiment too, since you'll be able to measure how effective these are in the next step.

3.

Test solutions
After identifying an area of your site that you'd like to enhance, such as a landing page, you can compare different variants using A/B testing to find the best way forward. With this, visitors to your site will be directed randomly to either the A or B version of your landing page, allowing you later to measure which of the two had a higher conversion rate. This method can also be used to try out new product pages, emails, and much more.

4.

Implement solutions
Assess the results of your A/B testing and make the necessary changes to your online shop.
Optimizing your conversion rate is not a one-time deal: Since it's one of the most important KPIs in ecommerce, you should keep tabs on its development at regular and frequent intervals. Beyond that, it's also to your benefit, as you'll be able to better meet customer desires and, hopefully, boost your revenue.
Conclusion
The conversion rate is one of the most followed metrics in the world of ecommerce. It can provide insight into many different areas, but, the most common is the ratio of unique visitors to completed purchases. In turn, conversion rates can and do vary depending on a whole host of factors, such as the branch you're doing business in, what sort of products you sell, or their pricing.
If you'd like to optimize your conversion rate, a good place to start is by identifying potential problems. Determining your next step and course of action depends mostly on what the conversion killer lurking in your store is. You might want to simplify the ordering process and make the user journey more streamlined or boost sales by offering discounts and special deals.
FAQs
What is the conversion rate?
⊖
The conversion rate is a percentage that reflects how many people perform a specific action in a particular digital situation. For example, to determine your online store's conversion rate, simply divide the number of completed purchases by the number of unique visitors over the same timeframe.
Why is the conversion rate important?
⊖
Conversion rates are some of the most important metrics in the world of ecommerce, since they allow proprietors to see how effective their landing pages or other sales funnels are. Comparably low conversion rates can indicate problems or issues in your online store, such as technical shortcomings, unfriendly user design, inadequate information, or limited shipping and payment options.
What impacts the conversion rate?
⊖
The conversion rate is dependent upon a host of different aspects, such as the branch you trade in, your products, or seasonal conditions. But just measuring the conversion rate on a regular basis is already a big step in the right direction: In addition to boosting sales, you'll also see how effective your sales campaigns are, by viewing how many people click on an ad or open one of your emails.
Why should I optimize my conversion rate?
⊖
Paying attention to your conversion rate allows you to quickly identify weaknesses in your marketing strategies and online store. By optimizing it, you can boost your revenue and better fulfill your client's wishes.

Martin Gschwentner majored in American Studies and Media Studies in Germany, the USA and France and works as a freelance editor in Paris. He is a doctoral student at the Institute for English and American Studies at the University of Paris Diderot, where he is researching the influence of money on US politics. On EXPERTE.com he writes about IT security, data protection and software for the self-employed and small businesses.

Translation: D Bare
Continue Reading