Custom Email Domain: Create a Professional Email Address

Author
Janis von Bleichert
Communicating by email remains essential for large businesses, startups, and freelancers alike, offering the easiest way to stay in touch with clients and inform them of new developments or offers. For those engaged or interested in email marketing, it's important to assess what sort of first impression your business leaves with new customers. This starts with what your email address looks like.
Freemail addresses of the kind that we use on a daily basis are good enough for private purposes, however, in the business world, they can appear unprofessional. The best alternative is a unique, custom, email domain. In this article, we'll show you how to create one of these in a few simple steps.
What Are the Advantages of a Custom Domain?
Odds are that you have or had a Gmail, AOL, and/or Yahoo email account. Should this be the case, you'll know that there's a part that you specified, let's say, john.smith, followed by another component that the provider automatically supplied, like @aol.com. Accordingly, any email sent from john.smith@aol.com advertises AOL and not the business john.smith actually works for.
As a result, a unique domain offers several advantages:
Enhanced professionalism
Freemail addresses offer no insight into the businesses they represent, and actually, divert attention away from them. In some cases, they can even look 'cheap', signaling that the company in question didn't consider the minor investment required to create a custom domain to be worth it.

Greater flexibility
Most available names have already been long taken by freemail domains. If using Yahoo or Gmail, this means that you'll need to add some extra numbers or letters in order to secure a new account, resulting in addresses like john.smith12345@yahoo.com. On the other hand, with your own domain, you'll have free rein.

Easier to remember
Since you'll have greater control over your email domain and address(es), they'll be more poignant and unique. Addresses like service- or jane.doe@companyxyz.com are easier to remember than unwieldy combinations based on freemail domains.

Multi-faceted
With a unique email domain, you'll be afforded a variety of different options for how you and your business utilize email communication. Colleagues and co-workers can be designated their own email addresses, or, given access to shared departmental accounts.

More security
Freemail services are common targets for cyber criminals and spammers since they have seemingly endless numbers of users. The security standards for unique domains, supplied by paid providers, are often much higher.

Ad-free
Because you'll pay a nominal fee for a unique domain, most providers refrain from advertising.

Extra benefits
Because competition among domain providers is fierce, each tries to one-up its competitors by offering more. Ultimately, this plays to your advantage, making it possible to choose a service that offers more storage for email attachments, cloud capabilities, and/or no ads.
How to Create a Unique Email Domain
Should we have convinced you of the benefits offered by a custom email domain, all that's left to do is select a provider, and configure your new domain. Below, we'll walk you through this process step-by-step, using IONOS. However, feel free to rent an email domain from the hosting or domain service of your choice, since there are plenty of choices and the steps are similar for each.
1.
Step: Check Your Domain's Name
The first thing you'll have to do is to find out whether your preferred name is available. With most services, including IONOS, there's a prominent area of their website or homepage where you can check this.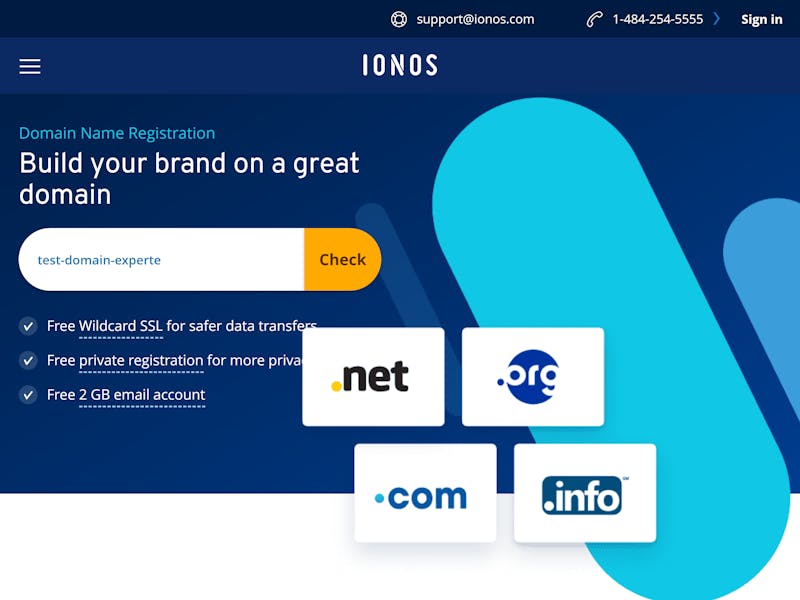 Input your desired domain name to see whether it's available.
2.
Step: Select Your Domain Name
After you've input your desired domain name, there will be one of two results:
Either, the domain name is available and can be selected;

Or, the domain name has been taken and cannot be used.
If the latter is the case, the provider will often suggest similar alternatives. Choosing a different domain ending can give you the name you want, however, you also shouldn't underestimate the importance of these. For example, if your target group is expecting a .com domain since you're operating an online store, having an email address that ends with .info can prove confusing and counter-productive.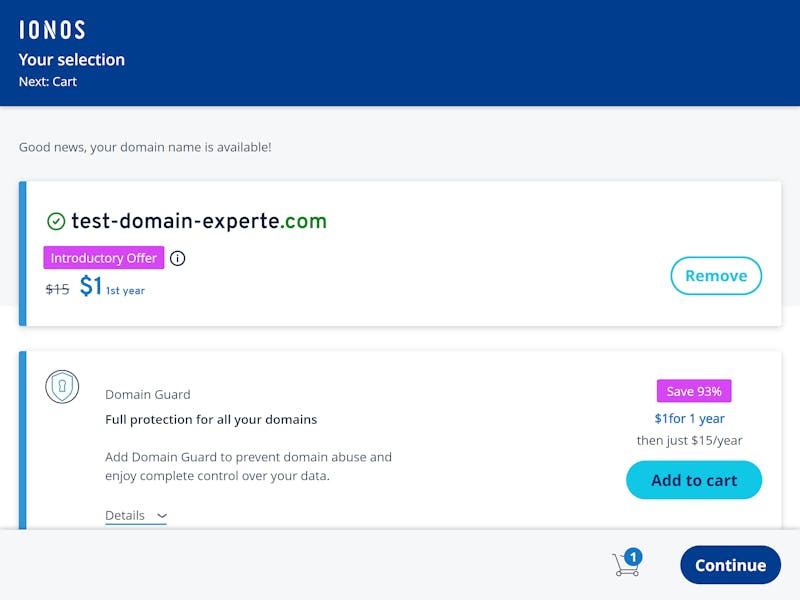 Success! The desired domain is still available.
After you've settled on a domain that's available, click on Add to cart, followed by Continue. Next, you'll be taken to the subscription plan selection area.
3.
Step: Select a Subscription Plan
You can now select from a range of different subscription plans, each of which varies and might be more or less suitable to the email project you have in mind, depending naturally upon what it is that you intend to accomplish. In our example, IONOS offered four choices, Domain, Email, Web Hosting, and MyWebsite. Should you only need a domain for email, choose the Email plan. After that, click on Continue to be taken to pay and create your account.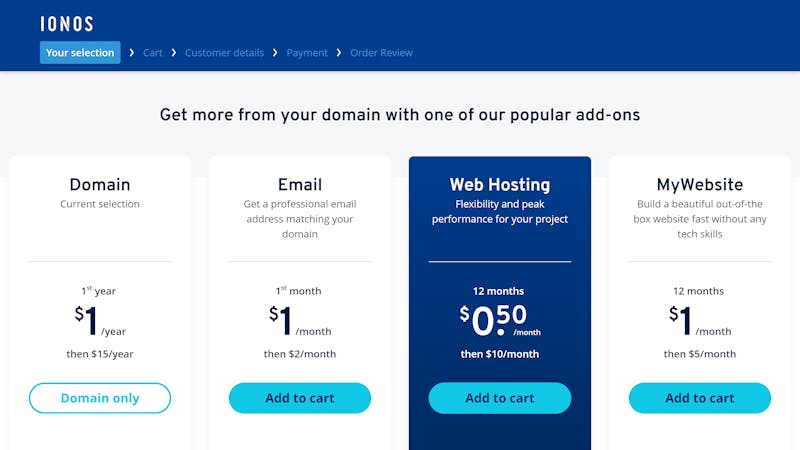 Now you can select from add-ons like web hosting.
Once you've paid, IONOS will configure the domain for you. For us, since we already have an IONOS account, this only took a few minutes. Thereafter, we could start creating our new email address in the IONOS Control Center.
You can now create email addresses that use your domain. To do this, click on Email in the IONOS Control Center, select the domain you specified, and then on Create Email Address.
Next, you'll have to specify the email address (the part that comes before the '@' symbol) as well as an accompanying password. Depending on which subscription plan you selected, there will also be the opportunity to purchase additional features like protection against viruses or data loss. Once everything is to your liking, click on Save.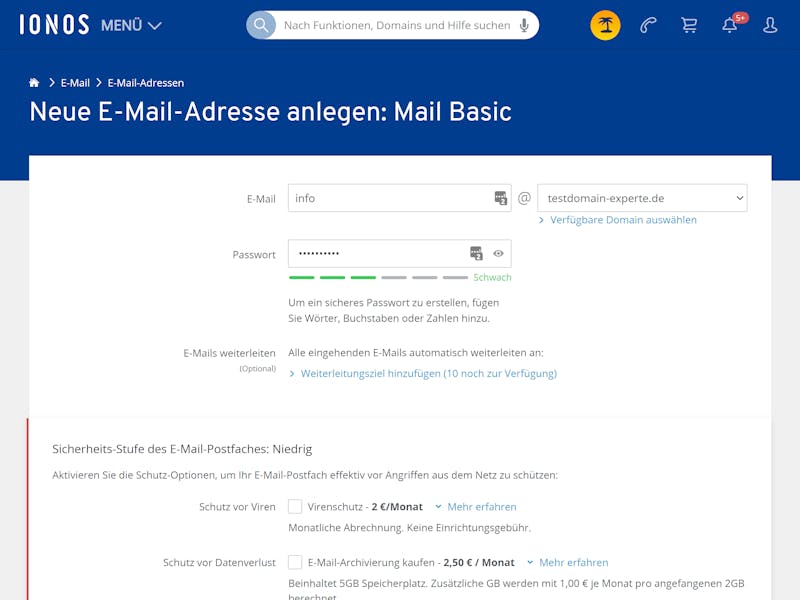 In this step, you'll create the actual email address(es) you intend to use.
Congratulations: You've now set up your first email address on a custom domain, and can start using it immediately! With IONOS you'll find this in the customer area or at https://mail.ionos.com/. All you'll have to do to access this is use the login data you specified when creating your account.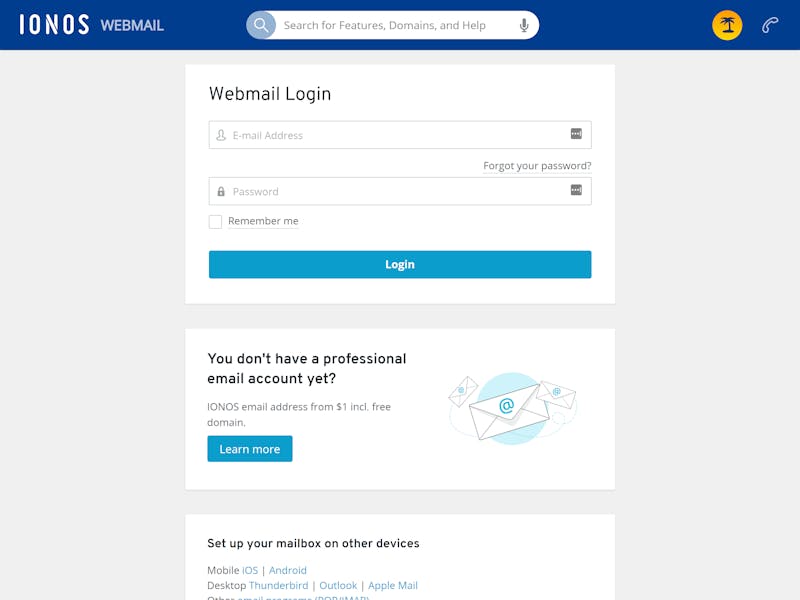 To access your new email account, simply supply your login credentials.
Should you have used an email account before, you'll quickly find your feet in your provider's Webmail interface. These include an inbox, as well as separate folders for drafts, sent emails, incoming spam, and trash. In IONOS's version, there's also a calendar, address book, and integrated to-do feature.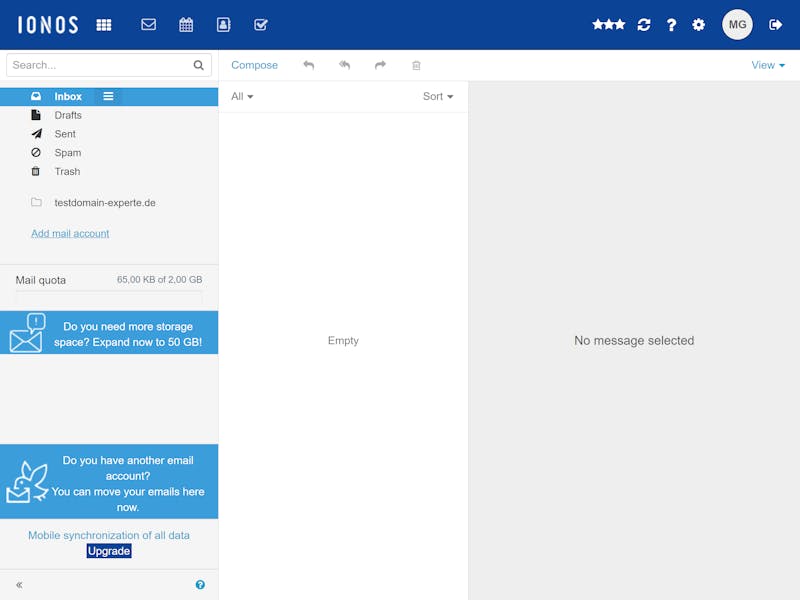 The IONOS Webmail user interface is almost identical to those of most freemail services.
Of course, you don't have to use your provider's webmail service, and can easily integrate your new email address into Outlook or another program of your choice. In IONOS's Help Center you can find guides for how to do this with some of the most common software like Thunderbird, Outlook, or Apple Mail.
Conclusion
Should you want to endow your email communication with a more professional appearance, there's no better way than to make a small investment in a unique email domain. So long as the domain is available, you can freely select this and link it to your business's name. After that, simply register the name with the provider of your choice.
FAQs
What advantages does a custom email domain offer?
⊖
Using a freemail address for business communication looks somewhat unprofessional. This isn't an issue when you have a custom email domain. These can be selected at will and use either your name or that of your business.
How much does a custom email domain cost?
⊖
Prices vary from provider to provider and can also increase or decrease depending on what sort of extras and features you want. Still, most services offer email domains for around $1 per month.
How can I get my own email domain?
⊖
You can register an email domain using services like IONOS or GoDaddy. The first thing you'll have to do is to check whether your desired domain name is available. Supposing that it is, you can rent it, with configuration and hosting thereafter being handled by the provider you've selected.

Janis von Bleichert studied business informatics at the TU Munich and computer science at the TU Berlin, Germany. He has been self-employed since 2006 and is the founder of EXPERTE.com. He writes about hosting, software and IT security.
Continue Reading