Wix Logo Maker Test 2023: Using AI to Create Your Own Logo?

A powerful logo is something that customers, clients, and competitors will instantly associate with your brand for as long as you use it. As such, it should be well thought out and executed, however, not every business can afford a professional designer or market strategist.
This is where online logo makers come into play, making it possible to create a professional logo in just a few steps. In this review, we've taken a look at what Wix, the Israeli site builder, has to offer in this department.
What Is Wix?
Wix is the Israeli developer of a site builder with which users can create websites or stores intuitively via drag and drop, without any prior knowledge of programming. In fact, the site builder impressed us so much that it took first place in our comprehensive assessment. Getting into specifics, its versatile design templates, ease of use, and performance all make it an excellent choice for anyone interested in creating a professional-looking website with relatively little effort.
Should your website or online business not yet have a logo, the developer also lends a hand, with its logo maker ⇱. Using this, it's possible to create an AI-generated logo that meets your precise specifications in just a matter of minutes. Below, we'll let you know whether Wix's logo maker is as good as its site builder, or if you should check what else is available.
Wix Logo Maker Review
Logo Customization
9.4 / 10
Well-performing, intuitive editor
First selection of logos fairly limited
Wix's Logo Maker is easy to find on the developer's homepage. Simply scroll down (to roughly the middle of the page) and you should see a link with the text "Try Wix Logo Maker". After following that link, you'll be taken to a new page, where you can click on the button "Start Now". To create a logo yourself, you'll need a Wix account, which requires inputting an email address or a social login.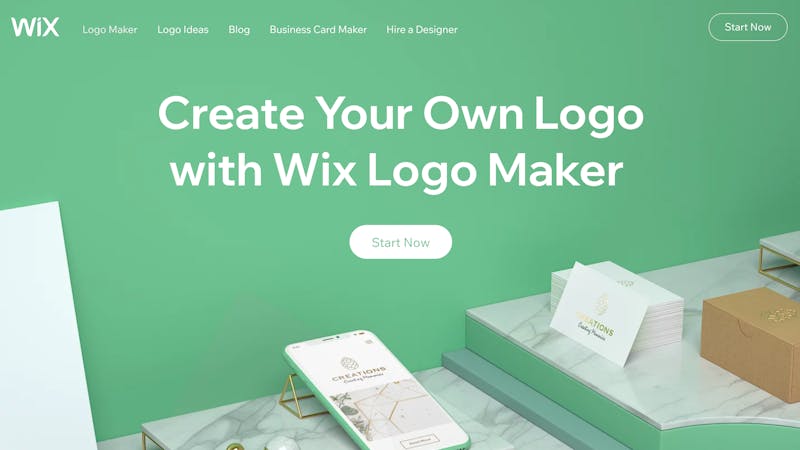 You'll need a user account to make your first logo with Wix, however, this only takes a few seconds to set up.
DIY or contract work?
In addition to the 'create your own' option which Wix provides, they also offer users the ability to contract the work out to a professional designer. On Wix's marketplace, you can post a listing with your contact information, allowing designers to get in touch with their offers. Prices vary, and most will be more expensive than the developer's logo maker, however, the results will be truly unique and adhere to your exact specifications.
To start using the logo maker, click on "Create a Logo".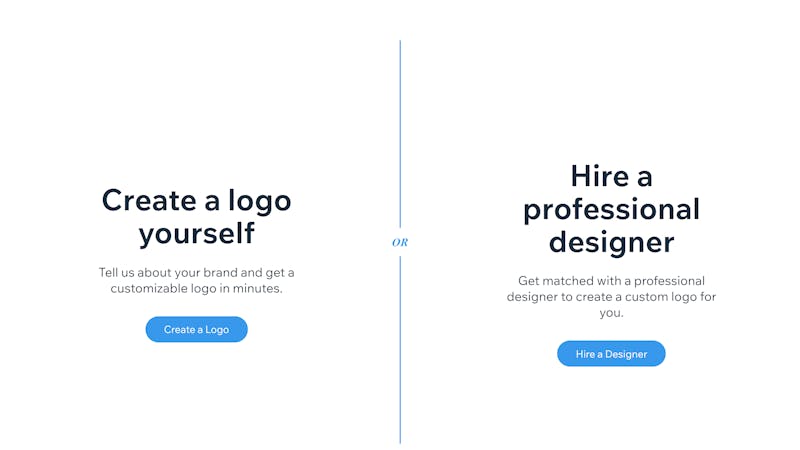 Logo maker or a professional; the choice is up to you! Both have advantages and disadvantages, with cost favoring the former.
The right style to match your personality
In the next step, you'll be asked a few questions about your business, such as its name and slogan (should you have one and want it to feature on the logo). After that, a few questions are posed about what branch you're in, with some options including Tech Tutorials, or Artistic Photography. Should you want, you can also skip these steps, as well as those following.
After specifying what fields your company is engaged in, you'll be able to select from a series of attributes that will help to further refine your logo's style, such as its font, symbols, and colors.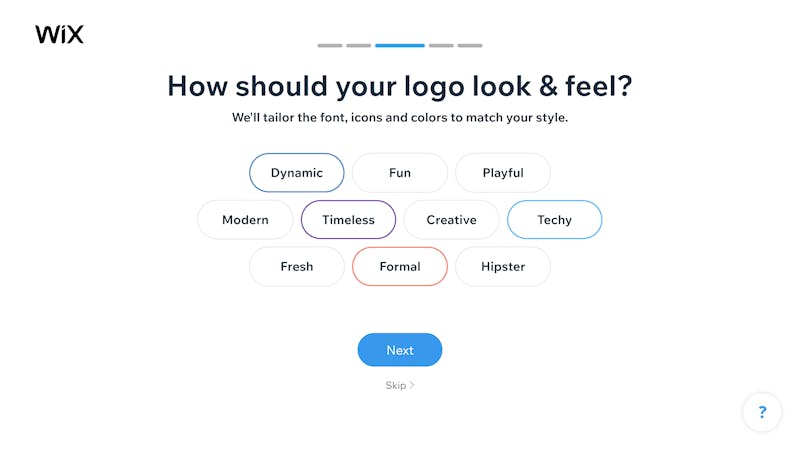 Select the attributes that best describe your business.
Either, or: Select your favorites
Next, Wix Logo Maker will display five pairs of sample logos, from which you should choose your favorite (or none, if neither is to your liking). Through this process, Wix's engine gains a clearer understanding of how exactly your logo should be designed.
In the last step, you'll be asked how you want to use your new logo, with the available options including "Website", "Business card", "Social media", "Presentation", "Fan article", and "Other".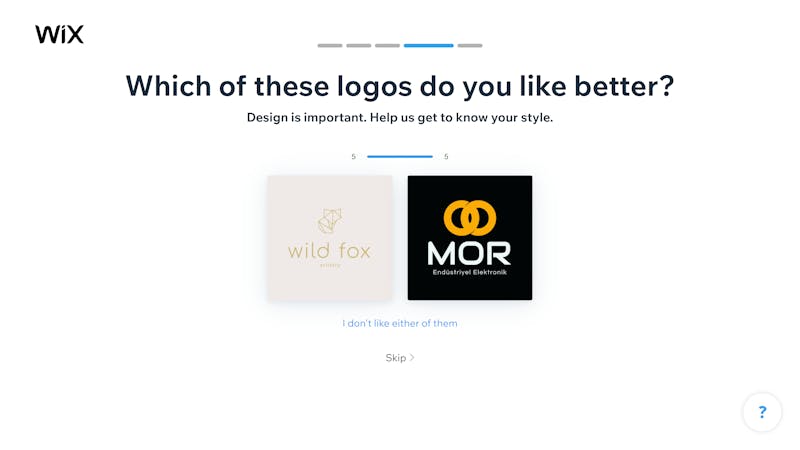 Which logo do you like more? Based on your decisions, Wix will adjust the selection of logos it later displays to you.
Once you've completed all of the steps, Wix's algorithm will take over, recommending a variety of different logos (in our case, 147). Many of these were text-based, with only the font and color differing from one another. As a result, despite the seemingly large selection to choose from, there is a lot more chaff than wheat, as most could be made in a word processor.
Should you find something that piques your fancy, you can adjust it in the next phase. As expected, in terms of user-friendliness, Wix doesn't cut any corners, with its editor polished, easy to understand, and fast. We liked the logo comparison step, however, it would have been good to have a few more choices to select from. Further limitations are that it's only possible to select one branch for your business or choose from a handful of attributes that describe it.
Ultimately, we weren't particularly satisfied with the recommendations that the logo maker served up, however, in the next step, we were able to take matters into our own hands.
After selecting a few contenders from Wix's recommendations, you can customize these in the next step. As noted above, the variety of logos on offer was unimpressive with too many text-based suggestions. For our branch (Technology Tutorials) the variety of symbol-based logos was also unremarkable, albeit, generally of high quality.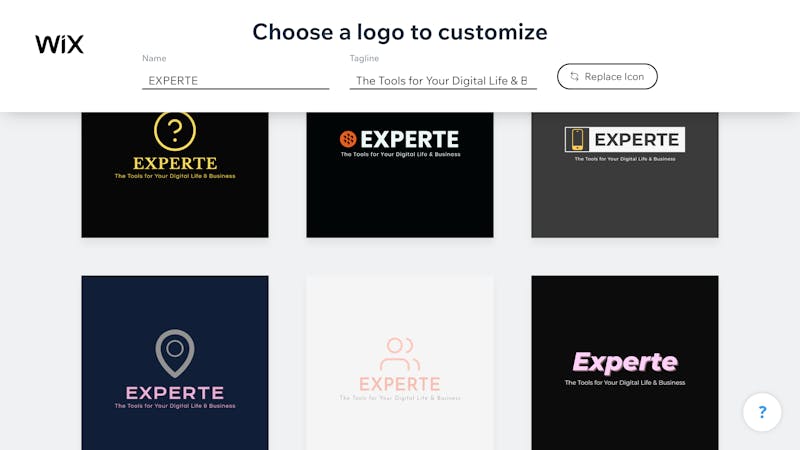 Now you can select which logo best matches your preferences and customize it further.
Flexible customization with drag and drop
After you've settled on a logo, you'll be able to customize it in the editor. Here, once again, Wix plays to the same strengths that made its site builder such a hit, namely, the ability to flexibly drag and drop individual elements.
In the editor, you'll find six categories: Color, Text, Symbols, Shapes, Uploads, and Background. A selection of ready-made color combinations is offered that can be used with the available on-screen elements, but you can also create a specific color by clicking on the element in question and picking from hex codes.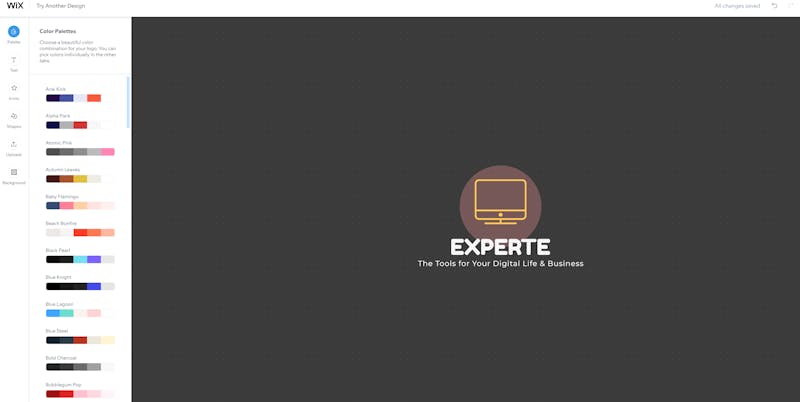 Which color combination best fits your business?
Plenty of effects for a logo maker
In the text menu, you'll be able to edit your logo's text, adjusting its color, size, font, alignment, opacity, and contour width. It's also possible to turn the text, add a shadow, or blur it.
You won't have to stick to the titles and slogans you input at the beginning of the process, as new text can be added if desired or old text removed. All elements can be grouped, shifted around by dragging and dropping them, copied, or moved to the fore- or background. Accordingly, Wix is capable of performing the most essential features found in image-editing software, in sharp contrast to the limitations of other logo makers, such as Fiverr's.
New symbols can also be added during this stage. We found a few that we had seen earlier in the program, however, at this point, it was possible to add as many (or as few of them) to our logo as we wanted.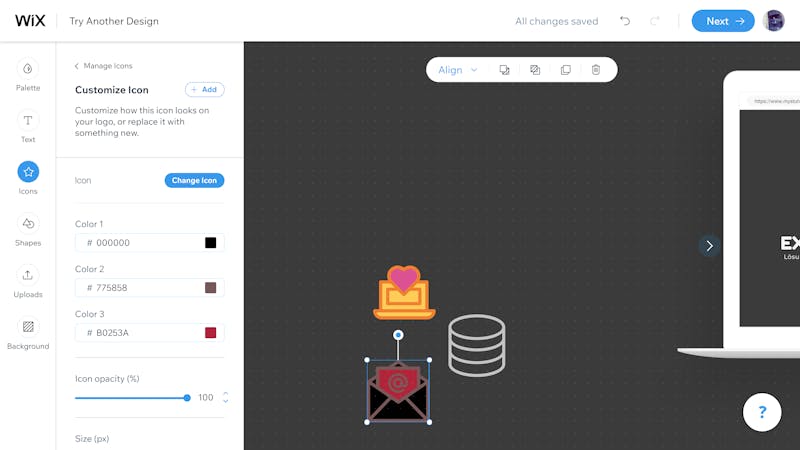 Wix offers a nice selection of symbols and graphics that you can add to your logo.
Easily upload your own content
In addition, you can add geometric shapes behind symbols or text to accentuate them. Should this not be enough, or you simply want to use another symbol or graphic you found somewhere else, it's possible to upload these into the editor without issue.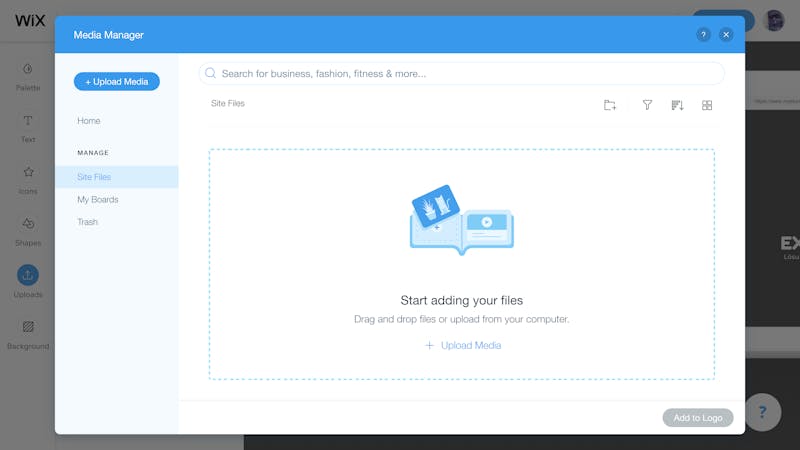 Wix doesn't have the symbol or shape you're looking for? You can upload it yourself.
As a nice touch, it's also possible to save a draft of your logo to your Wix account. There, you can access it at any time by clicking on "My Logos".
We're not going to mince our words: We were disappointed with the selection of logos yielded by the software's algorithm. Wix's recommendations didn't really match our preferences, and those available to our branch weren't all that appealing. However, Wix's editor showed off the developer's power, offering a significant amount of creative freedom in customizing templates, whether through the solid selection of symbols or the ability to upload content. Users who have a knack for design should remain patient with the provider, since there's much more beyond the algorithm's recommendations.
Logo Customization
9.4 / 10
Once you're satisfied with your choice, click on "Next". In this phase, you'll have the ability to purchase the rights to your logo. Since Wix also markets a site builder, it uses the opportunity to up-sell its (successful and powerful) software. Click on "Just the logo" if you aren't interested in any extras.
Package-based logo files
Here, you should see two package options: Basic and Advanced. If selecting the former, you'll get all commercial and non-commercial rights to your logo, as well as eight, high-resolution PNG files. Two are in original color, four in black and white, one in greyscale, and one in monochrome.
On the other hand, if you opt for the Advanced package, you'll receive 50 vector graphics (SVG files) in color, black and white, greyscale, and monochrome. Each can be scaled to your preferences without losing quality, making them ideal for printing on posters, shirts, or business cards.
Beyond that, you'll also get 40 additional versions of your logo (profile pictures or banners, for example) for social media networks like Facebook, Instagram, YouTube, or LinkedIn, for an email signature, and as Android- and iOS-Icons.
Also included is a brand guide that details the font and colors used in your logo. This is particularly useful for your web designer or other service providers so that they can maintain your brand identity.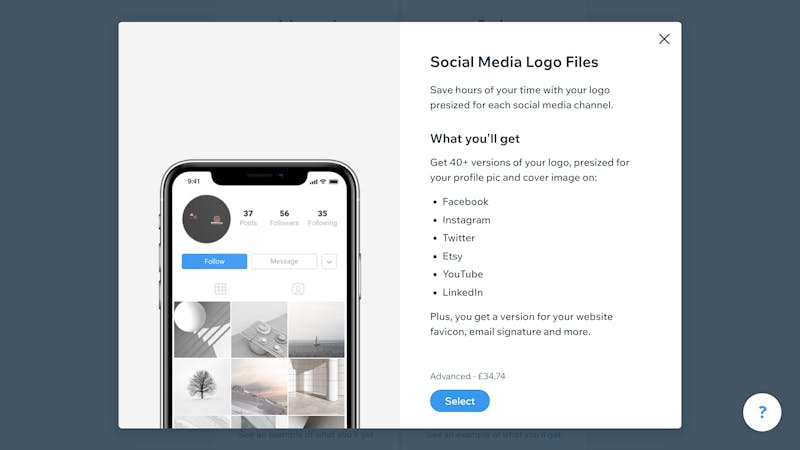 Do you need your logo for your brand's social media? In that case, make sure you select the Advanced package.
It's possible to download a sample folder for either package, in order to see which logo files are included.
Generally speaking, once you've purchased the rights to a logo, you can't change or modify it, however, Wix offers users one opportunity to adjust their logo. This is not common among logo makers.
Overall, Wix logo maker provides serves up all the necessary files and full rights in both of its package options. Since the logo uses pre-made designs, its usage rights are only exclusive to Wix, and not the market. Should you want to trademark your logo, you'll need to take the necessary legal steps for doing so on your own.
You can access Wix's support content by clicking on the question mark in the lower left of the logo maker's interface. The window that opens will display relevant articles and guides to the page you're on, however, you can also search manually for additional information. Alternatively, you can access the developer's help center via the account menu in the upper right, with the logo maker having its own category, including comprehensive guides.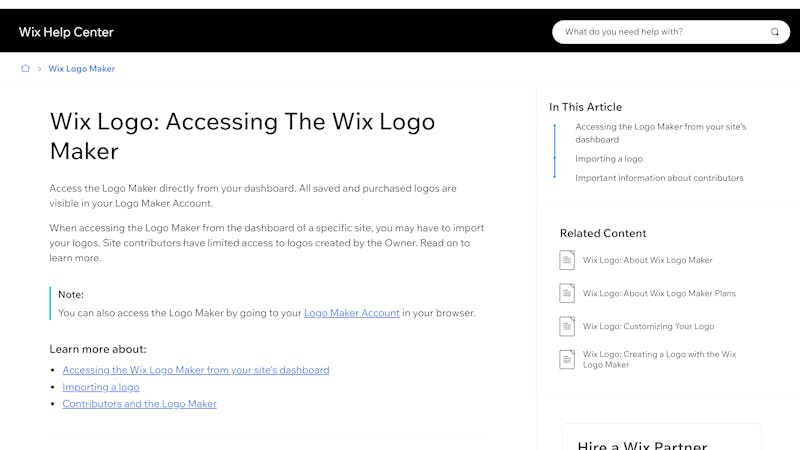 The logo maker has its own category in Wix's help center.
As is the case with its site builder, Wix also hid its logo maker's direct support channels. Only after you've finished scrolling through a support article and click on "Not helpful", will a link appear to a contact form. This can also be found by clicking on "Contact Wix Support" in the "Basics" area. During our evaluation, we spoke with a chatbot, who offered us a callback. We weren't able to file a support ticket.
We received a callback within three minutes and spoke with a helpful Wix staffer. Overall, we felt very well taken care of and liked that we barely had to wait for assistance. All the same, additional support channels (such as a live chat staffed by humans) or more straightforward means for getting in touch would be nice.
Should you only want a logo (and not a website), Wix offers the two packages we've listed above: Basic and Advanced. The former secures all commercial and non-commercial rights to your logo, while also providing eight high-resolution PNG files. The latter includes 50 vector graphics, 40 social media logos, and a brand guide on top of everything that the Basic package comes with.
Below, we've provided an overview of Wix logo maker's pricing:
Basic
Advanced
Purchase Price
$49.00
$99.00
Price per Month
$0.00
$0.00
Contract Period (Months)
0
0
Logo Design
No Subscription
Commercial Use
Export Logo
PNG
PNG (transparent)
SVG
Favicon
Social Media
Wix offers one of the most affordable logo makers on the market, with its Basic package a real bargain. A price comparison of all logo makers from our sample is included below:
1.
2.
3.
4.
5.
6.
7.
Conclusion
Logo Customization
9.4 / 10
Our affinity for Wix can be traced back to the excellent performance of its site builder. This is a double-edged sword, as we hold each new Wix product we assess to the same (high) standard. Its logo maker does well, playing off the site builder's strengths: Everything is straightforward and easy to do, from selecting a logo all the way up to its customization and editing in the versatile (and robust) drag and drop-capable editor.
At the same time, we were a bit disappointed in the preliminary palette of recommendations that Wix's logo maker offered us based on our input. Other logo makers do better here, providing a greater variety, as well as more appropriate symbols. The trade-off for this was the high degree of freedom we were afforded in customizing later on. Further speaking in the software's favor is the relatively affordable price of its packages. Particularly for customers who already use Wix to create their websites or stores, staying 'in the family' can pay off.
The Wix logo maker builds on the strengths of its website builder, and makes logo creation easy with its intuitive drag-and-drop editor. Even beginners should be able to create professional looking logos in no time.
well-performing, intuitive editor
preselected logos disappointing
8.9

good
Plan
One-off Price
Transparent (.png)
Vector (.svg)
Wix Basic
$49.00
Visit Website »
User Reviews
In general, Wix is rated "good" amongst users, however, this varies from review portal to review portal. We noticed quite a few complaints on Trustpilot, with users criticizing the developer's poor support. All the same, on Capterra, Wix was held in high esteem.
Customer Ratings
78,579 Bewertungen
Visit Website
We analyzed the reviews and ratings from various portals and found 78,579 ratings with an overall rating of 4.4 out of 5 .
Alternatives
You want even more of a free hand in designing your logo than with Wix? In that case, we recommend taking a look at Canva, an established design platform that offers its users the ability to create logos, as well as a range of other visual elements.
Or maybe you want professional help in designing your logo? Then, head over to Fiverr where, for a price, you can contract a pro to give you input or design a logo from scratch tailored to your needs.
Below, we've provided a list of the best alternatives to Wix's logo maker:
Canva is so much more than 'just' a logo maker, but logo creation is definitely one of the platform's many strengths. Because it's a lot more versatile than its rivals, however, it also requires a bit more creative talent.
comprehensive graphic design platform
offers more than 11,000 templates
powerful editor with extensive options
8.7

good
Plan
One-off Price
Transparent (.png)
Vector (.svg)
Canva Free
$0.00
Visit Website »
Looka makes creating logos simple as pie, but it restricts your creativity more than some of its rivals. We like that fact that you don't need to create an account to design your logo – only to buy it once you're done.
simple and fast logo creation
solid choice of design variations
either one-off price or subscription
editor lacks drag and drop
7.7

good
Plan
One-off Price
Transparent (.png)
Vector (.svg)
Looka Basic
$20.00
Visit Website »
Fiverr's logo maker offers a nice selection of symbols and layouts, but it's not as versatile as some of its competitors. Despite the drag-and-drop approach, personalization is quite limited
quality logos from Fiverr designers
designs could be more versatile
limited customization options
7.3

good
Plan
One-off Price
Transparent (.png)
Vector (.svg)
Fiverr Essential
$30.00
Visit Website »
Tailor Brands takes users by the hand, so even beginners without design expertise can create professional-looking logos in minutes. But because your creative freedom is quite limited, the results can be pretty generic.
few customization options
only available as a subscription
7.1

good
Plan
One-off Price
Transparent (.png)
Vector (.svg)
Tailor Brands Basic
$47.88
yearly price
Visit Website »
Placeit shines as a creative platform for mock-ups and design templates – its logo maker is more of a 'handy little extra'. You can quickly create a nice looking logo, but the customization options are quite limited.
fast and easy logo creation
lots of design and mockup features
unimpressive editing options
lacks 'smart' AI-aided customization
6.4

satisfactory
Plan
One-off Price
Transparent (.png)
Vector (.svg)
Placeit Single
$9.95
Visit Website »

Martin Gschwentner majored in American Studies and Media Studies in Germany, the USA and France and works as a freelance editor in Paris. He is a doctoral student at the Institute for English and American Studies at the University of Paris Diderot, where he is researching the influence of money on US politics. On EXPERTE.com he writes about IT security, data protection and software for the self-employed and small businesses.

Translator & Editor: D Bare
Continue Reading
Other languages
Deutsch