Secure Passwords
Managing Passwords » How To Do It Properly
Be honest: How many different passwords do you have? Statistically speaking, you probably only need one hand to count the answer, seeing as 60% of Americans reuse passwords. Should you be part of that group, keep reading, because in this article we'll let you know why that's unsafe and how to change your ways. We'll also fill you in on how to easily use hundreds of highly secure passwords to protect your digital persona.
How Do Thieves Access Passwords?
Let's assume for a moment that you're using the same password for several accounts. For this scenario, your password is one of the most popular choices out there: 123456. A hacker only has to be right once to be able to attack you from multiple angles. With access to your email, they can pretty much do whatever they please, which can include locking you out of your own account, subverting your online shopping or social media profiles, or even withdrawing funds from your bank.
Even if you're cautious and don't use passwords like 123456, dangers still loom, particularly data leaks and brute force attacks. However, with the right password strategy, you can avert these, and below, we'll show you how.
Data leaks
A data leak occurs when unauthorized individuals gain access to a company's data stores. Unfortunately, such leaks are fairly common and see passwords and user data fall into the wrong hands. If you use the same password for each account you have, the data yielded from an attack on Company A (where you have an account) could then be checked against records at Company B. If you have an account at Company B which uses the same password, the hacker will be able to subvert it with minimal effort.
Making matters worse, in cases such as these, you don't have control over your own security, and instead have to trust the transparency of the service you're using.
Protection against data leaks: By employing multiple, unique passwords for each service or account you have, the damage resulting from a data leak can be contained.
Brute force attacks
Brute force attacks are more focused than data leaks. Like old-time bank robbers rotating the dial of a safe or vault and listening to the clicks, digital thieves try to crack your password by automatically testing random permutations and combinations.
Protection against brute force attacks: The longer and more complicated your passwords are (meaning, they use a variety of different symbols and characters), the more difficult they will be for thieves to crack. Use the EXPERTE.com Password Check to find out how easily (or difficultly) your passwords can be cracked.
How Do I Protect Myself Effectively?
If you want to protect yourself against data leaks and brute force attacks, there's just no way around employing different, complex passwords for each service you use. Unless you've got a photographic memory, remembering each of these passwords is near impossible. For exactly this reason, password managers, which remember and store passwords for you, have been developed.
Password Managers - Managing Secure Passwords
A password manager is an application that automates the management of your passwords and login information, storing them in a digital vault that can only be accessed with your master password. After setting up such a vault, this master password is the only password you'll ever need to remember.
Password managers exist for computers, laptops, and mobile devices. Many providers offer free versions of their apps as part of their freemium business model. Oftentimes, you can only gain access to all of the features these provide by paying for a subscription. Each app is different, however, you should check that the following features are available:
Autofill
With a password manager installed on your device, you'll never have to manually type in a password again. Instead, the password manager remembers your credentials for each website that you have an account with, automatically completing login forms whenever you visit it. The password manager also automatically saves new login information for websites that you newly register on.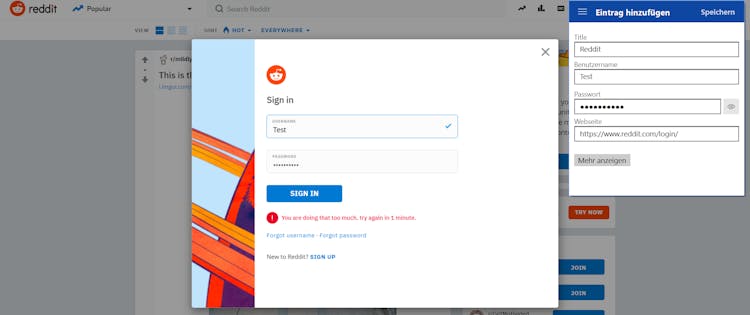 Password Generator
To avoid succumbing to brute force attacks, passwords need to be long and complex. However, you don't have to put a blindfold on and start typing whenever you're asked to create a new password. Instead, the password manager of your choice should automatically generate highly secure passwords for you. In addition, they should also let you set the password's length, and select whether it should contain upper- and lowercase letters, digits, or symbols.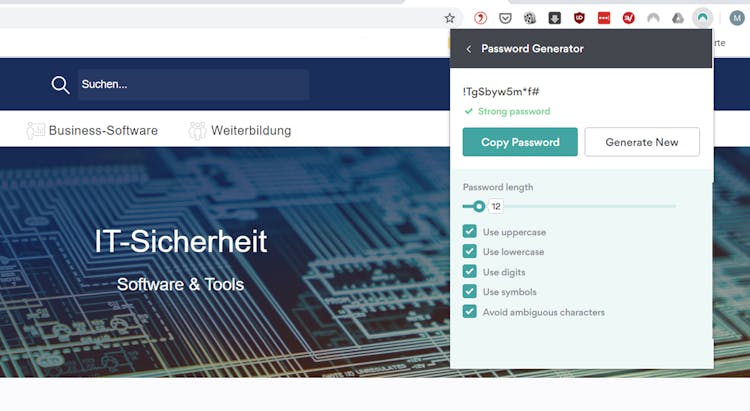 NordPass's password generator.
Security Center
Most password managers offer some sort of security hub that provides an overview of threats such as weak or repeated passwords, as well as steps for remedying them. Apps often display the quality of your security as a score or percentage.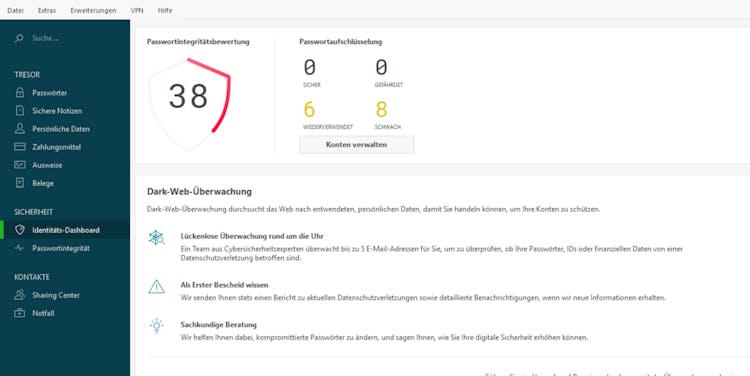 Dashlane's identity dashboard.
Aside from these must-haves, password managers offer a wide variety of different features and extras, which depend entirely on the platform. For example, Dashlane sets itself apart from its competitors with its excellent password changer. This nifty feature makes it possible to alter multiple passwords at the same time with a click of your mouse. Sticky Password provides a portable version of its app which is highly convenient when travelling. Some providers even offer extras like a VPN.
In our comprehensive EXPERTE.com Password Manager Evaluation, we looked at 12 different apps, checking them out from top to bottom. We tested their features, usability, security, support, and pricing. Below, you can find out results:
Dashlane
Visit Website
1Password
Visit Website
Keeper Security
Visit Website
NordPass
Visit Website
Bitwarden
Visit Website
LastPass
Visit Website
Enpass
Visit Website
RoboForm
Visit Website
Sticky Password
Visit Website
Avira
Visit Website
McAfee
Visit Website
Kaspersky
Visit Website
Password managers are no longer optional, but a necessity. This is because, for better or for worse, passwords are all that stands between you, your reputation, and your wealth, and ruin. As a result, making sure that these are secure as possible is as sensible as putting a lock on your front door or assigning a PIN to your debit card. Many providers offer free packages, and after installation, you'll not only save heartbreak but also time. Since password managers also remember passwords for you, you'll never have to click "Forgot Password?" again.
There are very few arguments against using a password manager: They're user-friendly, time-saving, secure, and most of the time, free of charge.

Author (German Version): Martin Gschwentner
Martin Gschwentner majored in American Studies and Media Studies in Germany, the USA and France and works as a freelance editor in Paris. He is a doctoral student at the Institute for English and American Studies at the University of Paris Diderot, where he is researching the influence of money on US politics. On EXPERTE.com he writes about IT security, data protection and software for the self-employed and small businesses.

Translator & Editor: Brendan Philipp