Managing Passwords: How To Do It Properly


Translation
Brendan Philipp
Ad disclaimer:
For links on this page, EXPERTE.com may earn a commission from the provider. This supports our work and has no influence on our editorial rating.
Be honest: How many different passwords do you have? Statistically speaking, you probably only need one hand to count the answer, seeing as 60% of Americans reuse passwords. Should you be part of that group, it's time to rethink your password strategy.
In this article we'll let you know why reusing passwords is unsafe and how to change your ways. We'll also fill you in on how to easily use hundreds of highly secure passwords to protect your digital persona.
How Do Thieves Access Passwords?
Let's assume for a moment that you're using the same password for several accounts. For this scenario, your password is one of the most popular choices out there: 123456.
A hacker only has to be right once to be able to attack you across any platforms you've used this password on. With access to your email, they can pretty much do whatever they please, which can include locking you out of your own account, subverting your online shopping or social media profiles, or even withdrawing funds from your bank.
Even if you're cautious and don't use passwords like 123456, dangers still loom, particularly data leaks and brute force attacks. However, with the right password strategy, you can avert these, and below, we'll show you how.
Data leaks/breaches
A data breach or leak occurs when unauthorized individuals gain access to a company's data. Unfortunately, such leaks are fairly common, and see passwords and user data fall into the wrong hands. If you use the same password for each account you have, the data yielded from an attack on Company A (where you have an account) could then be checked against records at Company B. Supposing that you have an account at Company B which uses the same password, the hacker will be able to subvert it with minimal effort.

Making matters worse, in cases such as these, you don't have control over your own security, and instead have to trust in the transparency of the service you're using.

By employing multiple, unique passwords for each service or account you have, the damage resulting from a data leak can be contained.

Brute force attacks
Brute force attacks are more focused than data breaches. Like old-time bank robbers rotating the dial of a safe or vault and listening to the clicks, digital thieves try to crack your password by automatically testing random permutations and combinations against a single target.

The longer and more complicated your passwords are (meaning, they use a variety of different symbols and characters), the more difficult they will be for thieves to crack. You can use EXPERTE.com's Password Checker to find out how weak or robust your passwords are.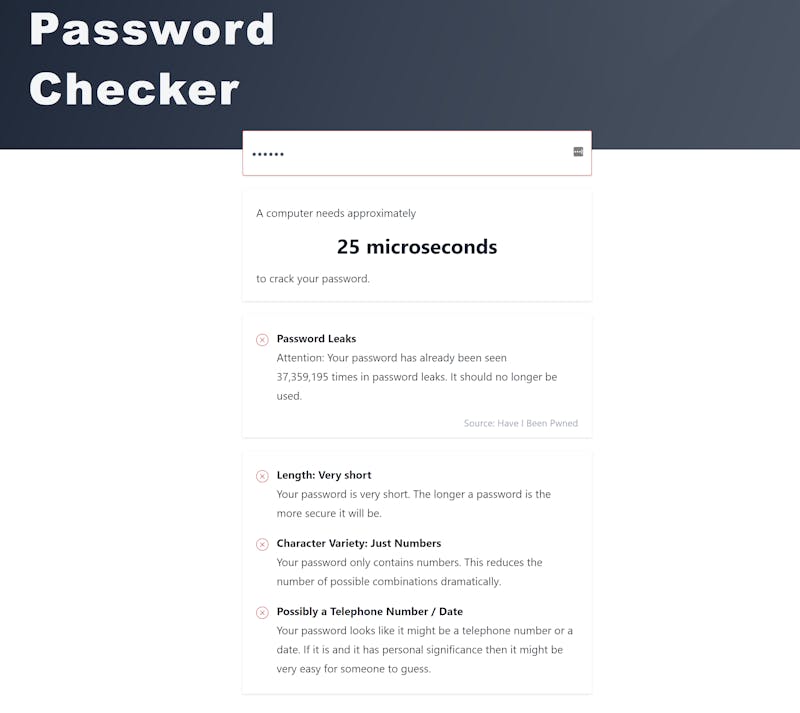 Alarming: It only takes 25 microseconds to break one of the world's most popular passwords.
How Do I Protect Myself Effectively?
If you want to protect yourself against data leaks and brute force attacks, there's just no way around employing different, complex passwords for each service you use. Unless you've got a photographic memory, remembering each of these would be nearly impossible. For exactly this reason, password managers, which remember and store passwords for you, have been developed.
Password Managers - Managing Secure Passwords
A password manager is a kind of software that automates the management of your passwords and login information, storing them in a digital vault that can only be accessed with your master password. After setting up such a vault, its master password is the only one you'll ever need to remember.
Password managers are available for computers, laptops, and mobile devices. Many providers offer free versions of their apps as part of their freemium business model. Oftentimes, you can only gain access to all of the features these provide by paying for a subscription. Each app is different, however, you should check that the following features are included:
Autofill
With a password manager installed on your device, you'll never have to manually type in a password again. Instead, the password manager remembers your credentials for each website that you have an account with, automatically completing login forms whenever you visit it. A password manager also automatically saves new login information for websites when you register on them for the first time.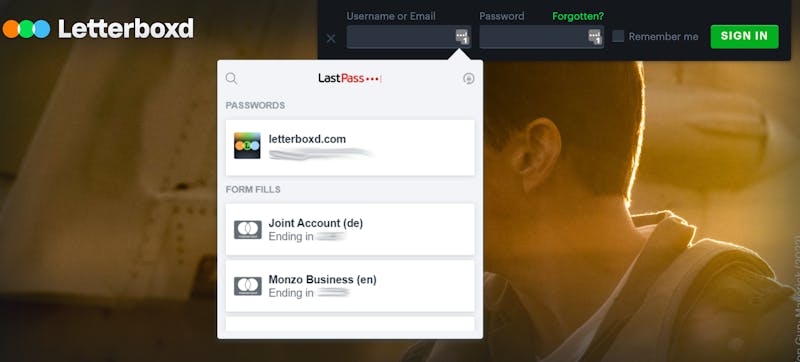 Reliable autofill ensures that you never need to manually input your usernames or passwords again.
Password Generator
To beat brute force attacks away, passwords need to be long and complex. However, you don't have to put a blindfold on and start typing whenever you're asked to create a new password. Instead, the password manager of your choice should be capable of automatically generating highly secure passwords for you. In addition, they should also allow you to set the password's length, and select whether it should contain upper- and lowercase letters, numbers, and/or symbols.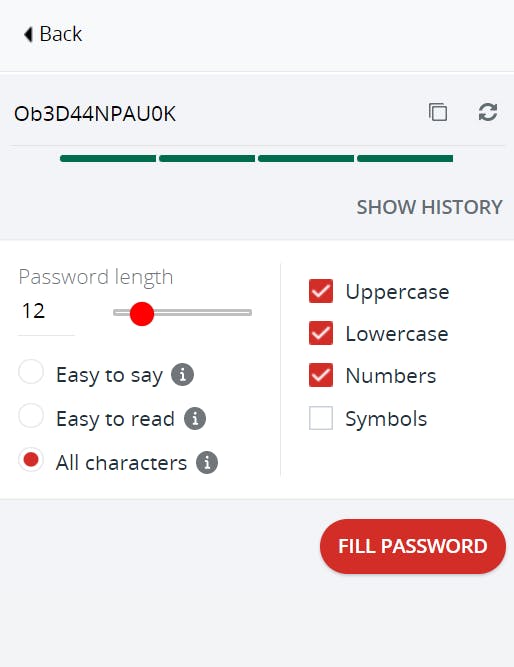 With password generators, you can specify different which components your password should include.
Security Center
Most password managers offer some sort of security hub that provides an overview of threats such as weak or repeated passwords, as well as steps for remedying them. Apps often display your overall security as a score or percentage.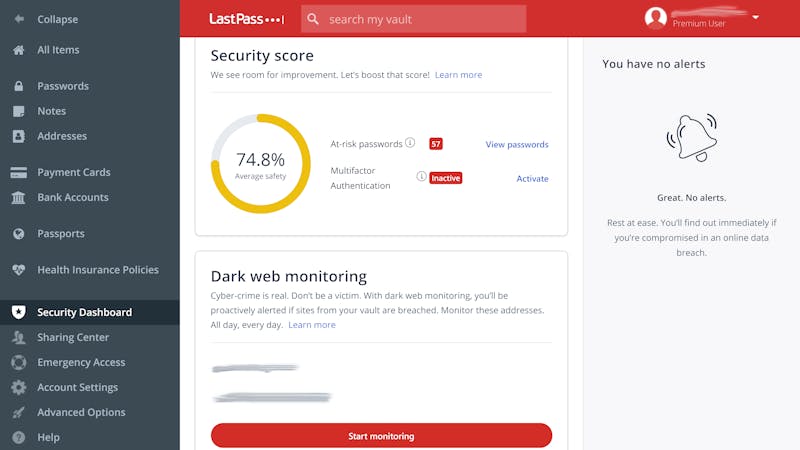 In LastPass's Security Dashboard, you can see your security score and find out how to improve it.
Aside from these must-haves, password managers offer a wide variety of different features and extras, which vary from platform to platform. For example, Dashlane sets itself apart with its excellent password changer, with which you can alter multiple passwords at the same time with a click of your mouse. Sticky Password provides a portable version of its app which is highly convenient when travelling. Some providers even offer extras like a VPN.
Should you find the advantages which a password manager offers to be appealing or worth exploring, all that's left is to select the right program.
Best Password Manager: Our Top 3
In our comprehensive EXPERTE.com evaluation of password managers, we looked at 12 different apps, checking them out from top to bottom. We tested their features, usability, security, support, and pricing. Below, we've listed our Top 3:
Dashlane Password Manager
Dashlane is a great all-rounder that makes managing your logins and other account details as easy as pie thanks to its many features, a strong security posture, and an easy-to-use interface.
user friendly and intuitive
zero-knowledge encryption
comprehensive security center
automatic password changer
9.1

excellent
Passwords
Devices
Users
Contract Period
Dashlane Free
$0.00
monthly price
Visit Website*
Try for free
Dashlane was the best all-arounder from our sample of password managers, having the edge in several areas on its competition. The web-based tool is quick to set up and easy to use. Its developers didn't skimp on features, as with it, you'll be given a practical password changer, which automatically changes weak passwords and even a VPN.
When it comes to autofill, Dashlane is reliable, both in computer and mobile browsers. The service's browser extension nicely complements its main program.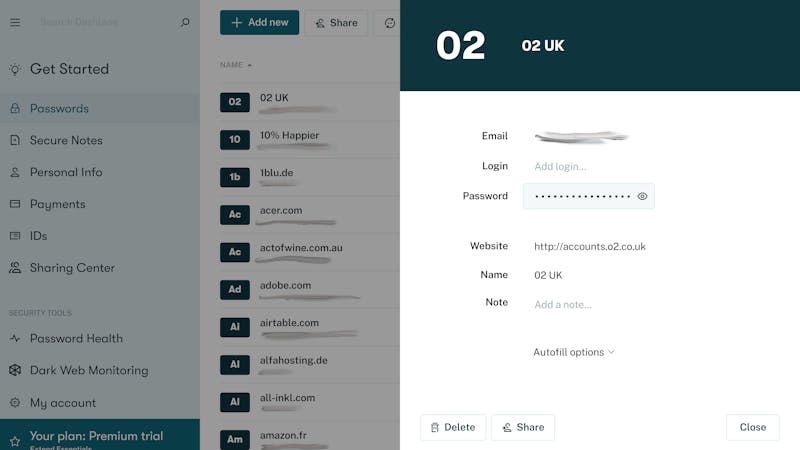 Dashlane was the top performer in EXPERTE.com's password manager assessment.
Dashlane also has a free version, which might more accurately be termed a trial, since you'll only be able to save 50 passwords and cannot synchronize your vault with another device. If you're a paying subscriber though, Dashlane is an excellent guide through the tricky world of online accounts and passwords, and likely the best password manager on the market.
Installation & Usage
8.0 / 10
1Password Password Manager
1Password's password vault is filled to the brim with features, including handy extras such as the travel mode. With excellent security and a solid user interface on top, 1Password is one of the best password managers out there.
zero-knowledge encryption
reliable autofill function
8.7

good
Passwords
Devices
Users
Contract Period
1Password Standard
$2.99
monthly price
Visit Website*
Free 30 days trial
1Password was able to impress us thanks to its powerful security features: In order to log in from a new device, you'll need to generate a local 128-bit Secret Key, and its practical Travel Mode allows you to specify which password vaults are available on which devices for specific periods of time.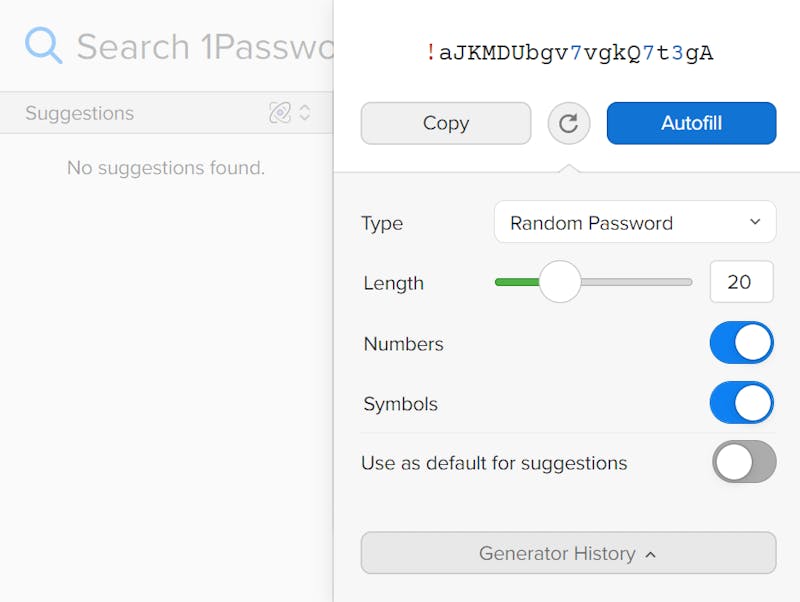 1Password's generator tool can even be used to create passphrases.
Another big advantage is the large number of templates, making it possible to not only save the usual account information, but also, various other kinds of data sets (passport, driver's license, etc.). Since user-defined fields are also offered, you can even individually customize these to your needs. There's also a security dashboard, referred to as Watchtower, which alerts you automatically about unsafe passwords you're using.
Installation & Usage
8.6 / 10
Keeper is one of the best password managers on the market thanks to its many features, high reliability, and extensive configuration options.
Passwords
Devices
Users
Contract Period
Keeper Security Unlimited
$2.04
monthly price
Visit Website*
Download Keeper
Keeper excels when it comes to customization: While it might not offer as many templates as 1Password, you can freely configure data sets and secure specific entries with time-based, single-use passwords. The service's partial adoption of drag and drop functionality is also incredibly intuitive.
Keeper's browser extension can also be personalized according to your preferences. This includes specifying when autofill should and should not be activated. During our assessment, autofill worked without a hitch.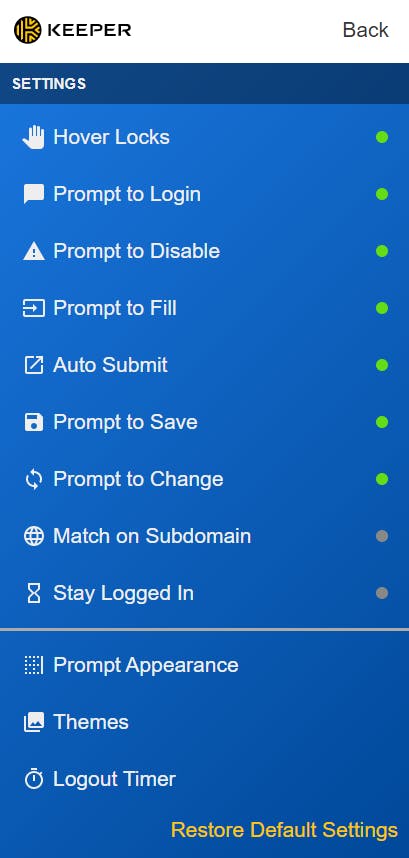 Keeper affords users plenty of opportunities for customization.
Unfortunately, Keeper does not offer a free version, however, you can test the software out for 30 days.
Installation & Usage
8.0 / 10
Overall Results
Below, you can see our full ranking of the best password managers:
Conclusion
Password managers are no longer optional, but a necessity. Since the key to your identity, wealth, and reputation is often nothing more than a few letters, numbers, and special characters nowadays, it should be as secure as possible. For ensuring this, password managers are the best overall solution.
Once they're configured, your accounts won't only be more secure, but you'll save time that would have been spent manually creating new passwords, or going through the hassle of recovering or resetting a forgotten login information.
As such, there are very few arguments against using a password manager: They're user-friendly, time-saving, and safe, and should be a part of every Internet user's inventory.
* Ad disclaimer:
For links marked with an asterisk, EXPERTE.com may earn a commission from the provider. The commission has no influence on our editorial rating.

Martin Gschwentner majored in American Studies and Media Studies in Germany, the USA and France and works as a freelance editor in Paris. He is a doctoral student at the Institute for English and American Studies at the University of Paris Diderot, where he is researching the influence of money on US politics. On EXPERTE.com he writes about IT security, data protection and software for the self-employed and small businesses.

Translation: Brendan Philipp
Continue Reading
Guides
Tools
Password Manager