Zyro Website Builder Review 2023: Wix Challenger or Just for Beginners?


Ad disclaimer:
For links on this page, EXPERTE.com may earn a commission from the provider. This supports our work and has no influence on our editorial rating.
"Flawless templates, easy editing, no coding required." Zyro's marketing slogan doesn't differ too much from those of other website builders. Taken together, its strengths should allow just about anyone who can use a computer to create their own professional website in no time flat.
In this review, we'll let you know whether Zyro is everything it's made out to be and what it's actually capable of.
What Is Zyro?
Zyro* is a Lithuanian software company owned by Hostinger. Its parent is perhaps best known for its small business ecommerce solution: With Zyro's beginner-friendly editor, users can quickly set up a website or online store.
On its website, Zyro claims that users can create "a beautiful website of powerful eCommerce website" with it in "under an hour". We took a closer look to find out whether this is actually possible and to compare Zyro to the other services from our sample.
Zyro Review
Configuration & Usability
9.4 / 10
Templates & Design
8.0 / 10
Marketing, SEO & Ecommerce
6.0 / 10
Intuitive, beginner-friendly editor

Straightforward multilingual websites
1.
Configuration and Usability
Since Zyro offers a free trial version, it's easy to get started. Click on the "Start for Free" button in the upper right corner of the homepage and create an account. In addition to the classic email & password variant, you can also log in through Google, Apple, or Facebook.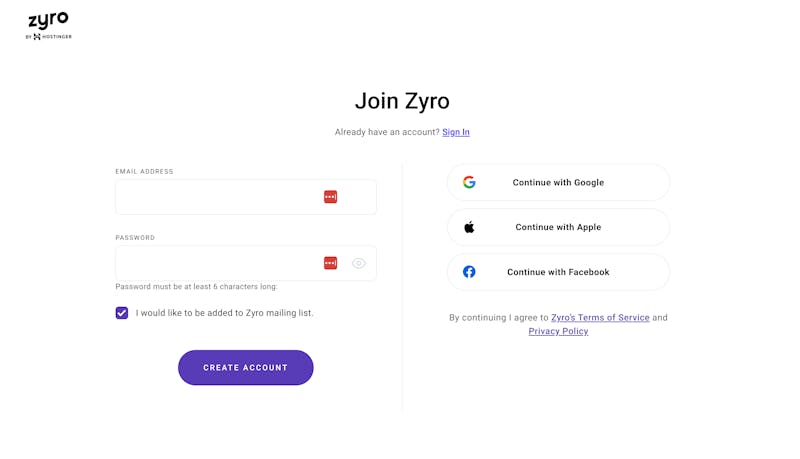 Before you can start building your website, you'll need to create a free Zyro account.
Template first
Once you're logged in, choose the template that your website will be built around. The available options are organized into different categories, which makes finding the right one particularly easy.
Unfortunately, it isn't possible to change the template later on, so choose carefully. If you'd just like to get a feel for Zyro's features, pick one of the more popular designs since you can always start over later with something more specific.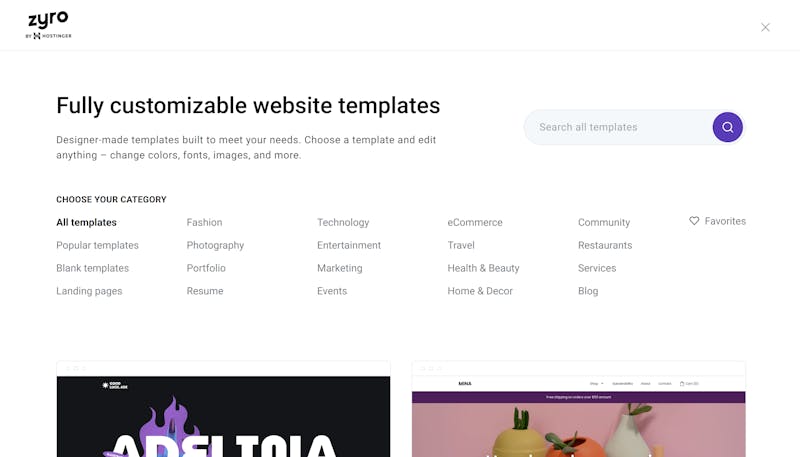 Start by selecting a template for your website.
Every feature in its place
After choosing a suitable template, you'll land in Zyro's editor. A short tutorial video welcomes you to the website builder's heart, which is then followed by a brief tour of the user interface.
Optically, this is very similar to Wix and just as easy to master. The most important menu is off to the left and includes all of the tools you'll need to edit your website. By clicking on its icons, you can add new elements and pages, adjust your website's style, create a blog, and manage your online store's products.
Also here are links to several AI tools, the statistics area, and language settings. At the bottom, you'll find website settings and an icon that takes you to the help center. Rounding things out is a search bar for quickly locating whatever it is that you need.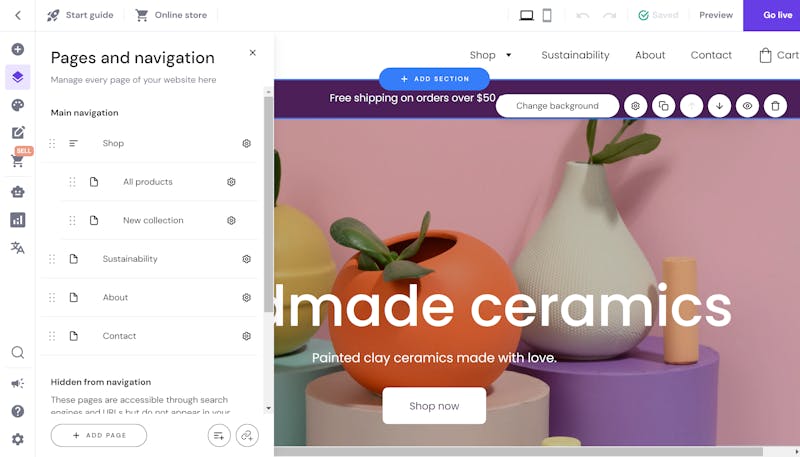 Zyro's user interface is logically designed.
Another menu runs along the top of the website preview window. In this, off to the left, you can open the quick start guide, which provides a checklist of things to do (add a favicon or logo, get found on Google, publish your website, connect your own domain, and connect your favorite apps).
Off to the right of the menu bar, you can see a mobile preview of your website. In addition, it's also possible to undo actions, preview changes, and publish your website.
Manage your website & online store
While you'll work on your website's design and content in Zyro's editor, you'll administer it in a different dashboard. This can be accessed by clicking on the arrow symbol in the upper left and then on "Website manager".
There, you'll find everything needed to actually run your website: You can stay on top of your Zyro subscription, connect a domain, or set up a business email address. In addition, this is where you can copy your website, delete it, or change its name.
Should you also be running an online store, it also has its own admin dashboard here.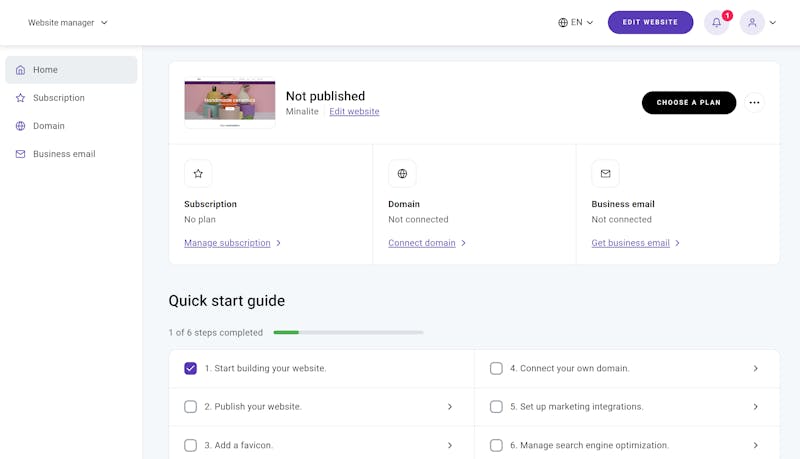 In Zyro's Website manager area, you're able to administer your website.
A simple way to get a website
So, is it possible to build either a website or online store with Zyro in less than an hour? Maybe, but it will take a bit longer to create a professional website. Still, setup, template selection, and personalization are all easy with Zyro, since it quickly provides you with a nice framework to fine-tune your web project.
This is just the beginning though, as in the next sections, we'll take a deep dive into Zyro's design tools and features. One thing is certain already though: The website builder is user-friendly and great for beginners. Our only complaint is that there isn't a mobile app for managing your website on the go.
Configuration & Usability
9.4 / 10
It won't take long to learn the ins and outs of Zyro's editor mostly because the platform doesn't overdo it in terms of features. All basic tools that are necessary for building a website are included.
Sections and elements
A Zyro website consists of horizontal sections that are filled with elements. If you hover your cursor over the live preview, a button will appear between sections. Clicking on this adds a new section.
Next, you'll choose what kind of section you want to add: There's a small selection of ready-made sections, like contact forms, slideshows, and testimonials. It's also possible to add a blog and an online shop as sections, but more on those later.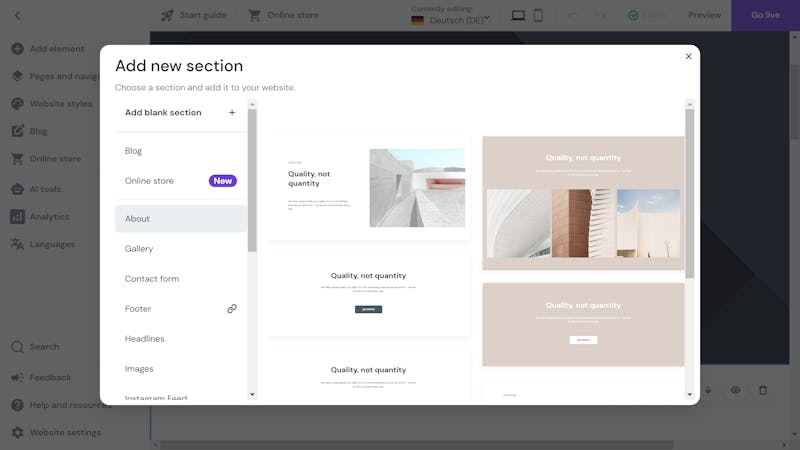 A Zyro website consists of multiple sections.
Limited selection of elements
Alternatively, you can add an empty section and fill it with your own content. To do this, click the plus symbol in the menu to the left. So far as elements are concerned, Zyro only really offers the bare necessities and nowhere near as many options as Wix.
In addition to classics (text, images, and buttons), there are elements for social media, a Google Maps integration, as well as a contact field. Branch-specific content, such as a menu (for restaurants) or schedule (for a doctor's practice), isn't available, and only a handful of variations of what is offered are available.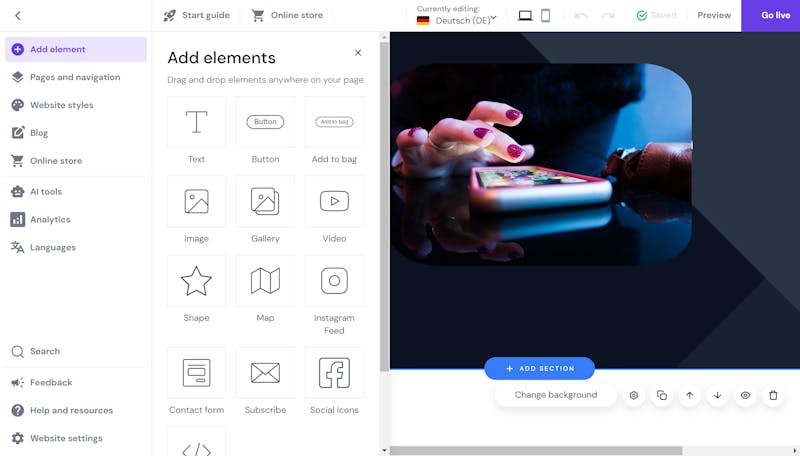 Elements are the building blocks of a Zyro website.
Unlimited pages, but only two levels
New pages are added through the website menu. These can be arranged to your liking and it's possible to specify which should be your homepage. There's an option to publish pages that aren't subordinated to menus, which allows search engines to find them.
Another nifty feature is that you can password-protect certain pages, limiting access to specific people such as customers or co-workers. A number of different designs are offered for the guest areas of these, and textual content can be fully customized.
Dropdown menus with sub-entries can be created, however, that's the extent of navigation. Creating sub-submenus isn't possible.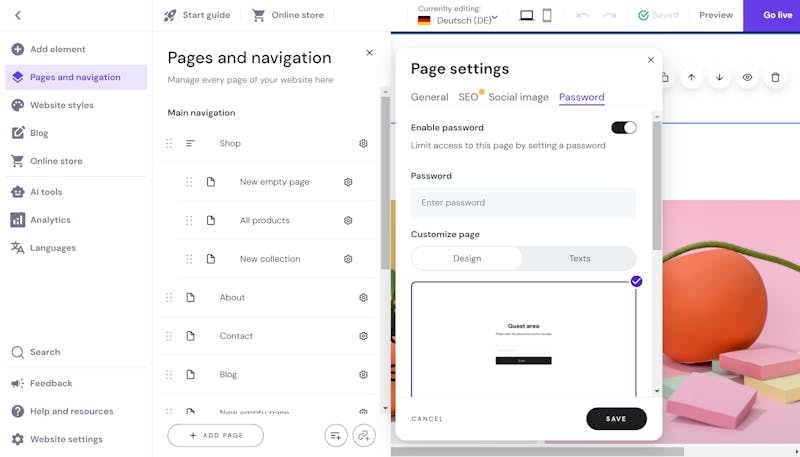 Specific pages can be password-protected.
Blog: Just the basics
As we mentioned above, it's possible to add a blog to your Zyro website, however, the platform doesn't provide more than the basics: Blog entries are created using the editor's standard tools, and you can add text, images, and other elements. After that, publish your post or schedule it to go live at a certain time.
There are a few more features worth mentioning: It's possible to categorize blog entries, specify their authors, and customize a post's URL, the last of which is important for SEO.
And that's it: There aren't any other blog features. This means that you won't be able to tag your entries or allow readers to voice their thoughts in the comment section. In terms of presentation, you're limited to a few different layout options.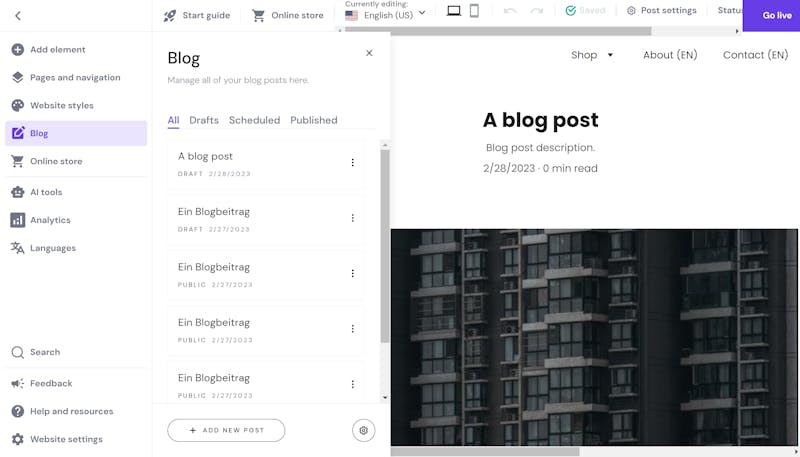 You can quickly create a blog with Zyro.
Simple multilingual websites
Multiple language localizations have their own menu option with Zyro. This allows you to specify your website's default language and add additional ones. Visitors to your website can then select their preference through a dropdown menu.
Content is not automatically translated: For each language, you'll need to manually update whatever content you intend to offer. For that reason, it's a good idea to only start adding languages after your main website is fully built.
No app store for extensions
Zyro definitely isn't the most feature-rich website builder on the market. Of course, we don't expect perfection across the board from any website-building platform. However, many (like Wix or Weebly) offer app stores or marketplaces where extra options can be integrated into their platforms, either for free or for a price. Unfortunately, there's no way to add extensions to Zyro's editor.
AI Tools: Having a laugh?
Zyro does have a few more features that its competitors lack. There's a logo maker which you can use to create a professional logo for your website in a few steps.
The AI Content Generator is also worth mentioning: This was designed to help users save on editorial costs by allowing AI to prepare texts on specific topics for them.
To test it out, we clicked on the "Go Wild" tab and copied these two lines from our website:
"EXPERTE.com is the new platform for freelancers and small businesses. We help with the selection of business software, tools, and products with well-researched guides, reviews, and comparisons."
Zyro's AI Content Generator continued with two variants, neither of which was usable or even coherent:
Variant 1
Freelance content marketing requires expert knowledge that allows your blog to be viewed by millions and serve as your primary source or competitor's only revenue stream. So why not ask us a few questions? After all…Freeposting!
Variant 2
The online magazine will feature an ongoing series on freelance writing ideas that have been picked up by thousands around this site over several months. The editors are constantly looking to add more writers who may be interested in contributing content like their own or work from our community of talented guest contributors. Please send us your comments at http://www!thefreelancer.org/free_writing/.
Also offered is an "AI Heatmap Tool", which analyses your website's design and shows where your visitors' attention will be focused. This makes it possible to adjust your design so that your audience will notice what you want them to.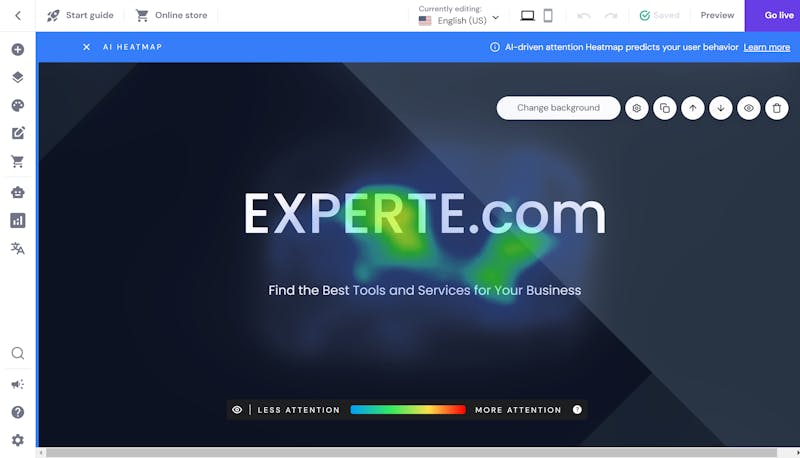 The AI Heatmap shows which areas of your website visitors will be drawn to.
For its target group, Zyro offers a useful range of features. However, even small businesses that want to keep things simple will still benefit from a larger selection of ready-made, branch-specific content elements. With Zyro, you only get the basics, and since there's no app store, there's no way to add more.
As of the time of writing, Zyro offers 147 Templates divided into the usual categories, such as Fashion, Photography, eCommerce, Marketing, and Portfolio. Special templates are available for landing pages or portfolio/CV websites.
We were satisfied with both the quality and amount of templates on offer: They are versatile enough to cover most of the bases and are visually appealing. All of the designs are responsive, meaning that they'll display properly on mobile devices.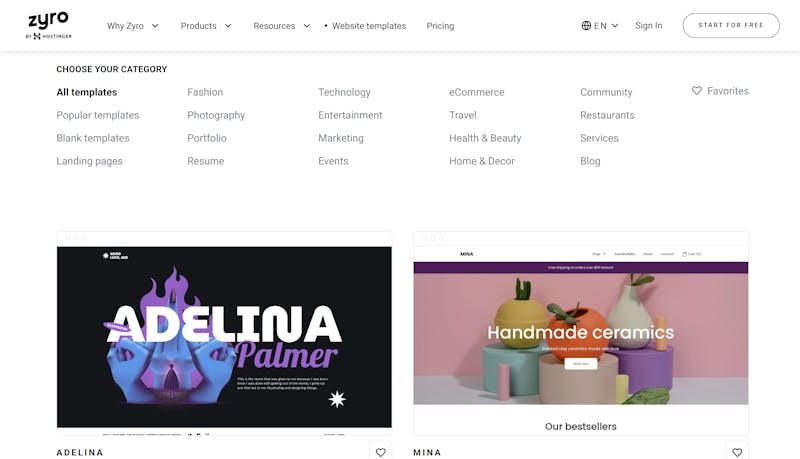 Zyro offers around 150 templates.
After you've selected a template, it won't be easy to change it: As is the case with a few other website builders, you'll need to start from scratch after deciding upon a new template.
Drag and drop meets the grid system
Zyro offers quite a bit of freedom when it comes to personalizing your site's appearance. Its intuitive drag-and-drop editor allows you to place elements with the assistance of a practical grid system. While you can move content freely, you can also set it to snap to the grid when positioned out of place.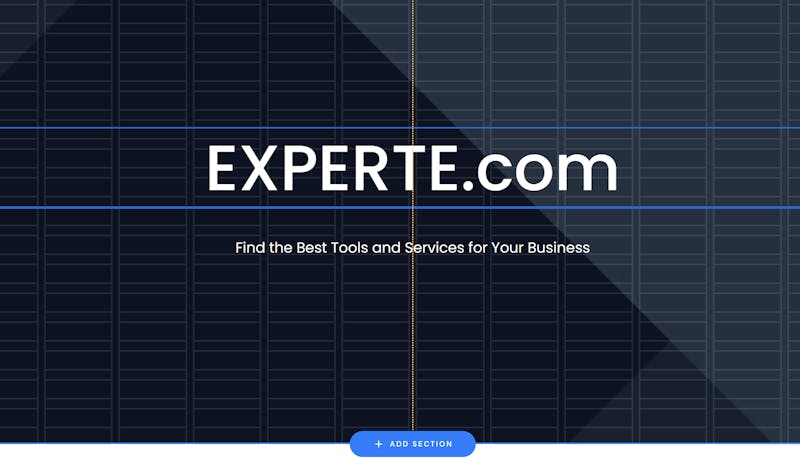 Zyro's nifty grid system helps ensure that elements are arranged harmoniously.
Colors, fonts, and layouts: Customize your website's appearance
By clicking on "Website styles" from the menu (the paint palette icon off to the left), you can adjust settings for your entire website. This includes colors, fonts, buttons, and animations.
Templates do not have differing default layouts: Instead, you'll determine these step-by-step on your own. For each section, you can specify the layout's row height and spacing.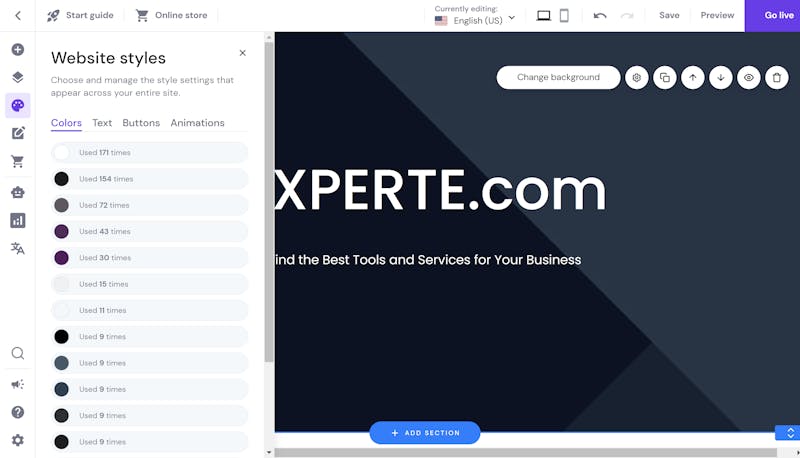 You can adjust settings across your entire page.
Media gallery with stock photos
Should you want to add an image to your website, it can either be uploaded manually or selected from Zyro's media gallery. The latter includes a few template-specific options, as well as free stock photos (from Unsplash) under the "Free Images" tab.
Once you've added an image, you can modify it, such as by adjusting its corner radius or adding features (i.e. opening a link when it's clicked on).
In order to crop or resize the image, or remove its background, you'll need to use another Zyro tool, which is linked in the editor. Since it's necessary to upload the image again, the entire process is somewhat more complicated than it needs to be.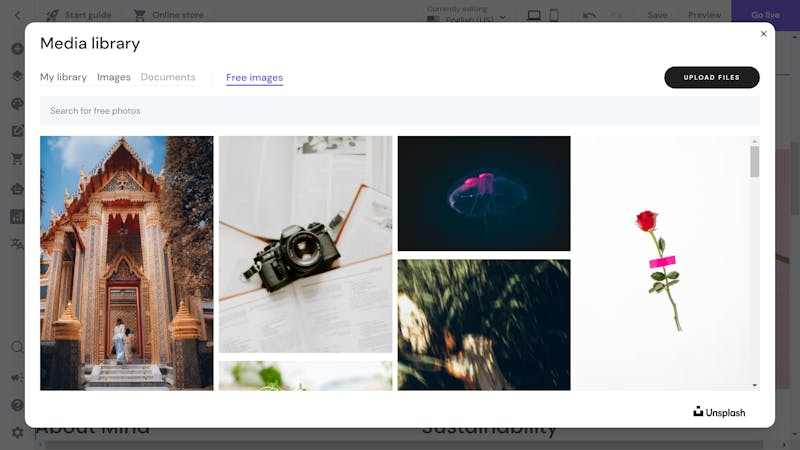 Zyro users get access to Unsplash's stock photo gallery.
The templates Zyro offers are versatile enough to allow pretty much anyone to find something for their project, whether it's a commercial or non-commercial one. Its tools aren't as well-developed as what the competition offers, but they do help to make sure that the final result is visually appealing.
Templates & Design
8.0 / 10
4.
E-Commerce, Marketing & SEO
Zyro's website states that it offers "the easiest way to launch your online store". And they're not far off: All it takes to set up an online store are a few clicks. In the menu to the left of the editor, click on "Online store" (the shopping cart icon), followed by the "Add Store" button. After that, Zyro will add a store page to your website's main menu.
Small stores with up to 500 products
Product management is the basis of any good online store. In Zyro, this takes place in the "Store manager" area, which is also where you'll oversee your orders, bookings, discounts, and general store settings. To get started, provide some basic information about your store (such as its name and currency).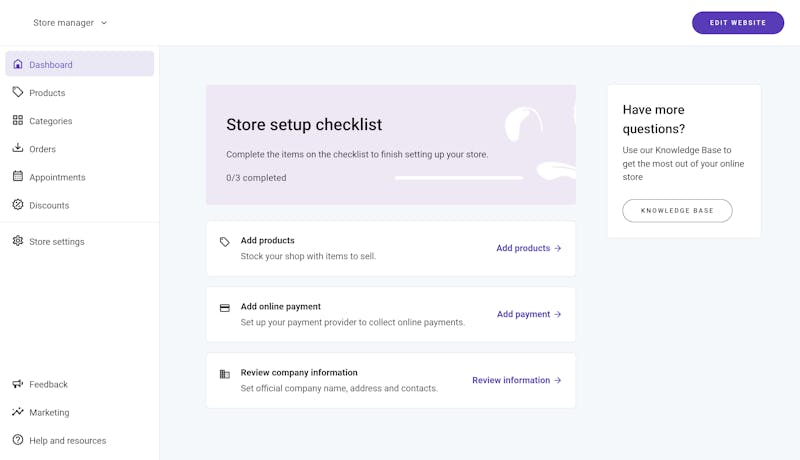 Stay on top of things in Zyro's Store manager dashboard.
Zyro is fairly flexible: After you add a new product, you can specify whether it's physical or digital, a service, a donation, or even an appointment.
In addition to the title and subtitle (optional), you can add pictures to each product as well as a description. Product variants are referred to as Options in Zyro. These allow you to offer different versions of your product (colors, sizes, etc.). Each variation is treated as its own product and assigned a unique number and price.
The maximum number of variants is limited to 50, which is significantly less than lots of other ecommerce solutions (BigCommerce, for example, allows up to 600 variations per product).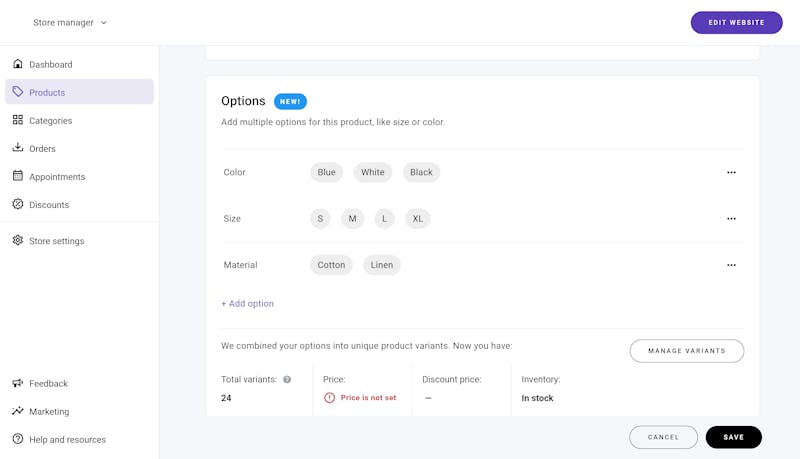 Up to 50 product variations are allowed.
Designed for smaller shops
In general, Zyro's store builder imposes quite a few limitations. Digital downloads can't exceed 100 MB, and only 500 products can be sold at any one time. This rules it out for bringing mid-sized or larger shops to life.
But, Zyro isn't intended for them: Products can be organized into different categories, however, presenting them on the website isn't straightforward and the platform lacks catalogs that would allow you to display large lists. Advanced filter options also aren't offered.
Little marketing support
Zyro doesn't offer much help in promoting your store or its products: You can create discount codes (only percent-based) and highlight reduced prices.
In the marketing menu, you'll be linked to Google, Facebook, and other tools, but nothing from the provider itself. Ads cannot be created directly in Zyro (unlike the case with Wix), and email marketing isn't possible.
Gift cards can't be created, and even sales are time-limited. There's no way to enable customer reviews for products. All told Zyro's ecommerce solution doesn't offer much.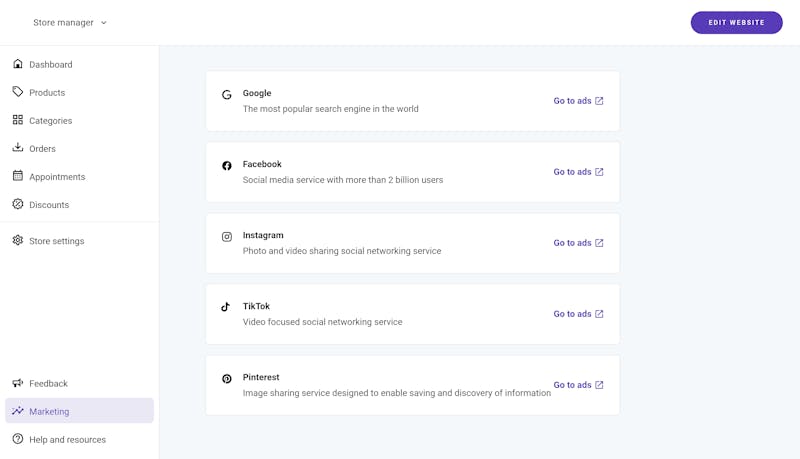 Zyro doesn't offer too many marketing options.
Solid SEO & analytics tools
In terms of SEO, Zyro brings quite a bit to the table. Titles and meta descriptions can be added to every page, as can user-defined URLs. For multilingual websites, each language gets its own sub-index, which is also advantageous from an SEO point of view.
To learn more about your store's visitors, you can use integrations from Google Analytics or Facebook Pixel. However, keep in mind that Zyro doesn't prepare certain statistics.
Overall, you'll be able to optimize your Zyro website or store for search engines and integrate the most common analytics tools. However, don't expect advanced marketing features or the ability to realize mid-sized or large-scale ecommerce projects.
Marketing, SEO & Ecommerce
6.0 / 10
To access Zyro's support center from the user area, click on "Help and resources" in the bottom left (the question mark icon).
Articles are categorized (examples include "FAQs", "website editor", and "website settings") and all content can be full-text searched. The individual entries themselves are fairly good, offering step-by-step guides with helpful links and screenshots.
Video tutorials, a forum, or other kinds of support content aren't offered.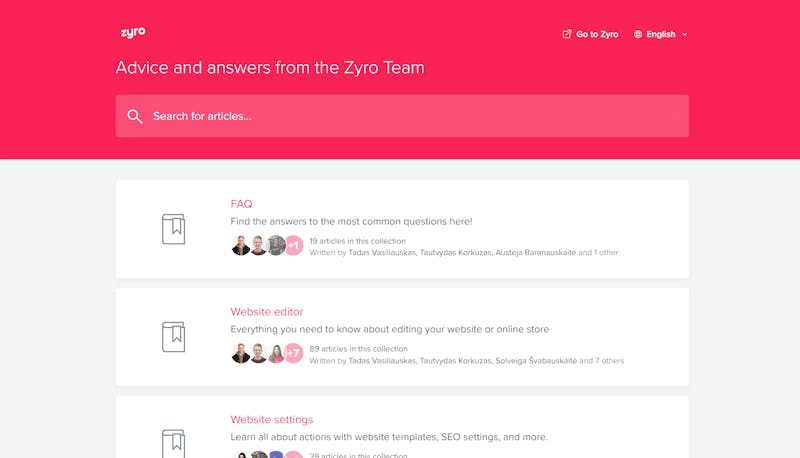 Zyro's support center is mostly text-based.
Direct support is offered via contact form or email while paying customers can use a live chat. Surprisingly, answers there don't always come fast (it's essentially a fast ticket system). Still, most of the staffers we spoke with were competent and able to help us fairly quickly.
Contact form replies came after 4 hours and seemed to have been copied and pasted from elsewhere, but did include helpful links to the service's support center. For more specific queries, don't be surprised if you stump a staffer or two.
Zyro has a bit of work to do in terms of support. The answers we received were helpful and fast, however, static content could be slightly improved.
The service's pricing structure is refreshingly straightforward, mostly because there are only two options: Website and Business. Both include unlimited bandwidth and storage space, a free domain for a year, and an SSL certificate.
Ecommerce features can only be used with a Business subscription, which, as we noted above, limits stores to 500 products. Options for larger stores aren't offered.
You can pay monthly, annually, or for two years at a time. The longer you sign on, the lower your effective monthly rate will be. As of the time of writing, a 24-month subscription costs 75% less per month than a monthly package. It's possible to pay by credit card, PayPal, Google Pay, or cryptocurrency.
Below, we've provided an overview of Zyro's current rates:
Website
Business
Set-up Fee
$0.00
$0.00
Monthly Price
from $2.59
from $3.59
Contract Period (Months)
1 - 24
1 - 24
Included
Space (GB)
unlimited
unlimited
Pages
unlimited
unlimited
Traffic (GB)
unlimited
unlimited
Custom Domain
Domains Included
1
1
Features
Free of Ads
SSL Encryption
Blog
Ecommerce
Multilingual Sites
How does Zyro compare to the other providers from our sample? The table below shows the price for an annual, ad-free subscription with a domain from each provider in our sample. According to this, Zyro is one of the more affordable services:
1.
2.
3.
4.
5.
6.
7.
8.
9.
10.
11.
12.
It's possible to test Zyro out for free without supplying any payment details. Keep in mind that you can only publish your website after purchasing a subscription. After that, you'll have a 30-day money-back guarantee.
Conclusion
Configuration & Usability
9.4 / 10
Templates & Design
8.0 / 10
Marketing, SEO & Ecommerce
6.0 / 10
Zyro's promises are not hollow: It really does make creating a website or online store very simple for anyone without coding or web design knowledge. The visually-appealing templates can be used in a number of different areas and branches, and its user-friendly editor is easy to come to terms with.
The platform's shortcomings, however, become readily apparent as soon as you need something more than the basics: The variety of elements and content is limited, as are its ecommerce and marketing options. Its heavily promoted AI tools don't live up to their billing. Perhaps worst of all, there's no app store or marketplace where extra features could be downloaded and integrated into the editor.
Those who want a simple website for a small business or online boutique might be satisfied with Zyro. However, if you need more flexibility for a larger and/or more complex project, there are more versatile options available.
With nice looking templates for specific industries and businesses, Zyro makes it easy to create professional websites. The website builder's design tools, however, aren't as sophisticated as its competitors.
supports multilingual websites
store with max. 500 products
7.6

good
Space
Domains
Templates
Contract Period
Zyro Website
$2.59
monthly price
Visit Website*
Customer Ratings
But what do users have to say about Zyro? We took a look at a number of different review aggregators and gathered the results for you. On Capterra and Trustpilot, most of the feedback is very positive: Customers praised the excellent price-performance ratio and Zyro's user-friendliness. Below, you can check more customer reviews:
Customer Ratings
913 Bewertungen
Visit Website*
We analyzed the reviews and ratings from various portals and found 913 ratings with an overall rating of 3.9 out of 5 .
Alternatives
Are you looking for a powerful website builder with more templates, design tools, ecommerce features, and marketing options? If so, the overall winner of our review series, Wix, will probably meet your expectations.
Should you want to launch an online store using a platform that will scale along with your business, we recommend Shopify: Not only is it highly versatile, but it also isn't as complicated as other ecommerce tools.
Below, we've provided an overview of more of the best alternatives to Zyro:
Wix beats out the competition with an unmatched variety of features, intuitive editors and a jam-packed app store. Overall, the platform offers the best balance of usability and features on the market today.
lots of features and elements
simple & intuitive interface
9.6

excellent
Space
Domains
Templates
Contract Period
Wix Free
$0.00
monthly price
Visit Website*
Try for Free
Squarespace Website Builder
Squarespace can impress with flawless designs and high quality templates, which make the creation of professional websites a piece of cake – but comes at a higher price compared with the competition.
Space
Domains
Templates
Contract Period
Squarespace Personal
$16.00
monthly price
Visit Website*
14 Days Trial Period
Due to its rather complex editor, IONOS MyWebsite comes with a bit of a learning curve, but rewards those who stick with it with wide-ranging creative possibilities that enable unique websites.
supports multilingual sites
not all templates are great
8.8

good
Space
Domains
Templates
Contract Period
IONOS Starter
$10.50
monthly price
Visit Website*
30 days risk-free
Webflow is a hybrid between website builder and CMS, and requires a basic understanding of coding logic. It's less suitable for beginners – but its visual design tools are a great way for more advanced users to create dynamic websites.
mix of CMS & website builder
more powerful than WYSIWYG editors
learning platform "Webflow University"
visual design with zero code
8.7

good
Space
Domains
Templates
Contract Period
Webflow Starter
$0.00
monthly price
Visit Website*
Start for Free
With its intuitive drag-and-drop functionality and an unrivaled smartphone app for mobile website building, Weebly makes homepage creation easy even for beginners.
Space
Domains
Templates
Contract Period
Weebly Free
$0.00
monthly price
Visit Website*
Try for Free
* Ad disclaimer:
For links marked with an asterisk, EXPERTE.com may earn a commission from the provider. The commission has no influence on our editorial rating.

Martin Gschwentner majored in American Studies and Media Studies in Germany, the USA and France and works as a freelance editor in Paris. He is a doctoral student at the Institute for English and American Studies at the University of Paris Diderot, where he is researching the influence of money on US politics. On EXPERTE.com he writes about IT security, data protection and software for the self-employed and small businesses.

Translation: D Bare
Continue Reading