Create a Free Logo: 5 Free Logo Makers 2023


Ad disclaimer:
For links on this page, EXPERTE.com may earn a commission from the provider. This supports our work and has no influence on our editorial rating.
From McDonald's golden arches to the half-eaten apple: Logos are the face of any business, encapsulating their essence in a single, memorable graphic. The best logos are simple yet clever, however, striking the perfect balance between the two is challenging. For that reason, it's no wonder that companies gladly pay millions when rebranding.
If just starting out though, small businesses probably won't have any kind of budget for such a "luxury". Until things get moving, you can create a logo for your business or project for little or nothing, with a logo maker.
What Can Logo Makers Do?
Logo makers are simple design platforms that help to create a logo based on your preferences and specifications. To do this, they use ready-made icons, effects, fonts, and layouts, which are easily interchangeable with one another. When using one, you'll be able to customize how these are arranged, as well as input your business's name (and if desired, a tagline or motto), and adjust several parameters. After that, the AI takes over!
One major drawback of this approach is that logos made with such software are rarely, if ever, unique since the number of possible combinations is limited by the variety of elements. For that reason, these kinds of logos should be seen as interim solutions, or, for businesses that don't rely on branding.
Free Logo Makers: TOP 5
These days the Web is teeming with logo makers, most of which operate along the same principles. Most are premium services, meaning that if you want to use the logo that's generated, you'll need to purchase the rights to it. The exact price can vary, but the average amount usually ranges from $20 to $50. On the positive side, you're still getting a bargain, since hiring a professional designer would cost considerably more.
However, there also exist options that are entirely free, five of which we'll introduce you to below:
1.
Canva: Comprehensive Design Platform With Logo Making Capabilities
Canva is so much more than 'just' a logo maker, but logo creation is definitely one of the platform's many strengths. Because it's a lot more versatile than its rivals, however, it also requires a bit more creative talent.
comprehensive graphic design platform
offers more than 11,000 templates
powerful editor with extensive options
8.7

good
Plan
One-off Price
Transparent (.png)
Vector (.svg)
Canva Free
$0.00
Visit Website*
Referring to Canva* as a logo maker is a bit like saying that your iPhone is a calculator: The Australian design platform is the go-to solution for millions of enthusiasts around the world owing to its ease of use and accessibility. On it, you can make just about anything, ranging from a website to a presentation, to a logo.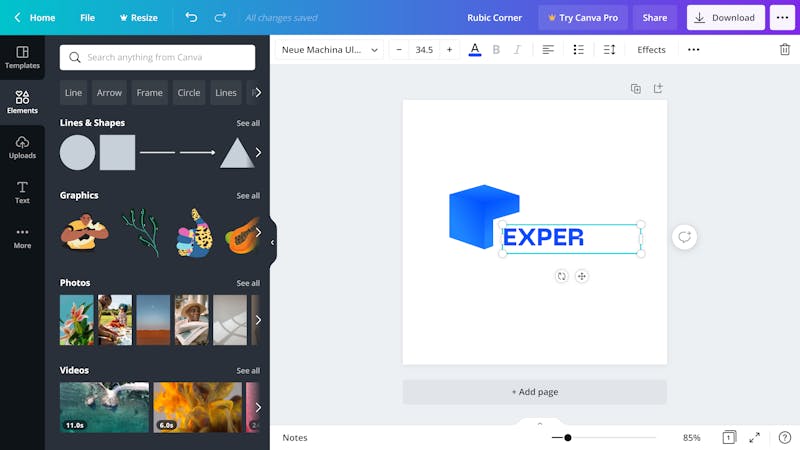 Canva is one of the most feature-rich design platforms out there, also impressing us with its logo creation tools.
What we like
Even though logo design is just one of Canva's many features, it offers plenty of possibilities in this area: You'll be able to select from more than 11,000 templates (some of which are free), for either icon or text-based logos.
Once you've settled on a template, you can adjust it to your preferences in Canva's editor. Since it's a full-fledged design platform, Canva provides considerably more options than other logo makers, allowing you to add and edit all sorts of elements, text, and effects.
What limits does the free version have?
In Canva's free version, you'll only be able to access certain design templates and features. On top of that, it isn't possible to download vectors or transparent logo files. Put differently, your download options are limited, which makes flexibly using your new logo considerably more difficult.
Comprehensive design platform

Offers more than 11,000 templates
Limited download options in the free version (i.e. no vectors or transparent logos)

More complex than a typical logo maker
Logo Customization
9.4 / 10
2.
Hatchful by Shopify: Free Tool From the Ecommerce Giant
Hatchful by Shopify is free – and that's probably the logo maker's best quality. With few templates, limited personalization, and a lack of clarity regarding the usage rights to your logo, it's definitely not our first choice.
create a logo in just a few minutes
underwhelming number of designs
few options to personalize your logo
5.5

satisfactory
Plan
One-off Price
Transparent (.png)
Vector (.svg)
Shopify Free
$0.00
Visit Website*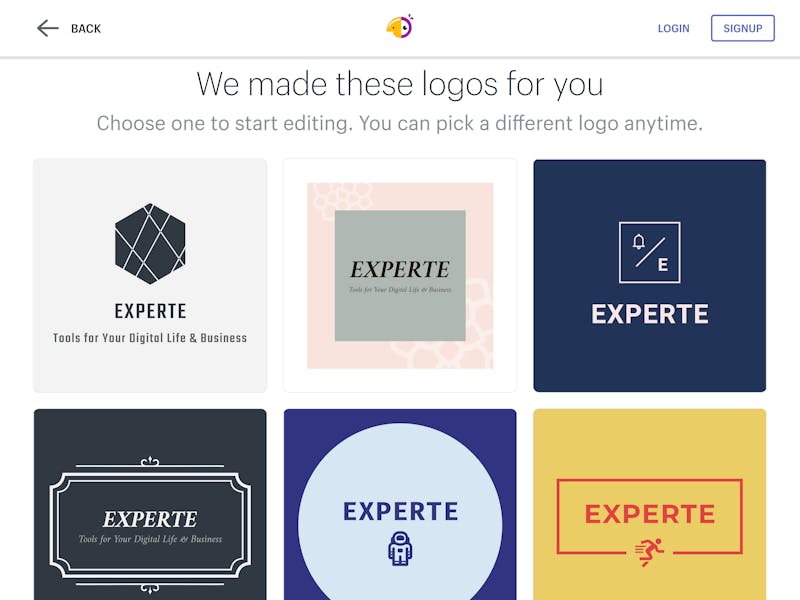 Hatchful by Shopify isn't just for the ecommerce giant's customers.
What we like
Hatchful by Shopify is one of the few free logo makers that doesn't impose any limitations. The logos it generates are high quality and the platform is easy to use. You also won't have to wait long for a finished result: Just answer a few questions about your business and visual preferences, and Hatchful handles the rest.
What limits does the free version have?
Since it's completely free, Hatchful by Shopify doesn't have any limitations, at least like those commonly encountered when using freemium software. However, if comparing the service to a premium logo maker, there are definitely disadvantages, the most glaring of which is Hatchful's small selection of icons and designs.
Logo Customization
4.0 / 10
3.
Adobe Express Logo Maker: Straightforward Logo Maker With a Powerful Editor
Adobe isn't just for professionals looking to use Photoshop or InDesign: Its Express Logo Maker was developed with beginners in mind who want to quickly put together a logo based on a few responses. Just answer the platform's questions (concerning your branch, the name of your business, and slogan) and Adobe takes care of everything else.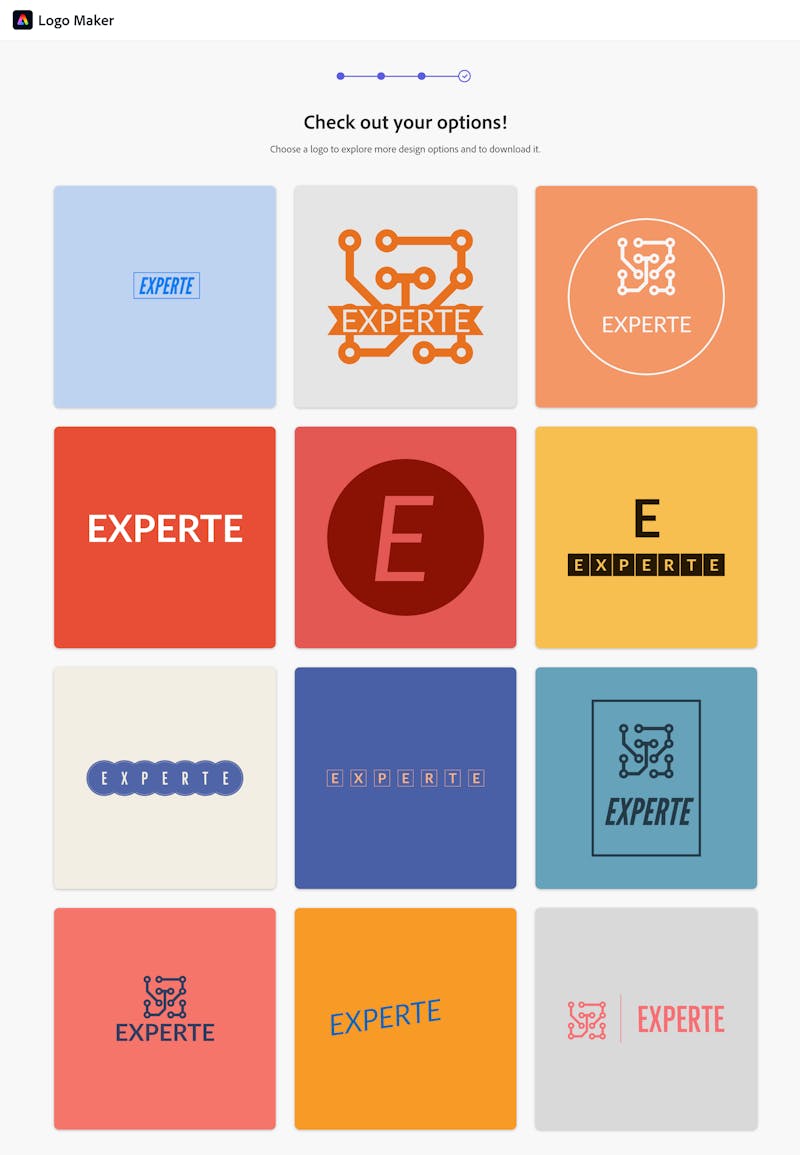 Adobe's logo makers combines AI-assisted logo generation with a design editor, like that found in Canva.
What we like
Even though the selection of logos isn't huge, what's available is impressive. Users can decide how hands-on they want to be in the logo creation process: Either use the logo suggested by Adobe and make small adjustments (such as its color or font) or login to your Adobe account and edit the logo as in Canva using a variety of design tools.
What limits does the free version have?
The free version of Adobe Express offers access to thousands of designs and more than 2,000 different fonts. With Adobe Express Premium, you'll unlock even more features, including the ability to scale images or use other templates and elements.
Powerful Adobe Express editor...
...the premium version of which comes with even more features
4.
Ucraft Logo Maker: Basic Editor for Unique Logos
Ucraft is a site builder that also offers a logo maker, like Shopify. Think of it as a simplified version of Canva: You'll be able to add icons, text, and shapes to a blank canvas and individually edit elements. To download a finished design, all you need is an account.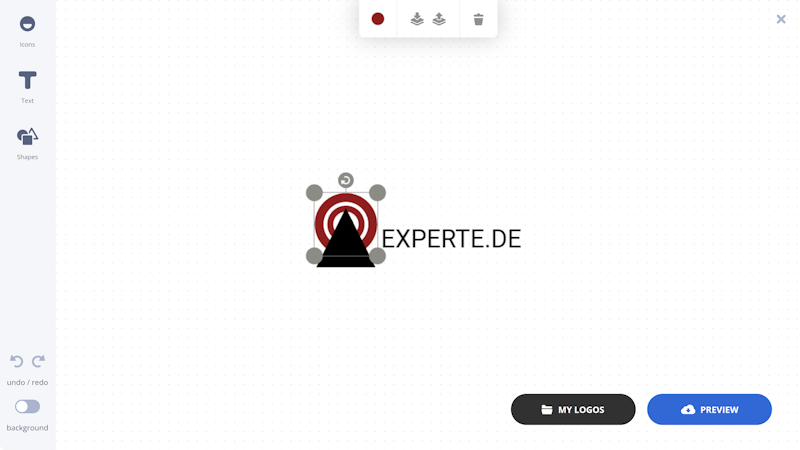 Ucraft's logo maker is somewhat similar to Canva, but not nearly as versatile.
What we like
If editors like Canva are too tricky, but automatic tools like Hatchful by Shopify aren't versatile enough, Ucraft might be just what you're looking for. You can use its beginner-friendly and clear editor to put together a custom logo and specify its exact layout.
What limits does the free version have?
Users of Ucraft's free version can only download their finished logo as a 600px PNG file. If that's not good enough, you won't have to pay too much or purchase a subscription: A vector download only costs $7.
Simple, Canva-esque editor

Able to create unique logos by freely combining elements
5.
EXPERTE.com's Logo Maker
Rounding out our list, we'll do a bit of self-promotion: EXPERTE.com also offers a free logo maker, with which you can create your own logo at absolutely no cost. Just type in your business's name (and, if desired, your motto or slogan) and choose the design that's most appealing. Afterward, the icon, font, layout, and colors can be adjusted to your exact needs.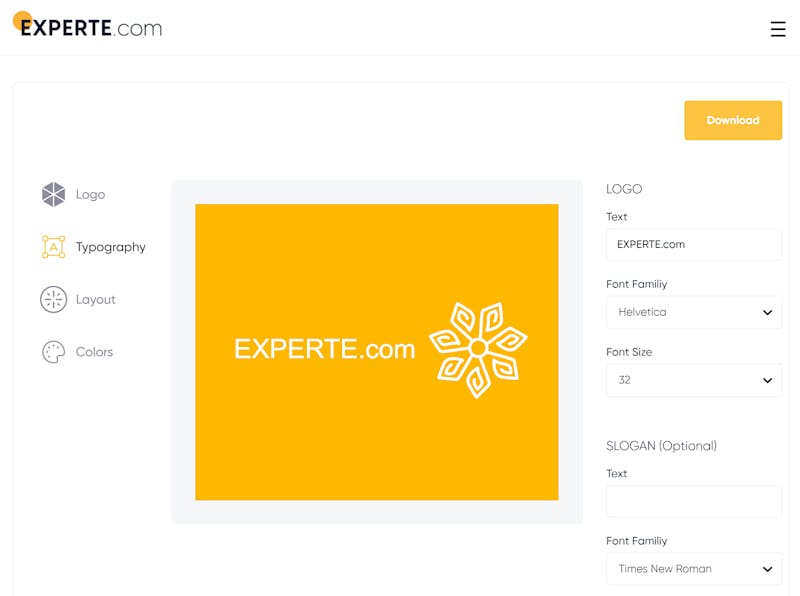 EXPERTE.com's logo maker rounds out our list of the best free logo creation tools.
Alternatives
When it comes to free logo makers, there isn't much choice, since the limitations imposed by freemium options mean that they can only be used in certain situations. This is most commonly the case when only a low-resolution file can be downloaded, or vectors aren't available.
For that reason, we recommend at least being open to the idea of making a small investment to get a higher-quality product. A one-month Canva subscription gives you 30 days to create as many logos as you'd like, the rights to which you'll continue to own, even after your subscription finishes.
Other solutions are just as affordable. Below, you can check out our ranking of the logo makers we assessed:
Conclusion
Should you or your business not be able to afford a designer for creating a logo, you might want to seriously consider logo makers: These help to quickly put together a professional-looking logo in a matter of minutes, even if you don't have a lick of design knowledge. Several are even free to use, such as Canva or Hatchful by Shopify, however, if going that route, you'll have to contend with certain limitations.
Generally speaking, free users should be prepared to forgo high-quality image files and/or vectors. A premium Canva subscription starts at around $10 per month and can be canceled as soon as you've made the logo(s) you want. Even when the subscription finishes, you'll still own the rights to any logos you created.
On the other hand, if you'd prefer a truly bespoke logo that won't break the bank, you can try your luck with freelance designers on portals like Upwork or Fiverr.
FAQs
How can I create a logo for free?
⊖
With tools like Canva, Hatchful by Shopify, or the EXPERTE.com logo maker. Most of the time, when using the free version of a platform, you'll need to make do without certain features, such as downloadable vector graphics.
Are logos made with Canva free?
⊖
Canva can be used for free, however, you'll only have access to a few design templates and features. In addition, it isn't possible to download vector graphics and transparent logo files if using the service's free version.
How does a logo maker work?
⊖
Most logo makers function along the same lines: You'll usually start by answering a few questions about your business and design preferences, based on which the tool suggests a selection of logos. After you've picked the option that best suits you, it can be further customized in the platform's editor, such as by adjusting its colors or fonts. Once satisfied with the result, download the file and, if necessary, purchase the rights to it.
* Ad disclaimer:
For links marked with an asterisk, EXPERTE.com may earn a commission from the provider. The commission has no influence on our editorial rating.

Martin Gschwentner majored in American Studies and Media Studies in Germany, the USA and France and works as a freelance editor in Paris. He is a doctoral student at the Institute for English and American Studies at the University of Paris Diderot, where he is researching the influence of money on US politics. On EXPERTE.com he writes about IT security, data protection and software for the self-employed and small businesses.

Continue Reading
Other languages
Deutsch