Getty Images Review 2023: Exclusive and High-Quality Stock Photos?

Ad disclaimer:
For links on this page, EXPERTE.com may earn a commission from the provider. This supports our work and has no influence on our editorial rating.
When you need photos or illustrations for a marketing project, you can use what's on hand or source them from a stock content provider. These vary not just in terms of quality and variety, but also, in indemnification and license fees.
Stock content databases offering "free" media downloads almost as a rule waive legal responsibility for ensuring that the material they host is free from copyright. As a result, for the end user, "free" can quickly become costly. To be safe, we recommend using paid providers that offer licensed images, graphics, music, and videos. The most well-established of these is Getty Images*, boasting a number of renowned photographers among its suppliers. Join us as we examine one of the pioneers of stock photography.
What Is Getty Images?
When Mark Getty and Jonathan Klein set up one of the first modern stock photo databases in 1995 (Getty Images Inc.) they were also forging a new market branch. Almost three decades later, the company is still among the most well-known and largest photo agencies worldwide.
Getty Images is based in Seattle, Washington, however, its offices and staff of 1,600 can be found in 50 countries around the world. In terms of content, the company's database comprises more than 80 million still images and around 30,000 hours of footage.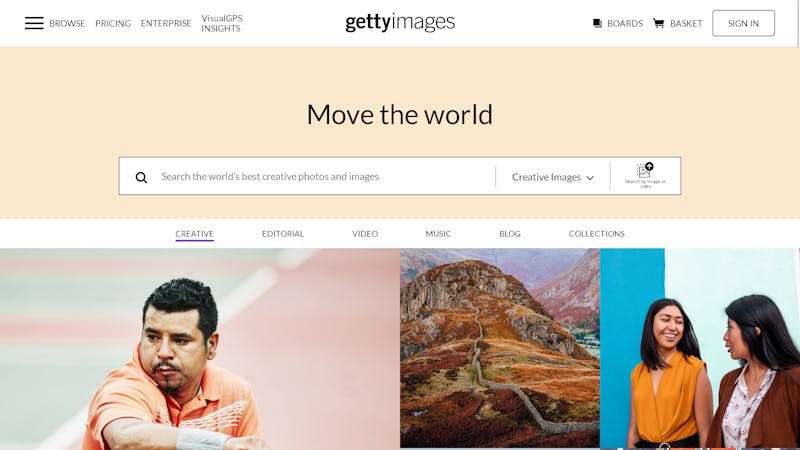 Getty Images was one of the first modern stock media providers in the world.
Getty Images Review
Configuration & Usage
10 / 10
Licensing Conditions
9.4 / 10
Stock Photo Selection
9.4 / 10
Selection of Videos, Audio, Vector Graphics & Illustrations
6.6 / 10
Numerous filters and service options
Not geared towards small businesses or private users
Registering a new account with Getty Images is straightforward, however, you'll need to supply your company's name. Should you work freelance, this might pose a challenge; just input your own name again and you can get started.
Getty Images' tidy and well-organized homepage is centered around a search bar, which includes reverse image functionality. Should you want to peruse the site, you can click on the "Browse" hamburger menu in the top left, or, the dropdown menu in the search bar. The search bar follows you while scrolling, making it easy to refine what you're looking for during your research.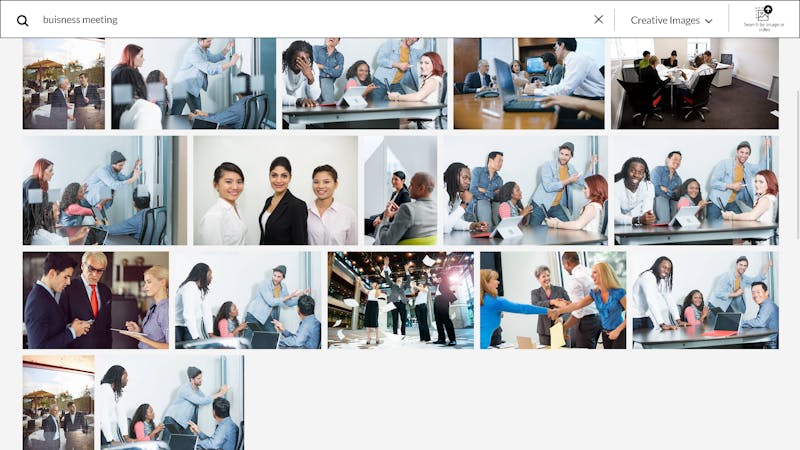 The search bar scrolls with you, making it possible to continue researching without having to navigate to the top of the page.
Media paradise for pros
Getty Images' search tool can be adjusted to find very specific types of content. So, for example, if you're after royalty-free photos, you can view these by selecting Creative from the dropdown menu. Such files can be used without limit and copied digitally as many times as you wish after you've purchased a license for them. On the other hand, if you know exactly what type of image you're looking for, simply input a keyword or phrase and the database should quickly provide numerous, high-quality hits. Results can be refined further by using the suggested keywords and/or adding filters.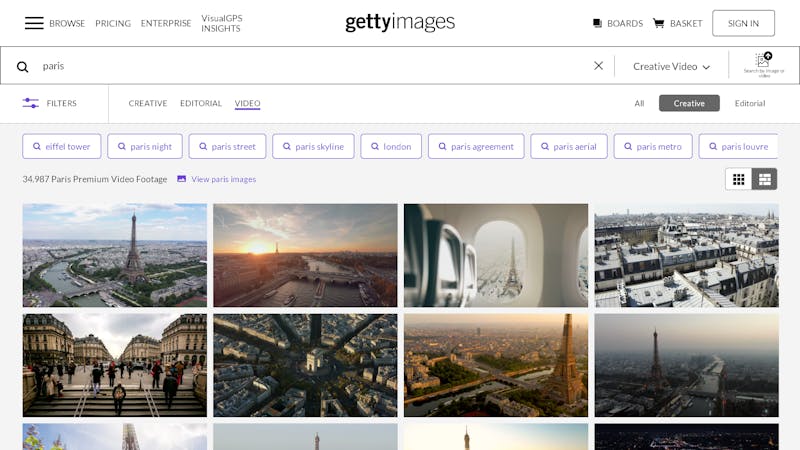 You can toggle between displaying results in gallery or icon views. Hits can be sorted according to popularity, age, or the best match.
Extensive filter features
When it comes to filters, Getty Images tailors these to each type of media. If searching for Creative content, you can specify color & mood, orientation, resolution, and the number of people an image shows, as well as more advanced options such as the image style, composition (headshot, waist up, candid, etc.), and ethnicity. The same applies to Editorial content, which can be sifted to include specific celebrities or events. Somewhat surprisingly, color tone and gender are not included among the filters on offer.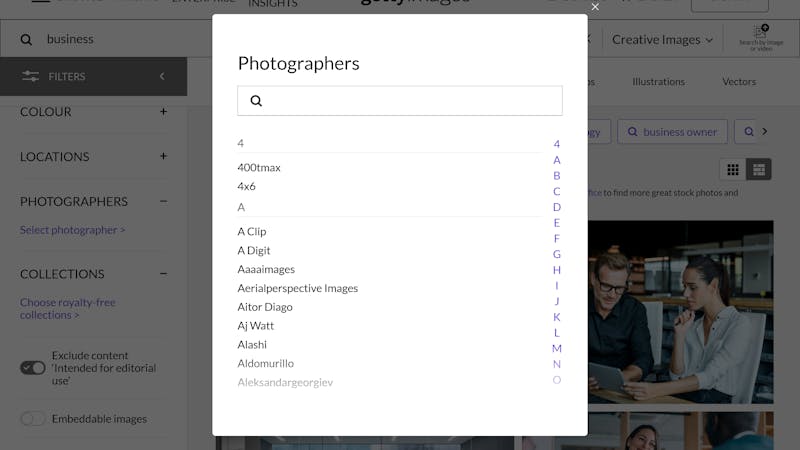 Getty Images offers a wide variety of filters to refine search results, including the ability to search for a preferred photographer.
Boards for collecting images
Once you've found an image you like, you can add it to a user-defined board. After it's saved, you can comment upon it and download it. This is a neat feature since it allows users to share what they've found with co-workers and friends, even if they don't have a Getty Images account.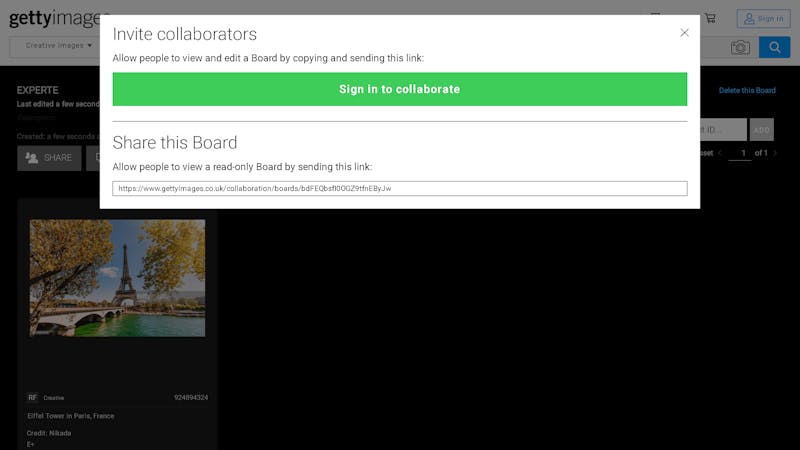 You can comment and manage pictures saved to your board, as well as share them with others. Friends and colleagues won't need a Getty Images account to access your board.
Editorial images
As their name suggests, photos found under the Editorial heading are only for usage in newspapers, documentaries, non-commercial websites, blogs, or social media posts and are generally of public interest. To use these, you'll need to cite the photographer as well as the platform by name. In addition to the free-text search, you can also sort through content thematically for a current event, which Getty Images categorizes on the Editorial landing page.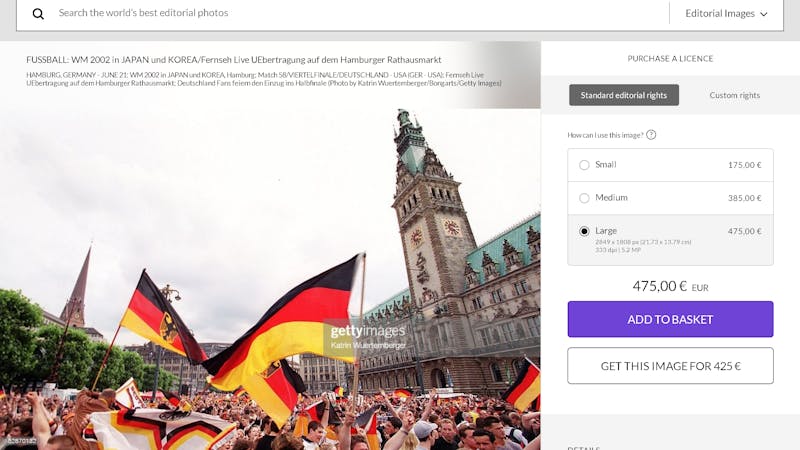 Photos found in the Editorial section can only be used for editorial purposes.
Videos for all purposes
As with its photos, Getty Images distinguishes videos between Creative and Editorial content, with the same usage conditions applying as to photos. Whichever type you choose, the quality on display is excellent. Filters do differ, however. With Creative content, you'll be able to refine results on the basis of license type and release status, however, these criteria aren't applicable to Editorial content. As such, you're instead given the option to discern between raw or produced footage, which comes in handy for finding videos that you can edit yourself or that are ready to be published.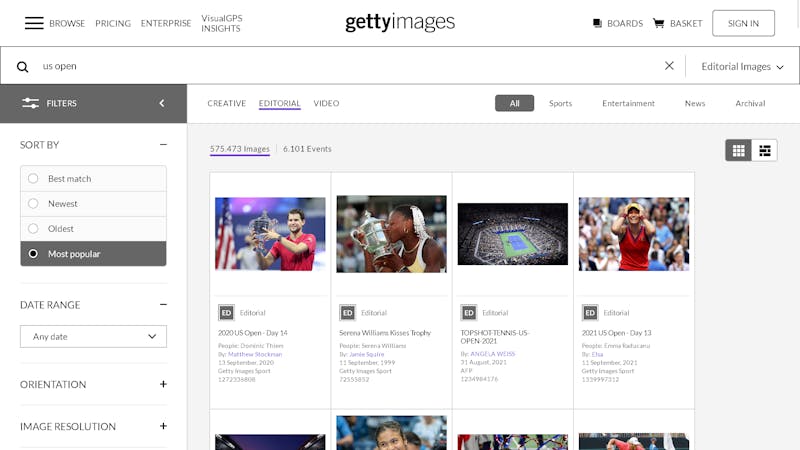 Alongside high-quality photos, Getty Images also offers excellent video footage, both for Creative and Editorial usage.
Additional tools and services
When scrolling down to the page's footer, you'll find a column dedicated to other offers and services provided by Getty Images. These include Rights & Clearances for using photographs of historical personalities, or what is referred to variously as Assignments and Custom Solutions, which creates content specifically for your marketing campaigns. You'll also come across a helpful blog that provides plenty of information about photography, as well as links to the database's app, plugins, an API integration, and a media manager.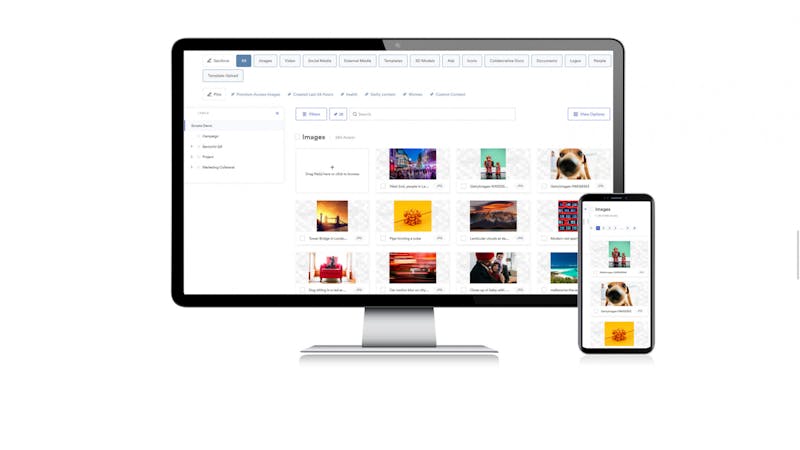 With Getty Images' media manager, you can stay on top of your media, not just those you've purchased or sourced from Getty Images.
Media for pros
In terms of selection, filter options, and quality, Getty Images is undoubtedly among the best stock photo providers. Its site is easy to use and well-organized. Extra offers and services, while impressive, are targeted toward businesses with deep pockets.
Configuration & Usage
10 / 10
2.
Selection of Stock Photos
Getty Images clearly holds itself and its media to a very high standard, as reflected in its portfolio. But, how well is the database for everyday purposes? We tested the service's Creative photos using five keywords and phrases: Web hosting, ecommerce, antivirus, business, and email marketing.
Web hosting: For this, Getty Images returned 910 images, which isn't as many as we were expecting. Worse than that though, few of the hits were actually relevant to IT, with pictures of people exercising at home, podcasters, and a sound stage all on the first page. To refine the results, we used the suggested "Server" tag. All of the sudden, we had more than 30,000 options to choose from, with the first page featuring almost exclusively server infrastructure, both with and without people. Even though we had a slight hiccup, the results were worth the wait considering their quality and topicality.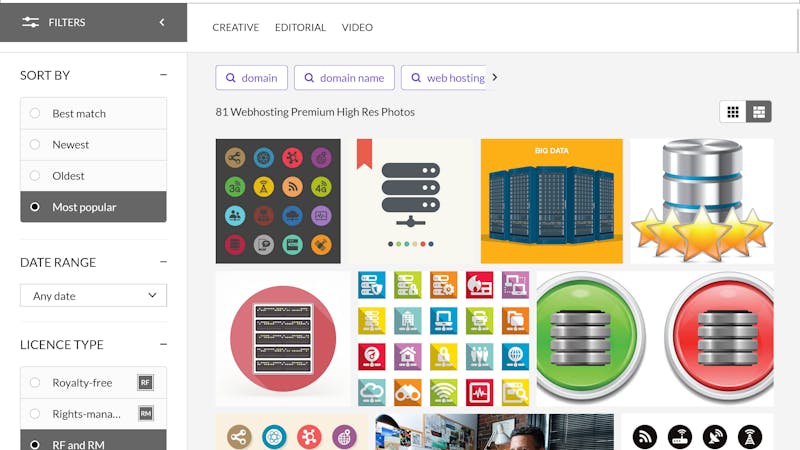 Our first attempt wasn't very successful, however, with the system-generated tag (server), we got plenty of relevant results.
Ecommerce: Around 225,000 largely relevant images popped up after we input our second keyword. Once again, you can refine your search using Getty Images' system-generated tags, so we chose "online shopping". After clicking on this, the number of results was halved, with icons and illustrations removed from the first page. Adding a few filters narrowed our search even further and helped to increase the number of results that aligned with what we had in mind.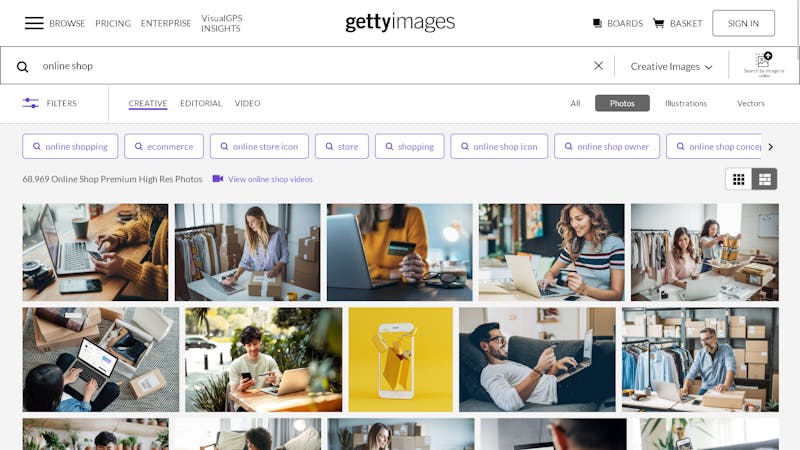 Using tags, you can halve the number of results you'll have to work through, leaving mostly relevant and creative options.
Antivirus: 3,607 images appeared in our first search. Interestingly, whereas in the past a tag labeled "virus" which displayed almost entirely COVID-19-related images featured prominently, this has been removed as of the time of writing. It's refreshing to see that a stock photo provider noticeably enhanced how their search functions.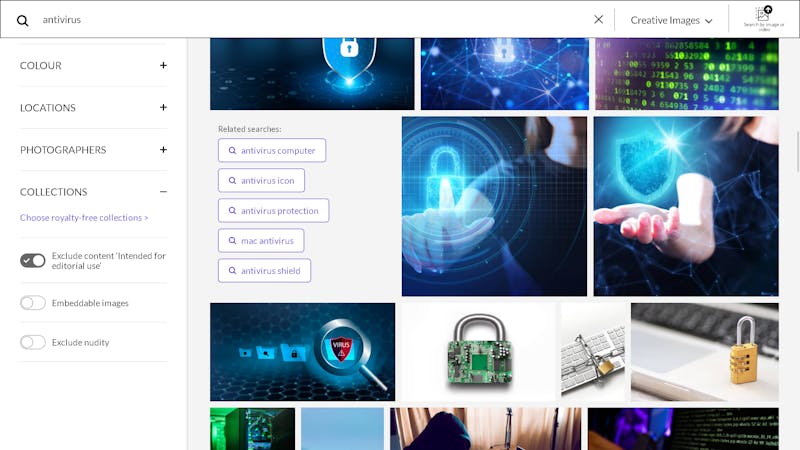 Searching for images related to antivirus yields plenty of relevant results.
Business: Getty Images gave us more than 3.3 million pictures to choose from with this keyword. We weren't surprised since this is usually the keyword that generates the most hits, but we used it to gauge how well each platform's filters work. If you know what sort of business media you're looking for, it won't take long to narrow your search. Whatever the case though, Getty Images' flexes its premium status here, offering only high-quality photos.
Email marketing: For our last search phrase, Getty Images served up just under 10,000 results (9,105, to be precise), all of which seem to have something to do with business. The platform's filters again come in handy, noticeably narrowing the selection and singling out innovative choices.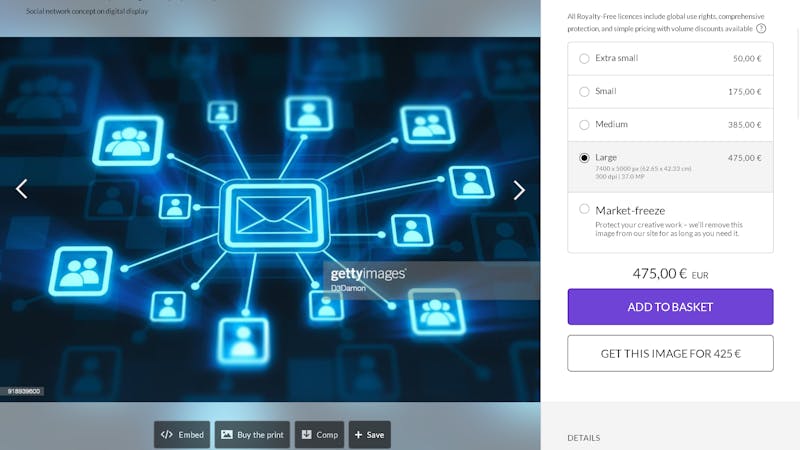 The results for email marketing were also impressive.
There are two main reasons why looking for the right visual content on Getty Images is as enjoyable as it is: First, the filters are very effective in weeding out irrelevant or unwanted options. Second, all of the images are of uniformly high quality. For anyone who values quality and creativity, you won't be disappointed with what Getty Images has to offer.
| Category | Score |
| --- | --- |
| | |
| | |
| | |
| | |
| | |
Stock Photo Selection
9.4 / 10
3.
Selection of Videos, Audio, Vector Graphics & Illustrations
The variety and relevance of vector graphics offered by Getty Images are as good as those of their photos. For each keyword or phrase, we found original and run-of-the-mill options, all of which were of high quality. Should you need video footage for a short film or documentary, you won't be disappointed with the selection of clips Getty Images has to offer. These can be sorted by length. Getty Images does not offer audio.
| Category | Score |
| --- | --- |
| | |
| | |
| | |
Selection of Videos, Audio, Vector Graphics & Illustrations
6.6 / 10
Getty Images offers its content under three licenses: Royalty-free (RF), rights-ready (RR), and rights-managed (RM).
Royalty-free means that upon paying the license fee, you won't be charged when using the image or content at a later time. Such media can be used around the world and for an unlimited period of time. The fee depends upon the image's size.
Rights-ready and rights-managed licenses are a bit different. These can only be used for a specific purpose, with the fee depending on factors such as size, placement, usage period, and where you intend to use it.
In case you need images or videos for drafts or proposals, you can take advantage of the so-called "layout license", which includes 30 days of free usage for testing purposes. Be forewarned though: Should you not purchase a paid license, you cannot use or publish such content in your final version.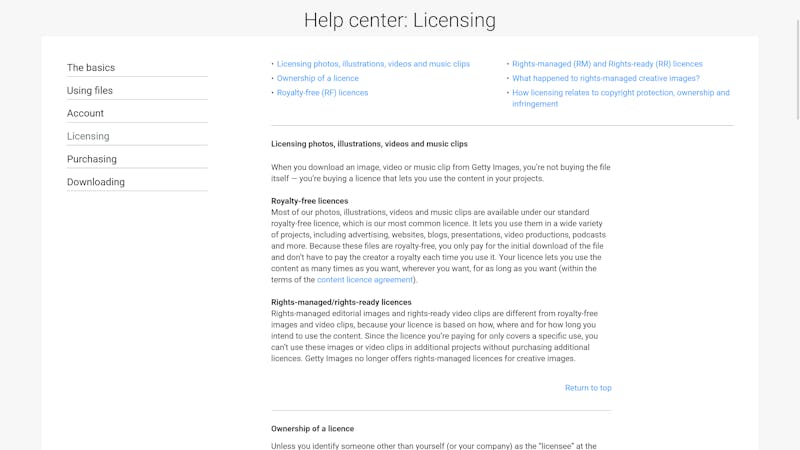 More licensing information can be found in Getty Images' FAQs as well as the page footer.
Creating logos or other trademarks from images you've purchased licenses for is generally prohibited by Getty Images. Similarly, content cannot be used in a defamatory, unlawful, or offensive manner. Editorial content is the only exception to the latter as it includes images from wars, disasters, and so on.
Licensing Conditions
9.4 / 10
Getty Images does not hide from its customers. In the homepage's footer, you'll find will a link to "Customer Support" near the bottom. On the page that loads, FAQs are displayed, as well as options to get in touch, which include email, a support hotline, and information about the nearest local corporate branch.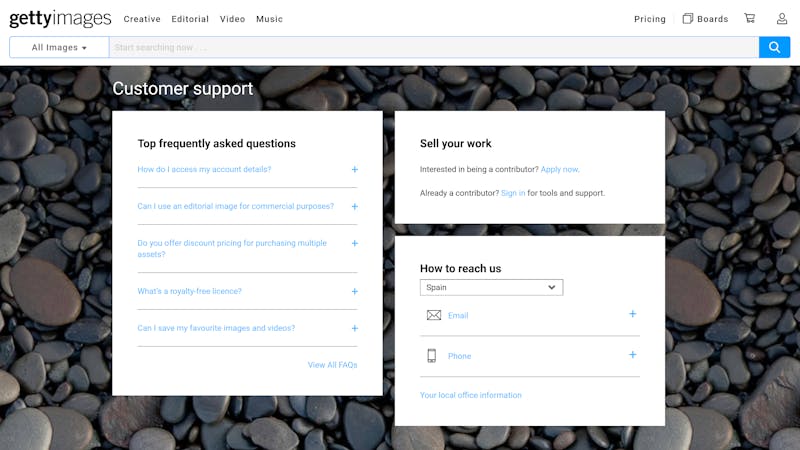 Support can be accessed via the page footer. In our experience, it was fast and competent.
We received competent responses to our two queries within 24 hours. Altogether, an excellent experience.
Getty Images offers quality and quantity, but these come at a price. Licenses can be purchased for individual images or as parts of variously-sized packages. The price for these depends on the media's resolution and size.
All the same, a single download in the lowest-possible resolution will still set you back more than a similar file from any of the other providers featured in our sample. For a small business looking to create a website, flyer, or brochure, or a blogger after all-purpose material, this defeats the purpose of using stock content. On the other hand, if you have considerable financial resources at your disposal, you can easily kick off a professional campaign using media from Getty Images.
Single Small
Single Medium
Single Large
5 Pack Small
10 Pack Small
5 Pack Medium
5 Pack Large
10 Pack Medium
10 Pack Large
Billing
Credit Pack
Credit Pack
Credit Pack
Credit Pack
Credit Pack
Credit Pack
Credit Pack
Credit Pack
Credit Pack
One-Time Fee
$175.00
$325.00
$499.00
$800.00
$1,500.00
$1,625.00
$2,250.00
$3,000.00
$4,250.00
Price per Month
$0.00
$0.00
$0.00
$0.00
$0.00
$0.00
$0.00
$0.00
$0.00
Contract Period (Months)
0
0
0
0
0
0
0
0
0
Included Content
Photos / Month
1
1
1
5
10
5
5
10
10
Videos / Month
1
1
1
5
10
5
5
10
10
Licence For

Online & Print

Social Media

Marketing & Ads

Online & Print

Social Media

Marketing & Ads

Online & Print

Social Media

Marketing & Ads

Online & Print

Social Media

Marketing & Ads

Online & Print

Social Media

Marketing & Ads

Online & Print

Social Media

Marketing & Ads

Online & Print

Social Media

Marketing & Ads

Online & Print

Social Media

Marketing & Ads

Online & Print

Social Media

Marketing & Ads
The table below shows the annual cost for 10 stock photos per month from Getty Images in comparison to the other providers from our sample.
1.
2.
3.
4.
Depositphotos
Subscription 30
5.
Dreamstime
Subscription 15
6.
Shutterstock
Subscription 10
7.
iStock
Basic Subscription 10
8.
9.
10.
Storyblocks
Unlimited All Access
11.
Pond5
Footage Plus Subscription
12.
13.
Getty Images
10 Pack Small
Conclusion
Configuration & Usage
10 / 10
Licensing Conditions
9.4 / 10
Stock Photo Selection
9.4 / 10
Selection of Videos, Audio, Vector Graphics & Illustrations
6.6 / 10
Getty Images is the Ferrari or Bugatti of the stock photo market; Its performance and price are top of the line. The platform offers not only high-quality and creative images but is built around an easy-to-use website and a highly intuitive database that offers an abundance of impressive solutions.
So long as you have the resources, you can even contract an entire campaign out to Getty Images, enlisting them to produce exclusive visual material for you and your business. The provider's professional media team can also assist you in advertising with celebrities or music from films. Such unparalleled service makes Getty Images the best option for medium and large businesses.
Getty Images, our test's third-placed platform, is the Rolls Royce of stock photo databases. Just keep in mind that exclusive images, incredible content, high-quality search tools, and an intuitive user experience don't come cheap.
Photos / Month
Videos / Month
Licence For
Billing
Getty Images Single Small
$175.00
monthly price
Visit Website*
Customer Ratings
High prices also mean high expectations, and Getty Images is no exception. Interestingly, online user reviews aren't as effusive as one might think. We summarized the most important assessments for you here.
Customer Ratings
5,686 Bewertungen
Visit Website*
We analyzed the reviews and ratings from various portals and found 5,686 ratings with an overall rating of 4.4 out of 5 .
Alternatives
If you're looking for premium material at a more affordable price, Adobe Stock is another leading stock content database that makes content available at a lower rate.
Should you only need individual images, or just want to post them on your personal blog, Alamy might be more to your liking. The database offers lots of material at fair prices.
More of the best alternatives to Getty Images include:
Depositphotos won our review thanks to its intuitive platform, huge media archive, simple licensing model, and fast support, all at a fair price. If you're searching for high-quality stock content, you won't be disappointed.
Photos / Month
Videos / Month
Licence For
Billing
Depositphotos Subscription 30
$24.92
monthly price
Visit Website*
iStock offers high-quality media material, efficient filter options, and transparent licensing conditions. Rounding out its solid package are fast support and copyright indemnification.
Photos / Month
Videos / Month
Licence For
Billing
iStock Credit Pack 1
$12.00
monthly price
Visit Website*
Shutterstock serves up a huge selection of media and tools along with excellent support. For pros by pros. The platform is particularly well-suited for editorial teams and agencies with sizable budgets.
Photos / Month
Videos / Month
Licence For
Billing
Shutterstock Subscription 10
$29.00
monthly price
Visit Website*
Get 10 free images
For high-quality film and video material, Pond5 is the right choice. It's easy to use and offers helpful tools. Unfortunately, the lack of search filters makes finding what you need tough, while its pricing structure could be clearer.
large selection of videos & music
affordable and free content
8.9

good
Photos / Month
Videos / Month
Licence For
Billing
Pond5 Footage Plus Subscription
$83.25
monthly price
Visit Website*
Even though Storyblocks offers fewer images than its competitors, its high-quality videos, illustrations, and tools, all at an affordable price, remain impressive. The shortage of filters makes searching tedious, however.
great selection of videos and audio
affordably priced, easy licensing
8.8

good
Photos / Month
Videos / Month
Licence For
Billing
Storyblocks Starter
$15.00
monthly price
Visit Website*
* Ad disclaimer:
For links marked with an asterisk, EXPERTE.com may earn a commission from the provider. The commission has no influence on our editorial rating.

Julia P. Manzau has more than 30 years of professional experience in leading editorial and marketing positions in the premium automotive, mechanical engineering, and healthcare industries. She studied Political Science and History in Bonn, Marketing at the St. Galler Business School and earned a BA in Media Engineering (CCI). Since 2015, she has worked as a freelance writer. For EXPERTE.com, she focuses on software, the Internet, and marketing.
Continue Reading
Other languages
Deutsch