Anonymous Search Engines: 3 Best Alternatives to Google

Even though you might "google" something online, the Silicon Valley giant is far from the world's only search engine. Many criticize the company for disrespecting user anonymity and profiting off their search behavior: With 3.8 million search queries per minute, Google is a money printer.
According to Statista, around 62% of all US Internet searches in 2020 were made with Google, compared to 25% for second-placed Microsoft Sites. User privacy and data protection are just two areas where Google doesn't do all that well. Other search engines offer additional features or focus on catering to specific types of content or sites.
With that in mind, we took a closer look at three anonymous search engines, DuckDuckGo, Startpage, and Qwant, to find out what they have to offer, what they specialize in, and how good their results are.

DuckDuckGo
More relevant search results and fewer ads were what Gabriel Weinberg had in mind when he launched DuckDuckGo in 2008. However, the search engine never made it big like Google. It's still a hot tip amongst netizens interested in preserving their digital privacy.
Google's unending appetite for data has seen DuckDuckGo enjoy a recent boom in popularity, profiting from its greater anonymity, and racking up 100 million search requests per year. Users have also doubled over the past year.
No Filters
DuckDuckGo doesn't save user IP addresses, collect information, or create protocols about them. Cookies are also kept to a minimum. The search engine finances itself through ads, however, these are based on search terms, not user profiling.
This approach to data protection means that all search results are related to what you search for, and not your profile. In contrast, Google filters the results you're shown based on how you've behaved in the past, as well as what you've searched for and clicked on.
DuckDuckGo encrypts every search query using perfect forward secrecy, a highly secure encryption process.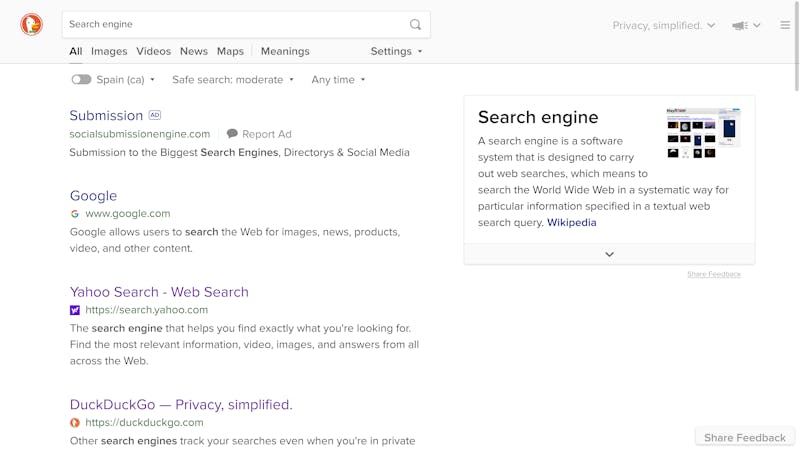 DuckDuckGo's search results are displayed in a well-structured and clear manner, emphasizing user data protection and privacy.
Even though DuckDuckGo promises its users anonymity, the service is based in Paoli, Pennsylvania. This means that the company, like all American firms, is subject to the USA PATRIOT Act. Should the FBI or NSA request your data, DuckDuckGo won't be able to say no. Beyond that, the search engine receives affiliate provisions from Amazon and eBay, signaling that it saves searches, even if they're anonymous.
What Can DuckDuckGo Do?
Pretty much everything that Google can. The search engine has a clear user interface with few ads, and these can be toggled off in the Settings area. Search results are neatly displayed on one side of the screen, and you'll open them with a single click.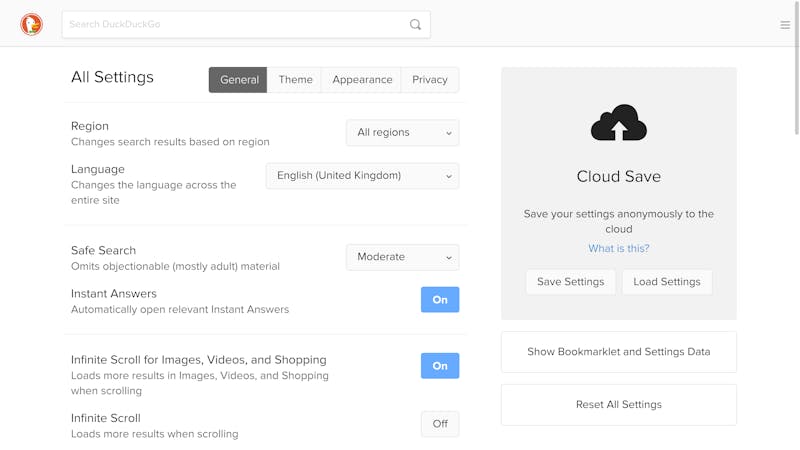 Personalize DuckDuckGo in the Settings area.
Alongside text searches, you can also look for images, videos, news, and maps, filtering results on the basis of when they were created as well as excluding mature content. DuckDuckGo also has an interesting feature called Bangs. These shortcuts take you to search results on other sites like Amazon or Facebook. If you enter !amazon tv, for example, you'll go to Amazon's TV listings. As soon as you enter that site, your anonymity disappears.
Search engines are only as good as the index they use. Think of this as a searchable collection of keywords. In this area, DuckDuckGo is well-positioned, using Yandex's and Bing's indices, as well as DuckDuckBot to crawl the Internet.
Poor search result quality

Anonymously saves your searches

Startpage
Startpage can trace its roots to 1998 when it was known as Ixquick. Renamed in 2006, the search engine managed by The Hague-based Startpage B.V. is the most discrete in the world. Since 2019, the company has been owned by the US Privacy One Group. As such, it remains to be seen whether Startpage will remain as committed to data protection and privacy as it has to date.
Unlike Google, Startpage doesn't record user IP addresses, searches, or their browser. The search engine also encrypts each request, meaning that other websites won't be able to monitor your surfing behavior. In addition, European requests are routed exclusively through servers based in Europe.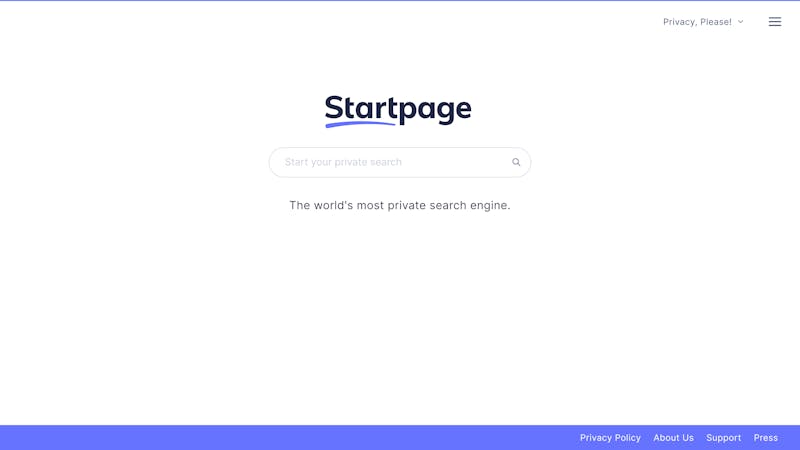 Startpage uses Google's search index, providing high-quality results as well as discretion and data privacy.
Even though Startpage generates revenue through ads, the company refrains from targeted or personalized ones. Like DuckDuckGo, ads are only based on your current search.
The search engine is straightforward and results can be filtered by type, date, or region.
Google, but Without Snooping
Startpage can do everything that's possible with Google since it uses the same index, however, it isn't nosy and doesn't filter results. On top of that, search requests are anonymous, preventing Google from following what you've done.
Users can also open pages anonymously through a proxy server, which works similarly to a VPN or Tor-Browser, concealing your IP address as well as other information that could identify you.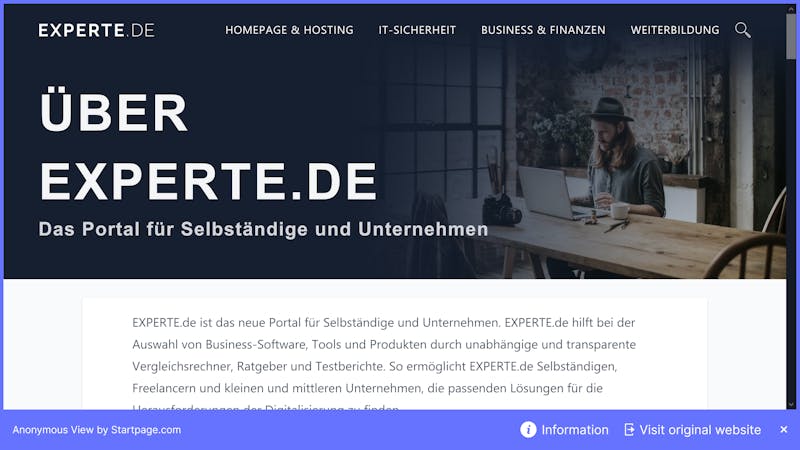 Use "Anonymous View" to anonymously visit websites.
Since Startpage doesn't monitor your location, you won't receive local search results. Startpage also doesn't offer maps like Google does, making it necessary to use another provider for navigation to a specific location.
Considerable data protection

Google-quality search results
Sold to a US company; uncertain developments

Qwant
For more color, look no further than Qwant, a French search engine that has been on the market since 2013. The service promises to completely protect its users' privacy. Originally the search engine du jour of France, Qwant has enjoyed greater attention outside of the country as well.
Qwant doesn't save user search information or cookies, and as such, makes it impossible for others to identify or track them.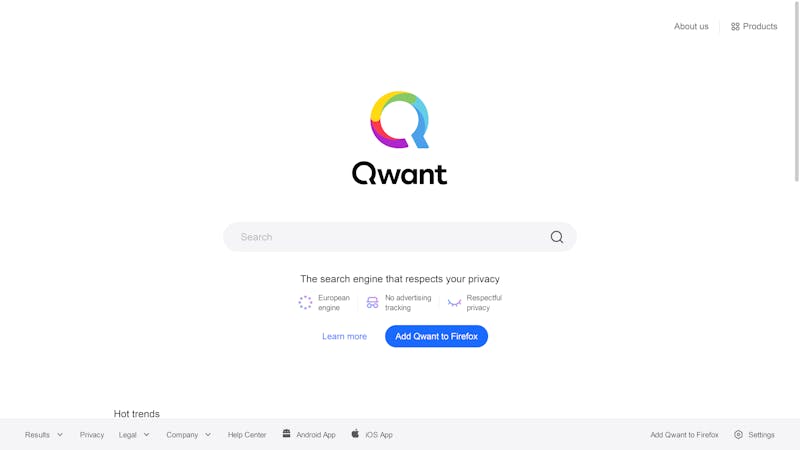 Qwant is a colorful search engine with plenty of ambition. Searches are convenient, data protection standards are solid, and its results are competitive.
Any search engine that wants to pass itself off as anonymous needs to provide unfiltered content in a random order without relying on a search profile. Although all three providers we've assessed here do that, only Qwant uses its own, high-quality search index.
Like the two services above, Qwant is primarily financed through ads, the relevance of which depends on user searches.
Special Service for Children
Qwant doesn't only offer classic Internet searches, but also Qwant Junior, a search engine designed for 6-12-year-olds.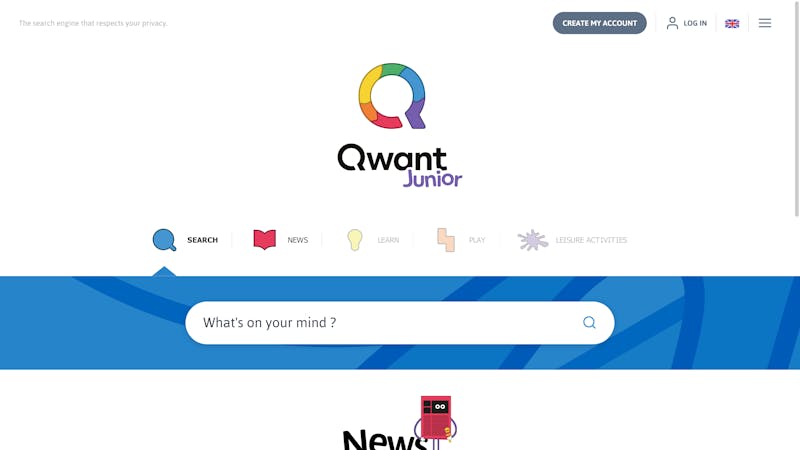 Qwant Junior, Qwant's search engine for kids, is even more colorful.
With this, the company clearly wants to offer minors a safe way to discover and explore the Internet. You'll find fairy tales, stories, learning videos, and news for kids. For those who create a user account with their parent's permission, games, learning, and hobbies can also be accessed, albeit, to date, only in French.
According to the company, in 2020, they had 5 million monthly visitors.
Robust data protection and privacy

Special search engine for children

Own search index which returns good results
Alternatives
Along with the three we've examined above, there are plenty of other anonymous search engines on the market. Two of the most interesting are swisscows and Ecosia. As its name suggests, the first comes from Switzerland and states "We DO NOT store your data!" Specifically, this includes your IP address, browser and device information, as well as searches.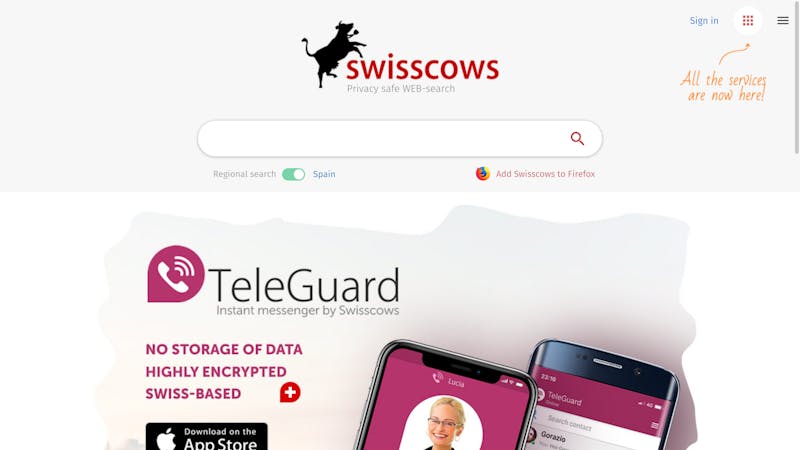 The search engine indexes the Internet and also uses its own servers, well-protected in bunkers deep in the Swiss Alps. Swisscows is financed through donations and ads, the latter of which you'll see in unobtrusive banners. In addition, the service is planning an IPO.
The provider is family-friendly and does not list any adult or mature content.
Do Good With Your Search
Berlin-based Ecosia promises to use each search to help the environment. According to the company's releases, its servers are powered by renewable energy, with most of its ad-income financing reforestation efforts.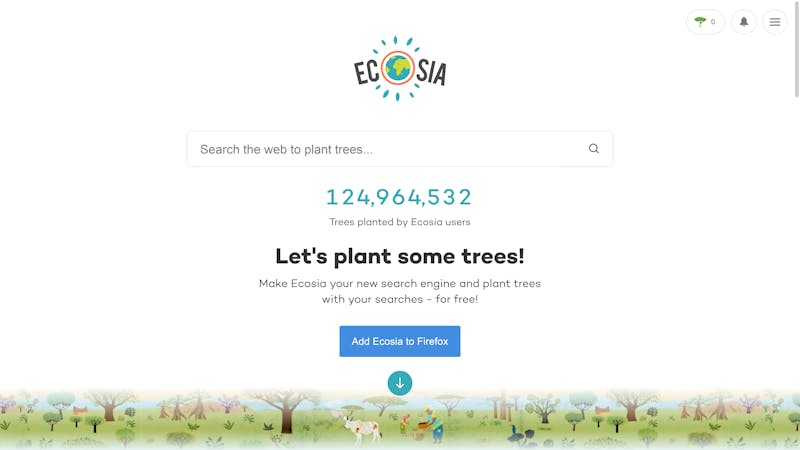 Want to help the environment with your searches? Then check out Ecosia.
Ecosia was founded by Christian Kroll, who spent a considerable amount of time in Nepal and South America, witnessing ecological problems first-hand. As a result, he moved to do something: Develop a green search engine.
The search engine invests most of its ad sponsorship revenue in reforestation efforts, with around 45 search requests equaling a new tree.
Ecosia has been criticized for its activism though: The search engine started to place factory icons next to businesses accused of being major "climate sinners". The search engine temporarily saves requests, only anonymizing them after a week. Ecosia doesn't have its own search index and relies instead on Bing's.
Conclusion
When it comes to anonymous search engines, they should protect your privacy and return relevant search results. Startpage is the best alternative to Google, but it's unclear what its new US owners will change. DuckDuckGo is another solid option, however, it needs to conform to the USA PATRIOT Act, preventing 100% anonymity. Qwant, from France, doesn't just emphasize data protection and privacy but has even developed its own search index.
Overall, there are plenty of powerful alternatives to Google for anyone who values anonymity and privacy. Just remember that you will have to unlearn your experiences with Google and make a few adjustments.

Julia P. Manzau has more than 30 years of professional experience in leading editorial and marketing positions in the premium automotive, mechanical engineering, and healthcare industries. She studied Political Science and History in Bonn, Marketing at the St. Galler Business School and earned a BA in Media Engineering (CCI). Since 2015, she has worked as a freelance writer. For EXPERTE.com, she focuses on software, the Internet, and marketing.
Continue Reading
Privacy