Shutterstock Review 2023: Unlimited Selection of Images and Graphics?

Ad disclaimer:
For links on this page, EXPERTE.com may earn a commission from the provider. This supports our work and has no influence on our editorial rating.
It's hard to imagine websites or newsletters without images. Relying on the Internet alone can create all sorts of difficulties, ranging from uneven quality to more serious legal ones. If you're looking online for royalty-free photos for your project, sooner or later, you're bound to cross paths with Shutterstock, a stock photo service.
What Is Shutterstock?
In 2003, Jon Oringer, a photographer, founded Shutterstock* in New York, in order to market his digital photos. As such, the company is one of the most well-established in the stock photo market and a pioneer of the subscription model. Nowadays, the platform has more than 415 million photographs (as of July 2022) with around 80,000 new files, ranging from vector graphics and illustrations to videos, added each day, Shutterstock is a branch leader. We wanted to see how the provider fares for everyday usage and took a closer look.
Shutterstock Review
Selection of Videos, Audio, Vector Graphics & Illustrations
9.4 / 10
Licensing Conditions
9.4 / 10
Configuration & Usage
8.6 / 10
Stock Photo Selection
8.0 / 10
Extensive media catalog (including a small selection of free media)
Unclear pricing structure

Packages are only valid for a year
You can register an account with Shutterstock simply by inputting your email address, after which you'll be able to start searching for stock media. The platform's homepage provides plenty of information, images, and links which make it easy to find what you're looking for. At first glance, this might seem overwhelming. The header offers a "risk-free trial" which includes 10 free images, however, we found this to be a bit annoying. Overall, it takes a few minutes to get accustomed to Shutterstock's homepage.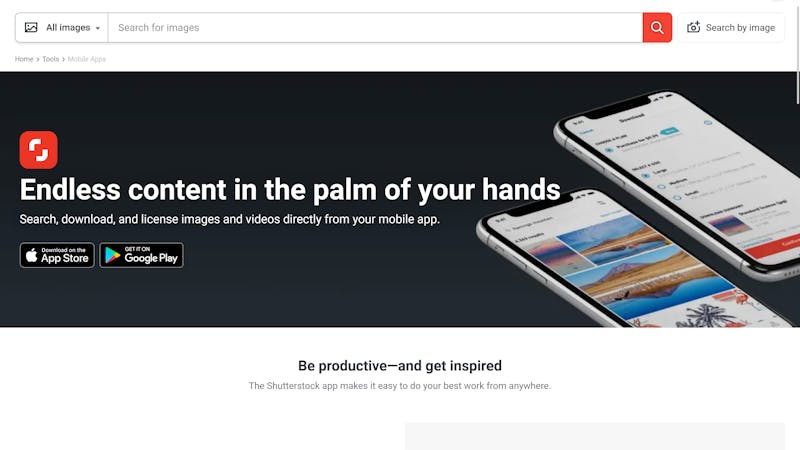 Shutterstock offers a mobile app for buying images on the go.
Just under the homepage's header, you'll see a menu bar showcasing all of the different types of media the platform has in its repertoire. This adds a nice amount of structure to the website. If, for example, you click on Curated Collections under one of the types, you'll be able to sift through galleries that have already been arranged by subject matter or theme.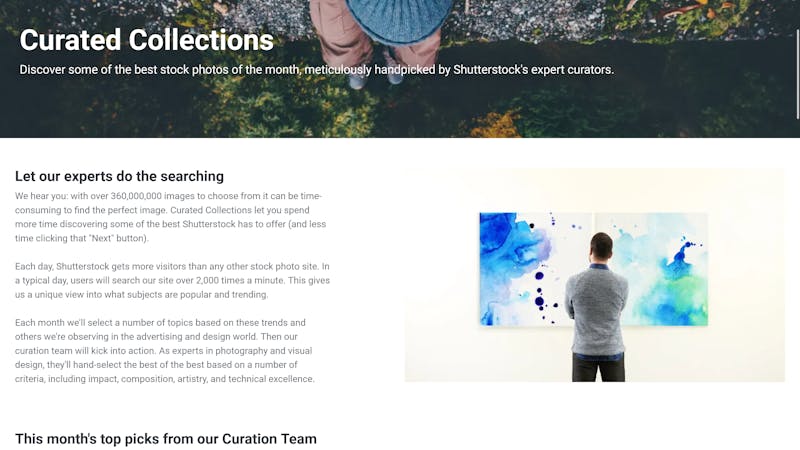 Shutterstock's Curated Collections provide access to specific types of media sorted thematically or categorically.
Good selection of images, plenty of filter options
Shutterstock offers a wealth of excellent quality images. Of course, not all of the search results are 100% relevant, and plenty of content will bear strong similarities to that found elsewhere, but you will be able to locate unique material. We were most impressed with Shutterstock's plethora of filter options. For images, these include six main categories (Image type, Orientation, Color, People, Artists, and More) as well as multiple subcategories. Taking People as an example, you can discern Ethnicity, Age, Gender, and Number. As with most stock photo databases, you can search by keyword or phrase.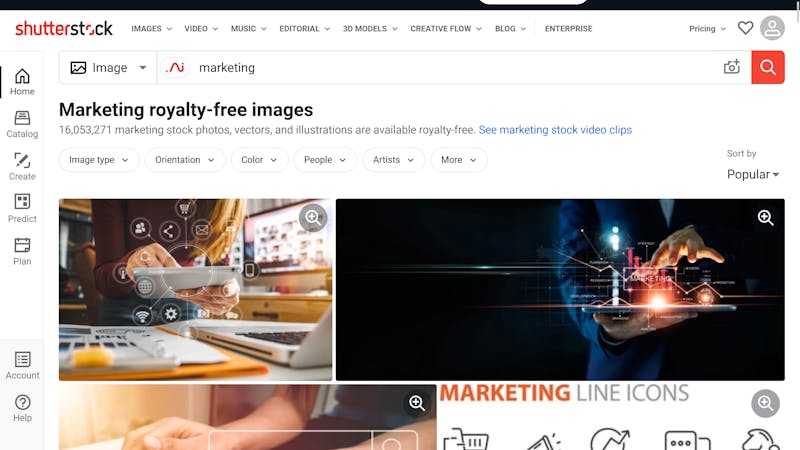 Shutterstock offers plenty of filters that are great for refining search results.
Stand-alone offer: Offset Images
Under the Images menu, the second-to-last item refers to something called Offset Images. This is a stand-alone service offered by Shutterstock that provides "high-end, expertly curated collections of royalty-free images". The categories are neatly arranged, however, when clicking on one, an entirely new website with a different layout opens.
In our opinion, more transparency is needed here, since Offset is separate from Shutterstock, and its content is not part of the latter's regular subscriptions or On-demand packages. On the other hand, Offset's website is tastefully designed, albeit, not so practical. Still, you'll definitely come across breathtaking pictures when perusing Offset's catalog.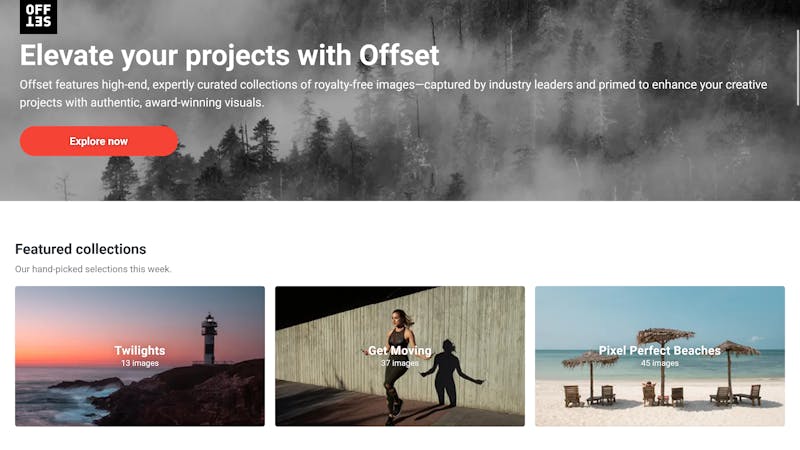 Artistic and high-quality: Offset Images offers access to tasteful photos noticeably different than those which see everyday usage in marketing.
Video section for pros
By clicking on, or hovering over the Videos option in the main menu, you'll be given five different subcategories to choose from. Alongside "regular" videos, there's also Shutterstock Select and Shutterstock Elements, which should invoke Adobe Premiere Elements, a video-editing program. Shutterstock Select offers access to thousands of professional, cinema-quality clips, whereas Elements serves up video effects and special transitions that can be included in short films, documentaries, or other projects. Overall, Shutterstock's video catalog is extensive and professional.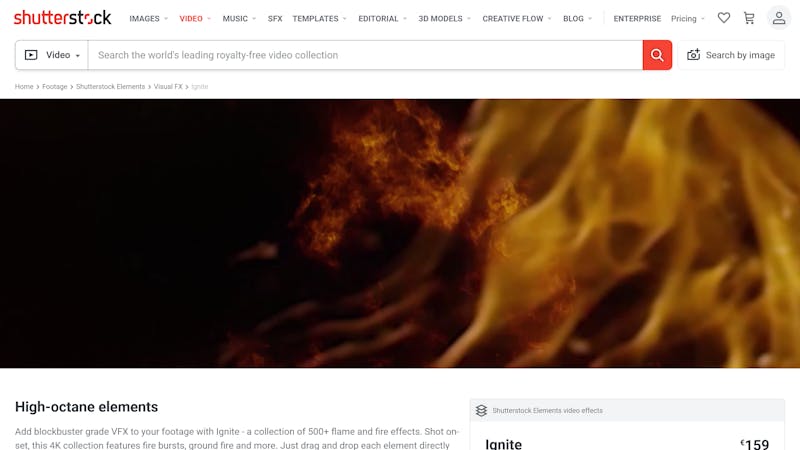 Those looking for special effects or transitions will find plenty to choose from with Shutterstock Elements.
Ear candy
As a provider of stock media, Shutterstock also has a sizable portfolio of music, sound effects, intros, and jingles, all of which can be sorted by an array of different filters. Like its photos, Shutterstock also has a premium audio section.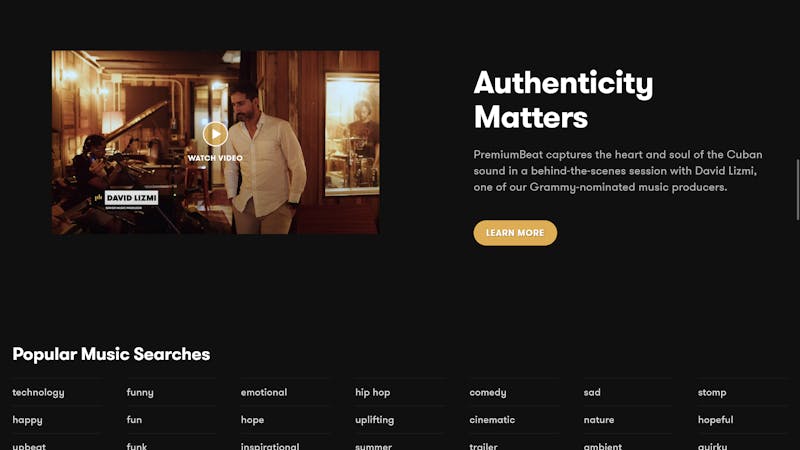 Shutterstock offers both regular and premium audio content, the latter of which includes extra, high-quality musical pieces.
Inspiration for creative minds
Working your way along the main menu, you'll come to Templates which includes creative designs that can be applied nearly anywhere, online or offline. Regardless of whether you need something for your Facebook post, Instagram story, YouTube channel, or a business card, coupon, or flyer, you won't be disappointed. Making things even better, Shutterstock isn't stingy with free content: In the Images section, one photograph and one vector can be downloaded at no charge each week.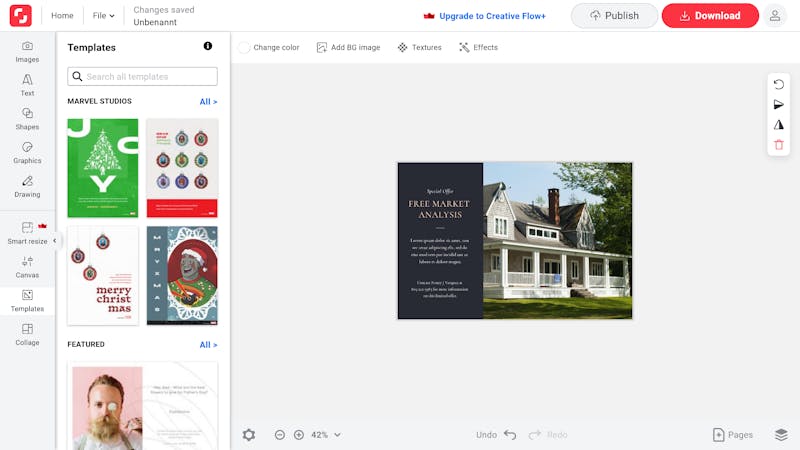 Templates can be adjusted directly in Shutterstock's editor and then downloaded.
A helping hand for journalists; Turbosquid for 3D models
As might be expected, the Editorial option serves up content for non-commercial usage, including more than 50 million images pertaining to current events, professional sports, and entertainment. Apart from appearances in repeat transmissions or on printed covers, these can only be used once.
One of Shutterstock's special stock categories is 3D models. Here, pros can find plenty of models for different programs such as Maya, Unity, Unreal, Blender, and FBX, among others. Free models are also offered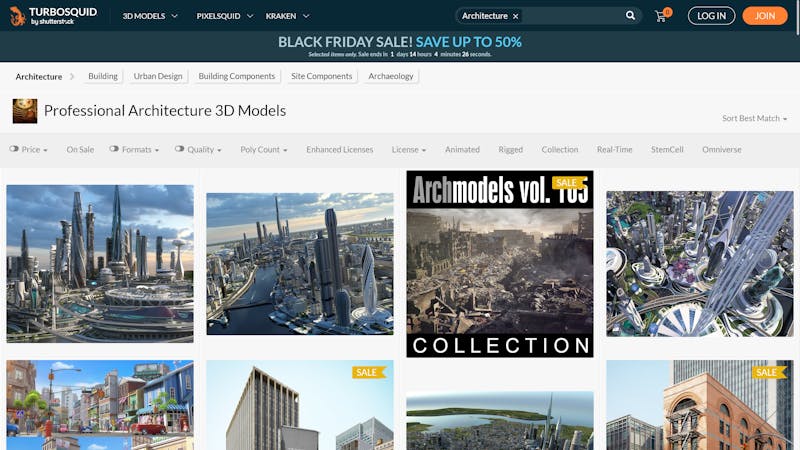 Shutterstock's catalog includes a nice variety of 3D models.
Tools, blog & more
Shutterstock clearly seeks to make the customer experience as seamless as possible, and at the same time, enhance its profile by offering extra content and features. Accordingly, the service's blog tackles a wide range of topics that might be pertinent to users, including how to make DIY greeting cards or create film sequences. This isn't just a run-of-the-mill corporate blog though as it is home to some truly informative and interesting articles.
Those who work with different programs and want to be able to directly access Shutterstock can install its free plugin. And for photo editing, you can take advantage of the platform's image resizer, image converter, collage maker, and color palettes, all of which are located under the Creative Flow category and Design Tools subcategory in the main menu.
Shutterstock's tools, like its color palettes, enhance the overall user experience.
The array of media on offer from Shutterstock is impressive, however, slightly overdesigned for the casual or everyday user. Quality is above average, as are the filters, with which you can refine search results to align with precisely what you're looking for. The service's homepage is fairly intuitive, even though the variety of content is overwhelming and slightly confusing (i.e. Offset Images). This is one of those cases where less might actually be more, but we don't have much to complain about.
Configuration & Usage
8.6 / 10
2.
Selection of Stock Photos
Shutterstock doesn't disappoint in terms of image quality, but that isn't surprising considering how much the service costs. We took a closer look at what the platform has to offer on the basis of five keyword/phrase searches that would likely be relevant for everyday usage. These were: web hosting, ecommerce, antivirus, business, and email marketing. Since these topics are rather dry and vague, they give each platform an equal opportunity to showcase the quality of their filters as well as how creative their content is.
Web hosting: When we input this phrase in the search bar, Shutterstock returned 193,562 images across 1,936 pages, automatically sorted by relevance. Several of the pictures looked like those we had seen before on other platforms, with roughly half of the results on the first page being text-based, and the other half, without text. None of the first 100 results took our breath away, although there were a few decent images that we wouldn't be opposed to using. Jumping to page 1,935, the hits seemed to relate mostly to tech and IT, with cloud computing and icons replacing server infrastructure as the dominant motifs.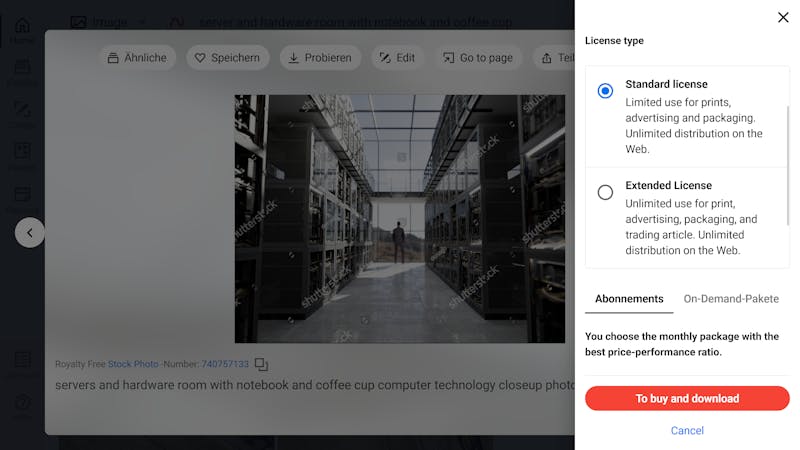 Not all of the web hosting results were relevant or impressive, however, there were a few artistic interpretations mixed in, which we appreciated.
Ecommerce: For this keyword, Shutterstock served up 447,906 images across 4,480 pages. Immediately, we noticed that these results were more creative than for web hosting. To start, both buyers and sellers were well-represented, with an equal proportion of images showing those packing or fulfilling orders to those making purchases online. Seasonal touches also weren't in short supply, which will work wonders at Christmas time or for Black Friday. A few strays were included on the first page of results, such as two Bitcoin images, and a conference room meeting, but overall, we were satisfied with what Shutterstock provided.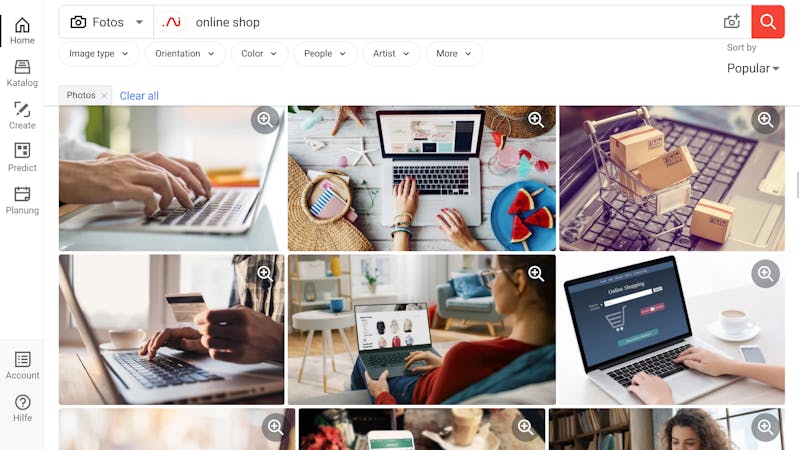 Jumping packages and a mobile shop add color to the otherwise serious results.
Antivirus: Here, we got more than 170,000 results. Unfortunately, among the first five, there was an image of a woman receiving a vaccination from a medical professional in a mask. This isn't uncommon among stock photo providers, and it gave us an opportunity to test how intuitive the service's category filters are. We clicked on the suggested search "antivirus software" and the 40,000 results seemed far more relevant.
Business: Should you be searching for images related to business, prepare yourself, because you're going to be confronted with more than 56 million hits spread across more than 560,000 pages. There's no way to sort through all of these without filters and a clear idea of what sort of motif you're after. Even when we arranged results by "Most Relevant", we were surprised to see a number of odd and irrelevant hits on the first page. Apart from the fact that almost all of these were illustrations, some had nothing to do with business, like a green German Tiger tank, a reminder bell, and an empty living or dining room.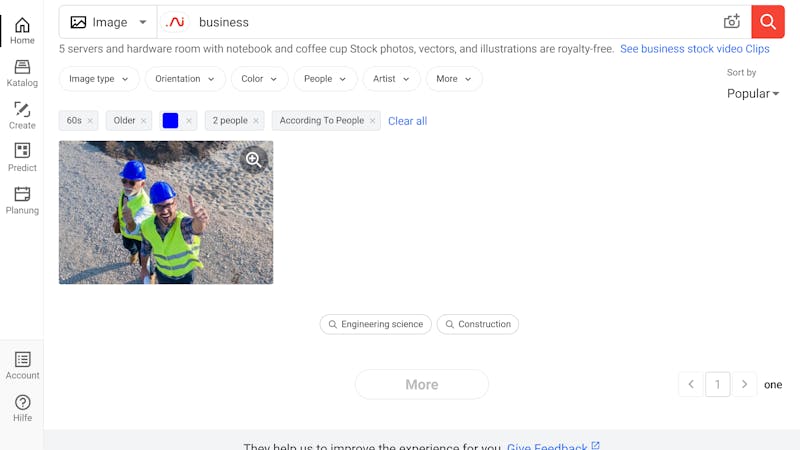 For business, you'll need to specify your search with filters and ideally, additional keywords or phrases.
Email marketing: Our last, somewhat abstract search query yielded just under 200,000 results, a number of which impressed us with their novelty and creativity. Among these is a man holding a mobile phone with virtual email icons displayed around it, and another of a mailbox with a bullhorn protruding out of it and a notification bell hanging on the side. Again, the strength of the filters is key, as few people have time to sift through 2,000 pages of content.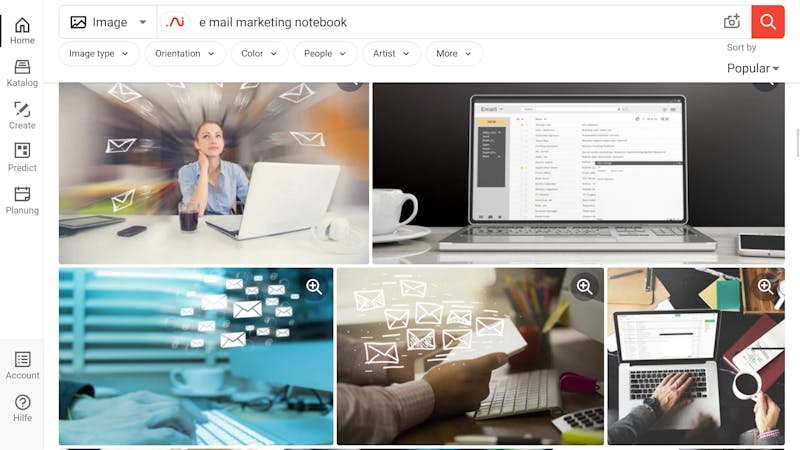 The results returned by Shutterstock for email marketing were a nice blend of photos and illustrations.
| Category | Score |
| --- | --- |
| | |
| | |
| | |
| | |
| | |
Stock Photo Selection
8.0 / 10
3.
Selection of Videos, Audio, Vector Graphics & Illustrations
When assessing this category Shutterstock's time and experience in the branch really shows, justifying its position as one of the segment's leaders. Even though there is some overlap in terms of vector graphics and illustrations, all of the big topical areas are covered. For audio, Shutterstock offers a well-rounded and comprehensive selection of high-quality media as part of its standard license. If you're looking for a particular sound or piece of music, you'll need to subscribe to Shutterstock's in-house audio service, PremiumBeat.
Those after footage for an image film won't be disappointed. When we searched for business clips, Shutterstock returned around 3 million video sequences of varying lengths. For email marketing, we got nearly 7,000 hits.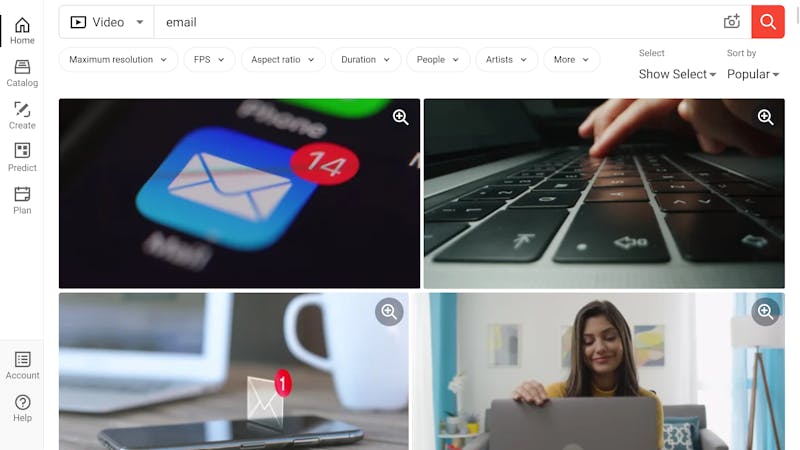 Shutterstock offers a rich selection of clips for filmmaking.
| Category | Score |
| --- | --- |
| | |
| | |
| | |
Selection of Videos, Audio, Vector Graphics & Illustrations
9.4 / 10
Broadly speaking, Shutterstock offers three licenses: Standard, Enhanced, and Editorial Use.
Standard permits unlimited usage for digital media, up to 500,000 physical reproductions, and, under certain conditions, unlimited usage for print, TV, online video, film, and outdoor advertising. Additional information is provided next to the photos. If in doubt, you can always get in touch with the platform's support for clarification.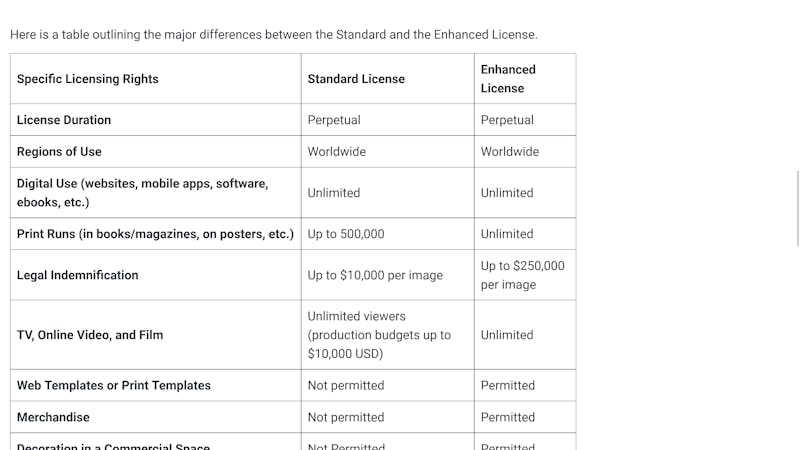 Shutterstock clearly details what is allowed or prohibited under each of its licenses.
The Enhanced license includes unlimited physical and digital reproductions for TV, online video, and film ads of all kinds, as well as copies of web or print templates. In addition, you can use the image for commercial goods and marketing materials.
Editorial content cannot be used for commercial purposes and may only be physically reproduced up to 500,000 times.
Licensing Conditions
9.4 / 10
Shutterstock's support, ranging from the available channels (chat, hotline, or email) to the response time and answer quality, is fantastic. Comments regarding mistakes or errors on the site were followed up on and actually rectified within an hour. Queries regarding licenses were answered even faster, after just 30 minutes.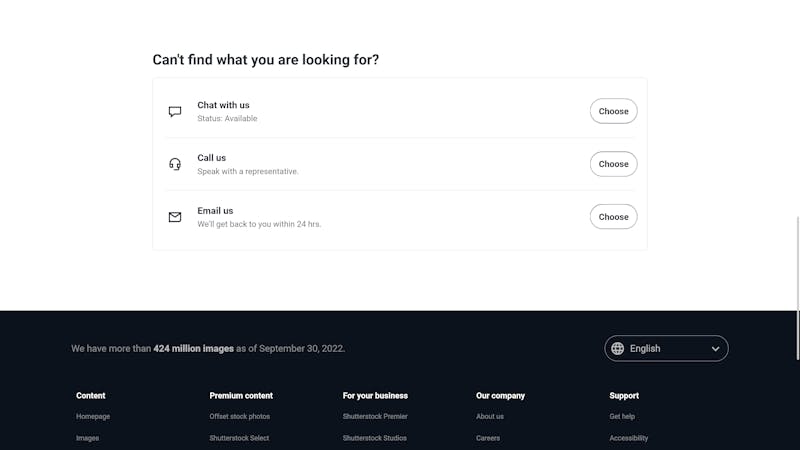 Shutterstock wants to be available for its customers. As such, its customer service response times are excellent.
Shutterstock is definitely one of the pricier stock content providers we assessed, however, you can license media in a few different ways. The pricing structure is confusing with each medium having its own pricing and conditions. Image licenses can be bought either as part of a subscription for a specific monthly fee or via On-Demand packages (Standard and Enhanced). Should you be working as part of a team, there are special rates.
Videos are also available either in subscriptions or packages, however, these come only with a Standard license and need to be downloaded within a year. Premium videos from Shutterstock Select are not included and as such, need to be purchased separately.
Audio can be secured by purchasing a comparatively inexpensive subscription. Once again, however, this only comes with a Standard license. Should you only need a few pieces or an Enhanced license, you can buy these individually. Editorial content is available as single images or in packages.
For agencies, marketing teams, editorial boards, and others, Shutterstock offers Business access, which includes special conditions. These pertain mostly to need, usage, and the business' size.
Those who opt for a subscription should keep in mind that the monthly download limit does not carry over from month to month. In other words, if you don't use all of your downloads, you won't be credited for them the following month. We think Shutterstock should be a bit more flexible and fair in its pricing, allowing unused downloads to carry over to subsequent months.
Subscription 10
Standard Pack 2
Standard Pack 5
Subscription 25
Subscription 50
Subscription 150
Subscription 350
Subscription 750
Enhanced Pack 2
Standard Pack 25
Video Pack 5
Enhanced Pack 5
Video Pack 10
Video Pack 25
Enhanced Pack 25
Billing
Subscription
Credit Pack
Credit Pack
Subscription
Subscription
Subscription
Subscription
Subscription
Credit Pack
Credit Pack
Credit Pack
Credit Pack
Credit Pack
Credit Pack
Credit Pack
One-Time Fee
$0.00
$29.00
$49.00
$0.00
$0.00
$0.00
$0.00
$0.00
$199.00
$229.00
$359.00
$449.00
$669.00
$1,579.00
$1,699.00
Price per Month
$29.00
$0.00
$0.00
$59.00
$99.00
$149.00
$169.00
$199.00
$0.00
$0.00
$0.00
$0.00
$0.00
$0.00
$0.00
Contract Period (Months)
12
0
0
12
12
12
12
12
0
0
0
0
0
0
0
Included Content
Photos / Month
10
2
5
25
50
15
350
750
2
25
0
5
0
0
25
Videos / Month
1
0
0
2
5
2
35
75
0
0
5
0
10
25
0
Licence For

Online & Print

Social Media

Marketing & Ads

Online & Print

Social Media

Marketing & Ads

Online & Print

Social Media

Marketing & Ads

Online & Print

Social Media

Marketing & Ads

Online & Print

Social Media

Marketing & Ads

Online & Print

Social Media

Marketing & Ads

Online & Print

Social Media

Marketing & Ads

Online & Print

Social Media

Marketing & Ads

Online & Print

Social Media

Marketing & Ads

Products

Online & Print

Social Media

Marketing & Ads

Online & Print

Social Media

Marketing & Ads

Online & Print

Social Media

Marketing & Ads

Products

Online & Print

Social Media

Marketing & Ads

Online & Print

Social Media

Marketing & Ads

Online & Print

Social Media

Marketing & Ads

Products
The table below shows the annual costs for 10 stock photos per month from Shutterstock compared to the other providers from our sample.
1.
2.
3.
4.
Depositphotos
Subscription 30
5.
Dreamstime
Subscription 15
6.
Shutterstock
Subscription 10
7.
iStock
Basic Subscription 10
8.
9.
10.
Storyblocks
Unlimited All Access
11.
Pond5
Footage Plus Subscription
12.
13.
Getty Images
10 Pack Small
Conclusion
Selection of Videos, Audio, Vector Graphics & Illustrations
9.4 / 10
Licensing Conditions
9.4 / 10
Configuration & Usage
8.6 / 10
Stock Photo Selection
8.0 / 10
Shutterstock is for pros. You'll have plenty to choose from, lots of variations, all sorts of media, and likely, too much for the private or individual user. In terms of price, even within a single media category, there's a great deal of variance: Photos with a Standard license are available at a fair rate, however, premium images or those with Enhanced licenses might strain a basic or even reasonable budget.
The service is clearly targeted toward editorial boards, agencies, large businesses, and graphic designers who spend lots of time with 3D models and have access to considerable financial resources.
Shutterstock serves up a huge selection of media and tools along with excellent support. For pros by pros. The platform is particularly well-suited for editorial teams and agencies with sizable budgets.
Photos / Month
Videos / Month
Licence For
Billing
Shutterstock Subscription 10
$29.00
monthly price
Visit Website*
Get 10 free images
Customer Ratings
But what do users have to say about Shutterstock? Is it a hit or a miss? To help you get a feel for what the overall user experience is like, we compiled a number of reviews from trusted portals around the web.
Customer Ratings
34,163 Bewertungen
Visit Website*
We analyzed the reviews and ratings from various portals and found 34,163 ratings with an overall rating of 3.9 out of 5 .
Alternatives
For those with a larger budget who value professionalism and already work with the Creative Cloud, Adobe Stock could be worth exploring.
On the other hand, if you're after a more affordable stock content database that emphasizes creativity, we can recommend Depositphotos. The database ticks all the right boxes thanks to its excellent price-performance ratio and an impressive selection of media.
Below, we've compiled a list of more of the best alternatives to Shutterstock for you:
Depositphotos won our review thanks to its intuitive platform, huge media archive, simple licensing model, and fast support, all at a fair price. If you're searching for high-quality stock content, you won't be disappointed.
Photos / Month
Videos / Month
Licence For
Billing
Depositphotos Subscription 30
$24.92
monthly price
Visit Website*
iStock offers high-quality media material, efficient filter options, and transparent licensing conditions. Rounding out its solid package are fast support and copyright indemnification.
Photos / Month
Videos / Month
Licence For
Billing
iStock Credit Pack 1
$12.00
monthly price
Visit Website*
Getty Images, our test's third-placed platform, is the Rolls Royce of stock photo databases. Just keep in mind that exclusive images, incredible content, high-quality search tools, and an intuitive user experience don't come cheap.
Photos / Month
Videos / Month
Licence For
Billing
Getty Images Single Small
$175.00
monthly price
Visit Website*
For high-quality film and video material, Pond5 is the right choice. It's easy to use and offers helpful tools. Unfortunately, the lack of search filters makes finding what you need tough, while its pricing structure could be clearer.
large selection of videos & music
affordable and free content
8.9

good
Photos / Month
Videos / Month
Licence For
Billing
Pond5 Footage Plus Subscription
$83.25
monthly price
Visit Website*
Even though Storyblocks offers fewer images than its competitors, its high-quality videos, illustrations, and tools, all at an affordable price, remain impressive. The shortage of filters makes searching tedious, however.
great selection of videos and audio
affordably priced, easy licensing
8.8

good
Photos / Month
Videos / Month
Licence For
Billing
Storyblocks Starter
$15.00
monthly price
Visit Website*
* Ad disclaimer:
For links marked with an asterisk, EXPERTE.com may earn a commission from the provider. The commission has no influence on our editorial rating.

Julia P. Manzau has more than 30 years of professional experience in leading editorial and marketing positions in the premium automotive, mechanical engineering, and healthcare industries. She studied Political Science and History in Bonn, Marketing at the St. Galler Business School and earned a BA in Media Engineering (CCI). Since 2015, she has worked as a freelance writer. For EXPERTE.com, she focuses on software, the Internet, and marketing.
Continue Reading
Other languages
Deutsch