Ecwid (by Lightspeed) Review 2023: Solid Ecommerce Software?

Author
Janis von Bleichert
Ad disclaimer:
For links on this page, EXPERTE.com may earn a commission from the provider. This supports our work and has no influence on our editorial rating.
So, you want to sell products online, but don't know how to get started? Do you already have a website? If so, adding your products to it is a cinch. If you don't have a website, no worries: All you'll need to start selling digitally is an online store. Whatever your situation is, Ecwid makes it easy to get started with ecommerce.
What Is Ecwid?
Ecwid, short for E-Commerce Widget, is a cloud-based ecommerce platform with Russian roots, but now based (at least partly) in California. The store-building service allows you to either add an online store to an existing website or create an entirely new one from scratch. According to the company's promotional materials, as of the time of writing, it has customers in 175 countries, of which a sizable portion are small businesses.
This is readily apparent in Ecwid's pricing structure since it's one of the few platforms to offer a completely free version of its service. In this review, we'll look at which tools Ecwid makes available.
Ecwid Review
Configuration & Usage
9.4 / 10
Product Management
8.6 / 10
Marketing & Analytics
7.4 / 10
Personalizing Your Store
5.4 / 10
Intuitive product variations

Multi-channel sales included in all (paid) subscriptions
Few customization options

Paywalls for certain features

Selling in multiple currencies only possible with an external tool
While it's true that a number of ecommerce platforms offer free trial versions, Ecwid takes this to the next level, providing a free version of its service. One immediate benefit of this is that registration is very easy. Simply click on the black Get started for FREE button in the top right corner of the homepage, enter your name, email address, and password, and answer a few questions about your business.
In the last registration step, Ecwid asks whether you want to add online store functionality to an existing website or create a store from scratch. We chose the second option, and after giving our online store a web address, were already in the dashboard. You've probably spent more time reading this paragraph than we did to register. So far, so good.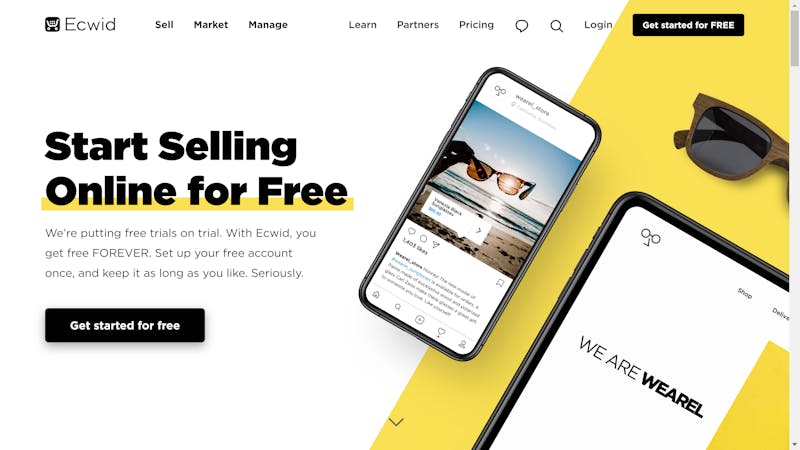 Registering with Ecwid is quick, and doesn't require any payment information.
It doesn't take long to get used to Ecwid's dashboard. All of the features you'll need are located in the sidebar menu to the left, which you can expand or minimize, depending on how much space you need for creating. The main menu is divided between Store Management, Sales Channels, and Configuration. Under the Store Management heading, you'll find the My Sales, Catalog, Marketing, and Reports sections.
When first starting the service, a to-do list will appear in the main menu, which the setup assistant will walk you through. You'll also find a shortcut to website settings, where you can edit your online store's appearance.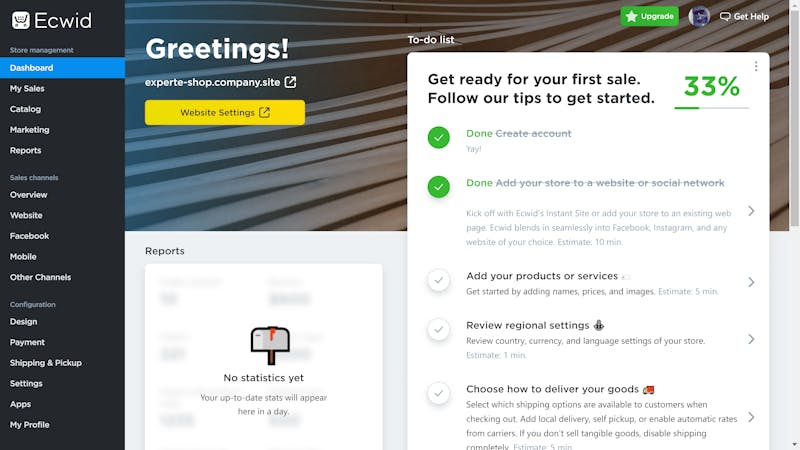 Ecwid's dashboard is logically arranged.
In the Sales Channels area, you're provided with an overview of your multi-channel marketing strategy, as well as the store you've designed in Ecwid. You'll also find the store builder component of the service, which you can use to edit your shop's design and add options for different sales channels, like Facebook, Instagram, Amazon, Google Shopping, or eBay.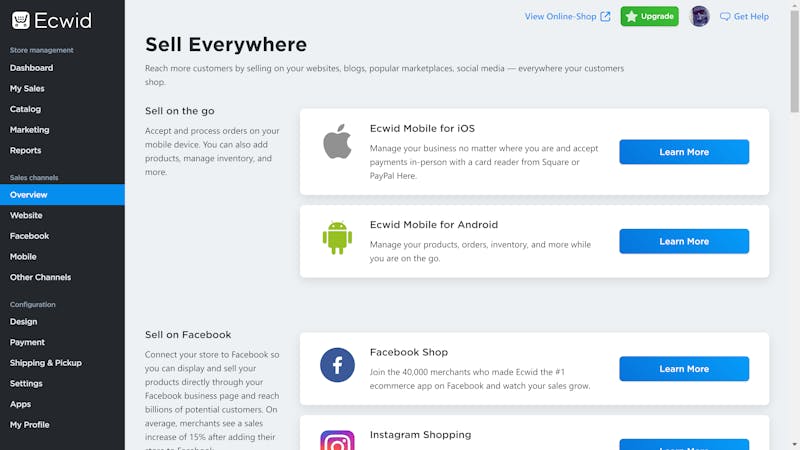 Ecwid provides you with a centralized overview of all of your sales channels.
In the Configuration area, you're given more options for designing your store, as well as setting up payment methods and shipping options. There's also a settings menu from which you can edit your general store profile. This includes options for weights and measurements, how the date and time are displayed, your primary currency, and taxes.
The Configuration area also hosts the platform's App Market, where you can find, download, and install different third-party apps. And last, but certainly not least, this is also where you can attend to your user Ecwid user profile, managing your login details and employee accounts.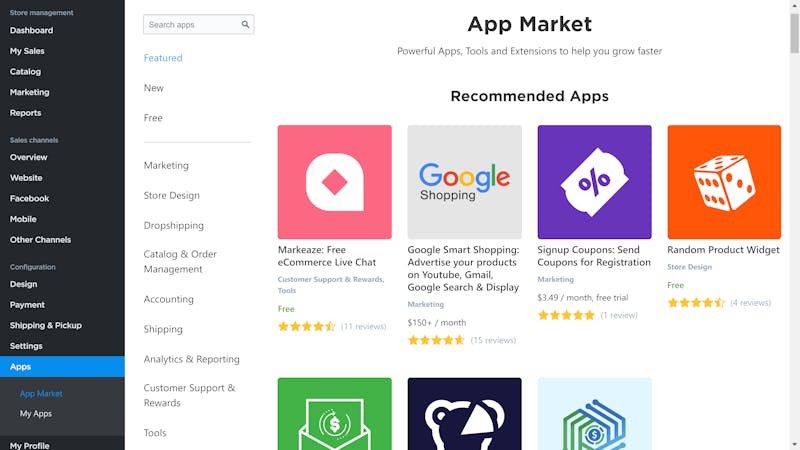 Can't find what you're looking for? Try your luck in Ecwid's App Market.
In addition to the Web dashboard, you can also manage your online store with Ecwid's smartphone app, so long as you're a paying subscriber.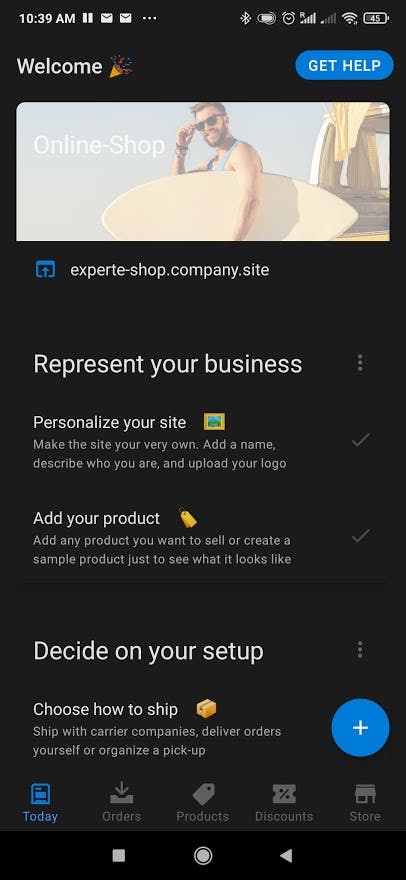 Paying subscribers can manage their store on the go with Ecwid's mobile app.
Ecwid definitely emphasizes usability, scoring highly thanks to its user-friendly dashboard.
Configuration & Usage
9.4 / 10
In order to start selling, you'll need to add products to your store. In the menu's Catalog area, you can view all existing articles in your store and add new ones. Should you already have a product list, all the better, since you can upload this here as a CSV file, or import it from XCart or LiteCommerce.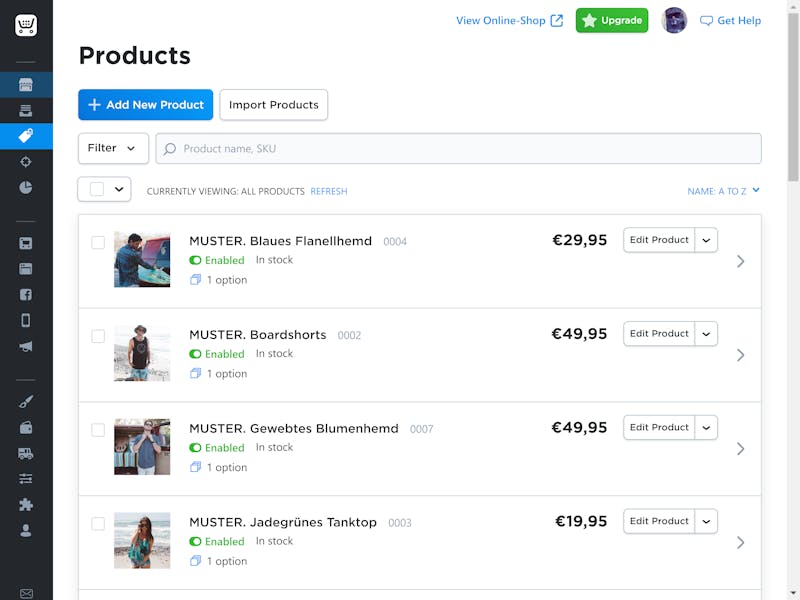 Manage your inventory or add new items, all with just a few clicks.
New products are added by clicking on Products in the sidebar menu, followed by the blue + Add New Product button at the top of the taskbar in the window that opens. In the next step, upload pictures and add a description to your item. The different tabs here offer you the ability to configure further settings, such as taxes and shipping or SEO (more on that below). In the Files tab, you can specify whether each product is digital or physical, and if the former, upload the file in question. This is only available starting with the Venture package, however.
Product Variations are different versions or combinations of a single product, such as in a different color or size. Ecwid makes managing these refreshingly easy in comparison to most other ecommerce platforms. First, you specify a characteristic (such as color), and then add as many different versions as you'd like (for example, black, white, and green).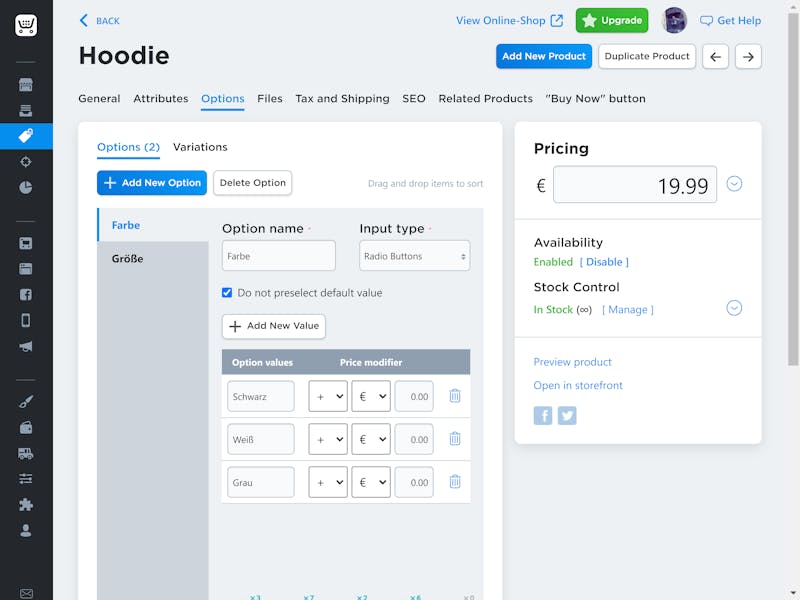 Create product variations with just a few clicks.
It's also possible to adjust how your customers see your products. Along with the classic drop-down list and radio buttons, there's a check box, in case you have multiple variations that include several characteristics (for example, an "S" red, and an "M" red). By clicking on Preview Product, you can check how the item is displayed to customers at any time.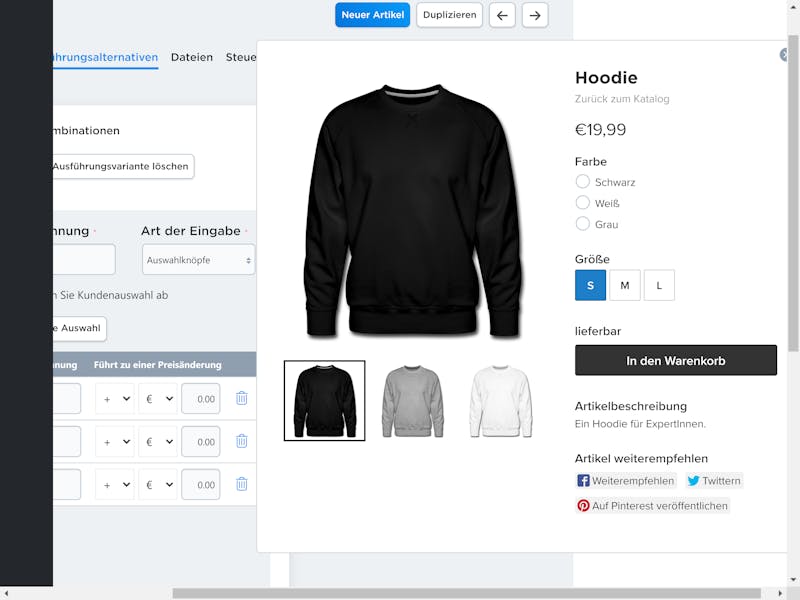 The preview feature shows how customers see your product.
By clicking on Combinations you can add a unique picture, price, SKU, or specify the amount of a variation you have, however, only if you've booked the Business package (or higher). Free-version users will often notice paywalls like these. On that note, the Venture package offers the worst of both worlds, since it lacks the Business package's features but still requires a monthly payment. More on that near the end of this review.
Turning to inventory, free users have to deal with some limitations here as well: Inventory management is only available starting with the Venture subscription. This allows you to keep tabs on your stock and receive notifications when quantities dip below a certain threshold. Unfortunately, products with low in-stock quantities aren't elevated to the top of your inventory list.
Should you want to hide unavailable products, an option is available for doing so under Settings.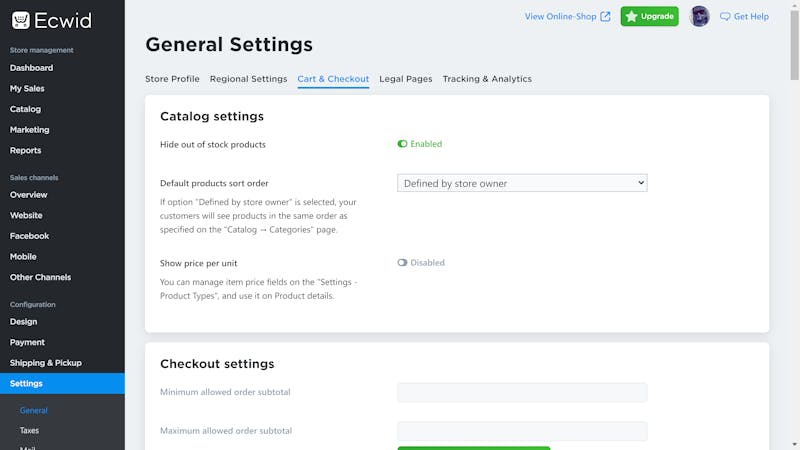 Ecwid notifies you when your products are close to selling out.
You can also organize your products into categories. Each category can also be divided into subcategories and supplied with a unique name, description, and image.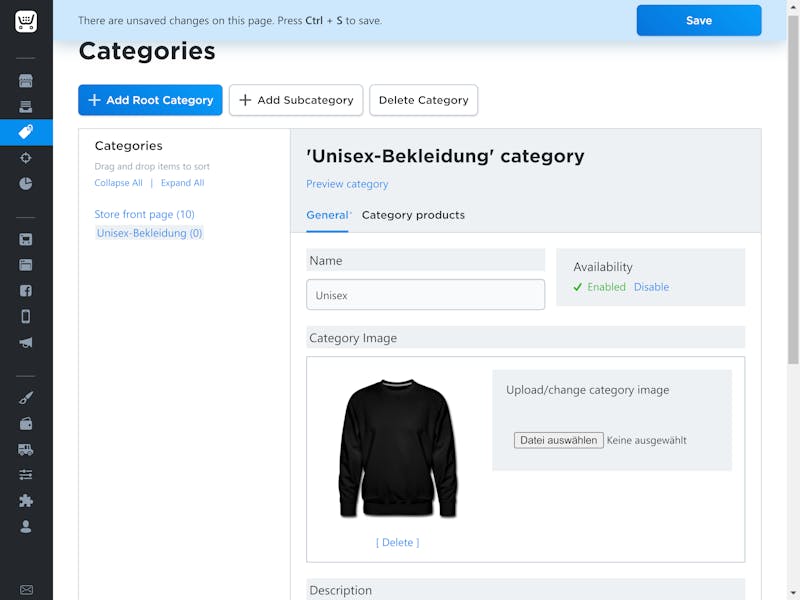 Ecwid allows users to group products into unique categories.
Taken together, Ecwid impressed us thanks to the range of options available for adding products, as well as the ease with which these can be used. It is unfortunate that free users can't get the most out of these, and downright inexplicable why the Venture package is such an unhappy compromise between the free version and Business subscription. Overall, Ecwid could offer a few more inventory management features, but we don't have too many complaints.
Product Management
8.6 / 10
3.
Personalizing Your Store
By clicking on Sales Channels > Website you'll find the site builder for your online store, which is as streamlined as the platform's dashboard. In the sidebar menu on the left, you'll be able to choose from a range of different page sections and options, with the rest of your screen providing a live preview of your website.
Ecwid doesn't offer drag and drop functionality, relying instead on its own ready-made elements, to which you add your own text, images, or other content. In the page area, you can hide different content elements and arrange them, but it isn't possible to add new elements. As such, design freedom is definitely limited.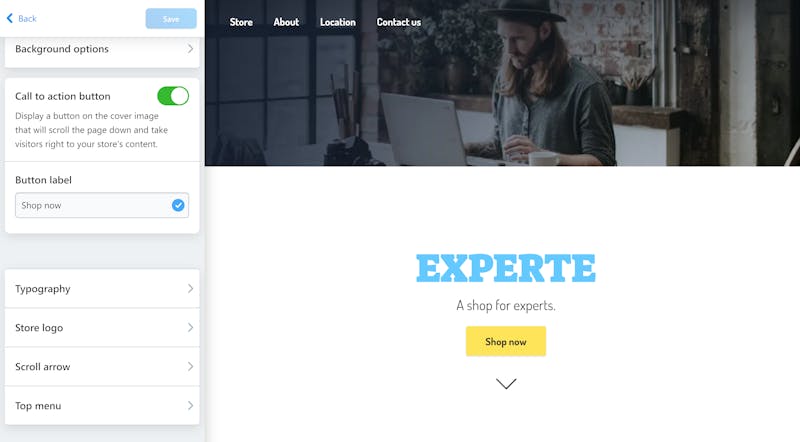 Ecwid's store builder limits your creativity in terms of design.
Since you won't be able to customize your store's theme, you'll need to make your template choice carefully. Ecwid offers a decent amount of free themes, 79 to be exact, all of which are organized into different categories. There isn't too much variation among them: Most look similar, and all are designed with single-page stores in mind. This means that customers will only be able to navigate between different sections of your homepage, rather than separate pages.
Ecwid offers around 80 free themes.
Once you've selected a theme, you can edit each section's text and add images to it. In terms of how your products are presented, it's possible to adjust the size and aspect ratio of the preview images and modify their titles. Product pages can be edited by clicking on Store > Product page. Here, you're able to specify which information should be shown in the sidebar, and in what order.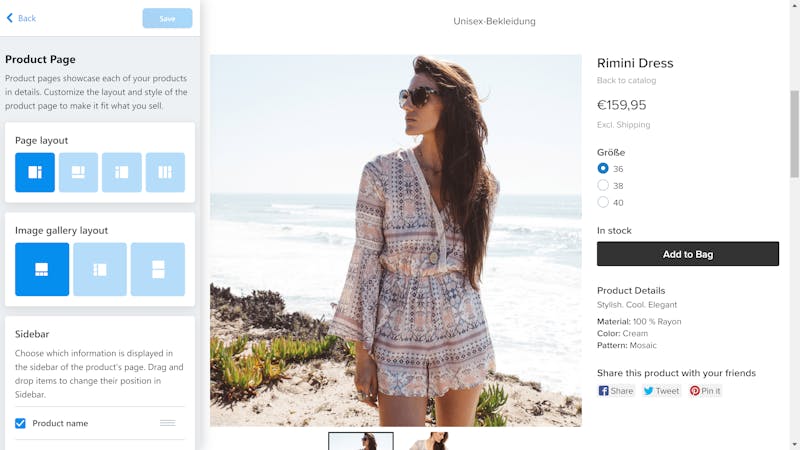 When creating product pages with Ecwid, you're also limited.
If you want to break out of the cookie-cutter designs Ecwid offers, you can directly edit the CSS theme by clicking on Configuration > Design, however, this isn't an option for beginners.
Ecwid makes little secret of its sacrifice of creative freedom in exchange for ease of use. If you like ready-made elements and only want to input your content, you won't be disappointed. In fact, Ecwid makes doing this easier than almost everyone else we looked at. However, greater flexibility would definitely be an improvement, and one which we don't think would make the platform harder to use.
Personalizing Your Store
5.4 / 10
Now that you've added products, and built your store's facade, it's time to think about selling.
The first thing you'll need to do is make sure that your customers can pay for their orders. To do this, click on Configuration > Payment where you'll find the payment methods offered by Ecwid. Along with cash, PayPal and Stripe come pre-installed and only need to be activated. In total, Ecwid supports more than 50 payment providers, including Visa, MasterCard, and SEPA.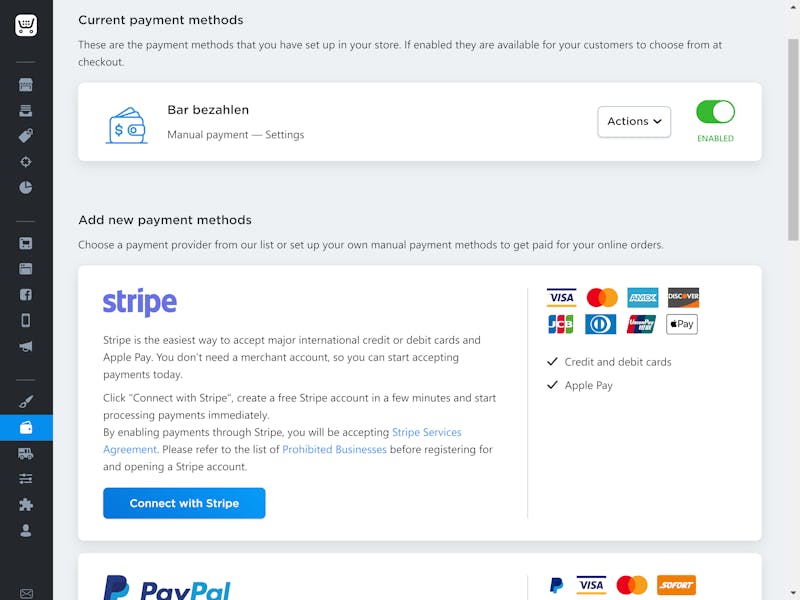 Ecwid supports more than 50 different payment methods.
Depending on your location and other business information, Ecwid will automatically determine what taxes your products are subject to, however, if doing business internationally, you can set these manually for different regions. Unfortunately, it isn't possible to display before-tax/after-tax prices for your customers.
Delivery options can be specified by clicking on Configuration > Shipping and In-store pickup. Here, it's possible to add flat fees, or individual, user-defined rates. In addition, you can integrate automatic live rates from USPS, UPS, or FedEx.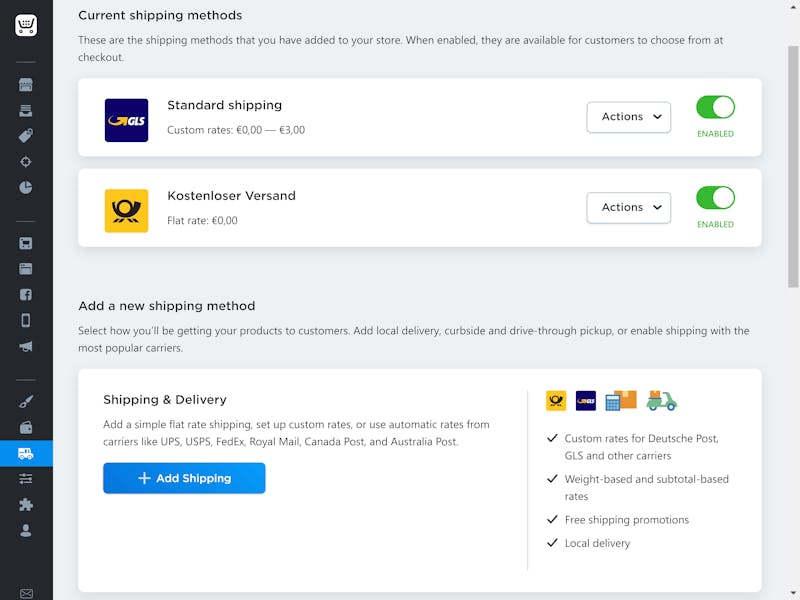 Ecwid pulls out all the stops in terms of shipping options.
Ecwid supports multi-channel sales strategies providing you with a headquarters for selling across different platforms. To access this, head over to the Sales Channels area.
The available channels vary depending on which subscription you've booked. Free users can only sell products through their Ecwid website; Venture subscribers can integrate Facebook Shop and Instagram Store, as well as mobile points of sale (POS). Amazon and eBay integration is available starting with the Business package.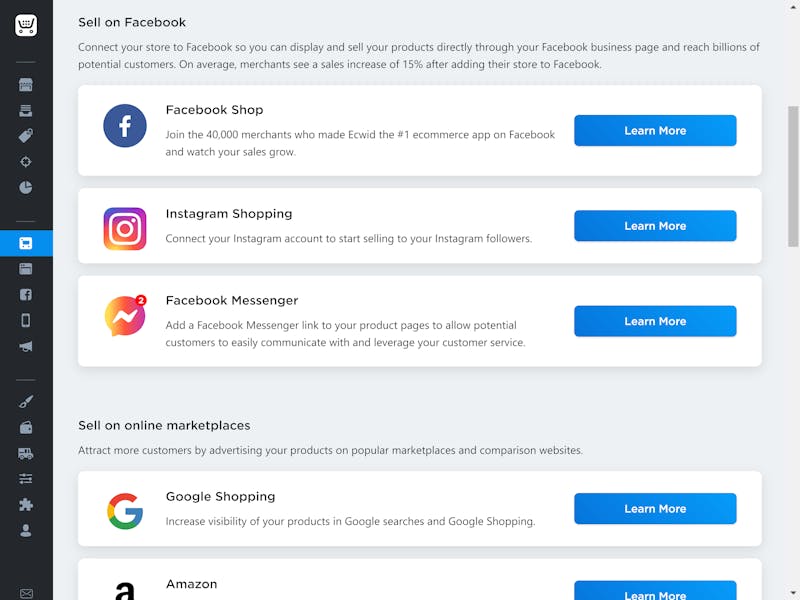 Multi-channel sales strategies can be executed with Ecwid.
Orders are managed by clicking on My Sales > Orders. Here, you'll find all of your orders, and be able to filter them based on when they were placed, their payment status, or their order status. You're can update the order's status by clicking on the arrow to the right, in the detailed view.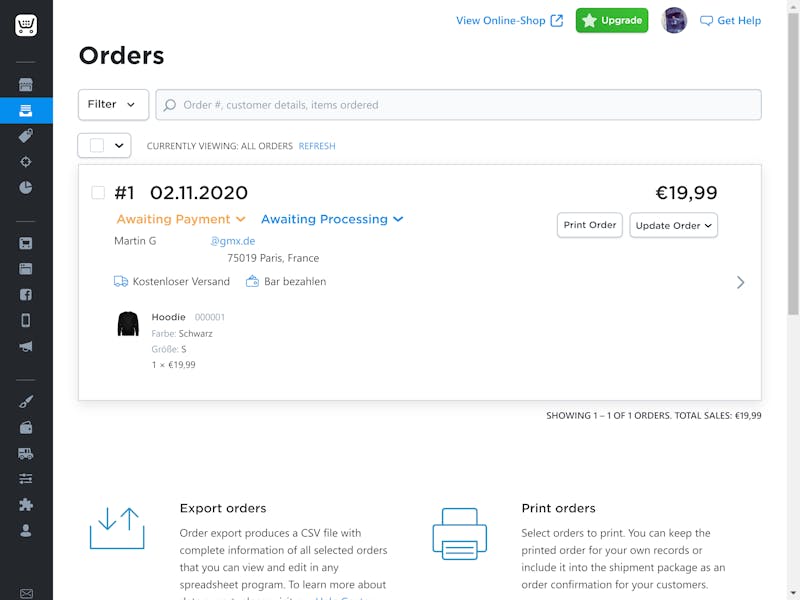 Once an order has been placed, it will appear on your order list.
In the detailed view, you can access additional information, such as invoices and delivery addresses for your customers. Here, it's also possible to see whether the client accepted your email marketing terms. Users of the Business package can add notes to each order, allowing them to communicate specific requests or details to staff and shippers.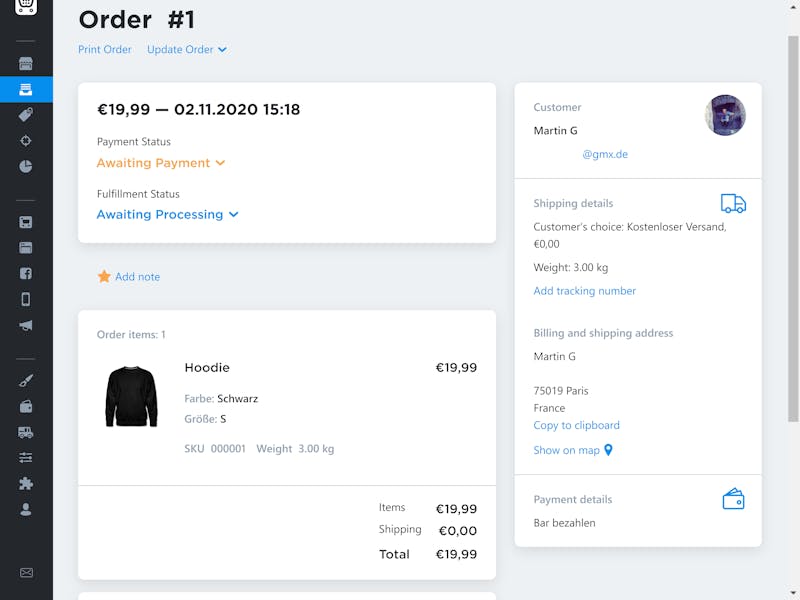 Additional information can be accessed by clicking on a specific order.
If you want to edit an order after it has been placed, in case the customer ordered the wrong item or size, you can easily do this in the dashboard by clicking on My Sales > Order Editor, but only if you're a paying subscriber.
And what if you want to make your store available in different languages? This is possible, but unfortunately, only for Business and Unlimited subscribers. If you're one of those, go to Settings > General and look for the Weights & Measurements option. Then, select Language Settings. Here, you can change the primary language of your store, and enable additional languages. Ready-made elements are automatically translated for your customers, however, any unique content that you've added needs to be manually translated.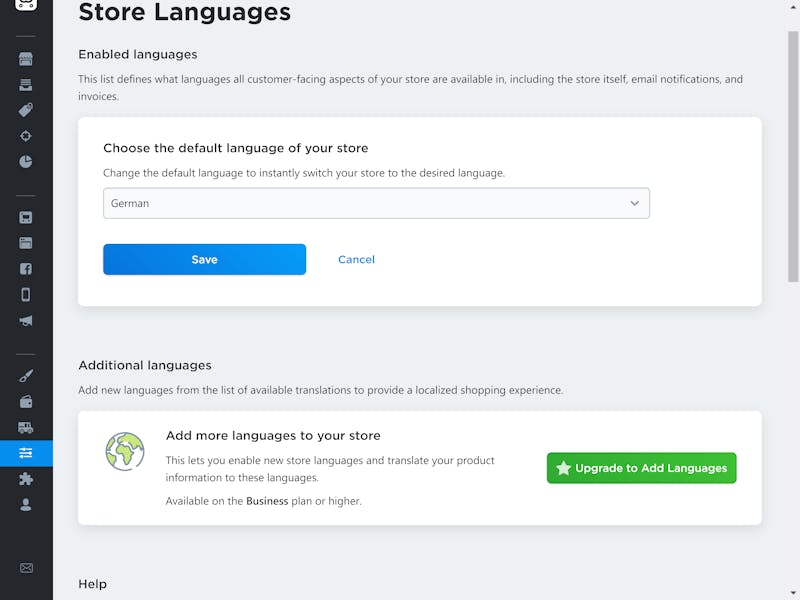 Multiple language localizations aren't a problem in Ecwid, so long as you're a Business or Unlimited subscriber.
Ecwid's generosity runs out when it comes to currencies. To convert currencies for your customers, you'll need a paid tool from the App Market, called Currency Converter. Without that, it isn't possible to sell in different currencies.
Even with that last blip, Ecwid still ticks (almost) all of the boxes in terms of sales. The only thing to keep in mind is that as solid as these features are, they're only available (in their entirety) to Business and Unlimited subscribers.
Discounts can be offered if you're a Venture subscriber or higher. To create a discount, go to Marketing > Discounts or add it directly in the product editor. You are limited to bulk discounts and price reductions, so other ecommerce platforms definitely offer more variety here. You can also create discount codes, either for a fixed amount or a percent or offer free shipping.
Why not let your customers advertise for you with gift cards/certificates? For these, you can set the amount, and specify their appearance.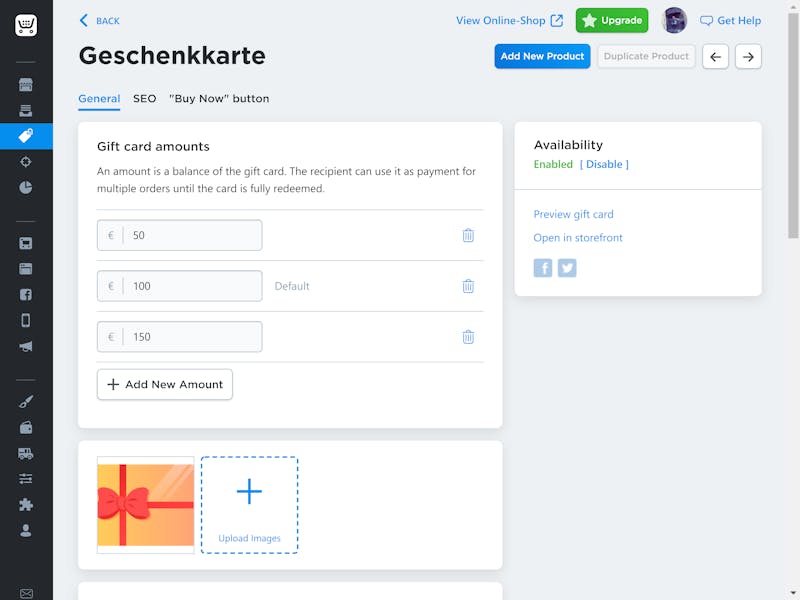 Gift certificates are a great way to boost sales and advertise your store.
Ecwid uses SEO URLs and allows paying subscribers to improve their SEO ranking by editing page titles and meta descriptions. However, it isn't possible to edit URLs and create clean, search-engine-friendly ones, like in Shopify.
One neat feature for Business and Unlimited subscribers is the ability to 'rescue' abandoned shopping carts. Whenever a customer navigates away from your store or doesn't complete a purchase, Ecwid will save their products in a shopping cart, and allow you to contact them by email with a reminder.
Turning to emails, Ecwid supports sending newsletters through its console, however, it doesn't provide an integrated email newsletter tool for this. Instead, subscribers (Business and Unlimited) can integrate Mailchimp. Only then is it possible to send automated emails informing customers about special offers or events.
Other providers we've taken a look at in this review series are definitely much more flexible when it comes to email marketing, with some going so far as to offer their own newsletter solutions.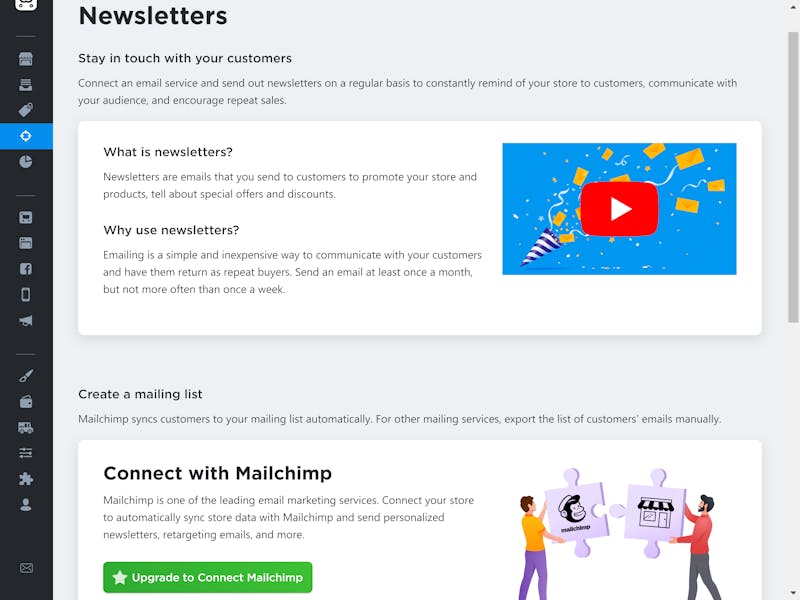 Ecwid only supports email marketing with Mailchimp, and even then, just for Business and Unlimited subscribers.
Analytics
For internal stats, you'll also need an external solution. By clicking on Store Management > Reports, you'll be able to install Kliken Stats. This app, which is available to free users as well as paying subscribers, provides basic data about your store's visitors, earnings, conversation rate, and orders. More detailed information, such as order characteristics or trends, popular products and categories, or the conversion rate per channel, are only 'unlocked' starting with the Venture subscription.
Additional analytic tools, like Monkey Data, are available in the App Market.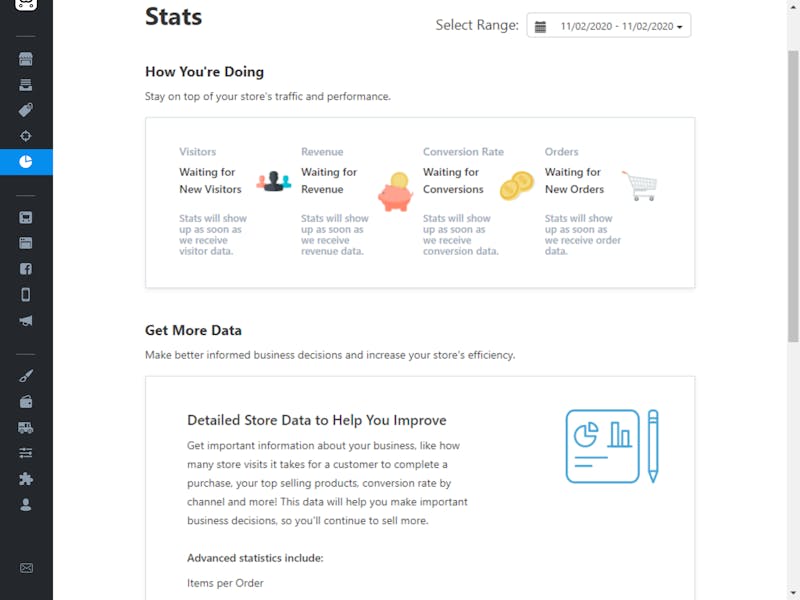 To gather statistics about your store, you'll need to download a tool from the App Market.
For even more analytical insight, you can integrate Google Analytics or Facebook Pixel.
In terms of marketing & analytics, Ecwid isn't terrible, but also isn't great, offering little more than the bare minimum of features and options.
Marketing & Analytics
7.4 / 10
Ecwid's help center is bursting with FAQs, guides, articles, and more, detailing the service's features across different operating systems. Particularly nice are the abundant video guides, which are well-narrated, and have closed captions, should English not be your first language. The entire help center can be text-searched, making it child's play to find precisely what you need.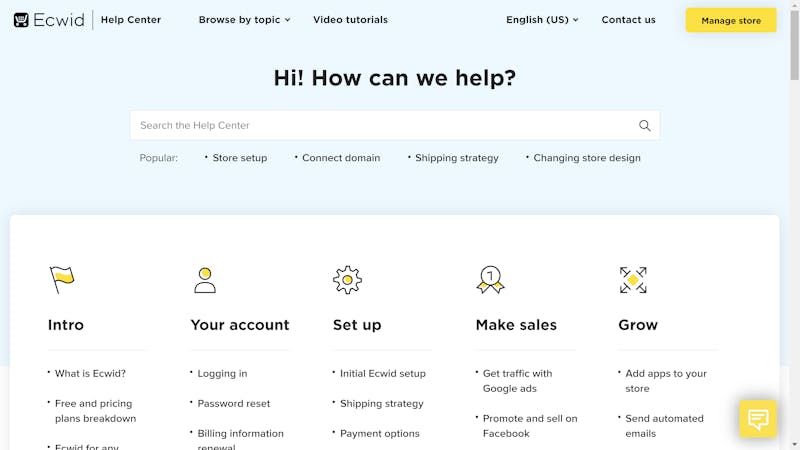 Ecwid's help center is very comprehensive, easy to navigate, and informative.
Perhaps you've noticed a trend with Ecwid: Which support channels you can use depends upon your subscription. Free users can only get in touch via email. Venture subscribers can ask for help via live chat; Business subscribers get a hotline, and Unlimited users get priority support. In our test, we waited three days for a reply to our query, which is a very slow response time.
The best thing about Ecwid's support is its help center. If you've paid for a subscription, we're sure that the support is adequate, or even good, but for free users, as the old saying goes, you get what you pay for.
Ecwid comes in four different subscriptions, including the free version. The paid packages are named Venture, Business, and Unlimited. Subscription fees can be paid monthly, or annually, with the latter including a small discount.
It goes without saying that the free version has the most limitations: You aren't able to add extra sales channels, more than 10 products, or sell digital products. You can also forget about discounts, the automatic tax calculator, inventory notifications, and advanced SEO tools.
As the subscription price increases, these limitations disappear. In the Venture package, you can manage 100 products, 2,500 in the Business subscription, and in the Unlimited package, as many as you want. Discount codes and access to the App Market are unlocked starting with the Venture package, whereas Business subscribers can make use of product filters and variations.
Like most ecommerce platforms we've reviewed, Ecwid doesn't charge transaction fees, however, the payment gateways do, so pay attention to these.
Further details about each subscription can be found in the table below:
Free
Venture
Business
Unlimited
Price per Month
$0.00
from $14.08
from $29.08
from $82.50
Transaction Fee
0 %
0 %
0 %
0 %
Contract Period (Months)
0
1 - 12
1 - 12
1 - 12
Product Management
Number of Products
5
100
100
unlimited
Product Filters
Product Variants
Product Reviews
Digital Products
Features
Multilingual
Multiple Currencies
Sales Channels

-

Google Shopping

POS

Facebook

Instagram

Amazon

eBay

Google Shopping

POS

Facebook

Instagram

Amazon

eBay

Google Shopping

POS

Facebook

Instagram

Payment Options

Credit Card

PayPal

Apple Pay

Stripe

Credit Card

PayPal

Apple Pay

Stripe

Credit Card

PayPal

Apple Pay

Stripe

Credit Card

PayPal

Apple Pay

Stripe
To better compare the prices of all the providers in our test, the following table shows the annual price for a plan with at least 100 products.
1.
2.
3.
4.
5.
6.
7.
8.
Conclusion
Configuration & Usage
9.4 / 10
Product Management
8.6 / 10
Marketing & Analytics
7.4 / 10
Personalizing Your Store
5.4 / 10
If you're a small business owner with little-no knowledge of programming or web design, Ecwid offers an intuitive ecommerce platform that can help you get started selling online. The dashboard is clearly arranged and includes everything needed to manage your products, and sell your goods, whether digital or physical.
Simplicity does come at a price though: If you want to learn on the job, and work your way up to a customized online store, Ecwid might not be the right choice, since creativity and design freedom are limited. There's little selection in terms of content blocks or designs, and even though at first glance there appears to be a nice variety of design templates, the similarities of these become quickly apparent.
Should you be able to live with these limitations, Ecwid might appear to be one of the most user-friendly ecommerce platforms on the market. Thanks to its free version, you can even take it for a test drive before deciding.
Ecwid works best as a plugin for other platforms: it can easily be integrated into a CMS, a website builder, or a social media site, and streamlines the sales process across these and other channels. The free tier is a nice extra.
easy to integrate with other platforms
many features behind paywalls
7.9

good
Number of Products
Transaction Fee
Sales Channels
Payment Options
Ecwid Free
$0.00
monthly price
Visit Website*
Sign up for free
Customer Reviews
Even though we take great pride in what we do, we're not able to answer all questions in a single review. Therefore, we recommend taking a look at what Ecwid's customers have to say about the service.
Customer Ratings
9,407 Bewertungen
Visit Website*
We analyzed the reviews and ratings from various portals and found 9,407 ratings with an overall rating of 4.6 out of 5 .
Alternatives
If you want more freedom when designing your online store, we highly recommend our overall winner, Wix. The Israeli provider offers a more advanced site builder and makes everything you need to sell products available in a truly remarkable package. Even though Wix doesn't offer a free store builder, its prices are very reasonable, considering what is offered.
Further alternatives can be found here:
Wix has built a shop solution on the foundation of its powerful website builder. The result: a beginner-friendly platform with strong personalization and ecommerce features, which is best-suited for smaller shops.
beginner-friendly interface
supports lots of sales channels
9.1

excellent
Number of Products
Transaction Fee
Sales Channels
Payment Options
Wix Business Basic
$22.00
monthly price
Visit Website*
14 day free trial
BigCommerce boasts well-designed product and inventory management features, solid marketing and analytics capabilities, and support for many sales channels. Possibly too complex for smaller shops, it's ideal for larger ecommerce projects.
many features 'out of the box'
up to 600 variants per product
supports multiple currencies
too complicated for smaller shops
8.7

good
Number of Products
Transaction Fee
Sales Channels
Payment Options
BigCommerce Standard
$29.95
monthly price
Visit Website*
Start Free Trial
Shopify is a great all-rounder for small, medium, or larger shops. If you're looking for a platform that's more powerful than a regular website builder, but not as complicated as other ecommerce platforms, Shopify might offer the right mix.
Number of Products
Transaction Fee
Sales Channels
Payment Options
Shopify Basic
$29.00
monthly price
Visit Website*
14 day free trial
Using its powerful website builder as a starting point, IONOS' ecommerce platform adds a solid set of sales features that should cover all the needs of smaller shops and websites with sales pages.
powerful editor for customization
affordable first-year prices
intuitive inventory management
limited marketing features
8.6

good
Number of Products
Transaction Fee
Sales Channels
Payment Options
IONOS Starter
$19.50
monthly price
Visit Website*
First Month Free
Volusion offers a powerful ecommerce platform with impressive marketing and analytics features. Sadly, the user interface is more complicated than it needs to be, and there aren't as many ways to customize your site as with other solutions.
great analytics capabilities
many marketing & discount features
many sales channels (dropshipping, POS..)
complicated user interface
7.7

good
Number of Products
Transaction Fee
Sales Channels
Payment Options
Volusion Personal
$31.50
monthly price
Visit Website*
14 day free trial
* Ad disclaimer:
For links marked with an asterisk, EXPERTE.com may earn a commission from the provider. The commission has no influence on our editorial rating.

Janis von Bleichert studied business informatics at the TU Munich and computer science at the TU Berlin, Germany. He has been self-employed since 2006 and is the founder of EXPERTE.com. He writes about hosting, software and IT security.
Continue Reading