Website Builder
1&1 IONOS Website Builder Review: A Good Choice in 2022?
Although perhaps not on the tip of anyone's tongue in the US, 1&1 is widely known throughout Europe as one of the continent's leading hosting and cloud providers. What fewer are aware of, both in the US and Europe, is that 1&1 also markets a website builder, which while not as popular as those of Wix, Weebly, or Squarespace, has found its way into our sample; let's take a look at why.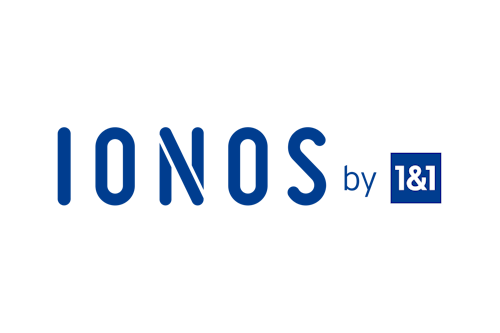 1&1 IONOS is Europe's largest provider of hosting and cloud services, being used by more than eight million customers. For those lacking in programming know-how, 1&1 offers MyWebsite, a site builder featuring a drag and drop editor that makes it easy to create a polished website in little more than a few steps.
Below, we'll take a detailed look at how MyWebsite performs.
Templates & Design
4.3 / 5
Marketing, SEO & Ecommerce
4.3 / 5
Configuration & Usability
4.0 / 5
Comes with plenty of features
Powerful editor offering a wide range of customization options
Personalized guidelines for client-specific marketing
Large variety of templates to choose from
Editor somewhat clunky and cluttered
Templates, while plentiful, lacking in quality
No third-party app center or store
2.
Configuration and Usability
In order to use the MyWebsite, you'll need to set up a 1&1 account. Unfortunately, unlike with most of the other platforms we assessed, you can't start building right away and instead will need to wait until your order is verified. During testing, this took around 24 hours.
To start a new web project, look for "Websites & Shops" in the IONOS dashboard. There, you can make use of CMS apps like WordPress, Typo3, or Joomla, or alternatively, the service's "MyWebsite" program. 1&1 is based on Duda's site-building software, which is utilized by other companies such as webgo and checkdomain.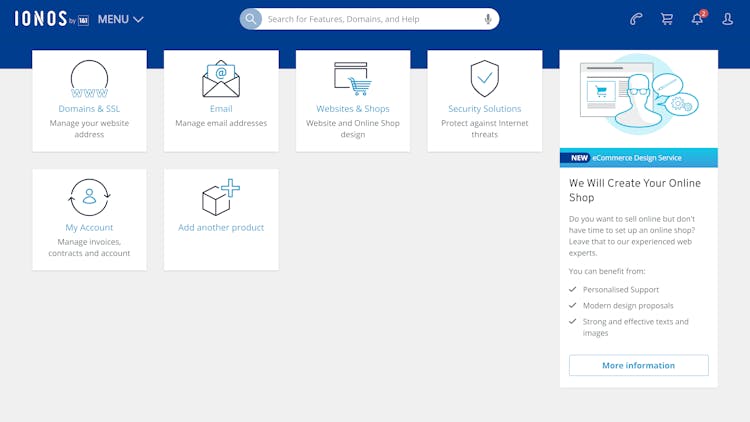 You can access 1&1 IONOS's site builder through the "Websites & Shops" area of the user dashboard.
An online business card for your website
To access the service's editor, click on the "Edit Website" or "Create Website" options in the website menu. First, you'll be asked to name your website and specify its branch. If desired, MyWebsite will create a digital business card for you that goes online immediately and serves as a placeholder for anyone visiting your URL. Once you're ready to configure your actual website, click on the "Select a Design now" button.
Next, you'll be able to choose a template and set your website's design. Once you've settled on an appropriate design, you can either try it on in the platform's live preview or incorporate it directly. After this, you'll land in the actual site builder, where a brief tutorial awaits.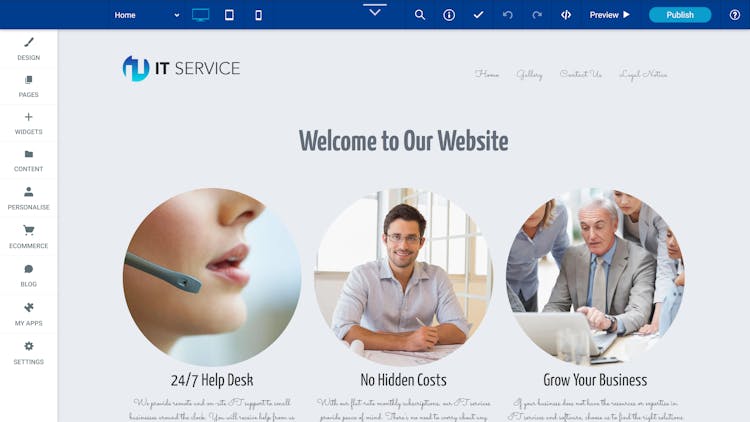 1&1 IONOS's MyWebsite editor is based on the Duda site-building software.
As soon as you've selected a template, your website will be created and you can start filling it with content. When doing this, most of the screen is taken up by the editor's site preview, in which you can work and edit content directly.
Around this window, you'll find the two menu bars. All tools, including design settings, elements, blogs, and products, can be found to the left. Above, you can alternate between desktop, tablet, and smartphone views, or switch into developer mode. Here, you can also repeat steps or undo changes, as well as publish your website.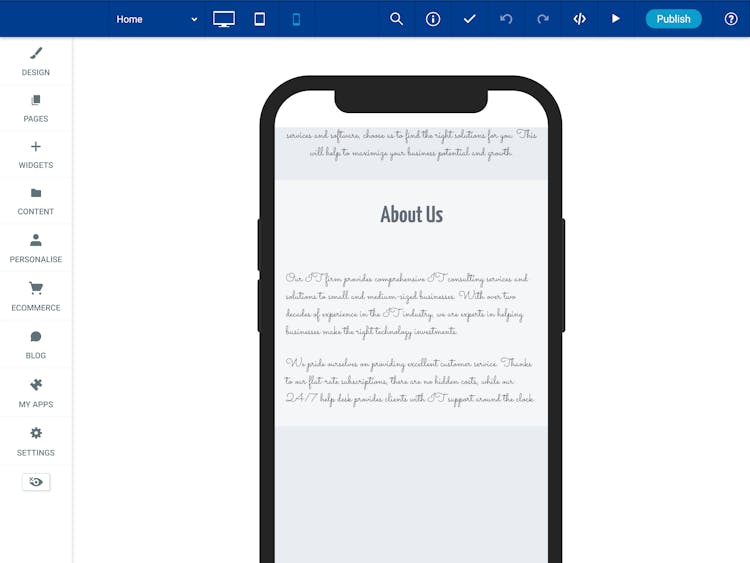 You can also check how your website will be displayed on mobile devices.
Widgets, widgets, widgets
As already mentioned, you can edit your site's content directly in the live preview. Depending on what type of content is on your site, you'll be able to choose from a variety of different options, selecting one with a mouse click.
In addition, you can modify elements, such as by adding start animations or widgets to them, by right-clicking on them. It's possible to integrate this into your site by dragging and dropping content from the menu off to the left.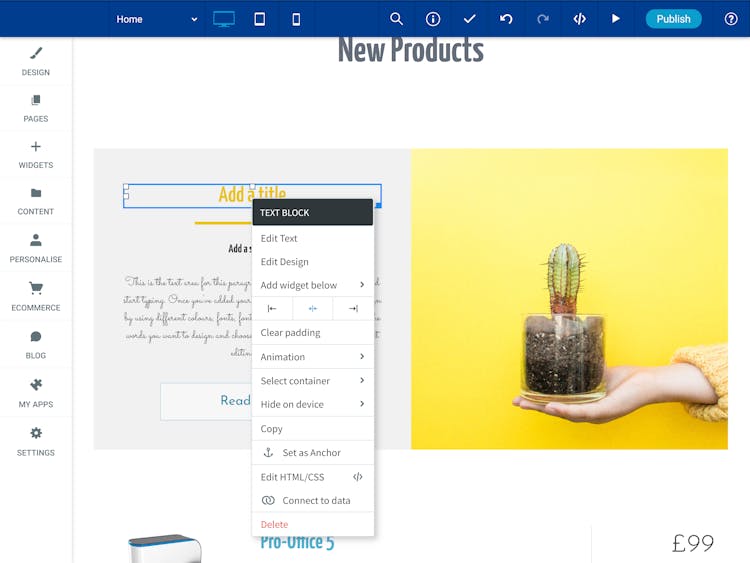 By right clicking in the editor, a formatting menu will open with which you can set the position of elements or add animations.
You can add an entire section by clicking on the symbol that appears between columns. These include ready-made sections that can be filled with elements, such as an "About Us" page, an image gallery, or customer reviews, all of which are easily modified.
Complicated, but well-organized
1&1 IONOS's MyWebsite editor is nimble, somewhat intuitive, versatile, and powerful. However, the variety of options on offer, as well as the manner in which they are presented, can be slightly overwhelming, particularly when first using the service. Compounding this is that 1&1 continues to exercise an inordinate degree of control over your design options. Each element comes with two menus (accessed via either right- or left-clicking on them), with certain options present in either forwarding users to the same feature.
Considering the wealth of features on offer, the MyWebsite editor is surprisingly well-structured. Those who are ready to learn its ins and outs will be rewarded with a significant degree of creative freedom. Unfortunately, the editor's learning curve might scare away inexperienced users. As a result, MyWebsite is not really suited for those looking to create their first website, at least when set against some of the other services we've reviewed. Another downside is that new users need to wait for their accounts to be unlocked prior to building.
Score: 4 / 5
IONOS makes adding new widgets to a page easy. Users can select from a variety of elements in the page menu, which are arranged by dragging and dropping them. Alternatively, you can right-click on elements that have already been integrated into your site, and add new widgets to them. These include text, videos, buttons, contact forms, and more; the possibilities are (nearly) limitless.
Bags of creative freedom
Once you've become accustomed to MyWebsite, its editor demonstrates its power, offering a great deal of freedom in designing your website. The large selection of widgets, ready-made sections, customization possibilities for content elements, and drag and drop functionality ensure that anyone can let their imagination run wild.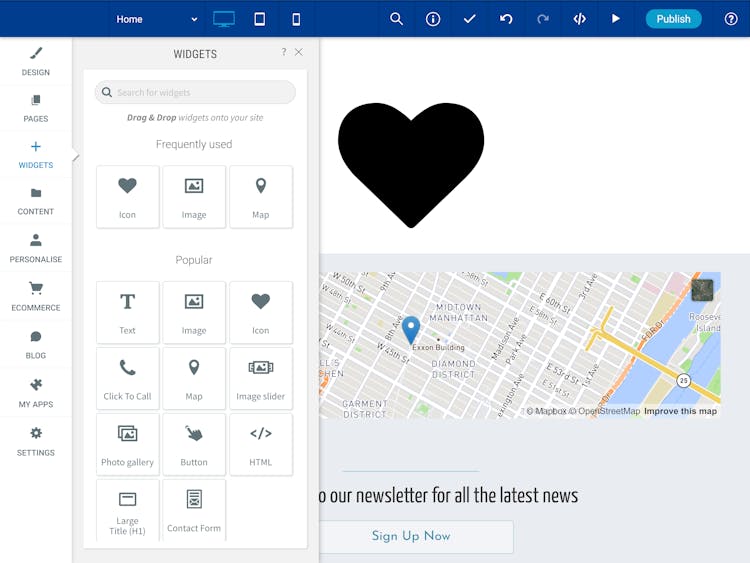 Elements are content blocks that you can arrange on your site by dragging and dropping them.
Unfortunately, 1&1 doesn't offer an app store or center, however, the editor comes with some external apps like Yelp or TripAdvisor, which are directly integrated as widgets.
Powerful blogging platform
You can access blogging features through the menu bar on the left, or by clicking on the blog entry in the website preview. As with the rest of the editor, the settings here are somewhat confusing to navigate, and one can't help but think that 1&1 IONOS could have put a bit more effort into making their site builder a bit easier to use, especially for beginners. At the same time, this complexity arises from the versatility of the options. For anyone who wants to really personalize their blog, MyWebsite provides just the tool. New entries can be added through an extra tab that is dedicated to managing blogs.
Blog management is divided between layout and entry modes. In the first, you can configure your blog's layout using the same sections as in the regular editor. For search engine optimization (SEO) reasons, all entries in your blog have a uniform layout. In entry mode, you're able to fill your individual entries with content, which can be edited, as well as add content elements via dragging and dropping them.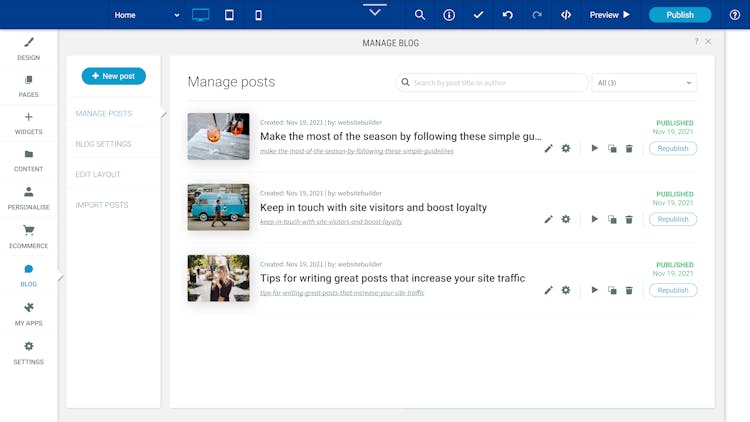 To lend a helping hand in managing your blog, MyWebsite makes it possible to add new entries or edit existing ones.
Tags and user-defined URLs can be incorporated into individual entries, and it's possible to create a backup of your blog to protect against unexpected data losses or attacks. Through a pop-up menu, you can set the number of entries per page, as well as how they are displayed. Should you already have a blog elsewhere, you'll be able to import up to 300 entries via RSS feed, a nice touch that few other site builders offer.
The division of tools between the blog tab and the regular editor's dashboard makes things somewhat more complicated than they need to be. In addition, we also noticed the absence of a few features which would be helpful, such as the ability to grant editors password access to certain areas of a blog.
Ideal language settings
MyWebsite makes creating a multilingual website incredibly easy. Simply click on "Add language" in the page menu and specify your site's primary and additional languages. After this, MyWebsite will automatically translate your website's content into the other language you've indicated via Google Translate, however, you can toggle between your website's languages and manually edit content.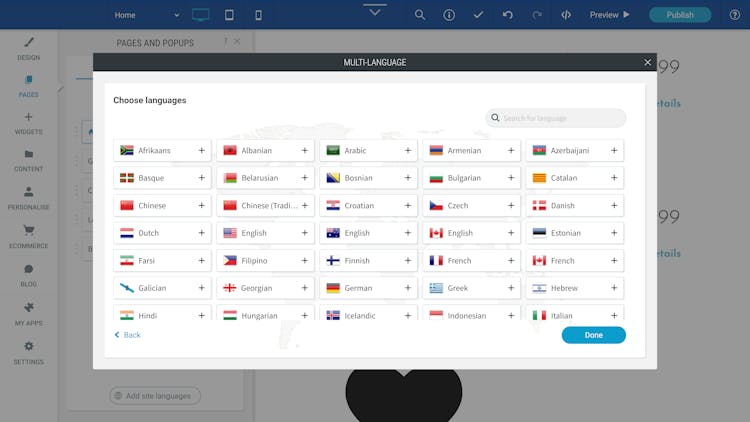 If only every site builder made it so easy: With MyWebsite, you can turn your website into a multilingual one with just a few clicks.
Customized viewing and shopping experience
By clicking on "Personalize" in the menu, you can set user-defined and client-specific guidelines. In this manner, it's possible to display certain pages and products to users based on their geographic location or time zone.
While the slightly fragmented and overloaded interface takes some getting used to, MyWebsite is a powerful tool that offers an impressive selection of features.
Score: 4.7 / 5
MyWebsite offers more than 400 different design templates, divided into categories (by type), such as, "Professional Services", "Construction & Property", or "Trades". Most of the designs are sleek, however, they do evidence some shortcomings in terms of quality, especially when set against those of competitors like Squarespace.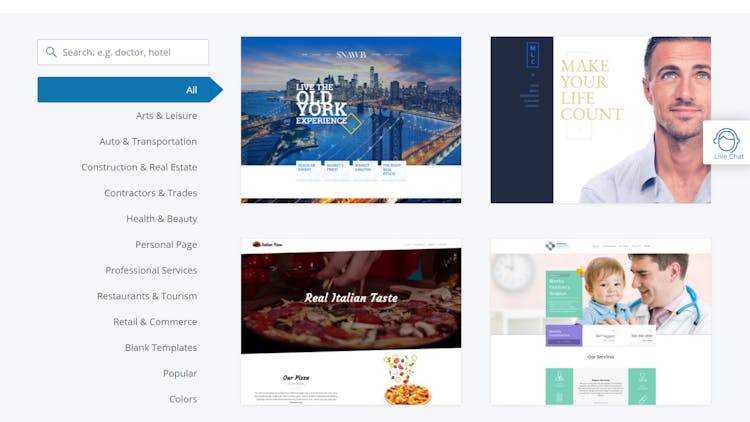 MyWebsite advertises more than 400 templates, logically grouped into categories.
Unfortunately, you cannot change the template of your website once you've started building it, and have to actually start a new project to switch designs. You can select different layout options within the template you've chosen, and freely modify the page background, font, text size, and spacing, but these don't really amount to more than a consolation prize. In each column, you can configure further aspects, such as the background color, shadow, or frames.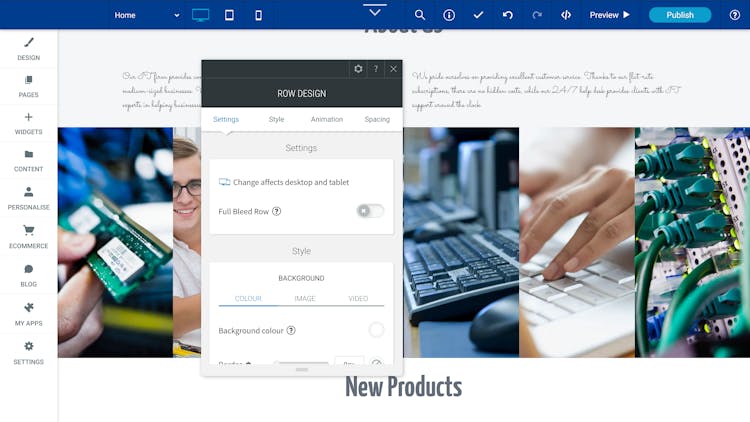 You can freely arrange and format elements, making it possible to tailor the appearance of your website to your exact specifications.
Stock photos galore
Few websites can make do without images, however, with 1&1 IONOS, you'll need to take care of these on your own since its selection of stock photos isn't all too impressive. Other site builders, such as Wix or Squarespace do much better in this regard, offering stock photo integrations that provide high-quality media.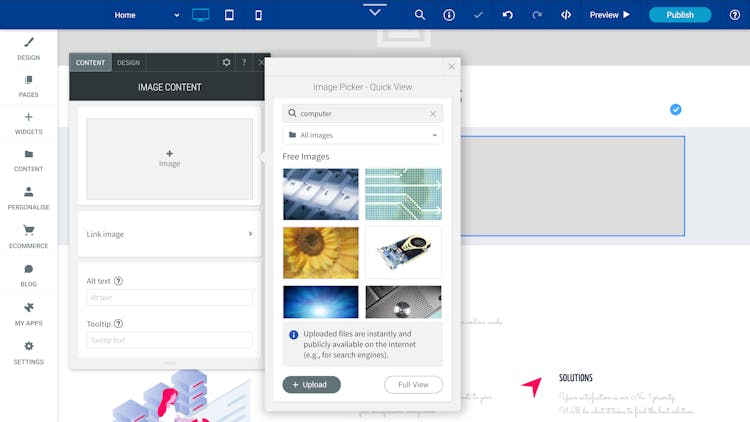 MyWebsite could definitely improve its selection of stock photos.
Neither MyWebsite's templates nor its provision of stock photos impressed us, being considerably less appealing than what most of its competitors offer. At the same time, the ability to further personalize templates is commendable.
Score: 4.3 / 5
5.
E-Commerce, Marketing & SEO
You can only set up an online shop with MyWebsite if you've booked a "Shop" subscription. In the similarly named sub-menu, you can manage your store. Before that, you'll need to add products, images, prices, as well as categories and variations.
IONOS supports a number of different payment methods, including PayPal and Stripe.
Users are able to upload a CSV file with a list of products or import a shopping cart system like LiteCommerce.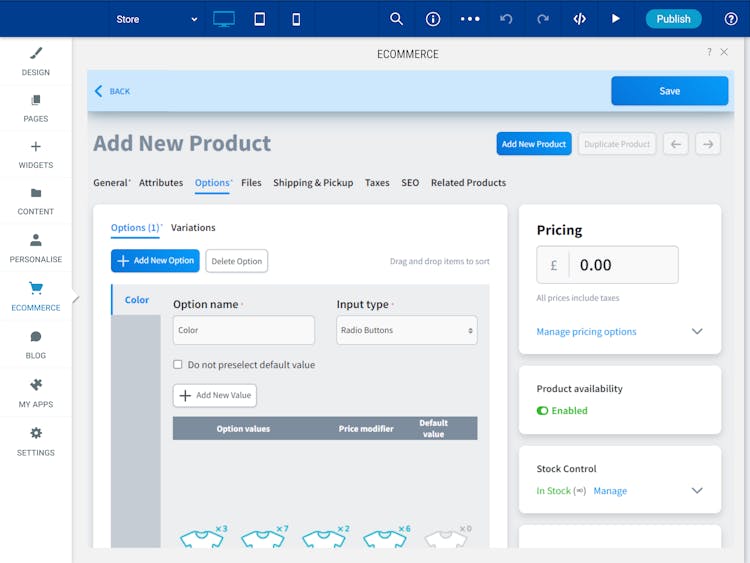 Product variations can be created with just a few clicks.
Payment and shipping are managed through the "Configuration" area. Shipping methods can be set manually or directly integrated via services like DHL and costs can be linked to the weight of your products or order totals.
Unfortunately, many basic features are behind paywalls. As an example, selling digital products is only possible for "Advanced" subscribers and above, as are different product options, such as user-defined images, SKUs, or quantities.
Discounts and email marketing
To help peddle your wares, MyWebsite also provides access to a few marketing tools. It's possible to create coupons, discounts for selected products and categories, or to send emails to customers who abandon their shopping carts without completing their purchases.
While on the topic of emails, it's worth mentioning that MyWebsite also includes an area for newsletters. This isn't a dedicated email marketing tool, but rather, an option to integrate Mailchimp. Other site builders with store capabilities allow their users to launch newsletter campaigns without needing to purchase an upgrade.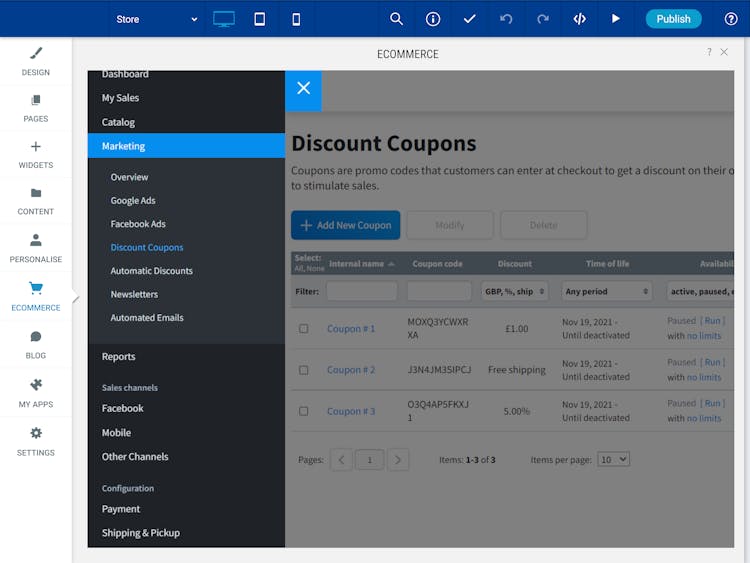 You can nudge customers towards making purchases by offering discounts and coupons.
SEO & Analytics
IONOS offers internally-developed analytical and SEO tools, such as Ranking Coach or WebAnalytics, albeit as subscription add-ons. Other site builders are less fragmented and provide basic analytical features at no extra charge. With the help of a tracking code, however, you can easily integrate free tools from Google into your site.
In terms of SEO, you're given access to a number of basic features, such as the ability to add global page titles, descriptions, and keywords. In addition, all of these can be configured for your sub-pages.
Taken together, 1&1 IONOS's MyWebsite is well-equipped in terms of e-commerce, with the only disappointment being the numerous paywalls.
Score: 4.3 / 5
1&1 guarantees round-the-clock support, seven days a week. Its informative help center features a full-text search and step-by-step guides, some of which are even presented as videos. Should you be unable to find answers to your issue here, you can contact support by telephone or live chat. Paying IONOS subscribers can also consult personal advisers if desired.
On a Wednesday afternoon, we waited around six minutes for a staffer in the live chat, with the hotline necessitating eight minutes of queuing.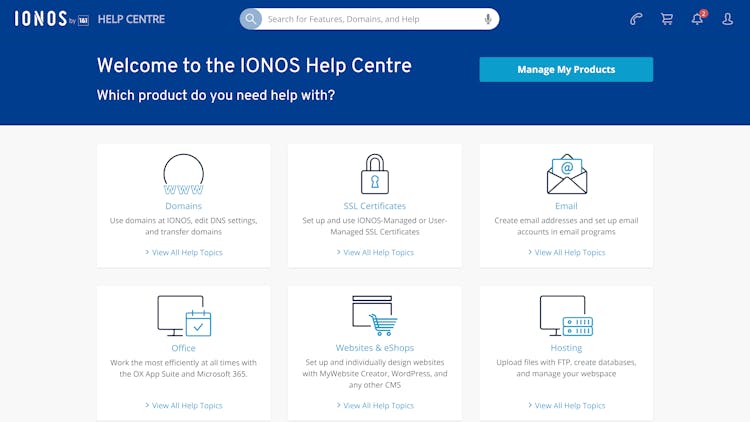 Support articles are sorted by feature, with direct contact possible via hotline or live chat.
Although other providers offer the ability to contact their support teams by email, while not making hotline or live chats available, 1&1 took the more direct route. Since our question was satisfactorily answered within a short period of time, we can't really take any issue with the provider.
Score: 4.7 / 5
Three different pricing plans are offered for IONOS's website builder, namely Starter, Plus, and Pro, for each of which a store can be included (at cost). Starter uses a different editor, which permits far less customization than the other two subscriptions. Beginning with Plus, users can integrate dynamic content such as parallax effects or professional image galleries. Pro adds extra features for displaying dynamic content into the mix.
As mentioned, it's possible to add a shop package to any of the three plans. Of course, each subscription allows users to list a varying number of products (500, 5,000, or 10,000 - all of which can be increased).
Below you can find a current overview of 1&1 IONOS' plans:
Starter
Starter (+ Store)
Plus
Pricing
Set-up fee
$0.00
$0.00
$0.00
Effective monthly price
from $3.00
from $6.50
from $7.50
Contract period (months)
1 - 12
1 - 12
1 - 12
Included
Space (GB)
unlimited
unlimited
unlimited
Pages
unlimited
unlimited
unlimited
Traffic (GB)
unlimited
unlimited
unlimited
Custom domain
Domains included
1
1
1
Features
Free of ads
SSL encryption
Blog
Ecommerce
Multilingual sites
Below, you can see how well MyWebsite fares in terms of price against the other providers from our sample. For each, we took the most affordable yearly subscription that was ad-free and included a unique domain:
$36.00
Visit Website
$78.00
Visit Website
$84.00
Visit Website
$90.00
Visit Website
$96.00
Visit Website
$101.40
Visit Website
$113.88
Visit Website
$120.00
Visit Website
$144.00
Visit Website
$144.00
Visit Website
$168.00
Visit Website
Unfortunately, 1&1 IONOS doesn't offer a free version of MyWebsite, however, subscribers have 30 days to request a full refund.
Templates & Design
4.3 / 5
Marketing, SEO & Ecommerce
4.3 / 5
Configuration & Usability
4.0 / 5
IONOS didn't really do beginners any favors with its MyWebsite site-building platform. The editor, with its numerous pop-up windows and start-up settings, is overwhelming to the uninitiated, with most probably cursing their luck at not having selected a service with a more straightforward dashboard and less fragmented input fields. Continuing with the negatives, the service's templates aren't our cup of tea, especially when set alongside those of their competitors, which seem to emphasize quality over quantity.
At the same time, the functionality and range of options that MyWebsite offers after figuring out how its editor works are, in our opinion, entirely worth it. 1&1 serves up a truly powerful website builder with solid features and plenty of possibilities for customization.
Should you be ready to set aside a bit of time to learn its ins and outs, MyWebsite will afford you a high degree of freedom in terms of design, as well as access to well-conceptualized features and marketing tools. If 1&1 made their editor more accessible to beginners, they'd be able to go head-to-head with the leading services from our sample.
supports multilingual sites
large, established provider
lots of templates, average quality
1&1 IONOS MyWebsite makes getting started a little more complicated, but rewards hobbyists without programming skills with a variety of design options for unique websites.
Space
Domains
Templates
Contract Period
1&1 IONOS Starter
$3.00
monthly price
Visit Website »
30 days risk-free
The reviews of 1&1 that we analyzed were good. All the same, it was difficult to determine which of the reviews (and how many) are focused on MyWebsite, and which relate to other services and programs that the company provides. Support seems to be an issue, with a number of reviewers noting the lack of expertise and competence among staffers.
We analyzed the reviews and ratings from various portals and found 29,100 ratings with an overall rating of 4.3 out of 5 .
Show sources
The software upon which MyWebsite is based (Duda) is utilized by a number of other site builders, albeit, most of these are exclusive to the German-speaking market. These also offer fewer templates, which means they aren't really better than MyWebsite.
Should you want a more beginner-friendly website builder, Weebly or Squarespace are worth taking a look at.
More of the best alternatives to 1&1 IONOS MyWebsite are listed below:
many high-quality templates
simple & intuitive interface
jam-packed app marketplace
Domains free for one year only
Wix succeeds with an unmatched feature set, intuitive editors and a packed app marketplace. Only with the blog features do we still see some room for improvement.
Space
Domains
Templates
Contract Period
Wix Free
$0.00
monthly price
Visit Website »
Try for Free
Squarespace impresses with flawless designs and high quality templates, which make the creation of professional websites a piece of cake - but also costs a bit more than most other providers.
Space
Domains
Templates
Contract Period
Squarespace Personal
$14.00
monthly price
Visit Website »
14 Days Trial Period
mix of CMS & website builder
almost infinite possibilities
learning platform "Webflow University"
good ecommerce integration
somewhat steep learning curve
Webflow requires an understanding of programming logic and is less suitable for beginners. As a hybrid of website builder and CMS, it offers its target group countless possibilities to create user-friendly dynamic websites.
Space
Domains
Templates
Contract Period
Webflow Starter
$0.00
monthly price
Visit Website »
Start for Free

Author (German Version): Martin Gschwentner
Martin Gschwentner majored in American Studies and Media Studies in Germany, the USA and France and works as a freelance editor in Paris. He is a doctoral student at the Institute for English and American Studies at the University of Paris Diderot, where he is researching the influence of money on US politics. On EXPERTE.com he writes about IT security, data protection and software for the self-employed and small businesses.

Translator & Editor: D Bare