Pixabay Review 2023: Free Images Without Copyright Worries?

Ad disclaimer:
For links on this page, EXPERTE.com may earn a commission from the provider. This supports our work and has no influence on our editorial rating.
You don't need a huge budget to gain access to great royalty-free photos since plenty of free options exist. One of the most popular of these is Pixabay.
Free sounds good, but there are some things to keep in mind. Should someone have uploaded a photo they don't own the rights to onto a database, and you decide to use it, you could quickly find yourself facing costly legal consequences. As part of their Terms and Conditions, free stock photo services waive any responsibility for issues that might arise in conjunction with copyrights or their infringement. And it's next to impossible to figure out who owns an image's copyright. Accordingly, when using free stock material, know that you're potentially making yourself vulnerable to legal action.
What Is Pixabay?
Pixabay* began in 2010 as a simple stock photo database, morphing in 2012 into an interactive platform where amateur photographers and illustrators could offer their material for free. Based in Germany, the company finances itself through advertising for Shutterstock and iStock, two premium providers.
The database revolves around its user community, in particular, those who create and upload their media, as well as those who monitor quality standards. Media that impresses the 'jury' is forwarded to Pixabay's editors, who, upon their positive assessment, publish it on the platform.
All content is available for free and can be used without paying any royalties for both commercial and non-commercial purposes. For commercial usage of images including people or objects, written consent or a property release must be procured.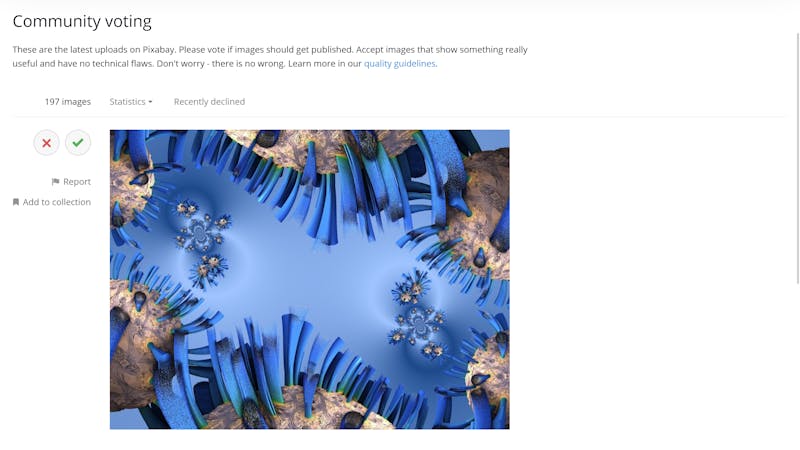 Pixabay's user community provides the first ratings for a picture before a professional editorial team assesses it for publication.
Pixabay Review
Selection of Videos, Audio, Vector Graphics & Illustrations
8.0 / 10
Configuration & Usage
7.4 / 10
Licensing Conditions
4.6 / 10
Stock Photo Selection
4.0 / 10
Not necessary to provide creator/photographer attribution
No indemnification in the event of copyright infringement
It isn't necessary to create a Pixabay account if you'd like to download images. However, doing so offers a few benefits. For example, without an account, you'll have to answer a Captcha each time you want to download an image.
After confirming your account via email, you can start browsing the platform's database. The homepage is well-organized and structured without too many bells and whistles. Text search is centrally located against a background photo. Under this, you can stay up to date on popular image search terms.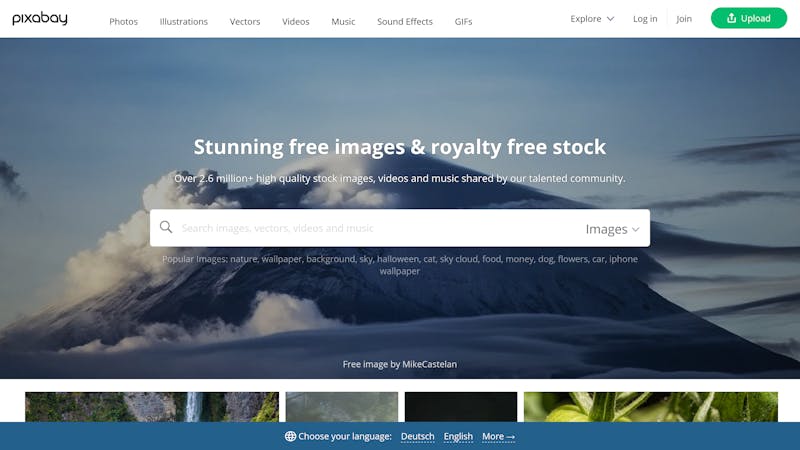 Pixabay's homepage is well-structured and organized with the search bar prominently displayed.
The header menu contains six categories: Photos, Illustrations, Vectors, Videos, Music, and Sound Effects. To the right of these, you'll see Explore, Log in, Join, and a large green Upload button. If you click on Explore you can browse through popular media, as well as access the platform's community, its blog, API, tips, FAQs, and Terms.
We were satisfied with this and wouldn't expect more from a free platform.
By clicking on Explore you can review popular media, the platform's blog, as well as additional information.
Intuitive and self-explanatory
Navigating Pixabay is relatively straightforward, which doesn't put any obstacles in the way of finding material. Unfortunately, there aren't many filters on offer, with options only provided for orientation, size, color, and date published. Images can be sorted by Most Relevant, Editor's Choice, Trending, and Latest, and a Safe Search feature toggled on or off. All the same, it isn't possible to view only results which depict people or that can be used commercially.
In terms of quality, Pixabay's offerings are good, especially when you keep in mind that the photos are offered for free. Results could be more relevant to search queries since we noticed on a few occasions that these had nothing to do with what we had originally sought. Taken together, this complicates the process of finding suitable visual material.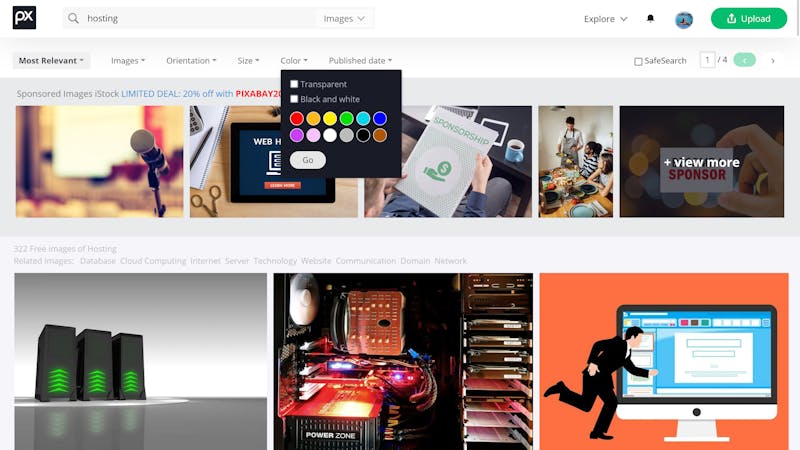 Pixabay's filter options are very limited, which makes finding the right media difficult.
However, there is something of a workaround, as by specifying what it is you're searching for, you can refine results. Pixabay even describes how to do this as effectively as possible in a separate blog entry, noting how you can combine search terms, limit options that contain specific keywords, and so on.
User-defined collections
Once you've decided which type of media you'd like, you can start downloading files individually or add them to a user-defined collection. This simplifies the process of sorting images, videos, or music into specific thematic categories. Unfortunately, you can only see if you've already saved a file to one of your collections after clicking on it. Accordingly, users are not provided with an overview of data they've downloaded.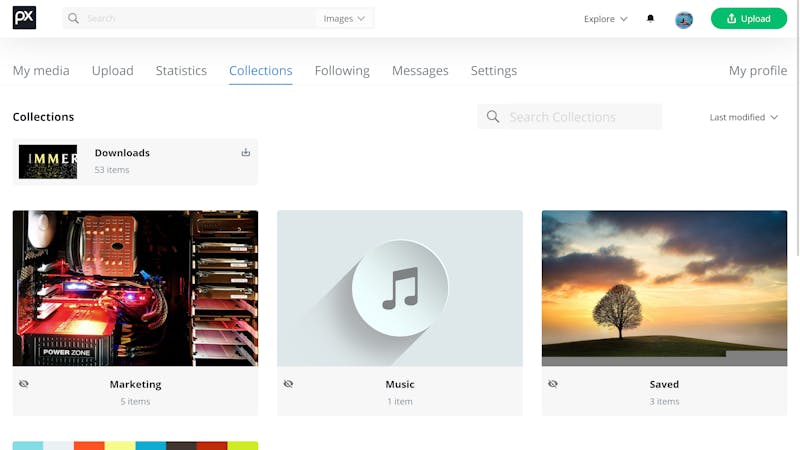 Files that you're interested in can be saved in user-defined collections. Unfortunately, it isn't possible to see which files you've already saved when perusing media.
Illustrations and vectors
The same filters for photos are offered for illustrations and vector graphics. You'll find content that's suitable for businesses, as well as decorative frames and fairy-tale animations. Overall, Pixabay's selection of illustrations and vectors is well-suited for everyday usage.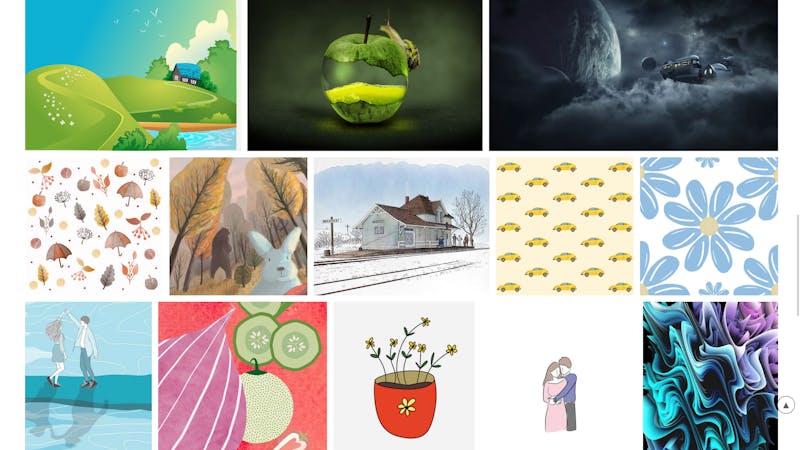 Pixabay's assortment of illustrations and vectors is solid.
Footage and audio
Beyond these, Pixabay also provides stock footage and audio. Results for the former can be filtered according to their Effects, Resolution, and Published date. Under Effects, you can specify whether you'd like Animation, Slow Motion, or Time Lapse. As was the case with photos, however, there's no way to limit results based on their subject matter.
Depending on which search term(s) you use, you can browse through a nice selection of high-quality media. In terms of Resolution, you're able to specify HD or 4K. Among the selection, you'll find well-made intros, call-to-action videos that direct attention to social media channels, and animations.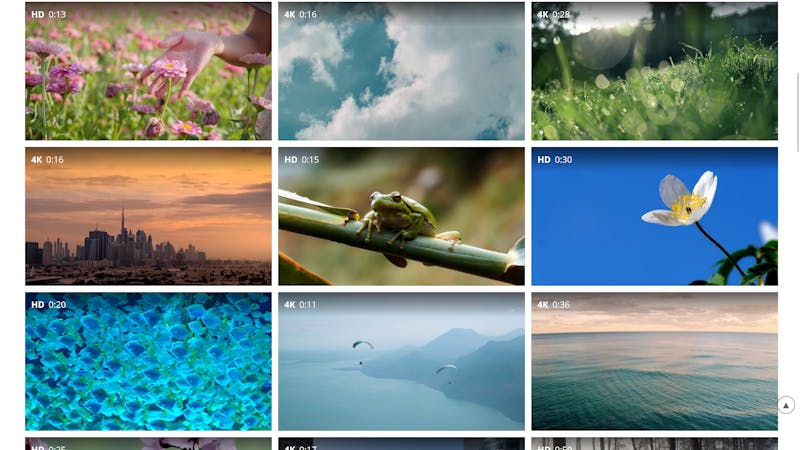 Pixabay offers a wide assortment of well-made video clips, effects, intros, and animations.
Music for multimedia projects
Pixabay's audio library is also worth taking a closer look at. Using its filter buttons (elsewhere referred to as Themes), you can specify whether you need music for a vlog, YouTube video, podcast, film, or just background ambiance. Despite the wide selection, we aren't sure what the difference between Film Music and Cinematic Music is.
Using the search filters, you can sort content by its duration, genre, mood, movement, and theme.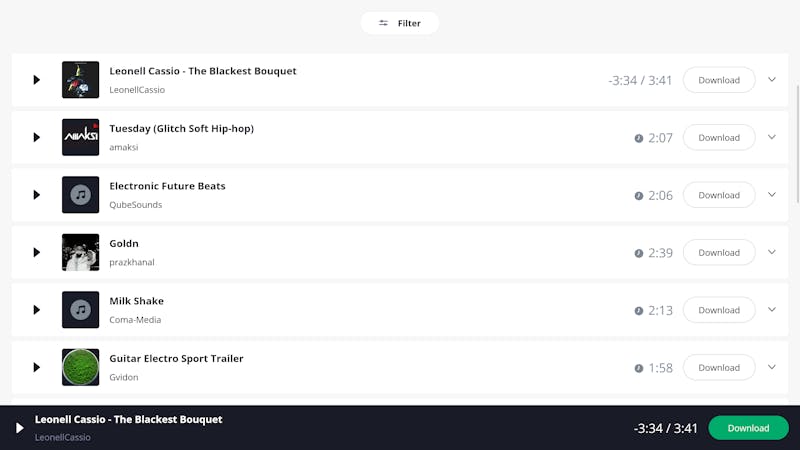 Pixabay offers music as well as sound effects for multimedia projects.
Editor's choice and API integration
You can review noteworthy or exceptional content (primarily pictures) by clicking on Editor's Choice under the Explore menu. This is great for those who need particularly artistic images.
In addition to direct downloads, you can also include Pixabay media on your website or programs you're using via its API integrations. These include the site builder Jimdo, as well as Adobe Photoshop and Microsoft Office.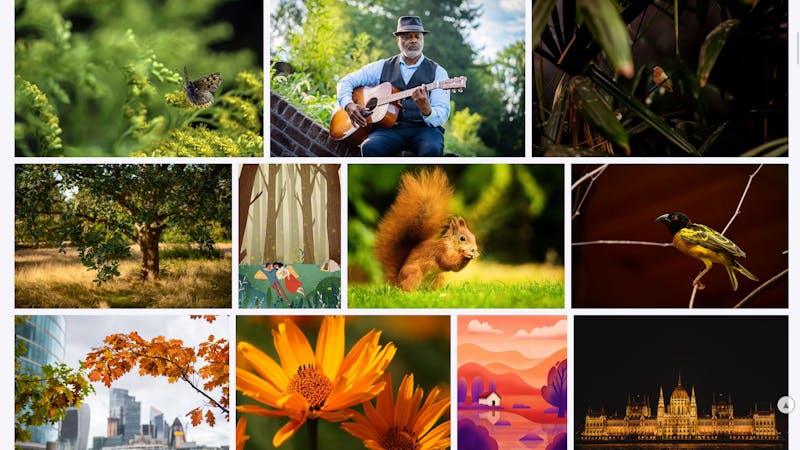 The creme de la creme can be found by clicking on Editor's Choice in the Explore menu.
Well-curated blog; stale plugins and apps
Pixabay offers a blog for its community that details quality guidelines, tips, and extra information. As of the time of writing, it is updated on a weekly, if not bi-weekly (twice a week) basis.
Things are a bit different in terms of its plugins. For WordPress, the last update occurred four years ago. Stockmagic, an earlier Pixabay app for Macs, seems to no longer exist. The service's Android app, which can be used to search for and download media on the go, was last updated in July 2021 according to its entry in the Google Play Store.
When all else fails: Consult the forum
Directly under Blog in the Explore menu, you'll see an option for Pixabay's Forum. There, you can do a full-text search for articles, or sort them by category. Once registered or signed in, you can also create new topics and ask the community for assistance.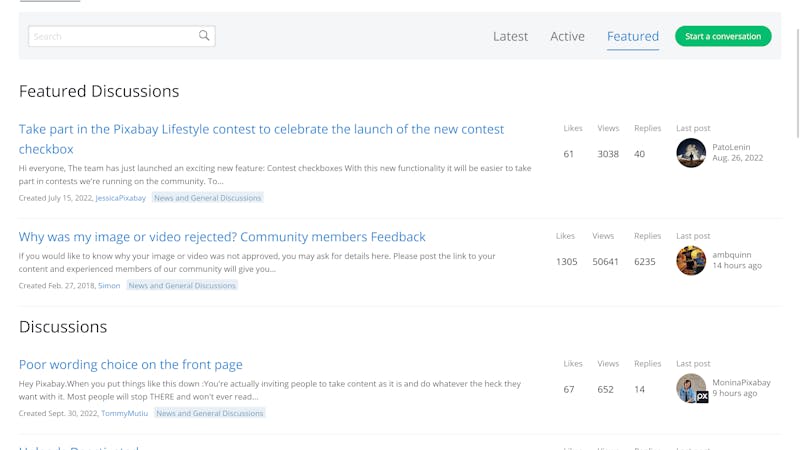 Helpful and engaged: Pixabay's community forum is a great place to solicit and offer help.
Pixabay's homepage is easy enough to use and well-structured. While the media on offer is worth exploring, the lack of filters makes doing so something of a challenge. Naturally, the system-generated tags and advanced search features offset this to a certain degree.
Apps and APIs are a mixed bag: Some appear to be well looked after, while others haven't been updated for years. The same goes for the platform's blog, which used to be underwhelming, but has since transformed into a relatively active place.
Configuration & Usage
7.4 / 10
2.
Selection of Stock Photos
The old adage "Don't look a gift horse in the mouth" implies that you shouldn't question something you've received for free, however, with stock content, much like the ancient Trojans, you do so at your own peril. This is because you'll likely want to publish what you've downloaded in some form or another. Above, we've alluded to the legal risks involved in doing this, however, using poor quality or boring stock content can damage your reputation among your audience as well.
To assess how well Pixabay performs in offering up captivating and innovative stock photos, we searched for five keywords and phrases: Web hosting, ecommerce, antivirus, business, and email marketing.
Web hosting: After inputting this term, Pixabay returned a mere 87 results, nearly all of which were illustrations and only remotely connected to the topic. Unfazed, we tried our luck with hosting which provided 321 images. Unfortunately, even with around three times as many images, the number of irrelevant options appears to have grown. The first three rows were decent, but then an image of a woman and a shark appeared, followed by another of someone taking a selfie, and a bowl of Catholic Eucharists (referred to in some contexts as the 'Host').
In order to improve the selection, you can either click on some of the (barely visible) related search queries just above the first row of results or use the advanced search tools. For example, our query hosting + computer + server only turned up 56 results, but all of them (by and large illustrations) displayed either IT or server infrastructure.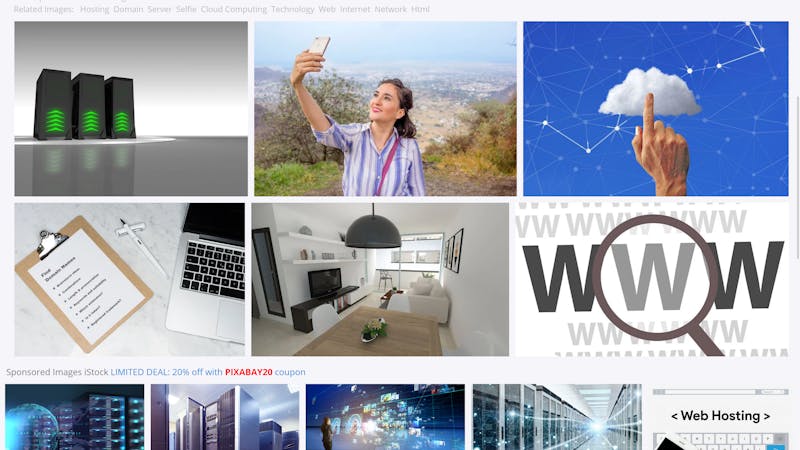 For web hosting, we weren't impressed with what Pixabay had to offer.
Ecommerce: Things improved from here, with 309 results for our next search. Unfortunately, once again, the options were either too bland or too vague for us. We tried to exclude notebooks and laptops from the images, but this didn't function properly. All the same, after our 'filtering', the images left were almost all relevant.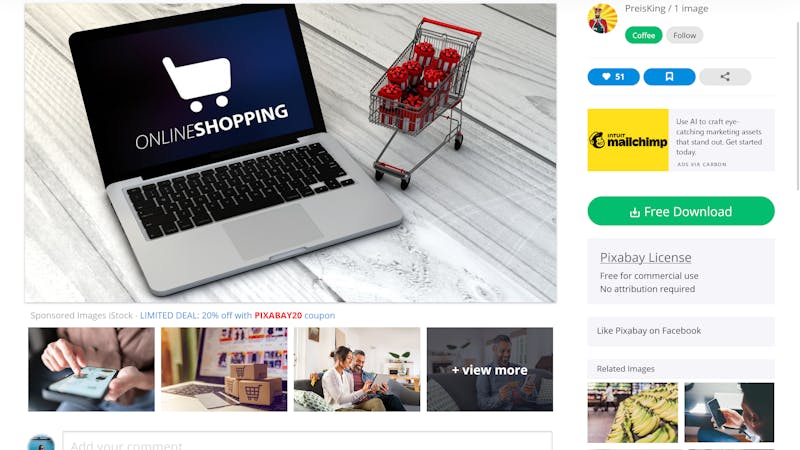 In order to find usable media, you'll need to master Pixabay's search logic.
Antivirus: 72 results appeared for this search, most of which were illustrations and very basic. Nothing caught our eye.
Business: As usual, this search yields by far the most results, coming in at a respectable 16,008. Plenty of cliche choices, such as impromptu hallway meetings, handshakes, and conference room presentations, but also some fresh and innovative options as well.
When searching for business, Pixabay offered plenty of original motifs.
Email marketing: Like our experience with ecommerce, we weren't provided with a vast array of options to choose from for this search term, with 43 being the haul. Should you want to have more selection, you can change to Images and include vector graphics and illustrations in the results.
Pixabay didn't really wow us for any of the five searches we performed. The website is easy enough to use and intuitive, however, results are all over the place, and relevance seems to be an issue. Of course, this varies depending on the topic you're researching.
| Category | Score |
| --- | --- |
| | |
| | |
| | |
| | |
| | |
Stock Photo Selection
4.0 / 10
3.
Selection of Videos, Audio, Vector Graphics & Illustrations
More than 300,000 illustrations and around 100,000 vector graphics are available from Pixabay's database, offering plenty of options for all sorts of applications.
In terms of video clips, upwards of 20,000 of these can be downloaded, and most look professional. The same goes for audio files, with lots of music and sound effects waiting to be used. The only minor issue is that you won't find any jingles, but this isn't necessarily the end of the world.
| Category | Score |
| --- | --- |
| | |
| | |
| | |
Selection of Videos, Audio, Vector Graphics & Illustrations
8.0 / 10
At the beginning of 2019, Pixabay replaced a general Creative Commons License (CC0) with its own. This still permits the free usage of photos and footage for commercial and non-commercial purposes, without needing to credit the source or creator. However, the license prohibits images and videos from being sold or marketed in digital form, unless they have been altered significantly enough to create added value.
According to Pixabay, this was done to protect its community's photographers and creators since their media can purportedly be found with increasing frequency in the premium catalogs of their competitors. This measure is intended to prevent people from exploiting the platform and its content, however, the legal formulation is rather loose, generating quite a bit of criticism. Legal experts recommend voluntarily crediting Pixabay and/or the media's creator when using their material.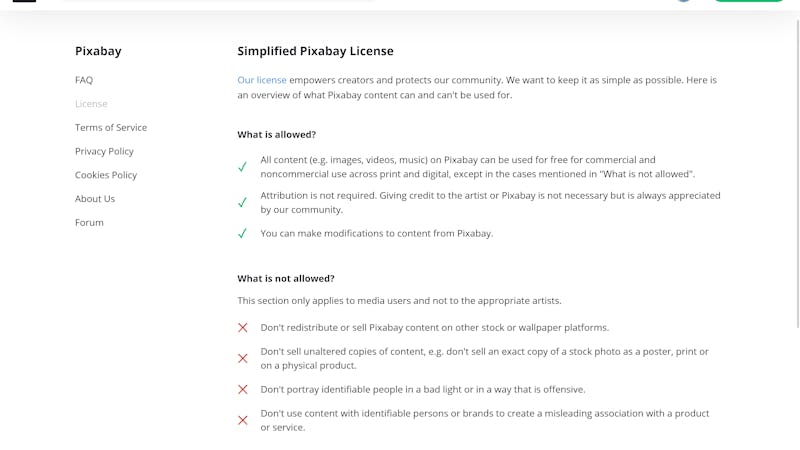 Pixabay's license uses loose wording and has come in for quite a bit of criticism.
Licensing Conditions
4.6 / 10
Pixabay does not offer traditional support channels. With that said, the forum is a great place to start if you have any questions, as are the contact form and email address for getting in touch. During our assessment, we encountered difficulties when searching for illustrations, and a staffer responded to our query within 24 hours, thanking us for bringing the matter to our attention and letting us know that the issue had been resolved.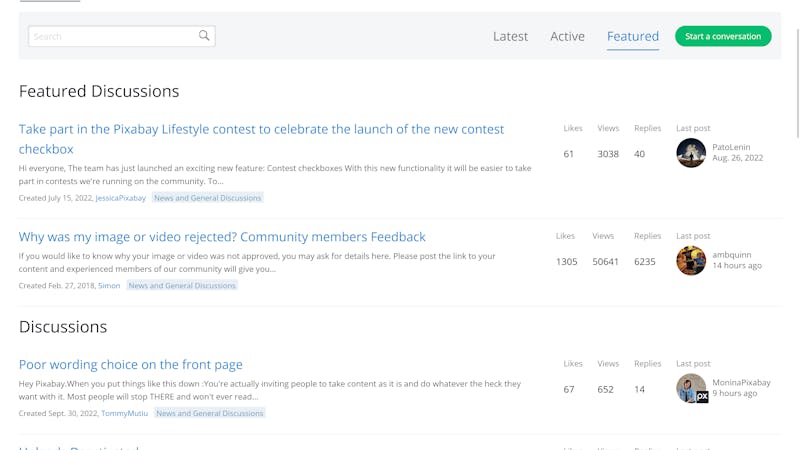 You can use Pixabay's contact form, email address, and forum to solicit help and assistance.
The only costs incurred while using Pixabay relate to your time, patience, and energy. Should you want to express your gratitude to the platform's photographers, you can buy them a coffee via PayPal.
Beyond that, you'll also need to keep in mind that Pixabay accepts no responsibility for what happens to content after you download and decide to use it. In legal terms, they offer no legal indemnification should you be confronted with a suit or grievance. This problem is common to every free stock content service.
Free
Billing
Free
One-Time Fee
$0.00
Price per Month
$0.00
Contract Period (Months)
0
Included Content
Photos / Month
unlimited
Videos / Month
unlimited
Licence For

Online & Print

Social Media

Marketing & Ads
The following table shows the annual costs for 10 stock photos per month from Pixabay in comparison to the rest of the providers from our sample.
1.
2.
3.
4.
Depositphotos
Subscription 30
5.
Dreamstime
Subscription 15
6.
Shutterstock
Subscription 10
7.
iStock
Basic Subscription 10
8.
9.
10.
Storyblocks
Unlimited All Access
11.
Pond5
Footage Plus Subscription
12.
13.
Getty Images
10 Pack Small
Conclusion
Selection of Videos, Audio, Vector Graphics & Illustrations
8.0 / 10
Configuration & Usage
7.4 / 10
Licensing Conditions
4.6 / 10
Stock Photo Selection
4.0 / 10
Pixabay is a good place to start for those in need of free media and not necessarily concerned about perfection. Depending on what you're searching for, you might get lucky and immediately find what you're after, or spend hours scrolling through irrelevant options. With time and experience using the database's advanced search options, you'll be able to compile high-caliber media for blogs, film projects, presentations, and slide shows. Among the natural images, there's plenty of breathtaking content.
So, if looking for stock material as a garnish for your project, Pixabay might be just the place to get it. Legally speaking, using free stock content carries certain (financial) risks, particularly if creative or model rights are infringed upon.
So long as your demands aren't too high, it should be possible to find decent free media on Pixabay. Unfortunately the portfolio isn't huge, search filters are few and far between, and there's no copyright indemnification.
Photos / Month
Videos / Month
Licence For
Billing
Pixabay Free
$0.00
monthly price
Visit Website*
Customer Ratings
Pixabay is a well-known provider of stock content. You can see what users have to say about it in our overview below:
Customer Ratings
29,573 Bewertungen
Visit Website*
We analyzed the reviews and ratings from various portals and found 29,573 ratings with an overall rating of 4.6 out of 5 .
Alternatives
If you don't have a budget for stock content and consider yourself a patient person, Pexels is worth taking a look at. The database impressed us with its artistic photos and videos, however, the filter options and relevance of search results are rather wanting. Usable, free media can also be found on premium platforms, such as Depositphotos.
On the other hand, if you'd prefer to stay on the right side of the law, we recommend going with a paid provider. Storyblocks is affordable and offers an excellent selection of footage, audio, and helpful tools.
More of the best alternatives can be found here:
Depositphotos won our review thanks to its intuitive platform, huge media archive, simple licensing model, and fast support, all at a fair price. If you're searching for high-quality stock content, you won't be disappointed.
Photos / Month
Videos / Month
Licence For
Billing
Depositphotos Subscription 30
$24.92
monthly price
Visit Website*
iStock offers high-quality media material, efficient filter options, and transparent licensing conditions. Rounding out its solid package are fast support and copyright indemnification.
Photos / Month
Videos / Month
Licence For
Billing
iStock Credit Pack 1
$12.00
monthly price
Visit Website*
Getty Images, our test's third-placed platform, is the Rolls Royce of stock photo databases. Just keep in mind that exclusive images, incredible content, high-quality search tools, and an intuitive user experience don't come cheap.
Photos / Month
Videos / Month
Licence For
Billing
Getty Images Single Small
$175.00
monthly price
Visit Website*
Shutterstock serves up a huge selection of media and tools along with excellent support. For pros by pros. The platform is particularly well-suited for editorial teams and agencies with sizable budgets.
Photos / Month
Videos / Month
Licence For
Billing
Shutterstock Subscription 10
$29.00
monthly price
Visit Website*
Get 10 free images
For high-quality film and video material, Pond5 is the right choice. It's easy to use and offers helpful tools. Unfortunately, the lack of search filters makes finding what you need tough, while its pricing structure could be clearer.
large selection of videos & music
affordable and free content
8.9

good
Photos / Month
Videos / Month
Licence For
Billing
Pond5 Footage Plus Subscription
$83.25
monthly price
Visit Website*
* Ad disclaimer:
For links marked with an asterisk, EXPERTE.com may earn a commission from the provider. The commission has no influence on our editorial rating.

Julia P. Manzau has more than 30 years of professional experience in leading editorial and marketing positions in the premium automotive, mechanical engineering, and healthcare industries. She studied Political Science and History in Bonn, Marketing at the St. Galler Business School and earned a BA in Media Engineering (CCI). Since 2015, she has worked as a freelance writer. For EXPERTE.com, she focuses on software, the Internet, and marketing.
Continue Reading
Other languages
Deutsch