BullGuard Antivirus Review: No New Products in 2023

Author
Janis von Bleichert
Our editors test and evaluate all services independently. For links on this page, EXPERTE.com may earn a commission from the provider.
Notice
Bullguard has been acquired by Norton and sales of Bullguard products have been discontinued. This review will remain online until further notice.
Using the Internet without a care in the world - This is the feeling that BullGuard wants all of its customers to have. Thanks to its machine learning and multi-level protection, the service should be able to thwart even complex threats, the kind that some of its competitors might miss.
In this review, we'll let you know how well this actually works and what BullGuard is really capable of.
What Is BullGuard?
BullGuard* is a London-based developer of security solutions, and since February 2021, owned by Avira (making it, by extension, part of NortonLifeLock). BullGuard's antivirus software is sold in a number of different packages for Windows, Android, and macOS (however, not for iOS).
We assessed BullGuard on Windows and Android, and below, reference all of the developer's different subscription options.
BullGuard Antivirus Review
Installation & Usage
6.0 / 10
Security & Performance
6.0 / 10
Solid scores from AV-Test

Game Booster for optimized and secure gaming

Vulnerability Scanner identifies and rectifies potential dangers to your system
Divergent testing labs results

Lacks features (file shredder, webcam protection, password manager, etc.)
To install BullGuard, you'll need around five minutes. It's possible to either buy the software outright or download a trial version of it. For the latter, you won't need to input a payment method, instead only having to create an account during installation.
Once BullGuard has been installed on your system, the software's dashboard will open. On a 4K screen, we immediately noticed the app's low resolution, with its logo and some icons heavily pixellated. This isn't a dealbreaker, but it just doesn't look professional, especially considering how elegantly and aesthetically designed some of BullGuard's competitors are.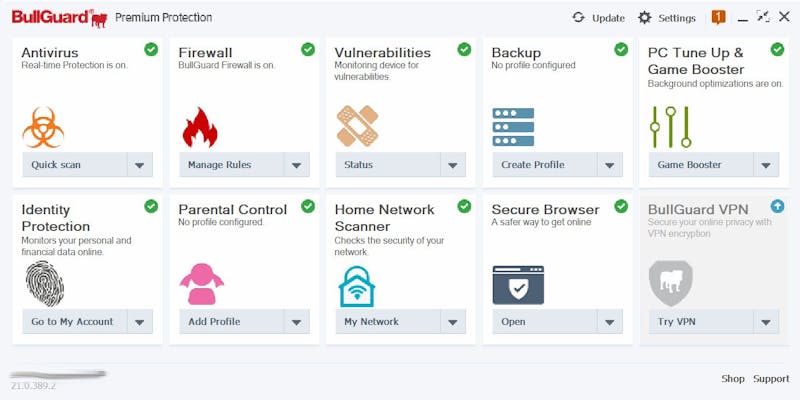 BullGuard's user interface is somewhat blocky, however, you are given access to all of the software's features in one place.
A number of antivirus programs only integrate their most important features into the home or start screens of their dashboards, often grouping these around a large button that launches a virus scan. BullGuard opted for a different route, including 10 modules on its dashboard's start screen, with which users can launch a scan or open the software's secure browser.
The 10 modules are: "Antivirus" , "Firewall" , "Vulnerabilities", "Backup", "PC Tune Up & Game Booster", "Identity Protection", "Parental Control", "Home Network Scanner", "Secure Browser", and "BullGuard VPN". Clicking on any of the modules will open a drop-down menu, offering additional options.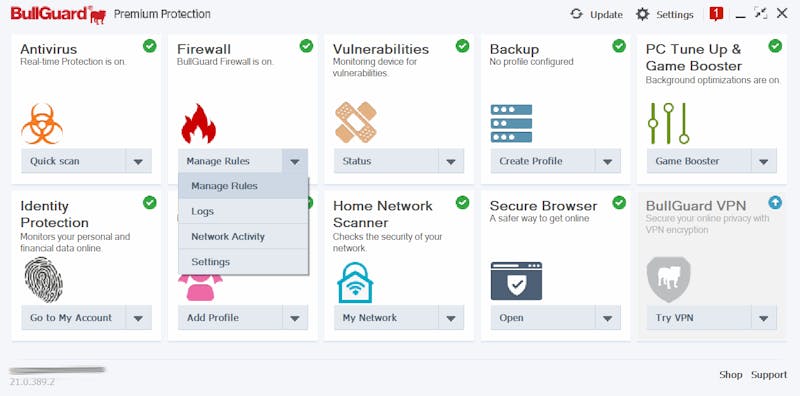 You can review additional options and features for each module by clicking on the downward-pointing arrow.
The program's settings can be found in the upper right of the dashboard. On each submenu, you'll be given the choice between a basic or advanced view. The former only allows a few changes to be made and features to be turned on or off, while in the latter, it's possible to adjust how the program reacts to various threats or situations.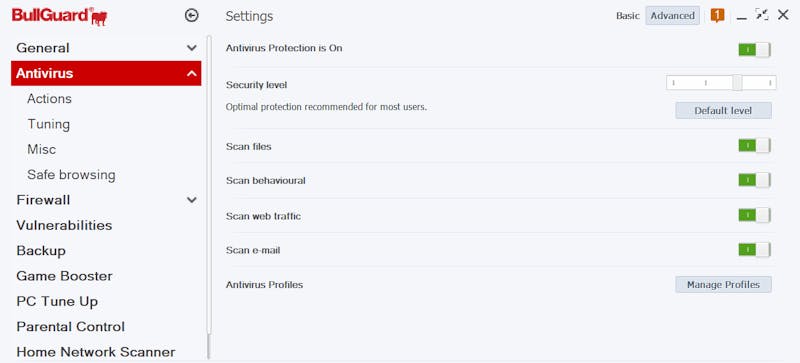 In the settings area, you can configure antivirus protection along with the program's other features.
There's also a Web interface, which you can log in to using your BullGuard account data. Here, you'll find the software's "Identity Protection", which monitors your personal and payment data, as well as anti-theft features for smartphones and mobile devices (more on these in the Mobile Features area of the next section).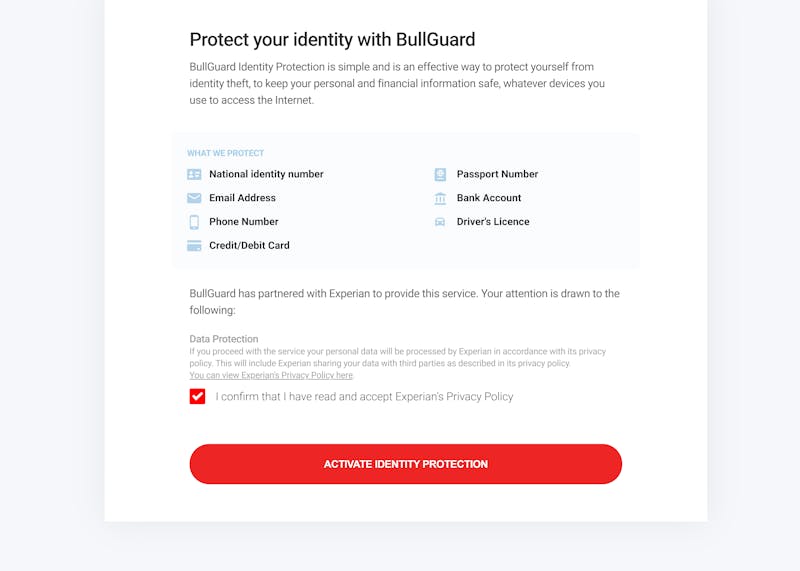 BullGuard offers its users access to a few more features in its web interface.
We liked that BullGuard immediately makes all features accessible on its dashboard's start screen. Unfortunately, the interface is a bit too blocky for us, and on a high-resolution monitor, pixellated. Some features, like parental controls, identity protection, or backups, aren't needed on a daily basis by most users, so they could have been moved elsewhere. In general, we would have liked to see a more streamlined approach, with different categories and perhaps, slightly more space.
Installation & Usage
6.0 / 10
Ascertaining which of BullGuard's features you'll have access to depends on the subscription you book. Below, we'll go through each of these:
BullGuard Antivirus Features
The most affordable BullGuard subscription package includes all key antivirus features, albeit, is available only for Windows. In the "Antivirus" module, you can select through the drop-down menu whether you'd like to perform a quick, complete, or custom scan. With the last, you can also specify which folders should be checked.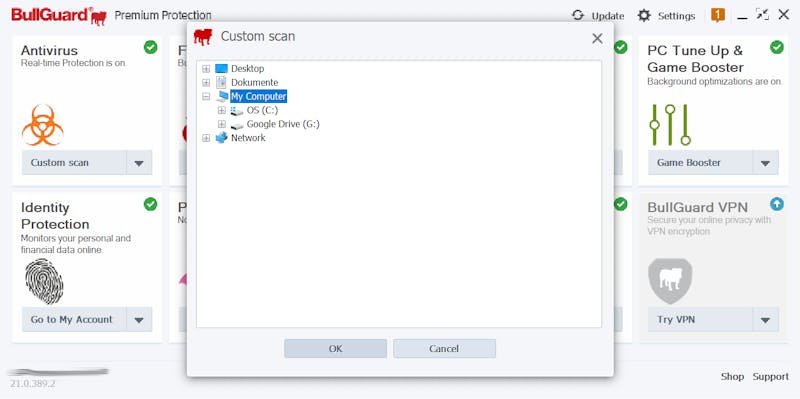 With custom scans, you can set which folders BullGuard should check for malware.
It's also possible to plan scans in advance, although you'll have to search a bit to find this functionality. In the settings area of the antivirus menu, look for "Antivirus: Profiles", then click on "Add Profile". Here, you can schedule scans, setting which areas of your system should be analyzed and how BullGuard should handle any infections that it finds. Once you've created a scan profile, you can select it from the drop-down menu, or set it to be performed automatically at daily, weekly, or monthly intervals.

You can create any number of scans and set them to run at regular intervals.
Scans can be further configured in the antivirus settings area. Under "Optimization", you can exempt specific files, file types, or processes from analysis, or set boot sectors to not be checked. Overall, the program offers a nice range of setting options, however, we would have liked to see this applied to the profile level, making it possible to truly customize scan profiles.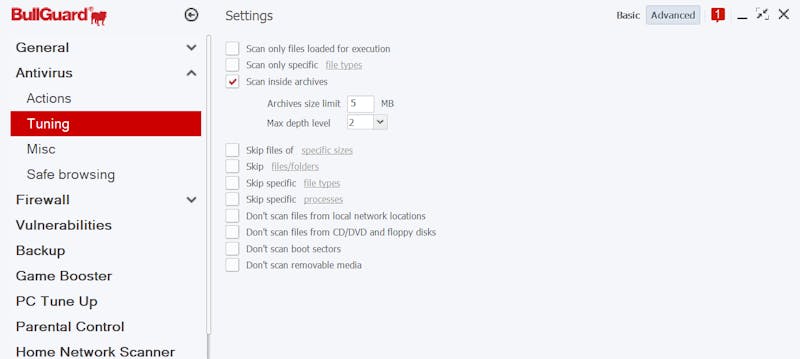 Scans can be further configured in the program's settings area.
Real-time protection across all subscriptions
In addition to regular scans, BullGuard also protects users in real-time against all sorts of malware threats, including phishing, ransomware, and malicious emails. Once again, you can make some changes to how these interact with your system, such as whether the program should monitor your web traffic or emails, by going to Settings > Antivirus. It's also possible to activate or deactivate the software's heuristic spyware detection.
Vulnerability Scanner
Almost nothing makes hackers as happy as finding a vulnerability in someone's system. With BullGuard's Vulnerability Scanner, you can rest easy in the knowledge that the software automatically assesses and rectifies any gaps in your system's defenses, such as patching your programs or shoring up your WLAN.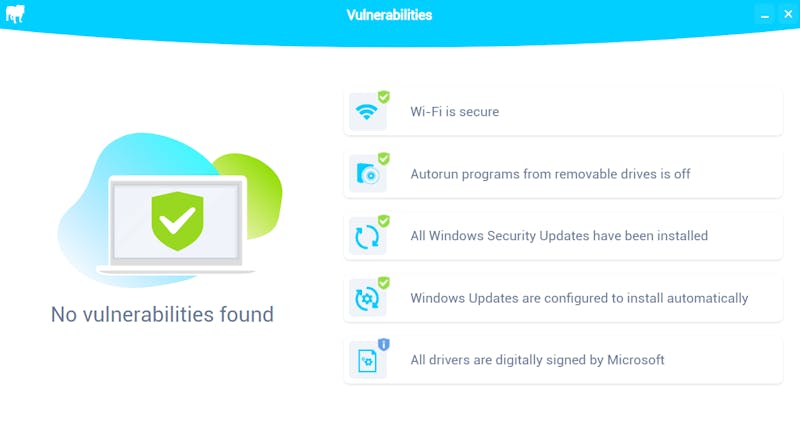 The program's Vulnerability Scanner makes sure that you don't inadvertently open the figurative door to hackers.
Game Booster
Those who like online gaming, but who don't want to sacrifice security, are likely to find Game Booster a neat feature, since it automatically determines when you're playing a game, and optimizes your system accordingly. In more technical terms, it isolates all other open programs to one or two CPU cores. In this way, you won't be tempted to disable your antivirus while gaming.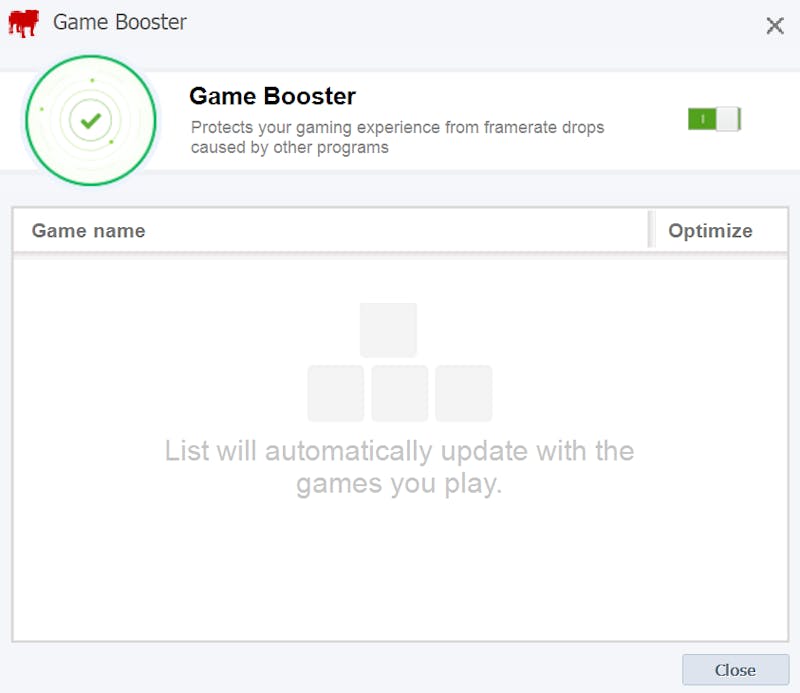 The program's Game Booster makes it possible to have both speed and security while gaming.
Features included with the Internet Security subscription
That about does it for the features that come standard to all of the program's subscriptions. Starting with the Internet Security package, you'll also have access to the following:
Firewall
BullGuard offers a rather simple firewall that can be used to regulate Internet access for each program you have installed. With unrecognized or unknown programs, a pop-up window will open, in which you can grant or block their Internet access. Clicking on "View advanced Windows rules" opens Windows Defender.
What you get with BullGuard is good, however, other antivirus programs, such as Bitdefender, offer more versatile and customizable firewalls.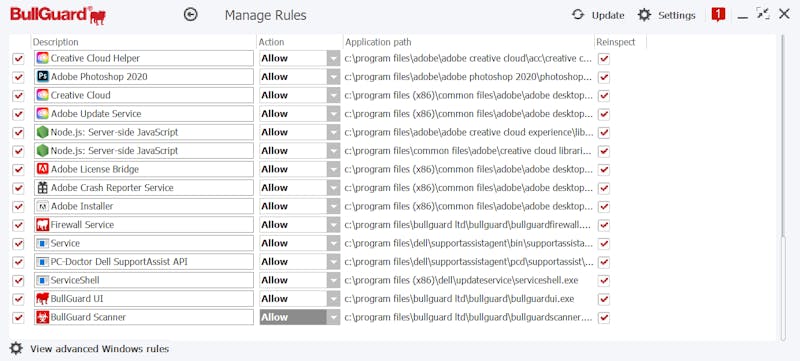 With BullGuard's firewall you can set which programs are allowed to access the Internet.
Secure browser
Some online activities are more dangerous than others. One of these, online banking, runs the risk of revealing all sorts of sensitive information. To protect against this, BullGuard offers a secure browser, in which you can shop, bank, or do anything that requires greater discretion. Using the "Favorites" feature, you can pin specific websites to the browser's home page, allowing you to access frequently-used sites even quicker.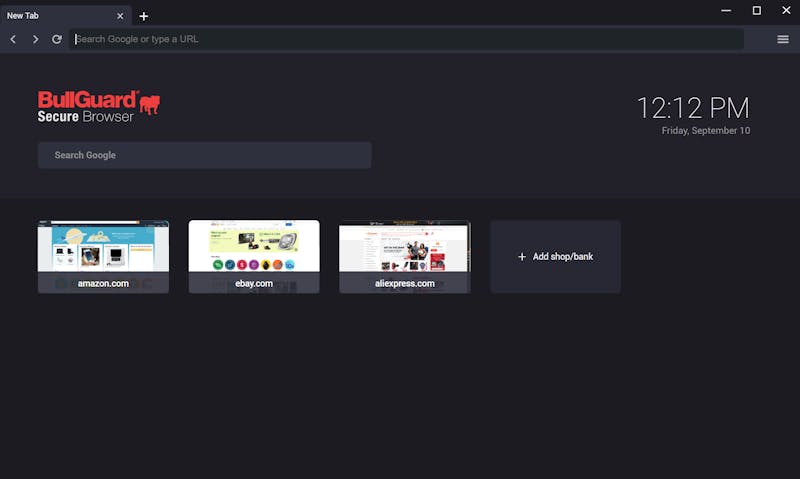 BullGuard's Secure Browser provides extra protection when banking or shopping online.
Parental controls
With BullGuard's "Parental Control", you can limit your children's online activity, block specific types of websites, and even control their access to programs and apps.
Under the "Privacy" tab, you can specify which information your children shouldn't have access to, such as telephone or account numbers (BullGuard will sever the connection if they input any of these numbers). This worked well during our assessment, however, it wasn't all too difficult to trick the program, such as by including an empty space between the numbers.
In other antivirus programs, parental controls are managed through a web dashboard, in which you can see and modify all profiles or devices. With BullGuard, these profiles are linked to your Windows user accounts, making it easier to keep tabs, but harder to manage multiple devices. Another limitation is that parental controls can only be used on desktops and computers, but more on that below. Individual profile statistics, at least in comparison to other antivirus parental controls, aren't particularly detailed.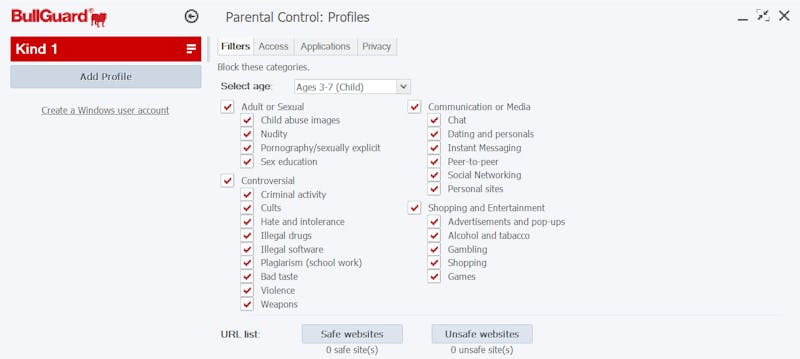 A range of different options are provided for limiting what sort of content that your children can access and view online.
Rounding things out, Internet Security users will also be able to create backups. Once again, it's possible to create different profiles that back up your files at regular intervals to cloud services like Dropbox, Google Drive, or OneDrive, as well as external hard drives, USB sticks, or a network.
Features starting with the Premium Protection plan
BullGuard's most pricy subscription package includes everything mentioned above, as well as two additional features: a home network scanner and identity protection. With the first, your network will be constantly monitored for suspicious activity. Identity protection, which is managed in the browser via your BullGuard account, scans the Web for your personal information, such as:
Email addresses

Phone numbers

Credit/Debit cards

Drivers license

Passport

Membership cards

Social-security number and other IDs

International bank account number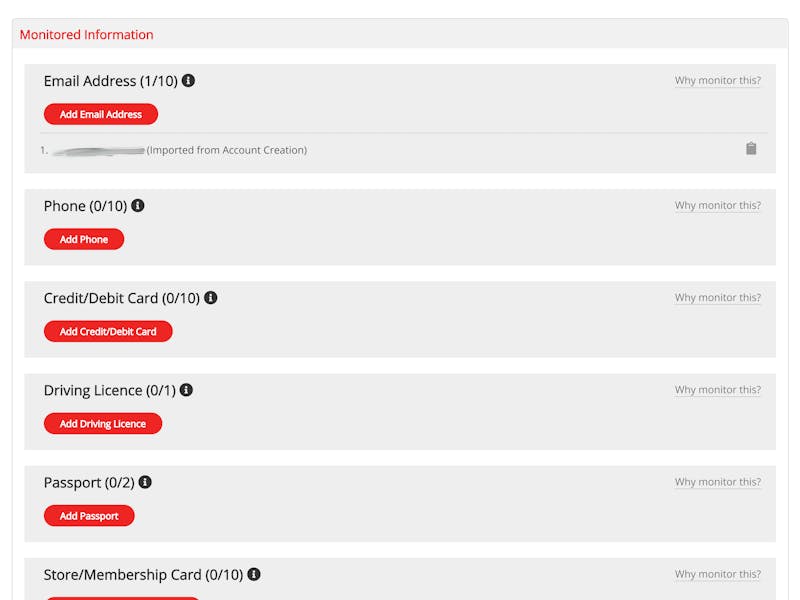 BullGuard informs you if it discovers your personal information circulating on the Web.
BullGuard's premium subscription offers far fewer bells and whistles than those of its competitors. As an example, BullGuard VPN is only available separately (at cost). In our mind, this or a password manager could have easily been included to entice potential users. Some basic features, like a file shredder, for permanently deleting files or webcam protection, are likewise nowhere to be found.
Mobile Features
Only Android users can benefit from BullGuard's mobile app, which comes with both the Internet Security and Premium Protection plans. In it, you'll find five modules: "Antivirus", "Parental Control", "Antitheft", "Backup", and "Wi-Fi Security".
In the "Antivirus" section, you can scan your device, but you won't find any advanced options, like on the desktop. With "Backup", you can create a backup and restore your contacts or calendar events, however, it isn't possible to back up other files. "Wi-Fi Security" informs you about suspicious connections.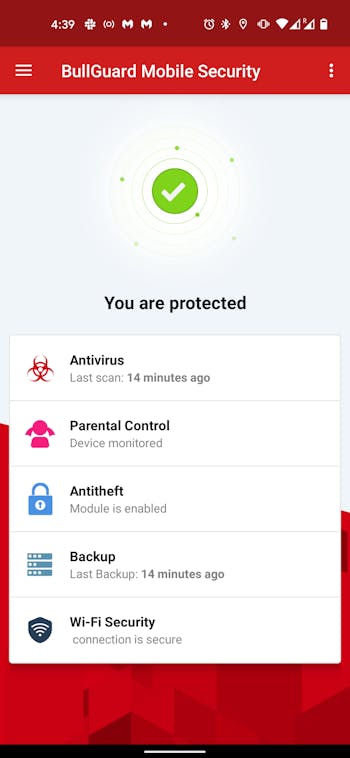 As of the time of writing, BullGuard's smartphone app is only available for Android.
Anti-theft and limited parental controls
The two remaining features in Mobile Security Manager are controlled via your BullGuard account and browser. There, you'll be able to locate your device in the event that you lose it, remotely delete data, create a backup, or set an alarm. The feature doesn't include a camera trap or automatic lock if a certain number of conditions are met (i.e. the incorrect PIN is entered a certain number of times, an unknown SIM card is inserted, etc.).
Unlike in the desktop version, you can't filter content in the mobile app's parental controls, or limit how much a program can be used, but only keep an eye on photos and apps saved to the phone. Since many children use smartphones nowadays, BullGuard's mobile parental controls don't really offer much for parents interested in limiting what sort of content their children can access or how often they can use specific apps.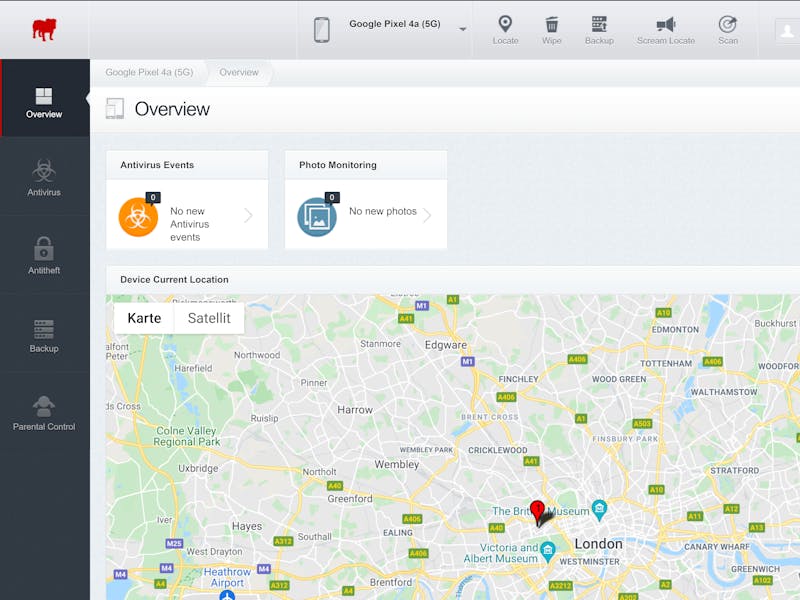 The Mobile Security Manager is your anti-theft headquarters.
BullGuard's complement of features is decent, including a few extras like cloud backups or Game Booster, along with all the basics.
However, not all of the features are really up-to-date, such as parental controls, which don't offer much for mobile devices. We also sorely missed the presence of a file shredder, webcam protection, or password manager. Since BullGuard has its own VPN, we were also disappointed that this wasn't offered as a bonus to subscribers of the Premium Protection package.
To assess the security and performance of all of the antivirus programs from our sample, we relied on how they were scored by AV-Test and AV-Comparatives, two independent testing labs. Both thoroughly examine antivirus programs on the basis of how many malware attacks they thwart and how reliable they are, regularly awarding scores in terms of security and performance.
| | Security | Performance |
| --- | --- | --- |
| | | |
| | | |
| | | |
As of the time of writing, BullGuard received maximum points for security from AV-Test in its most current (June 2021) review, but "only" 5 out of 6 in terms of performance. AV-Test noted that with BullGuard, running commonly-used programs became considerably slower.
AV-Comparatives last checked BullGuard quite a while ago, with the result being rather poor to boot. As part of its 2018 Real-World-Protection Test, 1.6% of all threats were undetected, while 34 false positives were noted. This poor showing meant that BullGuard was the weakest program in the entire sample and the only one that didn't receive a certificate. Since this was also the last time that AV-Comparatives examined BullGuard, it doesn't fill us with confidence.
Nevertheless, AV-Comparatives didn't have anything bad to say about the program's performance in 2018. All the same, we lean towards AV-Test's findings, since, during a complete system scan (70 minutes), we noticed a considerable dip in our computer's performance. Our Internet browser lagged and programs needed more time to open than usual.
Once again, we have mixed feelings about BullGuard: AV-Test awarded it top marks in terms of security, however, AV-Comparatives noted three years ago that it fared poorest of all programs that they assessed. Hopefully, the latter will assess the program again in the near future, so that it can clear up its reputation and name.
Security & Performance
6.0 / 10
In BullGuard's help area you'll find FAQs as well as a few guides to the developer's other programs. These include plenty of screenshots and step-by-step walkthroughs, making them easy to follow.
BullGuard also offers a forum and a blog, the latter of which is regularly updated with articles on relevant topics, like phishing, data hydras, or ransomware.
For a more human touch, there's a chat window in the lower right corner of the support center. Unfortunately, even during regular business hours, we weren't able to get in contact with the developer's support staff. Instead, our question opened as a classic support ticket. We didn't like this approach, since it disguises a basic support feature as a live chat. We only received a response after 11 days, which isn't impressive for a support ticket, let alone live chat A support hotline isn't offered.
Overall, BullGuard's support area is fairly average; the articles, guides, and static content are decent enough, but the live support is basically just a support ticket system.
As noted in the Features section of this review, BullGuard is available in three different subscription packages: Antivirus, Internet Security, and Premium Protection. Antivirus offers basic protection for Windows, including tools against ransomware and phishing. Only Internet Security and Premium Protection users have access to the secure browser, firewall, parental controls, cloud backup, PC optimization, and support for macOS devices. Premium Protection includes all of the above as well as a home network scanner and identity protection.
None of the subscription options include a VPN, which must be purchased separately.
As of the time of writing, BullGuard doesn't offer any business plans.
Below, you can find a current summary of prices:
Antivirus
Internet Security
Premium Protection
Set-up Fee
$0.00
$0.00
$0.00
Price per Year
$29.99
$59.99
$89.99
Contract Period (Months)
12
12
12
Software
OS

Windows

Windows

macOS

Android

Windows

macOS

Android

Max. Number of Devices
1
10
15
Special Protection Features
Real-time Protection
Internet Security
Email Protection
Ransomware Protection
Webcam Protection
Premium Features
Firewall
Password Manager
VPN Access
Adblocker
Cloud Backup
File Shredder
Parental Control
Performance Tuning
Mobile Features
App Lock
Location Tracking
Remote Lock
Camera Trap
Since subscriptions and their accompanying features vary from provider to provider, in the table below, we've compared all of the services from our sample on the basis of a sample template. This comparison shows that BullGuard is one of the pricier solutions on the market:
1.
2.
3.
360 Total Security
Premium
4.
5.
6.
Bitdefender
Internet Security
7.
8.
9.
10.
11.
12.
13.
F-Secure
Internet Security
14.
It's possible to test any of BullGuard's solutions for free for 30 days. According to the terms of usage, the cancellation deadline is seven days after purchase, however, BullGuard promises (for example, on Trustpilot) to allow customers 60 days to request a refund if a payment has been automatically booked.
Conclusion
Installation & Usage
6.0 / 10
Security & Performance
6.0 / 10
In the grand scheme of things, BullGuard isn't exactly on the cutting edge when it comes to antivirus. Its user interface looks like it belongs in the early 2000s, or even late 90s, and most features, such as a firewall or parental controls, are too bare-bones compared to what else is available out there.
BullGuard does do a few things right: Its Vulnerability Scanner or Home Network Monitoring identifies more uncommon threats, and so far as AV-Test is concerned, the program provides excellent security. AV-Comparatives, the other testing lab we rely on for our technical scores, was anything but impressed with the software's provision of security.
Taken together, BullGuard is average, and in comparison to more powerful programs, not exactly cheap either. As such, we would recommend most other programs from our sample before it.
Plan
Devices
Protection Features
Premium Features
BullGuard Antivirus
$29.99
yearly price
Visit Website*
Customer Ratings
Reviews are little more than a snapshot of how a program performs, often being highly subjective to boot, especially so far as things like support or user interface are concerned. For that reason, we aggregated a number of reviews from trusted and popular portals so that you can see how BullGuard is (generally) received.
Customer Ratings
1,881 Bewertungen
Visit Website*
We analyzed the reviews and ratings from various portals and found 1,881 ratings with an overall rating of 2.5 out of 5 .
Alternatives to BullGuard
The best-performing antivirus software from our sample, Bitdefender, fared better with the testing labs, offers more features (including webcam protection, a file shredder, password manager, and VPN), and is packaged in a more modern interface than BullGuard.
Should you prefer a free antivirus, then Avast is one of the best out there.
More alternatives to BullGuard can be found below:
Our 'best in test' antivirus program Bitdefender boasts strong security, confirmed by independent test laboratories, along with a flawless user interface and a comprehensive set of features.
configurable quick actions
good support with 24/7 live chat
9.6

excellent
Plan
Devices
Protection Features
Premium Features
Bitdefender Antivirus Plus
$23.99
yearly price
Visit Website*
Avast impresses with a great free version covering all the essentials, and a huge set of features that offer well-rounded antivirus protection and some nice extras. Scans can slightly impact performance, however.
Sandbox and WiFi-Inspector
scans can impact performance
8.6

good
Plan
Devices
Protection Features
Premium Features
Avast Free
$0.00
Visit Website*
Download for Free
With its robust set of features, lean applications, and a 100 % antivirus guarantee, Norton Antivirus is definitely worth a look. Sadly, the testing labs aren't unanimously impressed, and one or two features are missing.
learn, user-friendly apps
customizable child protection
100 % antivirus guarantee
8.4

good
Plan
Devices
Protection Features
Premium Features
Norton Antivirus Plus
$19.99
yearly price
Visit Website*
Trend Micro delivers a solid overall antivirus package with lots of features and some nice extras, such as social media protection. However, the testing labs are a bit divided on the reliability of its protection.
Plan
Devices
Protection Features
Premium Features
Trend Micro Antivirus+
$19.95
yearly price
Visit Website*
G Data offers virus protection "made in Germany" with solid test lab scores, lots of customization, and great support. The user interface, however, could use a facelift.
many configuration options
interface somewhat outdated
test lab scores "only" solid
8.4

good
Plan
Devices
Protection Features
Premium Features
G Data Antivirus
yearly price
Visit Website*

Janis von Bleichert studied business informatics at the TU Munich and computer science at the TU Berlin, Germany. He has been self-employed since 2006 and is the founder of EXPERTE.com. He writes about hosting, software and IT security.
Continue Reading
Other languages
Deutsch
Ad disclaimer
* For links marked with an asterisk, EXPERTE.com may earn a commission from the provider. The commission has no influence on our editorial rating.