Best Shopify Themes: 12 Great Shopify Templates

Author
Janis von Bleichert
First impressions matter: When visitors to your web store don't like what they see, odds are that they'll spend their money elsewhere. For that reason, consider yourself responsible for presenting your wares as attractively as possible. With the ecommerce platform Shopify, this starts with selecting the right theme.
Whether in Shopify's theme store or on an external marketplace, you'll be faced with hundreds of design template choices. Determining which of these is the best for your needs, and those of your online store is as much a matter of personal taste as anything else. In this article, we'll introduce you to 12 of the best themes to help narrow your selection down.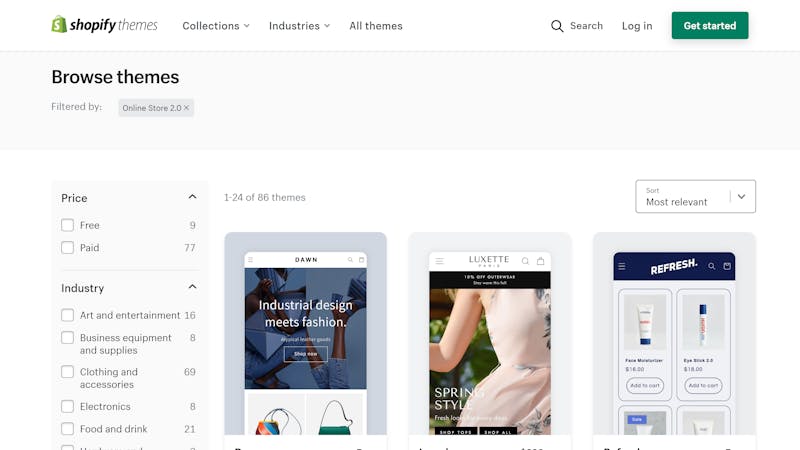 Shopify offers plenty of free and premium themes to choose from.
How to Select the Right Shopify Theme?
Every web store is unique, and choosing the theme for yours is one of the first steps in making it stand out. In Shopify's theme store, you'll find plenty of different design templates grouped into various categories.
To get the one that matches your preferences and needs, we recommend answering the following questions:
How big is your store?
A huge online store stocking thousands of products has different design requirements than a petite boutique, featuring a handful of items. As a result, Shopify sub-divides its themes into those for small or large catalogs.

Which branch are you doing business in?
One look at an online store should be enough to tell you what sort of products it trades in. Shopify themes are grouped into categories such as "Electronics", "Clothing", or "Pet supplies".

Which features are important to you?
Each Shopify theme provides access to the platform's basic features. However, design templates come with different presets and integrated tools. As such, if you'd like a specific set of features, you should use the theme store's search tool in order to see only those results that match your requirements. Potential search terms/features are: FAQ page, product filtering and sorting, quick buy, recommended products, and quick view.

Are you willing to pay for the theme?
Shopify offers 18 free themes in its store. Accompanying these are 82 paid themes offered by third parties that are supported by Shopify and regularly updated.

Official or third-party?
You won't only find design templates in Shopify's theme store, but also, on other websites and online marketplaces. This is especially relevant when it comes to updates or support since Shopify only offers guarantees for its own themes.

1.0 or 2.0?
In 2021 Shopify significantly overhauled its content engine. Its new 2.0 themes are more flexible and versatile since they contain user-defined sections that can be added to each page - something that used to only be possible on the homepage. However, the "older" 1.0 themes remain popular and are still available.
12 Strong Shopify Themes
Selecting the right theme depends entirely on what you intend todo with your online store. Next, we'll introduce you to 12 aesthetically pleasing and popular Shopify themes for all sorts of purposes.
Free Themes
Shopify's free themes are likely the first stop for many users since they won't tax your wallet and come directly from the provider. With the release of Online Store 2.0, the provider's new theme engine, Shopify made a number of impressive and fresh themes available.
1.
Dawn: Shopify 2.0's All-Arounder
Dawn was the first free "Shopify 2.0" theme and shows off all of the new theme engine's features. This translates into fast loading times and a more modern design, created using data-driven insights. The auto-scrolling slideshow, which was used in the past, has been replaced by a static header featuring a call-to-action.
Making things even better, Dawn is more flexible than its predecessors (as are all Shopify 2.0 design templates). Whereas in the past, only the homepage could be comprehensively personalized, now, you can tailor all other pages, such as those for products by adding custom sections to them.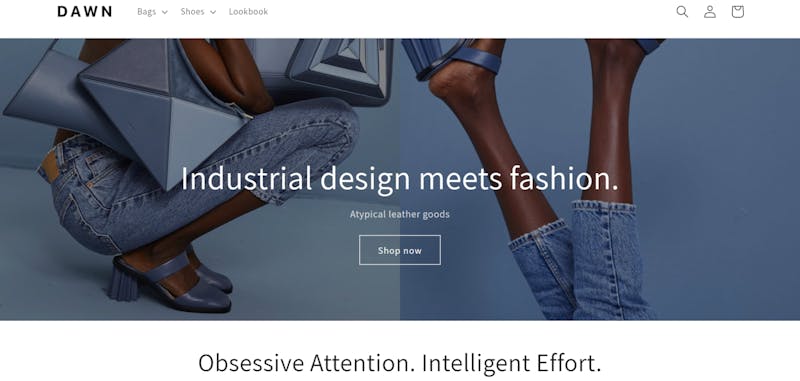 Dawn was the first Shopify 2.0 theme released.
Dawn's minimalistic design makes it an all-arounder, which is equally well-designed for shops with large or small inventories. The platform refers to this approach as "visual storytelling" since product images are made the main focus of your site's navigation. Should you have high-quality images of your wares and want to harness their full potential, Dawn is a great choice.
Cost: -

Theme Engine: 2.0

Support: Shopify (email, chat, hotline)
2.
Sense: The Best Free Choice for Beauty and Health Products
Sense was also released in 2022 and is a 2.0 theme. Based on Dawn, it's particularly well-suited for online businesses specializing in "Health and beauty". Product pages can be more comprehensively detailed than with Dawn, allowing your beauty products to be adequately described and integrated into your catalog.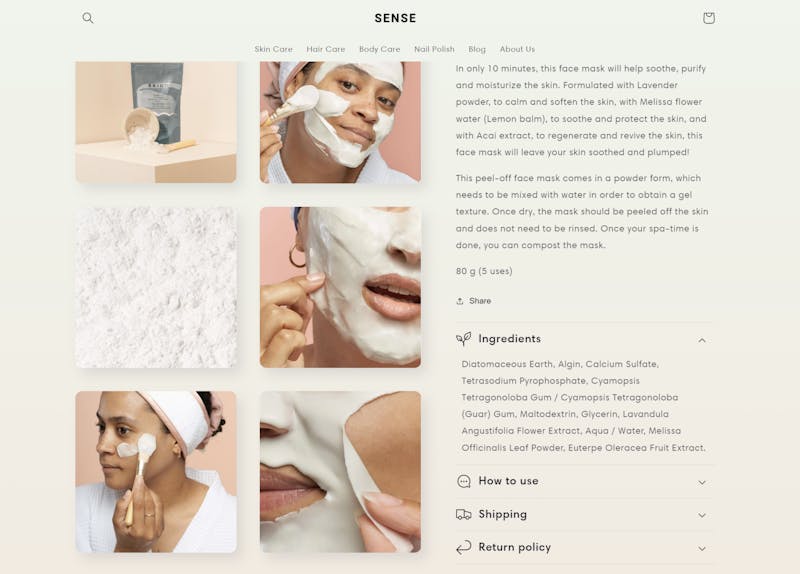 Sense is designed for online businesses specializing in "Health and beauty".
Owing to its excellent filter options and straightforward product navigation, Sense is well-suited for shops of any size.
Cost: -

Theme Engine: 2.0

Support: Shopify (email, chat, hotline)
3.
Minimal: Simple, Product-Centered Design
Minimal is a somewhat older Shopify 1.0 theme, meaning that its users won't be able to take advantage of the newest features offered by the provider's updated theme engine. However, for smallish Internet store managers looking for a straightforward and well-organized Web interface for their products, you can't go wrong with Minimal.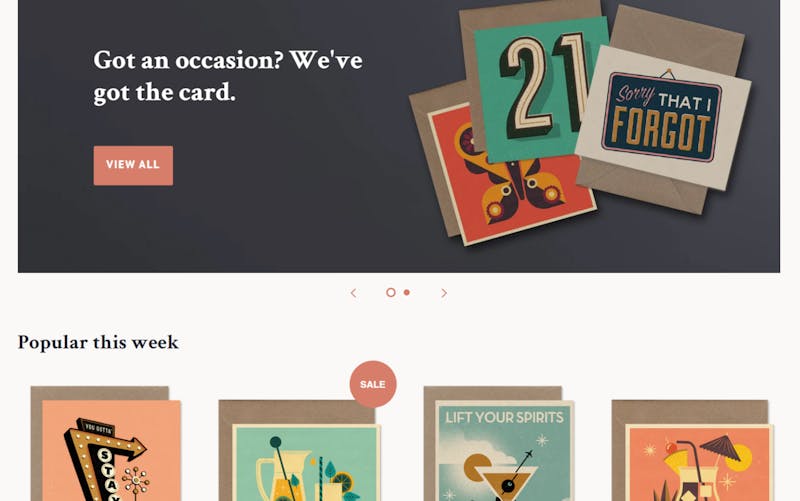 Minimal is one of the most popular Shopify themes, capable of providing everything needed for a simple, no-frills online store.
This theme offers three different styles: Vintage, Fashion, and Modern. True to its name, the differences between these aren't particularly significant. Taken together, this makes the design template a good option if you don't want to spend hours poring over details, but peddle your goods as quickly and effectively as possible.
Cost: -

Theme engine: 1.0

Support: Shopify (email, chat, hotline)
The Best All-Arounder
Several themes are so versatile that they aren't limited to a specific branch or shop size. Dawn, mentioned above, is one of the best examples of this. Among the premium themes, you'll also find a number of templates that are well-suited to all sorts of shop projects.
Impulse is one of the most popular Shopify themes, with 95% of its 711 ratings positive. The theme offers plenty of opportunities for personalization, with features like an FAQ area and a blog integrated out of the box.
But, Impulse really excels when it comes to the marketing options it provides: You'll be able to launch comprehensive rebates or sales, in order to make your wares enticing to your customers. Its integrated filter options are fantastic, and help customers to browse through large catalogs with ease.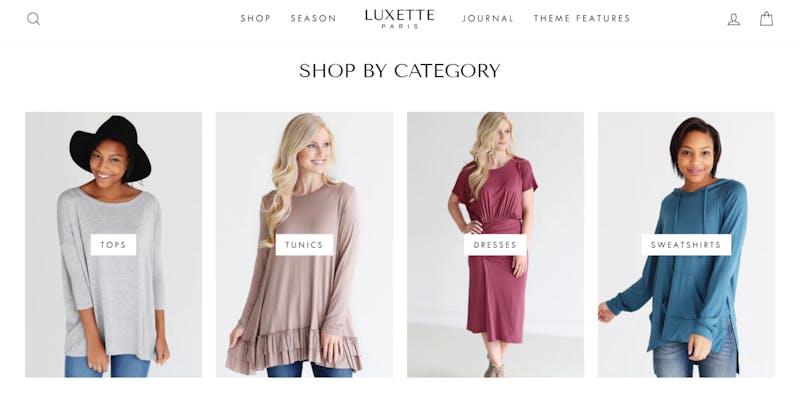 Impulse is a premium 2.0 theme, available in the Shopify store, but developed by a third party. This means that for support, you'll need to reach out to the developer. The theme's documentation is well-structured, and support has been rated positively by users.
Cost: $320

Theme engine: 2.0
5.
Kalles: Modern, Dynamic, and Minimalistic
Kalles isn't available from Shopify's theme store but instead purchased directly from its creator, The4. The theme is a 2.0 one, meaning that it supports Shopify's newest features.
Those operating a Web store of any type, size, or branch will find the theme useful. On its developer's website are more than 50 demo pages built using Kalles. Minimalism intersects with feature variety and dynamic content. Your product pages can be spruced up with videos or 3-D models.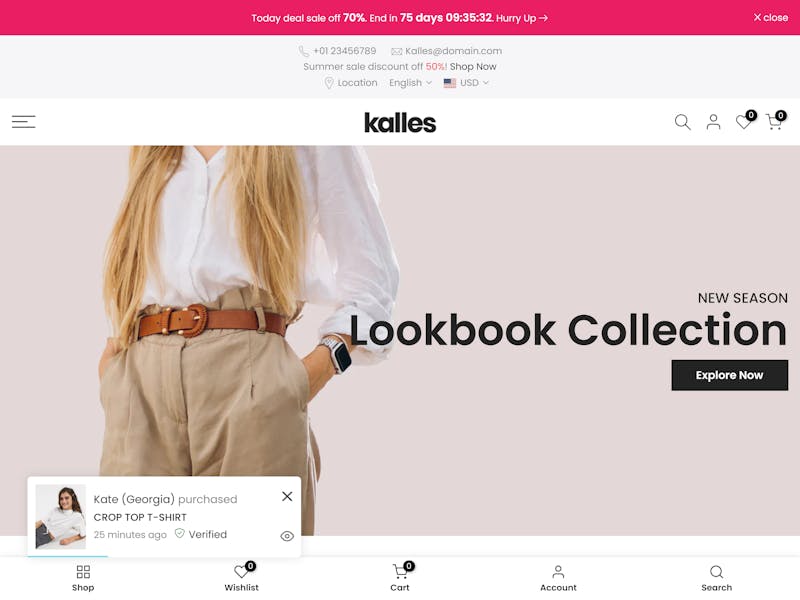 On Kalles' website, you'll find more than 50 demos which show what you can put together with the theme.
Beyond that, Kalles stands out owing to its quick loading times and sleek user interface.
The amount you'll pay for Kalles depends on your requirements: In addition to the regular license, there's also a significantly more expensive extended license, which you'll only need if you intend to sell the online store you've designed.
Cost: $89 (with 6-month support) or $116.75 (with 12-month support) for a standard license; $4,750 or $6,250 for the extended license

Theme engine: 2.0

Support:

Via email and support from the developer,

The4
Wokiee is also a third-party theme and is not available directly from Shopify's theme store. You'll find it at Themeforest, where it's already been purchased more than 20,000 times and enjoys excellent ratings.
The theme comes with more than 90 different layouts which can be modified to your exact needs. These include special options, such as single-product online shops. Large product catalogs, on the other hand, will benefit from its clear mega menu, which helps customers quickly find the categories they're looking for.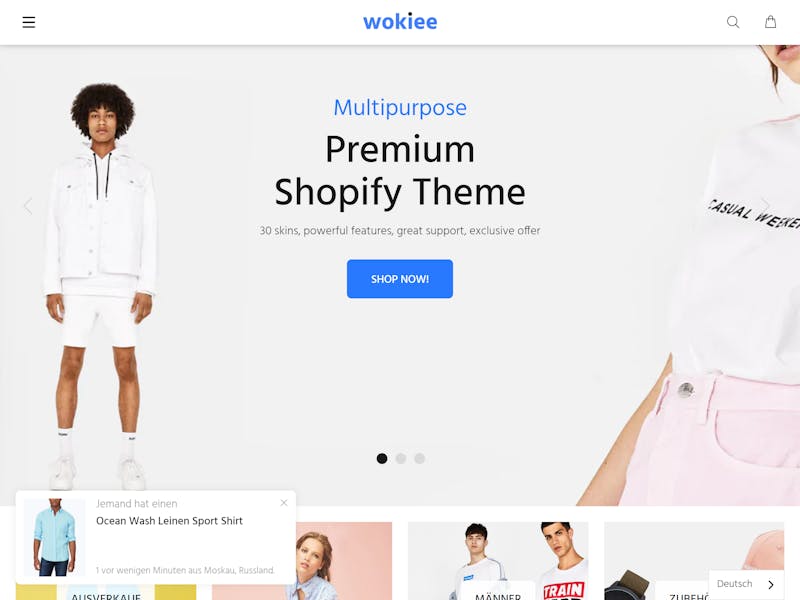 Wokiee is one of the most popular Shopify themes on Themeforest.
Creating multi-lingual websites and/or selling in multiple currencies is easy with Wokiee. This makes the theme a real hit for international stores.
Cost: $79 (with 6-month support)or $103 (with 12-month support) for a regular license; $1,750 or $2,125 for the extended license

Theme engine: 2.0
Branch Specific Themes
Since requirements vary considerably from branch to branch, as we noted above, Shopify's theme store groups its themes into categories. Plenty of these would work for multiple categories, and all can be customized to meet your needs. Still, there are certain themes that are ideally suited for specific types of online stores.
7.
Envy: Ideal for Fashion and Beauty Flash Sales
Envy is an extremely versatile theme that is particularly geared towards fashion and beauty owing to its image-intensive design and mobile friendliness. Four different styles are offered (Oslo, Copenhagen, Stockholm, Gothenburg), which, as you might have guessed, are meant to effuse Nordic minimalism.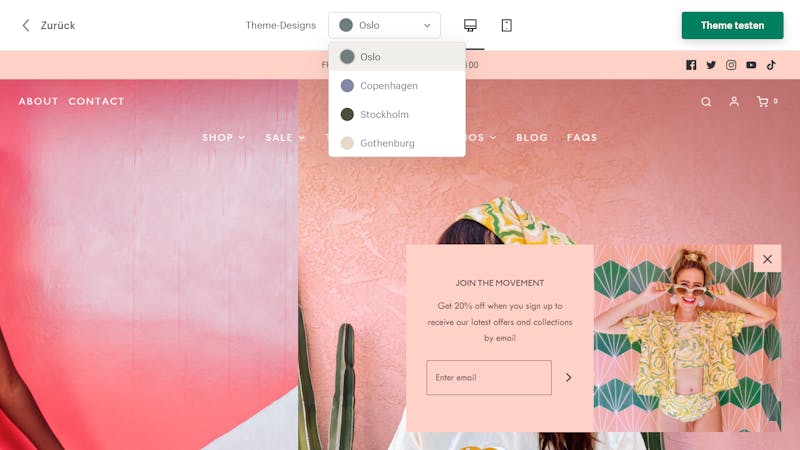 Envy is available in four different styles: Oslo, Copenhagen, Stockholm, and Gothenburg.
The theme's integrated features include a blog, an FAQ page, and customer reviews. Envy is particularly loved for its flash sales and other campaigns: These allow users to advertise a rebate via pop-ups or a banner directly on the homepage and offer specific deals (such as free shipping from a certain amount).
Cost: $320

Theme engine: 2.0

Support:

Via email from the developer,

Archetype
8.
Crave: Shopify's Solution for Food Websites
Crave is one of the newest Shopify 2.0 themes and harnesses the full potential of the platform's content engine. The theme is particularly handy for "Food & Drink" businesses, whether restaurants, delivery services, or online grocery stores.
This focus is reflected in the theme's colorful and playful design. Included are an "About Us" page, as well as a blog, which comes in particularly handy for posting recipes. Crave's web store is optimized for mobile devices.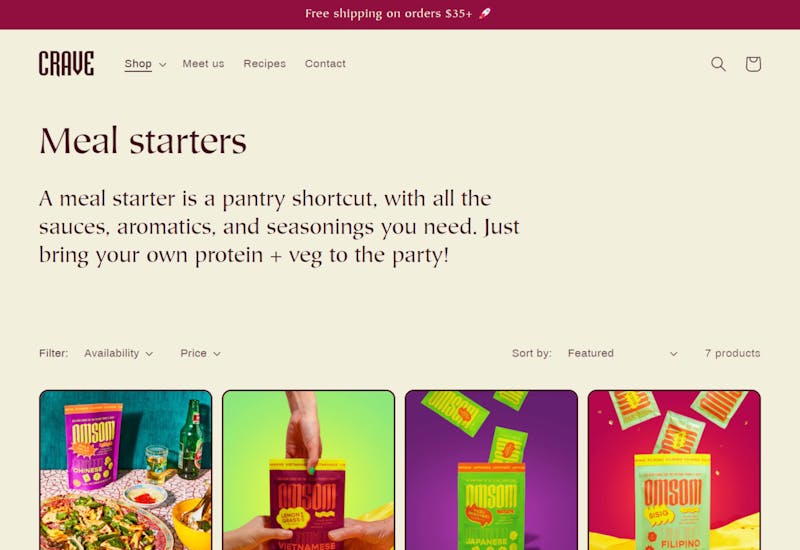 Crave is the Shopify theme for foodies.
And the best news? Crave is a Shopify theme, and as such, completely free. Another benefit of this is that you'll be able to clear up any issues with Shopify's support, should you encounter them.
Cost: Free

Theme engine: 2.0

Support: Shopify (email, chat, hotline)
9.
Warehouse: Premium Theme for Electronics Stores
Electronics are still the most popular ecommerce niche, and Warehouse is one of the most-used Shopify themes for large product catalogs. It allows users to organize product categories into collections, such as "headphones", "smart TVs", or "gaming consoles".
You can make finding the perfect product easy for your customers thanks to this theme's live preview feature. Versatile sales options, such as one-time discounts in exchange for signing up for your email newsletter, are also offered. Beyond these, the theme allows store owners to include product reviews, an FAQ page, and trust badges, all of which should boost your conversion rate.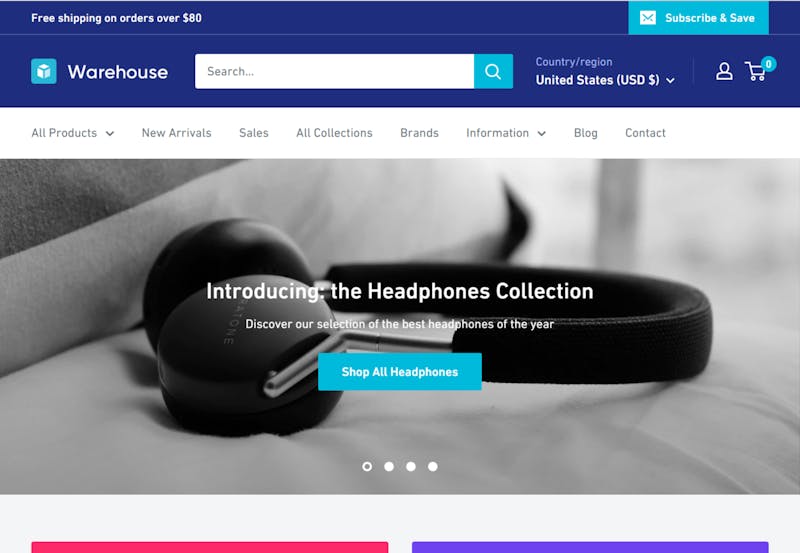 If you're selling electronics, Warehouse is a great choice.
Warehouse is available from Shopify's theme store, but, since it was developed by a third party, isn't free to use.
Cost: $320

Theme engine: 2.0

Support:

Ticket with the developer,

Maestrooo
10.
Ira: Visual Storytelling for Sport and Recreation
Athletic brands are usually very good at telling stories: After all, while their products should be impressive, the success enjoyed by both amateur and professional athletes when using these items, is what really drives the point home. As a result, visual storytelling is extremely important to customers shopping for sports or recreational goods.
Ira is a well-liked Shopify theme that combines visual aesthetics, such as full-screen photos and videos, with informative text passages, all within an elegant and minimalistic store interface. As such, you can celebrate your products while using them to tell stories.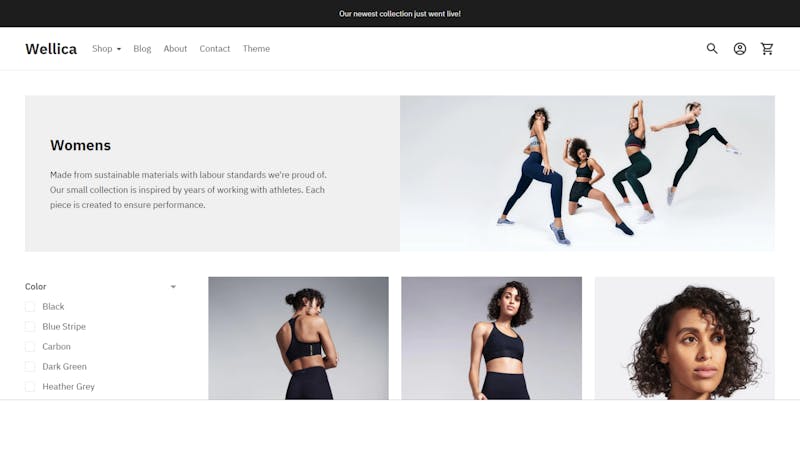 As a theme, Ira was conceptualized with visual storytelling in mind.
Ira was developed by Fluorescent Design Inc. and currently enjoys 92% positive feedback in Shopify's theme store.
Themes for Small Stores
As you probably know, Shopify isn't only about selling thousands of different products. Accordingly, you'll also find plenty of options for small shops as well.
11.
Flow: For Food Boutiques With Small Inventories
Flow is an especially appealing option for online stores specializing in the Food and drink category, but also adjustable to all sorts of other inventories. In its intuitive navigation menu, you can group your products into collections, making it possible to easily show off even small collections.
Product pages support videos, 3-D animations, customer reviews, and plenty of other features, including suggested and similar products. On top of this, you'll benefit from automatic notifications whenever a product is back in stock, the ability to limit sales of products to specific age groups, and "Quick Shop" buttons.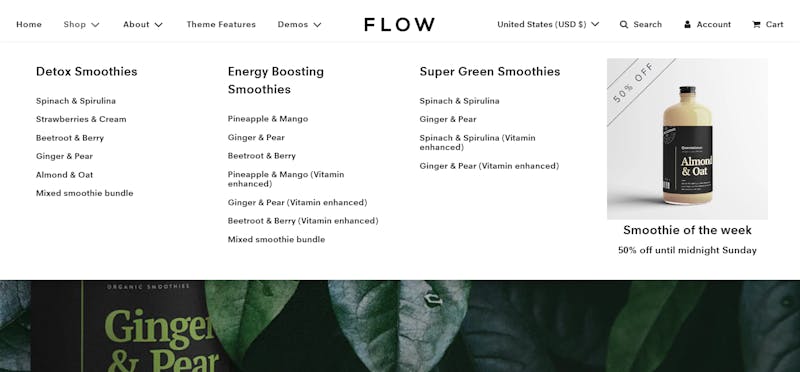 Flow is ideal for online stores with more focused product catalogs.
User reviews, (90% positive) send a clear message: Flow is highly regarded by Shopify users. However, Flow is one of the more expensive premium themes, developed by Eight Themes, a third-party provider.
Cost: $350

Theme engine: 2.0
12.
Streamline: Small Stores for Mobile Customers
More and more ecommerce sales are made on the go. Accordingly, most themes have long been optimized for mobile devices, however, some still perform better than others.
Streamline is an elegant and modern Shopify theme featuring a mobile-first design. This means that it offers dynamic scrolling text, stylish GIFs, and easy thumb navigation, all of which set it up as a great option for smartphone shoppers.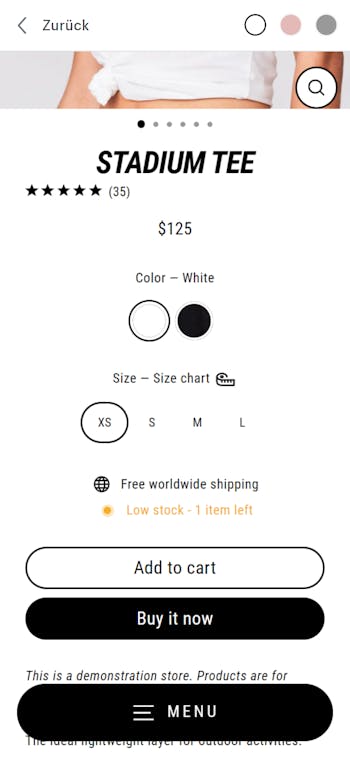 Streamline scores with its mobile-first approach to design.
Just like Impulse and Envy, Streamline was made by Archetype, which according to the customer reviews (95% positive) we've seen, offers reliable support.
Cost: $320

Theme engine: 2.0

Support:

Via email from the developer,

Archetype
Conclusion
Our list of the 12 best Shopify themes only really scratches the surface: There are hundreds of design templates available, in Shopify's theme store and from third-party marketplaces and developers. Many can be tested at no cost, or, assessed on the basis of demo websites. Should cost be a factor, there are a few solid choices among the free options offered by Shopify.
Our comprehensive review of Shopify and plenty of other ecommerce platforms can be found in our EXPERTE.com assessment.
FAQs
What is a Shopify theme?
⊖
Shopify themes are design templates for the online store you've developed using Shopify. Each theme's pre-installed designs and layouts determine your store's optical appearance, as well as which functions it comes integrated with. There are themes for stores of all kinds, branches, and sizes, but also some that are geared toward specific kinds of shops.
Which Shopify themes are the best?
⊖
Determining which theme the "best" is, depends almost entirely upon your requirements. There are some good all-arounders, such as Impulse, Kalles, or Wokiee, which can be adjusted to nearly any size or kind of style. However, there exist far more themes geared towards specific branches, such as Crave (food and drink), or Envy and Ira (fashion). Good free themes are also available from Shopify, like Dawn, Sense, or Minimal.
How can I Install a Shopify theme?
⊖
Once you've selected or purchased a theme from Shopify's theme store, you can add it to your admin dashboard with just a few clicks. If you've bought a theme from a third-party marketplace, you'll need to manually upload the accompanying Zip file to your admin dashboard.
Are Shopify themes free?
⊖
There exist both free and premium Shopify themes. The former come almost entirely from Shopify itself, while the paid options are developed and marketed by third parties. Sometimes, premium providers differentiate between regular licenses, which are to be used for your own store, and more expensive, extended licenses. These are for those who design online stores for a living, selling the templates to their customers.

Janis von Bleichert studied business informatics at the TU Munich and computer science at the TU Berlin, Germany. He has been self-employed since 2006 and is the founder of EXPERTE.com. He writes about hosting, software and IT security.
Continue Reading