Secure Messengers - The 5 Best Alternatives to WhatsApp

Messengers are great, whether for sharing pictures with friends or family around the globe, making plans, or staying in touch with colleagues from work. One of the most popular of these, WhatsApp, surpassed two billion users in February 2020 ⇱.
For all of its popularity, WhatsApp is not without its shortcomings. The biggest controversy can be traced to a recent update, which saw the introduction of new privacy guidelines ⇱ which users must accept. These allow the company to share your messages with Facebook, who, in turn, promises to protect them, images, and videos from prying eyes. Unfortunately, no mention is made of other information that will be evaluated, including your devices, connections, usage, protocols, and location.
Searching for Alternatives
Given the above, it shouldn't come as much of a surprise that many WhatsApp users have started searching for alternatives. We selected five of the most popular, examining them closer for you. These offer most of the same features as WhatsApp, providing a few extras as well as different approaches to data security and privacy.
What Does 'Secure' Mean?
When it comes to messengers, determining whether or not they are 'secure' is often difficult. Trustworthy apps offer users features that protect their privacy in the background, rarely being known or seen at all. The minimal standards include:
End-to-end encryption: Nearly all well-known messengers advertise providing users with "End-to-End encryption" (E2E). This guarantees that nothing you send or receive can be seen by third parties. All data is encrypted before being sent to a recipient, whereafter, they decrypt it to view what you've sent. Some apps offer E2E but don't activate it by default, requiring users to turn it on under settings.

Open-source code: Those providers which use open-source code enjoy extra trust. This is because specialists can check at any time how exactly the service works, what runs in the background, and even highlight areas for improvement. This is in contrast to most proprietary software, the code for which remains confidential. With such apps, no one knows how they operate on a smartphone or mobile device in practice.

No data collection: Encryption doesn't mean a thing if user metadata is harvested and sold. Such metadata includes information about your contacts, communication sessions, devices, IP addresses, and much more.

Automatic deletion and shredding of messages: Many messengers allow users to set an automatic expiration date for messages. This means that information will be deleted at a specified time after being sent. But not all deletion is equal. For us, only messages that can't be reconstructed with special tools count as being truly deleted. Some services offer a shredder feature that completely deletes sent texts, images, videos, and voice messages.

Signal
Recommended by Edward Snowden and numerous security/data privacy experts, Signal ⇱ is considered to be one of the best messenger services on the market at the moment, offering everything expected from a modern messenger.
The messenger was developed in 2018 by the Signal Foundation as an open-source app and is primarily financed through donations. Official user numbers have not been released to date, however, during an interview with The Verge ⇱, representatives confirmed that as of January 2021, more than 40 million people used the service.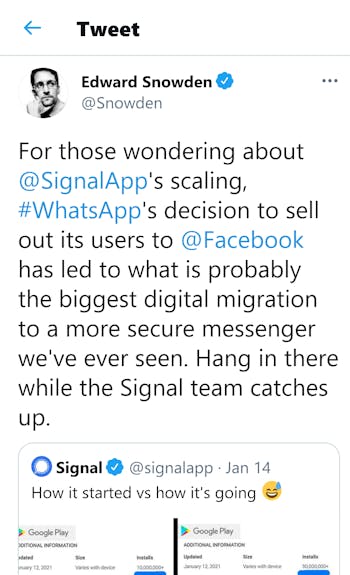 Signal is Edward Snowden's messenger of choice.
Signal's Security
Security is Signal's highest priority. Messages are sent with E2E, and even stickers are coded. In addition, you can also set a password to protect your messages in the event that you lose your phone.
In contrast to numerous other messenger apps, Signal only saves as much metadata as is necessary for the app to smoothly function, such as telephone numbers, random keys, and profile information.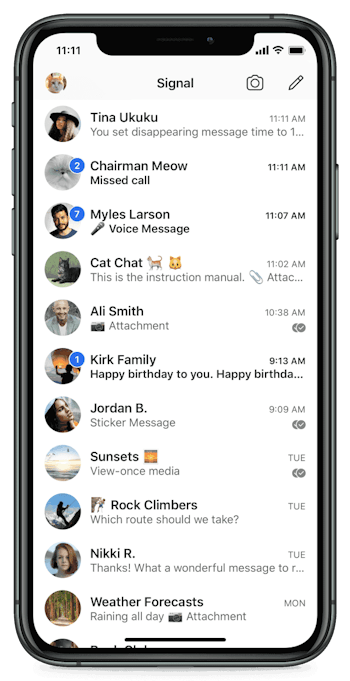 If you're familiar with WhatsApp, getting familiar with Signal should only take a few moments.
Features
Signal can do everything that WhatsApp can, except publish stories or complete automatic cloud backups. Instead, you can react to individual messages with emojis, automatically pixelate faces on pictures, and set messages to delete after a specified period. With an account, the service can be used on a mobile device and up to five desktops.
Whenever you switch your phone number, things with Signal get a bit more complicated. Not all of your contacts are automatically notified, and you'll need to be manually re-added to your groups.
Risks
It sounds too good to be true, but there really aren't all too many security risks when using Signal. The service doesn't gather any data, since the foundation behind the messenger has no need to generate profits.
Password protects your messages.

Doesn't collect user data.
No automatic updates after changing your telephone number.

Telegram
Telegram ⇱ was created by the Russian brothers Nikolai and Pavel Durov, and launched in 2013 as open-source software. Nikolai and Pavel had earlier founded the Russian social network, VK (previously, VKontakte). Their latest non-profit venture seeks to provide maximum anonymity and privacy. According to official releases, the core developer team (around 15 people) is presently based in Dubai.
On the heels of WhatsApp's new privacy policy, Telegram enjoyed a boom in popularity, counting around 500 million people within its userbase.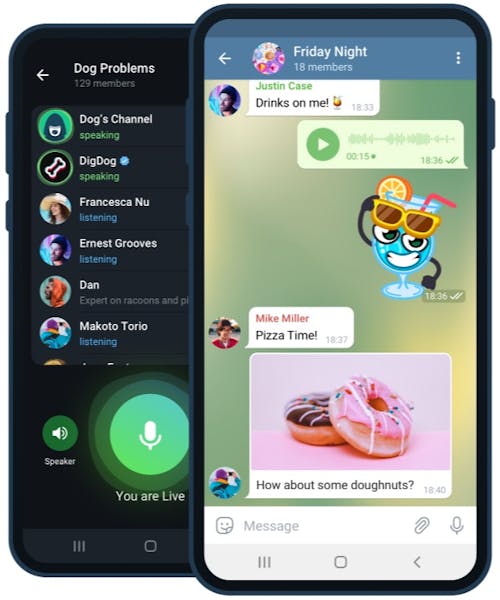 Telegram is fun to use and offers lots of options.
Security
Telegram has been prohibited in Russia since 2018 since the app's developers refused to provide the Russian Government with its encryption codes. Many took this as proof of Telegram's commitment to its users' privacy. However, E2E does need to be manually activated under settings.
As with Signal, you can password protect your messages, which comes in very handy should you lose your smartphone. Two-factor authentication is also offered, using an SMS code and a password.
Another advantage to using Telegram is that you don't need to enter your real phone number.
Features
If using Telegram, you won't have to give up any of the features that you're accustomed to from WhatsApp. Telegram groups can host up to 200,000 members, and there are no subscription limits. As with other messengers, Telegram offers automatic deletion, not only for messages but also your account and all associated media, should it not be used for a set period of time. The service can also be used simultaneously on multiple devices.
Risks
As mentioned above, E2E needs to be manually activated, since otherwise, only your communication with the Telegram server will be encrypted. Telegram justifies this by noting that if automatically activated, it wouldn't be possible to restore messages in the event that a device is lost. While this might be convenient, it isn't great from a security point of view.
We're also skeptical about Telegram's MTProto protocol. Instead of utilizing an established protocol like Signal, the company developed its own, which has been less tested and is not as well-established.
Password protection for messages.

Two-factor authentication.

Possible to create groups with up to 200,000 members.

Allows large files to be sent.
End-to-end encryption needs to be manually activated.

Uses its own MTProto protocol instead of a more established option.
Threema
Unlike most other services on this list, Threema ⇱ isn't free. In exchange, the Swiss app promises its users the cutting edge in terms of security. In contrast to WhatsApp, the open-source software fulfills all legally mandated data protection requirements.
The app was developed in 2012 by Manuel Kasper. According to the company, Threema GmbH, all of its servers are housed in Switzerland. When it comes to userbase, Threema is one of the smaller alternatives to WhatsApp, only numbering around 9 million users as of the end of 2020.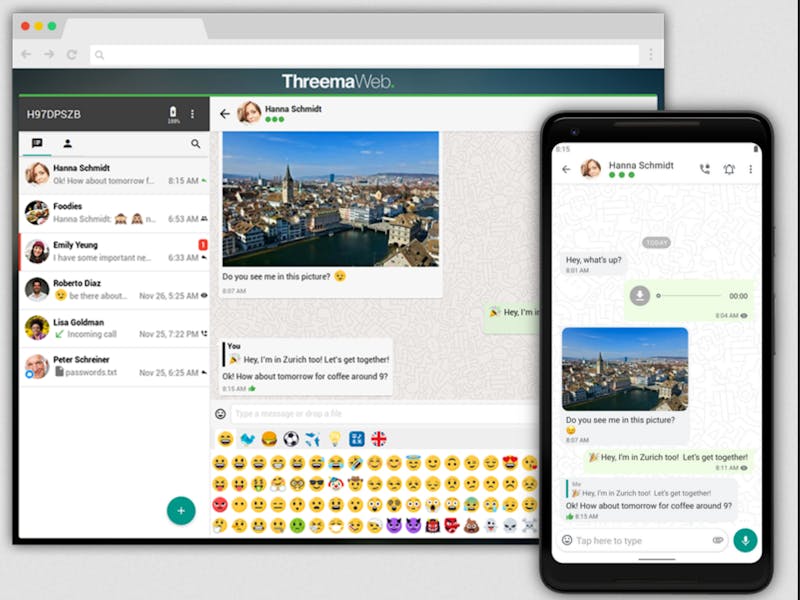 Threema looks similar to WhatsApp, but isn't free.
Security
E2E comes enabled by default. Beyond that, it's possible to communicate with complete anonymity. All users are assigned a randomly generated ID that is visible to others; Should you want to personalize your experience, you can add your real name, but this is optional. Similarly, Threema only compares telephone numbers and email addresses in your phone by request, to see if they relate to any existing users.
The service doesn't permanently store data either. In contrast, groups and contacts are stored on individual phones, not the app's servers. After delivery, all messages are deleted, leaving no traces. Only as much metadata is saved as is needed for the app to smoothly function.
Features
Communicating works similarly with Threema as it does with WhatsApp, offering essentially the same features. Following its most recent update, a number of new features have been introduced. One of these is the ability to filter chats for keywords. Sending media has been made easier and integrated with a comfortable search function.
Apart from that, you can access your account from your smartphone or desktop. According to the developer's recent statements, they are currently working on a multi-device solution.
The service is also interesting for companies thanks to the separate Threema Work Messenger.
Risks
We are not aware of any risks associated with Threema. The developer greatly values security, regularly submitting its software to external audits. Overall, Threema offers maximum anonymity, securely encrypting all user data. This is because the company sells an app, not your data.
Saves a minimum amount of metadata.

Wire
In the clash of the messenger titans, Wire ⇱ shuffles around in the background. Like Threema, the app, launched in 2014, is Swiss, and a product of Wire Swiss. In the middle of 2019, the company's holding company, Wire Group Holding Inc, moved from Luxembourg to the US.
Wire hasn't released any official subscriber numbers, but estimates range from 500,000 to 5 million. However, individual users aren't Wire's target group, as the company caters primarily to businesses and organizations, offering a powerful, Pro plan, which supports both telephone and video conferencing. For larger companies, there's also Wire Enterprise, which provides a data cloud and individual branding. The most interesting aspect of Wire is that in contrast to other messenger apps, it can be used without a smartphone.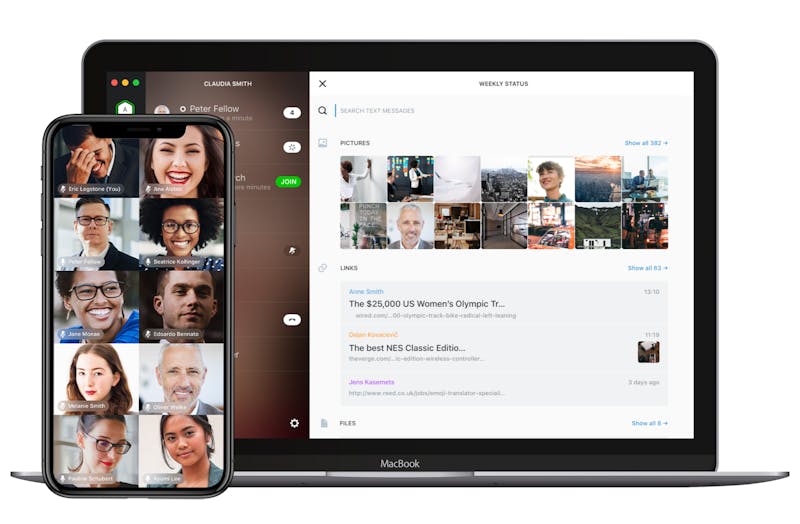 Wire's Pro version caters to business customers.
Security
Wire hypes itself as being as sleek as WhatsApp while offering the security of Signal. All communication is encrypted with E2E, and the program itself is open-source. Wire has submitted to two independent audits, completing the most recent one in 2017.
It isn't possible to use Wire completely anonymously, as you'll need to register with an email address. When registering, you can decide if your existing contacts should be checked for other users. If you agree to this, the company guarantees that all data will be anonymized and not linked. Wire only collects as much metadata as is necessary for the software to function smoothly. These are saved in plain text on Wire's servers, contradicting Wire's emphasis on data security.
Features
Wire's private version is easy to use and performs similarly to WhatsApp. This includes chats, calls, data transfers, as well as audio and video conferences. Beyond that, messages also auto-delete, and the service can be used on up to eight different devices. The Pro version impresses with additional features like a guest area for partners, as well as video and teleconferences.
Risks
The plain text saving of sensitive metadata, showing who communicates with whom at what time, definitely detracts from our assessment of the provider's security. It also isn't clear what the parent company's relocation to the US means for more data-sensitive European users.
Metadata is saved in plain text.

Necessary to pay to use all features.

Viber
Anyone making the transition from WhatsApp to Viber ⇱ is heading from the frying pan and into the fire, at least so far as privacy is concerned. WhatsApp's strongest competitor was originally conceptualized as an app for making calls over the Internet, developing quickly thereafter into a fully functional messenger.
In early 2014, Viber was taken over by the Japanese online retail giant, Rakuten. Today, according to the company's official statistics, more than one billion people use the service, primarily in Asia.
Security
Viber fulfills the minimum requirements, applying E2E for all communications between senders and recipients, equipping all messages in secret chats with a self-destruct countdown. Unfortunately, that's the extent of the good news so far as privacy is concerned.
A quick review of the service's privacy policy reveals that Rakuten doesn't place all that much value on its users' privacy. In it, the company states that it creates and stores a copy of its users' contacts (with name and number) on its own servers, even if these contacts don't use Viber. Non-users are neither asked to approve such a breach of their privacy nor are they informed of it.
However, that's not even the gravest infraction, as anyone who uses Viber will need to accept the company constantly following their social media activity as well.
In short: Viber uses all metadata it can get its hands on. And that's a lot.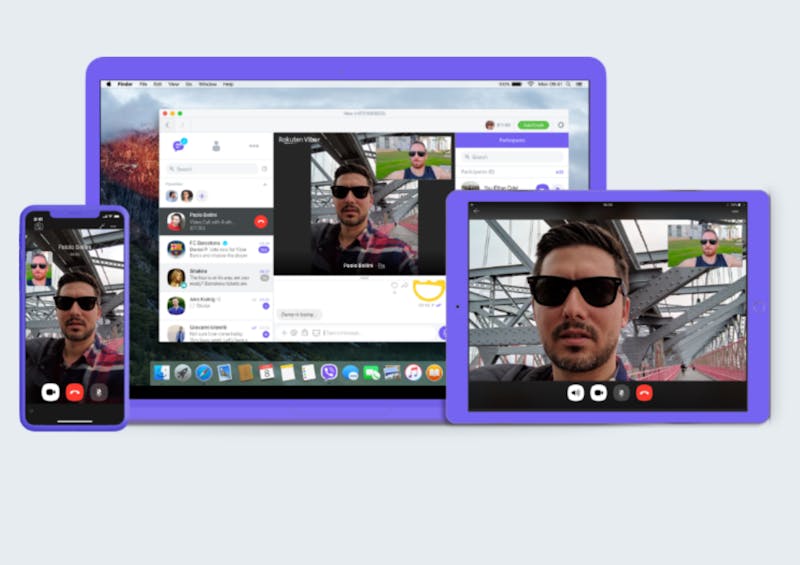 Viber offers lots of features, but is a nightmare for anyone intent on preserving their privacy or digital anonymity.
Features
Everything you can do with WhatsApp is possible with Viber. In addition, for a fee, it's possible to call contacts over landline. For anyone who is more playful, Viber offers a seemingly endless selection of stickers and emojis, as well as a shop for buying particularly chic creations. If you're bored, you can challenge friends to virtual games as well.
Risks
Unlike most other services we've looked at here, Viber's risks far outweigh its benefits. Anyone who uses Viber sacrifices most of their privacy, allowing the company to gather pretty much whatever data it would like, not only from the individual user but also, their friends and contacts.
Gathers data about users and their contacts.

Follows users' social media activity.
Conclusion
No one likes a snoop, whether an eavesdropper around the corner at work or a giant corporation on your smartphone. In an era where personal data has become a commodity, greater privacy is one of the real draws in a messenger app.
Even though WhatsApp and Viber have huge user bases and offer some protection, so far as privacy and data security are concerned, they're part of the problem. Owing to its lack of transparency, we also can't fully recommend Telegram either, even though it is easy to use.
For anyone that wants to err on the side of caution, it makes sense to take Snowden's advice and use Signal. Should you be ready to invest a bit in your digital security, the Swiss service, Threema, places a premium on discretion.

Julia P. Manzau has more than 30 years of professional experience in leading editorial and marketing positions in the premium automotive, mechanical engineering, and healthcare industries. She studied Political Science and History in Bonn, Marketing at the St. Galler Business School and earned a BA in Media Engineering (CCI). Since 2015, she has worked as a freelance writer. For EXPERTE.com, she focuses on software, the Internet, and marketing.
Continue Reading
Privacy