Ecommerce
1&1 IONOS Shop Review 2022: How Good Is The German Ecommerce Software?
Your business is doing great: Orders are coming in, customers are satisfied, and you're making a name for yourself in your community, but something is missing. An online store: Well, there's good news, since creating one has never been easier. Even if you're computer illiterate or don't have an eye for web design, a wide selection of excellent tools capable of helping you establish a digital presence for your business are available. At EXPERTE.com, we've evaluated online store building platforms, and in this review, we'll introduce you to what one of them, 1&1 IONOS's eCommerce Website Builder, has to offer.

1&1 IONOS is a German ISP that has grown into one of the largest web hosting services in Europe. We've already shown how 1&1 IONOS looks after individual customer needs through its web hosting and site builder solutions, both of which excelled thanks to their extensive features and around-the-clock support.
In this review, we'll see if 1&1 IONOS can complete an EXPERTE.com trifecta with its ecommerce platform, or if you might be better off elsewhere.
Product Management
4.7 / 5
Personalizing Your Store
4.7 / 5
Configuration & Usage
3.7 / 5
Marketing & Analytics
3.7 / 5
Powerful site builder for creating online stores
Easy to add products and variations
Ability to integrate multiple languages into a shop
Fast support thanks to a live chat and personal advisers for each customer
Somewhat lackluster marketing options
Right off the bat: If you like to test a service before buying a subscription, you might want to take a look elsewhere since no free version of 1&1 IONOS's eCommerce Website Builder is offered.
When registering, you'll need to enter payment details and select a subscription plan. You do have the ability to cancel your subscription in the Control Center within 30 days if not completely satisfied, but you'll still be charged (at least temporarily) for using the service.
Once paid up, you'll need to wait as your purchase is confirmed and your website created. During testing, this took around 20 minutes.
We're used to ecommerce platforms that offer either free trial versions, and/or are ready immediately after purchase, so, the entire process of getting started with 1&1 IONOS's eCommerce Website Builder was a bit atypical for us.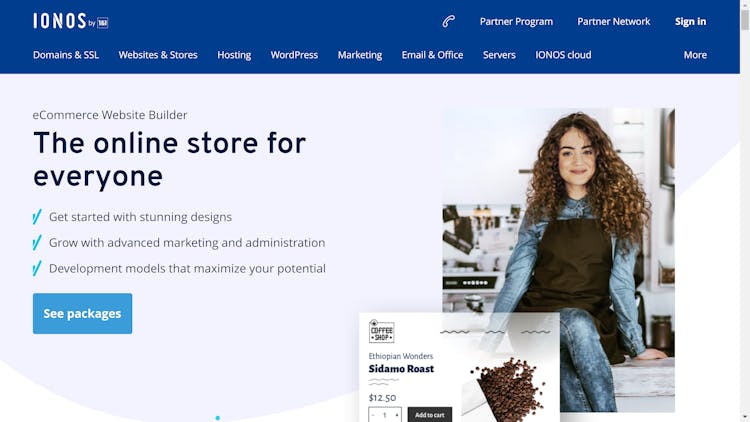 Before you can get started, you'll need to select and pay for a subscription.
Things go pretty quickly after paying. You can find your shop in the Management Dashboard under Websites & Shop, and start building right away by clicking on "Create a Site" . While you're waiting for your site to be built, 1&1 IONOS can create an online business card that you can use to direct customers to your online store.
Before you start designing everything on your own though, it pays to take a look at the ready-made designs on offer, since 1&1 IONOS provides more than 400 different templates, far more than its competitors do. Of course, some of these look fairly similar, but still, you do have a big choice. Once you've selected a design, you'll wind up at the MyWebsite Interface where it's possible to start adding content to your online store.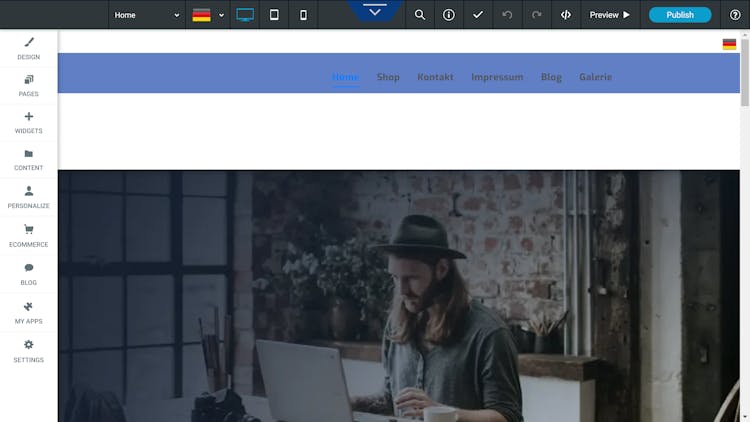 In contrast to most other ecommerce platforms, 1&1 IONOS's eCommerce Website Builder's editor isn't subordinated to the interface, but rather, is the interface from which you can manage all aspects of your store.
For that reason, 1&1 IONOS's eCommerce Website Builder should be seen as less of an ecommerce platform and more of a website builder with added e-commerce features and functionality. This brings a number of advantages, such as the ability to more intricately work with the backend in the frontend, which is sure to be appealing to those just starting out. Once you've set up your store, and start taking orders, the novelty of this disappears.
Even though we ordered a "Shop" subscription and selected an ecommerce theme, we needed to activate online store features. To do this, click on E-Commerce in the sidebar and follow the instructions, after which your shop will appear as an additional subpage in the navigation menu.
Unfortunately, the template we had selected prior to doing this wasn't configured for usage in a store. As such, the 'test products' we added to the homepage didn't link to their respective product pages, but rather to an image gallery. For that reason, it's important to make sure that all settings are configured properly before designing or adding significant amounts of content, which is somewhat frustrating when set alongside the 'out of the box' usage offered by some of 1&1 IONOS's competitors.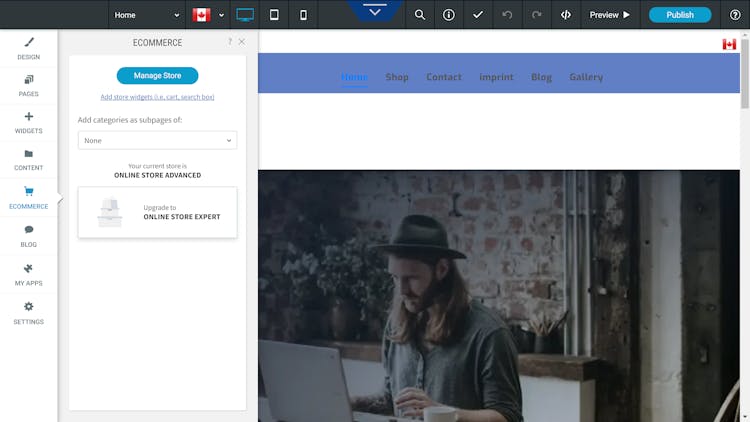 1&1 IONOS's eCommerce Website Builder is largely based around the company's site-building solution, offering a powerful tool for creating online stores.
We take a closer look at the editor in the fourth section of this review. At this point, it's enough to say that it's easy to navigate: Through the sidebar on the left, you'll be able to access an array of different features, ranging from design elements, all the way up to the app marketplace. By clicking on the "Manage store" button you're taken to the management interface of your shop, which is based on the highly-successful Ecwid software.
On the sidebar menu, you can select from My Sales, Catalog, Marketing, and Reports. Should you offer your products through other channels, you can also manage your multi-channel strategy here by integrating the necessary plugins or add-ons. Business data can be modified under Settings.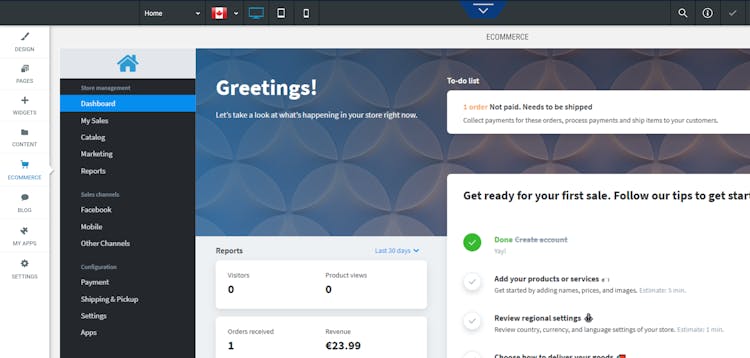 The shop administration section features all of the menus one would expect.
For managing on the go, 1&1 IONOS offers both Android and iOS apps, which allow you to stay on top of things and track your orders from just about anywhere.
There are certainly a few things that 1&1 IONOS's eCommerce Website Builder could improve upon. First, for users who are just starting out, considering how intricate the store building platform is, it would be prudent to offer some sort of free version or to make getting started easier. Templates could also be optimized to include only those compatible with shops, to make customizing your online store easier.
Using and navigating 1&1 IONOS's eCommerce Website Builder is easy enough though, however, we would prefer if the site builder was de-coupled from the store management interface.
Score: 3.7 / 5
It's possible to add new products by clicking on Catalog > New > Product. In the Product menu, there are several tabs; under the General tab, you can enter the most pertinent information, such as the price, or upload pictures of the items you have for sale. You can also assign items to specific categories, but more on that below.
Under the Variations tab, it's possible to add different variations for each product in your store. 1&1 IONOS makes this both convenient and intuitive: FIrst, chose a characteristic (for example "color" or "size"), then add the individual options, and specify whether these impact the price.
After this, you're able to set how your customers can select from these, either through a drop-down list, a radio button, size chart, control box, text field, calendar, or even upload a file, the last of which is essential if you want to offer customization or personalization options for your products.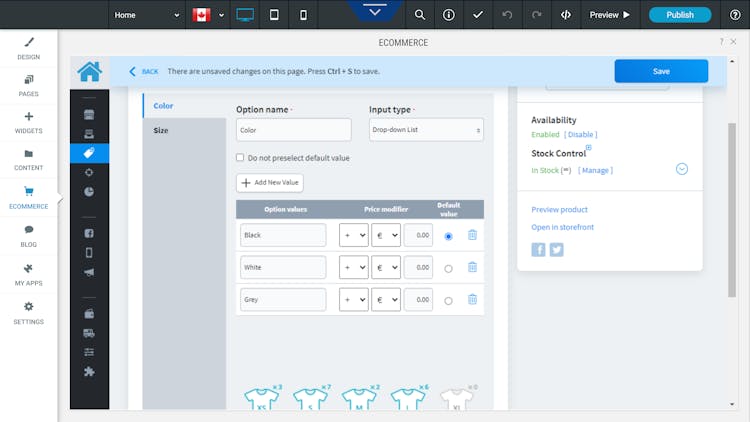 Creating product variations only takes a few clicks.
It's also convenient that by clicking on Preview Product, you can see how your product will appear to customers when viewing it in your store.
If you'd like for customers to see a different image when selecting a specific variation, and for your inventory to individually manage each variation, you'll need to create a new attribute combination in the similarly-named tab. You'll need an entry for each color-size combination - the platform could take some of this work off our shoulders if it automatically generated such entries, but as the French say, 'C'est la vie'.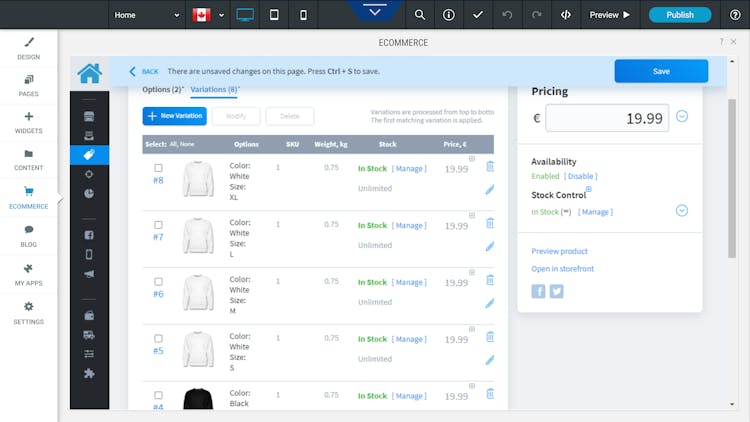 It is possible to individually manage each attribute combination among your variations.
Under the Catalog menu, you can also specify your inventory and set notifications for when a certain threshold has been reached. Especially for products with multiple variations, it would be better if the inventory was slightly more intuitive. For example, in the item overview, variations that have low quantities aren't marked differently or moved up the product list. Overall, more could also be done to link the inventory section with the management center to provide more direct insight.
Unlike some other providers we've examined, 1&1 IONOS does facilitate the sale of digital products, so long as you've purchased one of the more expensive subscriptions. If you have, go to the Files tab, and upload the file you'd like to sell. The maximum size depends, once again, on your subscription package - 1 GB in the "Shop Advanced" package, 10 GB in "Shop Expert".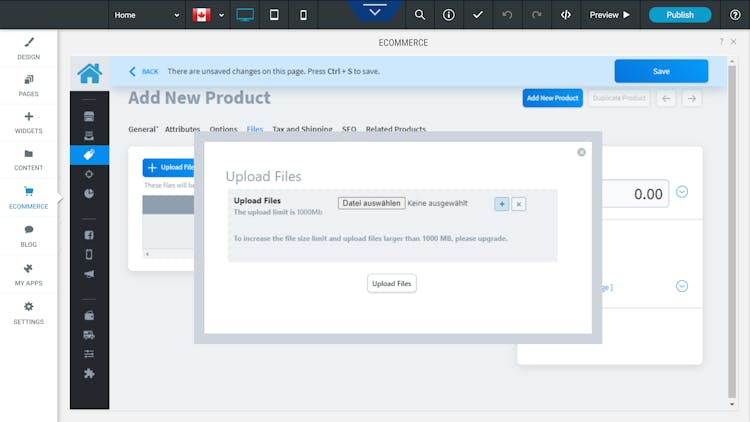 You can also help your customers by allowing them to search for products in your online store according to categories, over which you have complete control. For each of these, it's possible to include a picture and even indicate sub-categories. The pre-installed, unremovable "Shop Start Page" category contains products that are automatically recommended to your customers.
Overall, 1&1 IONOS's eCommerce Website Builder does pretty much everything in terms of product management, however, some tweaking of the inventory and variation options would do it a world of good.
Score: 4.7 / 5
4.
Personalizing Your Store
In the center of the screen, you're shown a live preview of your online store, that you can edit by dragging and dropping elements. This preview is framed by two menu bars: On the left, this includes the previously-mentioned sections, such as your store, as well as tools for editing.
On the upper bar, you can alternate between views (desktop, smartphone, or tablet) and your subpages. If you're knowledgeable in CSS and HTML, you can also enter developer mode here.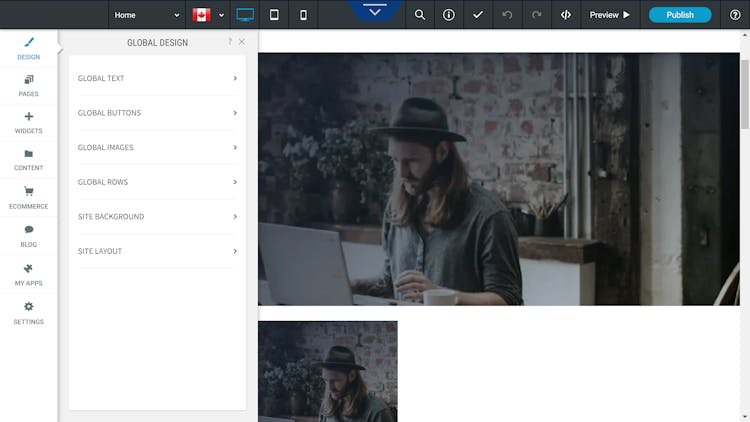 The editors are similarly designed.
It's possible to add page content such as text, images, columns as well as ready-made content blocks like contact forms, or calendars under Elements in the sidebar menu. Once you've selected a widget, you can drag and drop it onto the page. Content can be further edited directly in the page preview.
When left-clicking on an element, a menu will open which shows general content settings, and in which design steps can be undertaken (layout, colors, borders, line spacing, etc). An additional menu for advanced settings can be opened by right-clicking: This allows you to add animations or specify that an element not display on certain devices (such as a smartphones).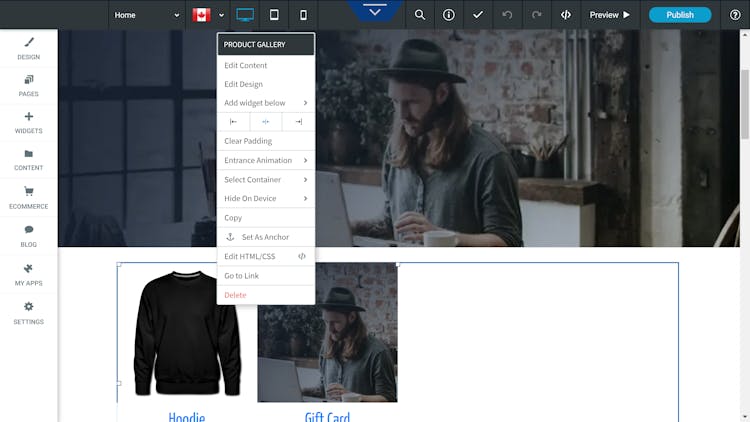 Lots of menus; lots of possibilities. 1&1 IONOS's eCommerce Website Builder is powerful, but takes a bit of getting used to.
Should you not be in the mood to create each individual element on your store's site, you can also add entire sections. Simply position your cursor between the columns in the preview box and click on + Add Section. Here, you'll find a variety of templates for customer reviews, features, and more. Once you've added a section, you can edit it in the same fashion as other elements.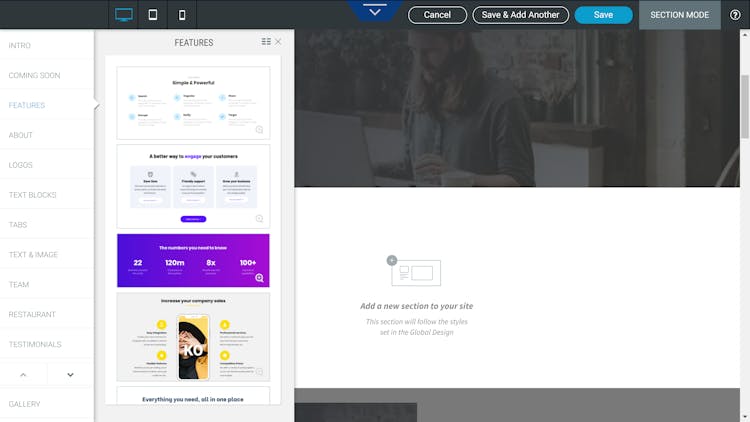 Further personalize your site with ready-made content blocks.
On the menu page, you can add pages and subpages to your online store, arrange them, and specify whether they should be shown in the navigation menu or not. You can also edit the navigation menu itself and arrange it to your liking.
1&1 IONOS provides unparalleled design freedom when creating an online store: Only in terms of shop elements, such as the shopping cart and checkout page, will you need to color within the lines and follow the service's guidelines. Still, even here, you can adjust some aspects to your taste, such as the font, or which content should be shown or requested from customers.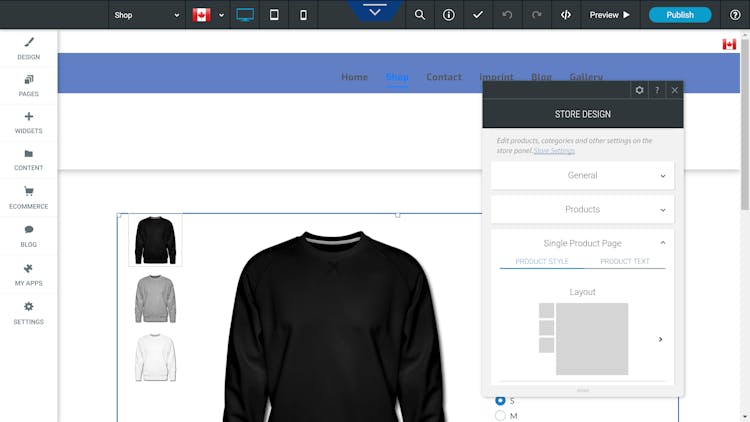 Nearly all shop content can be edited to your liking.
Do you want to market your goods or services in multiple languages? With 1&1 IONOS's eCommerce Website Builder, you're in luck, because this platform makes it easy. The only catch is that you'll need to complete two separate processes. First, head into the settings menu by clicking on General, thereafter searching for Language Settings under the Regional Settings tab. Here is where you can set your store's language, and add additional languages. By adding additional languages, you'll be able to send automatically translated email notifications or invoices to your customers, or respond to them in their native language if they place an order on that version of your site.
To localize your entire online store, you'll need to click on Add Languages in the Pages menu of the editor. There, you can add a language menu to your page and alternate between the different versions so that you can manually update the texts on each.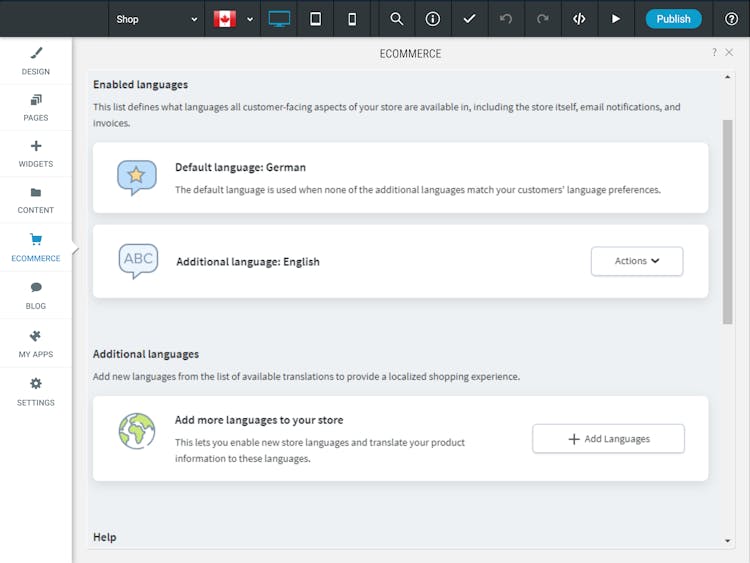 Creating a store with different language localizations is also possible.
1&1 IONOS's eCommerce Website Builder's editor is versatile and powerful, but scores with us owing to its ease of use. This editor makes it possible to customize your online store, affording users a significant amount of creative freedom, uncommon among other ecommerce platforms.
This also has some consequences though, namely that it's necessary to spend a bit more time figuring out the different tools and the site builder. In addition, you will have to have something of a knack for design. Since we're familiar with the company's other offerings, it was also immediately clear to us that the eCommerce Website Builder (as its name suggests) is simply the service's MyWebsite product with added ecommerce functions, which haven't been seamlessly integrated.
For those truly just starting out, who don't need (or want) a lot of creative freedom, there are definitely better options available. However, if you're looking to customize your online store, and want to have control over almost all aspects of how it's designed, we think you'll be more than satisfied with 1&1 IONOS's offering.
Score: 4.7 / 5
After you've added some products to your online store, and are satisfied with how the site is designed, you can finally start selling! But first, you'll need to set up payment methods. These can be found under Configuration > Payment. It's possible to activate Stripe and PayPal with just a few clicks, covering the most important credit and debit cards, as well as online bank transfers, or SEPA (for the European Union).
In addition, you can also choose from a variety of payment gateways and configure manual payment methods such as telephone orders, checks, or cash-on-delivery.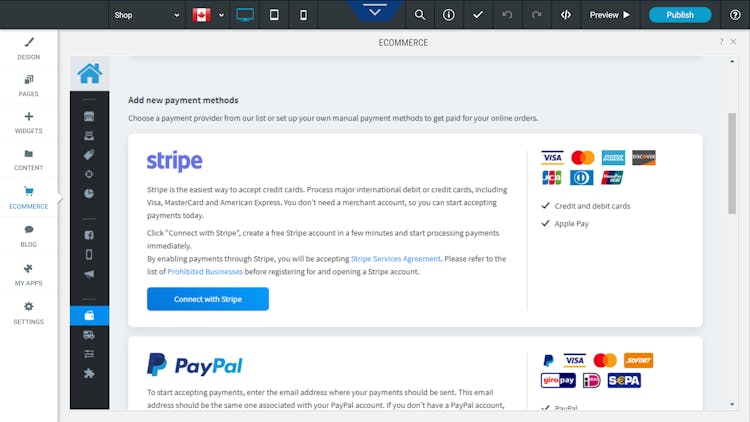 1&1 IONOS supports all of the most important and common payment methods.
Under Delivery & Pickup, below payment settings, you can manage shipping. It's possible to manually select methods or to use services like DHL or UPS. Here, you can link the delivery costs to specific weights or order totals; free shipping can be offered to customers based on user-defined conditions.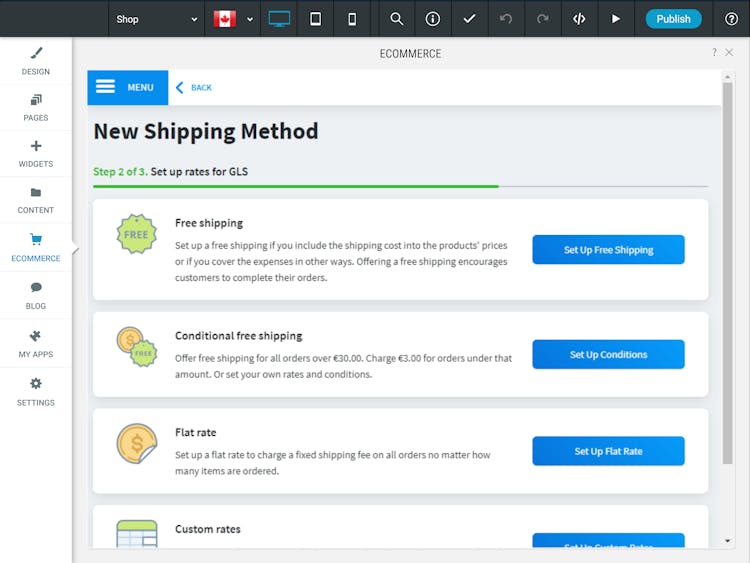 1&1 IONOS's eCommerce Website Builder allows you to offer free shipping to your customers after meeting a set order total or weight.
Taxes are automatically calculated by 1&1 IONOS based on your store's location as well as where your customers are ordering from, however, you can manually adjust these if need be. For example, you can set taxes on certain types of products, or offer some of them tax-free.
Unfortunately, it is not possible to enter before-tax and after-tax prices for your products. All prices in your online store are automatically shown as after-tax since otherwise VAT would be charged twice when paying. Should you want to deactivate this feature, you can enter before-tax prices, however, invoices will not include VAT.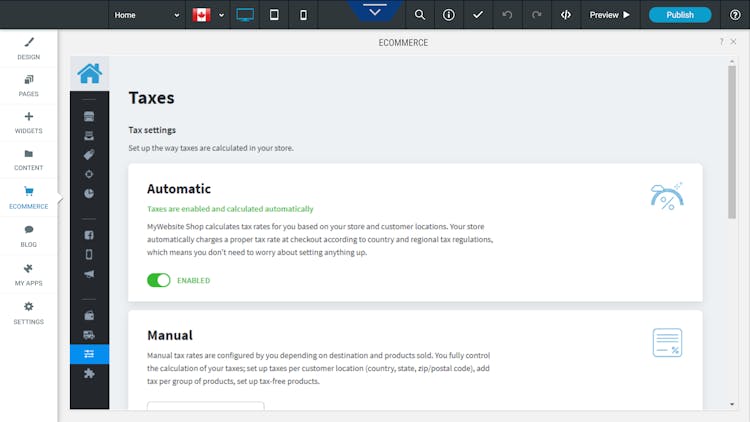 Taxes can be set automatically or manually.
Placed orders can be viewed in the Sales section. You can sort these on the basis of different criteria (date, payment status, order status, etc.) or use the search tool to find a specific order number or customer.
Using the different buttons, it's possible for some actions to be performed directly in the preview window - for example, you can specify whether payment for an order has been received or mark an order as sent. Once you've confirmed the dispatch of an order, you can enter a tracking number, so that your customer can follow its progress.
You can open a detailed view of a specific order by clicking on the arrow to the right. Here, it's possible to see your customer's location on a map, and if they've consented to their email address being used for marketing purposes.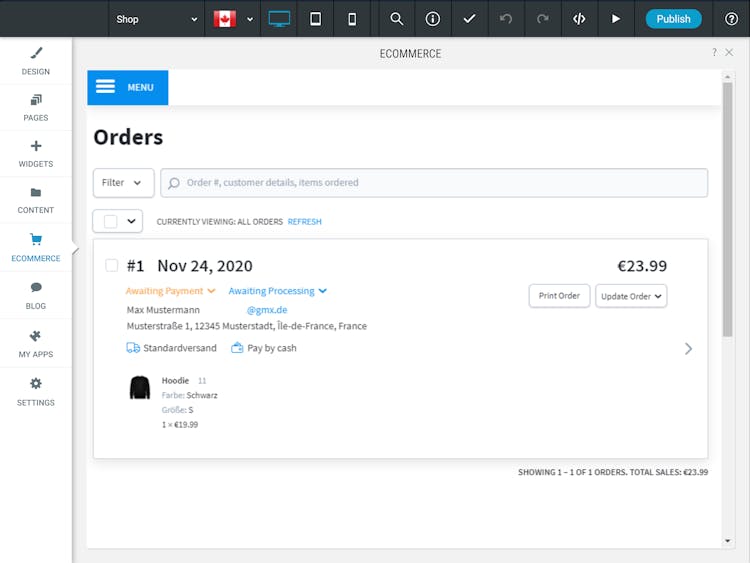 Order management is clear and well-structured.
Should your customer want to get in touch after their purchase, for example, to change their order or report a mistake, you can modify the order details through Sales > Edit orders, preventing cancellations.
If you want to sell your products on a different channel than your online store, this can be achieved by navigating to the Sales Channels area. There, it's possible to integrate Facebook, Instagram, Google Shopping, eBay, and Amazon. Sales at the point of sale are possible with Square POS, albeit only for "Expert" subscribers. Dropshipping is not supported directly by the platform but can be integrated using third-party plugins.
1&1 IONOS's eCommerce Website Builder allows for a number of different currencies to be used, however, only one can be selected for each store. This means that it isn't possible to set USD for your US localization and EUR for your German localization.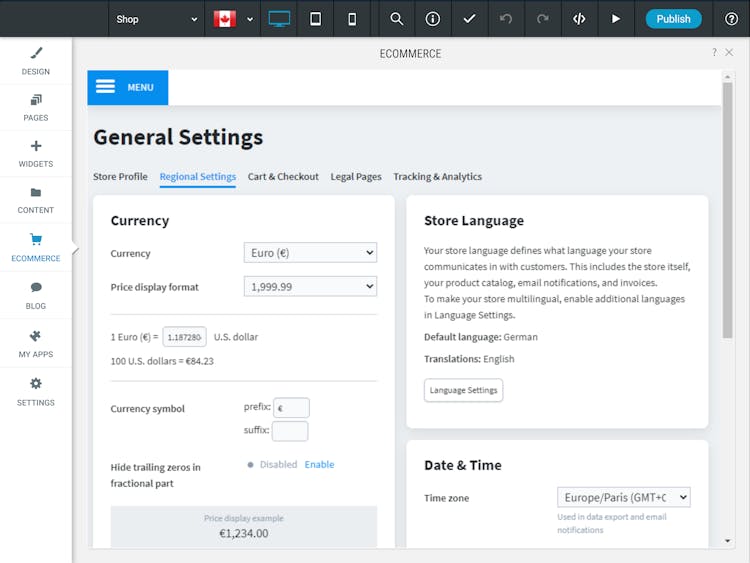 Unfortunately, each online store can only sell in a single currency.
As far as sales are concerned, 1&1 IONOS's eCommerce Website Builder checks almost all of our figurative boxes. Of course, it would be nice to add different currencies to store localizations, but other than that, all good!
Score: 4.7 / 5
What is the best way to boost sales? With discounts! These can be configured either directly in the Catalog menu or under Marketing > Discounts. Here, you're given the option to add rebates for buying in bulk, or to display a comparative price on the product's page, to underline the savings offered. Additional options, such as those provided by other platforms, are, unfortunately, not available.
Discount codes can also be created which are redeemable prior to purchase. These can be either percentual or fixed amounts, include free shipping, or combine some or all of the options. It's also possible to set a minimum delivery amount and limit the number of coupons that can be redeemed in combination with one another. Only with regards to the validity are things kept a bit unclear ("Start in 3 days", "End within 3 days"). You can, however, limit these vouchers to regular or new customers, as well as specific products or categories.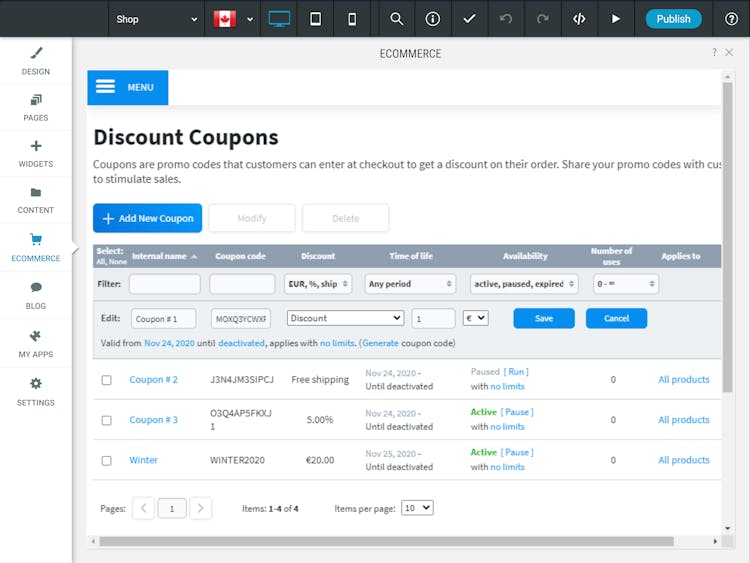 Motivate your customers with rebates, coupons, and discounts.
Of course, you can also let your customers do your marketing for you, thanks to the ability to offer gift cards. These can be set up in the similarly-named menu in the Catalog area. You can add a title and description, as well as design and remaining amount to each of these.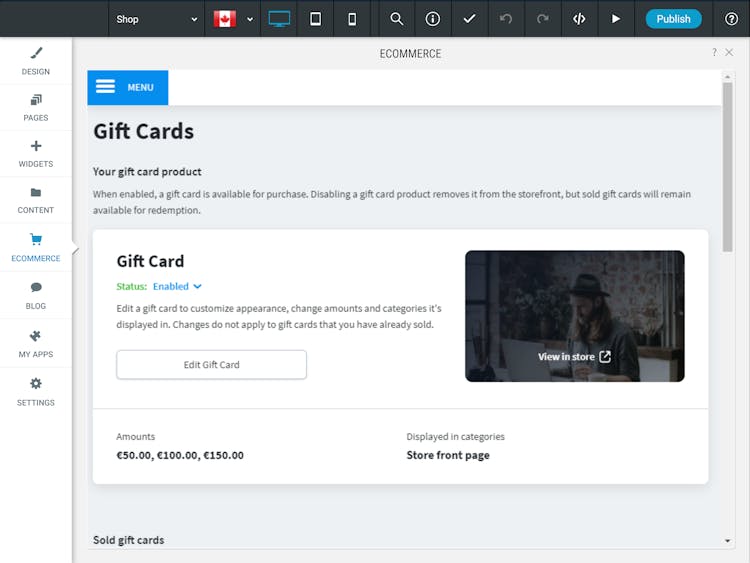 Let your customers promote your online store for you with gift cards.
Sales that might slip away from your grasp can be rescued thanks to the Abandoned Shopping Carts feature in the Sales menu. Whenever a customer abandons an order or interrupts it, the items they had put in their shopping cart will be shown here. Thanks to this feature, you can send reminder emails to these customers, manually or automatically, or offer them a discount to help them make up their minds.
As good as the 1&1 IONOS's eCommerce Website Creator is, it doesn't include email marketing. Under Marketing > Newsletter you're able to integrate an external service for managing your email campaigns (Mailchimp is recommended). Other e-commerce platforms, such as Shopify, offer a bit more in this department.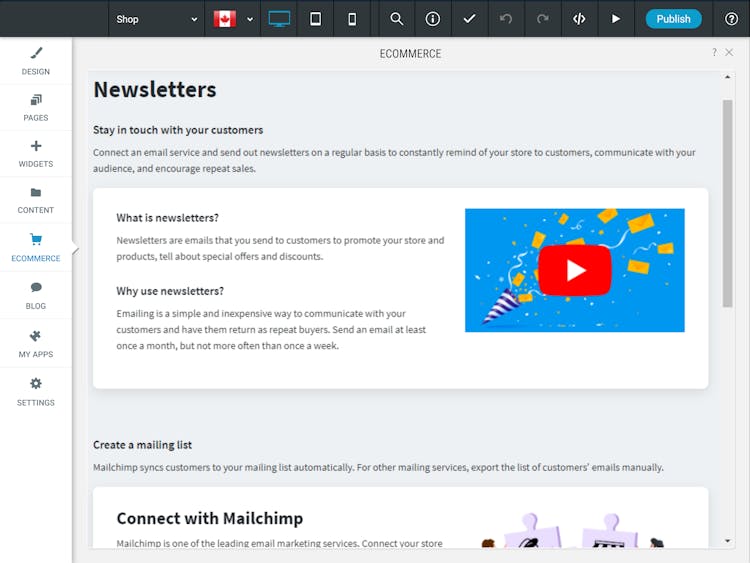 To launch an email marketing campaign, you'll need to integrate a third-party solution.
In terms of SEO, 1&1 IONOS's eCommerce Website Builder allows you to include page titles, meta descriptions, and keywords. URLs are automatically generated, and cannot be changed. The service's SEO features should be enough for beginners, however, again, other platforms, like Shopify, offer a bit more here.
Analytics
To view statistics directly in the dashboard, you'll need to install the (free) tool, Kliken Stats. This can be found in the Shop area under Reports > Statistics and provides you with an overview of the most important metrics - customer frequency, income, conversion rate, orders, items per order, and much more. You'll also be able to view your most popular products and categories here.
For additional data and reports, 1&1 IONOS recommends the third-party Monkey Data app, which can also be installed through the Reports menu.
Google Analytics and Facebook Pixel are also easily integrated.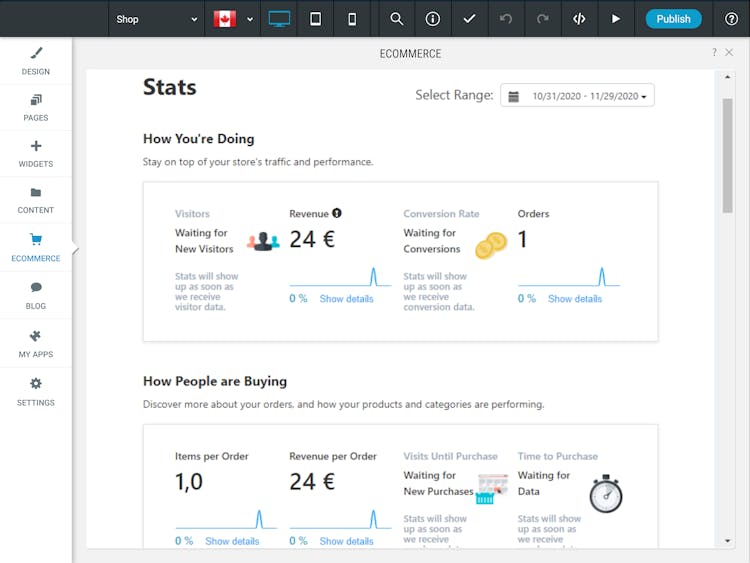 How well do you know your customers? 1&1 IONOS's eCommerce Website Builder makes sure you can answer this!
1&1 IONOS's eCommerce Website Builder gives a good accounting of itself in terms of marketing in some areas but seems to have left others unfinished: Its SEO options are rudimentary, rebate/discount settings aren't all that impressive, and the absence of integrated email marketing is unfortunate. As such, there's definitely room for improvement.
Score: 3.7 / 5
1&1 IONOS's help center provides step-by-step (video) tutorials for a number of the service's most important features. These can be readily perused thanks to a full-text search. However, there are some things missing, particularly for those creating an online store. For example, we needed to ask the company's live support for additional details about creating multiple language localizations for a webstore.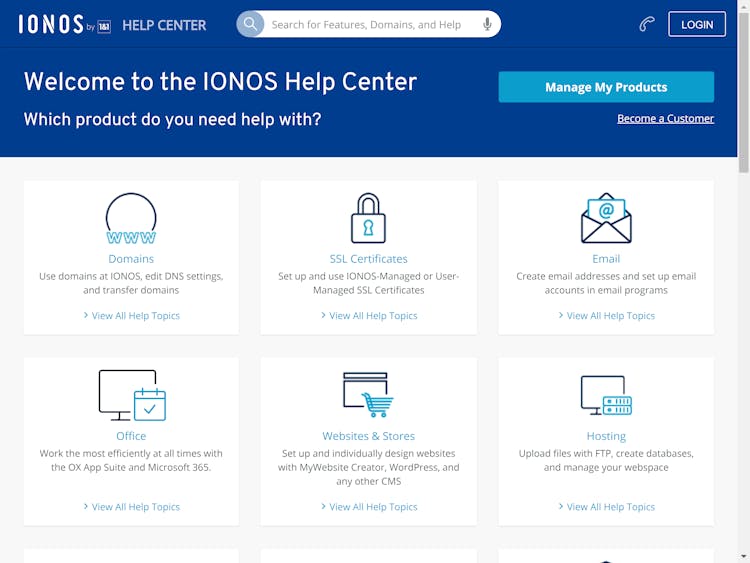 If the help center doesn't have what you need, there's no need to fear: 1&1 IONOS provides 24/7 support.
However, you won't be without help for long, since 1&1 IONOS provides around-the-clock support to all subscribers. Unique to the service, you're also offered a personal adviser, who will contact you on the phone or through live chat when you have an issue. On a Wednesday evening (6:00 PM) we didn't have any luck in getting in touch with a support staffer, however, on Friday mid-morning, we only waited two minutes. On the hotline, it took around 10 minutes for us to receive a response.
Especially for those times when live chat might be down, or understaffed, we would have liked to have the ability to get in touch with 1&1 IONOS's support by email or filing a support ticket. With that said, 1&1 IONOS's response time wasn't too shabby.
Score: 4.3 / 5
1&1 IONOS's eCommerce Website Builder is available in three different subscription packages: Shop, Shop Advanced, and Shop Expert. These can be paid either on a monthly basis, or a (cheaper) yearly rate. The different subscriptions vary mostly in terms of the number of products which can be offered: In the Shop package, this is 5,000 products; for Shop Advanced, 10,000; and for Expert, 1 million.
Digital products can be sold only in the Advanced (1 GB) or Expert (10 GB) packages. Individual inventory management for product variations is likewise reserved for Advanced and Expert subscribers, as is the HTML editor for invoices, the mobile shop management app, tax exemption for specific groups of customers, and bulk rebates.
If you want to sell your products as part of a multi-channel strategy, you'll need to book an Expert subscription. Customer group rebates are also reserved for Expert subscribers.
Transaction fees aren't charged in any of the subscription plans, however, depending upon the payment gateway you use, you may need to pay these.
An overview of 1&1 IONOS's eCommerce Website Builder's rates can be found here:
Starter
Plus
Pro
Pricing
Price per month
from $6.50
from $16.25
from $32.50
Transaction Fee
0 %
0 %
0 %
Contract period (months)
1 - 12
1 - 12
1 - 12
Product Management
Number of Products
500
5,000
10,000
Product Filters
Product Variants
Product Reviews
Digital Products
Features
Multilingual
Multiple Currencies
Sales Channels

Amazon

Facebook

Facebook

Facebook

Instagram

Payment Options

Rechnung

Credit Card

PayPal

Lastschrift

Rechnung

Credit Card

PayPal

Lastschrift

Rechnung

Credit Card

PayPal
To better compare the prices of all the providers in our test, the following table shows the annual price when choosing a plan with at least 100 products.
$78.00
Visit Website
$150.00
Visit Website
$264.00
Visit Website
$288.00
Visit Website
$312.00
Visit Website
$324.00
Visit Website
$359.40
Visit Website
$378.00
Visit Website
Product Management
4.7 / 5
Personalizing Your Store
4.7 / 5
Configuration & Usage
3.7 / 5
Marketing & Analytics
3.7 / 5
1&1 IONOS's ecommerce platform combines Ecwid's powerful ecommerce software with 1&1 IONOS's reliable website builder. The result is a solid online store solution that allows a great deal of personalization, a large number of options for managing and selling products, and good support. The tool is also excellent for creating multiple language localizations of online stores.
We felt a bit disappointed in terms of the marketing aspects of the service, and the absence of integrated email marketing features, or more exhaustive rebate/discount options. On top of this, getting started with the service took a bit longer than we're used to, and there isn't a free version on offer.
At the end of the day though, if you're looking to 'express yourself' and leave your mark on your digital store, you can't go wrong with 1&1 IONOS's eCommerce Website Builder.
simple product management
multilingual stores possible
fast support with live chat
1&1 IONOS takes Ecwid's powerful ecommerce software and complements it with its in-house website builder. The result is a solid ecommerce platform that is also suitable for advanced users.
Number of Products
Transaction Fee
Sales Channels
Payment Options
1&1 IONOS Starter
$6.50
monthly price
Visit Website »
First Month Free
One evaluation is good, but more is definitely better. Should you want to hear what other users have to say about 1&1 IONOS's eCommerce Website Builder, you're in luck, because we've compiled a number of their evaluations for you.
We analyzed the reviews and ratings from various portals and found 29,100 ratings with an overall rating of 4.3 out of 5 .
Show sources
If you're not so interested in having a free hand so far as creativity goes, or would prefer more robust marketing features (such as integrated email marketing) Shopify is worth a look. And the best part? The service comes in a free version.
Our overall winner Wix mastered nearly every area we examined it in, impressing particularly in marketing and thanks to its powerful editor/store builder.
A selection of further options can be found here:
Wix builds on its strengths as a website builder and adds great sales and marketing features. This makes Wix especially suitable for ambitious beginners.
Number of Products
Transaction Fee
Sales Channels
Payment Options
Wix Business Basic
$22.00
monthly price
Visit Website »
14 day free trial
lots of marketing features
BigCommerce is a powerful ecommerce platform with a well-designed product management, many sales channels and solid analytics features. It is especially suitable for more complex ecommerce projects.
Number of Products
Transaction Fee
Sales Channels
Payment Options
BigCommerce Standard
$29.95
monthly price
Visit Website »
Start Free Trial
Shopify is refreshingly uncomplicated and cleverly packs many features into a user-friendly dashboard. Flexible extensions make it suitable for larger stores as well.
Number of Products
Transaction Fee
Sales Channels
Payment Options
Shopify Basic
$23.25
monthly price
Visit Website »
14 day free trial

Author: Janis von Bleichert
Janis von Bleichert studied business informatics at the TU Munich and computer science at the TU Berlin, Germany. He has been self-employed since 2006 and is the founder of EXPERTE.com. He writes about hosting, software and IT security.