Project Management Guide

Ad disclaimer:
For links on this page, EXPERTE.com may earn a commission from the provider. This supports our work and has no influence on our editorial rating.
There's just no getting around projects. Whether a home renovation, 're-inventing' oneself, or trying to do a perfect pull-up, almost everyone has got some kind of project in their life.
In the world of business too, projects are even more prevalent, with their failures often capable of sinking even the most prosperous companies or organizations. As far as failures go, projects can go over budget, be late, or even, lead to no tangible results after considerable investment. For that reason, project managers are important, however, heavy is the head the wears the crown, and even the most skilled managers can lose themselves in the details, making otherwise good work go to waste.
According to Wikipedia, project management entails "leading the work of a team to achieve goals and meet success at a specific time." Given the demands of the modern business/organizational environment, and the greater complexity which this entails, software developers have lent a helping hand, creating project management software.
The most important aspects of project management, the so-called "triangle", are the time, costs, and scope, all of which need to be constantly balanced and weighed against one another to ensure maximum success. Changing one of the three components will impact the other two, for example, if a project's scope increases, its time (and most likely costs) will too. If you reduce a project's costs, it's scope is likely to decrease, while its time might increase.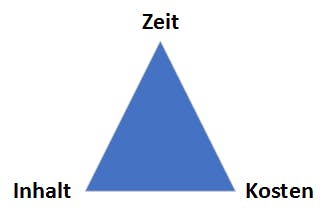 Accordingly, planning and monitoring tasks and available resources is essential to successful project management.
Project Management Methods
Two major schools of thought exist in regards to methods of project management: The classic "waterfall" method, and agile methods, such as Scrum. For more information, we recommend checking out our EXPERTE.com article on the different approaches to project management. If you're particularly interested in agile project management methods, take a look at our articles on Scrum and Kanban.
Agile methods are important because they serve as the basis for most project management solutions. All of these are circular and seek to find the optimal solution for any problem or challenge. Of course, they have different names and follow somewhat divergent procedures, however, in general, they become more accurate and able to address your needs as time goes on.
Eric Ries referred to this as the Build-Measure-Learn feedback loop in his book, "Lean Startup". In essence, the first prototype is generated and presented for customer feedback, after which newer versions are created based on what they liked/didn't like about the previous version.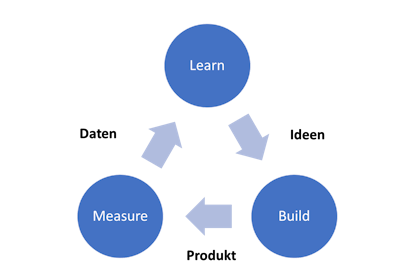 This is similar to the Plan-Do-Check-Act (PDCA) cycle found in quality management and provides the starting point for most agile methods. Plan the features or functions that are to be implemented in the next phase; Once these are realized, they'll be tested, and prepared for further improvements, until an ideal state is reached.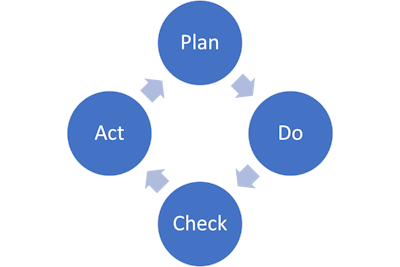 Project Management Software: Features
As we've discussed briefly above, there are a number of different approaches to project management. In terms of software, a wide variety of cloud-based solutions are available, some of which can also be used 'off the cloud', if desired. In the following sections, we'll tell you more about how to find the best solution for you, your business, or your organization.
The first step in finding the best project management software is actually something you can do right now, without a computer or Internet connection. Simply answer the following questions: What is the goal of your project? Who will be involved in achieving that goal? What is your budget? How much time do you have? Particularly for the aforementioned waterfall method, the last two questions are important.
Being able to (briefly) answer these questions helps to visualize what sort of tool will be able to best assist you. In Asana, for example, you're provided with a wide selection of different templates for all sorts of projects, grouped into categories based on their subject or topic. In the "IT" section, these include templates for developing or preparing software.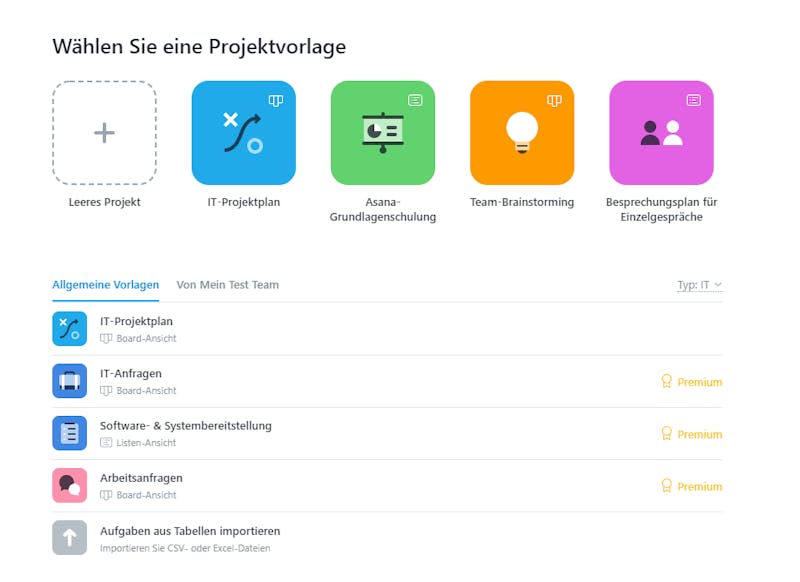 When initiating a project, it's essential to set some parameters. This will help you to find the most relevant templates or create the kind that you need.
Basecamp, another one of our top performers, provides similar functionality.
It's important to note that none of the services we reviewed provide classic project management capabilities, since these should be available outside of the specialized tools (i.e. among specialists in the workplace). With the software we've analyzed, the prerequisite information should be made available to your team in the form of a project outline and shared prior to using the project management software.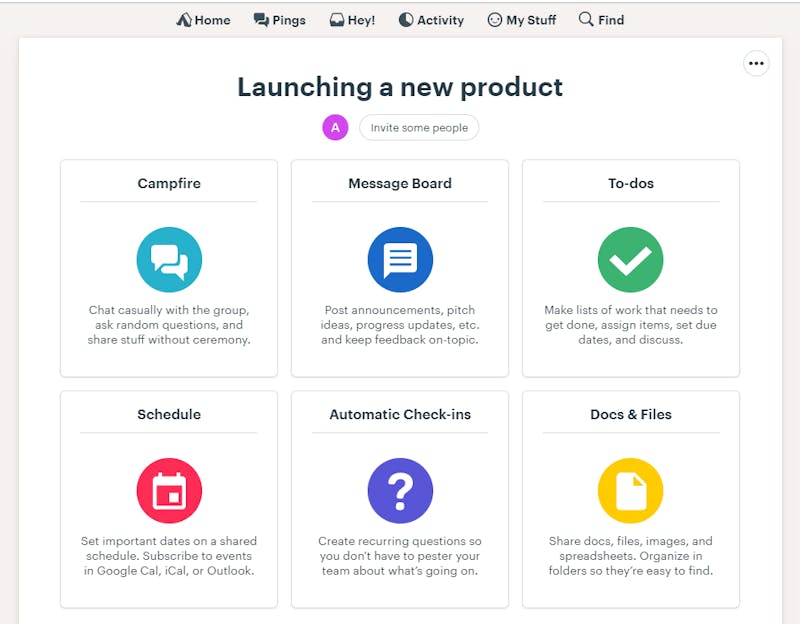 Basecamp provides a range of features for getting started with a new project.
2.
Phasing a Project and Assigning Tasks
Once you've set contours for your project, you'll need to start planning or designating individual phases, as well as determining which tasks or assignments should be completed in each phase (or vice versa, thinking first about the tasks and assignments, and then grouping them into phases). Taking a classic software project as an example, this includes conception, realization, a testing phase, and a support phase.
Here, you'll notice the first significant differences between the solutions we've addressed. Asana uses a Kanban board, Basecamp utilizes lists, and monday.com allows you to choose freely, providing several different views for visualizing your planning phase.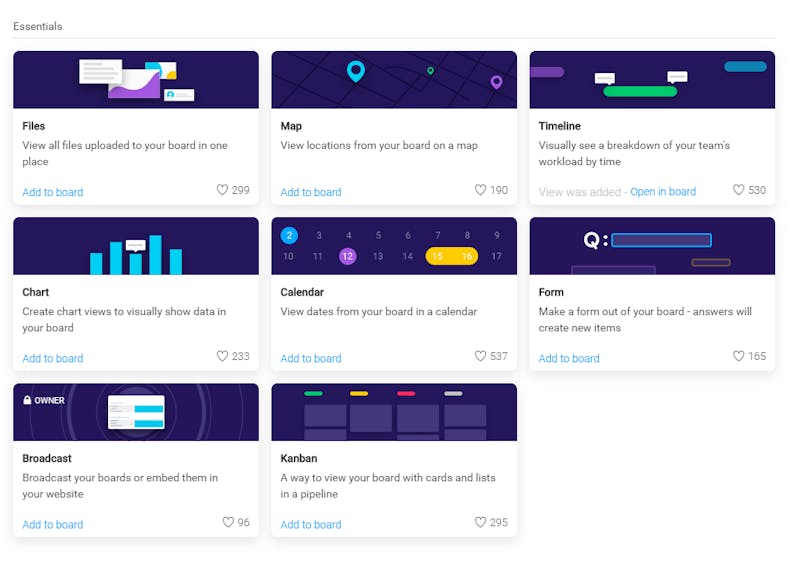 Monday.com offers a number of different views for the planning phase.
Beyond that, most of the solutions we've analyzed provide calendar or timeline views as well as Gantt diagrams.
Should you already have a clear idea of how you'd like to plan your project, simply select the appropriate view from the filters in our comparison tool. At the moment, Kanban card or calendar views are the most popular.
After you've decided how you'd like your project to be phased and created assignments, you'll have to contend with the most difficult step: Assigning tasks.
This is far more an organizational than a technical challenge. As the project leader (or manager), you'll have to take into account the duration of the undertaking, as well as the individual phases, in addition to the strengths and weaknesses of your individual team members, or, what sort of team members you'll need to recruit.
Supposing you have a pool of employees to choose from, then all you'll need to do is assign them individual tasks.
Of course, you will have to add your prospective team members to the project, but for this, a name and email address are more than enough. Once they've accepted your invitation, you can assign them tasks, or grant them user permissions.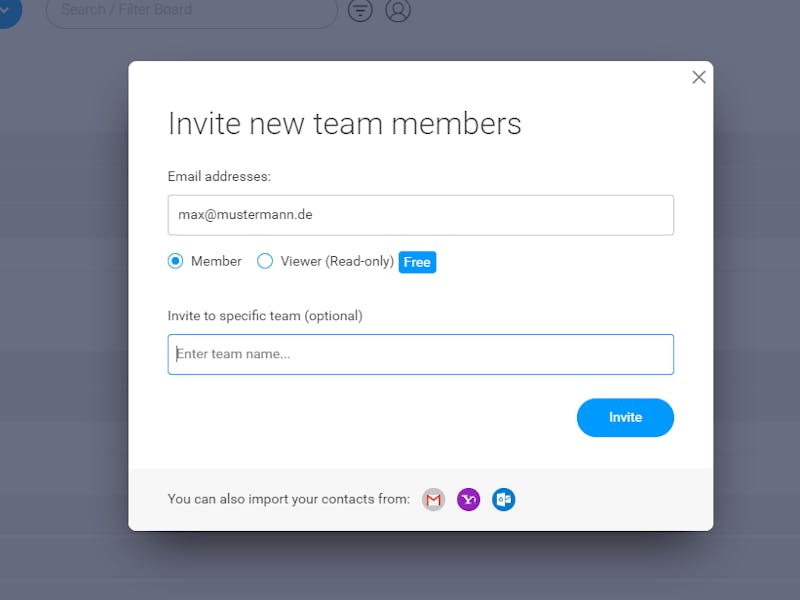 Integrating your team into project management software involves little more than entering their email address and name; the software takes care of the rest for you!
Should you have already planned a few projects using the classic waterfall method, in Microsoft Project, for example, you'll probably be looking for how to link tasks. This allows you to make certain assignments dependent upon the completion of others. In our software example, a developer can only start working on a product's design after the graphics team has completed a draft or template.
Most modern tools don't explicitly link multiple (individual) tasks and make them dependent upon one another, instead, using cards that serve as a sort of 'task catalog'. One individual is designated as responsible for a particular card, and a due date is set. Multiple tasks can be added to a single card, such as creating a layout (for the graphics team) and translating this into HTML (for the development team).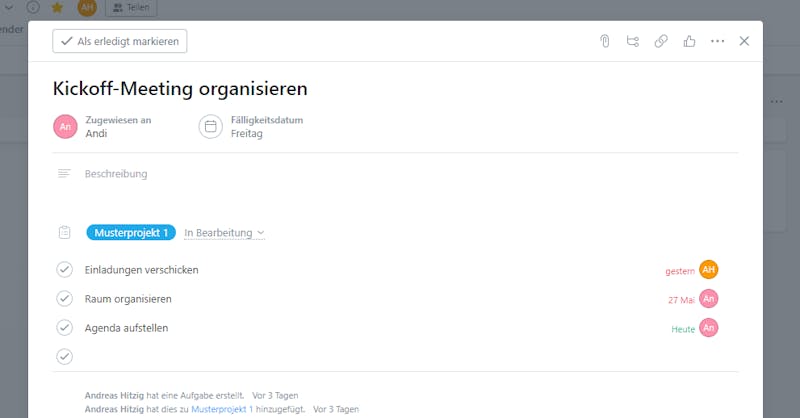 Most modern project management solutions allow you to add multiple tasks to a single card, such as in the form of a checklist.
Each individual assignment has its own due date, and can be individually monitored, without having to pay attention to the entire card.
4.
Assignment Notifications
After you've planned a project, assigned tasks, and invited your colleagues to collaborate on it, it's time for you to sit back and let them take over. Of course, you'll want to keep tabs on them, and this is accomplished in a number of different ways, again, depending on the software you've selected.
In Asana, a list of tasks and due dates are displayed, whereas monday.com visualizes this with a weekly overview. In other platforms, the interface will send reminders to you (and the assignee) when a particular task is due. For Asana and monday.com, this occurs in the inbox, whereas in Trello, a bell appears on the upper right of the screen.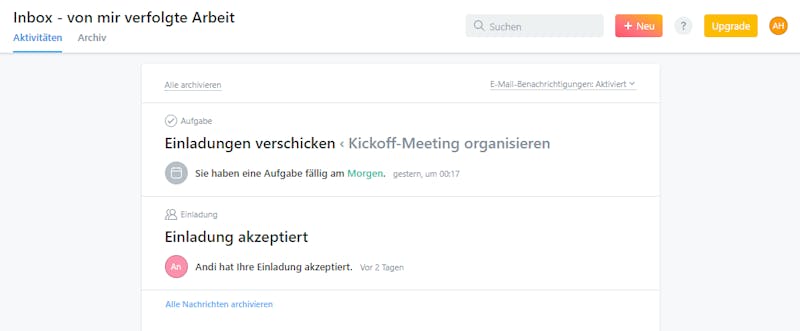 In Asana's inbox, you can see notifications as well as tasks that are approaching their due dates.
As the project leader, it's not only important to be able to pay attention to your own tasks and assignments, but also those that other team members have on their plates. Each solution handles this differently. In Asana, you automatically 'follow' all tasks that you've assigned, whereas, with monday.com, you can add yourself as a subscriber to any assignment. Whatever the case, each solution we've evaluated provides some way of staying abreast of pretty much everything in your digital workspace.
If you're using a project management solution to manage work for different clients or customers, it will be important to keep track of how much time you, or your colleagues invest in each. For fixed-price projects, you'll certainly want to know if you've been able to earn what you expected, or alternatively, whether your outlay has matched the amount of work put in. Should you be working in terms of a "time and material" project, you'll need proof that your employees put in the amount of time that they're being paid for. All of the solutions we've looked at provide numerous ways of tabulating this, whether for individual assignments, or entire projects, however, some offer it only with certain packages, or through third-party integrations. To filter these results, check "Time Logging" among the filters on our comparison tool.
6.
Working in (virtual) Teams
Especially when you're administering multiple projects simultaneously with different personnel, it will be necessary to be able to group your colleagues into different teams and assign them to specific projects. Nearly all of the services we've examined offer this functionality, which you can filter by checking the "Teams" box.
Similarly, it can also be very helpful to take control of roles, namely, as administrator or user. Should you need more variety, such as a resource or task manager, you'll likely need to purchase more expensive packages. To see which providers offer this feature, select the "User Roles" box.
Should you want to be able to show your projects to clients, guests, or make them only temporarily available to short-term colleagues, some services offer the ability to create guest accounts, which don't count against your user totals. To view these services, check the box next to "Guest Invites".
One of the most important features of modern project management software (at least in our opinion) is the ability to centralize nearly all forms of communication or interaction among team members within the service's interface. A number of platforms offer Facebook-esque chat features that are particularly handy for communicating while working, either with individuals, or an entire team.
Parallel to this, the ability to create and edit 'wikis' is also important, since team members can store knowledge or insight here that is essential to the functioning of the project, making it more efficient, and reducing interruptions owing to the need to answer questions or train a new team member. To view services that offer either in-program chat features or wikis, check the "Chat" and "Wiki" boxes. At the moment, both options are offered only by Zoho Projects and Basecamp.
7.
API - Integration of External Tools
Of course, no software could provide everything that you might need, and even if it did, there would always be some feature or functionality that you wish you had access to. To help, it's important that project management software either provides integrations, or the ability to work with its API, making it possible to use cloud-based tools, such as Slack for group chats or Dropbox for file sharing. This again makes things easier, and enhances both productivity and efficiency, allowing for lots of procedures and steps to be automated. If you've integrated Slack, for example, you can automatically notify a specific channel about updates to a project.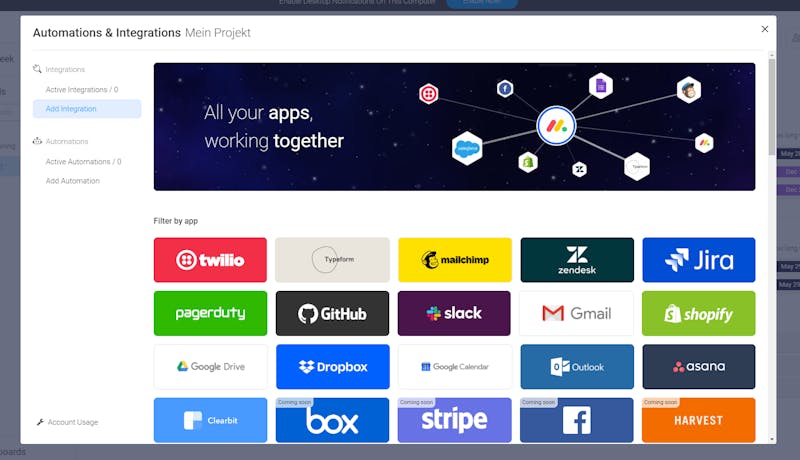 A number of project management solution, such as monday.com (pictured above) offer users the ability to integrate all sorts of cloud applications.
By selecting "API" on our filter list, you can see which project management solutions offer the standardized integration of other cloud applications.
Should you or your project mates frequently be on the go, it's important that mobile apps are not only offered but also functional, at least for Android and iOS. Generally speaking, all of the solutions we looked at are web-based and can be accessed via an Internet browser, as well as optimized Android and/or iOS apps. However, it's important to note that only some of these can be used without an Internet connection. For example, Asana requires an active Internet connection at all times, meaning that if you're without one, you won't be able to make updates or changes to any of your boards.
To filter only those providers with mobile apps, go to the end of the criteria list, click on "Software" and select "Mobile".
Security
At the end of the day, every cloud solution entails a certain amount of risk. But then again, we laugh at people who keep their money "under the mattress" and not in banks, right? All the same, we've looked at security from all perspectives in our reviews, starting with the location of the provider (Germany, Europe, and the US). Should this be important to you, select the "Location" filter from our list, and limit your search to one of the three options above.
Secure logins are necessary for protecting access to cloud applications. In most cases, this is achieved through two-factor authentication, which is a two-step login process that you most likely already know from your net-banking, or credit card websites. First, you'll enter your username and password, and then be asked to enter an additional code or password (typically sent to an attached cellphone number, or an authenticator). To see which providers offer two-factor authentication, check the box next to the similarly-named filter.
Pricing
Three main criteria are used by providers to calculate subscription fees: Package of Features, Number of Users, and/or Contract Length.
To figure out how much each subscription would cost using our comparison tool, select the number of users you'll need (3, 10, 50, or 100). More exact numbers can be input on the provider's website.
The contract length can also be specified in our tool. Generally speaking, the rule holds that the longer the contract, the lower the monthly price, so, we recommend signing on for longer, but only after you're sure that the program is right for you.
After setting both filters, you'll see which offers are available. You can gain further insight from among these by using the arrows. In the table, you can see how pricing models vary based on the number of projects, tasks, or views offered.
Conclusion
The performance of cloud-based project management solutions has dramatically improved over the past few years. Among the providers we evaluated, nearly all provide the basic functionality needed to plan, visualize, and execute all sorts of projects, however, each in their own way. As such, deciding which tool is right for you depends to a large extent on how you work or want to work: With cards, lists, or a calendar? Using our filters will hopefully help you in navigating this process.
For example, should you already use, or want to use cloud-based tools like Slack, or Dropbox, then you'll likely select the "API" filter first.
Of course, price (or cost) often plays an inordinate role in selecting a tool, and price differences can easily exceed $1,000 per month. For that reason, we highly advise taking advantage of those services which offer either freemium versions of their product or free trials. Only in this way, will you be able to put the program to the test, and see whether it matches your needs and requirements.
* Ad disclaimer:
For links marked with an asterisk, EXPERTE.com may earn a commission from the provider. The commission has no influence on our editorial rating.

Andreas Hitzig manages the IT of a medium-sized company in his main job. In addition, he has been a freelance IT author for more than two decades. He writes primarily about topics from the areas of Android and IT security, but also incorporates experiences from his everyday life into his articles.
Continue Reading
Other languages
Deutsch