Project Management Software Review: Basecamp

Ad disclaimer:
For links on this page, EXPERTE.com may earn a commission from the provider. This supports our work and has no influence on our editorial rating.
Basecamp* is a collaborative project management system that is widely seen as one of the leading tools available on the market. The developer, based in Chicago, can be traced back to 37signals, the founders of which, Jason Fried, Carlos Segura, and Ernest Kim decided in 2004 to focus on developing, rather than designing websites.

The happy result is a communication-based application that reduces project management to its essential components (collaboration, file-sharing, milestones, and to-do lists), differing significantly from most other project management tools that we've examined. As an example, Basecamp has a tiled user interface instead of a top-down/list menu or table-based one. The software helps to concentrate and organize all work in a single place, keeping it transparent for all participants.
Basecamp also offers some interesting features that aren't available from its competitors; reason enough for us to evaluate the software. In the review below we'll let you know whether Basecamp impressed us during testing and and how it performed in comparison to its rivals.
Review
Configuration & Usage
10 / 10
Features & Customizability
8.0 / 10
Neatly-structured (tiled) dashboard

Possible to integrate other programs

Automated surveys for team member updates

Scalable number of users and projects

Possible to create templates for similar projects

Documents can be assigned to individual projects

All-Inclusive paid subscription
Doesn't include all features necessary for more complicated project management (i.e. no Gantt diagrams)
Similar to the other project management software reviews we've conducted, we opted for a free test account, registering for a 30-day trial on the developer's website. To do this, we only needed to enter our email address and confirm by clicking on the "Start a free 30-day trial" button. After this, Basecamp requested some additional information from us, relating to our business and our products. In the next step, we set a password and could invite more project members. After clicking on "All Done", we were able to start 'managing'.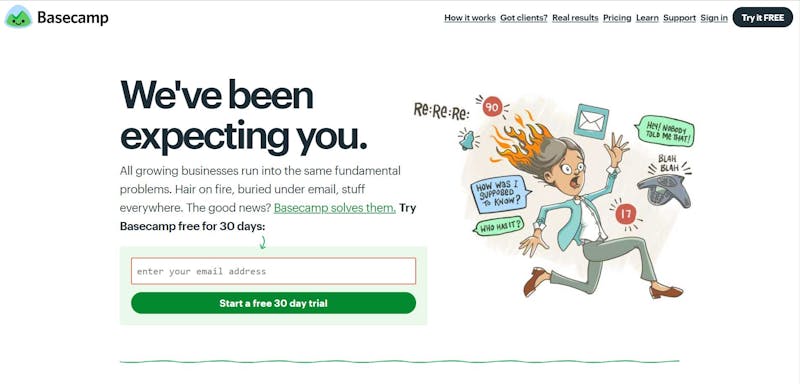 User Interface
After logging in, we landed in the very minimalist user interface, which is limited to the most important features:
1.

The Home screen is basically the center in Basecamp. Here, you'll find all processes for your account, grouped under "Head Quarter (HQ)", "Teams", and "Projects".

2.

Clicking on Pings will take you to the internal messaging service that you can use for communicating with other users, either in specific teams or working on certain projects.

3.

"Hey!" displays all notifications, informing you when you receive a message, or exceed a deadline.

4.

The Activity tab provides a multi-project overview for all activities, displaying them in a top-down timeline. You'll also be able to access all notification options in your account.

5.

MyStuff notes your tasks, drafts, bookmarks, and recent activity.

6.

If you're looking for something specific in your Basecamp account, the easiest way to do this is through the Find feature. In addition to classic keyword search, you can also limit results on the basis of specific criteria.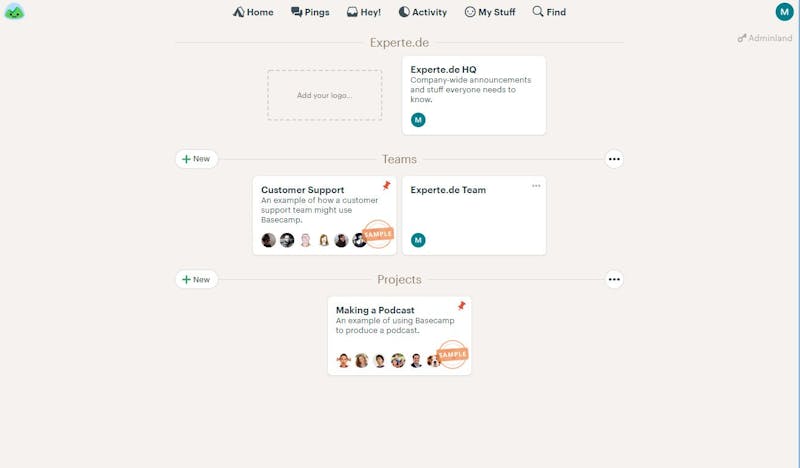 Basecamp stresses intuitiveness as well as making its software as easy to use as possible. Graphically speaking, the dashboard is very well-done, and thanks to its lack of clutter, will surely help beginners find what they need quickly.
Assemble Your Team
One of the main purposes of project management is to help teams collaborate more effectively, and Basecamp is no exception. The service makes it easy to add co-workers and colleagues. To do so, simply click on "+New" in the "Teams" area.
Next, a pop-up window will open in which you can name your new team. Then click on "Save", and that's it, the team is created.

Good to Know:
Should the "Teams" area not be displayed on your start screen, adding it is easy. Click on "Adminland" in the upper right and select "Set up what's shown on the Home screen", toggling "Teams" to "On".
Create a Project
Creating a new project is also very easy. In Basecamp, you can add as many projects as you'd like, such as for a product release, or a new marketing campaign.
To set up a new project, click on the "+New" button in the "Projects" area, and select "New Project". Name the project, and confirm by clicking on "Save".

Within a project you can assign work, set deadlines, chat with other users, or make announcements. When clicking on a project, you'll be shown six tools (by default). These are:
Campfire: The service's real-time chat tool project members use to communicate with one another.

Message Board: For making announcements, presenting ideas, or asking the project's members questions.

To-dos: Lists all current tasks. If needed, you can create your own to-do list.

Schedule: Includes all current tasks and upcoming events.

Automatic Check-ins: For keeping your team up-to-date and helping users to get to know one another better. Updates are sent to all project members on a daily, weekly, or monthly basis.

Docs & Files: For adding attachments to your projects.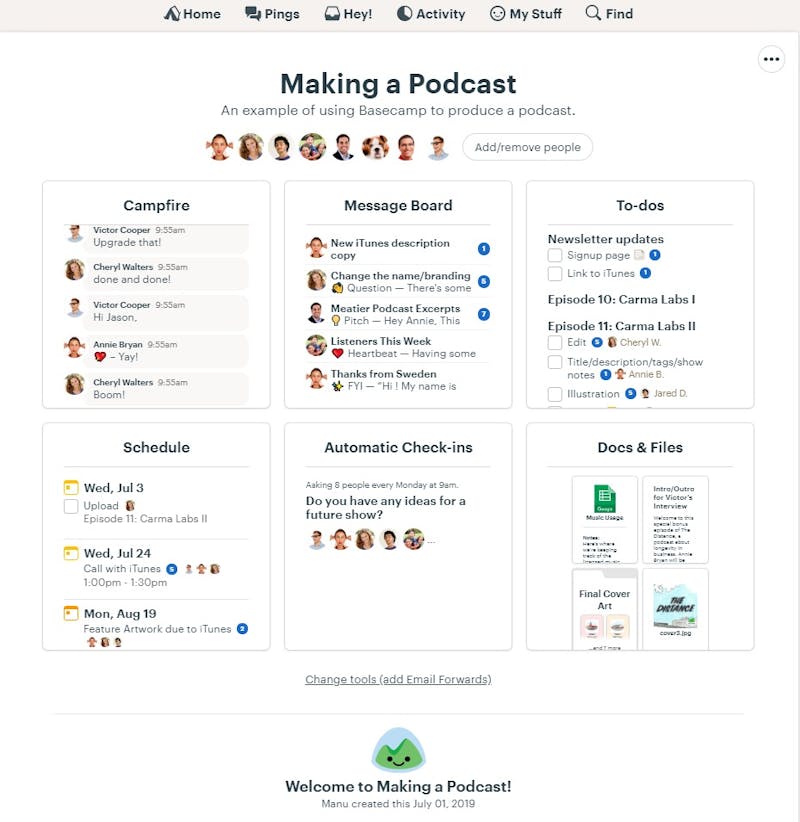 Good to Know:
If you often create similar projects, it's possible to save project templates in Basecamp. On the Home page, go to the Project area and look for the "Make a reusable template" button. Once you've configured the template to your liking and saved it, click on "+New" to start a new project directly from the template. You can view or edit all templates you've created by clicking on "Manage templates".
Add Users to a Project
Once you've configured the project to your liking, you can start adding team members to work on it. To do this, click on "Add/Remove People" in the Project area (next to the members' avatars).
In the next window, all project members are shown. By clicking on "+Add people", you can add more participants, either as part of the team or as a customer/guest.

After adding new members, you can include their information (name and email address). Those who are invited are directly added to the project and can be assigned tasks immediately, comment, or post. In addition, an automatic welcome email is sent to the invitee, helping them to set up an account with Basecamp if they don't have one already.
Good to Know:
It is possible to add individuals (and non-Basecamp users) to your project by sharing an opt-in link with them. To do this, click on the three dots in the upper right, and copy the link under the relevant button, sending it to the people you'd like to be invited. Once they've entered, you can enable their access to your project.
Add Clients
It's also possible to invite clients to your project with a single click. To do this, find the "Add client to this project" option after clicking on the "+Add people" button on the project's member page.
In the pop-up that opens, input the client's name and their contact data, confirming what you've entered by clicking on "Save".
You should note that you can only add individual clients (not a client team) to a project. For more information about this, go here.
Good to Know:
When you add people to a project, they will only be able to see those that they share a project or team with. Administrators can see all users within an organization.
We tested Basecamp in Google Chrome, Mozilla Firefox, and Microsoft Edge, and didn't notice any limitations in terms of features. So far as user comfort is concerned, there's nothing to take Basecamp to task with.
Score: 5 / 5
3.
Features & Customizability
As we've already noted, Basecamp prioritizes ease of use and teamwork. For this reason, the service shuns several basic features that are standard among its competitors, such as time logs or Gantt diagrams.
It is possible to integrate these through third-party add-ons (such as Ganttify), however, most of these cost extra, and you'll need to pay for using them, whereas other services include them in their subscription prices.
As a trade-off, Basecamp offers an impressive array of interesting features that its competitors don't. These include:
Automatic Check-Ins
One of the most interesting extras is "Automatic Check-Ins", a kind of survey that is sent at regular intervals to team members. These include specific questions ("Are you blocked on anything?"), more general ones ("What did you eat today?"), and even predictive ones ("What will you be working on this week?"). Of course, you can alter the survey's questions, and how frequently they are sent (daily, weekly, or monthly).
Other users can comment on their answers, or even start a discussion based on them. In this way, it's possible to keep each other up-to-date and increase understanding within a team. Nevertheless, such features are always a double-edged sword: Something that might work well in a professional, experienced team, can create unnecessary stress and a feeling of being micro-managed if wielded improperly.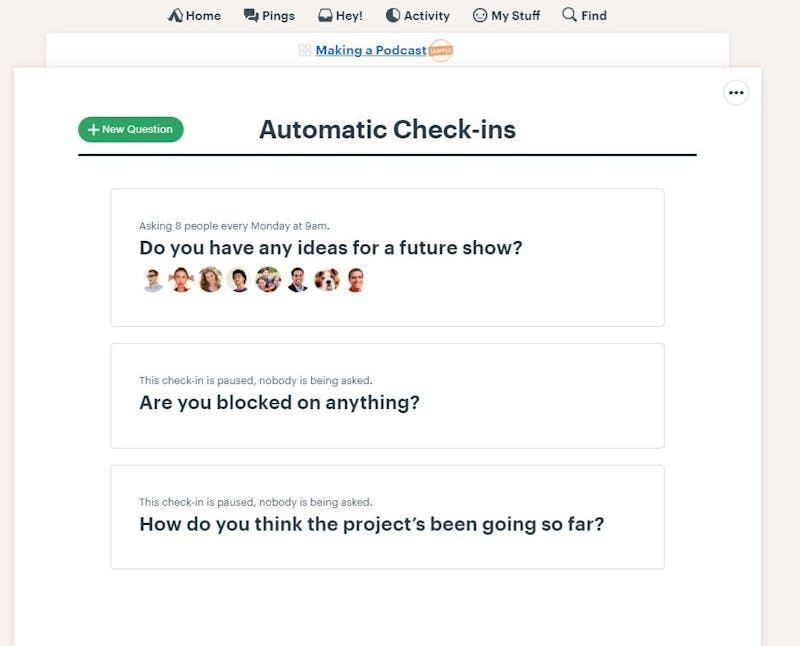 Hill Charts
"Hill Charts" are another nifty feature offered only by Basecamp. These are a special form of diagrams (in the shape of hills), that allow for to-do lists for projects to be followed and visualized graphically. Using hill charts, work is divided into two phases:
The uphill represents the divergent phase, with previous work used to plan and conceptualize how best to complete a project within a team.

The downhill relates to guiding and implementing the previously-planned strategy.
Reports
Basecamp also provides a number of ready-made reports, which can be found in the dashboard under the "Activity" tab. In addition to recent activity, you can also generate the following types of reports:
1.

Work assigned to a specific person ("Someone's assignments")

2.

Late or overdue work ("Overdue to-dos")

3.

A specific person's activities ("Someone's activity")

4.

Upcoming and complete work ("To-dos added & completed")

5.

Upcoming meetings and events ("Upcoming dates")
You can save these as PDFs or print them directly from Basecamp.

Although we did like the extra features that Basecamp offers (automatic check-ins, hill charts, and reports), the absence of Gantt diagrams, or better put, the need to pay extra to have Gantt diagrams, didn't impress us. Including Gantt diagrams, while offering all of the above wouldn't greatly imbalance the software's ease of use, and remove a de facto paywall. As such, we've made a deduction from Basecamp's score in terms of features.
Score: 4 / 5
As in our other reviews in this series, we tested Basecamp on two separate laptops, each running Windows 10 Pro (64 Bit):
Laptop 1: Lenovo Ideapad with an Intel Pentium 4415U (2.3 GHz) processor, 8 GB RAM, and the default Intel graphics card (HD Graphics 610).

Laptop 2: Lenovo Legion Y720 with a Core i7-7700HQ Quad-Core (2.8 GHz) processor, 16 GB RAM, and an Nvidia GeForce GTX1050 Ti with 2 GB of dedicated memory.
We also tested the service on three different browsers (Google Chrome, Opera, and Mozilla Firefox), to cover the widest segment of potential users.
The results were as expected. We didn't encounter any performance issues when loading the dashboard or using basic features (adding and removing users, chatting, assigning tasks, etc.) in either our browser or on the laptops.
We also added a sample dataset (500 items) and tried the different reporting features. On Laptop 2 (likely owing to its better GPU) we noticed some performance differences. As a result, although Basecamp does well, it's clear that when using different datasets, performance could be an issue for anyone working on a somewhat older laptop or computer.
Score: 4.3 / 5
Basecamp is a "cloud-based SaaS solution" ("Software as a Service"). This means that the program and all of its accompanying infrastructure are made available by an IT service provider. In this case, Basecamp handles its own hosting, using Dell series C5220, C6100, and C6200 servers running powerful Intel processors. User data is saved on Dell PowerEdge R-Series R710s, which have fast SSDs. According to the developers, data is written and stored on multiple drives in geographically disparate locations. GPG-encrypted backups are created several times per day.
The main computing centers are all located in the US (in Chicago and Ashburn, Virginia). In addition, Basecamp also uses Amazon Web Services (AWS) and Google Cloud Storage.
For data transfers to public networks, Basecamp uses SSL-Certificates from GeoTrust Inc, RapidSSL CA. The actual connection is encrypted with AES_128_CBC (with SHA2 for message authentication and ECDHE_RSA as the key exchange mechanism). Encryption includes all sorts of data that is shared with Basecamp. The storage system uses AES256/SHA-256. Project data, messages, text documents, and assignments are stored in the databank, making them subject to the same security standards as the internal systems. All passwords are hashed and salted with a cost factor of 10.
Score: 4.7 / 5
Note:
At the moment, the guaranteed system availability is 99.779%, but should, according to the developer, reach 100% coverage.
A number of Basecamp's features can also be used on your smartphone or tablet. To do this, you'll need to enter the URL in your mobile browser (your view will be optimized for mobile devices) or download the Android or iOS apps from the Google Play Store or the Apple Store, respectively.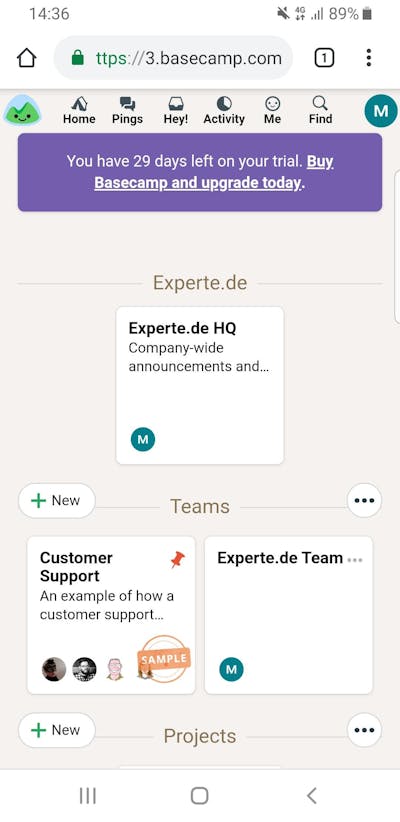 We tested both methods on a Samsung Galaxy S9 and didn't notice any difference in functionality compared to the desktop version. Uploading attachments functioned smoothly, as did the reporting features, which we could use in full. We had to deal with some performance issues owing to the mobile network we were using, but there were no problems on the fiber-optic WiFi connection.
Score: 4.7 / 5
Basecamp does a good job of providing its users with support. The site's colorful layout and current waiting time should make things appear more personal, however, questions are posed via basic email forms and answered from Monday to Friday between 8 AM and 5:30 PM (Central Time).
Neither hotline nor chat support is offered. During testing, we sent a query through the contact form and received an answer the next day with which we could completely solve the issue we were having. Of course, it would be nice if the response was a bit quicker, or if other options were offered, however, we can't complain too much.
Score: 5 / 5
In terms of pricing, Basecamp again goes its own way, offering a flat-rate all-inclusive $99 per month subscription.
This includes all Basecamp features, 500 GB of storage, and unlimited users and projects. If needed, you can buy additional storage at any time.
Sweetening the deal even further, if you pay for a year upfront ($1,188) you'll receive a 15% discount, having to pay only $1,009.80 ($84.15 per month). Simple, to-the-point, and considering the number of features and capabilities offered, a real bargain!
Standard
Pro Unlimited
Base Price per Month
from $15.00
from $299.00
Price per User
from $15.00
-
Contract Period (Months)
1
1 - 12
Limits
Number of Users
unlimited
unlimited
Number of Projects
unlimited
unlimited
Number of Tasks
unlimited
unlimited
Anzahl Automatisierungen
0
0
Views
Liste
Table
Kanban
Galerie
Kalendar
Zeitleiste
Gantt
Mindmap
Workload
Karte
Tasks
Benutzerdefinierte Felder
Unteraufgaben
Aufgabenabhängigkeiten
Meilensteine
Ziele
Zusammenarbeit
Nutzergruppen
Private Nachrichten
Gruppenchat
Message-Board
Whiteboard
Dokumente
Wiki
Erweiterte Funktionen
Formulare
Automatisierung
Zeiterfassung
Integrations
Charts
Reporting
API
Conclusion
Configuration & Usage
10 / 10
Features & Customizability
8.0 / 10
Basecamp is a user-friendly all-in-one solution that has a well-established reputation among project management tools. The software provides access to the most important features and is easy and intuitive to use, making it perfect for beginners or those just starting out. Of course, it can't really go head-to-head with Asana or Jira in terms of features owing to its lack of Gantt diagrams. If needed this functionality can be purchased as a third-party add-on.
The all-inclusive pricing model is refreshing. And Basecamp's service is relatively fast and competent, even if chat or hotline channels don't exist. Overall, there isn't really much wrong with Basecamp, and its reputation appears to be well-deserved.
Basecamp Project Management
Basecamp Standard
monthly price
Visit Website*
User Reviews
Most users of Bandcamp have rated the service highly, noting, in particular, its competent and helpful support.
Customer Ratings
54,809 Bewertungen
Visit Website*
We analyzed the reviews and ratings from various portals and found 54,809 ratings with an overall rating of 4.5 out of 5 .
Alternatives
Basecamp is a web-based project management tool that impresses owing to its one-of-a-kind pricing model. Of course, you'll have to make do without a few basic features that other tools offer (or install and pay for these separately). If this doesn't really appeal to you, one of the alternatives below might be more to your liking:
MeisterTask Project Management
Offers free starter version
Intuitive and easy to use
Apps for Windows and macOS
9.4

excellent
MeisterTask Basic
$0.00
monthly price
Visit Website*
Offers free starter version
Comparatively high priced
9.2

excellent
Wrike Free
$0.00
monthly price
Visit Website*
Optimized for software development
Very affordable for small teams
9.2

excellent
Atlassian Free
$0.00
monthly price
Visit Website*
Trello Project Management
Trello Free
$0.00
monthly price
Visit Website*
monday Project Management
monday Free
$0.00
monthly price
Visit Website*
Try for Free
* Ad disclaimer:
For links marked with an asterisk, EXPERTE.com may earn a commission from the provider. The commission has no influence on our editorial rating.

Manuela Lenz is a trained IT specialist and worked for 20 years as a system administrator and project manager for large companies. Since 2017, the IT specialist has been a passionate IT-author. For EXPERTE.com she writes about project management, software and IT security.
Continue Reading
Other languages
Deutsch