Project Management Software Review: monday.com

Ad disclaimer:
For links on this page, EXPERTE.com may earn a commission from the provider. This supports our work and has no influence on our editorial rating.
monday.com* (previously 'dapulse') is cloud-based project management software from Israel, which allows users to follow project workflows and complete tasks in a timely fashion. In comparison to most other programs, the tool provides only the essentials, not overwhelming users with complicated features (such as predecessor/successor relationships). As such, the program relies on its appealing design and easy-to-understand, highly intuitive interface rather than catalog of features to stand out from its competitors.

As mentioned above, monday.com stresses maximum user-friendliness. This means that it's possible to customize the dashboard with special widgets and utilize a Kanban, calendar, or timeline view. You won't need any background knowledge to use the program either, and the tool offers some very handy collaboration features which make it possible to centralize all project communications, saving you time and effort otherwise spent hunting for emails or replying to comments.
According to its developer, despite the software's simplicity, monday.com has similar functionality to Wrike. Of course, we wanted to assess that independently, and in this review, have done precisely that.
Review
Einrichtung und Bedienkomfort
10 / 10
Features & Customizability
6.6 / 10
Comprehensive options for keeping in touch with project members

Supports integrations of other programs/services

Lots of easy-to-adjust templates
No free version available

Comparatively high subscription prices
On monday.com's homepage, we were told that there are only five steps needed to start using the software. Unfortunately, no free version of monday.com is available, however, it is possible to test the product for 30 days.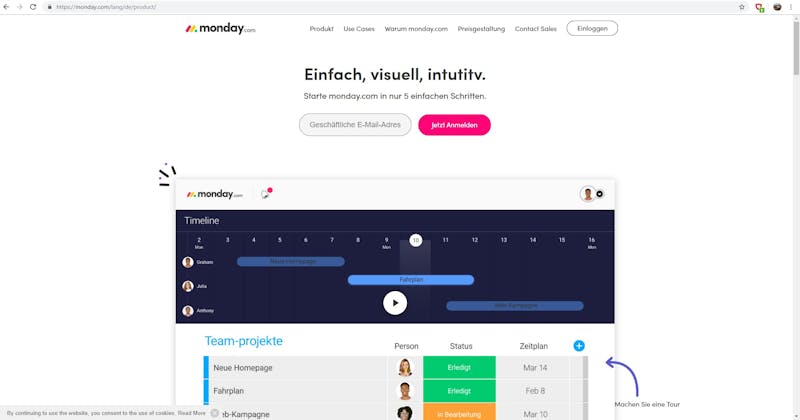 The only thing you'll need to create an account is an email address (preferably an organizational or business one). After this, click on the "Login" button, and you'll be taken to the last steps of account completion. This entails entering your name, as well as that of your team, and setting a password. We confirmed our acceptance of the Terms & Conditions and then clicked on "Continue". After this, monday.com wanted to know for what purpose we intended to use the software. After clicking on "Continue" one more time, we were done setting up the service.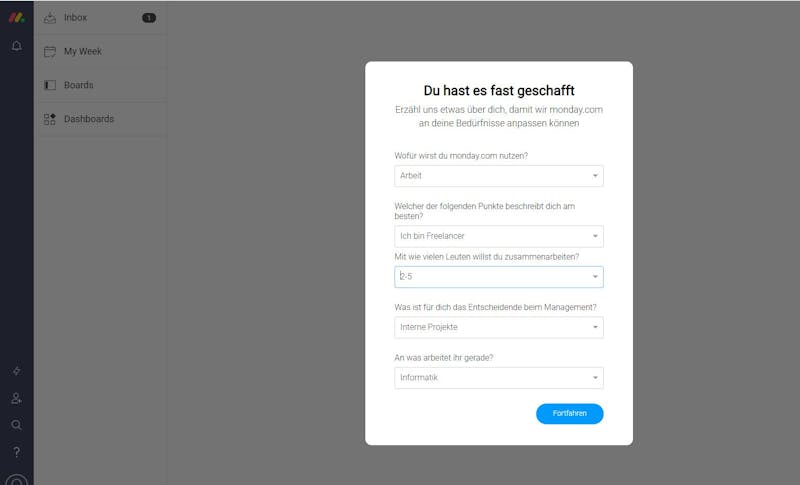 ...Or so we thought. Next, we were asked if we would like to directly invite other team members. To skip this step, simply click on "Later".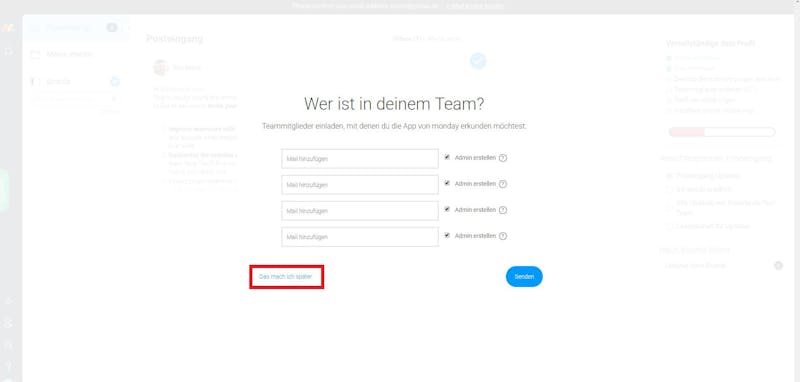 Boards
monday.com handles project management through boards. The project overview contains a superordinate high-level board, while weekly team assignments are displayed on a low-level board.
Basically, three types of boards are available, which differ only in terms of their visibility/accessibility:
Main boards are visible to all team members connected to your account.

Shareable boards are, as the name implies, for sharing content with people outside of your team or company (such as customers or freelancers).

Private boards are only visible to the person who creates them and limited to Pro and Enterprise subscribers.
To create a new board, click on the "+" sign next to "Boards" on the left side of the menu bar.
When creating a board, you can start with a blank board, select from one of any number of templates, or import a board. During testing, we chose the second option and went with the "High level project plan", which we easily integrated into our project by clicking on "Use".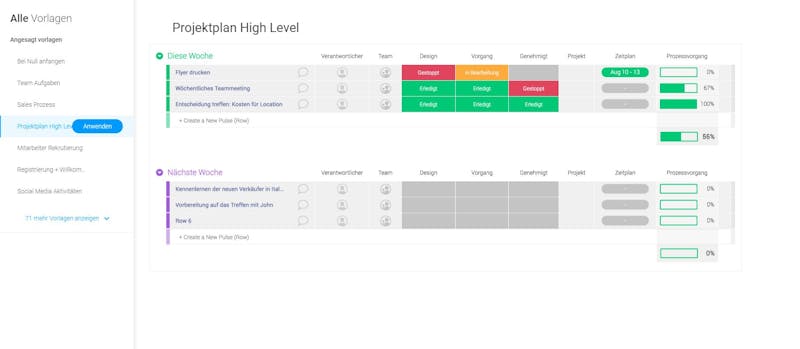 Groups
Each project board is comprised of groups, which are differently-colored areas on the board and contain all tasks. Therefore, groups can represent specific segments or phases of a project, or a particular timeframe, such as a week or month.
To add a new group to your project, hover your cursor over the title of any existing group (by default, each board comes with one group). Click on the arrow that appears on the left side of the screen and choose "Add Group".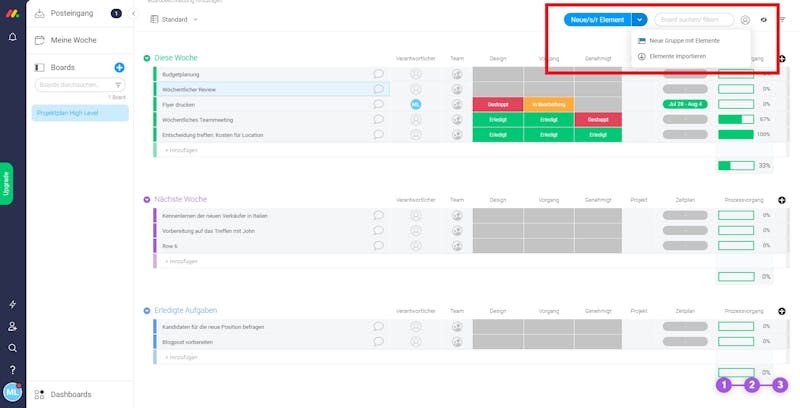 Next, type the desired name for the group and press enter: That's it!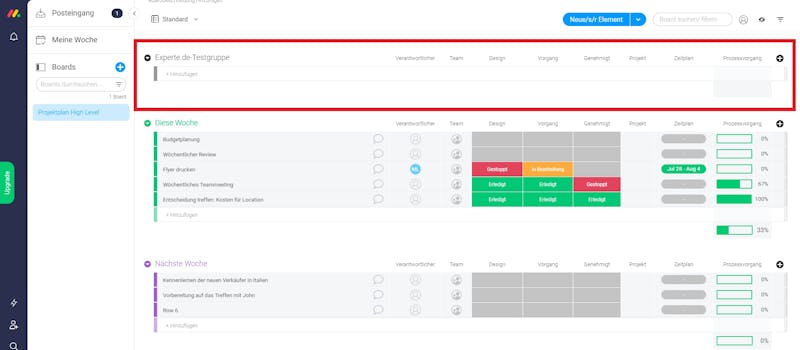 Thanks to monday.com's groups, it's very easy to neatly organize and arrange elements based on categories, time, or subjects. Nine different colors can be used to differentiate groups.
Tasks
After creating our board and a group, it was time to start adding tasks.
To add a task to a group, hover your cursor over the "+ Add" field and enter a name for the assignment, confirming by pressing enter on your keyboard.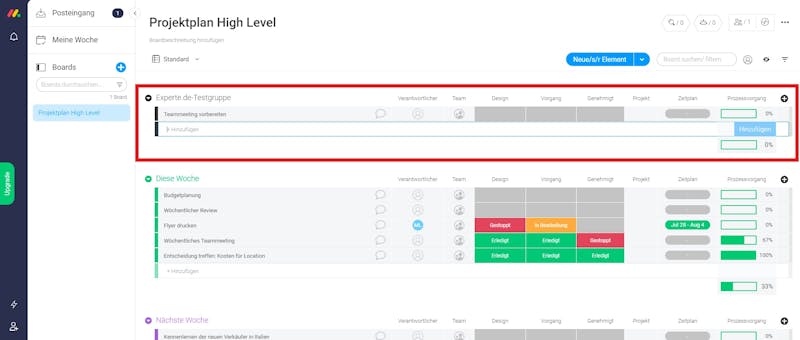 Hint:
There are no limits to the number of tasks per board, however, to keep things clear, you should make sure that the listed tasks relate to the board in question.
Columns
In the next step we wanted to add "columns" to our task. "Columns" allow you to group or otherwise arrange assignments, such as on the basis of which team member(s) is/are working on them, their due dates, or status. Some of the most important columns are the:
Date column, for setting due dates for your task(s).

People column, for assigning tasks to team members.

Status column, for visually keeping track of the progress of tasks that you've created.

Timeline, one of monday.com's unique features, and its version of a Gantt chart. This allows you to visualize how your teammates are managed and their workload.
A complete list of all column types can be found here.
To add a new column, click on the small arrow next to an already existing column's name, and select "Add a column to the right", choosing the kind of column you'd like to add.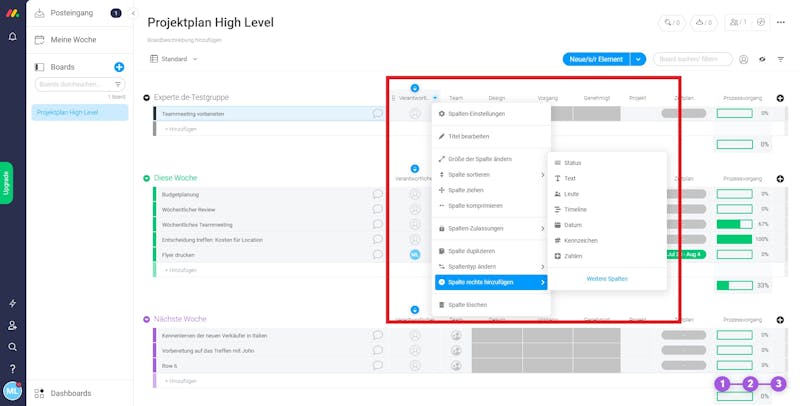 Assigning Tasks
You've created a project board, and added tasks and columns; now it's time to start sharing the workload with the rest of your team.
Through the "People" column, you can assign tasks to one or more team members. These individuals will then receive an email notification that they've been assigned a new task.

A number of options are provided for communicating within a task. For example, it's possible to compose updates and decorate these with smileys or animated GIFs. If desired, you can also send these directly via email.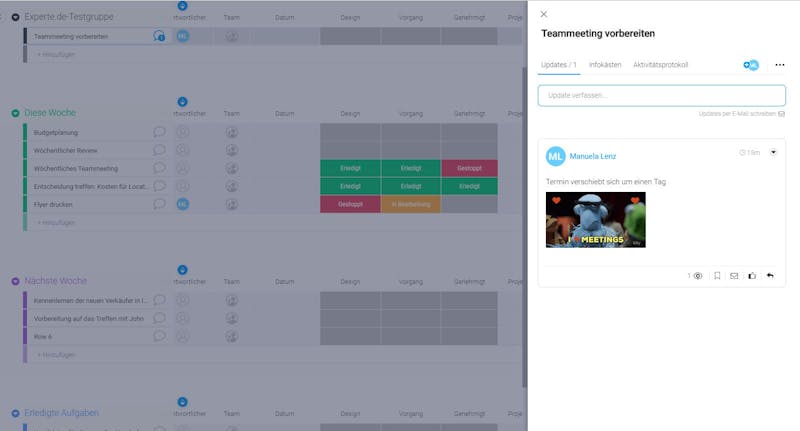 It's also possible to tag team members by typing @their name within comments. The person tagged will be notified by email that they've been mentioned.
Using the "Infobox" area, you can add notes or attachments to tasks or create Q&A entries for them.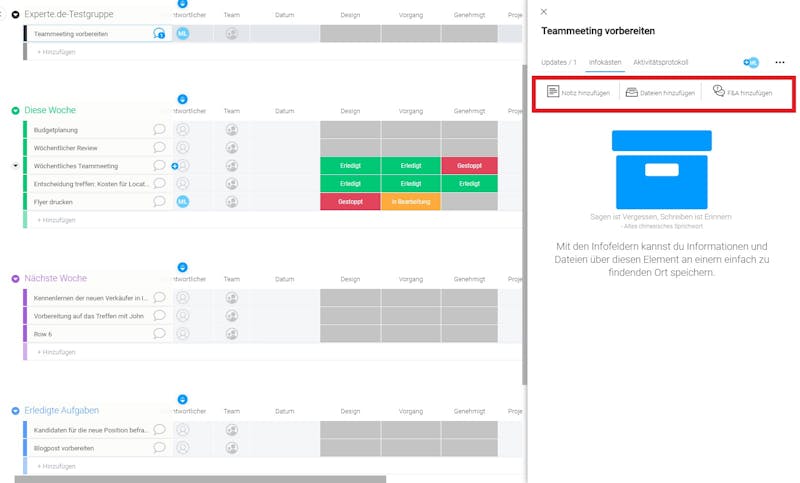 After subscribing to a board, you'll receive notifications in your personal inbox about updates to any projects or tasks that it contains. To manage this, click on the three dots next to the menu, and add your username under "Board Subscribers".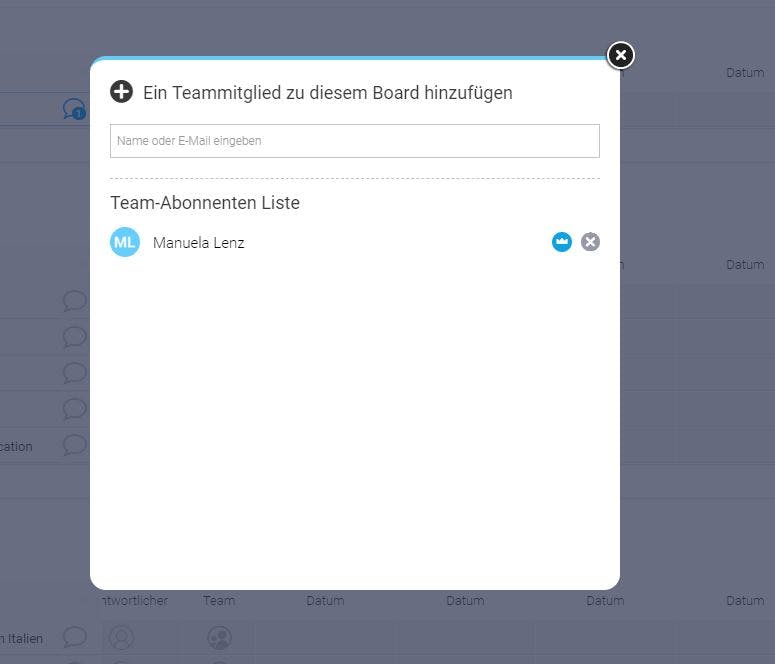 You can notate progress on tasks through the "Progress Tracking" column. This process automatically adjusts to your settings.
In our opinion, monday.com's color-based approach was executed really well. It allows users to stay on top of the most important information while keeping everything clear and organized. Creating and editing projects and tasks is pretty much self-explanatory, meaning that beginners won't have all too many hurdles to overcome. If you can't tell already, we'll come right out and say it: we really enjoyed monday.com's modern user interface.
Score: 5 / 5
3.
Features & Customizability
monday.com is designed with collaboration between team members in mind. This is made fairly obvious owing to its numerous communication and collaboration tools.
Individual Dashboards
The tool's dashboards help to keep all important information in a central place. To aid you in this process, 15 different widgets are at your command, which you can use to check your budget, add a to-do list, or follow your colleague's logged hours. These widgets can be comfortably moved by dragging and dropping them, and also changed in size.
Extensive Integration Options
Using the tool's integrations, you can enhance monday.com's functionality or use programs that you're already familiar with. At the moment, 20 different platforms (including Gmail, Dropdox, and Zapier) are available with more in the pipeline. The service can also be synchronized with Outlook and iCalendar.
Reporting
monday.com doesn't include classic automated reporting, as other tools do. Instead, it provides a complete overview, and the ability to analyze the individual areas of your projects and processes. You can adjust reporting for individual users as well as the entire team, with all data easily exportable into Excel.
Good To Know:
Pro and Enterprise users are able to perform multi-column calculations using special formulas. Further information about this can be found here.
If working on multiple projects at the same time, you can keep track of these easier using High-Level Reporting. As we noted above, monday.com offers two different kinds of boards:
Low-Level boards can be used to follow tasks in detail as well as their progress.

High-Level management boards are for setting general information about projects and monitoring them from a single location.
The individual board types are connected through text columns, allowing for all tasks to be seen, even if these are on different boards.
When looking at the features offered by monday.com, there are a number of practical options that definitely help out for small and medium-sized teams and projects. For anything bigger, the tool lacks more complicated features like time tracking or alarms. As a result, monday.com drops a few points.
Score: 3.3 / 5
Like most other programs we evaluated, monday.com is cloud-based and accessed through your browser. All operations occur on a remote server, meaning that computer performance isn't really impacted by the system you're using. At the same time, system speed and the type of browser can play a role, making it easier, or harder (at least in theory) to use the service.
Similarly to the other solutions we reviewed, we tested monday.com on different laptops, each running Windows 10 Pro (64 Bit).
Laptop 1: Lenovo Ideapad with an Intel Pentium 4415U (2.3 GHz) processor, 8 GB RAM, and the stock Intel graphics card (HD Graphics 610).

Laptop 2: Lenovo Legion Y720 with a Core i7-7700HQ Quad-Core (2.8 GHz) processor, 16 GB RAM, and an Nvidia GeForce GTX1050 Ti with 2 GB of dedicated memory.
To access monday.com we alternated between the most current versions of Google Chrome, Opera, and Mozilla Firefox. In order to make the simulation as 'real' as possible, we loaded the system with 500, 1,000, and 5,000 datasets.
As expected, we didn't notice any differences in performance, either on the laptops, or the different browsers. Dashboards and projects load equally quickly regardless of the hardware or data amounts, and when changing or deleting content, no changes were noticed.
When researching for this review, we did come across some reports that performance problems arise when more than 10,000 datasets are in use. Unfortunately, we didn't have the ability to confirm this observation ourselves, but still want to make mention of it.
Score: 5 / 5
Cloud-based solutions are always tricky when it comes to security, since when all is said and done, your data is stored somewhere else, and you have little control over what happens to it there. With that said, monday.com does its utmost to help users feel at ease with the service's handling of their information.
Most data is backed up on an hourly basis on monday.com's servers, and encrypted. Critical data (such as all customer data) is encrypted every five minutes. In addition, security and program updates are immediately loaded. In this way, the company guarantees that the newest available technology is put to use.
monday.com's servers are located in Amazon's AWS centers and benefit from that company's security architecture. Data traffic to and from monday.com (including login and attachments) is encrypted with 256 Bit TLS 1.2 and adheres to the FIPS 140-2 certification standard, meaning that users control delivery. The necessary encryption keys are managed by Amazon and regularly monitored and verified as part of internal testing processes.
In addition, the developer regularly performs penetration tests and audits, as well as automatic security checks.
monday.com notes that access to its internal systems is only provided to authorized personnel and based on the least privilege principle, meaning that saved data isn't visible to anyone who it isn't intended for.
Good To Know:
monday.com also provides a few security goodies for Pro and Enterprise subscribers. These include two-factor authentication, audit logs, session management, and advanced account controls.
Taken together, monday.com provides its users with a nice variety of security features, but still isn't able to mingle with the best in this area, such as Wrike. Considering that the software is in the middle of the pack, its security measures are nothing special, but certainly decent.
Score: 4 / 5
monday.com offers mobile versions for Android and iOS, either of which can be easily downloaded from the Google Play Store, or the Apple Store. Apps are optimized for smartphone or mobile display, meaning that groups aren't arranged under one another, but in tabs next to one another. Some content (such as columns) is not displayed in the standard view.
To display a hidden column, you'll need to head over to the column center. iOS users will only have access to a limited number of columns (Status, Text, People, Time Tracking, Date, Tags, Numbers, Last Updated, Auto Number, Progress Tracking, Long Text, Checkbox, Link, File, Week, Color Picker, Country, World Clock, Item ID, Phone, Location, Vote, and Rating). Similarly, they'll also need to do without the map view.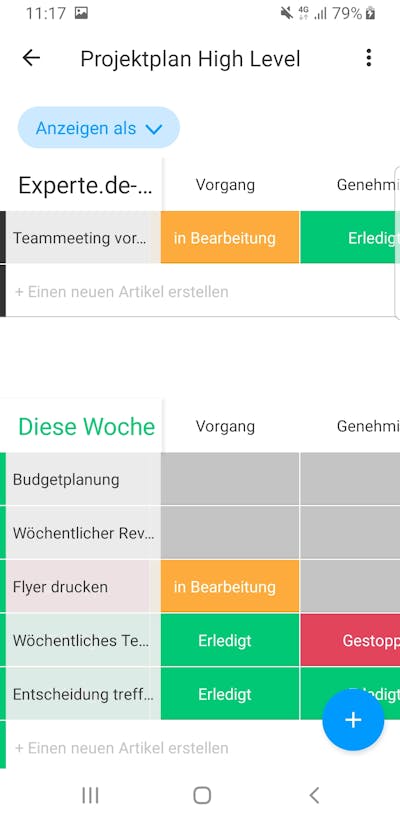 We tested the Android app on a Samsung Galaxy S9, and were able to log in without issue. Viewing our project's plan on the small display first took a bit of getting used to. When swiping to the left, the first column remains in place when scrolling through additional entries. Otherwise, you can use the app to perform the same basic functions as in the browser. We could add new entries and columns without any difficulties, as well as comment and upload attachments.
The apps are definitely well-made, but for our tastes a little bit too scroll-centric. For big projects, in particular, this can quickly become tedious. As a result, and because of the limitations for iOS users, we've deducted some points in this category.
Score: 4 / 5
Since monday.com is very straightforward and easy to use, there shouldn't really be too many reasons to need support or assistance. However, in the event that you do, a number of options are available.
You can directly access the help center by clicking on the question mark button at the bottom right of the menu bar.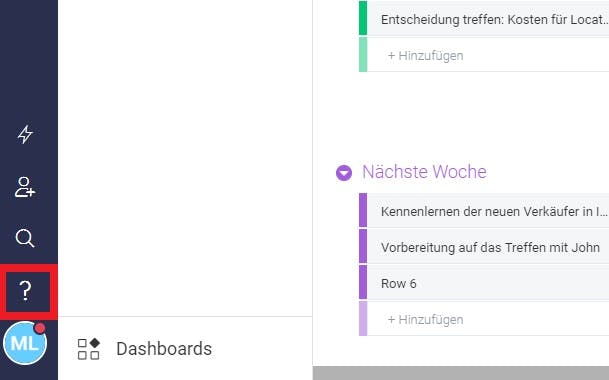 Once there, you can view a number of webinars and tutorials, or the Knowledge Base. All articles can be easily searched by entering a term in the search bar. Should none of the answers help you further, you can contact support directly via form, with answers guaranteed within 30 minutes.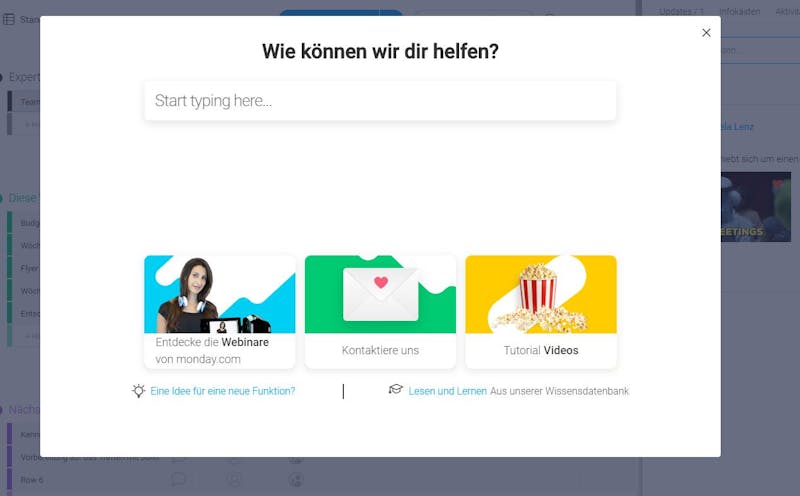 Of course, we just had to check this out for ourselves, so we wrote to support. To our astonishment, we received a (real) answer within the time limit advertised. None of the other providers we've tested have responded so quickly.
We were also positively impressed that monday.com doesn't make any difference between its customers in terms of answering support queries. Regardless of what kind of subscriber you are, you'll have access to the same level of support, including 24/7 email and hotline assistance. The Enterprise version includes private lessons and a dedicated customer service manager, but these aren't by any means 'essential' to customer support.
Score: 5 / 5
monday.com subscriptions are charged on a monthly basis, the price for which depends on the number of features and users. As is the case with most providers of this type, fees decrease as the contract's length increases, meaning that agreeing to a one, or two-year contract can save you a nice chunk of change. The most affordable subscription is a two-year basic account with three users for a total of $24 per month. The minimum amount of users is three but can be scaled up to 40 (the rates remain the same: $8 per user/per month for Basic, $10 per user/per month for Standard, and $16 per user/per month for Pro). Should you have 50 team members or more, you'll need to contact monday.com for an estimate.
Unfortunately monday.com doesn't allow for individual features to be added to subscriptions, so you'll have to choose from one of the four options listed below:
Basic offers access to all of monday.com's basic features. In addition, you'll also have 5 GB of storage for documents, and the ability to use the service's Android and iOS mobile apps.

Standard subscribers get 50 GB of stoage, as well as unlimited access to the activity log and API. With its limited usage of separable boards and multi-board searches, this package offers a nice mix of price and performance.

Pro subscribers can take advantage of all features provided in Standard as well as unlimited storage, advanced user statistics, and time logging functions.
Customers who want to go all-out and book an Enterprise subscription receive all of the benefits of the Pro package, as well as an account manager who tends to your needs and requests. In addition, members of your team will be able to book individual lessons, and support queries will be answered within 10 minutes.
Free
Basic
Standard
Pro
Base Price per Month
$0.00
from $8.00
from $10.00
from $16.00
Price per User
$0.00
from $8.00
from $10.00
from $16.00
Contract Period (Months)
0
1 - 12
1 - 12
1 - 12
Limits
Number of Users
2
unlimited
unlimited
unlimited
Number of Projects
3
unlimited
unlimited
unlimited
Number of Tasks
1,000
unlimited
unlimited
unlimited
Anzahl Automatisierungen
0
0
250
25,000
Views
Liste
Table
Kanban
Galerie
Kalendar
Zeitleiste
Gantt
Mindmap
Workload
Karte
Tasks
Benutzerdefinierte Felder
Unteraufgaben
Aufgabenabhängigkeiten
Meilensteine
Ziele
Zusammenarbeit
Nutzergruppen
Private Nachrichten
Gruppenchat
Message-Board
Whiteboard
Dokumente
Wiki
Erweiterte Funktionen
Formulare
Automatisierung
Zeiterfassung
Integrations
Charts
Reporting
API
Conclusion
Einrichtung und Bedienkomfort
10 / 10
Features & Customizability
6.6 / 10
monday.com sets itself apart from the more intricate project management solutions available on the market thanks to its ease of use and intuitive design. This allows those with less experience to take their first steps into the world of project management, without having to spend hours learning the ins and outs of a program.
Owing to its somewhat limited variety of features, the tool is perfectly suited for small and medium-sized enterprises (SMEs) and organizations, being less suited for larger projects, owing to the absence of time tracking or detailed task filters. Don't let that fool you though: Most teams will benefit from monday.com.
One disadvantage of monday.com is its comparatively high price, which when coupled with the inability to book extra features separately, means that this solution is less flexible than a number of the others we've examined. With that said, monday.com does get our nod for offering the best support that we've encountered thus far.
monday Project Management
monday Free
$0.00
monthly price
Visit Website*
Try for Free
User Reviews
We only tested monday.com to compile this review, so what are day-to-day users saying about the service? Nearly all of them are thrilled with the colorful software and its ease of use. For more details on individual ratings, check out the following:
Customer Ratings
69,981 Bewertungen
Visit Website*
We analyzed the reviews and ratings from various portals and found 69,981 ratings with an overall rating of 4.8 out of 5 .
Alternatives
Should monday.com's pricing structure have rubbed you the wrong way, or simply exceed your budget, other, free (and less expensive) options are available, such as the following:
MeisterTask Project Management
Offers free starter version
Intuitive and easy to use
Apps for Windows and macOS
9.4

excellent
MeisterTask Basic
$0.00
monthly price
Visit Website*
Offers free starter version
Comparatively high priced
9.2

excellent
Wrike Free
$0.00
monthly price
Visit Website*
Basecamp Project Management
Basecamp Standard
monthly price
Visit Website*
* Ad disclaimer:
For links marked with an asterisk, EXPERTE.com may earn a commission from the provider. The commission has no influence on our editorial rating.

Manuela Lenz is a trained IT specialist and worked for 20 years as a system administrator and project manager for large companies. Since 2017, the IT specialist has been a passionate IT-author. For EXPERTE.com she writes about project management, software and IT security.
Continue Reading
Software
PM-Methodologies
Guides
Other languages
Deutsch