Project Management Software Review: Trello

Ad disclaimer:
For links on this page, EXPERTE.com may earn a commission from the provider. This supports our work and has no influence on our editorial rating.
Trello* is a web-based project management tool, originally developed by "Fog Creek Software" (today, "Glitch"). Structurally, the service adheres to the Kanban method, which seeks to visualize workflows to prevent errors or waste. Since the beginning of 2017, the software has belonged to Atlassian and is used by more than 25 million people worldwide.

The freemium tool follows a fairly simple structure: It is composed of four components and can be understood relatively quickly without any background knowledge or prior experience. But don't let that fool you: Trello is anything but a 'basic' to-do list kind of program. The multi-platform suite offers a wide range of features intended to assist both private as well as corporate teams in working more efficiently and productively.
In this article, we'll let you know how Trello performed during testing, and if it can go head-to-head with its more well-known competitors.
Review
Configuration & Usage
10 / 10
Features & Customizability
9.4 / 10
Lots of customization options

Additional features through power-ups

User-friendly and intuitive

Tasks can be easily moved by dragging and dropping them

Mobile app with full desktop functionality
Not possible to host the entity on your own server

Boards can't be deleted (only closed and archived)

No ability to query project status
Trello differentiates itself somewhat from its competitors. The dashboard is comprised of four main components, with which users are provided a range of configuration options.
Creating a Trello Account
You won't need to install any additional software to use Trello for organizing your projects; simply sign up on their site and follow the instructions.
The entire process is uncomplicated and takes less than five minutes. Simply enter your name and email address, and create a secure password. Then, click on the "Create a New Account" button to confirm. That's it; you're ready to start using the service.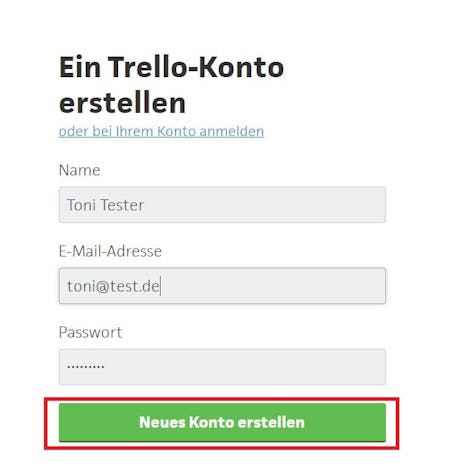 Good To Know:
Trello's production environment is hosted on an Amazon Web Services (AWS) EC2 platform in the US. User content is stored on Trello backups, which include Glacier, S3, and GCS. At the moment, Trello doesn't offer users the ability to host an entity on their own servers, or to use different infrastructure.
Creating a Board
Think of the Trello board as a digital manila folder for a particular project, in which all of the information you need for that project is directly at hand, including its progress, as well as what still needs to be done. As such, it doesn't make any difference whether you're planning a vacation, or launching a piece of software, since the Trello board organizes everything neatly and efficiently, allowing for you and your team to constantly exchange information with one another.
Only a few steps are necessary to create a Trello board:
1. Click on "Boards" and select "Create a new board" (alternatively, you can click on the plus symbol in the header and then on "Create a new board").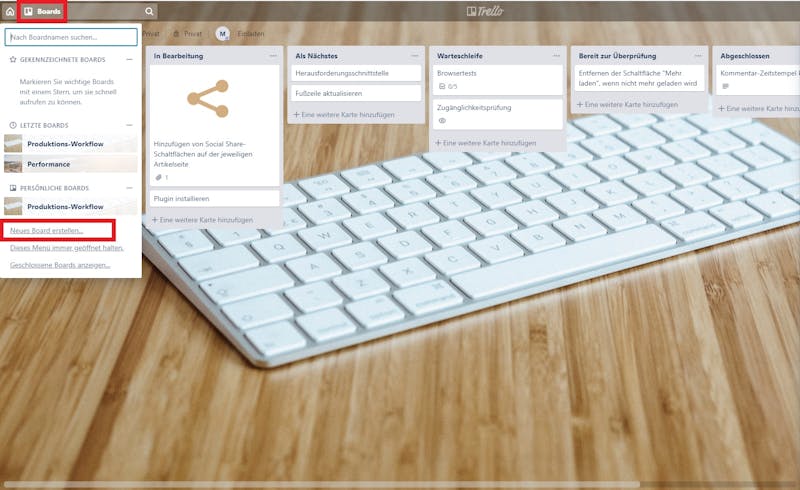 2. Name the new board and select a background. Confirm your selection by clicking on "Ok".

3. The board will now be visible. If needed, you can easily add additional boards later on.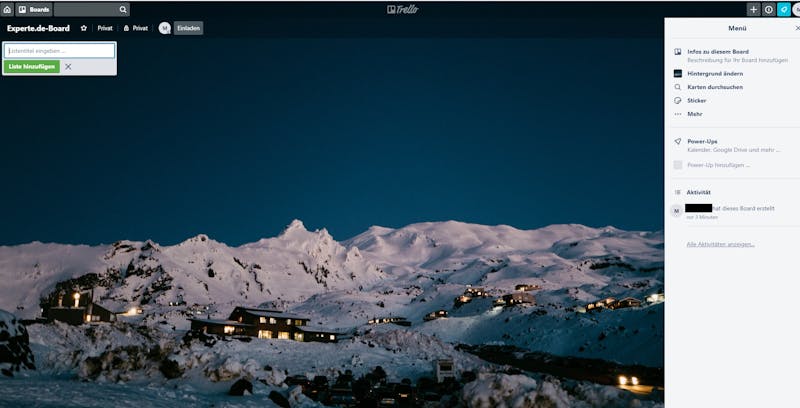 Lists
Workflows or processes are displayed on your Trello board through lists. These contain all data for each project, such as their "resources" and "tasks", the latter of which users can mark as "ongoing" or "done". It can also serve as a repository for ideas, depict different stages of a particular project, or contain information that you want to be reminded of.
By adding multiple lists to a board, it's possible to generate a complete workflow. However, generally speaking, you should add as few elements as possible, since the more you include, the more cluttered the overview will be.
To add a list to your Trello board, click on "Add a list" in the upper left of the screen, or double-click on a free space on the board. Afterward, you can freely move your lists by dragging them from left to right. If you want to change the name of a list, click on its title and enter the new name.

Cards
Trello uses cards to represent tasks and thoughts (such as "Install a plugin") which can be dragged and dropped within a list at will, remaining there until they're completed. To add a new card, click on "Add a card" in the list you'd like to add it to. There is no limit to how many cards you can add to each board.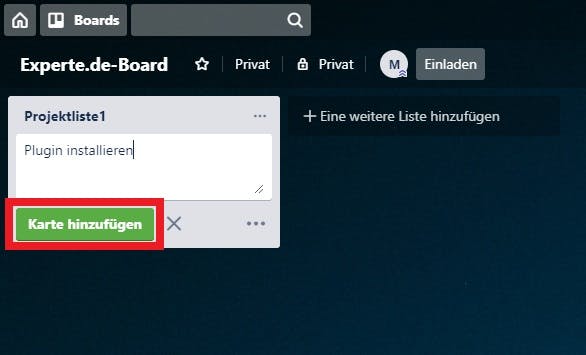 Each card has a front and back, whereby this doesn't differ as much as might be imagined from other project management tools. Click on the three dots to the right of the card's name to add a label or design via the quick menu, or tag a new project member. Here, you can also adjust the due date for the task, and archive the card once completed.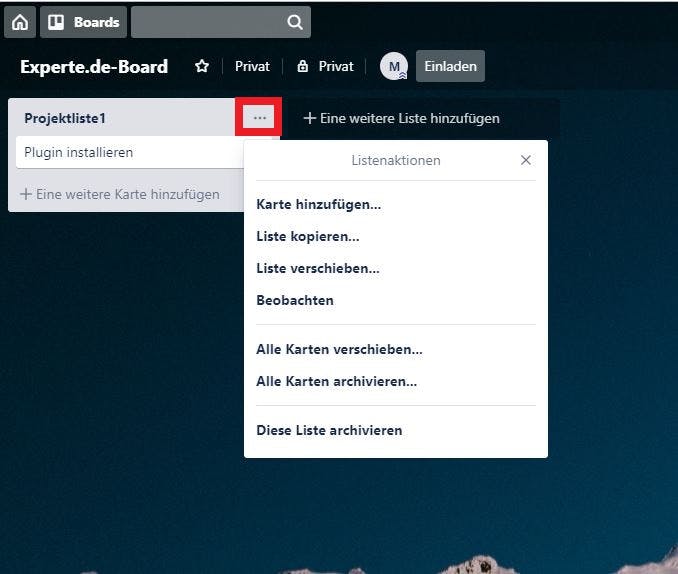 By clicking on a card, you can view its back, where you'll be able to add further information such as a detailed description or comments. You can also deck out your card with attachments, checklists, or labels by clicking on "Add". To follow certain cards that you want to keep a closer eye on, click on "Subscribe".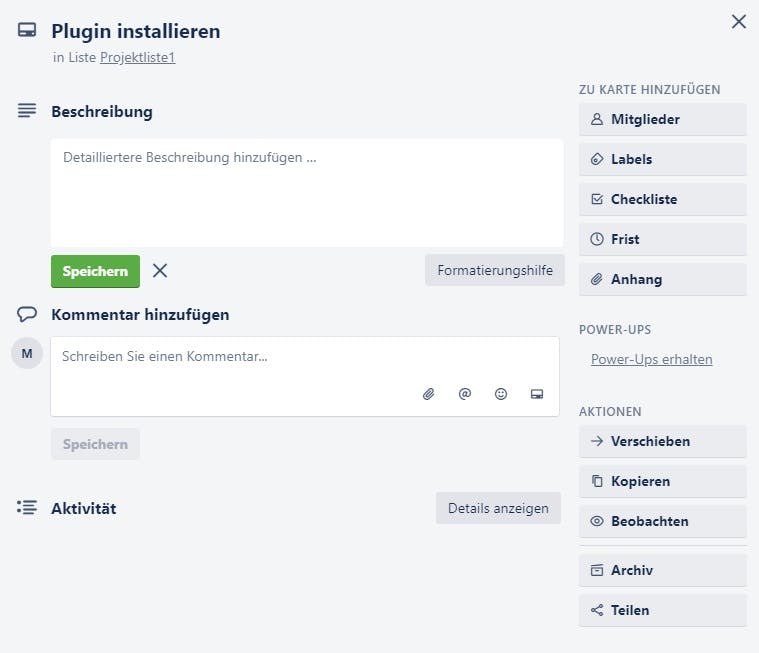 Menu
On the right side of the Trello board, you'll find the menu. If it isn't displayed automatically, you can activate it by clicking on the "Show Menu" button. Here, you'll find information about the board you're presently working on, be able to manage your team members, filter cards according to specific criteria, or install power-ups. Through the activity field, you'll also have the ability to track all activities that have occurred on your board.
By clicking on "More", you can view advanced settings, which include user permissions, as well as email settings for your board.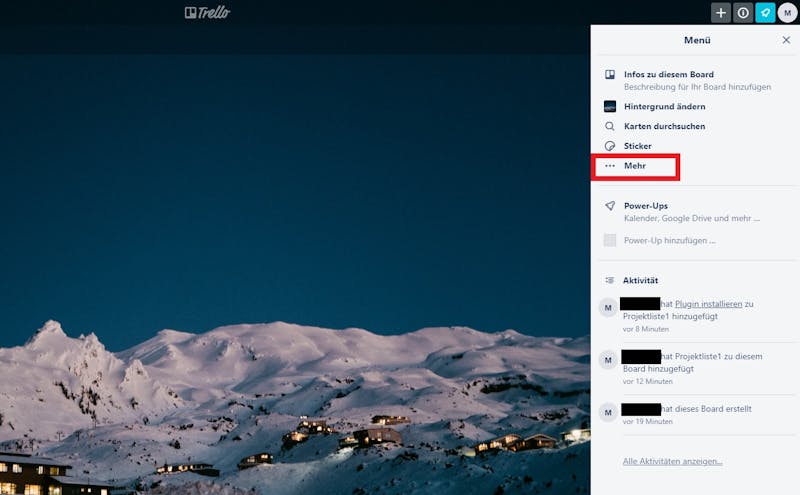 Good To Know:
If subscribed to the Business or Enterprise versions of the service, you can also decorate your board with colorful stickers
3.
Features & Customizability
Trello isn't able to go head-to-head with the project management heavyweights, but, as a free solution (at least for basic users), it offers an impressive array of features and options. The board follows is definitely Kanban-inspired, meaning that you move tasks by dragging and dropping them from left to right based on their progress. As such, Tello is a very user-friendly, visual project management tool that allows users to better organize their efforts with labels, tags, and categories, and tailor these to their exact needs or preferences.
Thanks to email integrations, cards and comments can be answered or forwarded via email. Each Trello board has its own unique address which you can use to control it via email. However, you should note that comments need to be activated for that particular board in order to take full advantage of the email-to-board feature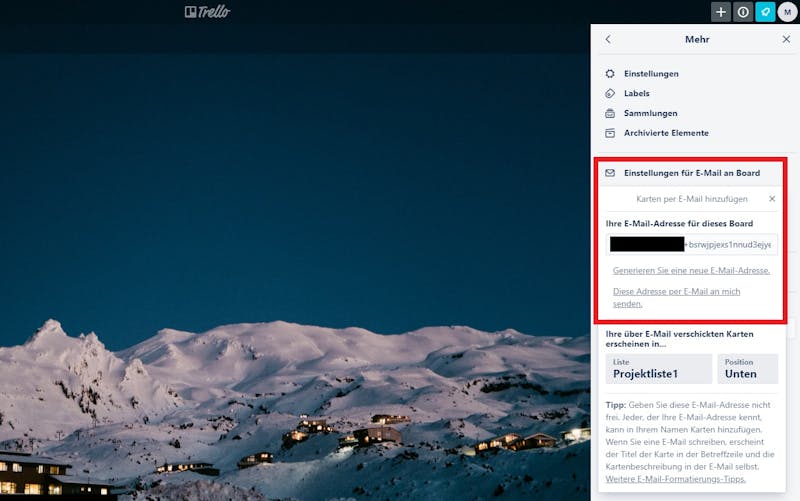 Power-ups are one of Trello's special features. These are additional features from services and apps (such as Slack, Bitbucket, or Salesforce), which enhance your Trello experience. You can further individualize your cards, add automations, or augment your boards with practical features such as user-defined fields or a calendar. It's possible to activate a power-up for each board (for free), whereas Gold version subscribers can activate three power-ups per board. Business or Enterprise subscribers have no limits to the number of power-ups they can activate per board.
Using power-ups, it's possible to take advantage of some of the features listed below:
1. Synchronization across devices: Regardless of whether you're using a PC, tablet, or smartphone, Trello will synchronize your board with all devices you access it on. For this, two kinds of synchronization are offered:
One-way synchronization preserves the parent-child relationship between your cards. This means that information contained on one card is moved to an attached card, but not vice-versa (to set up one-way synchronization you'll need the Zapier or Butler power-ups)

Two-way synchronization allows for two cards to be kept the same (to set up two-way synchronization you'll need the Placker or CardSync power-ups)
2. Google-Drive: With this power-up, you can transfer your cloud content to a Trello card. You'll be able to directly search through your cloud and attach the desired file. The integrated preview shows your file as well as real-time information about it. By clicking on your Trello board, you can convert it into a Google Slides presentation.
Score: 4.7 / 5
During testing, we ran Trello on two different systems. The first was a Lenovo Ideapad with an Intel Pentium 4415U (2.3 GHz) processor and 8 GB of RAM. The second test rig was a Lenovo Legion Y720 with a Core i7-7700HQ Quad-Core (2.8 GHz) processor and 16 GB of RAM. Windows 10 Pro (64 Bit) was installed on both laptops.
We were pleasantly surprised with the results and weren't able to notice any difference on either laptop.
The developer notes, however, that performance issues can be expected if more than 1,000 cards are open since these need to be loaded each time the program is accessed. Should there be lots of attachments or checklists on the cards, issues can be encountered starting with 500 cards.
We weren't able to confirm this during testing (our test board had fewer than 100 cards), so, we haven't factored it into our scoring.
Score: 4.7 / 5
Of course, it's always a bit scary to put sensitive or privileged information in the hands of an external cloud service. Luckily, with Trello, they go far in putting their users' minds at rest.
Trello uses an AWS network access control list (ACL) to manage incoming and outgoing data transfers and to limit access to these roles. DDoS protection is handled by Akamai, while a number of warning mechanisms exist for identifying unpermitted changes to configuration, sounding an alarm if noticed. Strict firewall rules prohibit access to Trello from certain ports (such as 443 and 80), whereby even the company's network only has limited access to the production environment.
A considerable amount of data that is sent between users and the Trello servers is encrypted with 128-Bit-AES encryption (Advanced Encryption Standard) and the industrial TLS standard, as are backups. It isn't possible to connect to Trello without TLS, and everything is secured via HTTPS.
Card attachments are saved in Amazon's S3 cloud and secured with 256-Bit-AES encryption. The administration of required encryption keys is also handled by Amazon, with these subject to regular monitoring and verification.
Trello guarantees that stored user data is secured in the Atlassian cloud, and accessible only by authorized personnel according to the least privilege principle.
Score: 4.7 / 5
Mobile versions of Trello are available for Android and iOS, allowing users to quickly and easily access boards even when on the go. These apps can be directly downloaded from the Google Play Store or Apple Store and installed on your device in less than a minute.
Once finished, you can log in to Trello and use a number of features offered in the desktop app. During testing, we ran the app on a Samsung Galaxy S9 and were delighted by how easy it was to create or edit boards on the go. Even uploading attachments or power-ups was easy (we activated the calendar power-up, which provides a calendar view with due dates). Here too, we didn't notice any differences in functionality, except that scrolling on a smartphone display is a bit more tedious than with a mouse, but that's no fault of Trello's.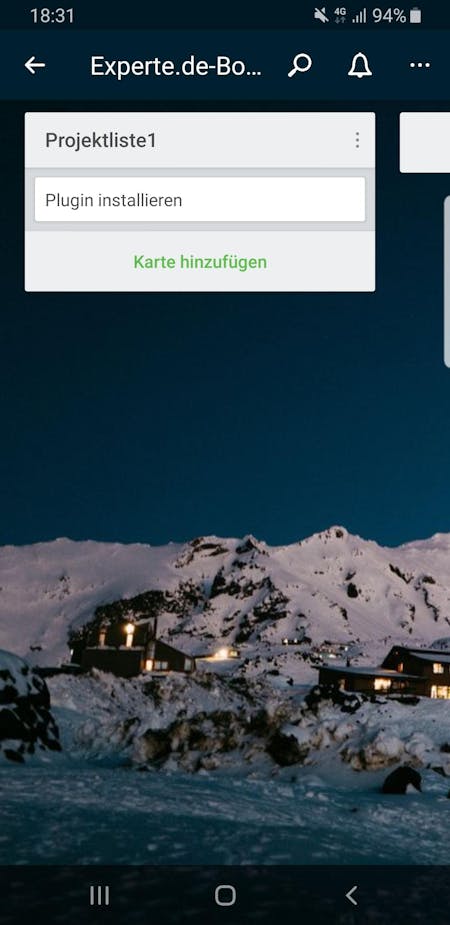 Good To Know:
Should you be (temporarily) offline for any reason, you can keep working with Trello without batting an eye; all boards are automatically synchronized once your Internet connection is restored.
Trello's support team can be contacted during usual business hours (Monday to Friday, 9-5). Customers with a basic account can only request help through the online form.
Trello Business and Enterprise subscribers can look forward to prioritized email support, which guarantees responses within a working day.
During testing, we filled out the contact form and received an answer to our query within three days, which, unfortunately, didn't solve our issue. On account of both the long response time, as well as the lack of a competent answer, we've deducted points from Trello in this area.
Score: 3 / 5
Trello's free version is definitely nothing to shake a stick at, thanks to its high security standards and wealth of features, however, the paid subscriptions offer even more.
Trello Gold builds on the features offered in the basic version, providing some further add-ons. These include the ability to create user-defined backgrounds and make your cards stand out with emojis and sticker packs. Your upload limit is also increased significantly from 10 MB to 250 MB, allowing for more freedom in terms of attachments.

Trello Business provides specialized privacy settings and administrative tools, both of which seem to suggest that it is targeted at (as the name implies) larger companies and organizations. These additional features grant users more control over boards and the data or files they contain. Trello Business includes everything offered in Trello Gold, but can be updated for the entire team (whereas Trello Gold only updates for individual users). Fees are charged per month, per team member.

Trello Enterprise offers even greater functionality, such as advanced security and compliance features, including single sign-on (SSO) and unlimited attachments. Licenses are paid per user and cost depending on the size of the team.
Free
Standard
Premium
Base Price per Month
$0.00
from $5.00
from $10.00
Price per User
$0.00
from $5.00
from $10.00
Contract Period (Months)
0
1 - 12
1 - 12
Limits
Number of Users
unlimited
unlimited
unlimited
Number of Projects
10
unlimited
unlimited
Number of Tasks
unlimited
unlimited
unlimited
Anzahl Automatisierungen
250
1,000
unlimited
Views
Liste
Table
Kanban
Galerie
Kalendar
Zeitleiste
Gantt
Mindmap
Workload
Karte
Tasks
Benutzerdefinierte Felder
Unteraufgaben
Aufgabenabhängigkeiten
Meilensteine
Ziele
Zusammenarbeit
Nutzergruppen
Private Nachrichten
Gruppenchat
Message-Board
Whiteboard
Dokumente
Wiki
Erweiterte Funktionen
Formulare
Automatisierung
Zeiterfassung
Integrations
Charts
Reporting
API
Conclusion
Configuration & Usage
10 / 10
Features & Customizability
9.4 / 10
Trello offers teams a way to stay focused on a single project, monitoring progress in a clear, and easy to use manner. Thanks to its ease of use and the somewhat minimalist user-interface, we expect that beginners will get a hang of Trello in no time at all. The wide array of filter options and the activity feed, with which you can stay on top of all changes or developments on your Trello board, definitely left a positive impression upon us.
Of course, when set alongside more established project management solutions such as Atlassian Jira, Trello's shortcomings are easy to spot, however, for a free tool, it carves out a respectable place for itself in our hearts (and ranking). The service is directed towards the private sector and small and medium-sized enterprises (SMEs), however, the paid Business and Enterprise versions definitely make it possible to organize larger projects. The prices for these are reasonable and worthy of consideration.
However, the biggest highlight for us when reviewing Trello was its mobile apps for Android and iOS, both of which provide (basically) the same features as the desktop version for tablet or smartphone users. As such, it's possible for anyone, anywhere, to comfortably work with Trello, even if they lose their Internet connection.
Trello Project Management
Trello Free
$0.00
monthly price
Visit Website*
User Reviews
Trello's users sure do rave about the service (with very little ranting), but don't just take our word for it! You can check out individual reviews and ratings from established portals in detail below:
Customer Ratings
160,421 Bewertungen
Visit Website*
We analyzed the reviews and ratings from various portals and found 160,421 ratings with an overall rating of 4.4 out of 5 .
Alternatives
Should Trello's features not match or fulfill your needs, you might have better luck with some of the alternatives we've included below:
MeisterTask Project Management
Offers free starter version
Intuitive and easy to use
Apps for Windows and macOS
9.4

excellent
MeisterTask Basic
$0.00
monthly price
Visit Website*
Offers free starter version
Comparatively high priced
9.2

excellent
Wrike Free
$0.00
monthly price
Visit Website*
Basecamp Project Management
Basecamp Standard
monthly price
Visit Website*
Optimized for software development
Very affordable for small teams
9.2

excellent
Atlassian Free
$0.00
monthly price
Visit Website*
monday Project Management
monday Free
$0.00
monthly price
Visit Website*
Try for Free
* Ad disclaimer:
For links marked with an asterisk, EXPERTE.com may earn a commission from the provider. The commission has no influence on our editorial rating.

Manuela Lenz is a trained IT specialist and worked for 20 years as a system administrator and project manager for large companies. Since 2017, the IT specialist has been a passionate IT-author. For EXPERTE.com she writes about project management, software and IT security.
Continue Reading
Other languages
Deutsch