Project Management Software Review: MeisterTask

Ad disclaimer:
For links on this page, EXPERTE.com may earn a commission from the provider. This supports our work and has no influence on our editorial rating.
MeisterTask* is a comprehensive project management tool that allows for projects to be easily and neatly planned. The solution is the brainchild of the German-Austrian MeisterLabs, founded in 2006 by Michael Hollauf and Till Vollmer in Munich. The erstwhile start-up has gone on to become the creator of one of the leading project management solutions, opening offices in both Vienna and Seattle.

Unveiled in 2015, MeisterTask is MeisterLabs' second product, following its MindMeister mind mapping software. The program utilizes the Kanban principle, as well as the "Getting Things Done" (GTD) method. This means that all processes are visualized in a table or chart, depicting individual tasks or assignments with cards.
MeisterTask's basic structure is similar to that of Trello, however, the dashboard is less cluttered more modern-looking. In addition, the service offers numerous features that its competitors don't, or only provide through add-ons.
During our evaluation, we took a closer look at the software, and below, will let you know how it did!
Review
Configuration & Usage
10 / 10
Features & Customizability
7.4 / 10
Very quick and easy to set up

Modern, well-structured user interface

Freely defined automations

Multi-platform synchronization

Unlimited number of projects and team members in the freemium version
Most features only available in the paid version
Even when setting up our freemium account Meistertask showed itself to be very beginner-friendly. You can log-in using an existing Google or Facebook account, or alternatively, register with your name and email address.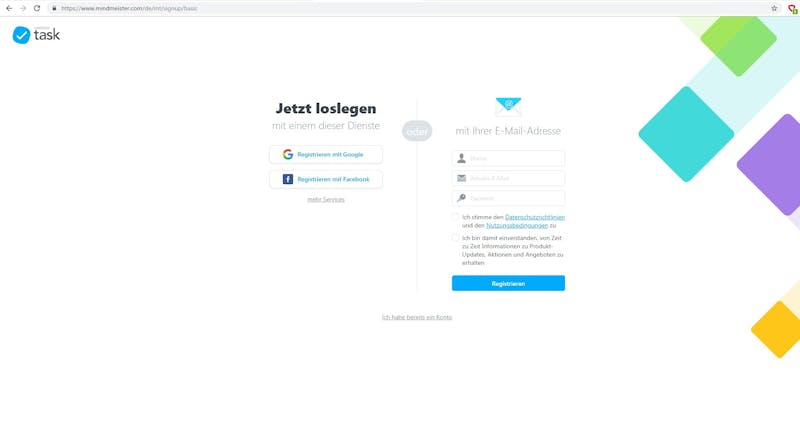 After consenting to the privacy guidelines and terms and conditions, you'll only need to indicate how you'd like to use MeisterTask. Whether for private usage, with a startup, or for a large business or organization, practically all scenarios are covered. According to the developer, the information you enter here is used to provide an optimal experience.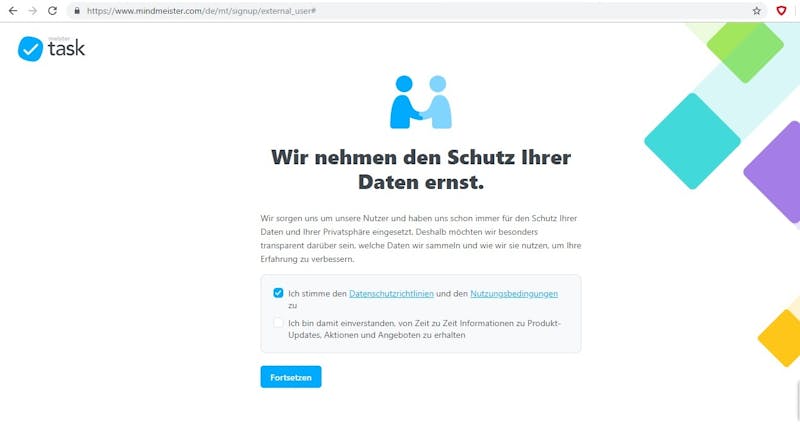 The entire process took less than three minutes, after which it's possible to get started with the tool right away.
Dashboard
All project work in MeisterTask starts from the Dashboard, which provides an individual overview of all of your projects and tasks. You can configure the background to depict your branding or to match your current mood by clicking on "Customize" at the top of the dashboard's menu. If desired, the software will surprise you every day with a random background. This makes the dashboard view unique for each user.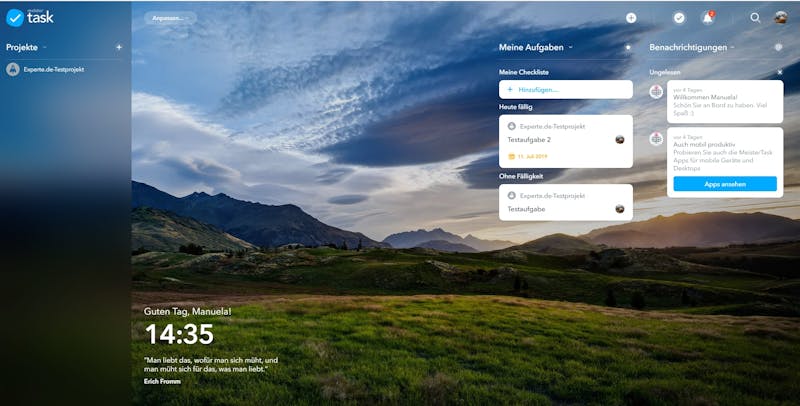 On the left side of the screen, you'll find the Project List, which shows all of your active projects. The order these are shown in can be modified to your needs, or grouped into different project groups.
To view archived projects, click on the small arrow on the right next to "Projects" and select "Archived Projects".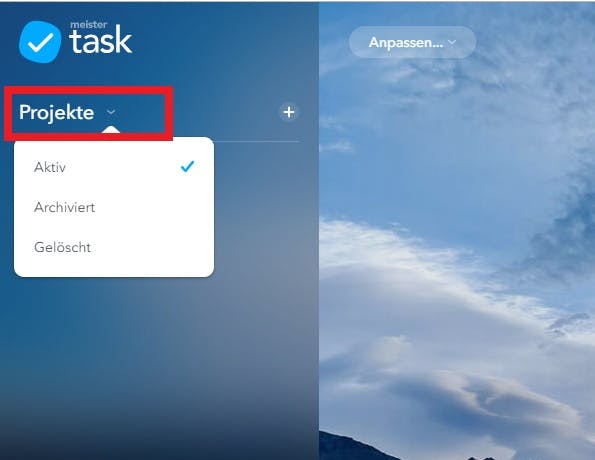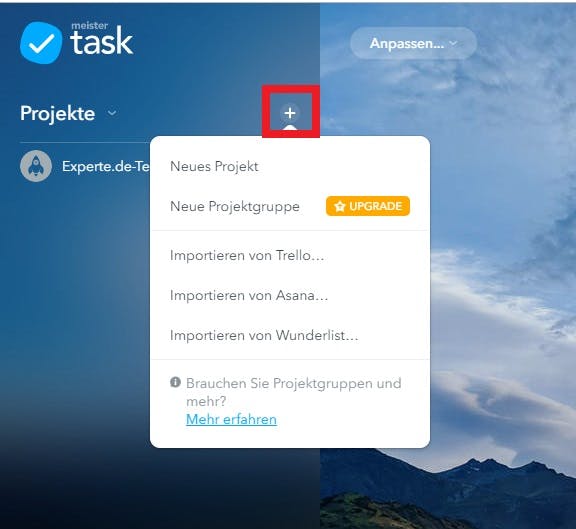 The "My Tasks" drop-down menu (in the upper-middle of the menu bar) provides users with access to their assignments or current tasks. Here, it's possible to sort your tasks based on their due date, name, or the project they are attached to. Additionally, you can display a personal checklist.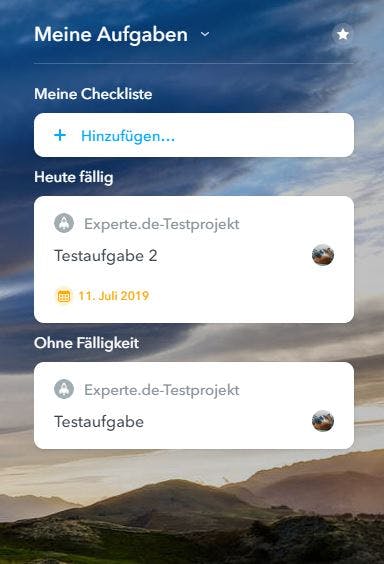 The "Notifications" area keeps you up to date about everything that's going on. You'll also find current information about your team's activities and will be notified when someone tags you in a comment or makes a change to one of their assigned tasks.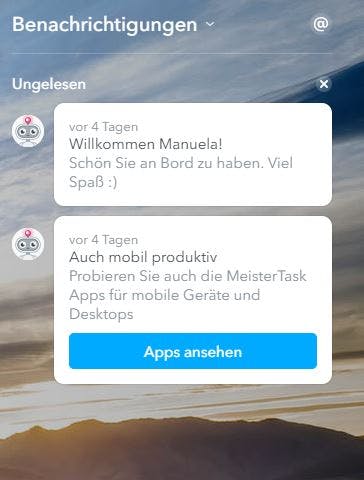 Projects
To create a new project, click on the "+" symbol next to the drop-down "Projects" menu and select "New Project" from the list. You can name the project, add a description, and indicate who you'd like to share it with. In the next window, you'll be taken directly to the project plan view. Here, you can enter more columns in addition to the three pre-defined ones ("Open", "Ongoing", and "Completed"), or add entries to them. You can change a column's name by clicking on it. The color and the assigned symbol can also be modified by clicking on the arrow next to the column's name.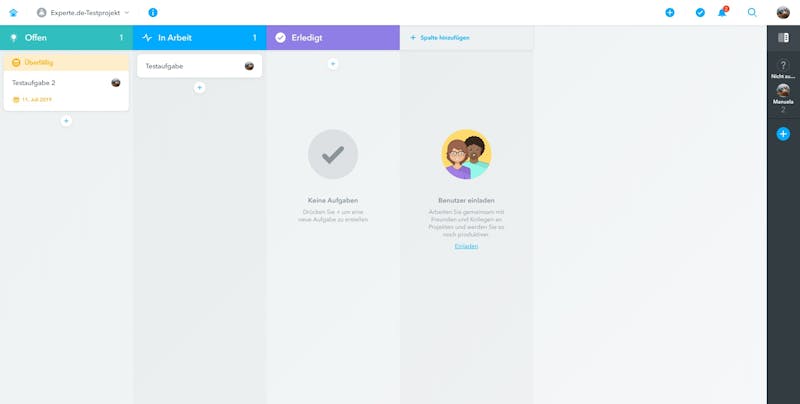 Tasks
Now it's time to get to work: Click on the plus symbol under the top of the column and enter a name. You can also create new tasks by tapping the "N" key.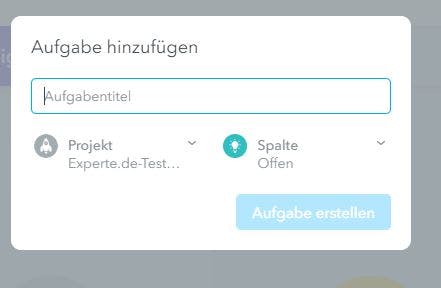 These are displayed as tiles that can be easily moved within columns and positioned by dragging and dropping them. Tasks that are due or late become orange, whereas inactive or dated tasks become grey. Similarly to the Dashboard, you can also freely change the background of your projects. This makes it easy to mark your favorites with different colors or pictures or to upload your own ideas.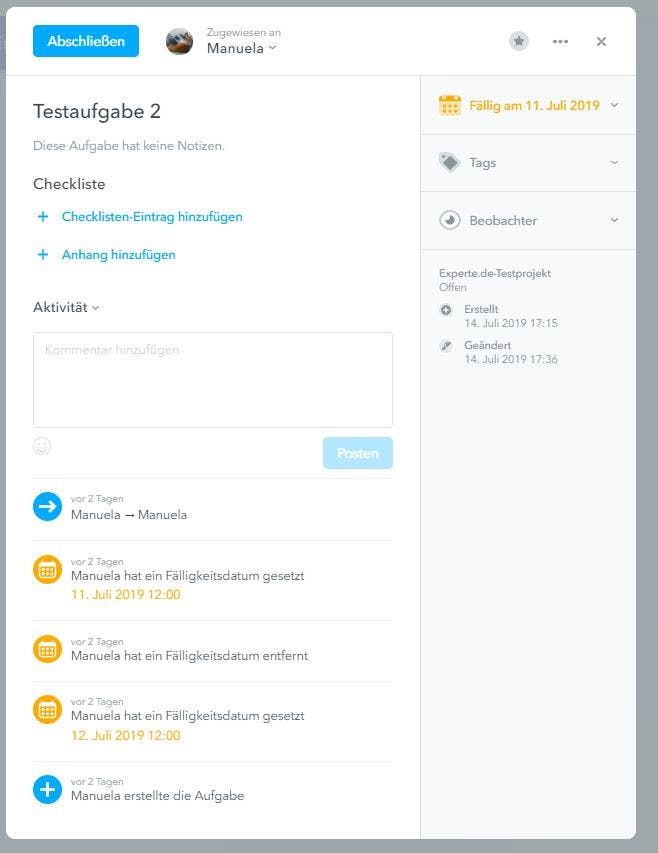 To open the dialog window and modify the details of a task, click on it. Along with a detailed description, information about when it was created, as well as its activity feed, you can stay on top of all changes or modifications to the task. You'll also have the ability to add attachments in the form of mind maps, models, references, or observers, that automatically inform you when a change is made or a new comment is added. Particularly detailed tasks can be made easier to visualize into individual activities through checklists. Tagging them makes it easier to group them and find them faster.
Good to Know:
File attachments for your tasks can be uploaded directly from a local disk driver, Dropbox, Box, MindMeister, or Google Drive account.
When clicking on the asterisk symbol in the upper right, the task will be given a "Focus", which means that it will be displayed separately in your dashboard, allowing you to keep an eye on it at all times.
MeisterTask Business subscribers can also create user-defined fields. As Basic users, we didn't have access to this feature, so it doesn't impact our scoring.
Activity Stream
The symbol in the upper right of the members' bar opens the Activity-Stream. Here, you'll be able to keep tabs on all changes or actions that you or your team members have made or taken. These are displayed chronologically. By clicking on an individual activity, the relevant task will be opened automatically.
By clicking on the button with three lines, you can arrange your tasks according to their status, tags, due date, or observers. Using the avatars on the right side, you can filter assignees or assigners.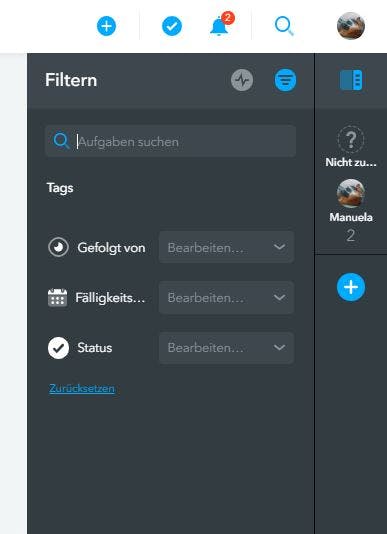 Taken together, MeisterTask's user interface is well-structured, clear, and appealing. We tested the tool in Google Chrome, Mozilla Firefox, and Microsoft Edge, and didn't note any differences in features or functionality. In terms of user-friendliness and ease of use, there's absolutely nothing wrong with MeisterTask.
Score: 5 / 5
3.
Features & Customizability
The freemium version of MeisterTask doesn't come anywhere near providing as many features as the leading services in the market. However, it does include a number of features that other services don't offer, or can only be integrated through add-ons.
Automations
These include the "Section Actions", which are a series of automation features that you can use to automate specific steps of your workflows, making them more efficient and consistent.
If you want to move a card from one column to another, additional actions will occur without you having to do anything. You can define and set multiple automations for each column, and whether these should apply to already-existing tasks. These include:
Assign tasks to another team member

Change the status of a task

Automate the sending of emails to one or more recipients

Set or remove a due date

Add tags to individual tasks
To create an automation for your project, click on the blue "i" button next to the project's name, and select "Project Settings". Under the "Automations" tab, click on "Add Automation".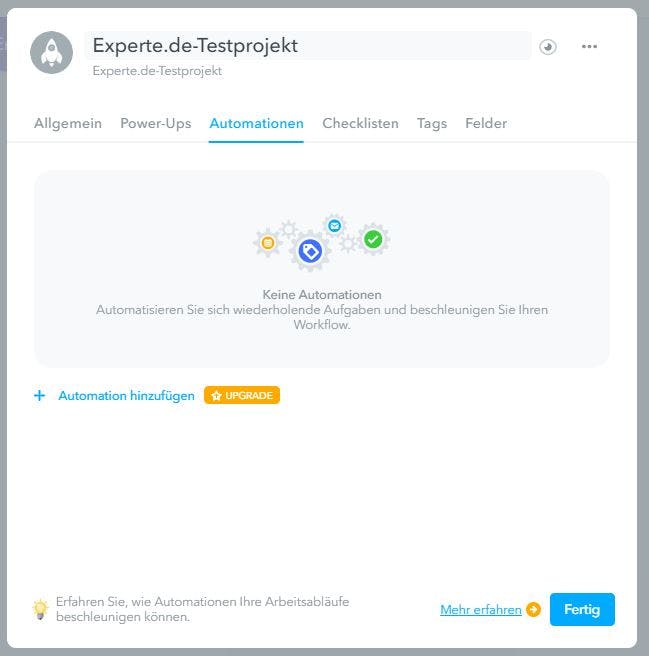 We don't have anything further to report beyond that, because without upgrading to a paid subscription, you can't add any other types of automations. This is unfortunate since it means that we can't include this nifty feature in our scoring, but fair is fair.
Integrations
Integrating lots of other tools is easy in MeisterTask. These include MindMeister, as well as GitHub, Atlassian Confluence, or Zendesk. Using IFTTT (If This Then That) and Zapier, MeisterTask can be connected with countless additional apps and platforms, allowing for new automations to be created with little more than a few clicks. A complete list of current integrations can be found here.
Good to Know:
Through integrating MeisterTask with MindMeister you can create project boards and assignments from your thoughts or ideas. For this, you'll only need to connect MindMap with a MeisterTask project or create a new project. Tasks are assigned by dragging and dropping them onto the avatar of a team member, with links and notes automatically exported.
Statistics and Reports
In the "Statistics & Reports" area, you'll gain insight into productivity and be able to assess how your team uses its time. Here, you'll also find a simple calendar view. Unfortunately, this feature is also reserved for Pro and Business subscribers, and therefore, not factored into our review.
Score: 3.7 / 5
With the introduction of MeisterTask Version 2.0, the developers gave the Dashboard a facelift, while putting in a fair deal of work under the hood too. With the inclusion of "React & Redux", two new technologies were introduced that are intended to improve both the service's performance, as well as its reliability.
Of course, we wanted to test these in greater detail. To do this, we used MeisterTask on two different laptops, both of which run Windows 10 Pro (64 Bit):
Laptop 1: Lenovo Ideapad with an Intel Pentium 4415U (2.3 GHz) processor, 8 GB RAM, and the stock Intel graphics card (HD Graphics 610).

Laptop 2: Lenovo Legion Y720 with a Core i7-7700HQ Quad-Core (2.8 GHz) processor, 16 GB RAM, and an Nvidia GeForce GTX1050 Ti graphics card with 2 GB dedicated storage.
Since we wanted to make our testing as real as possible, we loaded 500, 1,000, and 5,000 datasets, running the program in Google Chrome, Opera, and Mozilla Firefox. We were really impressed with the results: MeisterTask performed equally well in each browser and on both laptops. The Dashboard was loaded in a matter of seconds (regardless of the amount of data to be loaded) and the filters applied quickly. Of course, it is important to note that most project management tools start to experience performance issues following the inclusion of 10,000 or more datasets.
As mentioned above, since we didn't have access to the statistics and reporting sections, we couldn't assess their performance during testing.
Score: 5 / 5
MeisterTask advertises itself as prioritizing the security and confidentiality of all data. The service's servers are located in Frankfurt am Main (Germany), and surveilled 24/7/365. The service has availability of 99.9% thanks to its failsafes and redundant Internet connections, however, only for paying subscribers.
Data transfers between MeisterTask and end-users are encrypted with 256-Bit-SSL (Secure Socket Layer), while all systems are protected through firewalls and special access controls (at the network level).
Most data is backed up at multiple locations on a daily, weekly, or bi-weekly basis. Four times a year, MeisterTask also performs an exhaustive backup test, in order to ensure that error recovery functions properly. Additional information can be found in the company's Privacy Policy.
In terms of application and user security, MeisterTask also doesn't cut any corners. Logins are secured with two-factor authentication, meaning that in addition to a password, you'll need to enter a security code from a smartphone app. In this way, your account stays secured, even if your password ends up in the wrong hands. MeisterTask also offers a number of different options for controlling user privileges. The program constantly checks these, showing only that content to users which they are permitted to see or modify. You can even set if other users should be allowed to actively change your content or have to ask your permission to do so.
Score: 4.7 / 5
Good to Know:
When you create a project in MeisterTask, it's automatically set as "Private" by default. To share this project with other users, you'll need to enable access rights to it in the database. When you add files to an assignment, these automatically 'inherit' the user permissions of the project to which they are subordinated. Access rights can be granted to individual users or an entire team, and also revoked at any time.
Like nearly all project management tools available on the market, MeisterTask also offers a free app, allowing users to access or modify projects on the go. This app is available for iOS, Android, macOS, and Windows, and can be downloaded directly from the respective app store for each.
We installed the Android version on a Samsung Galaxy S9, taking less than 10 seconds over a mobile network (4G). Once logged in, you'll be notified of the benefits of a Pro account, but this can be easily closed.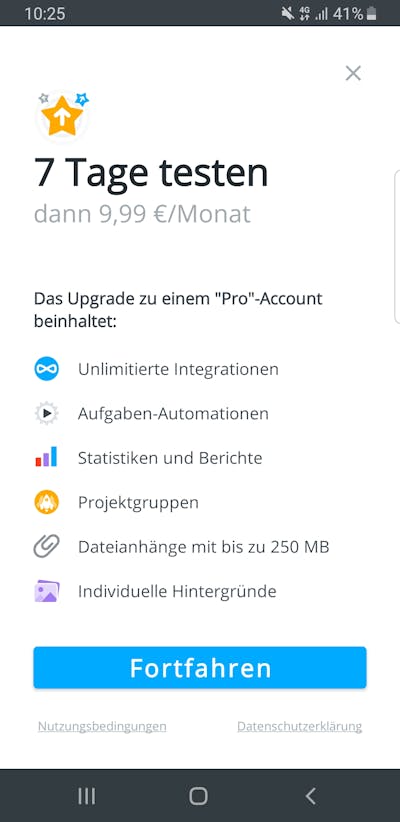 The app is optimized for mobile use and offers nearly the same variety of features as the desktop version. Controlling the app is similar to the desktop version through the symbol bar on the bottom of the screen. During testing, we were able to easily create projects, tasks, and checklists, as well as to edit descriptions, and add comments.
Thanks to the app's straight-forward design and sizable number of icons and symbols, beginners won't have a lot of trouble coming to terms with it.
One major advantage is that MeisterTask's mobile apps can be used offline. The app loads all projects and tasks from your online account to your smartphone or tablet, allowing you to edit them without an Internet connection. These changes are saved locally until the device again has an Internet connection. Once this is present, the app automatically synchronizes with your online account. In addition, all team members are notified about changes, and you'll receive any messages you might not have gotten.
Score: 4.7 / 5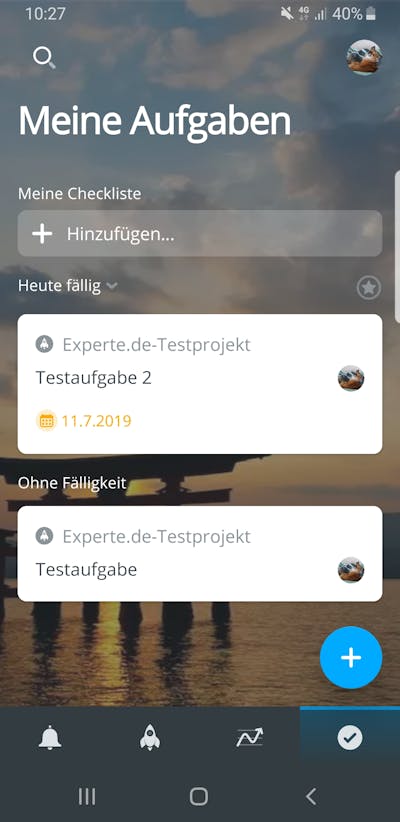 In the event that you run into any issues when using the software, MeisterTask will be there to lend a helping hand. The company offers extensive support options, which are available during business hours. These include email forms and social media channels. In addition, you'll also be able to take advantage of the software's FAQs and help pages, the latter of which is filled with articles and guides for different topics. Hotline support or support outside of business hours is only available for paying subscribers.
We contacted support in the late morning via contact form and received an answer within a few (around 2) hours. Importantly, this answer helped us to solve the issue we were having. For a freemium account, this is very good, leading us to award maximum points despite the differences between paying and free users.
Score: 5 / 5
MeisterTask is definitely a useful tool that offers a variety of handy features. Unfortunately, only a few of these can be tested in the freemium version, meaning that potential users can't really test drive the service. On a positive note, in contrast to nearly all other solutions we evaluated, you can add as many projects and team members as you'd like. You'll just have to make do without integrations such as iCalendar, Harvest, and Zapier.
Should you want to use apps like Zendesk, Google, or GitHub, you'll have to purchase a Pro subscription. This also comes with numerous analytic and reporting functions, as well as the ability to create an administrator account.
For more user permissions you'll have to dig a bit deeper into your wallet. The Business version allows you to divide your teams into groups, while also providing more roles and user rights, making everything more efficient and easy to manage. You can also limit access to specific features or projects, making it possible to share projects with users outside of your organization.
The Enterprise subscription is only available upon request. MeisterTask creates custom offers tailored for organizational needs. You'll also receive a dedicated assistant who takes care of your requests or needs and offers advice on licensing issues.
Basic
Pro
Business
Base Price per Month
$0.00
from $12.00
from $24.00
Price per User
$0.00
from $12.00
from $24.00
Contract Period (Months)
0
1 - 12
1 - 12
Limits
Number of Users
unlimited
unlimited
unlimited
Number of Projects
3
unlimited
unlimited
Number of Tasks
unlimited
unlimited
unlimited
Anzahl Automatisierungen
0
unlimited
unlimited
Views
Liste
Table
Kanban
Galerie
Kalendar
Zeitleiste
Gantt
Mindmap
Workload
Karte
Tasks
Benutzerdefinierte Felder
Unteraufgaben
Aufgabenabhängigkeiten
Meilensteine
Ziele
Zusammenarbeit
Nutzergruppen
Private Nachrichten
Gruppenchat
Message-Board
Whiteboard
Dokumente
Wiki
Erweiterte Funktionen
Formulare
Automatisierung
Zeiterfassung
Integrations
Charts
Reporting
API
Conclusion
Configuration & Usage
10 / 10
Features & Customizability
7.4 / 10
Like Trello, MeisterTask is a classic digital Kanban board that is as well-suited for everyday activities as for more demanding projects. Tasks and progress are visualized very clearly, whereas the service is easy to use and intuitive, making it perfect for beginners. The service has a fresh, minimalistic design that can be customized with your own images or through tweaking its settings.
The automation features which you can use for status emails or time tracking via Harvest are very convenient. Unfortunately, most of the advanced features are only available with paying subscriptions, if they exist at all (for example, project templates and Gantt diagrams are missing altogether). As such, the tool does have a number of integrations for third-party solutions which can be used by linking it with MindMeister or GitHub.
We should also commend MeisterTask's support again since it performed very well for a free service.
MeisterTask Project Management
Offers free starter version
Intuitive and easy to use
Apps for Windows and macOS
9.4

excellent
MeisterTask Basic
$0.00
monthly price
Visit Website*
User Reviews
MeisterTask's users are also satisfied with the service. For more information, check out the individual reviews below:
Customer Ratings
13,022 Bewertungen
Visit Website*
We analyzed the reviews and ratings from various portals and found 13,022 ratings with an overall rating of 4.5 out of 5 .
Alternatives
If MeisterTask's freemium version doesn't have the functionality you're after, and/or its subscriptions are too expensive, you might be more satisfied with the alternatives listed below:
Offers free starter version
Comparatively high priced
9.2

excellent
Wrike Free
$0.00
monthly price
Visit Website*
Basecamp Project Management
Basecamp Standard
monthly price
Visit Website*
Optimized for software development
Very affordable for small teams
9.2

excellent
Atlassian Free
$0.00
monthly price
Visit Website*
Trello Project Management
Trello Free
$0.00
monthly price
Visit Website*
monday Project Management
monday Free
$0.00
monthly price
Visit Website*
Try for Free
* Ad disclaimer:
For links marked with an asterisk, EXPERTE.com may earn a commission from the provider. The commission has no influence on our editorial rating.

Manuela Lenz is a trained IT specialist and worked for 20 years as a system administrator and project manager for large companies. Since 2017, the IT specialist has been a passionate IT-author. For EXPERTE.com she writes about project management, software and IT security.
Continue Reading
Software
PM-Methodologies
Guides
Other languages
Deutsch