Best (Free) Video Conferencing Software 2023: Comparing 7 Solutions


Since 2019, in-person meetings and business trips have steadily become a thing of the past. These days, business meetings are held online more often than ever before. Many employees work from home, and it seems unlikely that with skyrocketing rent and utility costs, the way business is conducted will ever look the same again. Thankfully, there are plenty of video conferencing solutions. The only question is: Which is the best?
Below, we'll introduce you to seven of the most popular video conferencing programs, highlighting their advantages and disadvantages, as well as what each is best suited for.
What to Pay Attention to When Selecting a Video Conferencing App?
It's important to exercise caution when selecting video conferencing software - Enterprise tools don't come cheap and for something that will be used on a daily basis by many of your employees, you want to make sure that your business is getting the solution that best matches its needs and requirements. We advise keeping the following factors in mind:
User-friendliness
Plug and play: A good video conferencing solution shouldn't be tricky to install or set up, but rather, intuitive and easy to use. Your employees likely have varying levels of technical competence, so, everyone needs to be able to get the program to work in relatively short order. Productivity will suffer if your staff constantly needs to reboot or sort out other software issues.

Price
How much a piece of software costs often depends on the number of licenses that are purchased, or, in other words, how many people are using it. Free options do exist, however, these are often limited in terms of their functionality and features.

Features
While on the topic of features: Take some time to figure out which features your team needs for video conferencing, and then make sure that any service you're considering offers them. Some basics that every solution should come with include screen sharing and the ability to add different effects or backgrounds. Beyond that, there are plenty of other options that might come in handy, such as breakout sessions with specific participants following a group meeting, advanced collaboration tools (such as whiteboards), or embedded transcription services.

Security
Your business meetings should be private, not least since the conversations are privileged. Such information could easily help competitors or bad actors do considerable damage to your business. For these reasons, it's important to not only be able to password protect and specify who can join a meeting, but also, rest assured knowing that the software's provider carefully handles any data that it stores. One thing to look for in this area is end-to-end (E2E) encryption.

Integrations with existing systems and platforms
Rounding things out, the software you choose should be compatible with your existing tools and platforms. If your business uses Google Workspace (Docs, Sheets, and Calendars) for online collaboration, then Google's video conferencing solution (Meet) will likely be the easiest to integrate. The same holds true with Microsoft products and Teams.
The Best Video conferencing Software: Our TOP 7
As you can already tell, choosing the right video conferencing solution depends on a whole host of factors. This makes recommending a single program as "the best" difficult. To ease your decision-making process, we tested out seven of the most popular video conferencing solutions, and below, will let you know how they fared and what each is best suited for.
1.
Zoom: Nimble, All-Around Solution for Everybody
During the COVID pandemic, Zoom rose to prominence as THE video conferencing solution. Was it just good marketing? Surely, the service did an excellent job promoting itself, but, Zoom's success has much more to do with how user-friendly and versatile the platform is.
The solution doesn't take long to set up, allowing anyone to come to terms with it and its features fairly quickly. Beyond that, the software is lightweight, making it capable of running on nearly any system.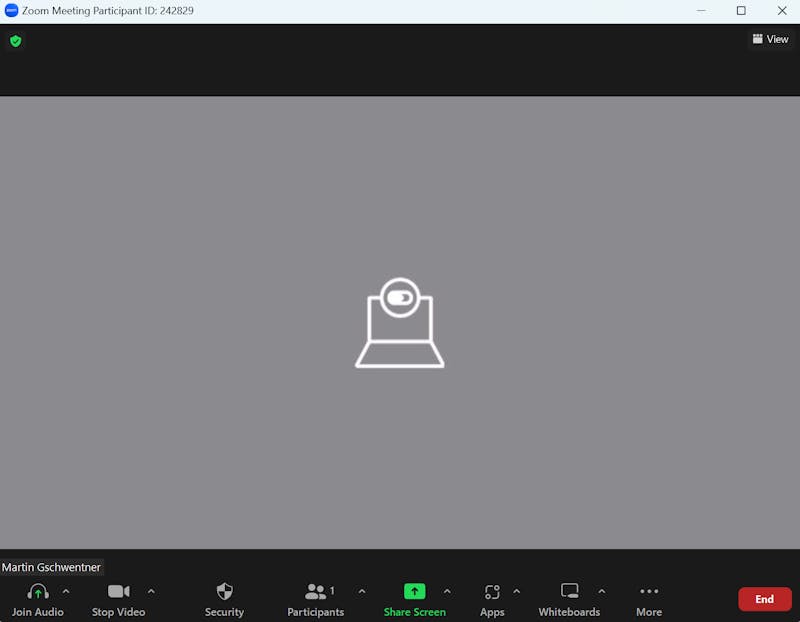 Zoom rose to prominence during the COVID-19 pandemic as one of the most popular video conferencing solution.
What we like
Zoom comes with nearly everything a video conferencing solution should offer. Meetings lasting up to 30 hours can be held with up to 1,000 participants. Collaboration tools like screen sharing, a whiteboard, breakout rooms, and a chat are directly integrated as is the ability to record meetings.
In particular, we liked Zoom's user-friendliness: By clicking on a simple Zoom link, you can connect to an ongoing or scheduled meeting or conference directly in your browser without any hassle.
Who is Zoom for?
The service is well-suited for businesses looking for a video conferencing solution for larger teams, of which not everyone possesses a high level of technical know-how. Another positive is Zoom's price-performance ratio, which makes it an attractive option for pennywise small and medium-sized enterprises that need a comprehensive video conferencing solution but aren't willing or able to break the bank for one.
What we don't like
As Zoom grew in popularity, several security weaknesses came to light: Some of these pertain to encryption, which could see sensitive data fall into the wrong hands. The provider's privacy policy is also a bit problematic. Currently, it seems that the most glaring issues have been rectified, however, a tinge of doubt remains.
How much does Zoom cost?
Zoom is free, however, such meetings are limited to 100 participants and 40 minutes. To access additional features like polls, live streaming, or an admin portal, you'll need to book a paid subscription.
In addition to its free version, Zoom is also offered in four different subscription packages:
Subscription
Annual price per user
Features

100 attendees per meeting

3 Zoom whiteboards

5 GB of cloud storage for meeting recordings (MP4)

Extras (streaming, reporting, etc.)

All Pro features

300 attendees

Unlimited Zoom whiteboards

Extras (admin portal, branding, language interpretation, etc.)

All Business features

10 GB of cloud storage for meeting recordings (MP4)

Extras (translated captions, phone features)

Most Business Plus features

1,000 participants

Cloud storage
On Zoom's website you can find an overview of all the platform's pricing.
Advantages and Disadvantages of Zoom
Lots of features, such as collaboration tools

Past security issues appear to have been rectified
Earlier security problems

Free version meetings limited to 40 minutes and 100 attendees
2.
Cisco Webex: Enterprise Solution Delivering Security and Quality
Webex is Cisco's video conferencing solution. The developer is known for their high-quality enterprise communication tools, and Webex is no exception. Offering crystal clear video and advanced security features, the platform easily slides in near the top of our unofficial ranking.
Meetings can be entered either through your browser, or Webex's app, which is compact and user-friendly. A mobile app makes the service easy to use when on the go too.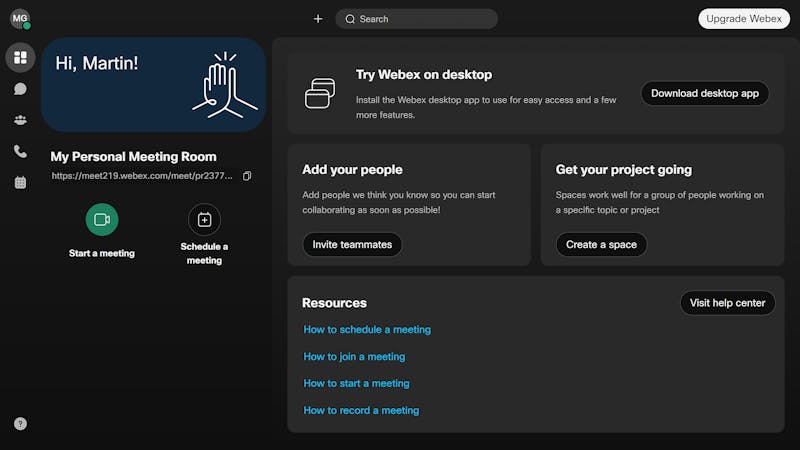 Webex is Cisco's video conferencing solution.
What we like
Cisco Webex definitely scores when it comes to quality: Video meetings have sharper resolution and play smoother than they do when using Cisco's competitors. Especially for business users who value security, the platform's emphasis on compliance and certificates is another major advantage. It's also clear that Cisco didn't cut any corners in terms of extra features, offering a useful whiteboard along with plenty of other tools.
Who is Cisco Webex for?
The video conferencing software is geared primarily towards medium and large businesses that want their system admins to have a highly versatile program that excels in security. As Cisco is known for its comprehensive office software, Webex is interesting not only for remote or distance work but usage in office settings and in conference rooms as well.
What we don't like
Webex's app isn't as lightweight or user-friendly as Zoom's. For smaller businesses or less technical teams, there are definitely simpler solutions available.
How much does Cisco Webex cost?
Like Zoom, there also exists a free version of Webex that allows for up to 100 attendees to participate in a 40-minute meeting. In addition, two premium subscriptions are offered:
Subscription
Monthly price per user (annual subscription)
Features

40-minute meetings

Up to 100 participants

Interactive whiteboarding

Record meetings and save them locally (to your computer)

Hand gestures recognition

Extras (meet without ads or interruptions, screen sharing, virtual backgrounds, etc.)

All Basic features

24-hour meetings

Up to 200 participants

10 GB of cloud storage for saving meeting recordings

Closed captions and meeting highlights (English, French, German, Spanish)

Control participants

Help center, live chat, hotline, and forms for support queries

Extras (such as encrypted meetings, TLS 1.2, and AES-256-GCM)

Custom (at least 100 licenses)

All Business features

Up to 1,000 participants

Call barging, queuing, and recording

Developer tools

Dedicated support representative

More language options for close captioning and post-meeting transcripts
Advantages and Disadvantages of Cisco Webex
Easy to use with Cisco devices
Less user-friendly than other solutions

Not really designed for smaller businesses or organizations
3.
Jitsi Meet: The Free, Open Source Video conferencing Solution
Above, we referred to Zoom as nimble, however, there's a video conferencing solution that's even lighter on its feet: Jitsi Meet. The free, open-source tool is offered by 8x8, a communications company, and can be used without an account to create online video meetings for multiple participants. Attendees are invited via URL (without the need to install a client).
Jitsi Meet is compatible with all common browsers and even has a few mobile apps. In terms of features, Jitsi can't go toe-to-toe with premium solutions, however, it offers useful tools like content sharing, chats, reactions, polls, and virtual backgrounds.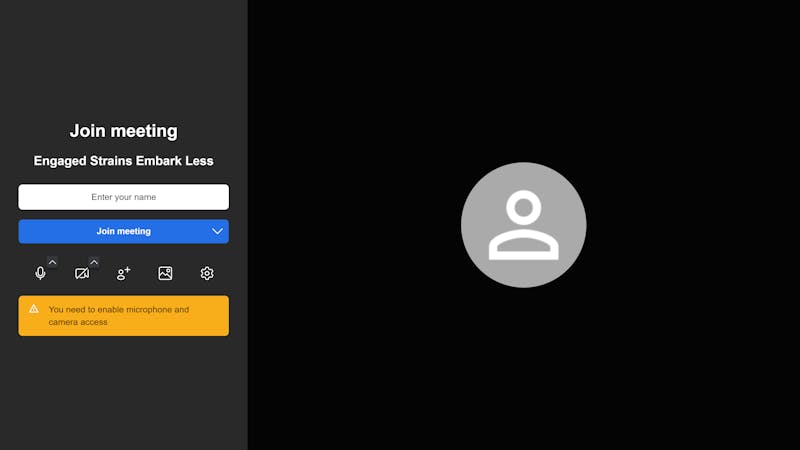 Jitsi Meet is the only completely free and open-source solution on our list.
What we like
Free and open-source are the two biggest arguments in Jitsi's favor. The code it uses can be viewed in its entirety, allowing anyone to probe it for weaknesses or exploits. Since you don't need to install anything and the program uses an intuitive Web interface, setting up a meeting only takes a few mouse clicks. Rounding out its advantages, you can install the Jitsi Meet server locally, allowing businesses and organizations to exercise greater control over their security.
Who is Jitsi Meet for?
Jitsi Meet is a good choice for smaller businesses and organizations that need a free video conferencing tool that doesn't require installation or setting up.
What we don't like
In terms of features, Jitsi Meet can't compete with its premium competitors. Users will have to make do without a range of collaboration tools, such as whiteboards, while other features, like the ability to record meetings, are far more complicated.
How much does Jitsi Meet cost?
Jitsi Meet is completely free.
Advantages and Disadvantages of Jitsi Meet
Offers a surprising amount of features (breakout rooms, chats, polls, and much more)
Less features than premium solutions
4.
Google Meet: The Workspace Solution for Google Users
Google Meet is part of the digital giant's Workspace suite, making it a good choice for businesses that already rely on or use Google's office solutions.
As is common with Google products, Meet impresses with its high degree of usability: The web-based client is easy for beginners to use, offering a smartphone app in addition to its desktop version.
You'll also get access to all of the most important features, such as screen sharing, breakout rooms, and meeting recordings, along with a few interesting extras. For example, Google offers automatic captioning in a range of languages, as well as live streaming directly to YouTube.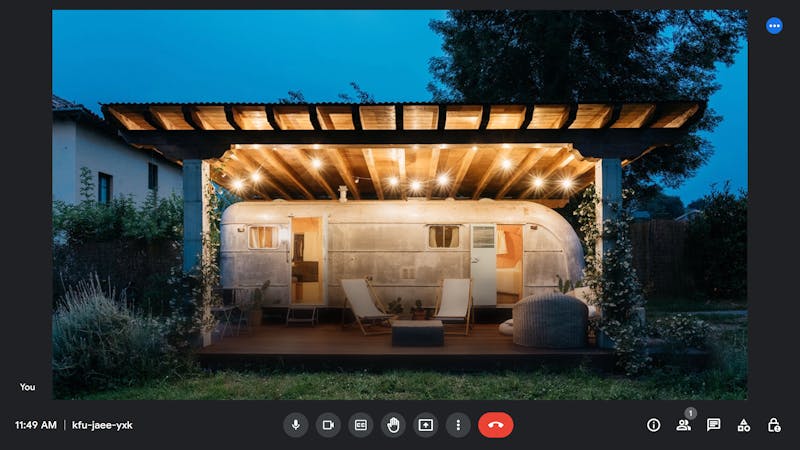 Google Meet is included with every Google account.
What we like
Google Meet is one of the most user-friendly video conferencing programs on the market, greatly simplifying the process for those lacking a technical background. In addition, each meeting is assigned a unique URL and dedicated phone number that can be called in order to participate. As a result, Google Meet takes all the guesswork out of video conferencing, both for regular staff and guests.
Who is Google Meet for?
The platform is a particularly interesting option for businesses that already use other Google Workspace apps, with the resulting synergies offering a clear benefit. For example, meetings can be planned in Google Calendar, invitations to which will be automatically sent to participants with Gmail addresses.
What we don't like
At the same time, Meet's compatibility with other Google solutions can also be seen as a disadvantage, since it promotes over-reliance on Google. Should your business utilize a more diverse range of software, there are better options available.
We also noticed that Meet becomes more chaotic and disorganized as the number of participants increases. It would be nice if more options for maintaining an overview of participants were offered.
How much does Google Meet cost?
Google Meet is not a stand-alone program but part of Google Workspace. Anyone with a Google account can use the program for free to create a video conference with up to 100 participants. Meetings can last for a maximum of 60 minutes.
For businesses and organizations that need more, the following subscriptions are available:
Subscription
Monthly price per user
Features

Custom email address for your business

Video conferences with up to 100 participants

30 GB of cloud storage per user

Security and management tools

Basic support

All Business Starter features

Meet video and voice conferencing for up to 150 participants as well as recordings (saved to Google Drive)

2 TB of cloud storage per user

Noise cancellation, polling, breakout rooms, and attendance tracking

Shared drives for your team

Google Workspace migrate tool

Upgrade to enhanced support (at cost)

All Business Standard features

eDiscovery, retention

Video conferences with up to 500 participants + attendance tracking

5 TB of cloud storage per user

Advanced security and management features including Vault, endpoint management, and Secure LDAP

Upgrade to enhanced support (at cost)

All Business Plus features

S/MIME encryption

Video conferences with up to 500 participants, in-domain live streaming

As much cloud storage as needed

Enterprise endpoint management, data loss prevention (DLP), context aware access, security center, and access transparency

Upgrade to premium support (at cost)
Advantages and Disadvantages of Google Meet
Included with every Google account

Highly compatible with other Google Workspace apps (Calendar, Gmail, etc.)
Disorganized participant overview

More features could be offered
5.
Microsoft Teams: Office 365's Video conferencing Solution
Teams is Microsoft's answer to Google Meet. If your business utilizes Office 365 or just Microsoft in general, Teams is one of the most readily available options for video conferencing.
However, Meet and Teams don't just differ in terms of their developers: Whereas Meet is attractive for individual and organizational users, Microsoft's solution is clearly focused on the latter, offering far more features, many of which will be particularly appealing to businesses.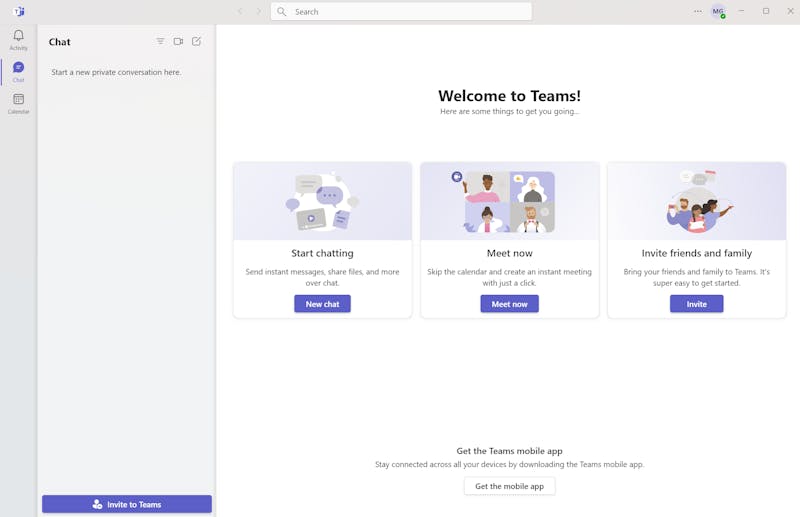 Microsoft Teams has become an essential part of many businesses' day-to-day operations.
What we like
The focus on businesses is immediately apparent in the kinds of features Teams offers, giving the platform a boost when comparing it directly to Google Meet. Microsoft Teams' chat feature, for example, is more useful than Google Meet's, since you can communicate publicly with the entire group or individual participants. Beyond that, Teams offers more tools for webinars, and its whiteboard is better integrated than Meet's.
Who is Microsoft Teams for?
Microsoft Teams is primarily marketed to businesses that already use Microsoft apps and solutions, in particular, Office 365. Should you be looking for a comparatively affordable solution that's able to bring together staff from around the world, Microsoft Teams is worth looking into.
What we don't like
Microsoft Teams is slightly more complicated to use than Google Meet, losing out to it in terms of intuitive elegance. Compounding matters, prospective users need to download the Teams app before they can connect, whereas Google Meet (and other solutions) work entirely through the browser.
How much does Microsoft Teams cost?
A free version of Microsoft Teams is available, offering one-on-one meetings for up to 30 hours, and group conversations for 60 minutes. Up to 100 participants can join the latter. Free users also get 5 GB of cloud storage (per user), data sharing, polls, and live (English) subtitles.
Alongside the free version, Microsoft also offers three paid subscriptions for business users:
Subscription
Monthly price per user (annual subscription)
Features

Microsoft Teams Essentials

All features included with the free version

Unlimited group meetings for up to 30 hours

Up to 300 participants per meeting

10 GB of cloud storage per user

Anytime phone and Web support

Microsoft 365 Business Basic

All Microsoft Teams Essentials features

Microsoft Whiteboard

Hundreds of collaborative apps

Collaborative annotations in Teams meetings, so participants can contribute to shared content

Live captions in meetings (over 30 languages)

Team meetings recordings and transcripts

Web and mobile versions of Microsoft 365 apps

Expanded cloud storage (1 TB) per user

Business-class email

Standard security

Microsoft 365 Business Standard

All Microsoft 365 Business Basic features

Desktop versions of Office apps with premium features

Webinar hosting

Attendee registration and reporting tools

Manage customer appointments
Apart from business subscriptions, Microsoft also offers Teams for individuals. Along with the free version, users can also purchase a Microsoft 365 Single or Microsoft 365 Family (up to 6 people) package.
All rates can be found on Microsoft's website.
Advantages and Disadvantages of Microsoft Teams
Seamlessly integrates with Office 365 products

Plenty of business features

Good price-performance ratio
Not as user-friendly as other solutions

App download/installation required
6.
Boomcaster: The Best Video Conferencing Solution for Podcasters and YouTubers
Video conferencing isn't just for office work and business: Content creators like podcasters, vloggers, and streamers looking to record their interviews with the highest audio and video quality can make just as much use of the software. However, most of the tools we've listed above are less suited to their exact needs. Meet Boomcaster.
Boomcaster is a video conferencing tool designed for podcasters, helping them to plan and record interviews with relative ease. Using the digital, cloud-based studio, content creators can adjust the sound levels and video quality of individual podcast episodes, sorting entries by their date and/or guest's name.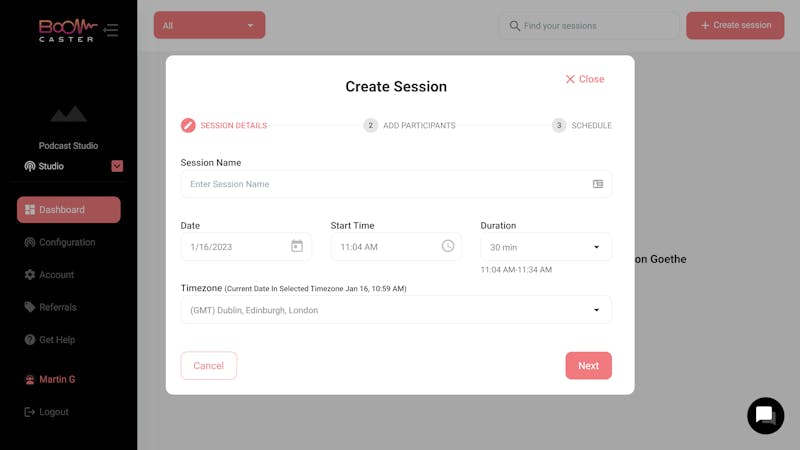 Boomcaster comes in handy for easily recording regular and video podcasts.
What we like
Having a straightforward user interface is important for podcasting software since guests come from all sorts of backgrounds, few of which are technical. Luckily, Boomcaster makes it particularly easy to send emailed invitations to each guest, explaining clearly how the program works. Guests can join the interview through their browser without needing to install specialized software or apps.
Boomcaster also scores thanks to the high quality of its A/V recordings and the capability to stream sessions directly on YouTube or Facebook.
Who is Boomcaster for?
Boomcaster is for podcasters or other content creators looking for a user-friendly, browser-based solution to record video and/or audio interviews. Owing to its pay-as-you-grow model, you can easily book additional minutes if needed, making it possible to adjust the amount the service costs depending on how much you actually use it.
What we don't like
Unfortunately, there's no free version of Boomcaster.
How much does Boomcaster cost?
The service's payment structure is very straightforward: For $20 per month, you get five hours of HD recording and live streaming. Each additional minute that you need costs $0.07. You can try the service for free for 30 days.
7.
Skype: Best Free Option for Families
Widening our scope, video conferencing isn't just for generating income, but also, a great way to bring families together. Whether in another state, studying abroad for a semester, or living on a different continent, video conferencing helps you keep in touch with your nearest and dearest. Skype was one of the first programs to offer video calling to the masses and remains a useful tool for individuals and families to this day.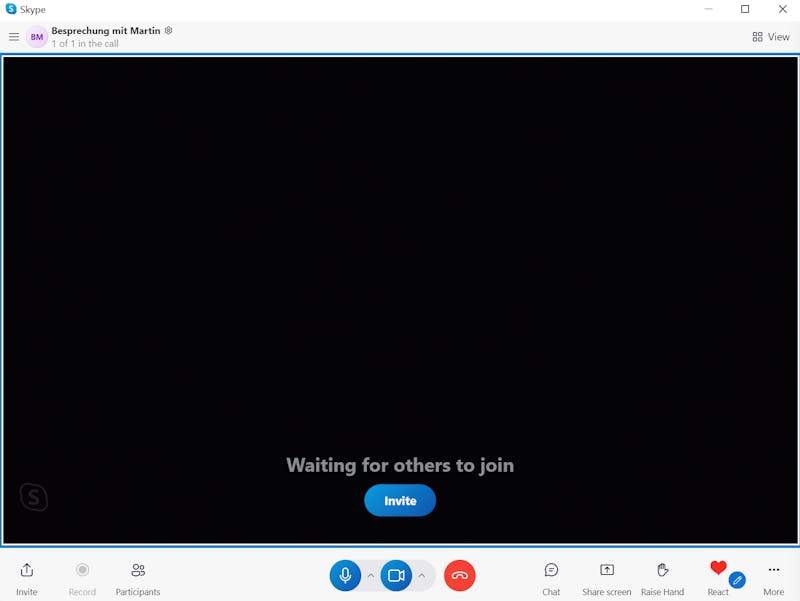 Skype remains one of the most popular video calling tools.
What we like
Skype is easy to use, free, and doesn't come with any unnecessary bells and whistles. It does offer useful features like screen sharing, live transcripts, and simultaneous translations. One particularly nifty aspect of Skype is that you can use it to call international phone numbers. This tool isn't free but offers a great and affordable way to talk to a friend or family member on their landline.
Who is Skype for?
The service is primarily geared towards individuals interested in keeping up with their friends and family members, regardless of where they are.
What we don't like
In terms of features, Skype can't compete with many of the other business video conferencing solutions on the market. Skype for Business has been discontinued and replaced by Microsoft Teams.
How much does Skype cost?
Skype is completely free to use. You'll only need to pay for Skype-to-Phone, which makes it possible to call international phone numbers over the Internet. If using this feature, you can either add credit to your Skype balance, book a global package, or select one for a specific country.
Advantages and Disadvantages of Skype
Possible to call international phone numbers
Conclusion
Video conferencing tools, whether for professional or personal use, are here to stay. Thankfully, there are plenty of solutions that make it easy to collaborate digitally with colleagues, record interviews, or keep up with friends and family. Deciding which tool is "the best", depends entirely on your individual needs:
Zoom and Cisco Webex are excellent for businesses, Jitsi Meet is a secure and free open-source alternative, while Google and Microsoft offer first-class digital collaboration solutions. For families and individuals, Skype is still the first choice, while podcasters or other content creators are likely to prefer online studios like Boomcaster.
FAQs
What is the best video conferencing solution?
⊖
Determining which video conference software is the best depends on what your specific needs are. For businesses looking for a comprehensive solution, Zoom or Cisco Webex are likely to be attractive. Teams that already use Google or Microsoft's suites will want to consider Meet and Teams, respectively. Beyond that, there also exist specialized programs, like Boomcaster, which are tailored to the needs of podcasters and other content creators.
What's better than Zoom?
⊖
There are plenty of alternatives to Zoom: One example is Jitsi Meet, which offers an open-source solution that doesn't require registration or any software downloads. If you already use Google Workspace or Office 365, Meet or Microsoft Teams are worth looking into.
How much does video conferencing software cost?
⊖
Most video conferencing tools offer free versions of their software. These usually come with some restrictions, such as the number of participants or the length of a meeting. However, for individuals, these limitations aren't particularly important. Business subscriptions are usually charged per user per month, and start at just a few dollars.

Martin Gschwentner majored in American Studies and Media Studies in Germany, the USA and France and works as a freelance editor in Paris. He is a doctoral student at the Institute for English and American Studies at the University of Paris Diderot, where he is researching the influence of money on US politics. On EXPERTE.com he writes about IT security, data protection and software for the self-employed and small businesses.

Translation: D Bare
Continue Reading