Project Management Software Review: Asana

Ad disclaimer:
For links on this page, EXPERTE.com may earn a commission from the provider. This supports our work and has no influence on our editorial rating.
Asana*, like the yoga pose it's named for, is a highly flexible tool that unifies project management, task management, and team communication within a single interface. The software is the brainchild of Dustin Moskovits, one of Facebook's co-founders, and Justin Rosenstein, an engineer, who created Asana in 2008. The tool was originally intended to boost productivity among Facebook's employees, however, has grown to become one of the most popular project management solutions worldwide.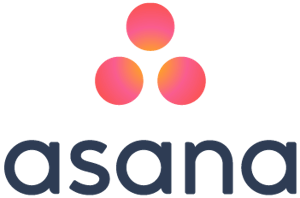 At first glance, there isn't much setting Asana apart from its competitors, and the things that do stick out, like its absence of advanced features (for creating documentation, or integrated editorial planning) take a bit away from its shine. However, it's important to remember that Asana is only intended to help in scheduling and planning assignments and tasks. It is possible to create recurring tasks, something that competitors, like Trello or Meistertask have yet to offer.
Asana embraces David Allen's "gettings things done" (GTD) method, which calls for moving tasks or assignments from one's mind to somewhere else, allowing for greater control to be exercised over them.
In this review, we'll let you know if Asana was able to impress us, and how it performed in comparison to other project management tools.
Review
Configuration & Usage
9.4 / 10
Features & Customizability
9.4 / 10
Highly intuitive and user-friendly

Facilitates work (all project members have access to the same information at the same time)

Mobile apps include all features

Fast (features only require a few seconds to load)

Finished assignments are rewarded with animated 'celebration creatures'

Usable for as many, or as few activities as you can imagine

Free version for up to 15 users

Can be used for all kinds of tasks
Limited variety of features in comparison to other tools

Assignments and lists can't be sorted at will

Users can only be booked in groups of 5 or 10

Trial version automatically converts into a paid version

Limited customer support, even for paying subscribers (no hotline support)

Internet connection always required

Some minor privacy and security shortcomings

Not the best price-performance ratio
Asana, like all project management tools, emphasizes collaboration, and we noticed this shortly after creating our test account. Ideally, you should use a business email when registering. This has the advantage of allowing team members, who are invited later, to automatically be grouped into the same company.
We signed up for a free basic account on the developer's site, and only needed to confirm our registration via email. Once completed, we were able to start using Asana.
User Interface
Asana's user interface is well-arranged and divided into five main areas:
1.

The header includes the layout and actions for the current project, the layout currently in use, as well as "My Tasks".

2.

In the upper taskbar, you'll find the search tool, a "Quick Add" feature, as well as workspace, company, and profile settings.

3.

You can also access "My Tasks", as well as the service's homepage, your inbox, teams, and projects through the sidebar.

4.

Tasks, a calendar, posts, progress, discussion topics, and files are displayed in the center of the screen.

5.

In the window to the right, you can review details about tasks, as well as discussions.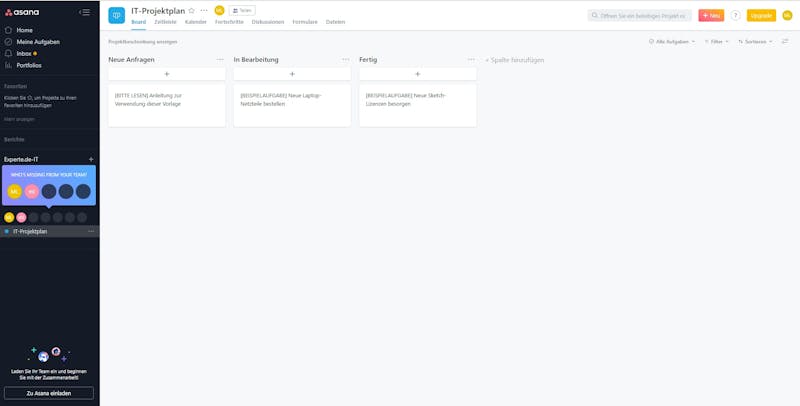 Asana utilizes classic Kanban-style dashboards and lists. It's possible to organize your work on the board similarly to post-its, moving them at will from left to right, regardless of how much progress you've made.
To create a new board for your project, click on the "+" symbol on the sidebar (or, alternatively, the "+ New Project" button in the upper taskbar) and then on "Add Project".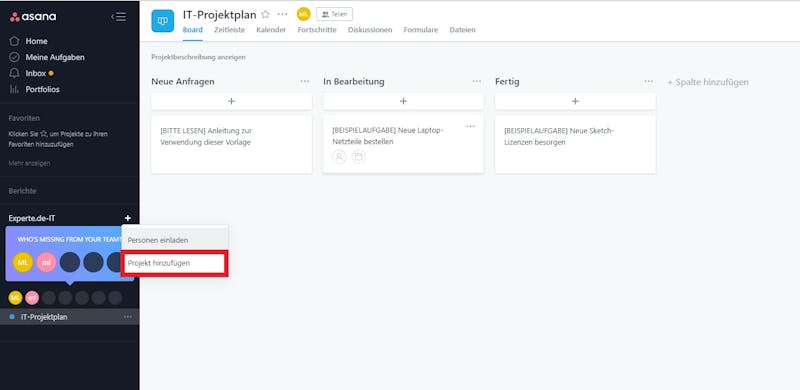 Next, select one of the project templates from the list. Since we wanted to create a board (and not a list), we chose the 'board' option. Once you've found a template that fits your requirements, click on the "Use Template" button.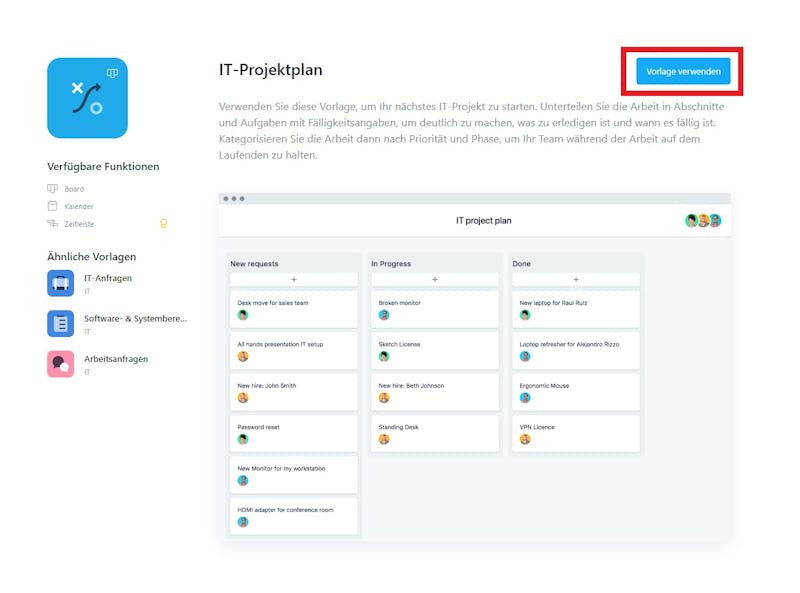 In the next window, you'll be able to configure a few things, such as the project's name or user permissions. After clicking on "Create Project", a board will be generated according to the settings you've specified.
Every project template comes with a few pre-defined columns, which can be supplemented by clicking on the "Add Columns" button.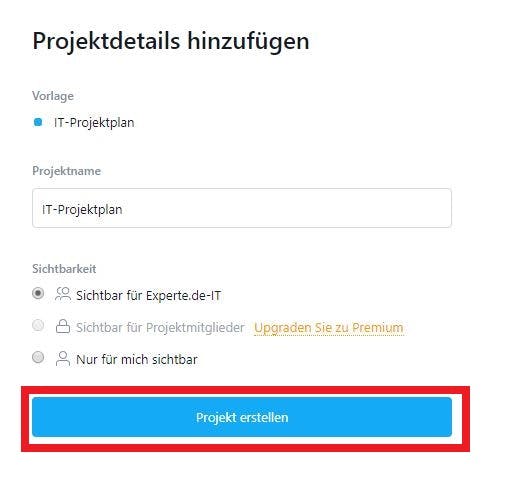 Good To Know:
In contrast to other project management tools, after selecting a layout in Asana, it isn't possible to change it. This means, for example, that you can't alternate between list and table views. However, you can add existing tasks to multiple projects, and modify the layout(s) of the latter.
Task Management
After creating your board, you can start filling it with tasks, ideas, or cells. This is easily accomplished by clicking on the "+" button under the column's name. Each task includes a name, due date, and can be assigned to a specific person. This means that everyone on your team will be able to see what needs to be completed when, and by whom. You can also add detailed descriptions to each task and attachments.
Asana displays tasks that you've created in two different places:
By clicking on "My Tasks" in the menu, you'll be able to view a list of all tasks which have been assigned to a particular user.

Alternatively, the project view shows all tasks belonging to a particular project, regardless of whom they are assigned.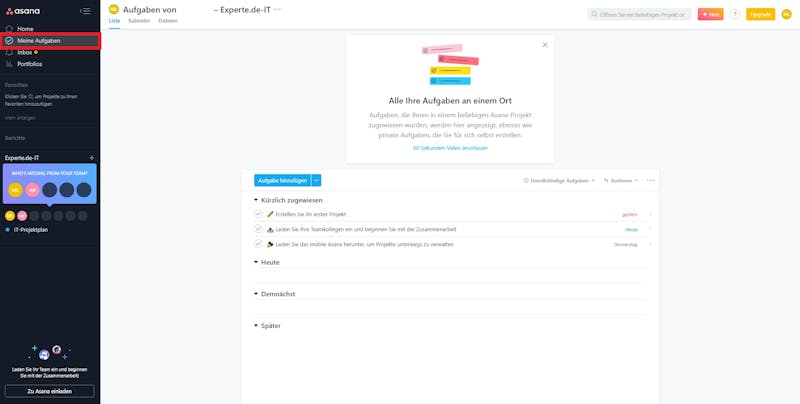 Either of the two lists mentioned above can be filtered ("Done", "In Progress", "Not Started", "On Hold", and "Waiting On") or on the basis of specific criteria (i.e. the due date, its status, priority, or assignee). In addition, Asana offers (paying) subscribers the ability to add fields and characteristics to tasks, making it even easier to sort them. This feature greatly enhances the service's flexibility, making it ideal for managing different kinds of tasks.
Tasks themselves can be easily moved around by dragging and dropping them, making it very easy to completely reorganize individual items, or advance them through different project phases. When a project member rearranges assignments, this is automatically updated for all followers of that project, allowing everyone to stay on the same page at all times.
Hint:
With "Crtl + click, you can select and move multiple tasks to a different column.
In the calendar view, you can keep tabs on all milestones and due dates, allowing you to quickly assess progress. within your projects To set, or modify a start date, go to profile settings. Asana also offers an integrated timeline feature, albeit only to paying subscribers. As this feature wasn't offered in the basic version that we tested, we haven't factored it into our scoring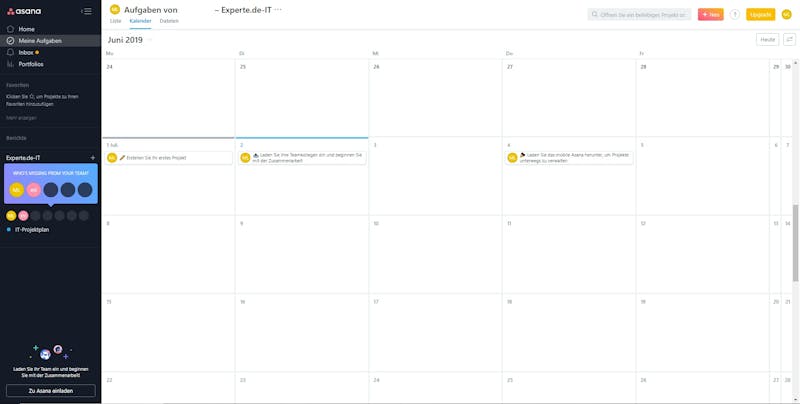 Teamwork & Communication
With regards to communication and teamwork, Facebook's fingerprints are all over Asana, in a good way. The service makes a clear effort at encouraging project members to interact with one another, as evidenced through three main elements:
You'll be informed of all important actions, such as when changes are made to a task that you're following, you're tagged in a discussion, or when you receive a new task, via the inbox.

The service's similarities to Facebook become particularly clear when looking at the discussions feature. Users can leave comments on tasks, suggest changes, or "like" them after completion. This facilitates communication within teams while also saving a great deal of time.

Thanks to its usage of teams, Asana spares users the hassle of managing access rights and permissions. Each team functions as a group within a particular organization or company, for which projects can be created. In this manner, it's possible to keep track of who can see or make changes to a project based on what team they belong to. Teams themselves can also be made visible or hidden.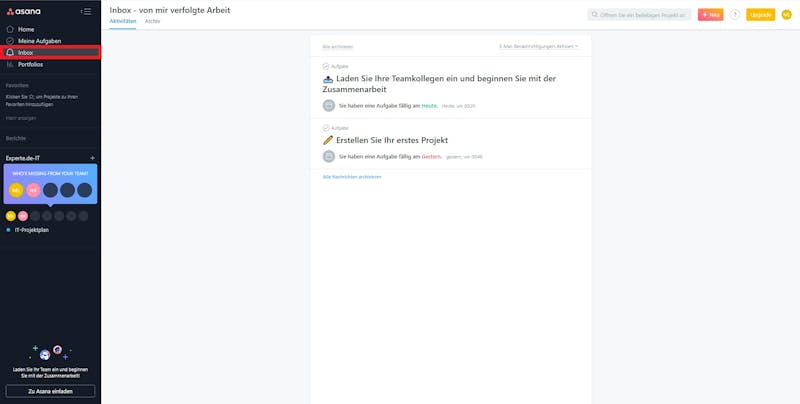 Like social media, tasks and discussion topics can be followed or unfollowed at will. Once you've participated in a discussion topic, or removed yourself from one, the entire team will be notified. When a particular task is mentioned in a discussion, a preview for that assignment will be shown, allowing participants to easily refer to it.
This approach has the advantage of helping users stay on top of projects that might require more of their attention, while only being informed of major steps taken in other tasks.
Score: 4.7 / 5
Good To Know
As mentioned in the introduction, one of Asana's neatest features are its "celebration creatures", which can be activated through following "My Profile Settings -> Display" and clicking on "Show occasional celebrations upon task completion". After this, once you complete a task, a unicorn, phoenix, narwhal, or yeti might fly across your screen.
3.
Features & Customizability
Set alongside other project management tools, Asana's variety of features is rather spartan, albeit, intentionally so. As mentioned above, the service adheres to the Kanban method, making the necessary boards for doing so available. The numerous ready-made project templates are particularly nifty, providing users with an excellent selection of options. Once you've created a project, you can easily re-use it, even after completion. Projects are designed to be copied as often as desired. In this way, you'll always be able to fall back on similar projects, minimizing the risk of error or oversight when creating a new project.
The handful of integrations below make working with Asana even more convenient:
You can directly attach files from Dropbox, Google Drive, and Box to your tasks.

With Asana for Gmail and Asana for Outlook, you can use Asana with your regular inbox, and convert emails into executable tasks. These can then be edited in the service and followed up on.

Link Asana to "Github Commits" to stay up to date on the newest code changes.

View new tasks, leave feedback, or share designs with other users without having to leave Adobe Creative Cloud.

Integrate Harvest's timer into Asana's assignment area to log working hours without having to leave the tool.
You can find additional information about the development of APIs on Asana's developer page.
Score: 4.7 / 5
Like most other project management solutions, Asana is a cloud-based service, running off the provider's server and accessed through an Internet browser. This means that users don't have a great deal of influence over the software's performance, except in regards to loading times.
We wanted to dig further into this, so we tested the service on two different laptops, each running Windows 10 Pro (64 Bit):
Laptop 1: Lenovo Ideapad with an Intel Pentium 4415U (2.3 GHz) processor, 8 GB RAM, and the stock Intel graphics card (HD Graphics 610).

Laptop 2: Lenovo Legion Y720 with a Core i7-7700HQ Quad-Core (2.8 GHz) processor, 16 GB RAM, and an Nvidia GeForce GTX1050 Ti graphics card with 2 GB of dedicated memory.
To access Asana, we alternated between the most current versions of Google Chrome, Opera, and Mozilla Firefox.
We were positively impressed with the result, as neither the laptop's capabilities nor the browser had a significant influence upon Asana's performance. Only when using Opera did the board loading time take a second longer than in the other browsers. Since such minute differences could also be traced to the Internet connection we were on, we don't see any reason to deduct points.
Score: 4.7 / 5
Security is something of a double-edged sword for Asana. On the one hand, the developer guarantees optimal security through its robust internal security policy and procedures. On the other hand, a look at the service's Terms & Conditions, show that these policies and procedures are almost entirely to the benefit of the developer.
Asana users Git's control system for changes, meaning that changes to the service's code need to undergo different phases of automatic testing before they are manually assessed. Following that, they'll be tested again on a so-called staging service before they find their way over to the user/customer server. Particularly significant changes are again tested here. In this manner, the developer can more precisely identify critical updates, and, if needed (for example, in the event of a cyberattack) implement these quicker.
Asana user data is stored by Amazon Web Services (RDS & S3). The relevant databanks are replicated in tandem, whereby in the event of data loss, a quick restore is possible. DB images are created in regular intervals and transmitted to an external data center (SSAE 16; RDS from Amazon). As a result, this means that files can be restored, even if Amazon has a regional issue.
The service connects to the web through TLS 1.1 (or higher) and supports both AES-GCM and Forward Secrecy. Asana incentivizes notification about software errors and vulnerabilities as part of its Security Exploit Bounty Program.
Despite all of the technical jargon above, there's still no getting around Asana's proximity to Facebook, as can be seen in its more than 100-page-long Terms and Conditions. Below, we've highlighted some of its most important aspects:
Content that you create and data that you upload is saved by Asana and can be used for internal analytical purposes.

All data is stored on Amazon servers in the US and as such, technically part of the "EU-US Privacy Shield" (which was ruled invalid by the European Court of Justice in July 2020).

Asana links your user data with information from external (third-party) sources.

The developer relinquishes all responsibility for any damages that may arise owing to the usage of its software.
We'll leave the interpretation of these all-too-typical for Silicon Valley-based companies terms up to you, however, in our opinion, they certainly don't paint a very pretty picture. Points were deducted owing to the developer's less-than-honest advertising.
Score: 3 / 5
Thanks to Asana's Android and iOS apps, it's possible to work on the go and stay in touch with your project members. Both apps are optimized for mobile usage and offer the same functionality as the desktop version, meaning that you can create projects, plan tasks, set or coordinate deadlines, and add images and documents (for example, from Google Drive or Dropbox). Group leaders can delegate different tasks to team members. Should a task be completed, you'll receive a push notification.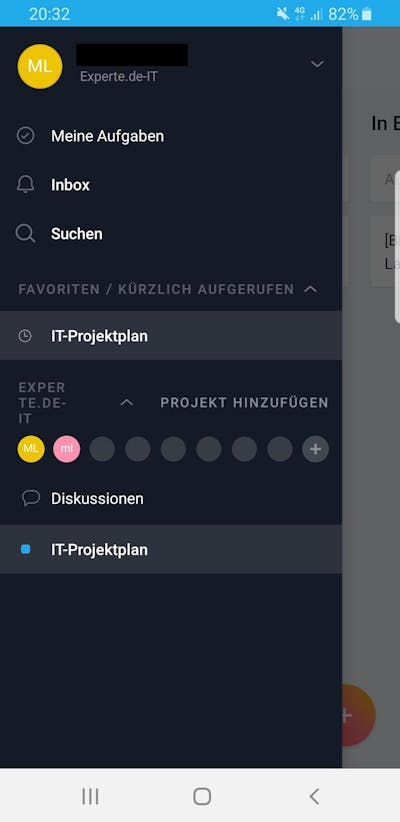 Thanks to the colorful icons, it doesn't take long to get the hang of the app. We also liked that the app was intuitive and clearly structured. However, the web-based app does require a constant Internet connection, since this ensures that all team members are kept up to date at all times. Unfortunately, working offline with Asana isn't possible on mobile devices either.
Score: 4.3 / 5
Asana offers extensive support, including numerous tutorials and guides, as well as checklists, and a developer handbook. The service also has a lively support community where users discuss the software and share solutions with one another.
You'll also find lots of help in the software itself. When first entering a new area of the dashboard, a short introductory video will play. By clicking on the question mark button (top right), you can access the help menu, which includes explanations about particular features of the page or area you're working in, listing relevant hotkey shortcuts. You'll also find a link to the service's contact form.
If looking to get in touch with customer support directly, you can open a support ticket on the support website or, if a paying subscriber, send out your SOS via live chat. Asana doesn't offer hotline support.
When testing the software, we emailed a support query to the service asking for help, but to date, haven't received an answer. For that reason, we recommend posing issues or questions on the support forum, as new threads are typically answered within a few hours there.
Score: 3.7 / 5
Asana is available in four different versions:
The free Basic version is designed for small teams that are just starting out with project management. It comes with a license for up to 15 users and offers access to all standard features as well as calendar view.

Premium costs $10.99 per month and user. Subscribers to this package receive access to additional features such as the ability to create user-defined fields and milestones, as well as the Asana Academy. As this version is per user, it doesn't have any user limits.

Business includes everything offered by Premium as well as additional features, such as the ability to create forms and lock user-defined fields. At $24.99 per month per user, you'll have to dig a bit deeper into your wallet though.

Enterprise subscribers are asked to contact Asana directly to discuss pricing for a tailored package. Additional administrative features are made available, as well as the ability to add custom branding. Support queries are prioritized with answers guaranteed within a day.
Basic
Premium
Business
Base Price per Month
$0.00
from $10.99
from $24.99
Price per User
$0.00
from $10.99
from $24.99
Contract Period (Months)
0
1 - 12
1 - 12
Limits
Number of Users
15
unlimited
unlimited
Number of Projects
unlimited
unlimited
unlimited
Number of Tasks
unlimited
unlimited
unlimited
Anzahl Automatisierungen
0
unlimited
unlimited
Views
Liste
Table
Kanban
Galerie
Kalendar
Zeitleiste
Gantt
Mindmap
Workload
Karte
Tasks
Benutzerdefinierte Felder
Unteraufgaben
Aufgabenabhängigkeiten
Meilensteine
Ziele
Zusammenarbeit
Nutzergruppen
Private Nachrichten
Gruppenchat
Message-Board
Whiteboard
Dokumente
Wiki
Erweiterte Funktionen
Formulare
Automatisierung
Zeiterfassung
Integrations
Charts
Reporting
API
If interested in one of the paid versions of the software, it's possible to test the Premium and Business subscriptions for 30 days at no cost, however, you'll need to input a credit card (or another payment method) and remember to cancel before the trial period concludes so as not to be billed!
Conclusion
Configuration & Usage
9.4 / 10
Features & Customizability
9.4 / 10
The free version of Asana cuts a very good figure thanks to its task lists and collaborative tools. Particularly for smaller groups just starting out with project management, the service does well in not making anything more complicated than it needs to be. The abilities to comment upon tasks or create discussions, which are highly reminiscent of Facebook, make it easy for teammates to interact with one another, significantly enhancing collaboration. The service's mobile apps make it possible to take project management on the go, and use the service as though you were in front of your computer.
Asana is less geared towards more complex projects and/or those with special requirements, even factoring in its excellent internal communication options. Still, our biggest issue with Asana wasn't technical at all, but rather, in regards to security and privacy. If you're like us, and want to prioritize your clients' security and privacy, there are better alternatives available.
Asana Basic
$0.00
monthly price
Visit Website*
User Reviews
A large majority of Asana's users are very satisfied with the service. You can read individual reviews in greater detail here.
Customer Ratings
77,462 Bewertungen
Visit Website*
We analyzed the reviews and ratings from various portals and found 77,462 ratings with an overall rating of 4.5 out of 5 .
Alternatives
Should Asana's range of features leave you hungry for more, or payment structure not be your cup of tea, you can take a look at the alternatives below:
MeisterTask Project Management
Offers free starter version
Intuitive and easy to use
Apps for Windows and macOS
9.4

excellent
MeisterTask Basic
$0.00
monthly price
Visit Website*
Offers free starter version
Comparatively high priced
9.2

excellent
Wrike Free
$0.00
monthly price
Visit Website*
Basecamp Project Management
Basecamp Standard
monthly price
Visit Website*
Optimized for software development
Very affordable for small teams
9.2

excellent
Atlassian Free
$0.00
monthly price
Visit Website*
Trello Project Management
Trello Free
$0.00
monthly price
Visit Website*
* Ad disclaimer:
For links marked with an asterisk, EXPERTE.com may earn a commission from the provider. The commission has no influence on our editorial rating.

Manuela Lenz is a trained IT specialist and worked for 20 years as a system administrator and project manager for large companies. Since 2017, the IT specialist has been a passionate IT-author. For EXPERTE.com she writes about project management, software and IT security.
Continue Reading
Software
PM-Methodologies
Guides
Other languages
Deutsch