Project Management Software Review: Wrike

Ad disclaimer:
For links on this page, EXPERTE.com may earn a commission from the provider. This supports our work and has no influence on our editorial rating.
Wrike* is an intricate, modular project management software from San Jose, California. The program is designed to aid in performing any sort of task, regardless of the team's size. Since its release in 2007, Wrike has continually sought to improve and match its users' needs, regularly unveiling new features and capabilities.

In particular, Wrike impresses owing to its wide range of useful features and high degree of transparency. A true all-in-one solution, Wrike provides users with lots of options for customization and integration. The service can be used for multiple projects, meeting the needs of a wide variety of teams.
Apart from task and document management, the service also provides a number of communication tools that facilitate greater team collaboration (i.e. emails, comments, chats, and an activity stream). According to the developer, a great deal of emphasis was placed on user-friendliness and usability, the end result of which should be a highly flexible service that is able to adapt to its users' needs.
We put all of these claims to the test, evaluating Wrike from top to bottom, presenting you with here with our findings.
Review
Features & Customizability
9.4 / 10
Configuration & Usage
8.6 / 10
Integrated report generator

Transparent and well-ordered

Offers a wide variety of features

Different licensing options

Plenty of integration options

Includes Gantt diagrams and to-do lists

Can be used for multiple projects

Data privacy based on the EU-US and Swiss-US Privacy Shield frameworks
Not really designed with beginners in mind

Takes a bit of getting used to

Limited communication tools (no chat or forum)
Configuration & Usage
Wrike offers a free version, which is what we registered for*. When signing up, it's clear that the company caters primarily to businesses and organizations, since it suggests using an organizational email address. Alternatively, you can create an account using your Google or Office 365 account.
After inputting our data, we received an email asking us to confirm our registration. Next, we were taken directly to the account setup page, where we needed to enter contact information, as well as answer a few questions about ourselves and our business. According to the developer, this information is used to optimize the user experience.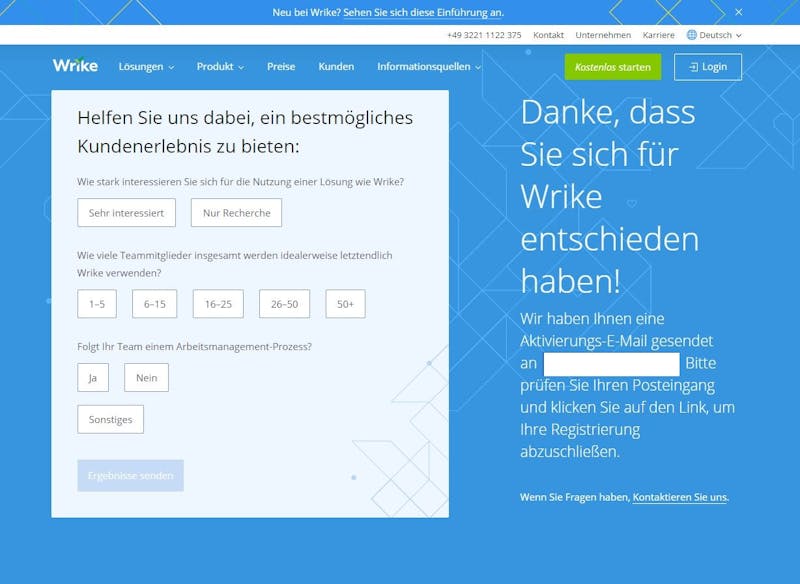 After clicking on "Next", we were almost finished. A pop-up window opened with an offer from Wrike to test the service's full version for 14 days for free, however, it's possible to skip this, which is precisely what we did. Then, we were finally in the service's interface.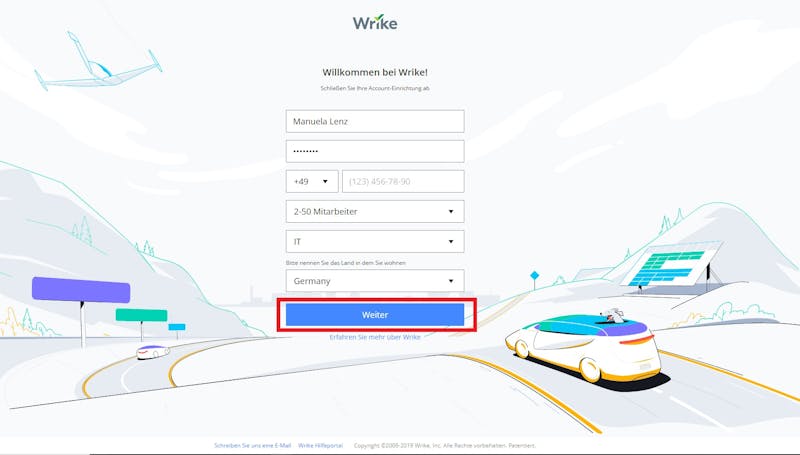 User Interface
Wrike's user interface is highly intuitive and well-arranged. Since the service caters to teams and companies, it provides more detail here than most other solutions we've examined, but the interface is basically similar to the other programs we've examined:
You can find all features known from Trello in the Project View. This is shown as a list of cards, however, these provide more details and can be more easily modified. For example, it's possible to set sub-tasks or delegate someone as primarily responsible for an assignment. Other than that, the program functions as might be expected. Cards are organized by dragging and dropping them and shifting from left to right (depending on their progress), conforming to the Kanban method.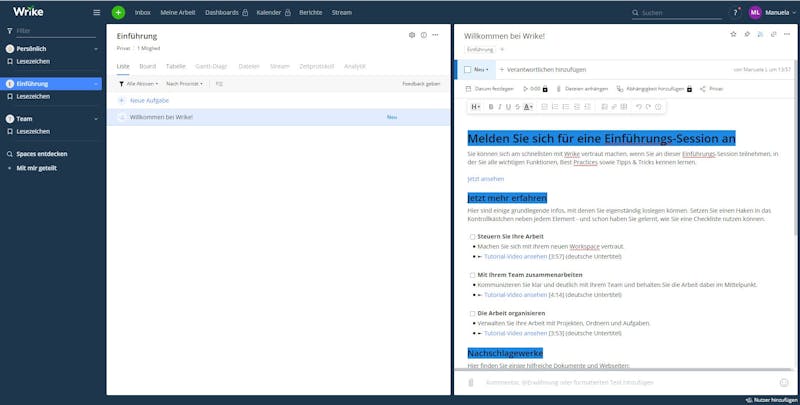 The upper navigation bar is also very familiar, bearing a strong resemblance to Basecamp's menu bar. Along with your personal inbox, you can also create an individual dashboard for your tasks. This is only available to premium subscribers, so we couldn't test it during our evaluation.
The "Calendar" allows you to keep track of tasks and notes which need to be worked on when. Two types of calendars are offered for this:
After being configured, the Smart Calendar automatically displays tasks and projects.

The Classic Calendar can be flexibly organized according to your own criteria.
However, once again, this feature isn't included in the free version, so it doesn't have any bearing on our scoring.
In the "Reports" tab, you'll be able to access a number of different tools for composing reports. The "Stream" tab contains an activity log that you can use to view all ongoing processes in Wrike.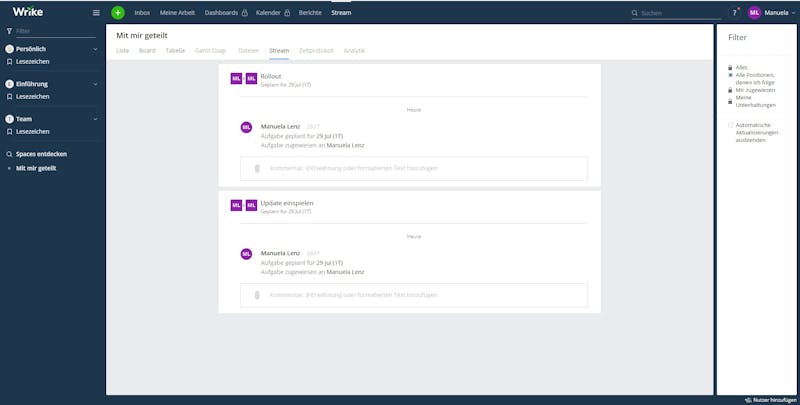 Hint:
Wrike's twelve pre-installed themes can bring some color in your working day. These alter your background and the interface's color scheme.
Task Management
Wrike's basic building blocks are folders, tasks, and projects, all of which help you to organize your work, pay attention to its progress, and more easily and efficiently collaborate with your team.
Projects and folders can be managed through the menu bar on the left site of the interface. In the "Shared with me" area, you can switch between different views.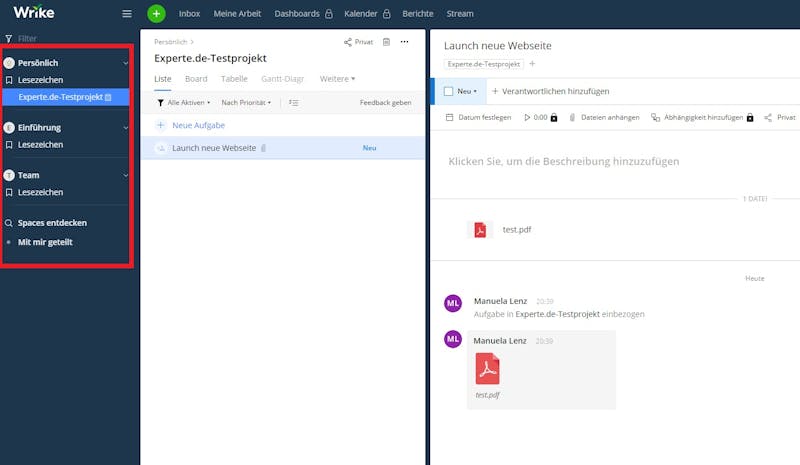 In total, nine different options are available on this bar:
List: A list with tasks that can be sorted and filtered

Board: A classic Kanban board

Table: To divide assignments into tables, fields, and columns

Gantt Chart: Tasks are depicted as horizontal strips on a timeline

Stream: Change and activity logs

Timelog: For ascertaining the amount of time expended on tasks and projects

Workload: To view individual team members' assignments as Gantt diagrams

Reports: For gaining insight into tasks and project work

Files: For uploading or managing files that are needed for a project

Task management in Wrike follows the well-established trends of its competitors: Each task is named, given a due date, and assigned to one or more people. Beyond that, you can also set an assignment's status ("New", "In Progress", "On Hold", or "Completed") or upload files that will be visible to all team members.
Individual tasks can be broken down into sub-tasks, which makes it particularly easy to divvy up larger workloads or assignments. Time dependencies between tasks can be automatically configured, in the event that a project runs into unforeseen delays.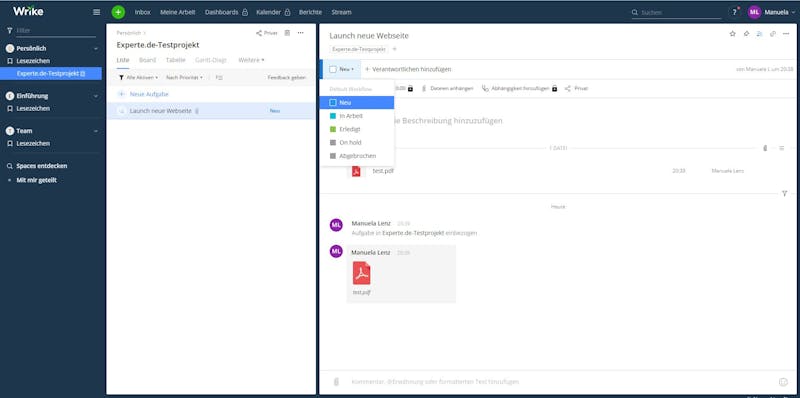 Good to Know:
In the paid Professional subscription, Wrike allows users to use the so-called "Critical Path method", which includes a number of tasks, the dates of which will critically impact the project.
Teamwork & Communication
Wrike lacks both an integrated chat feature and a forum which might allow users to stay in touch with their team or project mates. It is possible to comment on tasks, however, this is very bare-bones, and doesn't allow text formatting or graphics. You can add Emojis, but that's about it.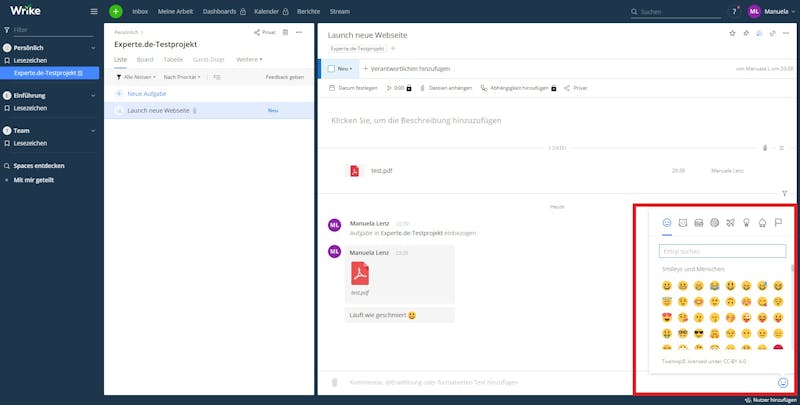 When you want to notify a colleague about a specific comment, simply type @ followed by the person's username.
The user you've mentioned will receive notifications both in their email inbox, as well as the service's interface, and they'll be automatically added to the list of followers for that assignment.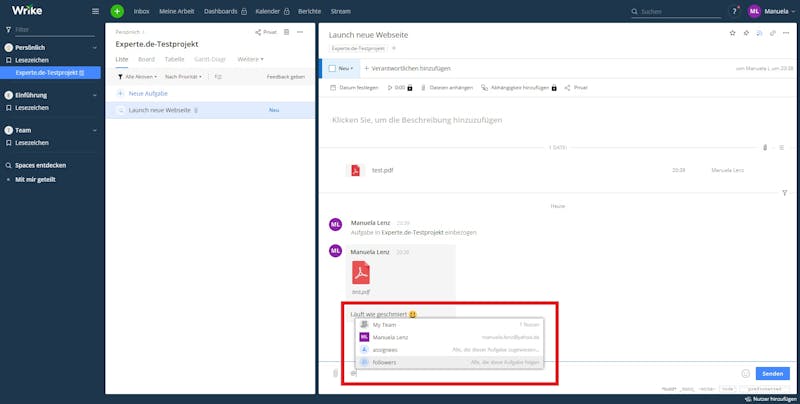 Hint:
You can also tag all followers of an assignment (@followers) or those responsible for it (@assignees).
Working with files is much easier than communicating with team or project mates. In the project view, you'll find a list of files that contain numerous documents relating to the ongoing project. All entries can be filtered or sorted according to differing criteria. Although it isn't possible to edit files, previews of some types (such as Word documents or JPEGs) are generated.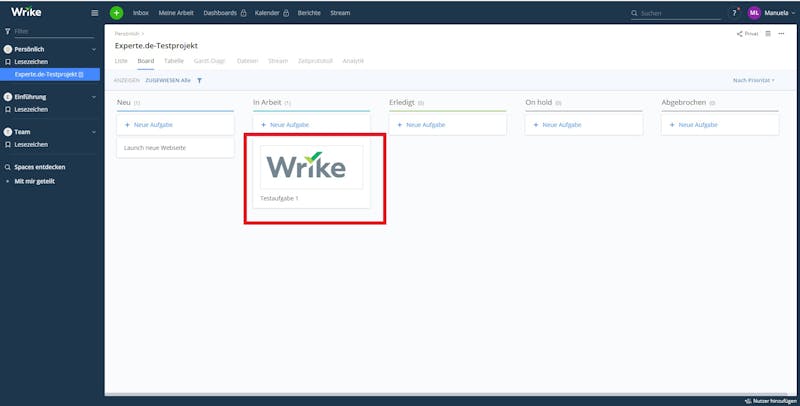 Summing up, Wrike helps in organizing work, with its interface not suffering from too much clutter, despite offering a wide range of functions and tools. It is possible that new users might take a bit longer to get used to the tool than some of the others we've examined. So far as complaints go, the lack of communication features is unfortunate, and in our eyes, easily remedied.
Score: 4.3 / 5
3.
Features & Customizability
Wrike offers a number of options for directing and planning, making it well-suited for tackling highly complex projects, by breaking them down into smaller components that are assigned to specific individuals.
In addition to the aforementioned key features such as the real-time activity stream, dynamic Gantt diagrams, and commenting features, paying subscribers can take advantage of the following capabilities:
Time Logging and Workload Management
Using the time logging function makes it possible for you to see how much time your project mates have invested in their tasks. To do this, the timer which is attached to each task is activated and deactivated by clicking on it when starting, or finishing with some task. Once the timer is stopped, Wrike will automatically enter the time in a log. Should you (or a teammate) forget to turn on the timer, you can also manually input time. All logs can be exported as Excel files for later review.
Reports
Wrike also provides paying users with access to a whole range of reports that quickly provide them with all sorts of data relating to projects and assignments. Each time you open or reload the report, the data it contains will be automatically updated.
These include all of the usual report templates, which can be matched to your needs:
Projects Due This Month

Unassigned Tasks

Time Spent This Week

Active Tasks By Assignee

Weekly Project Status

Overdue Tasks By Assignee
You can also create reports from scratch, and share these with other project members.
Integrations
With Wrike's integrations, it's possible to expand the functionality of your software, allowing you to use your favorite applications directly in the tool. In total, around 40 different integrations are offered, including some more well-known names like Atlassian-Jira, Google Drive, Dropbox, Slack, or Office 365. An up-to-date list of available integrations can be found here.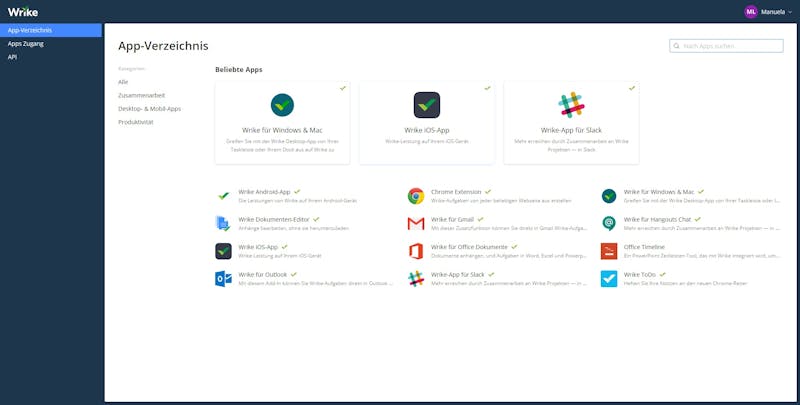 Wrike offers excellent functionality, and its sizable number of integrations help to expand upon the service's basic offering. Since the Report and Time Management features are only made available to paying subscribers, we had to make a few deductions in this category, since other services provide access to these features at no additional cost.
Score: 4.7 / 5
Like nearly all of the other services we've tested, Wrike is cloud-based, meaning that all activity occurs on the developer's servers, and is merely shown in your browser. Wrike is offered as a desktop app for both Windows and macOS, however, this doesn't really differ all that much from the browser version, except that it runs in its own window rather than the browser.
For this reason, we (slightly) modified our performance test for this service but used the same testing rigs.
We tested Wrike on two different laptops, both of which run on Windows 10 Pro (64 Bit).
Laptop 1: Lenovo Ideapad with an Intel Pentium 4415U (2.3 GHz) processor, 8 GB RAM, and the default Intel graphics card (HD Graphics 610).

Laptop 2: Lenovo Legion Y720 with a Core i7-7700HQ Quad-Core (2.8 GHz) processor, 16 GB RAM, and an Nvidia GeForce GTX1050 Ti with 2 GB of dedicated storage.
In the first part of our test, we accessed Wrike's browser version using Google Chrome, Opera, and Mozilla Firefox.
We didn't encounter any performance issues on either laptop in any of the three browsers. Only when accessing the service in Opera did we notice two slight delays when logging in and loading the dashboard. But, this could just as easily have been a temporary Internet or connectivity issue, so we didn't incorporate it into our scoring.
In the second part of our performance test, we looked at the desktop version of the service. For this, we used Laptop 2, and a MacBook Air with a 1.8 GHz (Core i5) processor and 8 GB RAM. Here, we noticed significant differences. While Laptop 2 didn't have any issues (loading the dashboard, creating and saving datasets, etc.), the MacBook lagged frequently. When saving datasets, the program crashed, and it was necessary to restart the entire system.
For this reason, we decided to try the browser version in Safari, where everything was fine. Of course, the service's overall performance is good, however, its desktop version's questionable behavior on our MacBook Air is reason enough for some deductions.
Score: 4.3 / 5
According to the company's own promotional materials, their clients' security is their top priority. Since 2016, Wrike has been certified according to the EU-US Privacy Shield, which guarantees that services conform to European guidelines.
Wrike's main data center (CoreSite) is located in San Jose, California, and adheres to ISO 27001, SOC1, and SOC2.
Wrike is one of the few providers to offer its (paying) EU-based users the ability to host their data within the EU. To facilitate this, the company set up a data center in Amsterdam that adheres to ISO 27001 and ISAE 3402 (SSAE 16).
User data is stored on redundant and geographically separate servers. In addition, it is completely backed up and encrypted several times per day.
Wrike uses two-factor authentication, protecting passwords with a powerful hashing algorithm. In addition, Wrike supports different types of compound authentication (such as Google Open ID, Azure, Office 365, and SAML2), which make it easy to safely access and use corporate information in your account.
When using the service's browser or mobile app versions, your data is secured with TLS 1.2 (Transport Layer Security), as well as an AES-256-Bit algorithm in CBC mode with a 2048 Bit server key length. This is the same standard employed by banks and leading ecommerce companies. When you upload data to a Wrike server (for example, a web application, or an API) this is automatically encrypted with AES 256 on the basis of per-file keys stored in a separate database.
Wrike Lock provides yet another layer of security: Your data's encryption key can be protected with a Customer-Managed Key (CMK) that is saved in Amazon Web Services' Key Management Service (KMS).
Additional information about security measures used by Wrike can be found here.
Good to Know:
At the moment, Wrike guarantees 99.99% system availability, however, the developer hopes to achieve 100%.
Among the tools we've tested thus far, Wrike has put in one of the most convincing demonstrations of security, and we can't think of anything that's missing.
Score: 5 / 5
Thanks to mobile apps for Android and iOS, your team and project mates can work on the go. The mobile apps are similar in functionality to the desktop and browser apps and are optimized for mobile devices.
We tested the Android app on our Samsung Galaxy S9 but found that it was more difficult to handle than the browser-based tool. Creating tasks, projects, and folders, is easy, and we didn't notice any major differences in working with reports or documents.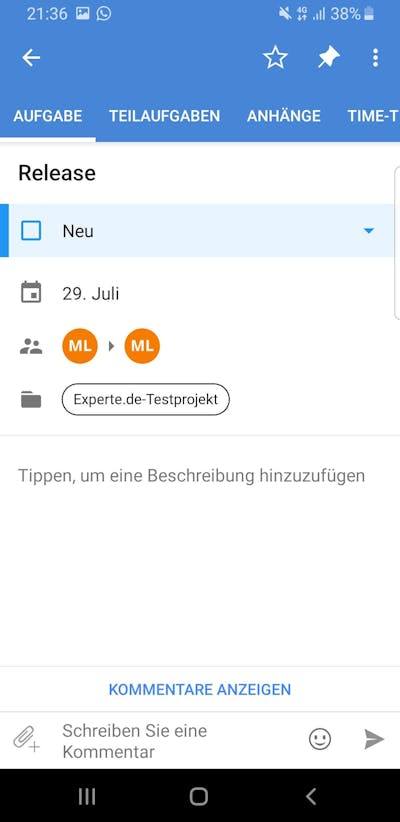 Thanks to offline mode, it's possible to work on tasks without an Internet connection. Once you're connected again, any changes you've made will be automatically compared to the original and synchronized. In this way, even when you or your colleagues are on the go, you'll always be kept up to date.
When using mobile data we had to contend with slight performance problems, so we switched to a fiber-optic WiFi connection. Once we did that, the issues vanished.
The service's mobile apps are available in English, German, Spanish, French, Italian, Japanese, Portuguese, Russian, and Polish. Owing to some usage difficulties, and display problems (cells aren't shown in their entirety) we've deducted a few points.
Score: 4.3 / 5
We recommend that new users watch Wrike's video tutorials to head off any issues when starting out (a link to these appears the first time you log in).
By clicking on the "Help & Support" icon in the Dashboard, you'll be able to view a sizable amount of information relating to the usage and configuration of the program. The company also organizes regular webinars which provide insight into how to most effectively utilize Wrike. Previous webinars can be viewed later.
Each (paying) user receives a personal Account Manager who is responsible for answering any and all questions you might have.
During testing, we opened a support ticket and received a reply asking for further information within 30 minutes. Within less than an hour, our issue was resolved. None of the services we tested were faster in responding: Full points!
Score: 5 / 5
So far as pricing goes, Wrike is one of the more expensive services we've evaluated and charges users either on a monthly or yearly basis. In total, five different subscription tiers are available, which vary in terms of their functionality and number of users:
Free (max. 5 users): Includes basic features such as sharing task lists, general integrations, a real-time activity log, and 2 GB of storage.

Professional (5 to 15 users): Includes more project planning and management features, as well as additional integrations and Gantt diagrams. Guest accounts can also be created.

Business (5 to 200 users): User-defined fields and real-time reports are possible. Includes time logging as well as advanced user permissions.

Marketing (unlimited users): Tailored for marketing and creative teams, and includes special extensions for Adobe Creative Cloud.

Enterprise (unlimited users): Includes the entire package of features as well as the Active Directory integration for detailed role management. For pricing, you'll need to contact Wrike's sales team.
Free
Team
Business
Base Price per Month
$0.00
from $19.60
from $124.00
Price per User
$0.00
from $9.80
from $24.80
Contract Period (Months)
0
12
12
Limits
Number of Users
unlimited
25
200
Number of Projects
unlimited
unlimited
unlimited
Number of Tasks
200
unlimited
unlimited
Anzahl Automatisierungen
0
50
50
Views
Liste
Table
Kanban
Galerie
Kalendar
Zeitleiste
Gantt
Mindmap
Workload
Karte
Tasks
Benutzerdefinierte Felder
Unteraufgaben
Aufgabenabhängigkeiten
Meilensteine
Ziele
Zusammenarbeit
Nutzergruppen
Private Nachrichten
Gruppenchat
Message-Board
Whiteboard
Dokumente
Wiki
Erweiterte Funktionen
Formulare
Automatisierung
Zeiterfassung
Integrations
Charts
Reporting
API
Conclusion
Features & Customizability
9.4 / 10
Configuration & Usage
8.6 / 10
It isn't hard to see why Wrike has been one of the leading project management solutions for the past decade. The tool provides comprehensive and highly-detailed tools and features, putting all of your ideas, projects, and goals in a centralized place. Thanks to its nifty iOS and Android apps, you won't need to stop working while on the go, and can check progress at any time.
With charts, statistics, time logging, and reporting features, Wrike comes pretty near to offering anything that a project management tool should.
Of course, all of these features do weigh the program down a bit, at least in terms of complexity. We wouldn't recommend Wrike to beginners, or very small teams since neither will have much need for all of the service's tools. Similarly, even though it does great in the more difficult aspects (providing high functionality) it lacks one of the 'basics', an integrated chat function. Other than that, Wrike is truly one of the best solutions on the market.
Offers free starter version
Comparatively high priced
9.2

excellent
Wrike Free
$0.00
monthly price
Visit Website*
User Reviews
Based on the user reviews which we could wrangle together, Wrike has performed well. Some have criticized the long amount of time needed to get acquainted with the service, while others have questioned its high price. For more detail, check out the reviews below:
Customer Ratings
21,057 Bewertungen
Visit Website*
We analyzed the reviews and ratings from various portals and found 21,057 ratings with an overall rating of 4.4 out of 5 .
Alternatives
If Wrike seems too complicated for your needs, some of the alternatives below might be more appealing:
MeisterTask Project Management
Offers free starter version
Intuitive and easy to use
Apps for Windows and macOS
9.4

excellent
MeisterTask Basic
$0.00
monthly price
Visit Website*
Basecamp Project Management
Basecamp Standard
monthly price
Visit Website*
Optimized for software development
Very affordable for small teams
9.2

excellent
Atlassian Free
$0.00
monthly price
Visit Website*
Trello Project Management
Trello Free
$0.00
monthly price
Visit Website*
monday Project Management
monday Free
$0.00
monthly price
Visit Website*
Try for Free
* Ad disclaimer:
For links marked with an asterisk, EXPERTE.com may earn a commission from the provider. The commission has no influence on our editorial rating.

Manuela Lenz is a trained IT specialist and worked for 20 years as a system administrator and project manager for large companies. Since 2017, the IT specialist has been a passionate IT-author. For EXPERTE.com she writes about project management, software and IT security.
Continue Reading
Other languages
Deutsch