Best (Free) E-Signature Software 2023: Comparing 5 Tools


Handwritten signatures are slowly, but surely, becoming a thing of the past. As more documents are made available digitally, signatures have had to catch up with the times, with a number of programs offering users the ability to digitally sign important papers. But which is the best?
Below, we'll let you know what you should pay attention to when choosing an e-signature solution, as well as which programs should be near the top of your list.
What to Keep In Mind When Choosing E-Signature Software?
Digital or electronic signing is a complicated topic, as can easily be seen in the variety of features offered by e-signature software. In order to provide some clarity, we've summarized a few of the most important aspects below:
Signature creation
The core of e-signature software is the creation of a digital signature. This should be easy to do, function across multiple devices (i.e. laptops, smartphones, desktops, etc.), and ideally, be available offline.

Create e-signatures with varying security levels
E-signatures vary in terms of their security level. Make sure that the provider you choose offers the type that you need:

Simple electronic signature (SES): The most basic type of digital signature, SES does not require any specific authentication method. These have limited legal applicability, however, they're more than adequate for documents that aren't particularly sensitive.

Advanced electronic signature (AES): As the name suggests, these are more robust than SES, authenticating the unique identity of the signee through biometric data or a special code.

Qualified electronic signature (QES): The most secure e-signature, legally seen as equivalent to a wet or handwritten one.

Document management
E-signature software should include a user-friendly dashboard that provides an overview of documents requiring your signature (or that of a signee) and/or their current status.

Scheduled (bulk) sending
Since a single document can often require signatures from multiple people, your software should support bulk sending. Signees will frequently need to authenticate documents in a particular order, which is also something that your solution of choice should be able to handle.

Alerts
To save valuable time following up with signees and/or sending them reminders, the e-signature solution you select should send automatic alerts and notifications, reminding you and signees of upcoming deadlines.

Compatible with different file formats
Not only PDFs need signatures: Docusigning tools should be compatible with a wide range of different file types, such as Powerpoint presentations and Excel spreadsheets.

Authentication options
Some documents are particularly sensitive, requiring that the individual signing is actually the person intended. For this, authentication measures play an important role, since they confirm the identity of an individual. These range from SMSs to passport comparisons.

Audits
You should be able to track a signed document's progress based on different protocols in order to stay informed about who has signed which papers at what time and where.

Compliance and certificates
Considering how many legal and branch-specific requirements there are for determining a signature's validity and ensuring that it is legally binding, it's important that the software you choose supports important certificates (such as ISO27001 or SOC).

Integrations
In order for your electronic signatures to be usable in other applications that your company has, the software should offer integrations and an API.
The above are just a few of the general features that users should look for in their e-signing software. Plenty of other capabilities do exist and, depending on you or your business, they might be more or less critical. To be on the safe side, consult the software's website to confirm it offers the features you need most.
The Best E-Signature Software: Our TOP 5
Those looking for digital signature solutions have plenty of choices. We've summarized some of the best options below, in order to help you with your decision:
1.
DocuSign: The Best All-Around Solution for Electronic Signatures
Anyone who frequently needs to digitally sign documents has likely crossed paths with DocuSign: With more than a million customers and a billion users, DocuSign is one of the most widely used e-signature solutions out there. Its corporate clients include multinationals like T-Mobile and Unilever, however, plenty of small and medium-sized businesses also use it.
Basic e-signatures are just the tip of the iceberg with DocuSign since the platform offers (nearly) endless features, depending of course, on the subscription you select. Documents can be followed in real-time, commented on, and users can even receive payments via electronic signature. From the user perspective, DocuSign is incredibly easy to handle: Signees are walked through every step of the process up to the actual digital signing.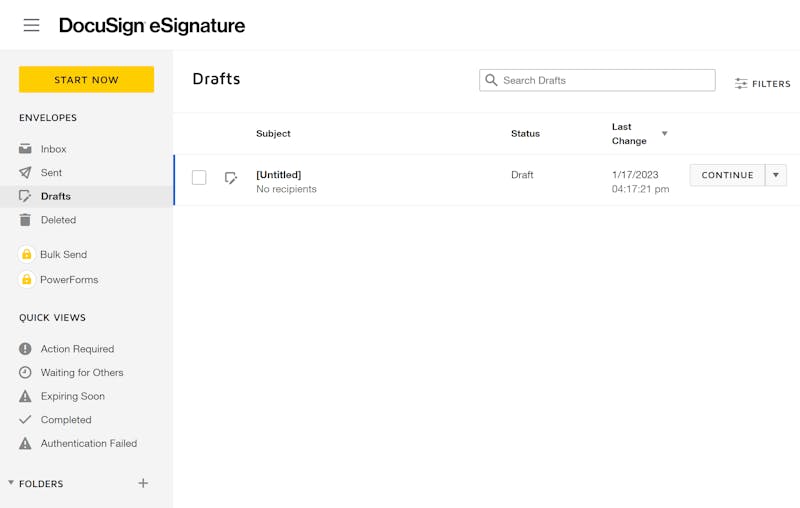 DocuSign is one of the most widely-used e-signature solutions available.
What we like
Among other things, DocuSign is famous for its flexibility: Its more than 350 integrations ensure that the tool can be seamlessly embedded into all of the most common business software and tools. Developers can look forward to a range of different APIs, with which DocuSign can be added to a website or adjusted to meet their specifications.
Security and compliance are essential to DocuSign: The solution meets all conditions of the EU's elDAS regulation, as well as plenty of other international frameworks such as UETA and ESIGN (USA). For this, the company's eSignature Legality Guide provides you with a custom overview for the country you specify, in order to see how electronic signatures are governed there.
What we don't like
When it comes to cost, DocuSign isn't the most affordable solution for businesses. In the past, its customer service has come in for some criticism, with slow response times and unhelpful answers comprising the two biggest complaints.
How much does DocuSign cost?
Three DocuSign packages are available, each of which is offered in a monthly or (less pricey) annual subscription:
Subscription
Monthly price (annual subscription)
Features

Single user only

Send 5 documents for e-signatures per month

Integrated into Dropbox, Google Drive, and more

Real-time audit trail

Automate reminders and notifications

Reusable templates

All Personal features

Unlimited e-signatures for documents

Shared documents

Comments

Shared templates

Team reports

In-person eSignatures

Customized branding

All Standard features

Signer attachments

Collaborative fields

Advanced fields

Drawing fields

SMS authentication

PowerForms

Collect payments

Bulk sending
For large businesses, there also exist custom Enterprise solutions that can be arranged individually. You can find an overview of all DocuSign plans on their website.
Advantages and Disadvantages of DocuSign
User-friendly for signees
2.
Adobe Acrobat Sign: E-Signature Solution From PDF's Creator
Acrobat Sign is an e-signature software from Adobe, the same company that developed the PDF file format. As such, it's logical that Adobe would also be among the first to offer a digital signing solution for its creation.
The software supports both AES and QES and conforms to a range of different regulations. Documents can be sent to multiple signees simultaneously, and it's possible to track their progress in real-time. Numerous integrations with other software, such as Microsoft Office and Google Workspace, CRM tools like Salesforce, or even HR solutions like Workday, are available.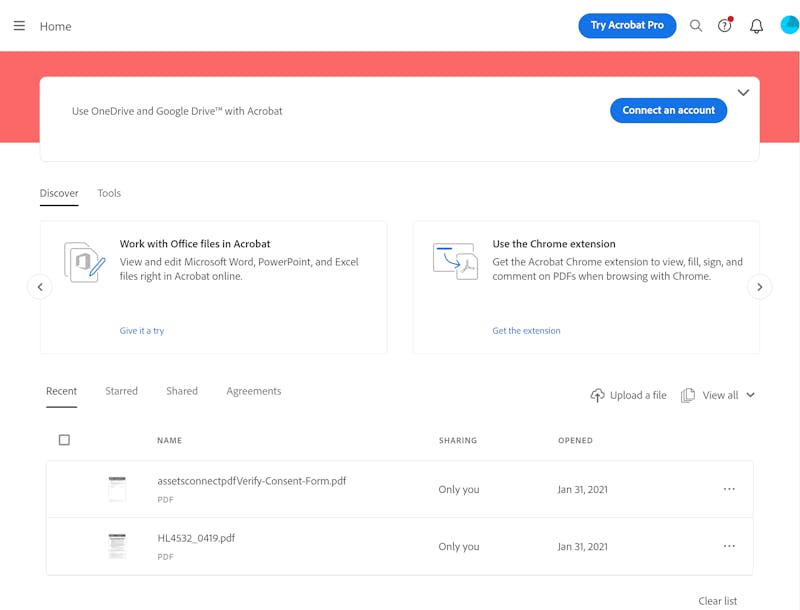 When it comes to PDFs, Adobe stands in no one's shadow.
What we like
When it comes to working with PDFs, Adobe is leading the pack: Creating, editing, and signing PDF files with Acrobat Sign is simple, allowing any document to be opened anywhere and signed, regardless of whether the user is sitting in front of their desktop or on the go.
You also won't need to download anything or create an account: Signees can quickly sign documents from their laptop or smartphone. In addition, documents can be sent for signing to different people in a specific order.
With the Adobe Scan app, you can also easily scan and sign documents. Generally, Acrobat Sign allows you to get the most out of your PDFs.
What we don't like
In comparison to other solutions, like DocuSign, Acrobat Sign's user interface looks somewhat dated. Not all of the most important features are immediately visible, and it takes some time to figure out how to do basic things like delete or copy a document. Broadly speaking, the service is also geared towards businesses that already use other Adobe products, which might make it less practical for companies that don't.
How much does Acrobat Sign cost?
Acrobat Sign is included with Acrobat Pro, which is available in individual and team subscriptions.
Subscription
Monthly price (annual subscription)
Features

Collect signatures

Sign agreements

Scan and sign on mobile

Track and manage agreements

Add a business stamp

Prepare forms

Customize languages

Keep records and audit trails

Create and share reusable templates

All Acrobat Standard features

Collect e-signatures from websites

Collect payments with Braintree

Advanced forms

Advanced language support

Send in bulk

Acrobat Standard for teams

$14.99 per month per license

Collect signatures

Sign agreements

Scan and sign on mobile

Track and manage agreements

Add a business stamp

Prepare forms

Customize languages

Keep records and audit trails

Create and share reusable templates

$23.99 per month per license

All Acrobat Standard for Teams features

24/7 product support

Add customized branding

Collect e-signatures on websites

Collect payments with Braintree

Advanced forms

Send in bulk

Advanced language support

Advanced roles and routing

Create consistent processes with Workflow Designer
Custom Enterprise solutions can be arranged with Adobe's sales team. You can find an overview of all subscription options on Adobe's website.
Advantages and Disadvantages of Acrobat Sign
Easy to integrate with other Adobe software

Offers lots of PDF features
User interface isn't always intuitive

Most effective with other Adobe solutions
3.
Dropbox Sign: E-Signature Solution With Practical Document Templates
Dropbox Sign (previously HelloSign) is an e-signature solution offered by Dropbox and geared towards freelancers and small businesses. Should you already have a Dropbox account, simply log in - there's no need to re-register.
While it doesn't come with as many features as other enterprise solutions, Dropbox Sign offers all of the most important capabilities and makes a good impression in terms of security since it meets the standards for SOC 2 Type II, ISO 27001, eIDAS, and GDPR. All documents have 256-bit AES encryption.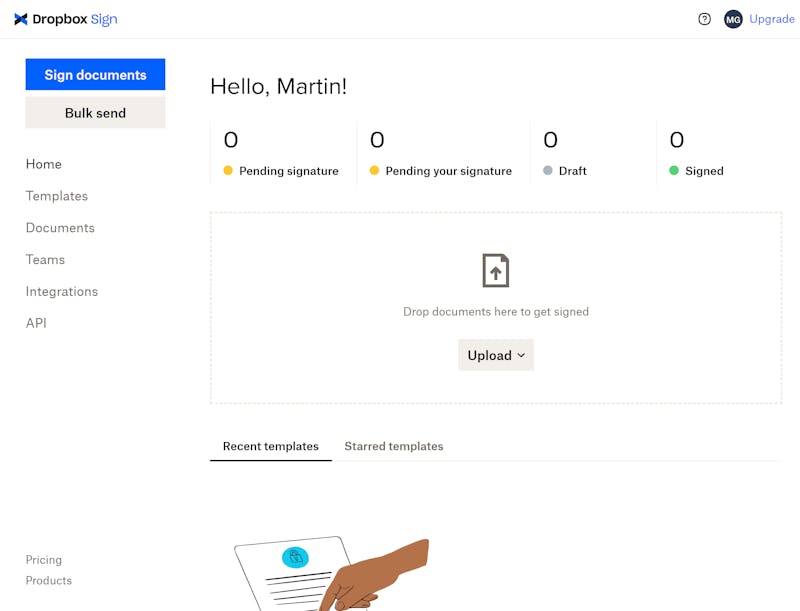 Earlier known as HelloSign, Dropbox Sign is now part of the cloud storage company's portfolio.
What we like
Dropbox Sign impressed us with its straightforward and neat user interface. The dashboard offers an overview of your documents, including their status (Draft, Signature needed, Some signatures needed, Signed) along with an assortment of features. These include document signing, bulk sending, and template creation.
Templates are particularly important with Dropbox Sign since you can use these to create documents that regularly need to be signed, saving time and money. So long as you're a premium subscriber, it's also possible to create authenticated and notarized e-signatures in Dropbox Sign or to specify your data residency.
What we don't like
The Essentials subscription only includes a paltry five templates. Overall, the variety of features available and the number of integrations on offer pales in comparison to solutions like DocuSign or Adobe Acrobat Sign.
How much does Dropbox Sign cost?
Three rates are available, which can either be paid either monthly or yearly:
Subscription
Monthly price (annual subscription)
Features

1 user

5 templates

Unlimited signatures

Tamper-proof documents

Mobile app (iOS and Android)

Unlimited signature requests

Signer fields with data validation

Template links

Audit trail

Certifications

Multiple languages

Reminders and notifications

All Essentials features

2–5 users

15 templates

Dropbox Forms

Signer attachments

In-person signing

Admin console and team features

Branding

Bulk sending

Reporting

SMS authentication

All Standard features

5 or more users

Unlimited templates

Single sign-on (SSO)

Advanced signer fields

Advanced signer tools

Advanced reporting

Data residency

Multi-teams

QES (additional cost add-on)

Performance dashboards
Advantages and Disadvantages of Dropbox Sign
Nifty document templates...
...which are limited by the subscription you've booked

Less features and integrations than other enterprise solutions
4.
Skribble: First Choice for Freelancers and Casual Users
Skribble is a Swiss, digital signature software used by more than 3,000 businesses, including DATEV and easyJet. All three e-signature formats are supported, and it's particularly well-suited for use in the EU owing to its close collaboration with Swisscom and A-Trust.
In contrast to many other electronic signature solutions, such as those from outside the EU, Skribble caters first and foremost to the European market. Along with ensuring conformity to laws governing the usage of digital signatures, Skribble also manages user data according to the EU's GDPR - all data is hosted in Switzerland and stored according to the country's famous (and stringent) banking standards.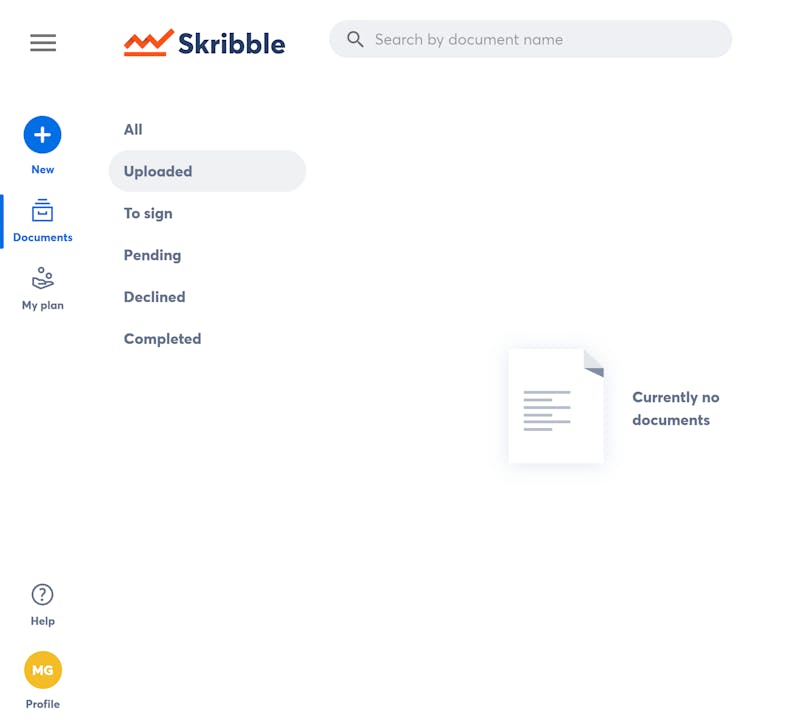 With Skribble's Fair Flat plan, you'll pay per signature.
What we like
Skribble is an excellent choice for freelancers or anyone who sporadically needs an e-signature, and doesn't want or need to book a regular monthly subscription. Users of this plan pay for each signature they need and get two free signatures per month. In other words, you could use the software for free if you only need an e-signature every now and then.
What we don't like
The Swiss service's pricing structure has some disadvantages though: Anyone who regularly needs digital signatures will wind up paying more than they would with other platforms. Compounding this, the selection and amount of features and integrations are better with (more affordable) programs.
How much does Skribble cost?
Three different plans are offered for Skribble:
Subscription
Price
Features

3€ per signature (2 free signatures per month)

AATL-compliant

Global legal validity

Invite others to sign by email

Sign via smartphone and computer

Upload multiple documents at once

Sign multiple documents at once

Create and apply a visual signature to documents

Decline signature invitation

Withdraw signature invitation

Assign signature to someone else

Add additional signers later

Add a personal message when inviting, assigning, declining, or withdrawing a signature

99 €/month (charged annually)

All Fair Flat features

Central administration and membership management

Electronic seals (on request)

External parties can sign without having a Skribble account (all e-signature standards)

External parties invited via API can sign without having a Skribble account (all e-signature standards)

Add observers to a signature invitation

Add attachments to a signature invitation

Send signed documents as an email attachment to all recipients

Send an email reminder to signers with a pending signature

All Business features

Send signature protocols of signed documents as email attachments to all recipients

Advanced branding and customization options
Skribble Business plan can be tried out for 14 days for free. On Skribble's website, you can find an overview of all plans and rates.
Advantages and Disadvantages of Skribble
Ideal for usage in the European Union

Pay per signature - a great option for occasional use

Straightforward user interface
Less features and integrations than other solutions

Relatively expensive, if you need lots of signatures
5.
PandaDoc: E-Signature Software for Business Documents
PandaDoc promises "less work, more flow" through its optimization and digitization of documents ranging from cost estimates to contracts to forms. Founded in 2011 in California by the Belarusian IT students Mikita Mikado and Sergey Barysiuk, the firm now counts 40,000 businesses among its users.
All e-signature types are supported by PandaDoc, which collaborates with authentication services like Evrotrust, among others. As such, signatures made with PandaDoc conform to elDAS and are admissible in legal proceedings. GDPR compliance is also not an issue for PandaDoc.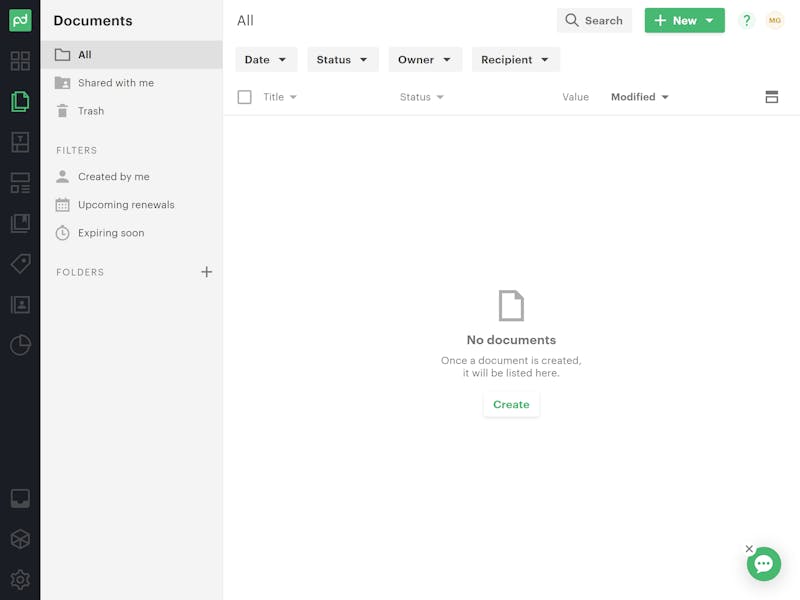 E-signing is just one of the many things you'll be able to do with PandaDoc.
What we like
PandaDoc handles much more than e-signing documents: You can create also create templates ranging from contracts to invoices, or use the ones provided by the software. Owing to its integrations with payment providers, PandaDoc can even be used to receive payments for your products and services.
The software's free version is definitely worth taking a closer look at since with it, you're able to upload as many documents for e-signing as you'd like. Of course, you'll have to make do without some of the service's other advanced features.
What we don't like
The software is geared primarily towards managing corporate documents such as invoices and estimates, which makes it more of a business tool than an e-signing one. In addition, its user interface is considerably more complicated than those of other services owing to the wider range of features on offer.
Unfortunately, there are also some paywalls, even for subscribing customers: Things like bulk sending or integrating SalesForce need to be booked as at-cost add-ons, even for Business and Enterprise subscribers.
How much does PandaDoc cost?
PandaDoc offers four plans, one of which is free. As usual, the monthly price of the three paid subscriptions is less if you sign up for an annual contract.
Subscription
Monthly price (per user, annual subscription)
Features

Unlimited, legally binding eSignatures

Unlimited document uploads

Activity tracking and notifications

Payments

Mobile app

All Free eSign features

Audit trail and document analytics

Public and custom templates

Rich media drag and drop document editor

All Essentials features

Custom branding

Content library

Content locking (paid add-on)

Approval workflows

Forms (paid add-on)

Bulk send (paid add-on)

CRM and Zapier integrations

Salesforce integration (paid add-on)

Unlimited number of team workspaces (paid add-on)

Renewals (paid add-on)

All Business features

Content locking

Unlimited number of team workspaces

Renewals

Single sign-on (SSO) support

Customer user roles

API (paid add-on)
You can try out PandaDoc's premium plans for 14 days for free. On PandaDoc's website, you can find an overview of all of their rates.
Advantages and Disadvantages of PandaDoc
Comprehensive document management software

Lots of forms and templates

Free version with unlimited e-signatures
More complicated than "simple" e-signature software

Too many pay walls, even for premium subscribers
Conclusion
Signatures aren't just a matter of pen and paper these days, but also file and byte! Digital signing is slowly, but surely, replacing more traditional methods of authenticating documents. Plenty of solutions exist including DocuSign, Adobe Acrobat Sign, and Dropbox Sign, all of which make it incredibly easy to create documents that require digital signatures and then manage these.
FAQs
An electronic signature is a way of signing a digital document on your computer, tablet, or smartphone, that doesn't require ink and a pen like a traditional wet signature does. In order to properly identify and verify the signee, a digital certificate is used. Digital signatures can be created with specialized software such as DocuSign or Adobe Acrobat Sign.
Are digital signatures legally binding?
⊖
Yes, digital signatures are legally binding. With that said, there are different types of e-signatures. Simple (SES) e-signatures are fine for signing some documents, however, they only enjoy limited validity in legal settings. Advanced (AES) and Qualified electronic signatures (QES) have far greater legal stature.
DocuSign is free to use for signees. Those who requested the signature need to book a paid subscription for the service. The most affordable DocuSign plan for individual use (Personal) costs $10 per month, whereas businesses need to pay $25 or $40 for a monthly subscription.

Martin Gschwentner majored in American Studies and Media Studies in Germany, the USA and France and works as a freelance editor in Paris. He is a doctoral student at the Institute for English and American Studies at the University of Paris Diderot, where he is researching the influence of money on US politics. On EXPERTE.com he writes about IT security, data protection and software for the self-employed and small businesses.

Translation: D Bare
Continue Reading
Other languages
Deutsch