Logo Design
Create a Business Logo: 4 Ways in 2022
A great logo helps to make the best first impressions. It represents your brand and serves as your company's most important visual aspect. So how to get a logo and what will it cost?
In this article, we'll cover how to get your own logo, what you should keep in mind when creating one, and what costs you can expect.
4 Ways to Get a Business Logo
There are essentially four ways to get a logo for your business. Determining which is best depends largely on your budget, the type of logo you want, and how talented you are when it comes to design.
1. Create one yourself
If you're creative and have a design program at your fingertips, you can try making a logo yourself. You don't have to be an experienced designer to create a simple, text-based logo.
2. Hire a freelancer
In case you'd rather have a professional handle the creation of your logo, you can hire a freelance designer. Many talented designers offer their services via easy-to-use freelance platforms.
3. Contract an agency
Should you have a bigger budget and prefer to work with a company or team, you can pay an agency to create your logo. This is a good option for those hesitant to put all their eggs in one basket, such as when hiring a freelancer.
4. Use a logo maker
In the event that you have a smaller budget and aren't interested in a complex or especially unique logo, consider using a logo maker. This kind of online software allows you to create logos from pre-made design elements in just a few steps, with little creative talent required.
Below, we'll provide you with more details about these four methods, including how much effort and money they cost.
Why pay for something if you can do it yourself? There isn't anything stopping you from taking a shot at creating your own logo, especially if you have a bit of talent when it comes to design. Even if you're lacking artistic experience, it's possible to create simple logos on your own so long as you have the right software. After all, many business logos are nothing more than the company's name embellished with a few visual elements or simple shapes.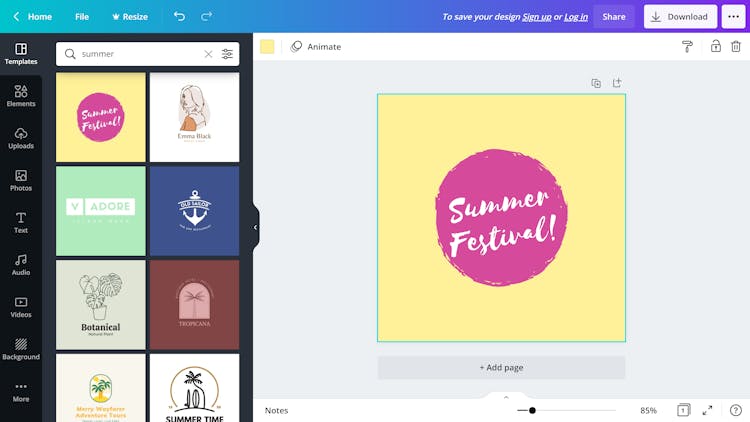 Canva's logo templates can be edited more extensively than those offered by logo makers.
How Much Does a Self-Created Logo Cost?
The cost of a self-created logo depends on how much time and effort you're willing to invest in the project. Ensure that you're only paying for graphic design software that you'll use. Both free and paid programs and online tools exist, with the latter usually being subscription-based. Canva, for example, costs around $10 per month, while Adobe Illustrator will set you back $32 each month.
How Do I Find the Right Program for Logo Creation?
You can use any graphic design software to create your logo, including free tools such as Microsoft Paint. However, if you go with a basic program, you won't have access to advanced image editing tools. In addition, you'll also find that few file types are supported (for example, scalable vector graphics, or .svg files, are essential, especially when it comes to logo files). For professional logos, it's best to work with a comprehensive design program.
The good news: there are professional programs you can use for free. For example, GIMP, an open-source program, gives you access to professional design tools and allows you to export your logo in various design types. There are, of course, plenty of paid programs as well, such as Adobe Illustrator, Photoshop, and CorelDRAW
The online design platform Canva stands out from the crowd; It combines elements of a logo maker with powerful image editing software (more on this later).
If you prefer to hire a professional, you can either contact an agency or hire a freelancer directly. The second option is typically a bit less expensive and relatively easy to do.
How Much Do Logos Created by a Freelancer Cost?
Costs vary depending on the freelancer. On Fiverr, the least expensive logo packages cost just a few dollars, however, prices can range up to several hundred dollars per logo, depending on the designer. Freelancers from countries with lower costs of living are usually the most affordable, while those from North America or Western Europe tend to charge $30 to $100 per hour (or they'll offer a flat-rate project price that is similar). Less experienced designers typically provide their services at a lower price.
When choosing a freelancer, consider more than just their rate. In other words, if it sounds too good to be true, it probably is; the person you're trusting to create your logo may not invest much time or energy into the project and do the bare minimum. Generally speaking, you should expect to pay at least several hundred to a few thousand dollars for a logo designed by an experienced freelancer.
Where Can I Find Freelancers to Create My Logo?
You can find freelancers through Google, however, specialized platforms, such as Upwork or Fiverr are also worth considering. On these, freelancers offer their services for hire—either on an hourly or per-project basis.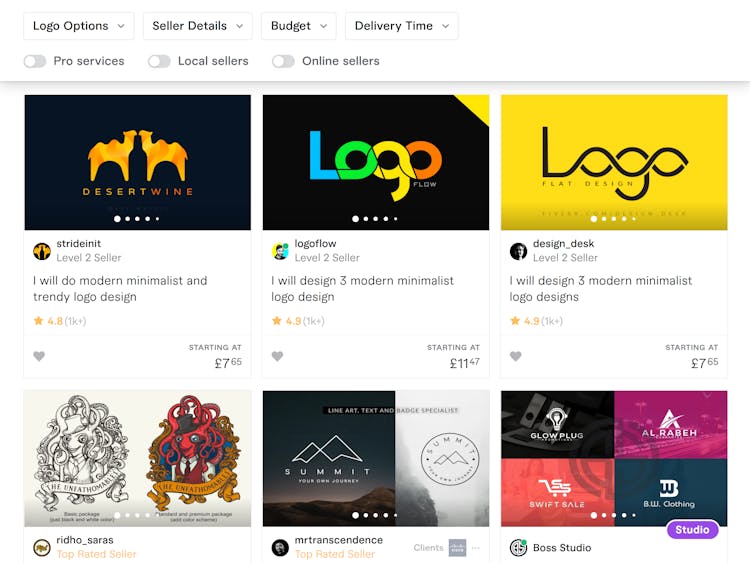 You can find many freelancers offering logo design on Fiverr.
On some freelance platforms, such as Fiverr, there's a designated category for logo design. This makes it easy to find a freelancer with the right skills.
When using an agency, as opposed to a freelancer, you'll benefit from not being tied to a single person. Should you have questions or concerns, there will likely be several people for you to reach out to. On the other hand, if you hire a freelancer and aren't satisfied with their work, you'll probably be stuck with the end result. Agencies often have multiple designers available for your project.
How Much Does an Agency-Created Logo Cost?
Large corporations can invest thousands, if not millions, into logo design. However, there are many agencies that specialize in creating logos for smaller companies and startups. There are always exceptions, but even inexpensive agencies can charge around $2,000 to create a logo. In fact, it's not uncommon to find prices ranging from several thousand dollars to tens of thousands of dollars.
How Do I Find an Agency for Logo Design?
Search engines are the best way to find an agency. You can look for companies in your region or those with experience in your industry. Some portals such as TrueList compile lists of the best companies for business logo creation. A number of agencies even have presences on the freelance platforms mentioned above.
Should you not want to design a logo yourself and don't have the budget to hire a freelancer or agency, you could use a logo maker. These simple design platforms allow you to create and purchase a professional logo in just a few steps using an array of icons, fonts, and effects.
Keep in mind that a logo maker can't offer you a logo that's truly unique. The end result may be one-of-a-kind in terms of how it combines text and design, however, more often than not, these tools generate logos that appear very similar to one another. This is because they work with a limited number of recyclable assets.
That being said, logo makers are very easy to use and inexpensive compared to other methods.
How Much Does Logo Creation With a Logo Maker Cost?
Some simple logo makers such as Shopify's Hatchful (as well as EXPERTE.com's logo maker) are completely free. But generally speaking, you'll pay around $20 to $50 per logo.
Even with these, most of the time, you'll be able to create a logo for free, however, will have to pay for the rights to it and/or high-resolution image files. There are typically different rates depending on the image quality, with file types such as vector graphics costing more.
Which Logo Maker Is Best?
well-performing, intuitive editor
With the Wix Logo Maker you can create a professional logo with just a few clicks. The intuitive drag-and-drop editor offers enough freedom to adapt the logo to your own needs.
Plan
One-off price
Transparent (.png)
Vector (.svg)
Wix Basic
$49.00
Visit Website »
Wix's logo maker took first place in our review. This tool makes customization easy and operates using simple drag and drop. Wix offers a few logos to start out with. After you choose your favorites, it generates a selection of pre-made logos that you can edit to your liking.
While we weren't very impressed by the initial logos suggested, the available icons and design tools allowed us to create a simple logo that we were happy with.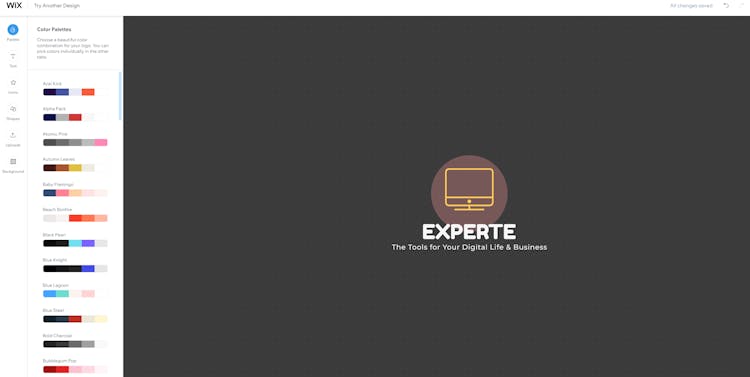 Compared to other logo makers, Wix offers more flexibility to customize your design.
Wix is also one of the most affordable programs on the market. If you're willing to accept the limitations of a classic logo maker (even Wix doesn't offer complete flexibility), then this tool is an excellent choice.
Decent customization options
Unimpressive initial logo selection
Logo Customization
4.7 / 5
comprehensive graphic design platform
offers more than 11,000 templates
powerful editor with extensive options
no automatic AI-assisted logo creation
Canva ist eine umfangreiche und anfängerfreundliche Plattform für Grafikdesign, mit der Sie beim Design Ihres Logos großen Gestaltungsspielraum haben.
Plan
One-off price
Transparent (.png)
Vector (.svg)
Canva Free
$0.00
Visit Website »
Canva is much more than a logo maker; it's a comprehensive cloud-based graphics program that gives you the freedom to create an array of mockups and designs, including websites, posters, business cards, and logos.
As opposed to AI-assisted logo creation offered by classic platforms, Canva provides its users with more extensive capabilities. Featuring a drag and drop-based editor, you can select templates, customize elements, and add effects. They even offer animated logo designs.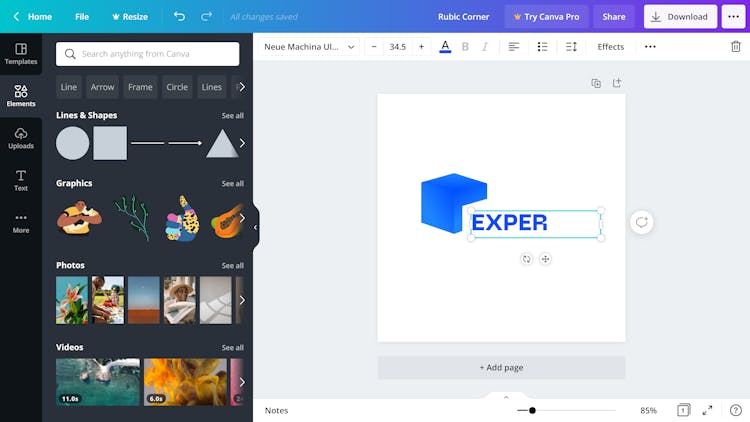 Canva offers far more versatile editing options than classic logo makers.
The downside: you won't have the step-by-step guidance offered by Wix and other logo makers. Therefore, there's a greater risk of designing a sub-par logo. If you're opting for a logo maker not just to save money, but also because you don't have any design skills, Canva might be overwhelming.
On the other hand, if you're comfortable with graphic editing tools, you'll have far more flexibility with Canva than its competitors.
Comprehensive design platform
Offers over 11,000 templates
Powerful editor with extensive design options
More complex editor—no automatic logo creation
With Looka, we come back to the classic logo maker genre. Over the course of our assessment, the logo we designed with Looka emerged as one of our favorites. It was also relatively easy to make; their program doesn't require much design talent to create an impressive logo.
Another plus: we didn't have to register an account with Looka until we had finished our design and were ready to purchase the logo. This differs from Wix, for example, where you need an account just to get the process started.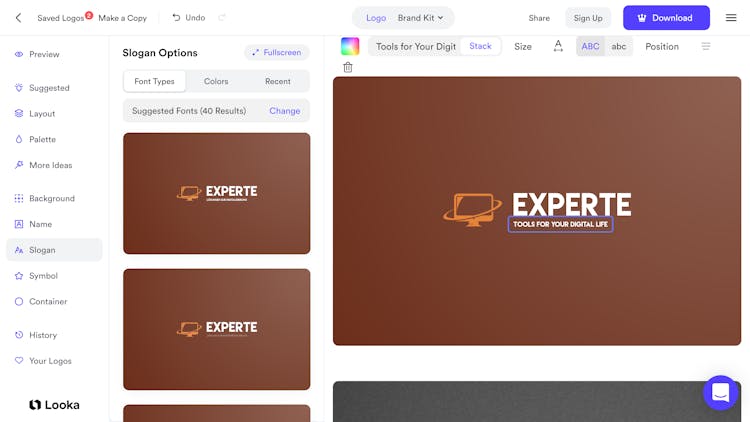 We were impressed with our Looka result, and their pricing is reasonable to boot.
As with Wix, Looka's initial AI-suggested logos were rather uninspiring. In addition, the editor isn't equipped with drag and drop; instead, each of the design elements has its own submenu where you can adjust aspects such as position and color. Several layout options are offered for each design, but these are generated automatically, further limiting your creativity.
Nonetheless, we're willing to accept these constraints since we were happy with the result.
Simple and fast logo creation
Pre-packaged layouts for each design
Available as a one-time purchase or subscription
Essentially, when it comes to creating a logo for your business, you have two options: you can either do it yourself or hand the project over to a professional.
Professional designers, such as agencies or freelancers specializing in logo creation, can be found through search engines and freelance portals. The least expensive freelancers are available for just a few dollars per hour. An experienced professional will cost anywhere from $30 to $100 per hour, which can translate to several hundred to a few thousand dollars per logo. If you choose the agency option, you're likely to pay $2,000 or more per project.
Should these options exceed your budget, you can create a logo yourself using either traditional graphic design programs (if you have design experience) or user-friendly logo makers, such as those offered by Wix or Looka. With these, you can create a logo for around $20. Just remember that they're comprised of ready-made elements, so your result won't be entirely unique. For a more customized logo, you could use Canva, which is a cross between a graphic design program and a logo maker.
You can find a detailed comparison of seven programs in our EXPERTE.com logo maker review.
How do you create a professional logo?
You can either create a logo yourself or hire a professional (freelancer or agency) to design one for you. Consider your budget, what kind of logo you want to create, your design experience, and what kind of graphic design programs you have access to.
How much does a logo cost?
This depends on which logo creation method you choose. Freelancers typically charge $30 to $100 per hour; you'll likely end up paying anywhere from several hundred to a few thousand dollars for an experienced freelancer. Logos created by a design agency cost even more, typically ranging from $2,000 to over $10,000.
How can I create a logo myself?
You can create a logo yourself using comprehensive graphic design software or a logo maker. While you don't need much experience to create a simple text-based logo with programs like Adobe Illustrator (or even Microsoft Paint), you'll need a bit of talent to achieve an impressive result using these tools. On the other hand, anyone can create a professional-looking design using a logo maker. Keep in mind that these programs rely on a limited number of pre-made assets and icons, meaning that your logo won't be 100% unique.

Author (German Version): Martin Gschwentner
Martin Gschwentner majored in American Studies and Media Studies in Germany, the USA and France and works as a freelance editor in Paris. He is a doctoral student at the Institute for English and American Studies at the University of Paris Diderot, where he is researching the influence of money on US politics. On EXPERTE.com he writes about IT security, data protection and software for the self-employed and small businesses.

Translator & Editor: Lisa Torelli-Sauer