Adobe Stock Review 2023: Perfect Integration with Creative Cloud?

Ad disclaimer:
For links on this page, EXPERTE.com may earn a commission from the provider. This supports our work and has no influence on our editorial rating.
Who can turn down good visual content for their website, blog, or flyers? When searching for royalty-free stock media, there's no way around one of the biggest providers: Adobe Stock.
With a database that includes more than 200 million images, videos, animations, and vector graphics (and counting), we wanted to know whether the service does what it claims, so we put it to the test. Keep reading to see what we found out.
What Is Adobe Stock?
Every day, countless new websites are born, creating an instant customer base for providers of stock photos. One of the most well-known of these was Fotolia. At its peak, you'd be hard-pressed to find a blogger, graphic artist, or web designer who hadn't heard of the agency founded in 2004. On its huge online marketplace, more than 40 million images, graphics, and videos were available. That all ended in 2015 when the company was taken over by Adobe and merged with Adobe Stock* four years later into one of the world's leading image agencies.
Adobe needs no introduction, having already made a name for itself with its professional graphic editing and layout software. Among its most popular offerings is Photoshop, which is purported to control 90% of the market share. In 2005, Adobe purchased Macromedia's entire product portfolio, catapulting itself to the pinnacle of graphic design software.
As such, the 2015 move to take over Fotolia was logical, with Adobe Stock thereafter entirely integrated into the company's portfolio, allowing users to synergize their efforts. Whether with or without the Creative Cloud: We had a closer look at the stock photo provider.
Adobe Stock Review
Configuration & Usage
10 / 10
Licensing Conditions
9.4 / 10
Selection of Videos, Audio, Vector Graphics & Illustrations
8.6 / 10
Stock Photo Selection
8.0 / 10
Large selection of high-quality photos (including a number of free offerings)
Support only accessible at certain times; difficult to connect with staff
All you'll need to get started with Adobe Stock is an email address to confirm registration. In case you already have an Adobe Creative Cloud account, you can log in directly and start searching for stock content. It's also possible to sign in through Adobe's own app to quickly and easily start downloading all sorts of content.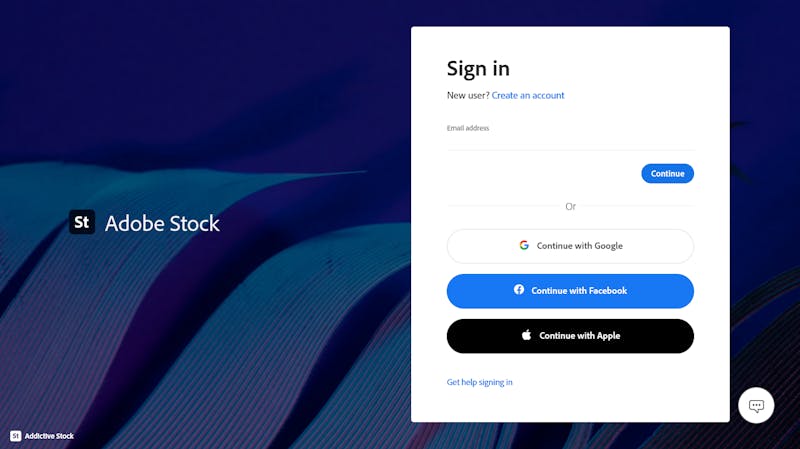 You can easily and intuitively access the database via Adobe's app or the website.
Adobe Stock's website is well-arranged and intuitive to use. You can search for any sort of image or select one from the categories.
Particularly appealing for potential users is that you don't need to buy credits or a subscription to download content. Simply click on Free from the drop-down menu next to the search bar and you'll have access to loads of high-quality photos, videos, and vector graphics that hold to the same standard and extended licenses as their paid images. Adobe themselves note that they do this to draw in customers who otherwise wouldn't give the paid platform a second thought.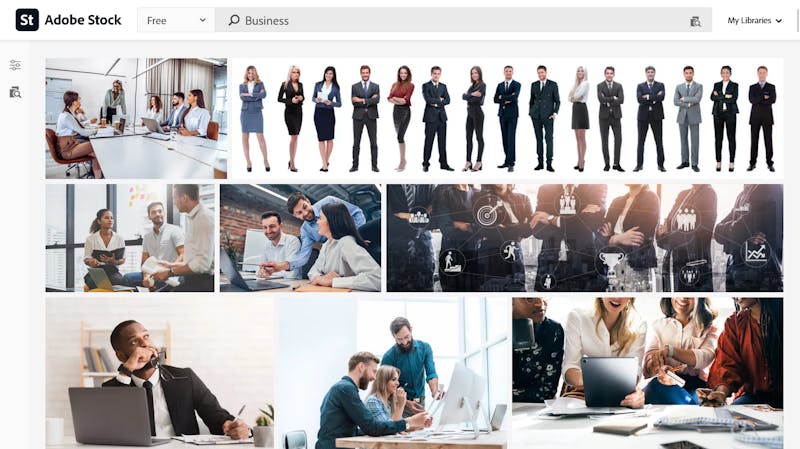 In order to compete with free stock photo services, Adobe Stock offers a limited selection of free content.
Whetting users' appetites
In addition to Free content, the bulk of Adobe Stock's offerings are can be found by clicking on Premium from the same drop-down menu noted above. Among these, you'll find images from the best photographers, animators, and agencies. As might be expected with such a pronounced offering, prices are fairly high. A premium image with the extended rights package can quickly run several hundred dollars if not more.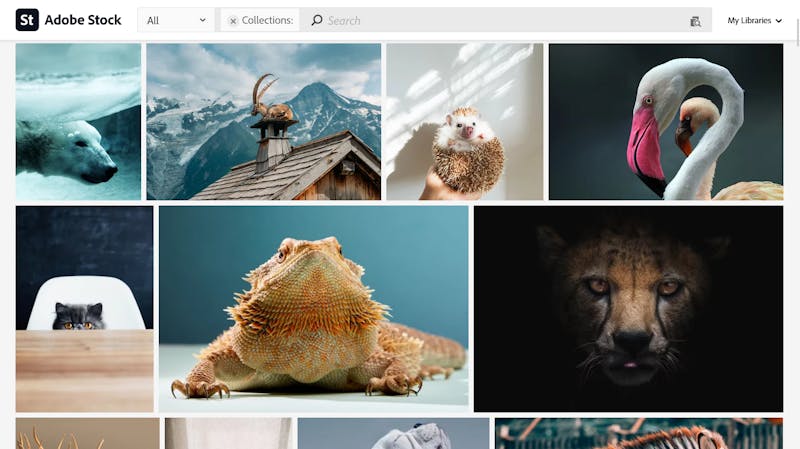 Adobe Stock's Premium offerings include unusual subject matter from selected artists.
Template paradise
While browsing, you can also take a look at the templates on offer for Creative Cloud users by selecting Templates from the drop-down menu. Whether you're a graphic artist, web designer, layout specialist, or cutter, you'll find plenty of effects, layouts, and intros to choose from. At the bottom of the page, the service offers some helpful training sessions that make it easy for beginners to get started with templates. Those without a Creative Cloud account might be tempted to sign up for more.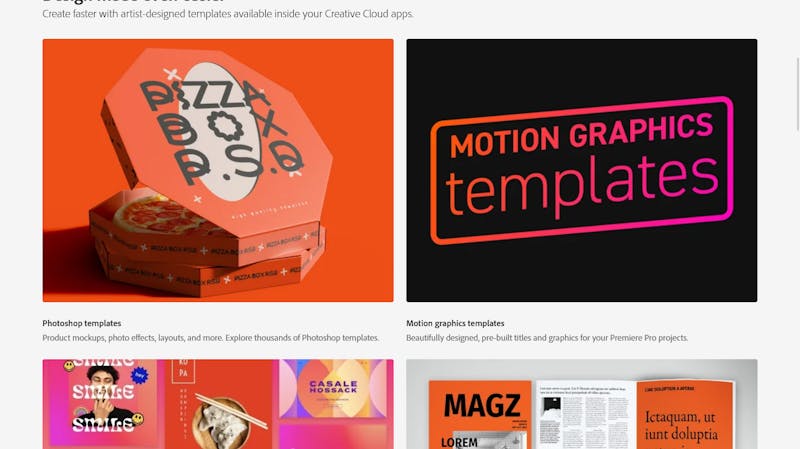 Adobe's program templates make work easier for creatives.
Start searching
Through the search field, you can input keywords and phrases to find whatever content you're after. Thanks to the filter on the left, you can refine search results. In addition to classic parameters for limiting what you're shown, Adobe also developed a few special options. The company really does attempt to understand what designers, layout specialists, and graphic designers are after, making helpful search options available.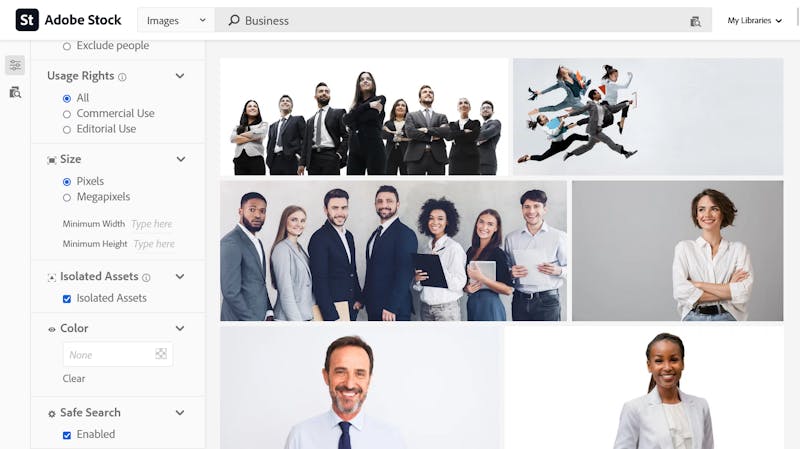 For those who don't want to spend long looking for an image, you can check the box next to Undiscovered Content to see only results that have free licenses.
You can search for images that have space for text or photos without people in them. It's possible to filter out results on the basis of their definition or to single out a dominant color. Or, if you'd like things to be colorful, you have the option to look for those as well. Rounding things out is the ability to upload a picture which you'd like to find similar options.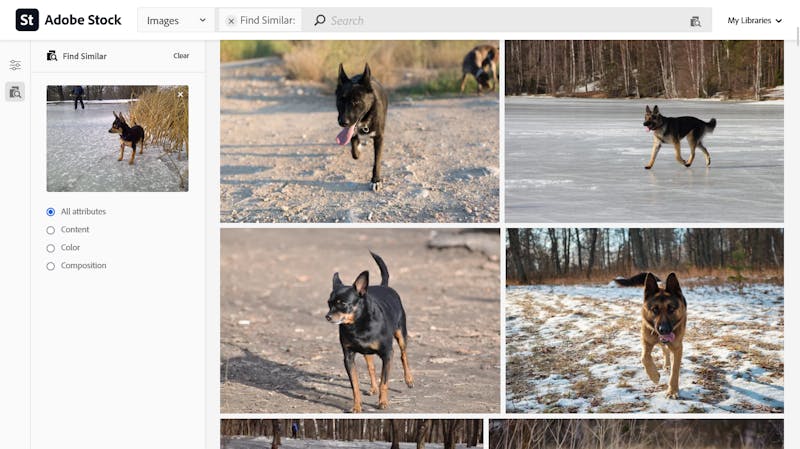 You saw an image online that you liked? With Adobe Stock, it's possible to find similarly themed ones.
Find one-of-a-kind images
It's almost unavoidable when working with stock photos that you run across the image you're using on other websites. To somewhat counteract this, you can check the box next to Undiscovered Content. When activated, you'll only see results that have yet to be downloaded. Of course, this doesn't guarantee that the image selected will remain undiscovered.
Videos for pros
High-quality videos can be filtered on the basis of their resolution or usage purpose. Under Audio, you can different kinds of music, sorting content by Genre or Mood. Be warned though, there aren't any sound effects, jingles, or intros, however.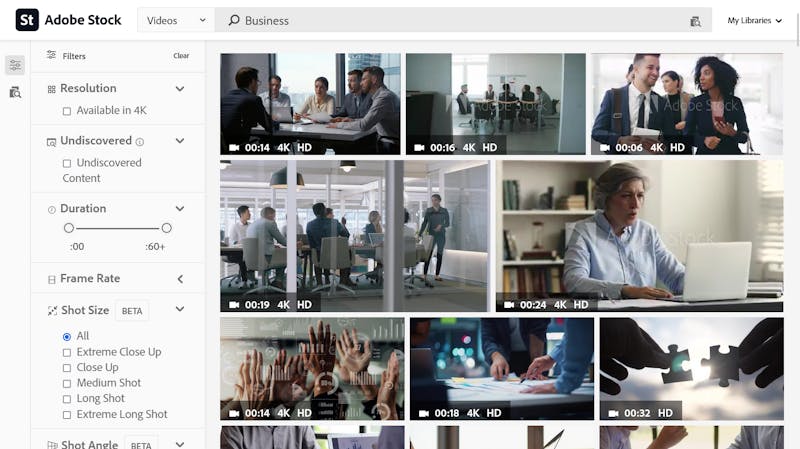 Dozens of filters make it easy to find what you're looking for on Adobe Stock.
Intuitive navigation, user-friendly design
Overall, Adobe Stock is very easy and intuitive to use. Media types are clearly separated from one another, and there's next to nothing to prevent you from locating just the image you're looking for. Adobe's filter options are as impressive as the quality of content on offer.
Configuration & Usage
10 / 10
2.
Selection of Stock Photos
The quality of images on offer is excellent. Even for dry topics, you'll find plenty of interesting and original ideas. Photographers go to some lengths to make sure all of the bases are covered.
For our assessment, we search for images using five keywords and phrases: web hosting, ecommerce, antivirus, business, and email marketing. Of course, it isn't easy to offer images for such abstract topics that are both exciting and unique.
Web hosting: For this search, Adobe Stock returned nearly 200,000 results. Of these, 34,000 were illustrations, plenty of which approach the topic creatively. A compass with hosting or a gear with the entire phrase demonstrates Adobe Stock's flexibility. The selection of images also includes hits that have barely any recognizable link to web hosting. Among these was a certificate stating "Made in Italy" and a set of tools.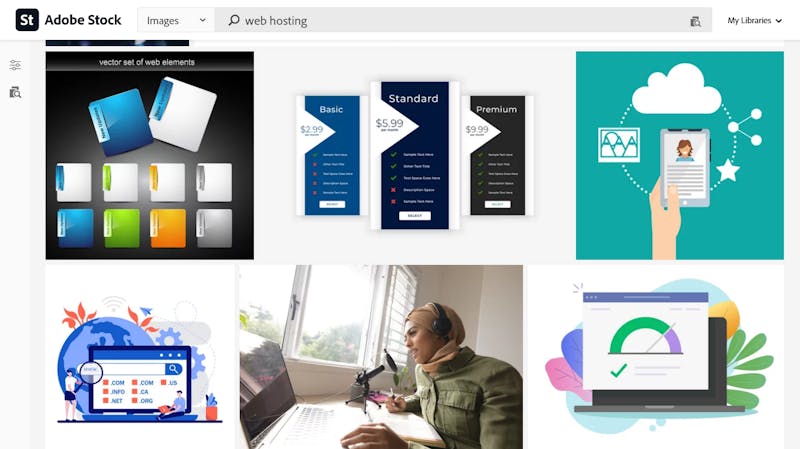 Among the search results returned for web hosting, we found a few oddities.
Ecommerce: For this search, the results were more colorful and lively. Just among photos, we had more than 440,000 hits, roughly half of which show people in different scenarios. Even without people in the images, the results impressed us. A small shopping cart on a keyboard button or miniature shipping packages and a delivery van next to a laptop are just a few of the options that caught our eye.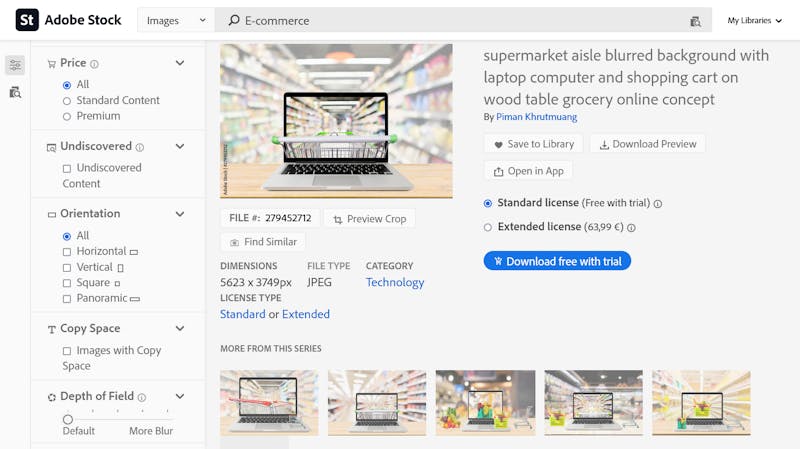 Creative: Looking into a supermarket through a laptop.
Antivirus: With this term, it was possible to see how COVID-19 has left its mark on the world of stock content. Just under 100,000 results turned up among the images. Alongside the usual suspects pertaining to IT security, we also found quite a few depictions of masks, syringes, and medical subject matter. Here, a filter option to make our results more contextually accurate would have been helpful. For our EXPERTE.com review's purposes, we added "PC" to our search, making the results more relevant.
Business: It isn't a big surprise that such an all-encompassing term yields almost 20 million images. By checking the boxes next to vector graphics and illustrations, this more than doubles to 44 million. At times like these, filters are an absolute necessity. Unfortunately, limiting search results to only those with people in them didn't work particularly well. Likely, this is because business without people is hard to visualize.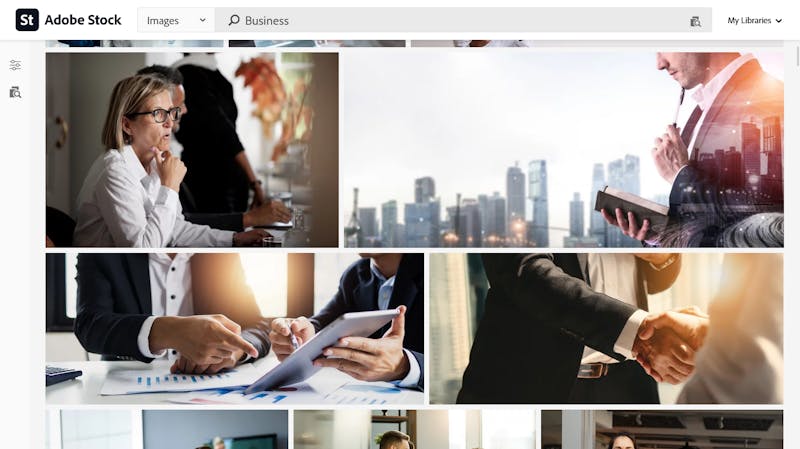 In terms of business, it wasn't easy to find creative options.
Email marketing: In total, Adobe Stock returned 182,000 results for this search query. To gain an overview, we limited these to photos of which there were just over 60,000. If looking for images of people with greater definition, in vivid color, and blue, this shrinks to 9 results. Despite being manageable, none of the results were particularly creative or of exceptional quality.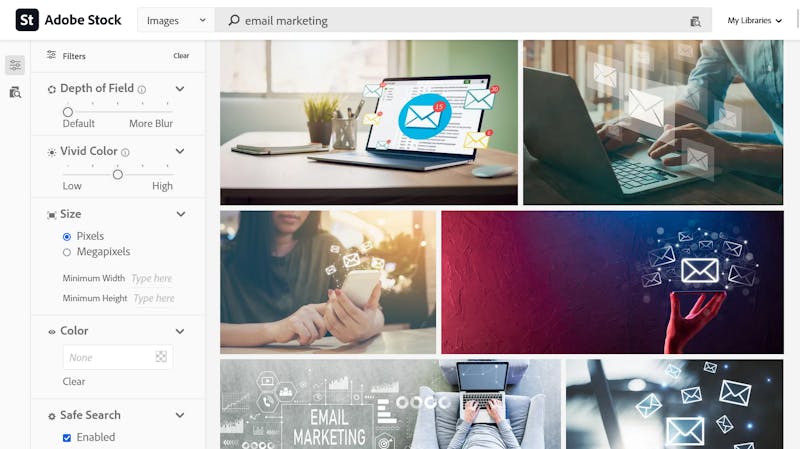 With filters, it's possible to make large numbers of results much more manageable.
In answer to our search queries, Adobe Stock provided quite a bit of content, but not all of it was accurate or relevant. Too often, the results were average or had nothing to do with our search. Quality is good, but there was a noticeable lack of creativity.
| Category | Score |
| --- | --- |
| | |
| | |
| | |
| | |
| | |
Stock Photo Selection
8.0 / 10
3.
Selection of Videos, Audio, Vector Graphics & Illustrations
The selection and quality of video content offered by Adobe Stock are impressive. All the same, this is reflected in the price, especially if you need 4K quality. When using our keywords and phrases, web hosting returned only a few thousand video results, whereas business yielded upwards of 2 million.
The illustration and vector graphic results were more creative. Searching for digital graphics provided plenty of futuristic artwork, while pastels served up some nice color combinations. Rounding things out were the hits for paintings. Adobe Stock provides quite a comprehensive and creative selection of results.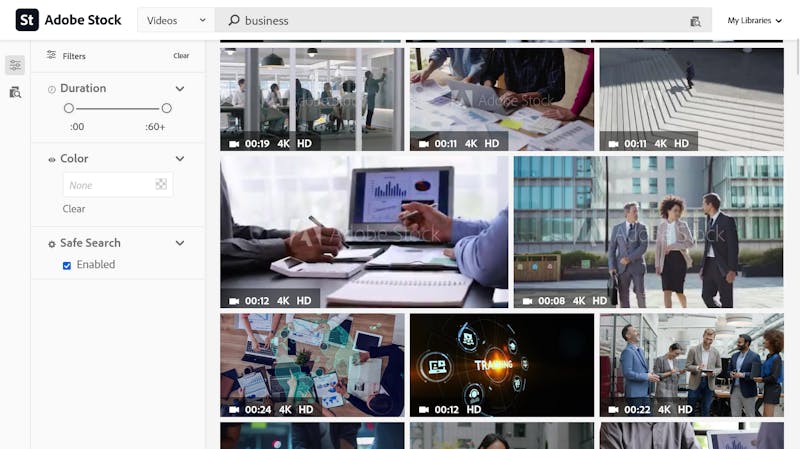 Adobe Stock's video selection is enormous, as are their prices.
Audio on Adobe Stock is stored in a huge database of music ranging from classical to pop. You won't find any jingles or background noises. According to support, they also aren't planning to introduce these anytime soon.
Overall, quality and quantity are both good, and you'll find plenty of content for everyday usage.
| Category | Score |
| --- | --- |
| | |
| | |
| | |
Selection of Videos, Audio, Vector Graphics & Illustrations
8.6 / 10
Adobe Stock doesn't make things complicated when it comes to what you can and cannot do with any media you've purchased licenses for. Most of the time, the standard license is more than adequate. Should you want to publish the image on a high-traffic website (i.e. more than 500,000 unique views), you'll need to purchase an enhanced or extended license.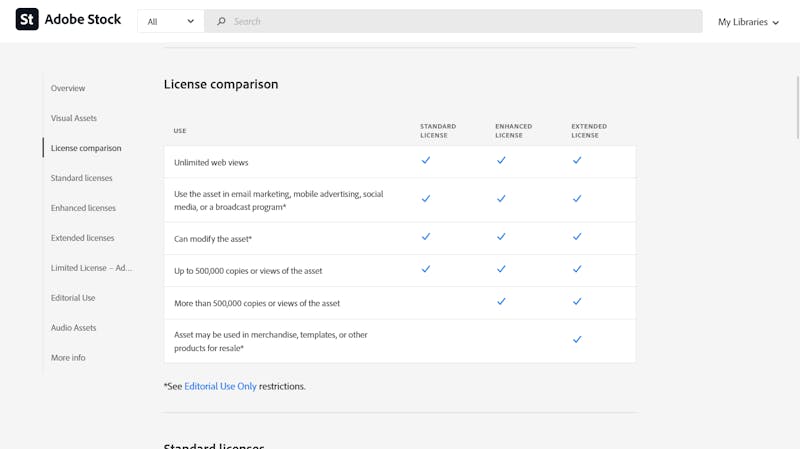 Adobe Stock doesn't resort to smoke and mirrors when it comes to licensing.
To be on the safe side, you can purchase an extended license, with which you can use image, video, and audio files for anything, even articles for resale or sales templates. Exceptions are only made for content that has an "Only for editorial purposes" note on it. These cannot be included in advertising materials and require author and stock photo provider attribution.
Licensing Conditions
9.4 / 10
Regardless of how sleek a platform's website is, or how wide its selection of media is, support should not be difficult to get in touch with. With Adobe Stock it is, and your journey begins with a click on Account Settings. This opens an external Adobe website which includes an overview of all of the services you're using. Click on the contact button and a chat window should open, but only during the provider's hours of operation.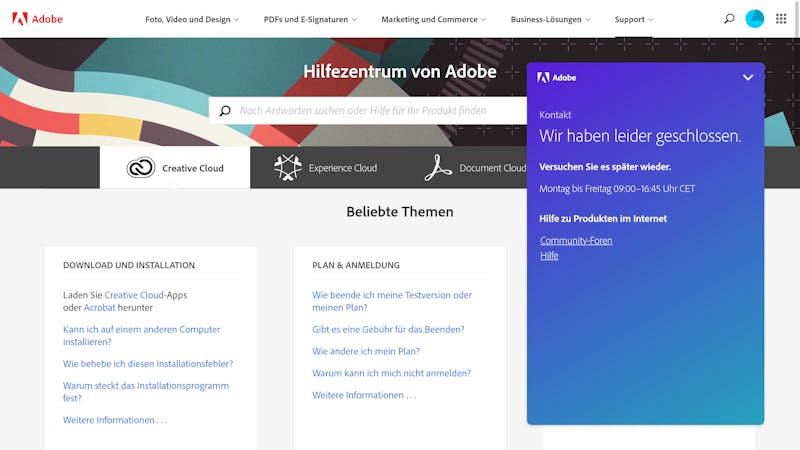 In case you have problems outside of operating hours (Monday to Friday, 9 to 4:45), you'll need to be patient.
On the page's footer, you'll find a link to the provider's help center. Clicking on this will open an external page titled "Adobe's Help Center". Select Support from the menu, and you'll finally find contact options. Once again, outside of the provider's operating hours, these are limited.
Still, if you reach out during business hours, the support you'll receive is both fast and competent.
Adobe Stock is on the pricier end of the stock photo provider spectrum. In exchange, you'll get high-quality content and logical filters, and, so long as you use Creative Cloud, a great deal of synergy with your other Adobe products. For just access to basic stock photos though, prices are a bit steep.
Another difference pertains to the credit packs, with which you can download videos and premium media, as well as the subscriptions that include all other standard stock content. Should you choose the credit pack option, be aware that after a year these will expire.
Subscription 10
Credit Pack 5
Subscription 25
Subscription 75
Credit Pack 16
Subscription 750
Credit Pack 40
Credit Pack 80
Credit Pack 150
Billing
Subscription
Credit Pack
Subscription
Subscription
Credit Pack
Subscription
Credit Pack
Credit Pack
Credit Pack
One-Time Fee
$0.00
$49.95
$0.00
$0.00
$149.99
$0.00
$359.99
$669.99
$1,200.00
Price per Month
$29.99
$0.00
$49.99
$79.99
$0.00
$199.99
$0.00
$0.00
$0.00
Contract Period (Months)
12
0
12
12
0
12
0
0
0
Included Content
Photos / Month
10
5
25
75
16
750
40
80
150
Videos / Month
1
0
3
6
2
25
5
10
18
Licence For

Online & Print

Social Media

Marketing & Ads

Online & Print

Social Media

Marketing & Ads

Online & Print

Social Media

Marketing & Ads

Online & Print

Social Media

Marketing & Ads

Online & Print

Social Media

Marketing & Ads

Online & Print

Social Media

Marketing & Ads

Online & Print

Social Media

Marketing & Ads

Online & Print

Social Media

Marketing & Ads

Online & Print

Social Media

Marketing & Ads
When comparing providers, Adobe is definitely on the higher end of the spectrum:
1.
2.
3.
4.
Depositphotos
Subscription 30
5.
Dreamstime
Subscription 15
6.
Shutterstock
Subscription 10
7.
iStock
Basic Subscription 10
8.
9.
10.
Storyblocks
Unlimited All Access
11.
Pond5
Footage Plus Subscription
12.
13.
Getty Images
10 Pack Small
Conclusion
Configuration & Usage
10 / 10
Licensing Conditions
9.4 / 10
Selection of Videos, Audio, Vector Graphics & Illustrations
8.6 / 10
Stock Photo Selection
8.0 / 10
Adobe Stock markets itself as professional and that's exactly who its target group is. If looking for images for your blog or small business, Adobe Stock's prices all but rule the platform out from consideration. Still, you should take a look at the Free content on offer. For those who have a bigger budget to work with, Adobe Stock is definitely an attractive media database. Contact channels and times could be improved: After all, if you're paying such a high premium, support should reflect this.
Adobe Stock will be particularly appealing to those who already work with Creative Cloud. Media can be directly positioned in website layouts, or for magazine and video previews. The countless templates for graphic design, illustrations, and film make life easier for creatives the world over.
Adobe Stock impresses with its professional image material and stylish templates for graphic design, illustrations, and film. Unfortunately, owing to its cost the platform is only a viable option if you have a large budget.
large selection of high-quality photos
credits expire after a year
8.7

good
Photos / Month
Videos / Month
Licence For
Billing
Adobe Subscription 10
$29.99
monthly price
Visit Website*
Customer Ratings
Adobe Stock's customer ratings are varied, and, perhaps unsurprisingly, support came in for quite a bit of criticism. We've compiled a number of these reviews, collating them into an average so that you can have a rough idea of what users are saying.
Customer Ratings
6,011,833 Bewertungen
Visit Website*
We analyzed the reviews and ratings from various portals and found 6,011,833 ratings with an overall rating of 4.6 out of 5 .
Alternatives
Poor experiences with Adobe Stock's support? Getty Images impressed us with its fast, competent staffers, all of whom answered questions to our satisfaction. Beyond that, they also serve up exclusive media material that's next level.
Supposing that your budget is a bit more limited and filters and usability aren't your top priorities, Dreamstime is worth considering. Its database is more affordable than most of the platforms from our sample, however, its licensing conditions are more complicated, necessitating more time for image research.
More of the best alternatives to Adobe Stock can be found in the list below:
Depositphotos won our review thanks to its intuitive platform, huge media archive, simple licensing model, and fast support, all at a fair price. If you're searching for high-quality stock content, you won't be disappointed.
Photos / Month
Videos / Month
Licence For
Billing
Depositphotos Subscription 30
$24.92
monthly price
Visit Website*
iStock offers high-quality media material, efficient filter options, and transparent licensing conditions. Rounding out its solid package are fast support and copyright indemnification.
Photos / Month
Videos / Month
Licence For
Billing
iStock Credit Pack 1
$12.00
monthly price
Visit Website*
Getty Images, our test's third-placed platform, is the Rolls Royce of stock photo databases. Just keep in mind that exclusive images, incredible content, high-quality search tools, and an intuitive user experience don't come cheap.
Photos / Month
Videos / Month
Licence For
Billing
Getty Images Single Small
$175.00
monthly price
Visit Website*
Shutterstock serves up a huge selection of media and tools along with excellent support. For pros by pros. The platform is particularly well-suited for editorial teams and agencies with sizable budgets.
Photos / Month
Videos / Month
Licence For
Billing
Shutterstock Subscription 10
$29.00
monthly price
Visit Website*
Get 10 free images
For high-quality film and video material, Pond5 is the right choice. It's easy to use and offers helpful tools. Unfortunately, the lack of search filters makes finding what you need tough, while its pricing structure could be clearer.
large selection of videos & music
affordable and free content
8.9

good
Photos / Month
Videos / Month
Licence For
Billing
Pond5 Footage Plus Subscription
$83.25
monthly price
Visit Website*
* Ad disclaimer:
For links marked with an asterisk, EXPERTE.com may earn a commission from the provider. The commission has no influence on our editorial rating.

Julia P. Manzau has more than 30 years of professional experience in leading editorial and marketing positions in the premium automotive, mechanical engineering, and healthcare industries. She studied Political Science and History in Bonn, Marketing at the St. Galler Business School and earned a BA in Media Engineering (CCI). Since 2015, she has worked as a freelance writer. For EXPERTE.com, she focuses on software, the Internet, and marketing.
Continue Reading
Other languages
Deutsch