Best Shutterstock Alternatives 2023: Our TOP 5 Alternatives

Ad disclaimer:
For links on this page, EXPERTE.com may earn a commission from the provider. This supports our work and has no influence on our editorial rating.
Well-written text becomes captivating content the moment you combine it with the right image. The same goes when illustrating otherwise dry numbers, data, and facts. Those who don't have a portfolio of visual material can utilize stock photo archives. Shutterstock is probably the most famous, however, that doesn't mean that it's the only or best service out there.
Below, we'll let you know what alternatives there are to Shutterstock and what sort of compromises you'll have to make.
Shutterstock's Disadvantages
Shutterstock does many things right, and the stock photo service earned a "very good" score in our review. All the same, we have a few critiques, such as:
Confusing pricing
With Shutterstock, you license media according to different models. However, because costs and usage rights vary depending on the medium, the platform's pricing structure is anything but straightforward.

Pricey
If you want premium as opposed to regular quality images, you'll need deep pockets to get them on Shutterstock. The platform is well-suited for editorial boards, agencies, and large businesses with the necessary budgetary means.

Packages only valid for a year
If purchasing a subscription, you'll need to use your monthly downloads or risk losing them. Shutterstock should really fix this and allow users to carry over unused download credits from month-to-month.
Top 5 Shutterstock Alternatives
1.
Depositphotos: High Quality at a Fair Price
Depositphotos won our review thanks to its intuitive platform, huge media archive, simple licensing model, and fast support, all at a fair price. If you're searching for high-quality stock content, you won't be disappointed.
Photos / Month
Videos / Month
Licence For
Billing
Depositphotos Subscription 30
$24.92
monthly price
Visit Website*
Depositphotos claimed the top spot in our comparison. The stock photo database was founded in 2009 by Dmitry Sergeev in Kyiv. These days, it calls New York home, offering users access to more than 250 million files.
What we like
Our winner impressed us with its easy-to-use interface, comprehensive media catalog, straightforward licensing, friendly support, and fair pricing. Its 70,000 free photos, vector graphics, editorial files, and video clips are the cherry on top.
What makes Depositphotos better than Shutterstock?
Depositphotos has a better price-performance ratio and purchased photo credits don't lapse after a certain period of time. Even if you're looking for free stock photos or clips, you'll have 70,000 media files to choose from on Depositphotos.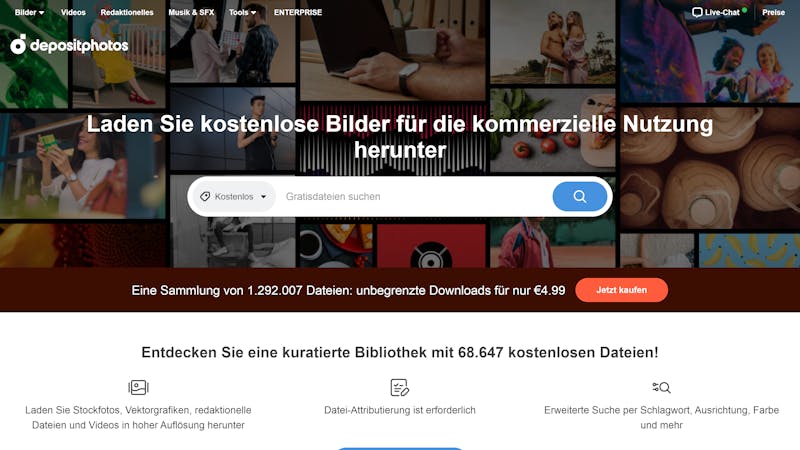 Depositphotos serves up around 70,000 free media files.
What we don't like
We deducted some points since it isn't possible to differentiate between media types when performing a search. Depositphotos displays all of its free media when searching, and you can only filter results according to camera angle, direction, and the number of people in the photo. If you're trying to find the right free video clip, patience is a must.
Depositphotos: Our Conclusion
Do you need free stock photos for your website or digital project? If so, Depositphotos is an excellent alternative to Shutterstock. To be on the safe side, whenever using free media, remember to credit the author/creator and source. But free content isn't the only feather in Depositphotos's cap: Thanks to its comprehensive and varied selection of premium media, it also offers subscribers quite a bit of bang for their buck.
High quality
Free images impress with their high quality, helping bargain hunters get top-shelf media material without breaking the bank.

Legally secure
So long as you cite the creator/author and source for free media, you don't need to worry about any legal difficulty from Depositphotos.
Lack of filters
The absence of filters when searching through the platform's free media makes it much more time-consuming to find what you're looking for.
Selection of Videos, Audio, Vector Graphics & Illustrations
9.4 / 10
Configuration & Usage
9.4 / 10
Licensing Conditions
9.4 / 10
Stock Photo Selection
8.6 / 10
2.
Adobe Stock: Attractive Free Offer
Adobe Stock impresses with its professional image material and stylish templates for graphic design, illustrations, and film. Unfortunately, owing to its cost the platform is only a viable option if you have a large budget.
large selection of high-quality photos
credits expire after a year
8.7

good
Photos / Month
Videos / Month
Licence For
Billing
Adobe Subscription 10
$29.99
monthly price
Visit Website*
Adobe Stock, previously known as Fotolia, was bought by the graphic design powerhouse in 2015 and is now one of the leading photo agencies on the planet. In our comparison of stock photo services, Adobe Stock didn't make it onto the winner's podium, however, it's second on this list. Why? Because it offers a huge selection of free stock photos and clips.
What we like
Adobe Stock's free media archive is first-class: You'll find seemingly endless numbers of photos, illustrations, and videos, sorted by category. Its multiple filters, which make searching through the free archive even easier, are another big advantage.
What makes Adobe Stock better than Shutterstock?
Adobe doesn't just offer more free stock photos and clips, but also a wider range of subject matter and thematic areas that are often difficult to find visual material for.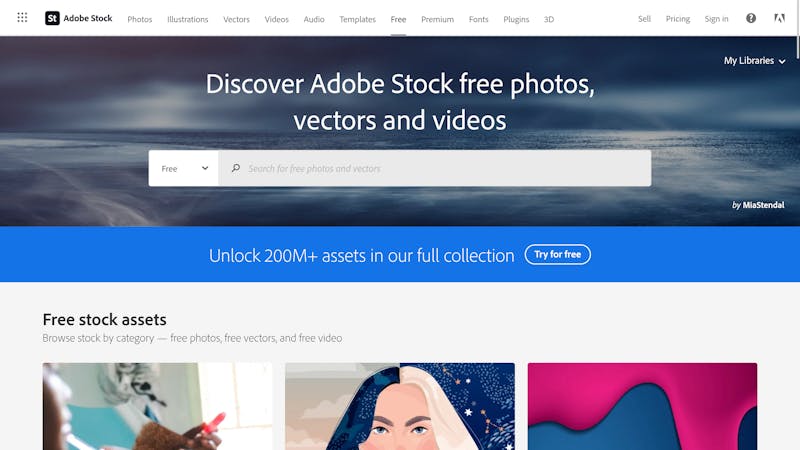 Impressive: Adobe Stock's free media selection is surprisingly huge. Its search filters greatly simplify the process of finding free stock content.
What we don't like
If you're looking for premium media, once again, you'll need to have quite a budget to get it on Adobe Stock. Still, it will be professional material and easy to find thanks to the service's good filter options. This sort of content is intended for agencies and larger businesses.
One area where Adobe Stock could definitely improve is its customer service: Getting in touch is made more complicated than necessary and the hours of operation are somewhat limited.
Adobe Stock: Our Conclusion
Adobe Stock offers a large amount of high-quality free media. Thanks to its numerous filters, this can be easily and quickly sorted. Should you be looking for free photos, videos, or illustrations, we recommend giving the media giant a try.
The platform is also interesting for designers and creatives who already work with Adobe's Creative Cloud. Photos and videos can be directly added to previews, helping to save time.
Huge selection of free media
Adobe Stock offers lots of high-quality media at no charge.

Good filter options
The better the filter options, the quicker you'll be able to find what you're looking for. In this area, Adobe shows off its professional side.
Expensive premium content
If free stock photos don't cut it, be ready to pay, since the service's premium licenses are relatively expensive.

Support needs improvement
Considering the service's high price, Adobe Stock could definitely improve its customer support.
Configuration & Usage
10 / 10
Licensing Conditions
9.4 / 10
Selection of Videos, Audio, Vector Graphics & Illustrations
8.6 / 10
Stock Photo Selection
8.0 / 10
3.
iStock: Great Premium Content, Poor Free Media
iStock offers high-quality media material, efficient filter options, and transparent licensing conditions. Rounding out its solid package are fast support and copyright indemnification.
Photos / Month
Videos / Month
Licence For
Billing
iStock Credit Pack 1
$12.00
monthly price
Visit Website*
iStock is another heavyweight in the world of stock photos. Even though you might think that it belongs to Apple owing to its name, it's actually part of Getty Images, one of the largest photo agencies on the planet. This also helps explain its highly exclusive content, which propelled iStock to second place in our review series.
What we like
iStock impressed us with its powerful filter options and good customer service. Its licensing conditions are clear and straightforward. Should you be looking for high-quality media and ready to pay for it, you'll be well-served by iStock.
What makes iStock better than Shutterstock?
There are only two types of licenses, the conditions for which are transparent and easy to understand. This is convenient from a legal perspective: You're protected for up to $10,000 (standard license) or $250,000 (advanced license). In other words, if someone files a copyright suit against you for an image you licensed from Shutterstock, you can look forward to either $10,000 or $250,000 of your legal fees being paid by the service.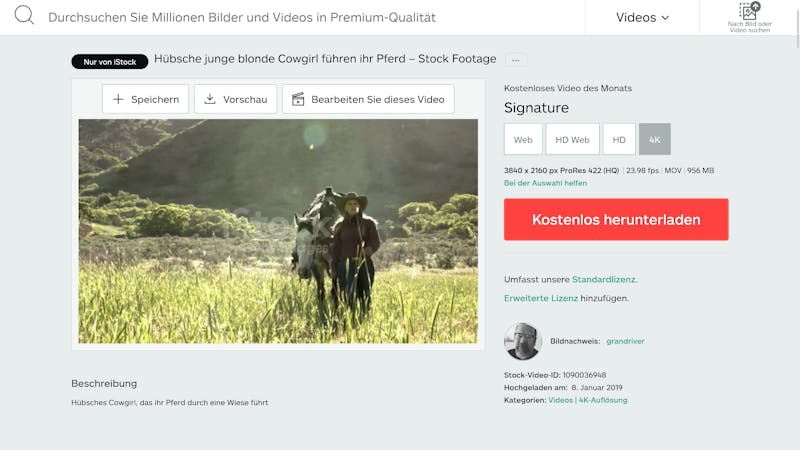 iStock is a premium stock photo service priced and marketed accordingly.
What we don't like
Those looking for free media won't be particularly pleased with iStock: Three photos per week, and three videos and graphics per month are all that's offered.
They refer to this as the "monthly dose of inspiration", however, it seems more like a few crumbs tossed out so that the provider can claim that they offer free media. In case you want to use this content, make sure to download it quickly, since it's only available for a limited time.
iStock: Our Conclusion
If you have the right budget and want straightforward licensing conditions, iStock might be worth closer examination. Even though the service barely offers any free media, there's plenty of high-quality (paid) photographic and video material for everyday use.
Huge selection
iStock offers a huge catalog of high-quality, premium media.

Straightforward licensing conditions
The service's licensing conditions are transparent. Legal protection is included in all subscriptions.

Filter options
Its well-developed filters make finding the right content easy.
Lack of free media
12 free photos, 3 video clips, and 3 vector graphics are offered per month.

Expensive
iStock is premium, especially in terms of price. The service is only an option for those with sizable budgets.
Configuration & Usage
10 / 10
Licensing Conditions
10 / 10
Stock Photo Selection
9.4 / 10
Selection of Videos, Audio, Vector Graphics & Illustrations
6.6 / 10
4.
Getty Images: High-Priced Stock Media Heavyweight
Getty Images, our test's third-placed platform, is the Rolls Royce of stock photo databases. Just keep in mind that exclusive images, incredible content, high-quality search tools, and an intuitive user experience don't come cheap.
Photos / Month
Videos / Month
Licence For
Billing
Getty Images Single Small
$175.00
monthly price
Visit Website*
Rolex, Lamborghini, Getty: The branch's golden oldie is still the largest photo agency in the world. It doesn't only supply multinational corporations with exclusive visual material, but also newspapers, and print media. Of course, Getty Images knows its value and charges accordingly.
What we like
Getty Images offers truly exclusive content that is high-quality and anything but run-of-the-mill. As our little intro suggests, it's the luxury option in the world of stock photo services and the go-to platform for pros, large companies, and agencies.
What makes Getty Images better than Shutterstock?
The platform doesn't just excel in terms of quality, but also quantity. You can even contract Getty photographers who will produce unique content for your project, of course, for a princely sum.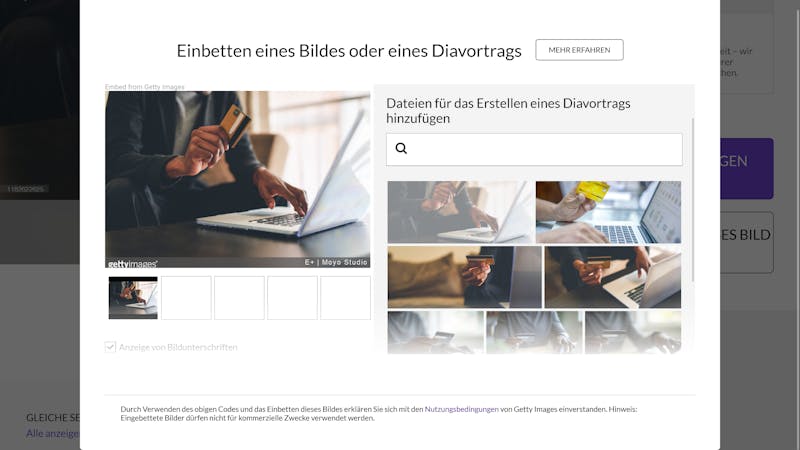 Free* content: Most media on Getty Images can be used for editorial purposes in iFrame, so long as there's no intent to monetize it.
What we don't like
If you're looking for free photos, you're going to be disappointed. Plenty of images and illustrations can be used for free, however, only for editorial purposes. Legally speaking, this is openly formulated to Getty's advantage, and as a result, we advise against using its content in this way.
On top of that: Should Getty Images delete a photo from its catalog that you're using on your own, non-commercial website, it will disappear. Making matters worse, when linking photos from Getty Images, the source code they include gives the service access to your website. For example, if you're tracking visits to your site, Getty Images will also receive this data.
Getty Images: Our Conclusion
Do you have a large marketing budget and want to find high-quality media material? Or, perhaps you're planning a campaign and want exclusive images? If so, Getty images is the right place. The company is a competent partner when it comes to professional products and media strategies.
Exquisite media quality
Getty Images is a premium service with a comprehensive portfolio.

Refined filters
The archive's price is reflected in the functionality and efficiency of its platform and search filters.
Free content only for editorial usage
Free media can be added to your website via an embed code, however, only if there's no commercial or monetary intent.

Expensive
Quality has its price. For smaller businesses or private users, Getty is not really an option.

Questionable data privacy
As soon as you embed "free" media from Getty Images on your website, you consent to sharing information about your visitor statistics with the company.
Configuration & Usage
10 / 10
Licensing Conditions
9.4 / 10
Stock Photo Selection
9.4 / 10
Selection of Videos, Audio, Vector Graphics & Illustrations
6.6 / 10
5.
Pond5: Huge Selection for Creatives
For high-quality film and video material, Pond5 is the right choice. It's easy to use and offers helpful tools. Unfortunately, the lack of search filters makes finding what you need tough, while its pricing structure could be clearer.
large selection of videos & music
affordable and free content
8.9

good
Photos / Month
Videos / Month
Licence For
Billing
Pond5 Footage Plus Subscription
$83.25
monthly price
Visit Website*
The US company started out as a platform where video producers could market licenses for their clips. It didn't take long for a lucrative business to grow, with Pond5 expanding its repertoire to include photos, music, 3D models, and effects.
What we like
Pond5 delivers high-quality film material, music, and After Effects templates at affordable prices. In addition, you'll find a nice selection of 3D models, photos, and illustrations.
To see how much and with which license each media file can be used, click on it, followed by the small question mark off to the right. Although conditions can vary, you'll always have to include the name of the author/creator. To avoid misunderstandings, Pond5 offers examples of how to do this.
What makes Pond5 better than Shutterstock?
Owing to its focus on moving images (videos), Pond5 covers an important niche. In addition, its selection of other media, including photos, is good and growing. All of this is underlined by the platform's good price-performance ratio.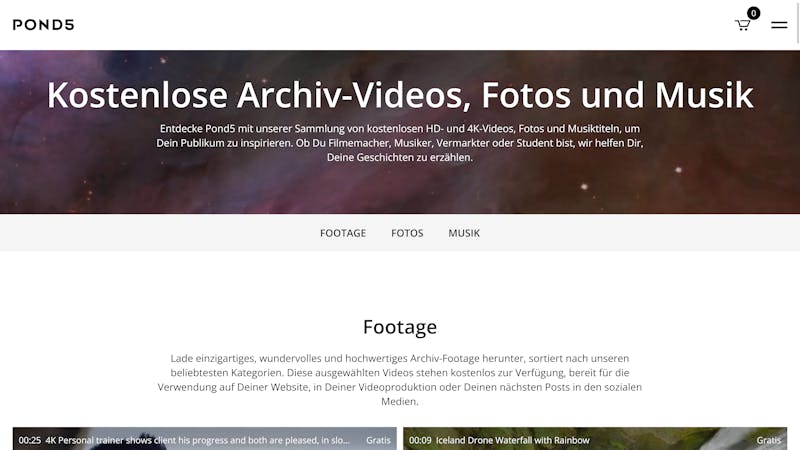 Pond5 can definitely improve in terms of search filters and its pricing structure.
What we don't like
If Pond5 developed a uniform pricing structure, the platform would likely score higher in our overall ranking. We also deducted points for its lack of search filters, which makes finding the right file more complicated than it needs to be. And although free photos are nowhere to be found, there are free video clips.
Pond5: Our Conclusion
Pond5 leads the pack when it comes to high-quality stock videos and clips. These days, its selection of photos and 3D models has also become impressive. Our enthusiasm is only dampened by the service's lack of search filters and unclear pricing structure.
Selection of free clips
It has an impressive archive of free videos which can be used so long as properly sourced.

High-quality media
First-class video, clip, and photo quality.
Lack of filters
You can only sort content by keyword.

Unclear pricing
Since every creator is free to set their own licensing fees, it's difficult to know how much you'll need to pay.

No free images
Pond5 offers quite a bit of free footage and clips. At the same time, you'll have to pay for effects and photos.
Selection of Videos, Audio, Vector Graphics & Illustrations
10 / 10
Licensing Conditions
9.4 / 10
Configuration & Usage
8.6 / 10
Stock Photo Selection
6.6 / 10
Conclusion
Should you be searching for photo and video content for your blog, website, or marketing materials, there are a number of good alternatives to Shutterstock.
Services like Depositphotos, Adobe Stock, iStock, Getty Images, or Pond5 offer a nice selection of stock media, and you might be able to use it for free. To be on the safe legal side, make sure that you carefully read each platform's licensing conditions.
* Ad disclaimer:
For links marked with an asterisk, EXPERTE.com may earn a commission from the provider. The commission has no influence on our editorial rating.

Julia P. Manzau has more than 30 years of professional experience in leading editorial and marketing positions in the premium automotive, mechanical engineering, and healthcare industries. She studied Political Science and History in Bonn, Marketing at the St. Galler Business School and earned a BA in Media Engineering (CCI). Since 2015, she has worked as a freelance writer. For EXPERTE.com, she focuses on software, the Internet, and marketing.
Continue Reading
Other languages
Deutsch