Pexels Review 2023: Free Stock Photos, What's the Catch?

Ad disclaimer:
For links on this page, EXPERTE.com may earn a commission from the provider. This supports our work and has no influence on our editorial rating.
You'd like to supply your blog entry with photos, but don't have the time to take your own? In this case, stock photo providers can come to the rescue. Alongside plenty of premium platforms, you'll also find a number of free ones. Among these is Pexels, which we'll take a closer look at in this review.
Free might sound appealing, but beware of the consequences: If the file you're using turns out to be copyrighted, the free database you got it from waives any responsibility for the legal predicament you now find yourself in. And this can be an expensive mistake to make. This applies to Pexels, so you'll need to weigh the risks and benefits carefully before using content from a free service.
What Is Pexels?
Bruno and Ingo Joseph founded Pexels in Germany in 2014. At its outset, the service offered around 800 photos that were free to download, however, owing to demand, the database grew and today offers more than 1 million photos and around 150,000 videos. In 2018, the graphic design platform Canva purchased Pexels, linking the two so that those using the former have direct access to photos offered on the latter.
Pexels supports itself through ads, interestingly, for premium stock photo databases. Should you want to support the photographer, you can make a donation. The service only offers photos and videos, you won't find any illustrations or audio.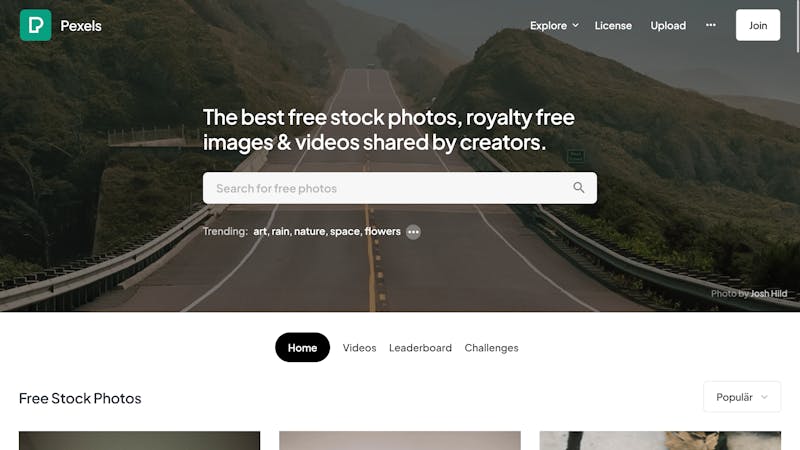 Pexels offers free photos and videos.
Pexels Review
Licensing Conditions
6.0 / 10
Configuration & Usage
4.6 / 10
Stock Photo Selection
4.6 / 10
Selection of Videos, Audio, Vector Graphics & Illustrations
2.6 / 10
Free and possible to use without signing up

Not necessary to provide attribution
No indemnification in the event of copyright infringement
Pexels is available in 28 different languages, offering users from around the world the ability to download unlimited amounts of photos and videos without creating an account. However, if you do set one up, you can save photos, review what you've downloaded, and create collections. Beyond that, it's also possible to configure a photographer profile and upload your own pictures, so long as these meet the platform's quality standards. Accounts can be easily created using an email address or Facebook login.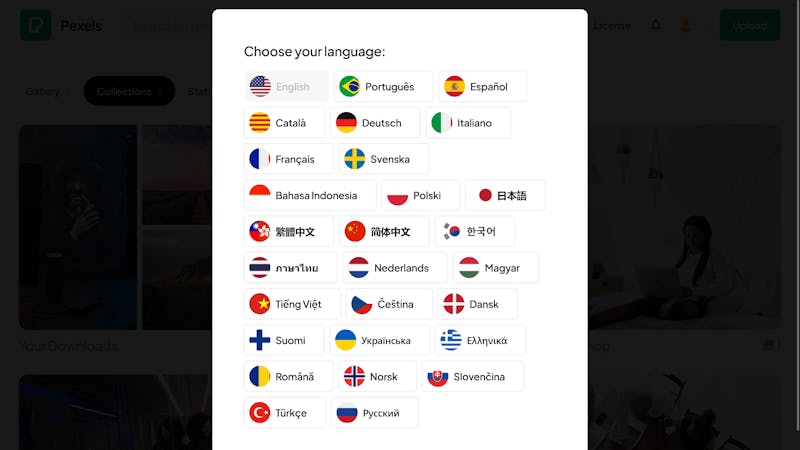 Pexels can be used in 28 languages. Once you have an account, it's possible to save favorites, follow photographers you like, and review your downloads.
Pexels' homepage is clean and streamlined. Should you want to browse, you can click on Explore in the upper right. You'll have six options which include Discover Photos, Popular Searches, to see what others are looking for, and the Pexels Blog, where you can read up on the service and check out helpful articles.
Under Popular Searches, you'll be able to review categories of images grouped into themes and topics. The company emphasizes its support for diversity and alternative content, not least through its partnership with Nappy, which specializes in Black and African stock content.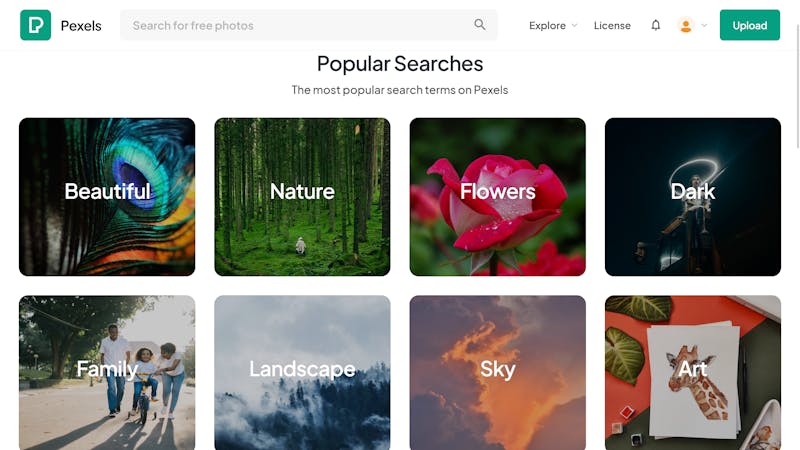 By clicking on Popular Searches you can see what other users are looking for.
Keywords and filters
Pexels offers plenty of images in high quality, however, it isn't always easy to find precisely what you're looking for. This is because the filter options aren't the most comprehensive. You'll only be able to specify the orientation, size, and hex code (or color). Making matters worse, the last option didn't perform particularly well during our assessment.
The inability to sort results according to additional criteria makes searching for the right content difficult. You'll need to invest a considerable amount of time and energy since what you'll be looking through might not even be related to your search query.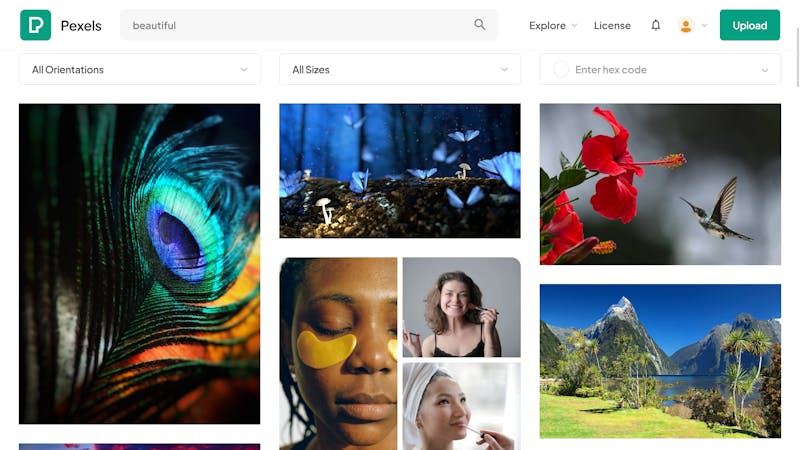 Pexels' filter options are too minimalist. You'll only be able to specify orientation, size, and color.
Downloads and history
Beginning to download content is simple and straight to the point. Just hover over the photo you'd like to download and click on the download arrow icon in the lower right-hand corner. The photo will download, and a pop-up window will open in which you can support the photographer with a donation, follow them on the platform (which requires an account), or go to their Instagram page (if they've linked one). None of these are necessary, however, who doesn't like positive feedback about their work?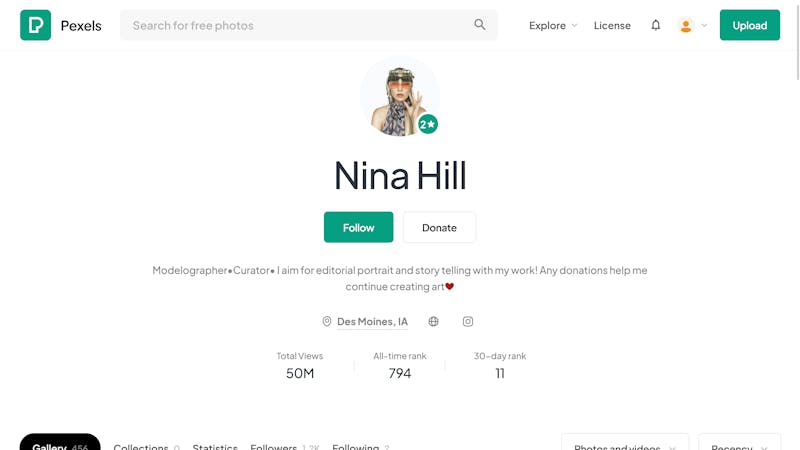 Pexels offers several (voluntary) ways to express your gratitude to the photographer whose work you've just downloaded.
The ability to create user-defined collections where you can gather photos and footage prior to downloading is helpful. These appear in your Overview (after you've created an account), however, you'll need to individually download each item saved, which is somewhat annoying.
Leaderboard and challenges
After a few minutes on Pexels, you'll realize that photographers play a central role on the site and are encouraged to contribute new content. As a result, you'll be able to see the photographers with the best reputations on the Leaderboard. Switching to Challenges, you can join competitions, many of which offer monetary or other prizes to the winners.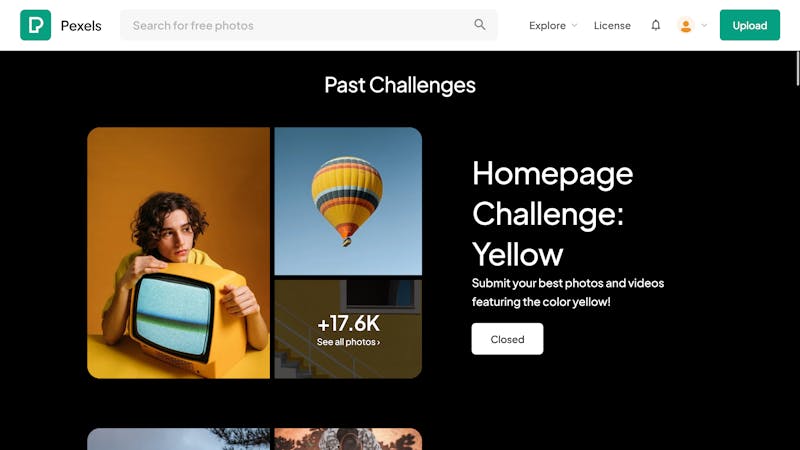 You'll find unique photos with special motifs in the Challenges section of the site.
Sophisticated videos for all sorts of subject matter
In addition to photos, Pexels also provides a nice assortment of high-quality videos. Once again though, you'll need to make do with the platform's rudimentary filter options. You cannot even specify how long a video sequence should be. If you want to know a clip's duration you have to consult its info page by clicking on the video and selecting the option under it.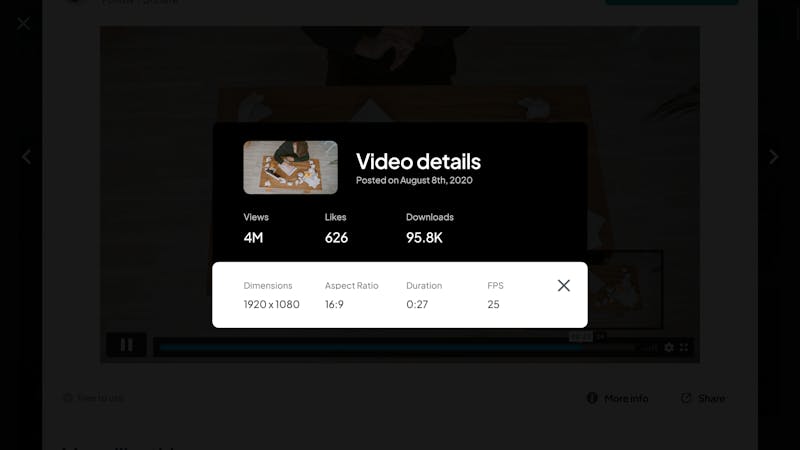 In order to find out how long a video on Pexels is, click on the video and check its information page.
Extras and plugins
Thanks to its app, you can use Pexels and access its database on the go. Beyond that, Pexels offers extensions for different programs, such as Chrome, Google Slides, WordPress, and MS Office. These make it possible to access pictures and videos directly within these programs. Should you want to integrate the media database into your website, you can via its Image and Video API.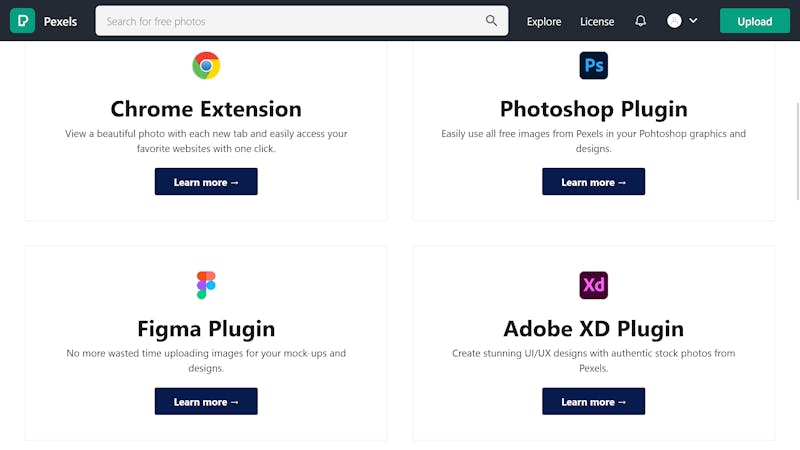 Pexels is compatible with a number of apps thanks to its plugins for platforms like WordPress.
Neat design, poor usability
There's no shortage of photo or footage options on Pexels, and, so long as you have the time to search for and find them, you likely won't be disappointed. The lack of filter and sorting options makes searching difficult, adding unnecessary frustration to the entire process. Should you need content for business or commercial purposes, Pexels might be too risky.
Configuration & Usage
4.6 / 10
2.
Selection of Stock Photos
At first glance Pexels offers plenty of high-quality, artistic photos. For that reason, we wanted to find out how well the platform handled everyday requests using five keywords: Web hosting, ecommerce, antivirus, business, and email marketing.
Web hosting: Our first search turned up 2,200 results. In terms of subject matter, roughly half were relevant to the query, with the remainder being linked in some way to IT or tech.
Since there are no thematic filters, we tried clicking on the system-generated tags to specify results, however, these were somewhat underwhelming. Server provided the most topically precise images. Unfortunately, after a bit of scrolling, images of waitstaff (i.e. food servers) overtook those of server rooms and IT infrastructure.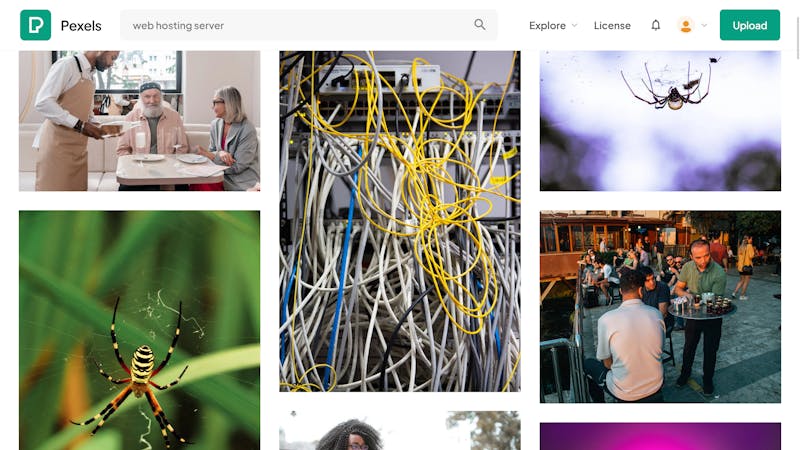 Web hosting yielded slightly more than 2,000 image results. To refine the images, you'll need to click on the system-generated tags, however, even then, we weren't left overly satisfied.
Ecommerce: With this search term, Pexels offered 647 photos, which again, can be further refined using system-generated tags. We found a number of clever and humorous options, however, we still had to browse through several hundred results.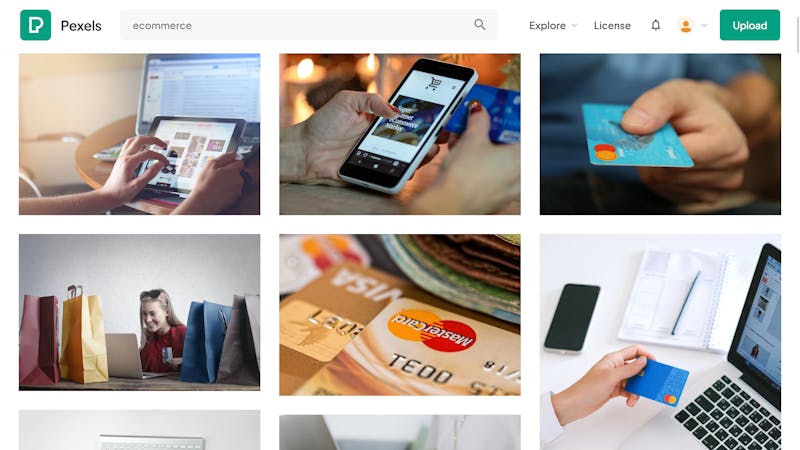 It takes a little while to find the right images when searching for ecommerce subject matter on Pexels.
Antivirus: 53 photos showed up for this, which while manageable, is not impressive. Unfortunately, almost all of the images showed the same hacker in a black hoodie and dark room. We clicked on the system-generated tag, computer virus, and got 30,000 results. Even if it would be possible to sift through so many images, topicality was again an issue with roughly half of the pictures showing people wearing masks or disinfecting their hands.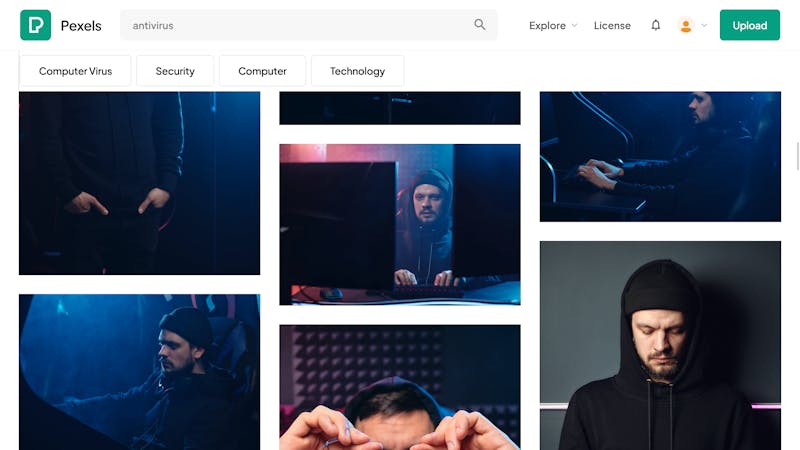 When looking for antivirus photos, we found all sorts of images, only a few of which aligned with what we were after.
Business: Around 100,000 images appeared for this search, with the system-generated tags above relating to the situation or context. Once again, filters would be a big help here.
Email marketing: This phrase seemed to have created quite a bit of difficulty for Pexels. System-generated tags included email, digital marketing, and social media marketing, however, none really matched our preferences. Most of the results seemed to have something to do with email or marketing, but not the two together.
For email marketing Pexels' results did not meet our expectations.
Overall, as we thought, Pexels' lack of filters makes finding the right photos rather challenging. The database serves up lots of high-quality images, however, for something specific, the results and their filters are nowhere near adequate enough.
| Category | Score |
| --- | --- |
| | |
| | |
| | |
| | |
| | |
Stock Photo Selection
4.6 / 10
3.
Selection of Videos, Audio, Vector Graphics & Illustrations
Following our less-than exquisite photo search, we wanted to know how things were with videos on the platform. For business, you'll find some excellent results among the 30,000 or so clips that turned up. Antivirus reveals four videos of the same shady character as in the photos. Email marketing again seems to include results for each term, but not necessarily the two together. As such, there's definitely room for improvement.
As noted in the introduction, audio, vector graphics, and illustrations are not offered by Pexels.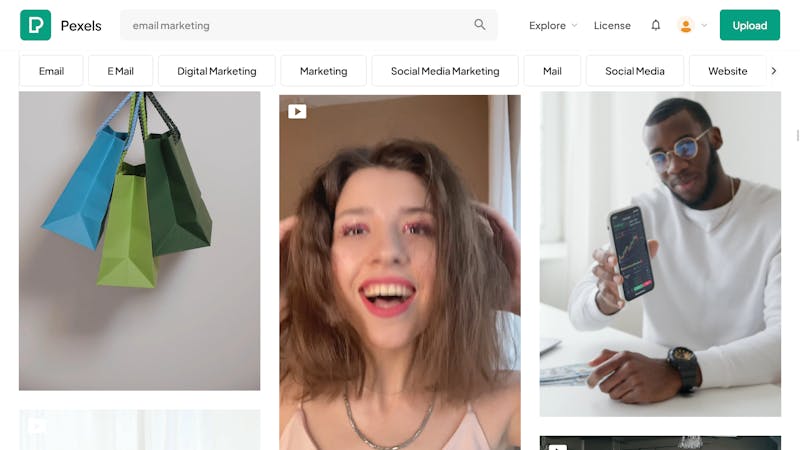 Searching doesn't always yield dividends with Pexels. Email marketing turned up footage of a fish market, which definitely had nothing to do with our query.
| Category | Score |
| --- | --- |
| | |
| | |
| | |
Selection of Videos, Audio, Vector Graphics & Illustrations
2.6 / 10
Pexels offers photos and videos under its own license, which is structured around a CC0 license. This allows photos to be used for all sorts of purposes, with one decisive limitation: Media cannot be sold unless they are modified significantly, even on posters or products, and may not be shared on other stock photo or wallpaper platforms.
In terms of images featuring models, Pexels also makes its conditions clear. Individuals cannot be shown in an offensive manner. Should brands be visible in the image, Pexels recommends exercising extra care.
Indemnification
With Pexels, it pays to read the fine print. This is because the platform does not guarantee that uploaded images don't infringe upon others' rights. This means that Pexels accepts no responsibility for any legal consequences which may arise from using images sourced from its platform. If in doubt, you can always contact the photographer in question and request confirmation that they are indeed its creator.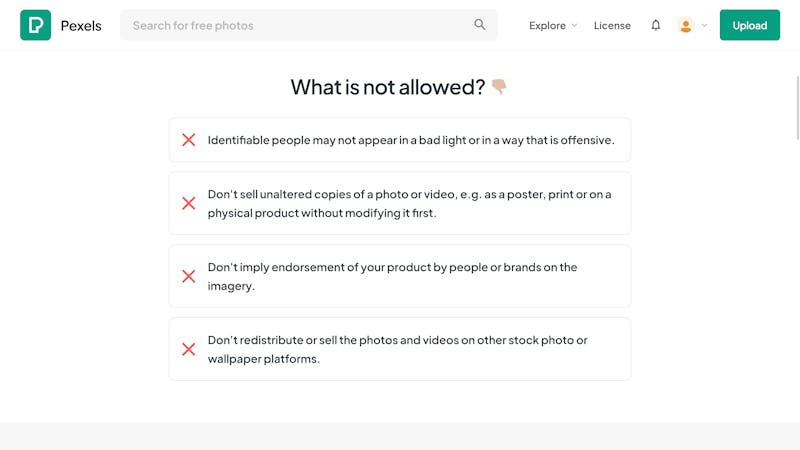 You're not allowed to sell unchanged media you've sourced from Pexels, or offer them on other stock platforms.
Licensing Conditions
6.0 / 10
Support isn't advertised on Pexels, which is rather impolite. You'll need to click on Imprint and Terms where you'll find an email address and link to its contact form.
Even though the contact options are hidden, support is rather fast and competent. We received a satisfactory and professional answer to our query within 24 hours.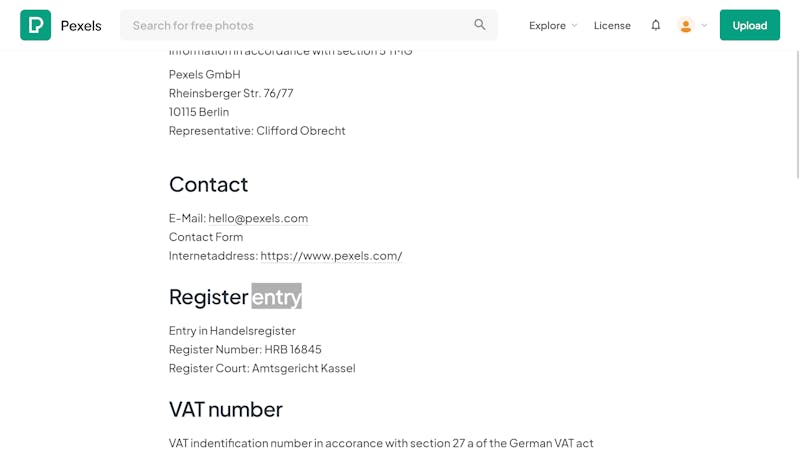 You'll need to take a bit of a detour to find Pexels' support.
Pexels offers its content for free. This is appealing, however, not without problems. As mentioned above, the company accepts no responsibility should the media you've downloaded be copyrighted. This means that you'll need to shoulder any costs arising from legal issues. Before using content from a free database, it's important to keep this in mind.
Free
Billing
Free
One-Time Fee
$0.00
Price per Month
$0.00
Contract Period (Months)
0
Included Content
Photos / Month
unlimited
Videos / Month
unlimited
Licence For

Online & Print

Social Media

Marketing & Ads
The table below shows the annual costs you can expect for 10 stock photos per month in comparison to the other providers from our sample.
1.
2.
3.
4.
Depositphotos
Subscription 30
5.
Dreamstime
Subscription 15
6.
Shutterstock
Subscription 10
7.
iStock
Basic Subscription 10
8.
9.
10.
Storyblocks
Unlimited All Access
11.
Pond5
Footage Plus Subscription
12.
13.
Getty Images
10 Pack Small
Conclusion
Licensing Conditions
6.0 / 10
Configuration & Usage
4.6 / 10
Stock Photo Selection
4.6 / 10
Selection of Videos, Audio, Vector Graphics & Illustrations
2.6 / 10
Pexels offers plenty of high-quality photos and videos, however, it suffers from poor usability, largely owing to its lack of filter options and inaccurate search results. For those with a good amount of time on their hands for media research or a desire to support artists directly, the platform is ideal. Those looking for photos to feature on a blog or in a post won't wind up empty-handed. To make Pexels more useful for business or professional contexts, its developers need to significantly enhance its search capabilities and filters.
And another thing to keep in mind with Pexels: Free can quickly become expensive. Since the provider doesn't guarantee that the rights to media it hosts are actually owned by the photographers offering them, the end-user (you) are responsible in the event of any copyright breaches or infringement.
Pexels offers good photos and videos at no cost. However, since they don't provide indemnification, you could get more than you bargained for if a copyright dispute arises. A lack of useful filters means that search results are inaccurate.
Photos / Month
Videos / Month
Licence For
Billing
Pexels Free
$0.00
monthly price
Visit Website*
Customer Ratings
Users take different views of Pexels, ranging from commendation to disappointment. To summarize these, we collated results from a number of online review services below:
Customer Ratings
105,899 Bewertungen
Visit Website*
We analyzed the reviews and ratings from various portals and found 105,899 ratings with an overall rating of 4.7 out of 5 .
Alternatives
For those who want to use free content and are unsatisfied with the selection of media on offer from Pexels, Pixabay might be worth considering. Along with photos, this provider also offers videos, audio files, and illustrations, as well as improved filter options.
However, it can benefit you from a legal standpoint, even if you're operating on a limited budget, to use a premium provider, such as Dreamstime. Even though its appearance is somewhat dated, you'll find plenty of useful subject matter at very reasonable prices.
Depositphotos won our review thanks to its intuitive platform, huge media archive, simple licensing model, and fast support, all at a fair price. If you're searching for high-quality stock content, you won't be disappointed.
Photos / Month
Videos / Month
Licence For
Billing
Depositphotos Subscription 30
$24.92
monthly price
Visit Website*
iStock offers high-quality media material, efficient filter options, and transparent licensing conditions. Rounding out its solid package are fast support and copyright indemnification.
Photos / Month
Videos / Month
Licence For
Billing
iStock Credit Pack 1
$12.00
monthly price
Visit Website*
Getty Images, our test's third-placed platform, is the Rolls Royce of stock photo databases. Just keep in mind that exclusive images, incredible content, high-quality search tools, and an intuitive user experience don't come cheap.
Photos / Month
Videos / Month
Licence For
Billing
Getty Images Single Small
$175.00
monthly price
Visit Website*
Shutterstock serves up a huge selection of media and tools along with excellent support. For pros by pros. The platform is particularly well-suited for editorial teams and agencies with sizable budgets.
Photos / Month
Videos / Month
Licence For
Billing
Shutterstock Subscription 10
$29.00
monthly price
Visit Website*
Get 10 free images
For high-quality film and video material, Pond5 is the right choice. It's easy to use and offers helpful tools. Unfortunately, the lack of search filters makes finding what you need tough, while its pricing structure could be clearer.
large selection of videos & music
affordable and free content
8.9

good
Photos / Month
Videos / Month
Licence For
Billing
Pond5 Footage Plus Subscription
$83.25
monthly price
Visit Website*
* Ad disclaimer:
For links marked with an asterisk, EXPERTE.com may earn a commission from the provider. The commission has no influence on our editorial rating.

Julia P. Manzau has more than 30 years of professional experience in leading editorial and marketing positions in the premium automotive, mechanical engineering, and healthcare industries. She studied Political Science and History in Bonn, Marketing at the St. Galler Business School and earned a BA in Media Engineering (CCI). Since 2015, she has worked as a freelance writer. For EXPERTE.com, she focuses on software, the Internet, and marketing.
Continue Reading
Other languages
Deutsch