Best Royalty-Free Images 2023: 13 Providers Reviewed

Ad disclaimer:
For links on this page, EXPERTE.com may earn a commission from the provider. This supports our work and has no influence on our editorial rating.
Images are a must for any kind of website. This is because even the most well-written text can be made more effective and appealing by the inclusion of a few visual flourishes. However, what should you do if you don't have your own collection of such media or a budget for sourcing it?
For many, royalty-free images are the answer, and in this guide, we'll introduce you to the best from our comprehensive EXPERTE.com reviews of 13 leading databases.
"Royalty-free" should not be confused with "free". Instead, with royalty-free content, the end-user typically pays a one-time fee for the right to use the media for commercial and non-commercial purposes, generally without time constraints.
The opposite of royalty-free content is that which is rights-managed. Such photos, for example, are generally more expensive than their royalty-free counterparts. Their exact price depends on factors such as how long they will be used, what they will be used for, to what extent, as well as the size and/or resolution of the image.
The third variant is free stock content. Apart from photos, providers specializing in this type of media also often include animations, music, and videos in their databases. All the same, it's important to remember that these platforms rarely offer any indemnification. For example, if a photographer uploaded a picture that he didn't own the rights to, those downloading and using that image could be fined or legally reprimanded.
This isn't the case with premium databases that offer free stock photos alongside their paid content. We thoroughly evaluated the quality of free providers in our guide to free stock photos.
Review: 13 Royalty-Free Image Providers
Depositphotos won our review thanks to its intuitive platform, huge media archive, simple licensing model, and fast support, all at a fair price. If you're searching for high-quality stock content, you won't be disappointed.
Photos / Month
Videos / Month
Licence For
Billing
Depositphotos Subscription 30
$24.92
monthly price
Visit Website*
Depositphotos claimed a leading place on our winner's podium, impressing us with its sizable portfolio, fast support, straightforward licensing model, and good price-performance ratio. Our sole complaint? Its sales and discounts are only for corporate customers.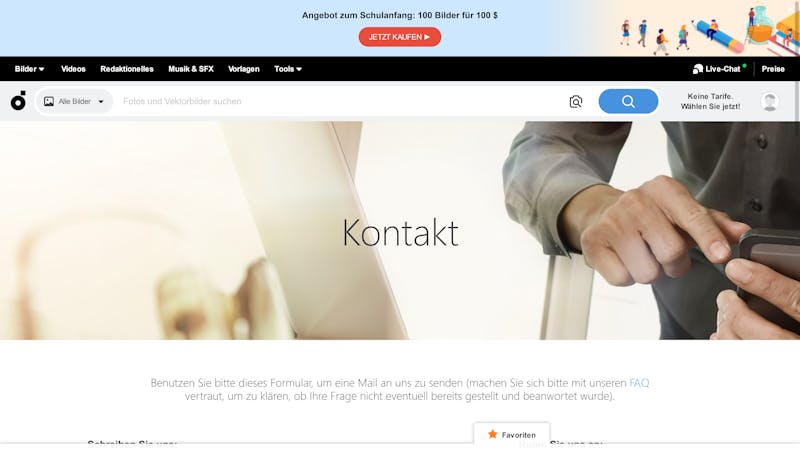 Depositphotos is always there for its users.
Should you be able to make do without a discount, you'll find Depositphotos to be quite the source for royalty-free stock photos. This is thanks to its intuitive website, comprehensive filter options, and impressively accurate search results. Anyone on a budget can look forward to a wide selection of free stock photos. In the event that you're after music or sound effects, you might want to also consider its affordable audio subscription.
The platform also offers those starting out with graphics the ability to create layouts using its online template service, Crello. All of this variety and quality struck a chord with us, making it easy to award Depositphotos 1st place in our EXPERTE.com review of stock photo platforms.
Good price-performance ratio as well as nice selection of free media

Intuitive to use; solid support
Pricing could be more transparent

Only corporate customers can take advantage of sales
Selection of Videos, Audio, Vector Graphics & Illustrations
9.4 / 10
Configuration & Usage
9.4 / 10
Licensing Conditions
9.4 / 10
Stock Photo Selection
8.6 / 10
iStock offers high-quality media material, efficient filter options, and transparent licensing conditions. Rounding out its solid package are fast support and copyright indemnification.
Photos / Month
Videos / Month
Licence For
Billing
iStock Credit Pack 1
$12.00
monthly price
Visit Website*
Hot on the heels of Depositphotos is iStock, which is owned by Getty Images and is reviewed below. On iStock, you'll find high-quality stock media content, easy-to-use and extensive filter options, as well as straightforward license conditions. Rounding out the package are competent and fast support, as well as indemnification.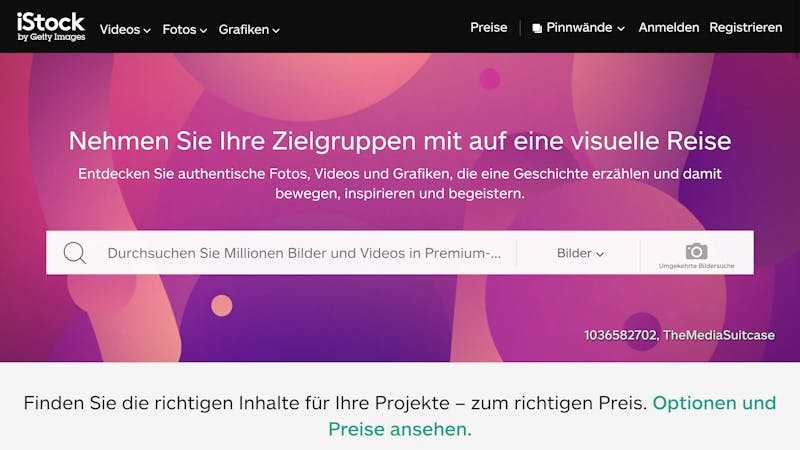 iStock greets users in a well-structured and professional fashion.
While iStock is far from a bargain, it does offer quite a bit. In addition to high-quality photos and good filters, it can boast a practical media management system. The only reasons it didn't usurp Depositphotos were its high price and lack of audio.
Intuitive to navigate; straightforward licensing conditions
Configuration & Usage
10 / 10
Licensing Conditions
10 / 10
Stock Photo Selection
9.4 / 10
Selection of Videos, Audio, Vector Graphics & Illustrations
6.6 / 10
Getty Images, our test's third-placed platform, is the Rolls Royce of stock photo databases. Just keep in mind that exclusive images, incredible content, high-quality search tools, and an intuitive user experience don't come cheap.
Photos / Month
Videos / Month
Licence For
Billing
Getty Images Single Small
$175.00
monthly price
Visit Website*
Bronze goes to iStock's parent company, Getty Images, one of the world's largest photo agencies. Although in a higher price bracket than most of its competitors, the difference in quality is noticeable. The filter options are extraordinarily good and its site is incredibly intuitive, to say nothing of its transparent licenses and comprehensive service. Getty Images is geared towards professionals and it shows.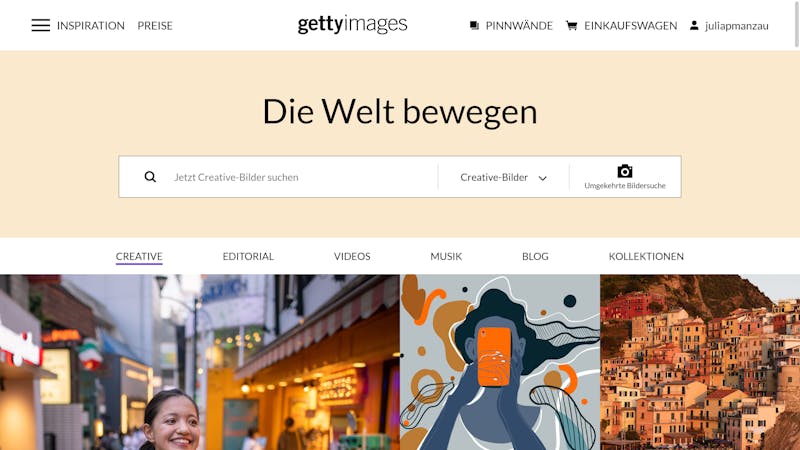 High-priced, but professional: Across the board, Getty Images is all about quality.
And you'll pay for all of that quality. As a result, the provider is more of an option for medium-sized businesses and agencies. Compounding this, you'll need to pay extra for audio. Accordingly, partnering with Getty Images is really only for those with access to bigger budgets.
Fantastic filter options and service
Audio not included in the standard package
Configuration & Usage
10 / 10
Licensing Conditions
9.4 / 10
Stock Photo Selection
9.4 / 10
Selection of Videos, Audio, Vector Graphics & Illustrations
6.6 / 10
Shutterstock serves up a huge selection of media and tools along with excellent support. For pros by pros. The platform is particularly well-suited for editorial teams and agencies with sizable budgets.
Photos / Month
Videos / Month
Licence For
Billing
Shutterstock Subscription 10
$29.00
monthly price
Visit Website*
Get 10 free images
Shutterstock is another provider of royalty-free images and is among the branch's market leaders. Its fourth-placed finish in our review can be attributed to its opaque pricing and the limited validity of its packages. This should not detract from its comprehensive catalog of media or its professional and competent support, though.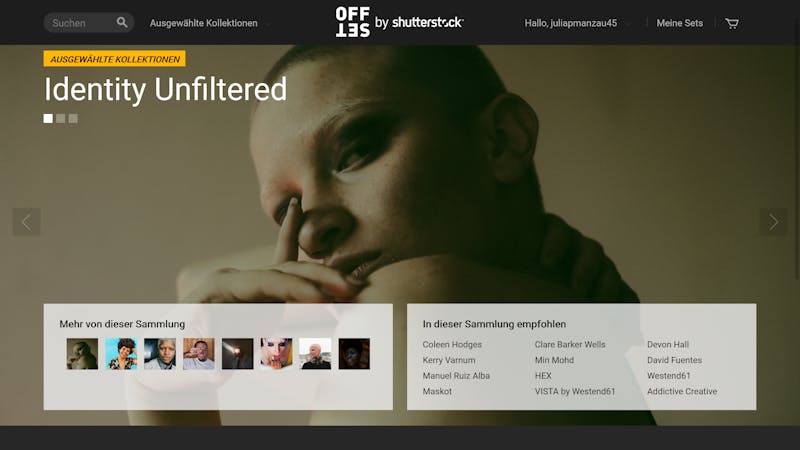 Shutterstock sets a high bar in terms of quality, but its pricing could be more transparent. Additionally, users need to be aware of the limited validity of the packages they purchase.
Supposing that you can handle the service's disadvantages, Shutterstock makes available a wonderful variety of royalty-free images. The contents of its comprehensive media archive are ideal for all sorts of purposes.
Extensive variety of media on offer
Packages only valid for a year
Selection of Videos, Audio, Vector Graphics & Illustrations
9.4 / 10
Licensing Conditions
9.4 / 10
Configuration & Usage
8.6 / 10
Stock Photo Selection
8.0 / 10
For high-quality film and video material, Pond5 is the right choice. It's easy to use and offers helpful tools. Unfortunately, the lack of search filters makes finding what you need tough, while its pricing structure could be clearer.
large selection of videos & music
affordable and free content
8.9

good
Photos / Month
Videos / Month
Licence For
Billing
Pond5 Footage Plus Subscription
$83.25
monthly price
Visit Website*
Pond5 was originally launched as a platform for moving pictures, and videos remain the New York-based platform's wheelhouse to this day. Ultimately, the quality and variety of these propelled it forward in our rankings, as did its price-performance ratio. Unfortunately, Pond5's lack of filter options for photos cost it some points. Bargain hunters will be able to sort through free media, however, without the benefit of filters for color, gender, or ethnicity. In terms of pricing, there were also a few issues, specifically relating to the service's lack of uniformity, since creators set their own prices.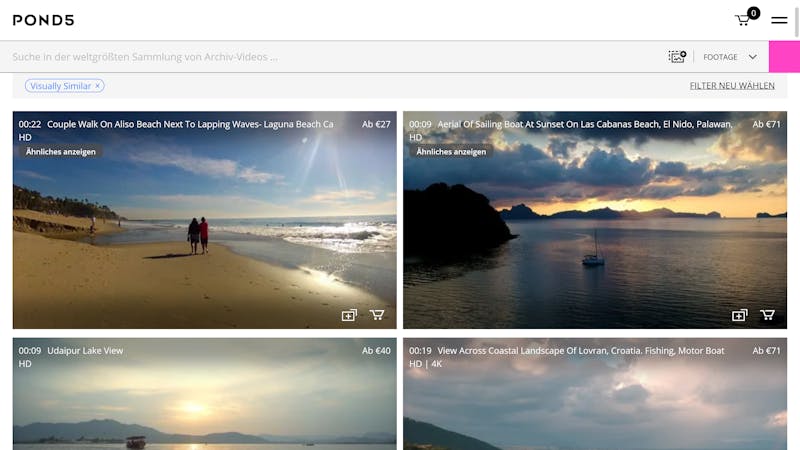 On Pond5, you can search for videos similar to those that you already have. This is a truly unique feature of the provider.
The platform doesn't do as well in terms of royalty-free images as many of its competitors, however, its video and audio sections are full of premium material available under excellent conditions.
Wide selection of media; affordable

Fast support; easy to use
Selection of Videos, Audio, Vector Graphics & Illustrations
10 / 10
Licensing Conditions
9.4 / 10
Configuration & Usage
8.6 / 10
Stock Photo Selection
6.6 / 10
Overall Result
Nowadays, you don't need your own media archive unless you're looking for very special shots or highly unique subject matter. For everyday usage, plenty of providers offer royalty-free images that can align perfectly with nearly any budget.
Those services that only offer free media wound up near the bottom half of our ranking for several reasons. They, variously, were difficult to use, lacked filter options, or displayed noticeably dated content. More worrying, however, was that none of them offered any sort of indemnification to users who utilize the content they host. This raises the risk that the end-user (you) can be fined and/or have to face legal consequences for infringing (unconsciously) upon someone else's copyright.
Accordingly, EXPERTE.com recommends using premium providers, even for royalty-free images and content. In addition to fairly-priced options, you can also check out our top free services.
How We Evaluated
To assess all 13 services from our sample, we registered an account with each, testing the provider in five categories. Each category was scored (from 1 to 5, with 1 being the lowest and 5 the highest). Based on these, we compiled a cumulative score for each database. Below, we'll provide a brief summary of our scoring criteria.
Configuration & Usage
Is it easy to open an account with the provider? Can you register via email or a social media login? We asked ourselves these questions when taking our first look at each stock photo database. Happily, all of the providers from our sample gave positive answers to our opening questions. With free services like Pixabay, Pexels, and Unsplash you won't even need an account in order to download media. However, don't expect to be able to create a collection or leave ratings, since this isn't possible as a guest user.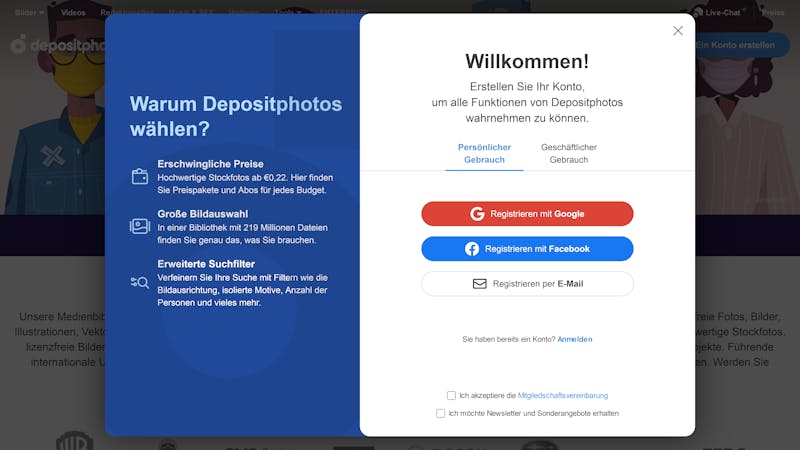 Creating an account with all of the services from our EXPERTE.com sample was quick and easy.
We placed a great deal of value on how easy and intuitive a platform was to use and navigate. The better structured its homepage and search, the higher our score. For those needing different kinds of material, shareable, temporary, digital storage (such as a lightbox) is a must. Even better is when such content can be shared with those who don't have accounts of their own.
More points could be accrued when searches and filter options were accurate and effective. In these areas, free databases in particular showed their shortcomings.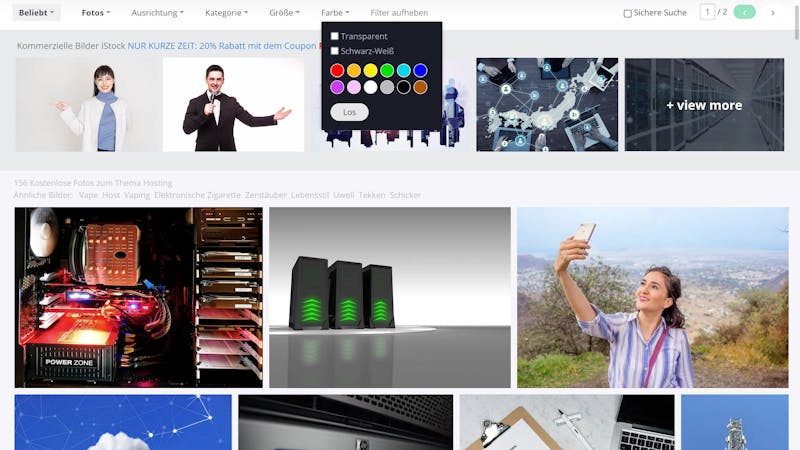 Points were awarded for accurate search results and comprehensive filter options. Free providers performed poorly in these areas.
The best scores were awarded to those providers that made it easy to get started, provided useful filters, and returned accurate search results.
Stock Photo Selection
Whether or not a website is easy to use can be a matter of personal preference or taste. The same cannot be said of how relevant or accurate search results are. To assess this, we searched for five keywords and phrases: Web hosting, ecommerce, antivirus, business, and email marketing.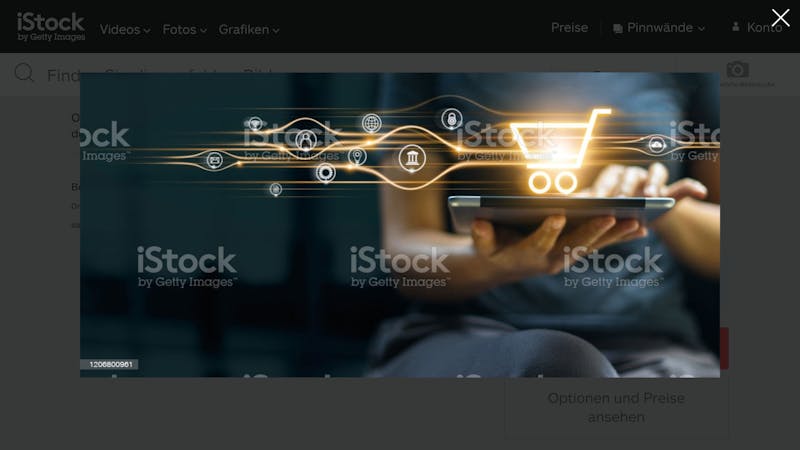 Creative and unusual, albeit relevant search results were grounds for awarding extra points.
We also took into consideration how well a database's search engine understood our requests, whether the filter options were effective for narrowing down results, the relevance of the images it displayed, and ultimately, their quality. Extra points were awarded for topically relevant but creative search results since this showed that they tried to break from the mold and offer users something unique.
Selection of Videos, Audio, Vector Graphics & Animations
The same rules were applied here as in the previous photo category, namely, how accurate the search results were, their quality, and whether the filters made sifting through hits easier. Offering a comprehensive, creative, varied, and high-quality selection of media was a quick way to our hearts. Those providers lacking a category typically scored lower than those which offered all types of stock content.
Licensing Conditions
What is allowed? What's prohibited? The easier it was to get definitive answers to these questions, the higher the score we could award. Only when users know what they can and cannot do with images sourced from stock photo platforms, can they be used in a legally sound and effective manner. And we're not just nitpicking, since legal consequences for copyright infringement, even unintentionally, can be costly, uncomfortable, and stressful.
As a result, we looked very closely during our EXPERTE.com reviews at the exact licensing conditions for each provider featured in our sample and reported our findings.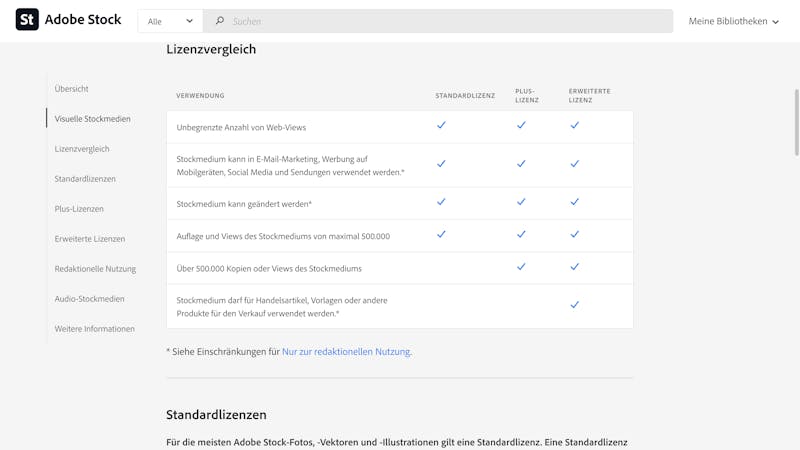 The easier and clearer a stock photo's licensing was to understand, the better they scored in our review.
Parallel to this, we also examined each platform's policy regarding indemnification. Free services dropped points here since they generally refuse to accept any legal responsibility for what users do with images sourced from their databases and the consequences that may arise from doing so.
Support
We measured support in two ways: First, in terms of how well-structured a provider's support area was and the ease with which live support could be contacted. The second aspect pertained to how quickly and competently our queries were answered.
In the first two areas, some providers didn't make a great impression, however, they often compensated for this thanks to their attentive and professional support staffers. Many of the services from our sample earned perfect scores in this category.
What Does "Royalty-Free" Mean?
Regardless of whether you're after images, animations, illustrations, videos, sound effects, or music, the Internet is teeming with services offering access to all sorts of stock media. In terms of price, these run the gamut from free to expensive. As the old adage goes, you get what you pay for, and this is true with stock media in the 21st century. Specifically, each stock media platform we reviewed varies not only in its user-friendliness and licenses, but also in the quality of its media, and search result accuracy.
Turning to the legal aspects of using free stock photos, differences between providers are significant. Free databases generally refrain from offering any sort of indemnification (legal protection) in the event a copyright or trademark dispute arises. This contrasts with the subscription-based or premium services that we assessed, which will back you up should any lawyers come calling. In our EXPERTE.com assessment, we evaluated 13 stock photo providers from top to bottom.
Conclusion
Gone are the days when a big budget and/or comprehensive media archive were necessary to have a wide selection of images for everyday usage. Numerous providers offer royalty-free images, videos, and audio files, either for free or at relatively fair rates. As tempting as "free" images are videos are, we advise sourcing these from premium platforms, for the simple reason that you won't have to face any unexpected (expensive) legal consequences on your own.
For those unable to make any sort of financial investment in visual material, it's useful to note that most premium services offer free material that won't land you in legal hot water. Pursuant to this, we learned over the course of our evaluation that quality isn't necessarily linked to a platform's price tag, with several affordable services offering quite a bit of bang for your buck.
FAQs
What does royalty-free mean?
⊖
Royalty-free means that you pay a one-time fee for the (usually) unlimited rights to use an image for commercial and non-commercial purposes. Most of the time, you'll need to provide attribution of the creator and database the image was sourced from. Depending on the service, royalty-free images can have certain terms of usage such as the number of print runs. For this reason, it's important to pay close attention to each image's licensing conditions.
Are royalty-free photos always free?
⊖
No. Royalty-free images aren't automatically free. Royalty-free means that you purchase a one-time license without needing to pay royalties for continued or repeated use. Similarly, what you can and cannot do with such an image, even after purchasing a license, is detailed in the license's conditions. We've compiled a list of the best databases for free stock photos.
What can I use royalty-free images for?
⊖
Broadly speaking, royalty-free images don't come with any limitations and can be used for both commercial and private purposes. With that said, we advise studying the provider's conditions, as well as those of the creator. Providing attribution of the photographer/author, as well as the database which the image was sourced from is standard practice.
Where can I find free, royalty-free images?
⊖
Plenty of online platforms offer royalty-free photos. In response, a number of premium services have begun to include free media of all kinds in their own databases. The advantage of the latter is that such content is usually legally safe to use. Free image providers, on the other hand, do not offer any sort of indemnification (legal protection) in the event that something you download from them is actually copyrighted.
* Ad disclaimer:
For links marked with an asterisk, EXPERTE.com may earn a commission from the provider. The commission has no influence on our editorial rating.

Julia P. Manzau has more than 30 years of professional experience in leading editorial and marketing positions in the premium automotive, mechanical engineering, and healthcare industries. She studied Political Science and History in Bonn, Marketing at the St. Galler Business School and earned a BA in Media Engineering (CCI). Since 2015, she has worked as a freelance writer. For EXPERTE.com, she focuses on software, the Internet, and marketing.
Continue Reading
Other languages
Deutsch