Dreamstime Review 2023: High Quality Stock Photos And Videos?

Nowadays, marketing without professional-grade photo and video material is almost unthinkable. However, not everyone has access to a personal database of high-quality media.
If this sounds like you, don't worry, since the Web is absolutely teeming with stock photo providers that offer both free and paid media for download. The main advantage of premium services is that they generally provide indemnification as part of their media licenses. In this article, we'll take a closer look at one such database, Dreamstime.

What Is Dreamstime?
Dreamstime ⇱ began in 2000 with the goal of marketing royalty-free images. Just four years later, the database developed into a microstock agency, offering stock photos sourced primarily online, at very affordable rates. Dreamstime's success in this venture saw it quickly become one of the market's key players. The company takes a cut of all media artists sell through its platform.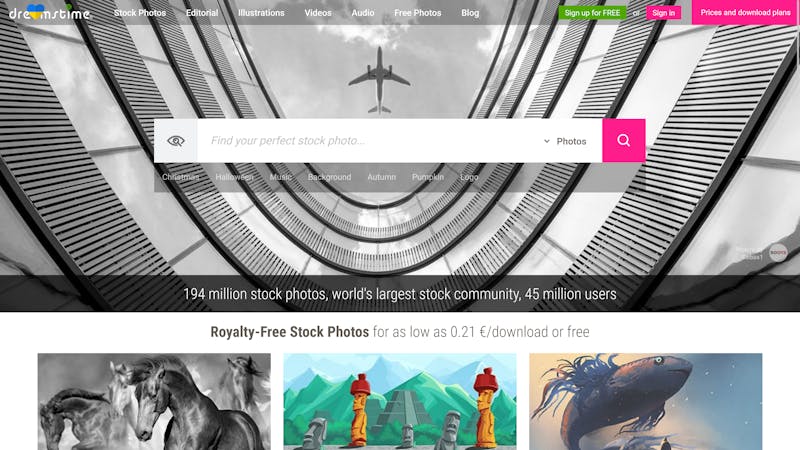 Based in Tennessee, Dreamstime offers access to more than 160 million media files.
From its headquarters in Brentwood, Tennessee, Dreamstime has a userbase of around 37 million people, making it one of the largest stock communities worldwide. Its co-founder and owner, Serban Enache, is still CEO, and its database offers access to around 160 million files.
Review
Stock Photo Selection
8.0 / 10
Selection of Videos, Audio, Vector Graphics & Illustrations
7.4 / 10
Configuration & Usage
6.6 / 10
Licensing Conditions
4.0 / 10
Complicated licensing conditions

Old-fashioned lightbox design
It's possible to browse through Dreamstime's offerings even if you don't have an account. However, if you'd like to make a purchase, you'll need to sign in. This is easy enough, only requiring an email account. Once you've created your account, you'll be offered credit packages and subscriptions. It's a bit annoying that there's no way to exit this page without making a purchase. We had to input Dreamstime's URL into our address bar and load the homepage again to start browsing.
There, you'll see the search bar, which includes the ability to perform a reverse search for similar images and worked well during our assessment. The rest of the homepage is neatly organized, making it possible for users to maintain their focus on finding the images or content they're after. You'll also come across a few suggestions from the editorial team, as well as teasers for curated collections.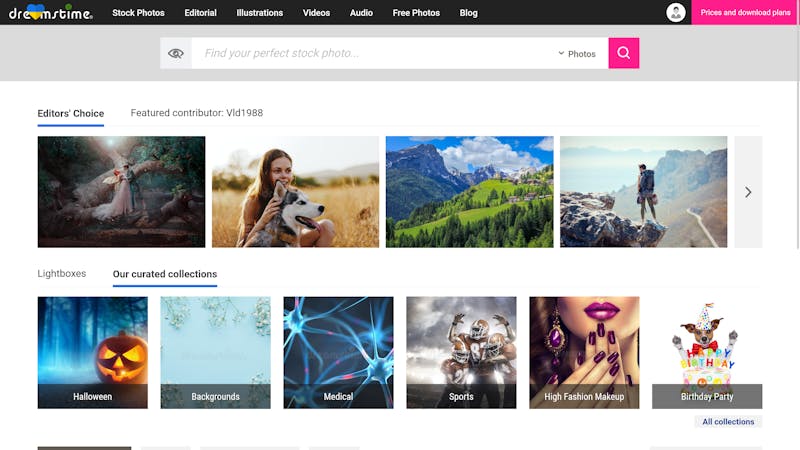 Dreamstime's homepage is neatly organized with few bells and whistles, allowing users to fully concentrate on their search.
Affordable to free
Dreamstime's header menu starts with stock photos, of which the service claims to offer 191 million. Those on a budget will be happy to hear that licenses for high-quality images can cost as little as a few cents. And that's without mentioning the selection of free photos, the quality of which might not be up to snuff for publication. In order to download these, you'll need to fully complete your profile.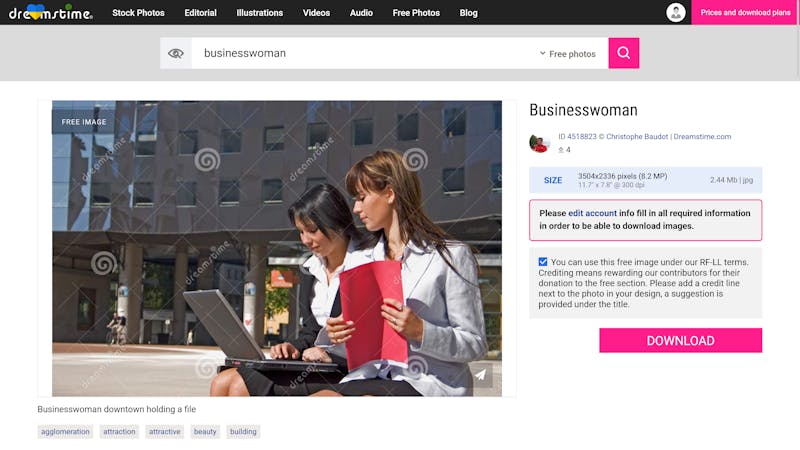 Dreamstime's free photos are rarely of sufficient quality for publication. To use them, you'll need to complete your profile.
Wide selection, plenty of filters
Among the platform's paid offerings including both collections and individual photos, quality is not in short supply, especially when it comes to creativity and subject matter. To gain an overview of what's available, the provider makes a number of filters available, all of which are accessible via main categories in a taskbar.
Alongside classic criteria such as image resolution and orientation (under the "Media Properties" heading), you'll be able to specify your desired primary and secondary colors in percent. Other options include sorting based on license type and/or price, as well as the number of people depicted in an image, their gender, ethnicity, and age.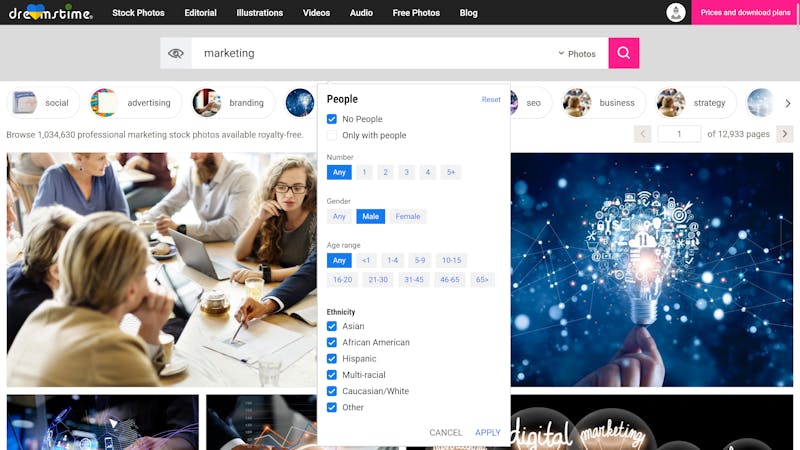 Dreamstime's filters help you quickly and easily find what you're looking for.
This makes searching for the right picture convenient and stress-free (however, take note that royalty-free does not mean that an image is free to use). Results can be further sorted by relevance, popularity (best selling), and age (latest uploads).
Cumbersome lightboxes
Dreamstime's lightbox feature has seen better days. While it's possible to create, manage, and share different lightboxes, the design is stale and their user interface is not the most innovative we've encountered. When using these, the platform saves images from your last search query under the appropriately named tab.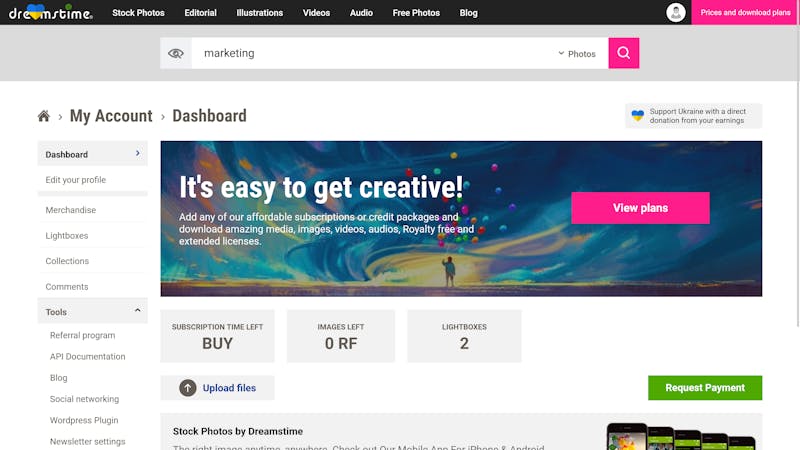 The way that Dreamstime's lightboxes are presented and shared is a bit old-fashioned.
Editorial content and illustrations
You'll also find a nice variety of images on Dreamstime relating to current events, which are exclusively for editorial purposes. This contrasts with the situation surrounding illustrations, which are sorted topically and feature drawings, graphics, and even magazine templates.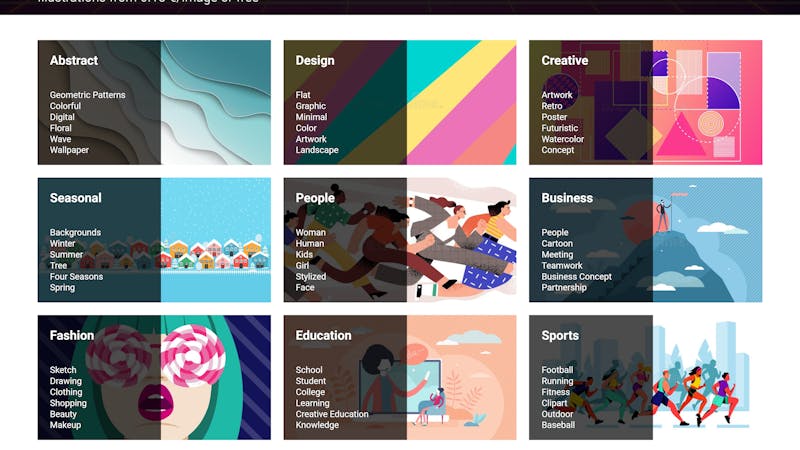 Illustrations are sorted topically.
Wide selection of videos
Dreamstime's video selection is certainly not to be trifled with, with plenty of creative options, as well as content for everyday situations just waiting to be used. One drawback is that when searching through video content, the filter options are identical to those for photos, meaning that you won't be able to specify length or usage purpose (i.e. as a loop).
Music and sound effects
What was annoying with videos seems outright unprofessional when it comes to audio. Even though Dreamstime offers a decent selection of content, the filters are, once again, identical to those for photos. This means that you can sift through audio files on the basis of the number of people or their age, which seems rather ridiculous. Another downside is that it isn't possible to distinguish music from sound effects.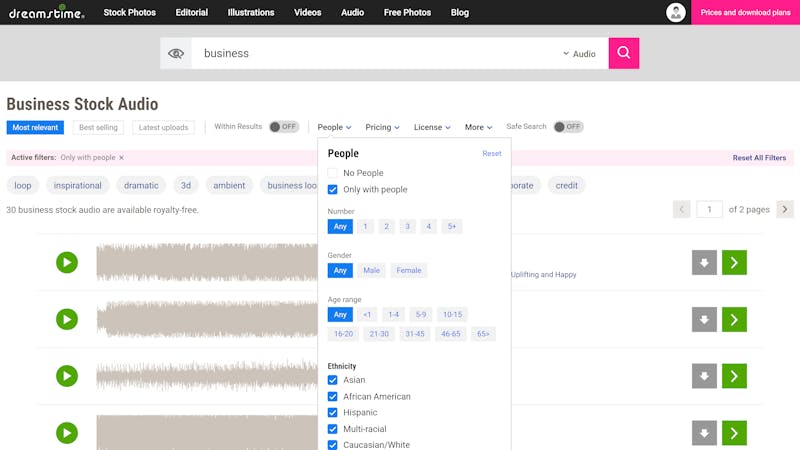 Music and sound effects are organized into their own category on Dreamstime, however, they lack relevant filters.
Tools & blog
By clicking on the arrow next to your profile, an overview appears detailing which files you've already purchased and how much of your budget remains. In the account area's dashboard, you'll find additional tools such as the platform's referral program, API documentation, plugins, and a blog. Alternatively, you can access most of these without an account by scrolling to the bottom of Dreamstime's homepage.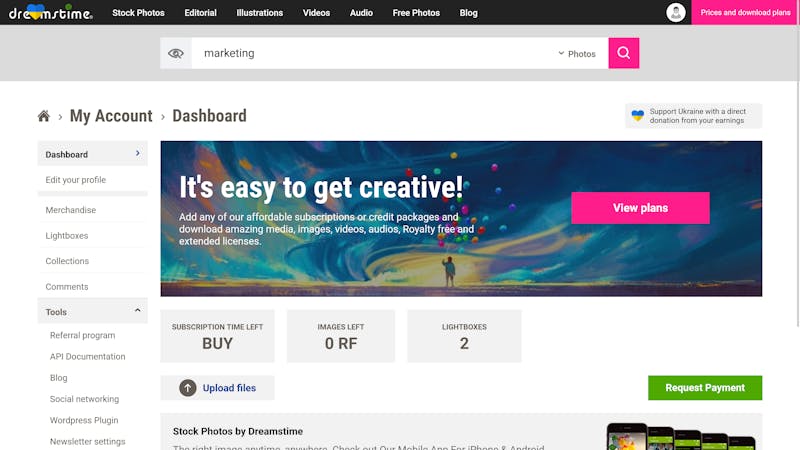 Tools such as Dreamstime's API documentation are accessible via the user dashboard.
Travel around the world with the Photo Map
You'll also find a link in Dreamstime's footer menu to its Photo Map, which might be worth exploring for those operating travel blogs or tourist agencies. With this, you can search for pictures by inputting a specific place name, such as Paris or Tokyo.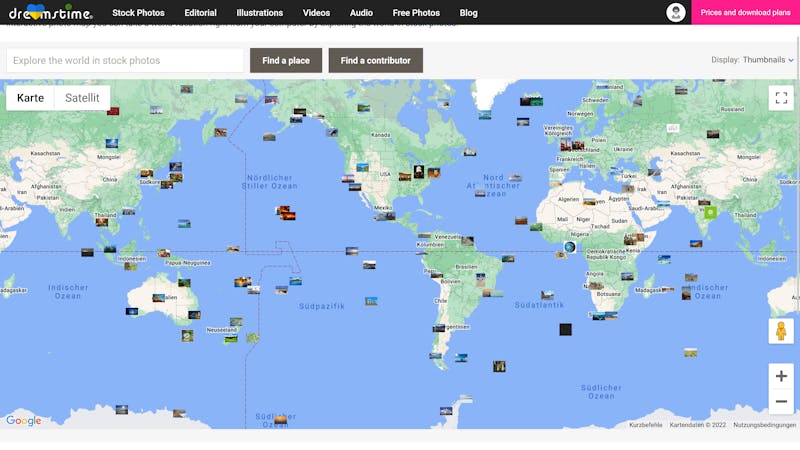 In Dreamstime's interactive world map, you can find pictures from all over the globe.
Average selection, stale design
At first glance, Dreamstime looks very similar to other stock photo providers, however, upon further inspection, you start to notice a few of its shortcomings. The entire site is slightly awkward to use, while its lightbox feature needs to be brought into the 2020s. Even though its filters are good for sorting through photos, their 1:1 application to video and audio content doesn't make much sense at all, and worse, reveals that the platform isn't interested in making things easier for users. Of course, you can get images, videos, and audio at great prices, but our overall impression was not fantastic.
Score: 3.3 / 5
3.
Selection of Stock Photos
Overall, Dreamstime has already revealed a few weaknesses, however, we wanted to see how its database performed for everyday search queries. Accordingly, we searched for images using the following keywords and phrases: web hosting, ecommerce, antivirus, business, and email marketing.
Web hosting: Our first search yielded 9,883 stock photos, which might sound impressive, however many of the results on the first page featured a computer (or keyboard) with "web hosting" interlaced over or within the graphic. Only a few images were without text, and these typically included server infrastructure of some kind. The last page of results consisted entirely of stock images advertising Google Cloud Platform, Dropbox, Firefox, and AWS.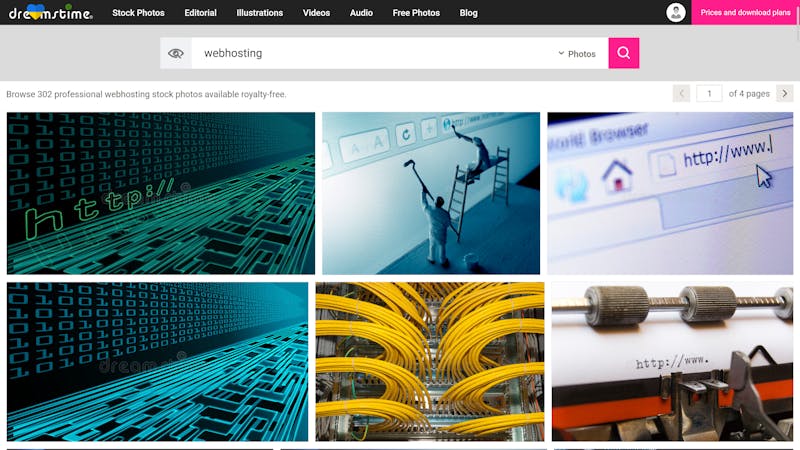 Dreamstime provides almost 10,000 results when searching for web hosting, most of which have something to do with the Internet.
Ecommerce: With more than 180,000 results, users searching for this term will need to make use of the platform's filters. The images returned are relevant, with plenty of creative takes mixed in, and very few relying on text + graphic, which is refreshing. Rounding things out, there are plenty of high-quality options to choose from, especially for everyday usage.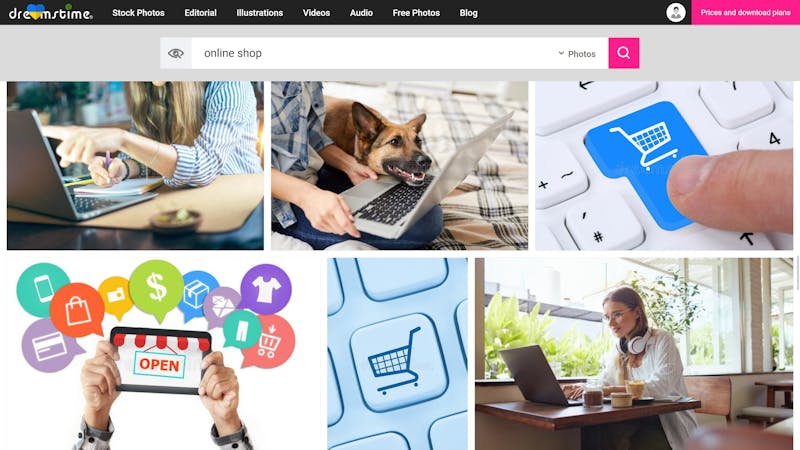 When searching for ecommerce, Dreamstime returned quite a few unique options.
Antivirus: With this term, you'll get just under 35,000 photos from Dreamstime. Luckily, most of these pertain to IT, however, there are a few images related to medical care.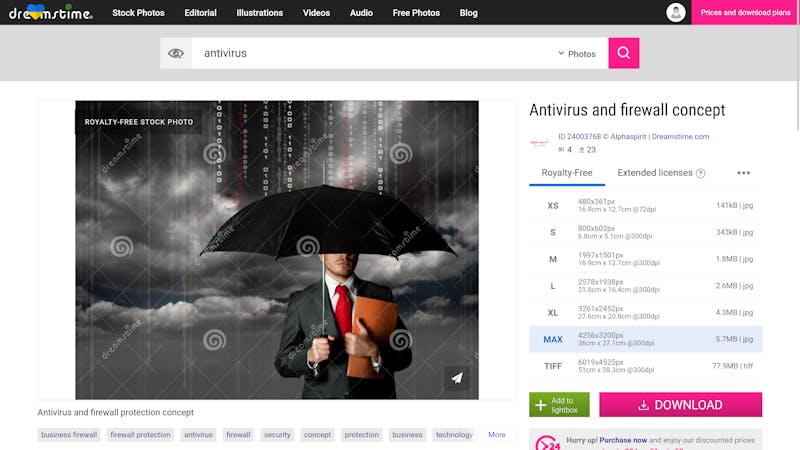 Our search for images related to antivirus yielded mostly good and relevant results.
Business: Around 12 million images were returned by Dreamstime for this term, many of them old standbys. With that many hits, there's just no way to sift through them without filters. However, be forewarned: If you add too many filters and not all of them apply, you'll be forwarded to a random photographer's profile.
Email marketing: For this, Dreamstime treated us to just about 28,000 images, showing off its creativity. Should you add filters that remove all relevant results, the database will forward you to a splash page with information, unlike our experience with business.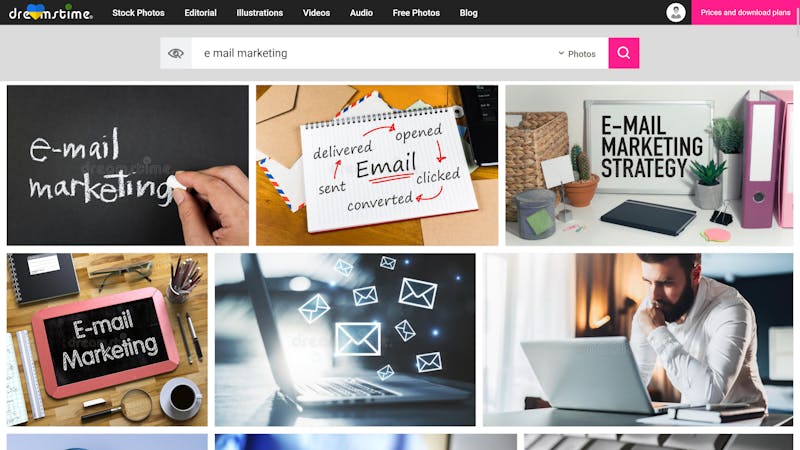 For email marketing Dreamstime offered up a number of suitable motifs.
When all is said and done, you should be able to find what you need when searching for stock photos in Dreamstime's database, even if it isn't always the easier platform to navigate. What we liked was that most of the search hits were original and at the very least, not a dime a dozen. You will need to invest a bit more time in finding the right image, however, if you're working with a limited budget, this can pay off.
| Category | Score |
| --- | --- |
| | |
| | |
| | |
| | |
| | |
4.
Selection of Videos, Audio, Vector Graphics & Illustrations
The assortment of illustrations on offer is well-organized and arranged topically The same goes for videos, however, unfortunately, it isn't possible to filter these by length. High-quality audio files are also available and sorted by genre or type (i.e. sound effects).
| Category | Score |
| --- | --- |
| | |
| | |
| | |
Turning to licenses, these are slightly complicated with Dreamstime, since you'll need to carefully read through the company's terms of use. Much of the media that is available is offered under a royalty-free license, which means that after purchasing it, you can use the file as much as you'd like, but cannot resell or label it as your own work.
Skimming through the fine print, however, you'll notice that the company offers numerous other enhanced licenses, such as RF-LL, RF-CC0, U-EL, W-EL, P-EL, and SR-EL.
Limited Royalty Free Licenses (RF-LL) cover free media not intended to be physically reproduced more than 10,000 times. Public Domain Images (RF-CC0) is a special case as Dreamstime offers a number of pictures that it believes to be copyright free, however, to be on the safe side, they offer no indemnification if these turn out to be copyright-protected.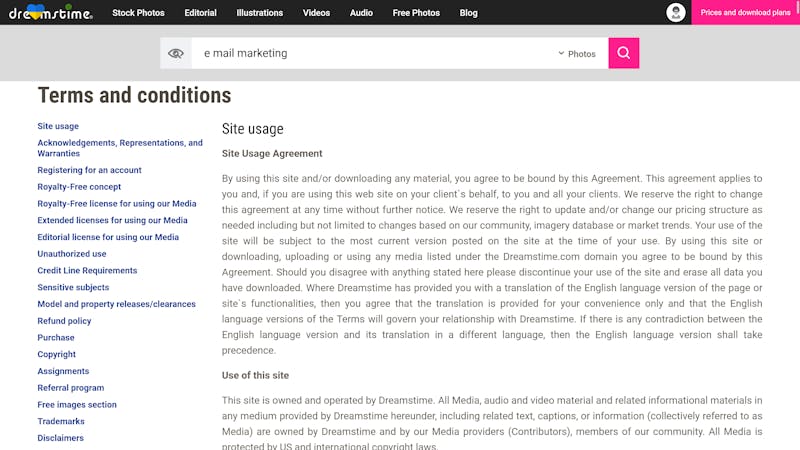 Dreamstime's licensing conditions are complicated and not particularly user-friendly.
Should you want to transfer your rights to a particular piece of media to someone else, you'll need to make sure that it's covered under an Unlimited Seats (U-EL) license. To resell or distribute digital media, you'll need a Web Usage (W-EL) license, while for printing, Print Usage (P-EL) is necessary. If purchasing media with a Sell the Rights (SR-EL) license, you gain complete and exclusive control over it. Beyond these, there are also time-limited licenses as well as universal options.
Editorial content can only be used for editorial purposes.
Taken together, Dreamstime's licensing conditions are just shy of a nightmare and could be greatly simplified.
Score: 2 / 5
As confusing as the stock photo provider's licensing conditions are, so worthy of praise is its service. Support reacted quickly, friendly, and competently to our queries. You'll find a contact form on every page's footer, just under the help menu. Issues can also be brought to the support team's attention through different social media channels which are also linked in the footer.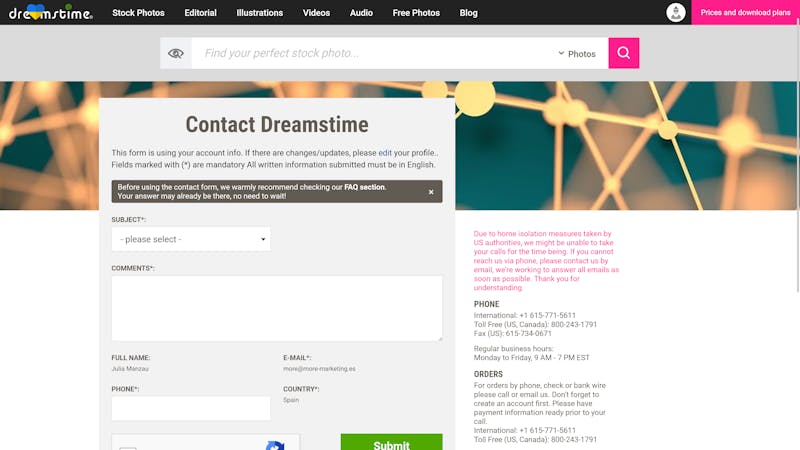 You can access Dreamstime's support options through the page footer. In our experience, support reacts quickly and competently.
Dreamstime's FAQs remove much of the guesswork, answering quite a few questions. And rounding things out is the provider's helpful blog, which includes ideas, tips, and articles about images and marketing.
Score: 5 / 5
Dreamstime is very affordable, which will certainly come as a relief to anyone working with limited means. You can purchase media either via credit packages or subscriptions. The former are valid for one year and cover videos as well as photos. Alternatively, videos can be secured via a separate video subscription. Unused subscription media is not carried over to the next month.
Regular subscriptions come with a free trial week, however, this is a bit misleading. When we asked, support clarified that the free trial allows prospective users to try out high-resolution .JPG files, however, they are watermarked. In order to gain access to the non-marked version, you'll need to license the images. Afterward, you'll be able to download twice the number of free images for a month.
Below, we've provided a current pricelist for Dreamstime:
11 Credits
Subscription 15
30 Credits
Billing
Credit Pack
Subscription
Credit Pack
One-Time Fee
$14.99
$0.00
$34.99
Price per Month
$0.00
$25.00
$0.00
Contract Period (Months)
0
1
0
Included Content
Photos / Month
1
15
3
Videos / Month
0
0
0
Licence For

Online & Print

Social Media

Marketing & Ads

Online & Print

Social Media

Marketing & Ads

Online & Print

Social Media

Marketing & Ads
The table below shows the annual costs for 10 stock photos per month over the course of a year in relation to the other providers from our sample.
1.
2.
3.
4.
5.
6.
Depositphotos
Subscription 30
7.
Dreamstime
Subscription 15
8.
Shutterstock
Subscription 10
9.
iStock
Essential Subscription 10
10.
11.
12.
13.
Getty Images
10 Pack Small
Conclusion
Stock Photo Selection
8.0 / 10
Selection of Videos, Audio, Vector Graphics & Illustrations
7.4 / 10
Configuration & Usage
6.6 / 10
Licensing Conditions
4.0 / 10
Dreamstime is more affordable than many of its peers, however, also more complicated and less transparent. So far as usability, filters, and layout are concerned, the database is not leading the pack.
Still, the platform is well-suited to projects that should be completed on a budget, and by those with time for research or a bit of patience. While its prices are refreshingly affordable, we deducted points owing to the misleading "free trial version". Its friendly and professional support, is, however, a highlight.
complicated licensing conditions
7.2

good
Photos / Month
Videos / Month
Licence For
Billing
Dreamstime 11 Credits
$14.99
monthly price
Visit Website »
Customer Ratings
Online, Dreamstime is well-received, but not overly so. We summarized ratings from some of the leading review portals for you below.
Customer Ratings
1,966 Bewertungen
Visit Website
We analyzed the reviews and ratings from various portals and found 1,966 ratings with an overall rating of 3.3 out of 5 .
Alternatives
Affordable doesn't always have to mean compromises. Depositphotos shows how it's possible to get added value without breaking the bank.
In case you need more video content, you'll be in good hands with Pond5. The database caters especially to filmmakers and moving picture enthusiasts.
More of the best alternatives to Dreamstime can be found here::
Depositphotos wins us over in the review with an intuitive platform, a huge media archive, a simple licensing model, fast support and a fair price.
Photos / Month
Videos / Month
Licence For
Billing
Depositphotos Subscription 30
$24.92
monthly price
Visit Website »
Photos / Month
Videos / Month
Licence For
Billing
iStock Credit Pack 1
$12.00
monthly price
Visit Website »
Photos / Month
Videos / Month
Licence For
Billing
Getty Images Single Small
$175.00
monthly price
Visit Website »
unclear pricing structure
packages are only valid for a year
9.1

excellent
Photos / Month
Videos / Month
Licence For
Billing
Shutterstock Subscription 10
$29.00
monthly price
Visit Website »
Get 10 free images
large selection of videos & music
affordable and free content
8.9

good
Photos / Month
Videos / Month
Licence For
Billing
Pond5 Membership
$83.25
monthly price
Visit Website »

Author: Julia P. Manzau
Julia P. Manzau has more than 30 years of professional experience in leading editorial and marketing positions in the premium automotive, mechanical engineering, and healthcare industries. She studied Political Science and History in Bonn, Marketing at the St. Galler Business School and earned a BA in Media Engineering (CCI). Since 2015, she has worked as a freelance writer. For EXPERTE.com, she focuses on software, the Internet, and marketing.
Continue Reading
Other languages
Deutsch