Alamy Review 2023: The Right Provider for Unique Images?

Ad disclaimer:
For links on this page, EXPERTE.com may earn a commission from the provider. This supports our work and has no influence on our editorial rating.
Whether you work in a marketing department, as a blogger, or as a social media influencer, you know that a picture is worth a thousand words. Images can stimulate emotions, while illustrations and animations help to show more complicated processes that would require paragraphs to describe verbally.
Assuming that you don't have an archive of high-quality media at your disposal, you'll probably want to source visual content from one or more of the countless stock media platforms online. Such databases differ in quality, price, and indemnification (legal protection). To be on the safe side and ensure that the media you use isn't copyrighted, we recommend making the most of the free content offered by premium providers. One of the oldest of these is Alamy. In this review, we took a closer look at the photo agency.
What Is Alamy?
Alamy*, founded in 1999 by James West and Mike Fischer, is one of the most well-established stock photo providers the world over. Although headquartered in the UK, its sales office is based in the US.
The company invested early in technology and has received dozens of awards and commendations throughout its development. In 2015, The Drum named its iOS app, Stockimo, best in that year's edition of its Marketing on Mobile Awards (MOMAs). At present, Alamy's media database, which since 2020 is owned by the British PA Media Group news agency, comprises some 300 million files.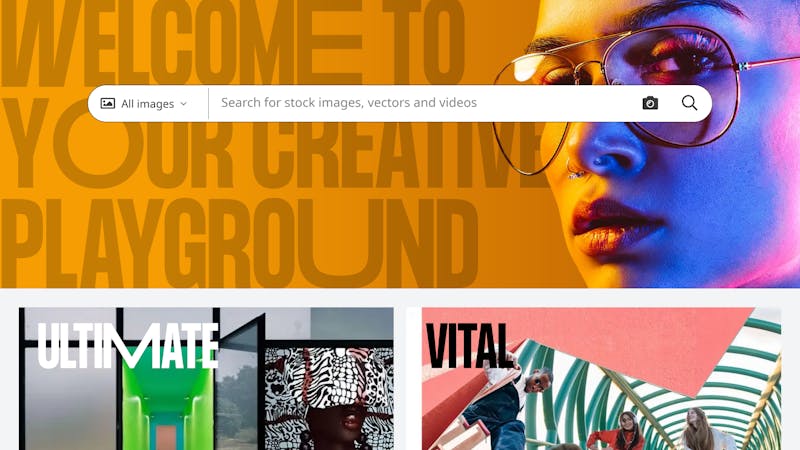 Alamy is one of the most well-established stock photo providers in the world.
Alamy Review
Licensing Conditions
10 / 10
Configuration & Usage
8.0 / 10
Selection of Videos, Audio, Vector Graphics & Illustrations
5.4 / 10
Stock Photo Selection
5.4 / 10
Straightforward licensing model

Fast and competent support
Lacks filter options; irrelevant search results

Image quality varies from category to category
It isn't necessary to register with Alamy in order to purchase licenses for the media it offers. Those without an account can create lightboxes and save images, however, are unable to view their download history or see what media they've purchased. As such, signing up has several benefits, and the entire process is easy and hassle-free.
The centerpiece of Alamy's homepage is a search box for finding whatever media you're after. Scrolling past this, the platform provides some information about its selection of videos and the various collections that you can browse through. At the bottom of the homepage, more detailed information and articles are provided, such as how to buy and sell with Alamy, or get in touch with their customer support, but more on that near the end of this review.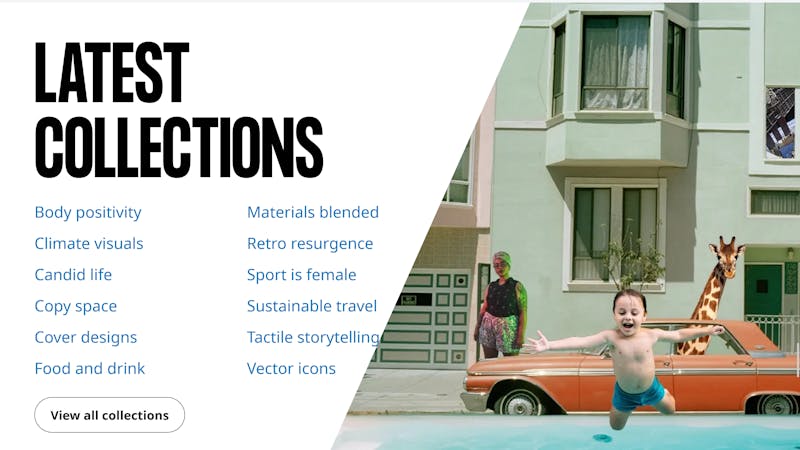 Those who don't know what sort of image they want can browse through Alamy's collections and categories.
Huge photo archive of varying quality
If you know what you're after, just type a keyword or phrase in the search bar. Alternatively, you can upload an image to find others that are similar to it. During our testing, this worked poorly and the results that were returned had little, if anything, to do with the pictures we had uploaded. Basic text search results were considerably more consistent and accurate.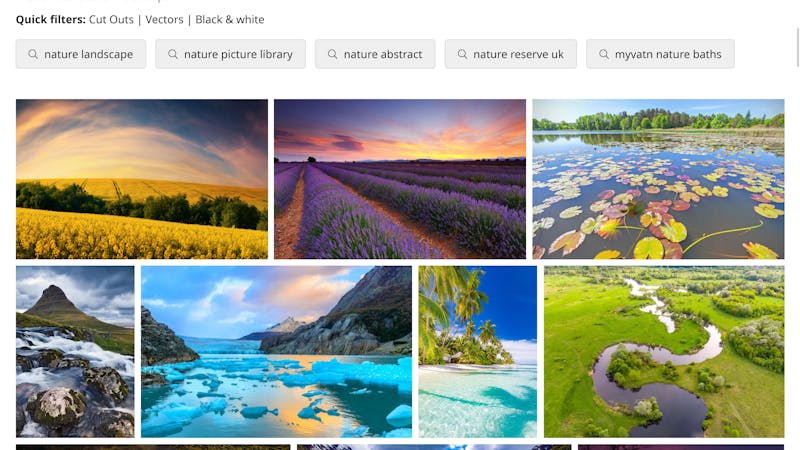 Image search results on Alamy are displayed with three or four results per line.
Good images, average filters
The image material on offer is good, but nothing special. Filter options are rather rudimentary. These include classics such as the number of people and age, but no ability to specify gender or ethnicity. You can sort results on the basis of the date they were taken, orientation, style, location, and viewpoint.
Also offered is the ability to search for works from a particular photographer or agency. Detailed options are available for what sort of license you'd like the media to have, including Rights managed, Royalty free, Model released, and Property released.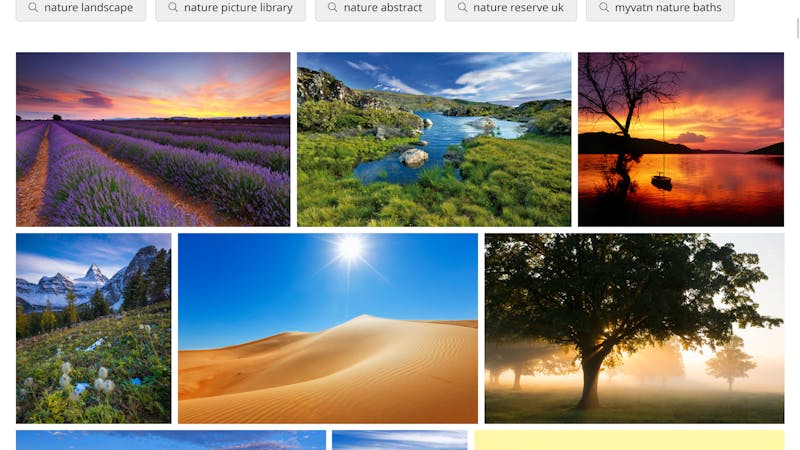 With Alamy, it's possible to sort through images based on the kind of license they come with. Apart from that though, the filter options for images aren't remarkable.
Image source for editors and historians
By clicking on the Live News, Sports & Entertainment collection, you'll enter into a world teeming with useful material for editorial purposes and news blogs. The Live News Feed includes accompanying pictures for events that took place during the past 48 hours. For history buffs, head over to The Archive which includes around 400 pictures showcasing important historical events. Keep in mind that these images can only be used for editorial purposes.
Lightboxes as organizational aids
You can create your own lightbox to save a selection of images. These can be named, assigned to specific customers and projects, and shared via link.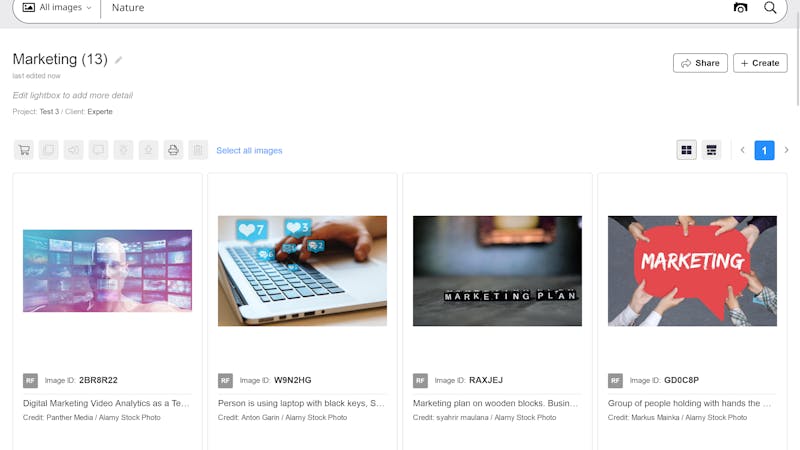 Lightboxes are where you can organize some types of media. These can then be shared, commented upon, and sorted.
Once you've found what you're looking for, click on the image in order to view information about it, as well as license details. You'll likely find both exclusive media as well as files that are offered by other providers in their portfolios. Clear overviews of what conditions apply to the media's license as well as whether it's available for editorial, commercial, and/or private use are provided.
Searches can be further refined using tags, displaying relevant alternatives below an image you've clicked on. Altogether, this significantly improves research and search efficiency.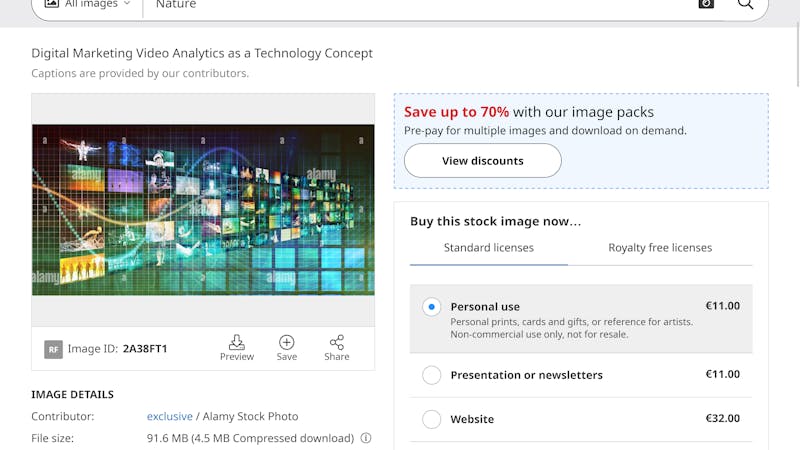 After clicking on an image, an overview of its license options as well as detailed information about the picture itself will be displayed.
Social and 360° images
Along with Photographs, Illustrations, and Vectors, there are a few more options in the search bar's drop-down menu. Social, for example, displays all images taken on mobile phones and uploaded to Alamy. As noted earlier in this review, Alamy's Stockimo app, which works primarily with pictures taken on mobile phones, was awarded the title of "Best App" in 2015. Only Apple users are able to profit from having their snaps on the go though. And even then, they'll need to be approved by Alamy's jury as possessing of a certain quality and having a marketable motif, before they go up for sale.
Another special category offered by Alamy is 360°, which are panoramic images.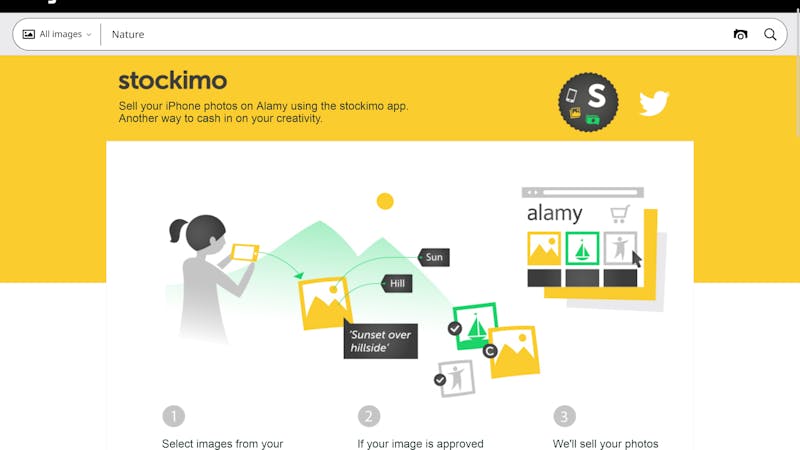 iPhone users can upload their pictures directly via the Stockimo app to Alamy's database and offer them for sale. Of course, they'll need to be approved by the provider's quality controllers first.
Colorful video archive
Alamy also offers a sizable archive of useful video footage. Filter options are again somewhat limited, meaning that you might need to invest a bit of time to find precisely what you're looking for. It's possible to search by date taken, resolution, duration, frames per second (FPS), and what sort of people are in the video.
Blog and additional offers in the footer
Alamy's blog features several categories of articles and guides, grouped under the headings News, Features, Spotlights, Inspiration, Education, and Galleries. One of the most informative guides (under the Education heading) concerns the purchase of stock photos.
On the homepage's footer, you can also find direct links to searching by category, Stockimo, support, along with an overview of the platform's prices and licenses.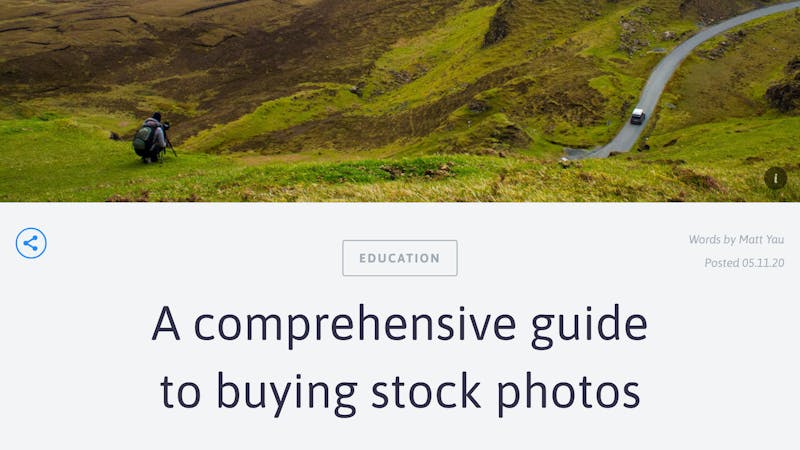 Many questions can be answered by checking out the Alamy blog's comprehensive guide to purchasing stock photos.
Solid offer with several highlights
Alamy's portfolio is average-above average. Much of its content surprised us with its creativity, making it worthwhile to take a second look. Its homepage is easy to navigate and intuitive, however, filter options could be significantly improved. The platform's blog is informative and includes all sorts of guides and articles, making it a useful resource in and of itself.
Configuration & Usage
8.0 / 10
2.
Selection of Stock Photos
"Average" isn't always a bad thing when it comes to stock photos, since they might be just what a user is after. In order to objectively gauge what sort of variety Alamy provides, we tested it with five keywords and phrases, evaluating the results. These were: Web hosting, ecommerce, antivirus, business, and email marketing.
Web hosting: Alamy yielded slightly more than 16,000 image results for our first keyword phrase, the majority of which (around 15,000) were royalty-free. Despite specifying photographs, a few illustrations were included. Even then, most of the content was relevant to our query. At first glance, the quality was good, however, with time, the motifs repeated themselves, showing mostly grey computer screens or boring illustrations with text.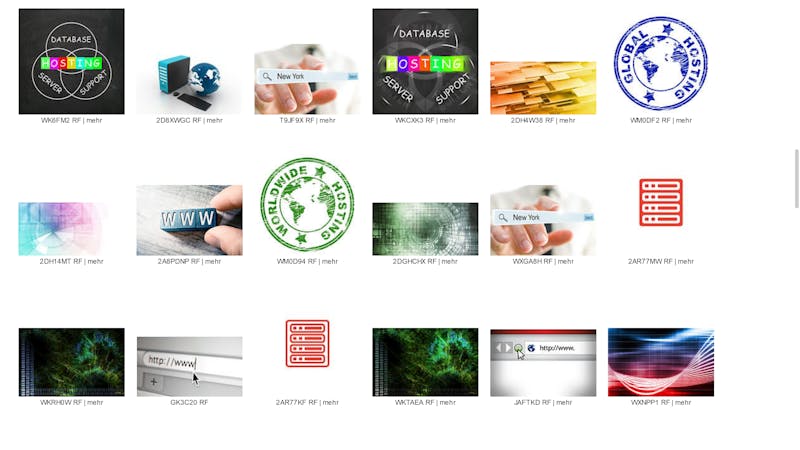 Alamy's web hosting results weren't that impressive upon closer examination. Compounding this, there were a few illustrations mixed in with the photographs.
Ecommerce: For this search term, Alamy supplied us with just under 100,000 hits, however, the above problem with separating illustrations from photographs was again noted. Even when just using the few filters Alamy makes available, the results were fairly basic and offered nothing beyond what you'll come across on an everyday basis when perusing the Web.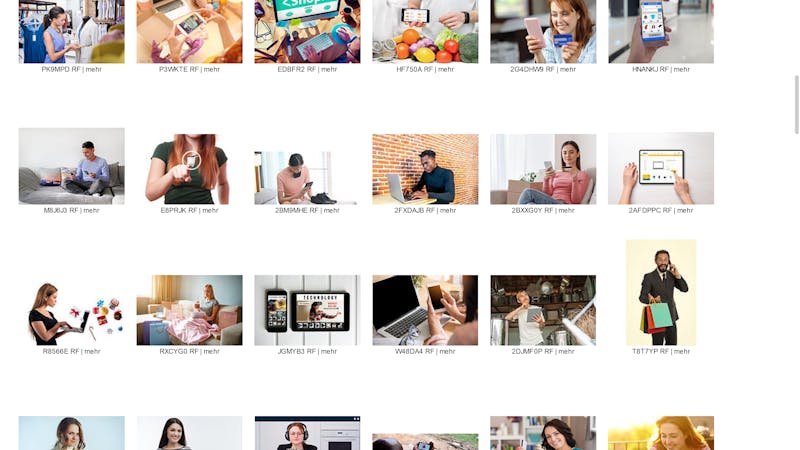 When it comes to ecommerce, Alamy returned quite a few search results, but very little that was eye-catching.
Antivirus: For this, Alamy had about 37,000 files for us. Some of these were irrelevant, having little to do with our search (for example, Bigfoot wearing a medical mask and walking on a field), while others were direct hits, offering unique and creative options. Unlike our previous two queries, we were able to find images that not everyone has with this third attempt. Once again though, there were too many illustrations mixed in with the photographs.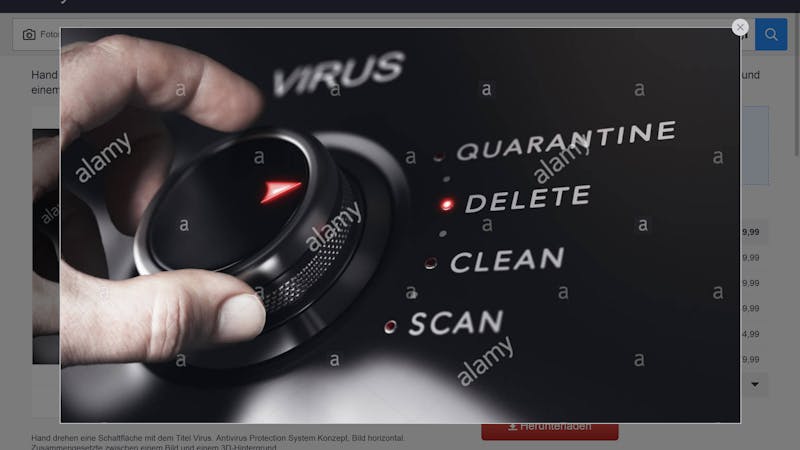 For the keyword antivirus, Alamy offered a number of original options.
Business: We found that providers from our sample usually flexed their muscles with this search, and Alamy was no exception, returning more than 11 million royalty-free photographs. But quantity rarely equates to quality, and in this case, owing to the platform's rudimentary filter options, it would be almost impossible to sift through that many hits. We did our best, limiting our search to landscape format images featuring two people viewed from the front, and still wound up with more than 18,000 results.
Email marketing: For images relating to email marketing, Alamy yielded an impressive 76,000 results, among which were quite a few creative options. Still, despite strictly searching for photographs, the earlier problems with illustrations were evidenced again.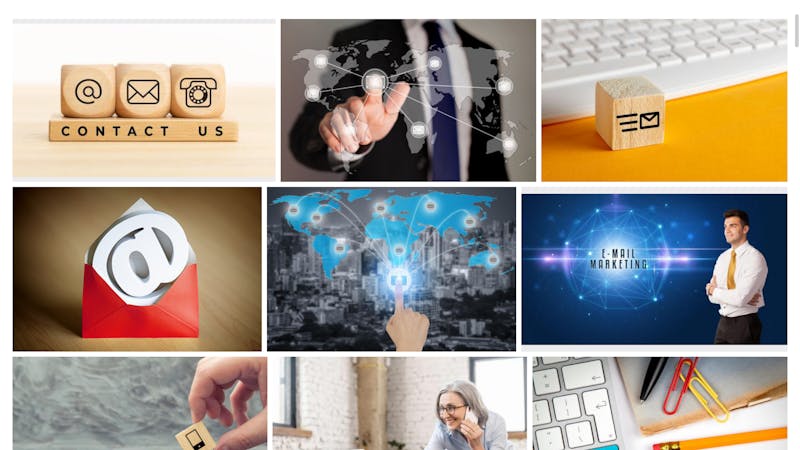 Even though Alamy didn't exclude illustrations from the results it returned for email marketing, the hits were more relevant than for our other searches.
Alamy has an awe-inspiring amount of photographic material. However, in order to find these in a more efficient manner and be able to actually use them, the platform's filter options need to be improved. Variety and quality vary from category to category. With one keyword or phrase, you might be shown a number of creative and innovative solutions, whereas another could yield run-of-the-mill content that everyone has.
| Category | Score |
| --- | --- |
| | |
| | |
| | |
| | |
| | |
Stock Photo Selection
5.4 / 10
3.
Selection of Videos, Audio, Vector Graphics & Illustrations
It pays to take a closer look at Alamy's illustrations since you'll find plenty of unique and creative content. On the other hand, the platform's vector graphics are fairly run-of-the-mill.
Supposing that you're looking for suitable video footage, Alamy has plenty to work with. At the same time, filters are again an issue since their shortcomings make searching more tedious than it should be. The platform does not offer audio.
| Category | Score |
| --- | --- |
| | |
| | |
| | |
Selection of Videos, Audio, Vector Graphics & Illustrations
5.4 / 10
When it comes to licenses, Alamy takes a straightforward approach. For photographic material, two licenses are offered: rights-managed (RM) and royalty-free (RF). The RM license fee for photographs only includes usage rights for the purpose you specify. As such, you can set how, where, when, and for how long you use a particular image.
For royalty-free media, you'll pay a one-time fee which correlates to how large the file is. After that, you can use the image in multiple projects for an unlimited amount of time.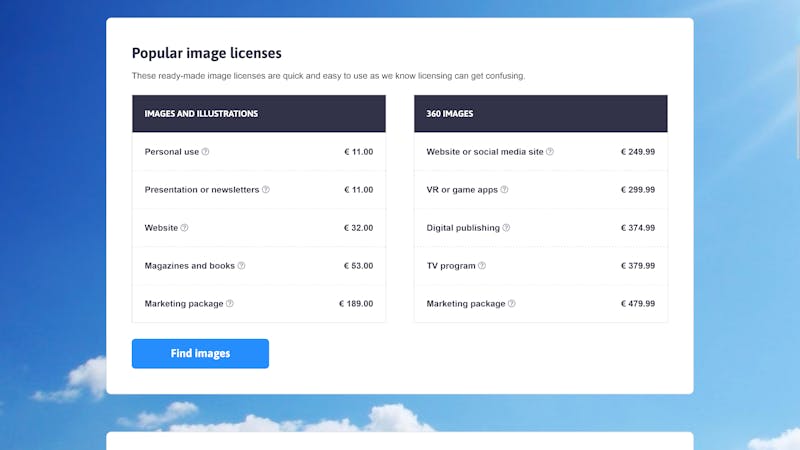 Alamy's licensing conditions are clear and easy to understand.
Things are a bit different so far as media exclusively intended for editorial purposes are concerned.
Videos only have a single type of license. Should you have special needs or requirements, it's good to get in touch with Alamy's support.
Overall, Alamy achieves a perfect score owing to its transparent and straightforward licensing conditions.
Licensing Conditions
10 / 10
Alamy's support staffers can be reached via mail, email, or telephone. Take note that no contact form is offered. We received competent, informative, and friendly answers to our emailed queries within 24 hours.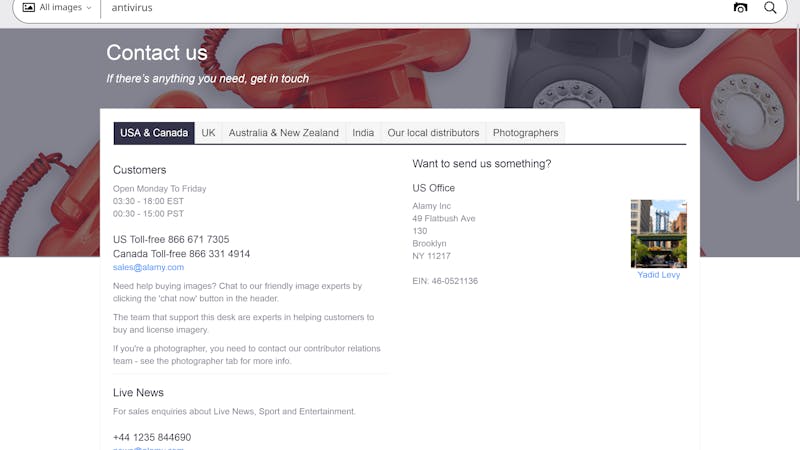 You can find a link to Alamy's contact information in their homepage's footer.
In case you need help faster, you can try the hotline, or take a look at the company's blog and its guides. Using these, it's possible to find answers to all sorts of questions or to gain insight into upcoming trends or stock photos in general.
Alamy offers a number of different packages, with several larger options including discounts. It's also possible to purchase media per file. However, the pricing for this is rather confusing. To use media in a presentation, you'll pay a different price than if it's intended for your website.
Prices vary even more if you need a fee-based license. Using the platform's license building tool, you'll need to specify the usage purposes, number of editions, size, duration, the country where you intend to use it, and branch. Only then will you see a price, which is a rather roundabout way of doing things.
Overall, Alamy is near the lower-middle price segment among the providers from our sample. We weren't impressed with its price-performance ratio across the board, however.
Below, we've provided a current overview of its pricing:
Image on Website
Image for Magazine
Royalty-free Small
Image for Marketing
Royalty-free Medium
Royalty-free Large
Billing
Credit Pack
Credit Pack
Credit Pack
Credit Pack
Credit Pack
Credit Pack
One-Time Fee
$49.99
$69.99
$100.00
$199.99
$258.00
$384.00
Price per Month
$0.00
$0.00
$0.00
$0.00
$0.00
$0.00
Contract Period (Months)
0
0
0
0
0
0
Included Content
Photos / Month
1
5
1
10
1
1
Videos / Month
0
0
0
0
0
0
Licence For

Online & Print

Online & Print

Online & Print

Social Media

Marketing & Ads

Products

Online & Print

Social Media

Marketing & Ads

Online & Print

Social Media

Marketing & Ads

Products

Online & Print

Social Media

Marketing & Ads

Products
The table below shows what you would pay for 10 stock photos per month over the course of a year from Alamy in comparison to the other services from our sample.
1.
2.
3.
4.
Depositphotos
Subscription 30
5.
Dreamstime
Subscription 15
6.
Shutterstock
Subscription 10
7.
iStock
Basic Subscription 10
8.
9.
10.
Storyblocks
Unlimited All Access
11.
Pond5
Footage Plus Subscription
12.
13.
Getty Images
10 Pack Small
Conclusion
Licensing Conditions
10 / 10
Configuration & Usage
8.0 / 10
Selection of Videos, Audio, Vector Graphics & Illustrations
5.4 / 10
Stock Photo Selection
5.4 / 10
Alamy makes a conscious effort to offer plenty of images with straightforward licenses at reasonable prices. The quality of its images and the variety of subject matter they depict isn't always the best, and their filter options and confusing pricing structure leave much to be desired. Alamy offers a great example of much not always equating to 'good'. Depending on what it is that you're after, you'll need to set aside some time for research on the platform to uncover uncommon or atypical visual material.
Still, it pays to browse through Alamy's database, especially if you only need a few photographs, illustrations, or videos for private usage and want them to be as legally safe as possible to use.
Alamy tries to offer more than it can: The stock photo oldie relies on a straightforward licensing model and serves up creative illustrations. However, image quality and a lack of filters both hold it back.
straightforward licensing model
complicated pricing structure
7.8

good
Photos / Month
Videos / Month
Licence For
Billing
Alamy Image on Website
$49.99
monthly price
Visit Website*
Customer Ratings
Many users value Alamy's sizable offerings, others decry the missing quality of its media. We collated a number of user scores so that you can see what people have to say about the stock photo provider.
Customer Ratings
300 Bewertungen
Visit Website*
We analyzed the reviews and ratings from various portals and found 300 ratings with an overall rating of 1.6 out of 5 .
Alternatives
Do you need more media, but want more bang for your buck? In that case, let us recommend Depositphotos. The easy-to-use platform impresses with its solid media archive, straightforward licenses, and fair prices.
Should your budget be a bit more flexible, iStock offers a wide selection of creative media. We particularly liked the accuracy of its search results and the high quality of its photographs.
Below, we've listed more of the best alternatives to Alamy:
Depositphotos won our review thanks to its intuitive platform, huge media archive, simple licensing model, and fast support, all at a fair price. If you're searching for high-quality stock content, you won't be disappointed.
Photos / Month
Videos / Month
Licence For
Billing
Depositphotos Subscription 30
$24.92
monthly price
Visit Website*
iStock offers high-quality media material, efficient filter options, and transparent licensing conditions. Rounding out its solid package are fast support and copyright indemnification.
Photos / Month
Videos / Month
Licence For
Billing
iStock Credit Pack 1
$12.00
monthly price
Visit Website*
Getty Images, our test's third-placed platform, is the Rolls Royce of stock photo databases. Just keep in mind that exclusive images, incredible content, high-quality search tools, and an intuitive user experience don't come cheap.
Photos / Month
Videos / Month
Licence For
Billing
Getty Images Single Small
$175.00
monthly price
Visit Website*
Shutterstock serves up a huge selection of media and tools along with excellent support. For pros by pros. The platform is particularly well-suited for editorial teams and agencies with sizable budgets.
Photos / Month
Videos / Month
Licence For
Billing
Shutterstock Subscription 10
$29.00
monthly price
Visit Website*
Get 10 free images
For high-quality film and video material, Pond5 is the right choice. It's easy to use and offers helpful tools. Unfortunately, the lack of search filters makes finding what you need tough, while its pricing structure could be clearer.
large selection of videos & music
affordable and free content
8.9

good
Photos / Month
Videos / Month
Licence For
Billing
Pond5 Footage Plus Subscription
$83.25
monthly price
Visit Website*
* Ad disclaimer:
For links marked with an asterisk, EXPERTE.com may earn a commission from the provider. The commission has no influence on our editorial rating.

Julia P. Manzau has more than 30 years of professional experience in leading editorial and marketing positions in the premium automotive, mechanical engineering, and healthcare industries. She studied Political Science and History in Bonn, Marketing at the St. Galler Business School and earned a BA in Media Engineering (CCI). Since 2015, she has worked as a freelance writer. For EXPERTE.com, she focuses on software, the Internet, and marketing.
Continue Reading
Other languages
Deutsch