Pond5 Review 2023: The Insider Tip for Creative Media Projects?

Ad disclaimer:
For links on this page, EXPERTE.com may earn a commission from the provider. This supports our work and has no influence on our editorial rating.
Whether for websites, flyers, or a newsletter, there are plenty of places you can use stock photos, footage, or sound effects. Should you be one of the many who doesn't have time to create their own repository of these, you'll need to use an online database to find what you need.
The best place to start looking for such content is among stock photo providers, of which both free and premium versions exist. The latter has the advantage of offering indemnification clauses in the licenses for media that you download. In plain language, this means that should the file you're using turn out to be copyright protected by someone other than the provider you downloaded it from, they'll foot your legal bill. One such premium database is Pond5*, which we'll take a closer look at here.
What Is Pond5?
Tom Bennet and Marcus Engene founded Pond5 in New York in 2006 with the goal of offering video producers the ability to sell licenses to their media. Business boomed and the database expanded to include photos, music, sound effect, 3D models, and templates for Adobe After Effects. Creators set their own prices on Pond5, and receive 50% of their earnings.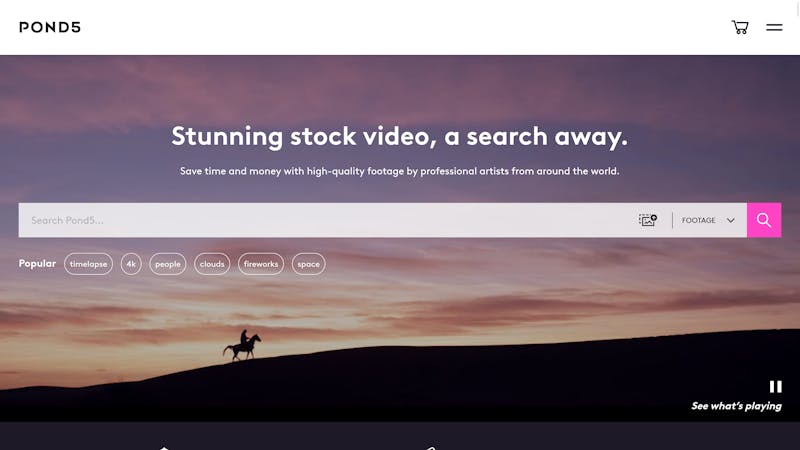 New York-based Pond5 offers more than 86 million files in its catalog.
Partnerships have formed with Reuters, Cover Video, and Newsflare, with the goal of creating the largest collection of royalty-free editorial video footage on the planet. Since the beginning of 2015, the company also offers a database of free media.
Pond5 Review
Selection of Videos, Audio, Vector Graphics & Illustrations
10 / 10
Licensing Conditions
9.4 / 10
Configuration & Usage
8.6 / 10
Stock Photo Selection
6.6 / 10
Large selection of videos, effects, and music

Affordable and free content
In order to start purchasing media on Pond5, you'll need an account, which can be easily created by providing your email address, or Google/Facebook account. On Pond5's neatly organized homepage, you might be surprised that footage and video clips hold a more prominent position than they do on other stock media providers, owing to the company's roots. But don't worry, Pond5 also offers photos, music, and illustrations.
Just on the homepage, we were impressed with one of the platform's most unique features: The ability to search for similar videos by uploading a clip. During our assessment, this worked flawlessly.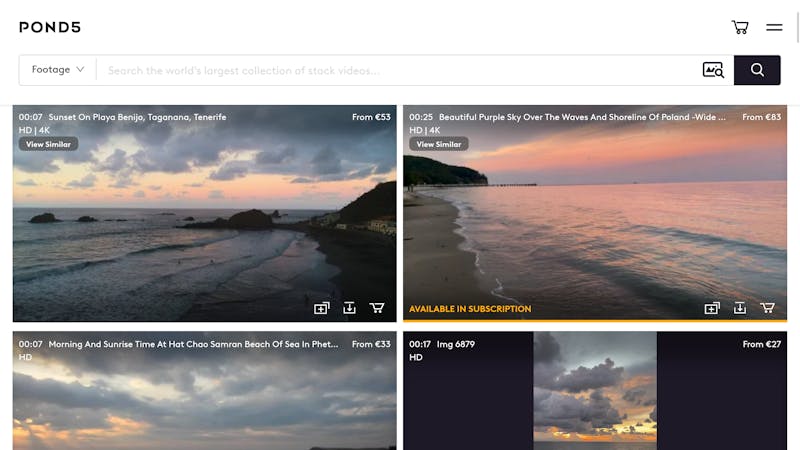 On Pond5, you can upload images and videos you'd like to find analogs of. We tried with a clip made on a beach and were impressed with the related videos Pond5 offered us as recommendations.
A magical world of moving pictures
Whether cityscapes, timelapse videos, culinary spectacles, or point of view (POV) clips, when it comes to footage, Pond5 is in a league of its own. Considering that the platform offers more than 26 million videos, it's noteworthy that these are qualitatively and thematically of a high standard. You will need a bit of time to work through all of the different collections and categories, however.
For penny-wise users, the Budget Friendly collections might be of interest. There, you'll find hundreds of different, high-quality videos at very reasonable prices.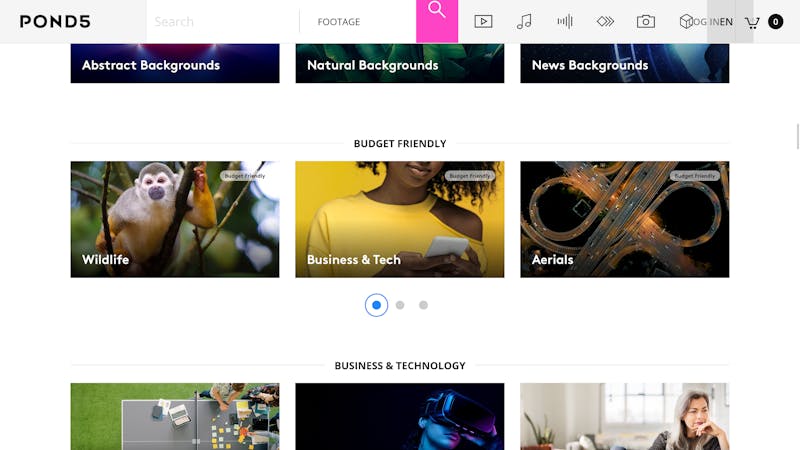 It's a good idea to set aside a bit of time to browse through the video collections linked directly on Pond5's homepage.
Good photos, lackluster filters
As mentioned above, Pond5 is all about video footage. This makes it important to pay attention to the menu options when using the text search, which, by default, is configured for videos.
Still, we began our assessment by taking a look at photos. Broadly speaking, we can say that Pond5 emphasizes quantity without sacrificing quality. Depending on what search term you input, the database can return millions of results. To manage these, you'll need to use filters, however, too few of these are on offer.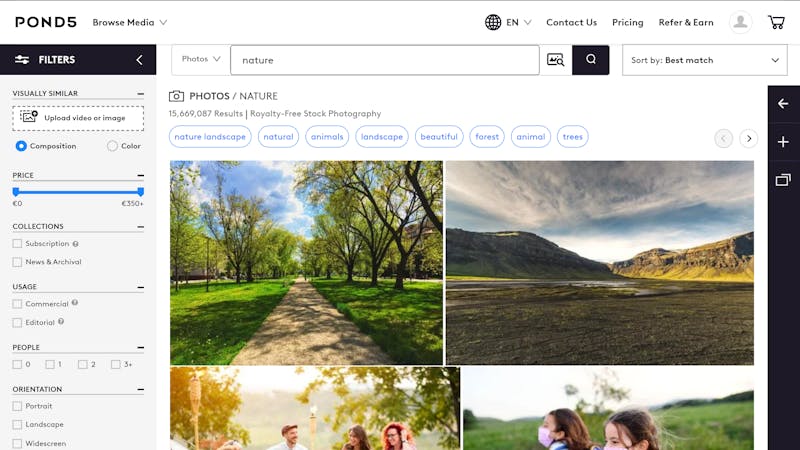 Pond5 doesn't offer a wide selection of filters for photo searches. You can sort results by price, or add images to a collection by clicking on the icon in the bottom right of the preview.
To find images with a similar composition, color scheme, or subject matter, you can upload an example of what you'd like. A sliding bar allows you to specify your price range, and you can sort results from most to least expensive or vice versa. Filter options include the ability to specify whether media is part of a Pond5 subscription, for commercial or editorial purposes, and if it's for free, or in the public domain. Several more filters round out the service, including the number of people depicted and camera orientation. Unfortunately, you cannot specify gender, age, ethnicity, or color. After clicking on an image, you'll be shown related content.
Overview of viewed media
Among the icons that appear on an image you hover over, you'll notice not only the ability to add it to a collection but also one showing whether you've already seen that particular photo. Within a collection, you can manage files and share them individually with friends or clients, however, you won't be able to send an entire collection to them. After 14 days, Pond5 removes all purchases from the download page. You'll have another 14 days to reactivate these, so we advise downloading all media directly upon purchase.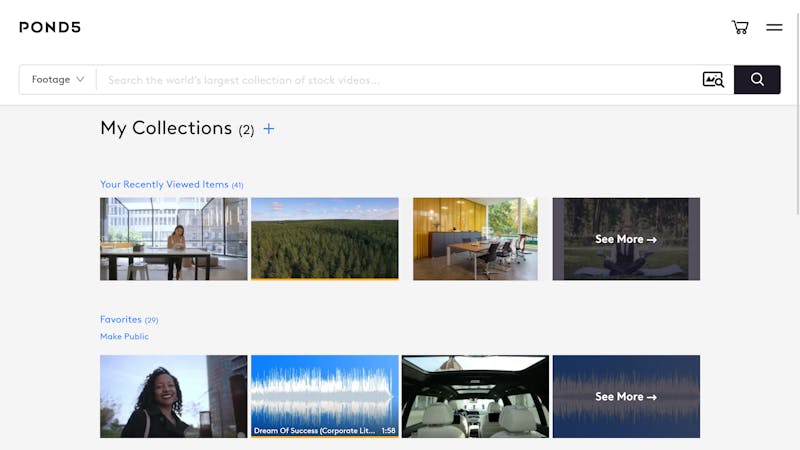 With Pond5, it's possible to create your own collections in which files are sorted by their type.
More filter options with videos
Thankfully, video searches come with better filter options. These include resolution, duration, and frames per second (FPS), as well as price, exclusivity, people (number and gender), aerial, greenscreen, loopable, and so on. Still, a few more parameters, such as age and ethnicity, would be useful.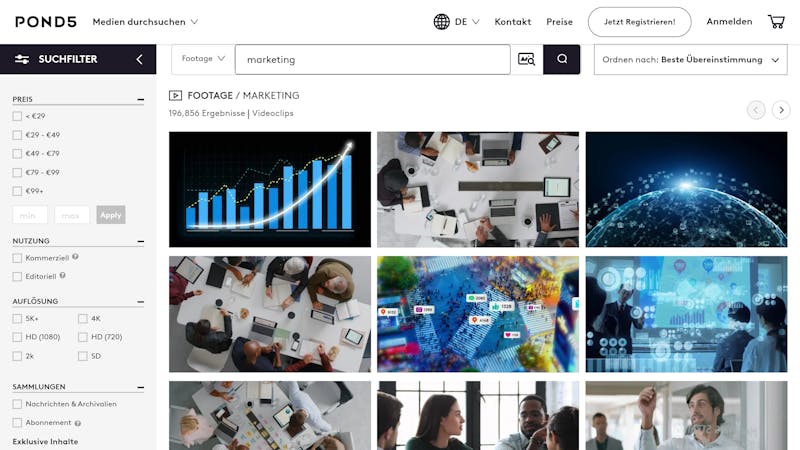 Pond5 offers millions of videos and plenty of filter options for sorting through them.
A treat for your ears
What would the best video be without suitable music or sound effects? Boring. For that reason, Pond5 offers a nice selection of audio files that can be conveniently sorted on the basis of their length, tempo, genre, and mood. Once again, you're provided options for music that is free, cleared for sampling, and non performance rights organization (PRO).
Sound effects are also great, however, there are fewer options for sorting these. Still, how the site is arranged makes finding the right sounds straightforward.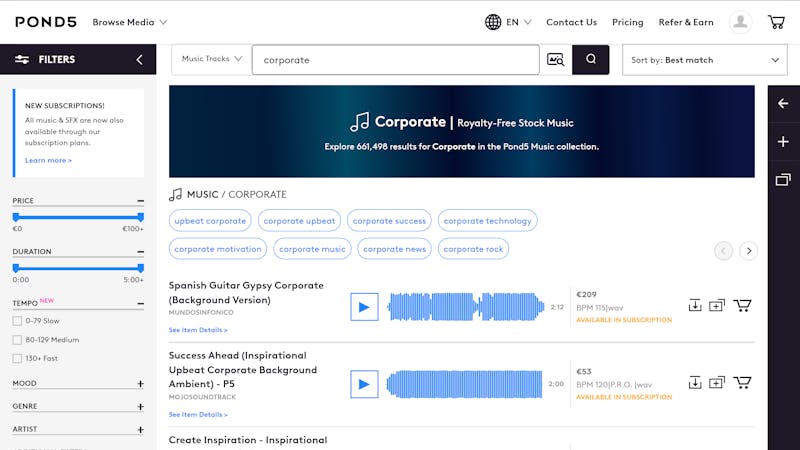 Pond5 offers suitable background music for its videos.
After Effects templates and 3D models for illustrations
In case you haven't noticed, Pond5 is a paradise for filmmakers, offering not only clips, music, and sound effects, but also a wide array of After Effects templates. From intro sequences to cartoons, slideshows, and water effects, you'll find everything you need to put together a short film, documentary, or presentation. For those interested in creating new characters or lifelike animations, be sure not to miss the wide selection of 3D models.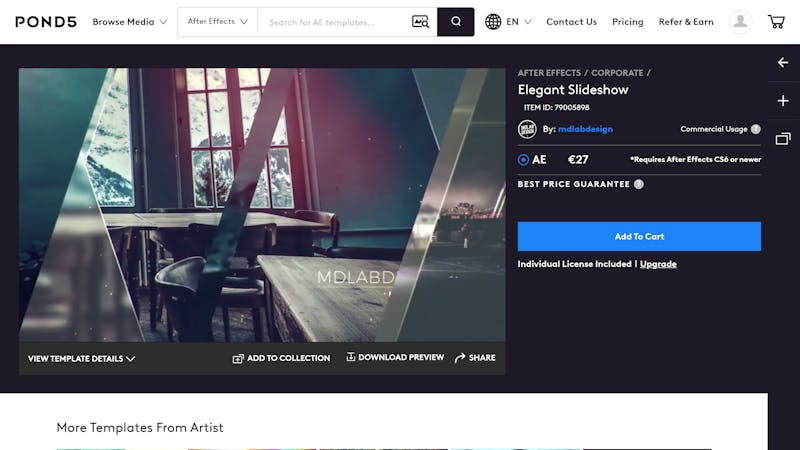 The selection of material for video editing and animating offered by Pond5 is impressive.
Free tools for video editing
Pond5's focus on moving pictures helped forge a rather natural partnership with Adobe and its video editing program, Premiere Pro. Through an add-on, you can directly access Pond5's archive without leaving the software.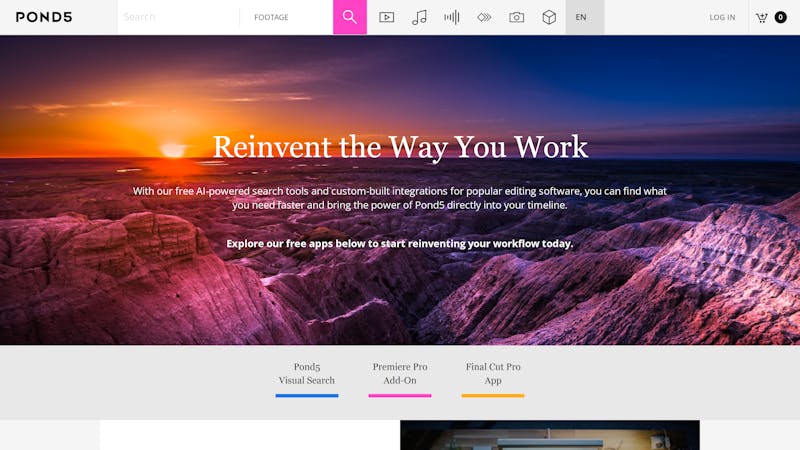 Pond5 offers a wide selection of efficient tools.
A powerful database for videos
Pond5 makes pretty much everything available that professional filmmakers and producers need to create ads, movies, or short films, including high-quality media, useful tools, and even free files. Our only criticism was in terms of the scarcity of filters offered for photos.
Configuration & Usage
8.6 / 10
2.
Selection of Stock Photos
Pond5 is all about videos of the highest quality, however, we wanted to see how it fared in terms of photos that would likely experience daily usage. As such, we plugged in our five keywords and phrases to see what turned up. These were web hosting, ecommerce, antivirus, business, and email marketing.
Web hosting: Pond5 retrieved more than 11,000 images matching our search query, most of which seemed relevant. Unfortunately, nearly all of the options on the first page were text-based, showing a keyboard, mouse, or computer monitor with the phrase. There are more creative choices, but you have to look to find them.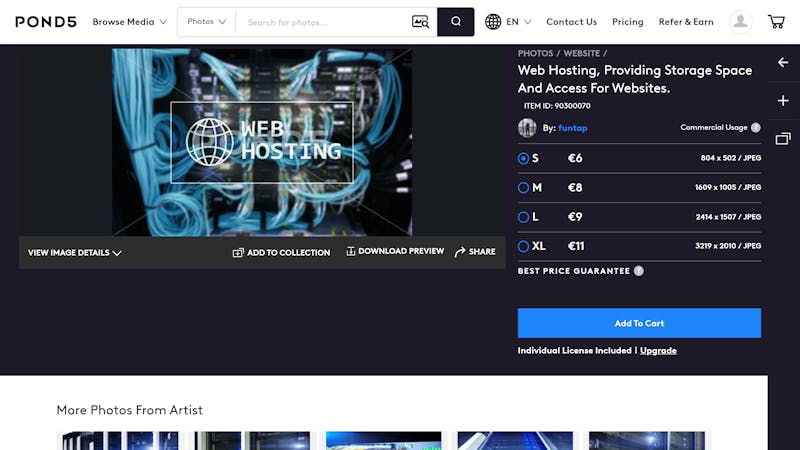 When we searched for web hosting, Pond5 didn't offer many eye-catching options.
Ecommerce: With almost 150,000 results, Pond5 definitely provides more of a selection for this term. Quality is good too and the results were relevant to our query. More filters would help greatly in sifting through such a mass of material, however.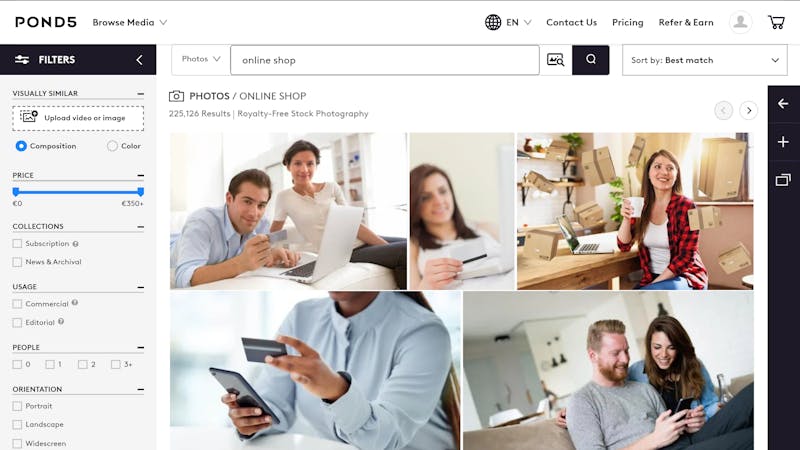 So far as ecommerce stock photos are concerned, Pond5 offers a nice variety of solutions.
Antivirus: Pond5's database provided us with 26,000 hits for this search query, some of which are creative and amusing. With that said, a number of the results had more to do with medical viruses than computer ones, which is not helped by the lack of filters on offer. Adding the term "computer" to the search narrows the results significantly and makes them much more applicable.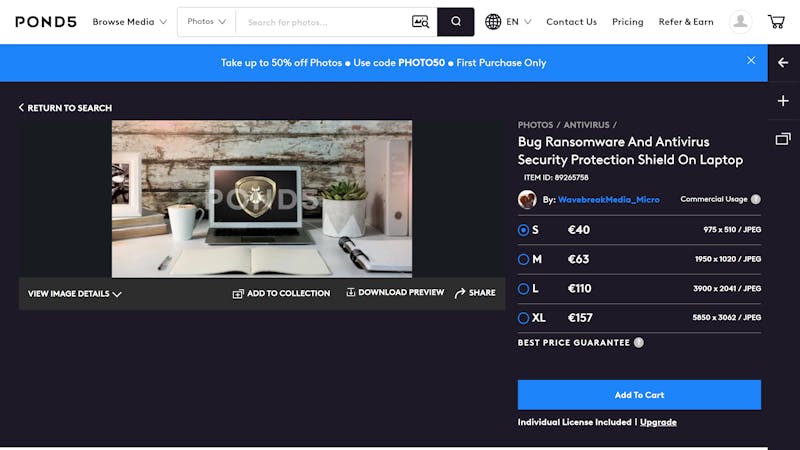 A number of the antivirus results were humorous and clever.
Business: If you're on the hunt for business-themed images, Pond5 provides more than seven million to select from. Once again, additional filters would come in handy and make these more manageable, since even when you limit the number of people, thousands of images remain. Quality does vary though.
Email marketing: For this search, we got just over 25,000 images, some of which were fairly standard, with other, more interesting, and creative options also included. These were highly relevant and of very good quality.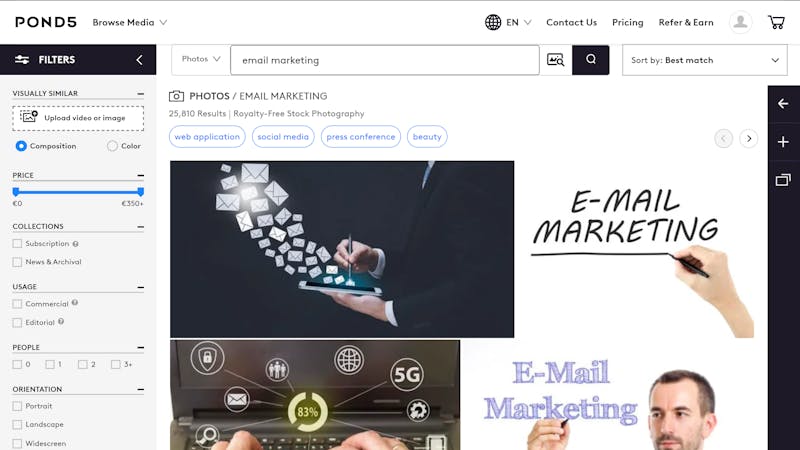 Pond5's results for email marketing were on average, good.
It's important to remember that still photos are not Pond5's specialty, as can easily be seen in the limited amount of filters the platform provides. Still, in terms of quality, you won't be hard-pressed, with lots of good options available.
| Category | Score |
| --- | --- |
| | |
| | |
| | |
| | |
| | |
Stock Photo Selection
6.6 / 10
3.
Selection of Videos, Audio, Vector Graphics & Illustrations
You can also rely on Pond5 for illustrations, thanks to its surprisingly creative options. However, the provider's fortes are unmistakably its video, music, and sound effect databases. The selection and quality available won't only impress amateurs and enthusiasts, but also creatives and pros.
| Category | Score |
| --- | --- |
| | |
| | |
| | |
Selection of Videos, Audio, Vector Graphics & Illustrations
10 / 10
Pond5 gives an overview of its rights and licensing conditions in the footer, under Our Licenses in the Buyer Resources section. Broadly speaking, all of Pond5's licenses are royalty-free and can be used internationally for both private and commercial purposes. The only exceptions are editorial videos, which come with single-project limitations.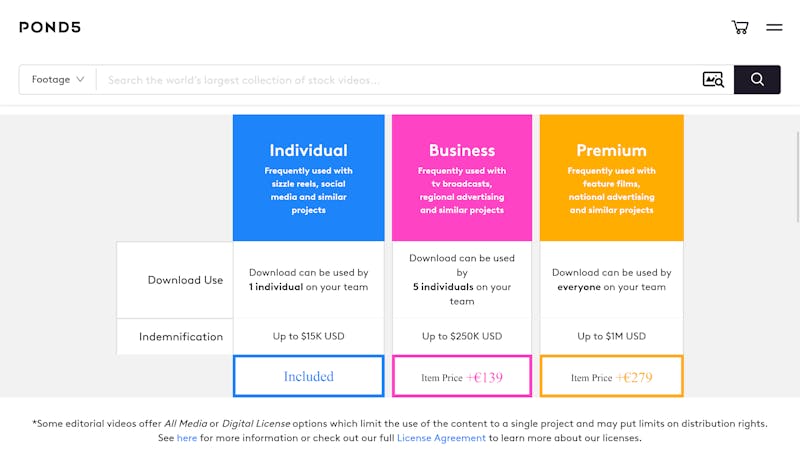 In general, all of Pond5's media comes with royalty-free licenses. Special conditions do apply to editorial videos.
Apart from that, there are only differences in terms of licenses when it comes to the number of people in a team who can use a file and how much indemnification you're provided with, should any legal issues arise.
Licensing Conditions
9.4 / 10
Support, like Pond5's selection of video and audio content, is excellent. With just a few clicks, you'll be able to access the provider's various contact channels, including email, telephone, and chat. They also have a significant social media presence on platforms like Facebook and LinkedIn.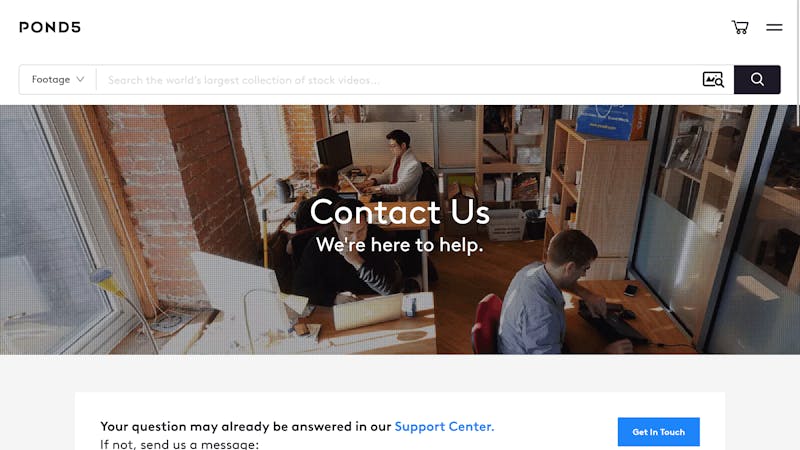 Pond5's support is fast, friendly, and competent.
All of our support queries were competently, courteously, and professionally answered within a matter of hours.
Pond5's pricing structure takes a bit of getting used to. The amount you pay for an image depends on its size, however, the creator sets fees, so there isn't any platform-wide uniformity. You can purchase media individually or in credit packages, with the latter offering a discount.
Beyond that, there's also a subscription option. Unused media is credited to the next month. Media included in the subscription can be sorted by a filter. For those keeping an eye on their wallet, there's a nice selection of free media to choose from.
Broadly speaking, Pond5 is on the more expensive side, however, you can sort results by price, making it possible to find content to match all budgets.
Below, you can see a current overview of prices:
Footage Plus Subscription
Credits
Billing
Subscription
Credit Pack
One-Time Fee
$0.00
$0.00
Price per Month
$83.25
$0.00
Contract Period (Months)
12
0
Included Content
Photos / Month
10
unlimited
Videos / Month
10
unlimited
Licence For

Online & Print

Social Media

Marketing & Ads

Online & Print

Social Media

Marketing & Ads
The table below shows how much it costs per year to purchase 10 stock photos a month, in comparison to the other stock photo providers from our sample.
1.
2.
3.
4.
Depositphotos
Subscription 30
5.
Dreamstime
Subscription 15
6.
Shutterstock
Subscription 10
7.
iStock
Basic Subscription 10
8.
9.
10.
Storyblocks
Unlimited All Access
11.
Pond5
Footage Plus Subscription
12.
13.
Getty Images
10 Pack Small
Conclusion
Selection of Videos, Audio, Vector Graphics & Illustrations
10 / 10
Licensing Conditions
9.4 / 10
Configuration & Usage
8.6 / 10
Stock Photo Selection
6.6 / 10
Pond5 is unparalleled when it comes to high-quality video or audio. Its page is intuitively designed and the extra tools the platform offers are helpful. Anyone looking for videos, music, After Effects templates, and sound effects will definitely not have to search for long, even with a limited budget.
And even though the focus is on moving images, the selection of photos, 3D models, and illustrations is worth checking out. The only downside is that the number of filters available makes sifting through all of the results unnecessarily time-consuming.
For high-quality film and video material, Pond5 is the right choice. It's easy to use and offers helpful tools. Unfortunately, the lack of search filters makes finding what you need tough, while its pricing structure could be clearer.
large selection of videos & music
affordable and free content
8.9

good
Photos / Month
Videos / Month
Licence For
Billing
Pond5 Footage Plus Subscription
$83.25
monthly price
Visit Website*
Customer Ratings
Selection and quality are excellent with Pond5, and this is reflected in their ratings. We compiled a range of reviews from others below to help you better gauge the service.
Customer Ratings
13,937 Bewertungen
Visit Website*
We analyzed the reviews and ratings from various portals and found 13,937 ratings with an overall rating of 4.7 out of 5 .
Alternatives
Those who value high-quality videos and are looking for another great place to find content, at a more affordable price, should check out Storyblocks.
If you need moving and still pictures and are ready to make a slightly larger investment, we can recommend taking a look at Adobe Stock.
Below, you can find more of the best alternatives to Pond5:
Depositphotos won our review thanks to its intuitive platform, huge media archive, simple licensing model, and fast support, all at a fair price. If you're searching for high-quality stock content, you won't be disappointed.
Photos / Month
Videos / Month
Licence For
Billing
Depositphotos Subscription 30
$24.92
monthly price
Visit Website*
iStock offers high-quality media material, efficient filter options, and transparent licensing conditions. Rounding out its solid package are fast support and copyright indemnification.
Photos / Month
Videos / Month
Licence For
Billing
iStock Credit Pack 1
$12.00
monthly price
Visit Website*
Getty Images, our test's third-placed platform, is the Rolls Royce of stock photo databases. Just keep in mind that exclusive images, incredible content, high-quality search tools, and an intuitive user experience don't come cheap.
Photos / Month
Videos / Month
Licence For
Billing
Getty Images Single Small
$175.00
monthly price
Visit Website*
Shutterstock serves up a huge selection of media and tools along with excellent support. For pros by pros. The platform is particularly well-suited for editorial teams and agencies with sizable budgets.
Photos / Month
Videos / Month
Licence For
Billing
Shutterstock Subscription 10
$29.00
monthly price
Visit Website*
Get 10 free images
Even though Storyblocks offers fewer images than its competitors, its high-quality videos, illustrations, and tools, all at an affordable price, remain impressive. The shortage of filters makes searching tedious, however.
great selection of videos and audio
affordably priced, easy licensing
8.8

good
Photos / Month
Videos / Month
Licence For
Billing
Storyblocks Starter
$15.00
monthly price
Visit Website*
* Ad disclaimer:
For links marked with an asterisk, EXPERTE.com may earn a commission from the provider. The commission has no influence on our editorial rating.

Julia P. Manzau has more than 30 years of professional experience in leading editorial and marketing positions in the premium automotive, mechanical engineering, and healthcare industries. She studied Political Science and History in Bonn, Marketing at the St. Galler Business School and earned a BA in Media Engineering (CCI). Since 2015, she has worked as a freelance writer. For EXPERTE.com, she focuses on software, the Internet, and marketing.
Continue Reading
Other languages
Deutsch