iStock Review 2023: How Good Are The Stock Photos?

Are you searching for photos, video clips, or music for your home movie before it goes online? If you answered yes to any of the above, a good place to start your hunt is with the hundreds of free and premium, web-based stock media providers.
Premium stock media databases offer a key advantage over their free counterparts in that licenses for their files offer indemnification, which protects you from adverse legal consequences related to the media in question. In contrast to free services, paid operators accept certain legal responsibility for any fines or charges that might be leveled against you, should the file you're using turn out to not have been copyright free. One such company is iStock, well-established in the world of stock media.

What Is iStock?
Everything began in 2000 in Calgary (Canada) with Bruce Livingstone's founding of iStockphoto, in short, iStock ⇱, an image database that offered photos both for free as well as for swapping. Demand was so high that Livingstone decided to charge a small fee, which saw his business unknowingly become of the first microstock agencies. These offer access to licensed photos for small fees.
Six years later, Getty Images bought iStock, retaining it as a unique brand focusing on affordable, licensed media.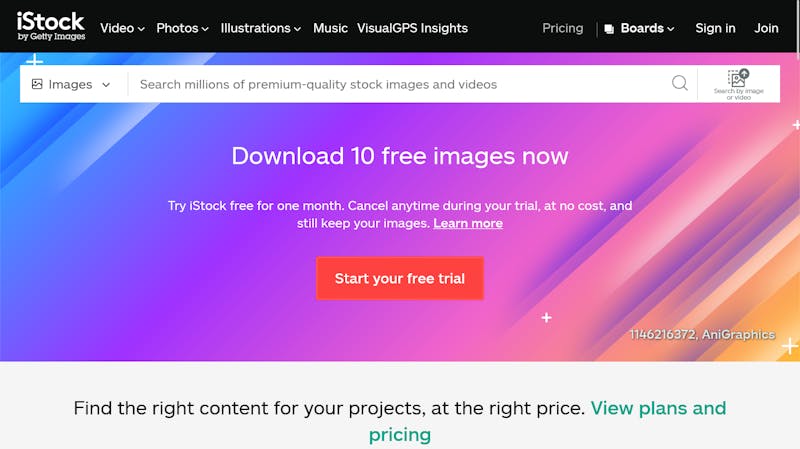 iStock is one of the oldest stock media providers and the first microstock photo agency.
Review
Configuration & Usage
10 / 10
Licensing Conditions
10 / 10
Stock Photo Selection
9.4 / 10
Selection of Videos, Audio, Vector Graphics & Illustrations
6.6 / 10
Easy to use and straightforward licensing conditions
In order to gain access to any of iStock's 160 million media files, you'll need an account. Thankfully, this is relatively easy to create. Simply click on Join in the upper right corner of the homepage, and supply an email address and password, and you're good to go.
The platform's homepage is neatly arranged and streamlined. You can gain access to whatever you're looking for through the header menu, which includes links to videos, photos, illustrations, music, and visual GPS insights. The rest of the menu is made up of a pricing page, as well as the video editor and boards, which we'll discuss in greater detail below.
Just below the header, you'll see a search bar where you can input keywords or phrases. Also included is a reverse image search feature, which you can use to upload a picture into and find others that are similar. During our assessment, this worked very well. In general, iStock makes navigating their homepage easy, with our only complaint being the absence of a "Back to Top" button.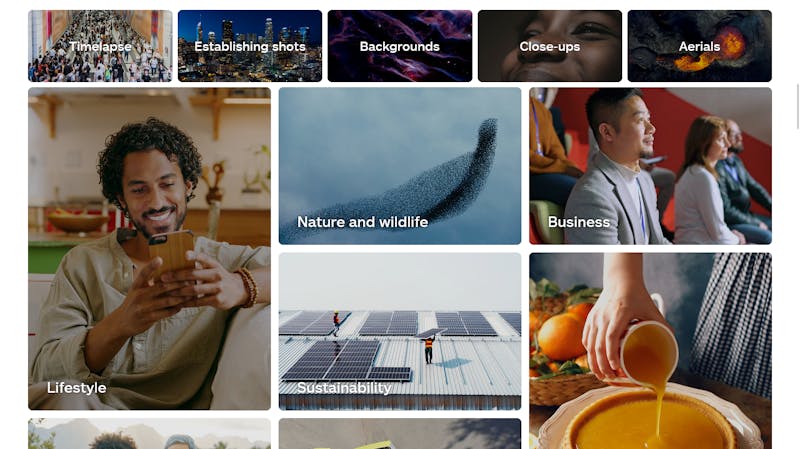 iStock offers media sets for relevant and current topics.
High-quality photos, good filter options
By hovering over videos, photos, or illustrations, sub-menus with more choices will open. For photos, these include Curated content, Trending searches, Popular categories, and More to discover.
Alternatively, or in conjunction with these, you can also filter search results on the basis of the image's perspective, color, age of those it depicts, number of people it features, or ethnicity. Filtering by license type, price, and quality is particularly nifty.
Generally speaking, media on iStock is divided into two categories: Essentials are non-exclusive, more affordable files, whereas Signature entails premium media that is a bit more expensive. Media from both categories are professional and of high quality.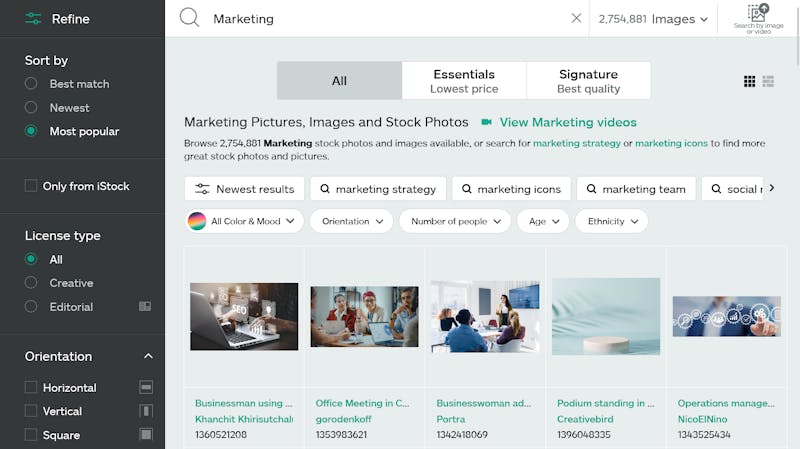 iStock offers classic filters such as sorting results by size, color, or perspective. Beyond that, you can also refine search hits according to their quality, price, and the license they're covered under.
Boards and downloads
iStock makes downloading media very convenient. Photos, illustrations, and videos can either be downloaded immediately, or saved to a board. It's possible to create as many of these as you'd like, as well as to comment upon, manage, and share their contents with others via a link. All files saved to a board can be downloaded together, or, you can pick an assortment.
You can collect, comment, manage, and download all of your favorite media using iStock's boards feature.
Captivating videos
Graphics and stock footage are as neatly arranged on iStock as photos. If short on inspiration, you can input a general search term and check out the recommended categories or browse through the curated collections. The latter is further subdivided into relevant topical areas. For example, after clicking on Business videos, you'll be able to select from 18 different tiled categories such as Finance, Fraud, and Work from home in addition to a number of other tags and search terms.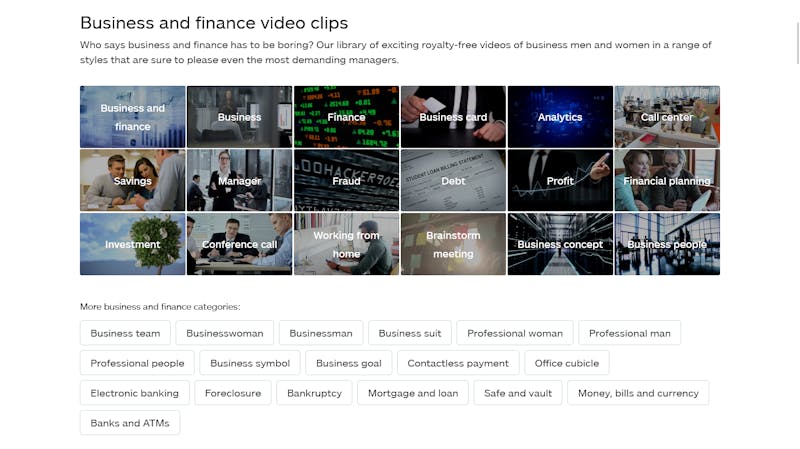 iStock offers a wide array of stock footage that can be as easily sorted through as its photos and illustrations.
Background information and marketing tips
Regardless of which type of media you're browsing through, you'll find links to iStock's blog which offers helpful articles on marketing, design, social media, and technology. By clicking on Artists of the month you can view photographers or illustrators whose work is in the spotlight.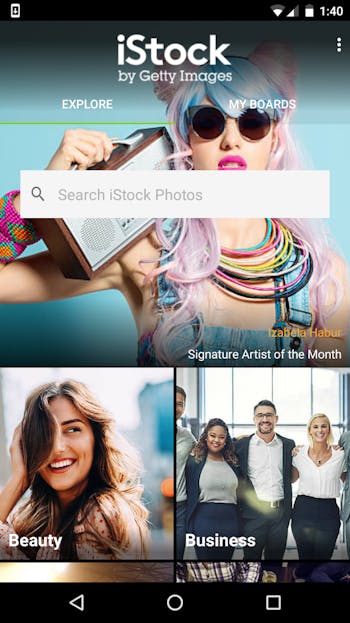 iStock can be accessed on the go through its mobile app.
Apps, integrations, and tools
In case you want to access iStock's database on the go, you can, thanks to its mobile app. Beyond that, the service offers integrations for different applications, such as Adobe Creative Cloud and Dropbox.
For very basic photo editing, it's possible to take advantage of iStock's intuitive editor. It won't do much for pros, but in a pinch, it can come in handy.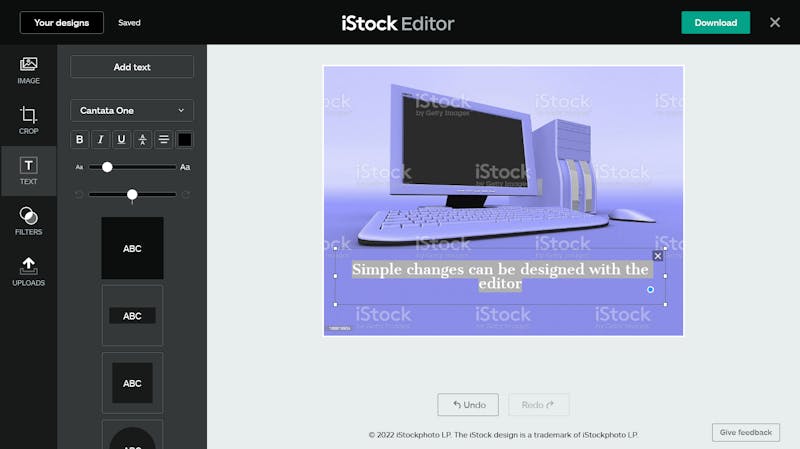 With iStock's editor, you can apply filters and add text to images.
Wide selection and high quality
iStock offers lots of high-quality photos, videos, and graphics. Its website is intuitively designed, and media you're interested in can be saved to your board, without having to bookmark or buy them. The database's filters are useful and practical, making it possible to refine search results based on the type of license offered, price, or the content's quality.
Score: 5 / 5
3.
Selection of Stock Photos
We wanted to learn a bit more about how each provider from our sample performed when it came to images for everyday usage. To assess this fairly, we searched through each using five keywords and phrases, namely: Web hosting, ecommerce, antivirus, business, and email marketing.
Web hosting: Our first search yielded just over 5,800 results, all of which were photos. We noticed that some of the results were identical to those found on Getty Images, which shouldn't come as a surprise since they're iStock's parent company. In terms of topicality, the top several rows of results were on point, but near the middle of the first page, we got a picture of a soccer stadium, the stage of a cooking show, and a woman arranging cakes on a table.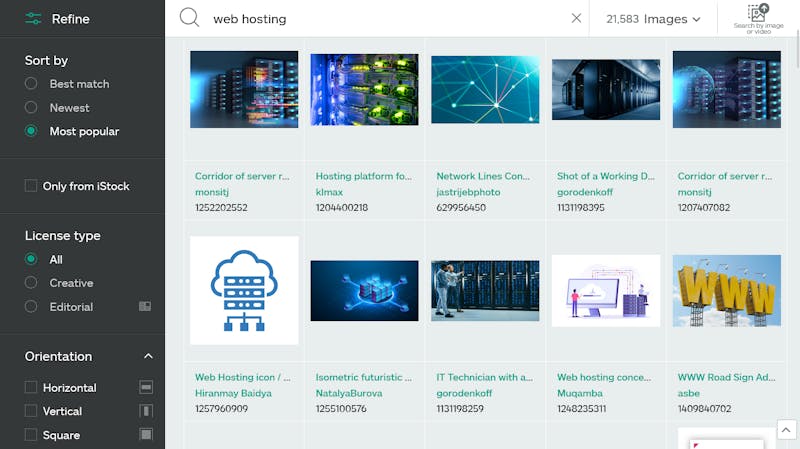 iStock starts out strong, but as your near the bottom of the first page of results for web hosting, some odd choices appear.
Ecommerce: Our results for this second search term were 100 times more than those for web hosting, so, we weren't pressed for choice. With so many photos to sift through, filters are a must. Without filters, most of the results on the first page were relevant, however, two pictures near the bottom of the first page, showing women sitting on sofas with laptops (with and without dogs) were a bit too vague.
We clicked on the first suggested tag, online shopping which halved the number of results. Pictures of people on sofas with laptops, phones, or tablets seemed to be the dominant motif.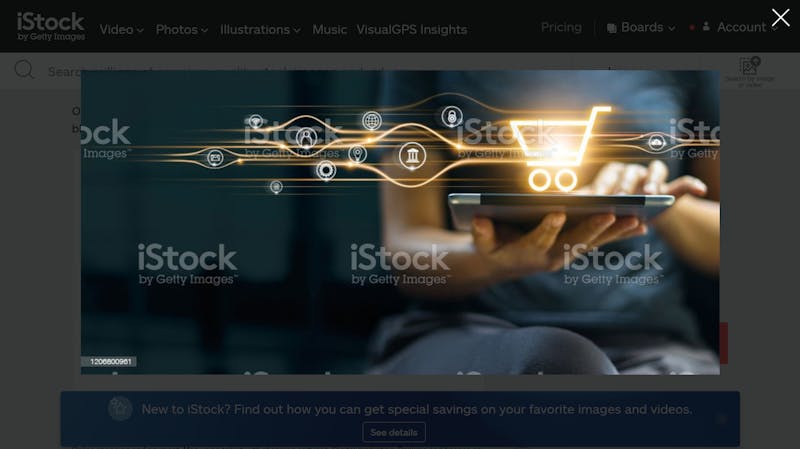 Our search for ecommerce photos yielded quite a large number of relevant results.
Antivirus: We were pleased to see that among the first page of iStock's first 15,000 results for this keyword, not a single medical mask or ailing patient was to be seen, and everything related to IT. Hits on the first page showed the term from a number of different perspectives (i.e. that your system is protected, that a threat was detected, that your antivirus software is now installed, etc.).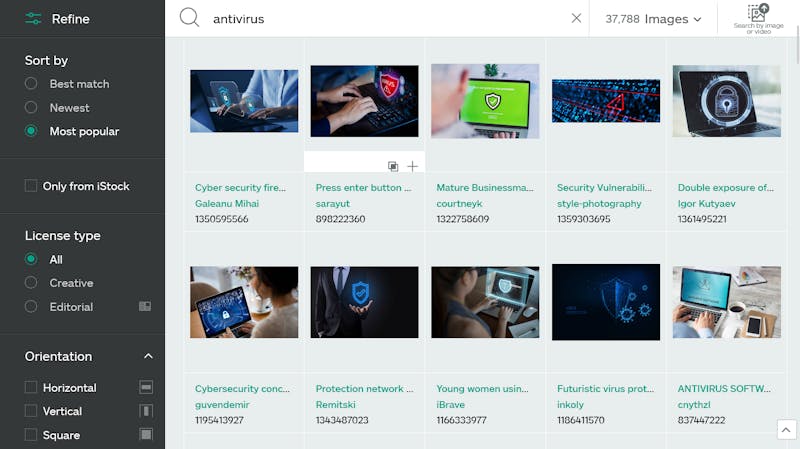 Thankfully, our search for antivirus photos brought in lots of images related to IT.
Business: iStock supplied us with more than 12.5 million business-related images. Alongside the rather cliche options (handshakes, people standing around a laptop while their boss explains something, etc.) there were a few fresh takes. One which caught our eyes was near the top and showed a time-lapse modern office, with colleagues alternating between sitting, standing, drinking coffee, working on desktops, etc. Even among the more traditional options, it was obvious that modern offices were depicted, with almost all models in business casual and very few if any men wearing blazers or ties.
With so many options, filters are the only way to make sense of the mass of content you're confronted with. At the same time, if you have a bit of time on your hands, browsing through the results can yield unique finds.
Email marketing: While other providers seem to have some difficulty with this keyword phrase, iStock mastered it, providing us with 25,000 mostly relevant and creative options.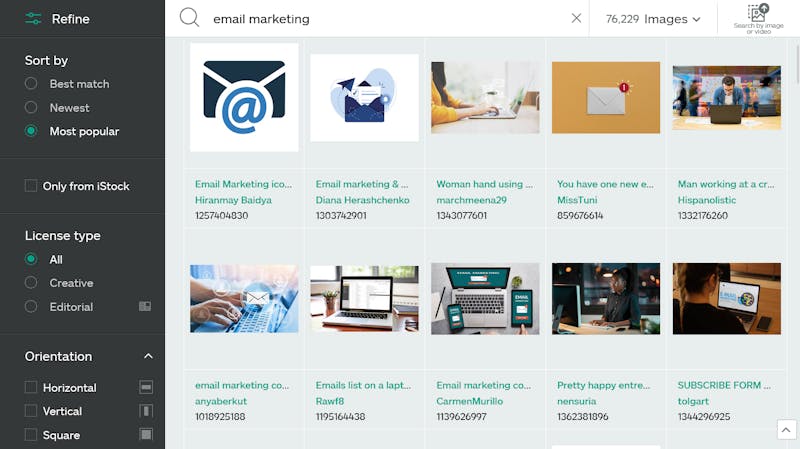 You can take advantage of iStock's excellent collection of email marketing related images.
Intuitive searching and high-quality results: iStock definitely showed us its good side when looking for common or everyday subject matter, providing quite a number of excellent images. If we're being picky, a few more filters within categories would be helpful to further narrow down results, however, you won't have difficulty with the database as is.
| Category | Score |
| --- | --- |
| | |
| | |
| | |
| | |
| | |
4.
Selection of Videos, Audio, Vector Graphics & Illustrations
Our results for video footage were not anywhere near as consistent as those for photos. When we searched for web hosting (around 3,000 hits), many of the clips on the first page looked decent, however, by Page 36 (out of 37) only around 15-20% seemed relevant to IT or tech. Ecommerce (137,579 videos) was slightly better with the first page of results not having a single outlier or questionable clip. On page 100, things still looked good with the majority of results having something to do with shopping online.
For antivirus (4,474) and email marketing (5,098), there's certainly enough variety and most of what's offered looks to be useful. Rounding things out, business is once again the leader in terms of quantity, with more than 2.2 million videos to select from. Thankfully, iStock's filters can help you reduce this to a more manageable number.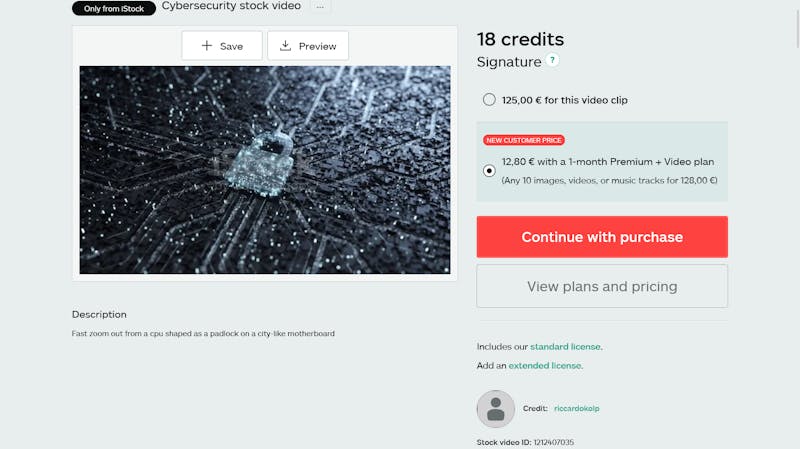 iStock's video results for our five search terms and phrases were topical and mostly relevant.
Answers for every search query
iStock also flexes its muscles when it comes to graphics and illustrations for our test terms and phrases. Even for web hosting, the database provided good results that we found particularly creative. Audio is not offered by the platform.
| Category | Score |
| --- | --- |
| | |
| | |
| | |
Straightforward and easy to understand are descriptors we'd use to describe iStock's licensing conditions. Two licenses are offered: Standard and Extended. For most purposes, a Standard license will be more than adequate, however, you'll want to consider an Extended one if you:
Intend to print more than 500,000 copies of the image

Plan on multiple team members using the file

Want to resell the media, on a poster, postcard, cup, or t-shirt

Foresee using it as a digital template that will be resold, for a website or virtual greeting card.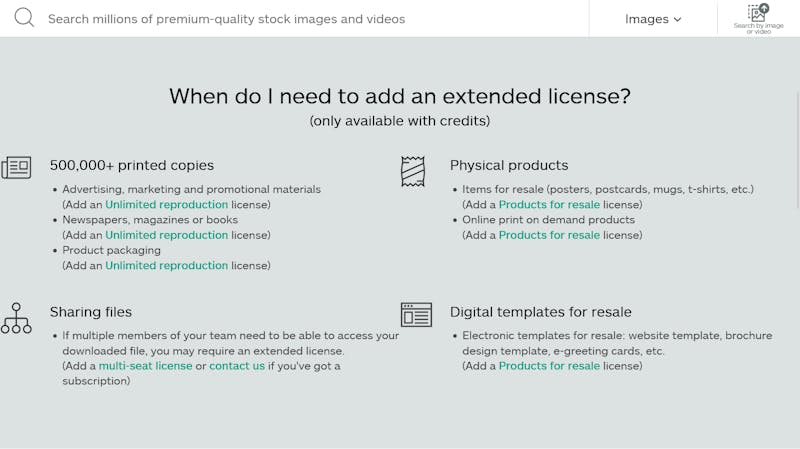 iStock's licensing conditions are straightforward and clear.
All licensed files are indemnified to the tune of $10,000, while for Extended license files, this rises to $250,000. In this way, the company guarantees that its content does not run afoul of any intellectual property or copyright laws.
Overall, we found iStock's transparency in terms of licensing and hefty indemnification clauses to be without fault, particularly when compared to how many free databases approach both.
Score: 5 / 5
Like most of the providers from our sample, iStock does its utmost to make itself available to its customers. In the footer, under the Support section, you'll find a hotline you can call around the clock as well as options for digitally getting in touch. The Contact Us page features FAQs, as well as a contact form for more specific queries.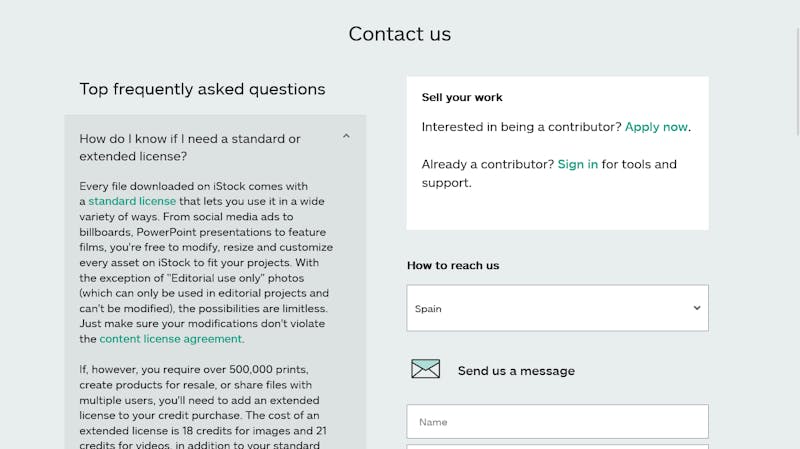 Knowledgeable, fast, and friendly. iStock's support performed well during our assessment.
The answers we received were fast, professional, and friendly. We submitted two queries via the contact form and the first was answered within 30 minutes. This also endows iStock with the fastest support from our sample of stock photo databases.
Score: 5 / 5
iStock offers two pricing models - subscription-based or credit packs. For the former, you'll be able to choose from three packages that vary in size and price. These are Basic, which includes Essentials images only, Premium, which provides access to both Essentials and Signature images, and Premium + Video, for those who want everything. Up to 250 unused downloads per month are carried over to the next month, so long as you've activated automatic subscription renewal.
On the other hand, if you're not interested in a long-term arrangement, you can purchase licenses via credits. These are offered in packs of varying sizes and range from $12 for 1 credit to $2,400 for 300 credits ($8 per credit).
Credit Pack 1
Essential Subscription 10
Credit Pack 3
Billing
Credit Pack
Subscription
Credit Pack
One-Time Fee
$12.00
$0.00
$33.00
Price per Month
$0.00
$29.00
$0.00
Contract Period (Months)
0
12
0
Included Content
Photos / Month
1
10
3
Videos / Month
0
0
0
Licence For

Online & Print

Social Media

Marketing & Ads

Online & Print

Social Media

Marketing & Ads

Online & Print

Social Media

Marketing & Ads
The following table shows the annual costs for 10 stock photos per month from iStock, in comparison to the other providers from our sample.
1.
2.
3.
4.
5.
6.
Depositphotos
Subscription 30
7.
Dreamstime
Subscription 15
8.
Shutterstock
Subscription 10
9.
iStock
Essential Subscription 10
10.
11.
12.
13.
Getty Images
10 Pack Small
Conclusion
Configuration & Usage
10 / 10
Licensing Conditions
10 / 10
Stock Photo Selection
9.4 / 10
Selection of Videos, Audio, Vector Graphics & Illustrations
6.6 / 10
For those after high-quality photos and footage for everyday use that is legally safe, iStock offers a huge selection of creative material. It isn't the most affordable provider from our sample, but you should see nice returns on your (far from exorbitant) investment.
In terms of the database, we were impressed with how accurate the search results were, meaning that most of the time, you won't look at content research as a chore. Apart from sorting content by price and quality, you can also rely on the company to stand behind anything you purchase a license for and to support you if negative legal consequences arise.
Photos / Month
Videos / Month
Licence For
Billing
iStock Credit Pack 1
$12.00
monthly price
Visit Website »
Customer Ratings
User reviews of the platform vary, with pros largely satisfied. To reflect our findings, we've summarized a number of reviews for you below:
Customer Ratings
3,180 Bewertungen
Visit Website
We analyzed the reviews and ratings from various portals and found 3,180 ratings with an overall rating of 4.3 out of 5 .
Alternatives
Do you only need a stock photo every now and then and prefer to spend a bit less for it? So long as you're willing to invest slightly more time in research, Alamy is a good choice.
On the other hand, if you're working with a larger budget, Shutterstock is worth a visit. Its database is ideal for pros who can work without financial constraints.
More of the best alternatives to iStock can be found below:
Depositphotos wins us over in the review with an intuitive platform, a huge media archive, a simple licensing model, fast support and a fair price.
Photos / Month
Videos / Month
Licence For
Billing
Depositphotos Subscription 30
$24.92
monthly price
Visit Website »
Photos / Month
Videos / Month
Licence For
Billing
Getty Images Single Small
$175.00
monthly price
Visit Website »
unclear pricing structure
packages are only valid for a year
9.1

excellent
Photos / Month
Videos / Month
Licence For
Billing
Shutterstock Subscription 10
$29.00
monthly price
Visit Website »
Get 10 free images
large selection of videos & music
affordable and free content
8.9

good
Photos / Month
Videos / Month
Licence For
Billing
Pond5 Membership
$83.25
monthly price
Visit Website »
great selection of videos and audio
straightforward licensing
8.8

good
Photos / Month
Videos / Month
Licence For
Billing
Storyblocks Unlimited Video
$20.00
monthly price
Visit Website »

Author: Julia P. Manzau
Julia P. Manzau has more than 30 years of professional experience in leading editorial and marketing positions in the premium automotive, mechanical engineering, and healthcare industries. She studied Political Science and History in Bonn, Marketing at the St. Galler Business School and earned a BA in Media Engineering (CCI). Since 2015, she has worked as a freelance writer. For EXPERTE.com, she focuses on software, the Internet, and marketing.
Continue Reading
Other languages
Deutsch