Storyblocks Review 2023: All-in-One Solution for Stock Media?

Ad disclaimer:
For links on this page, EXPERTE.com may earn a commission from the provider. This supports our work and has no influence on our editorial rating.
Bloggers, web designers, and marketers know that visuals make content stand out. However, not everyone has the means at hand to create their own media library.
The more affordable solution is offered by so-called stock photo providers, platforms that make both free and premium media available for download. Most of the time, licenses from providers of the latter are more legally sound, offering indemnification in the event of copyright infringement. In this review, we'll take a look at one such service, Storyblocks.
What Is Storyblocks?
In 2001, Joel Holland, a filmmaker, was looking for video material for a project he was working on concerning the city of Seattle. He quickly realized that while there was some content available, it would actually be more cost-effective for him to fly to the city and create his own media.
Thereafter, he started to offer his material at affordable rates on eBay, garnering the attention of plenty of eager customers. From that, the idea of Storyblocks* was born, although it was originally known under the name "VideoBlocks". The business grew quickly and today, offers more than 1.4 million files, including videos, photos, and audio, as well as tools.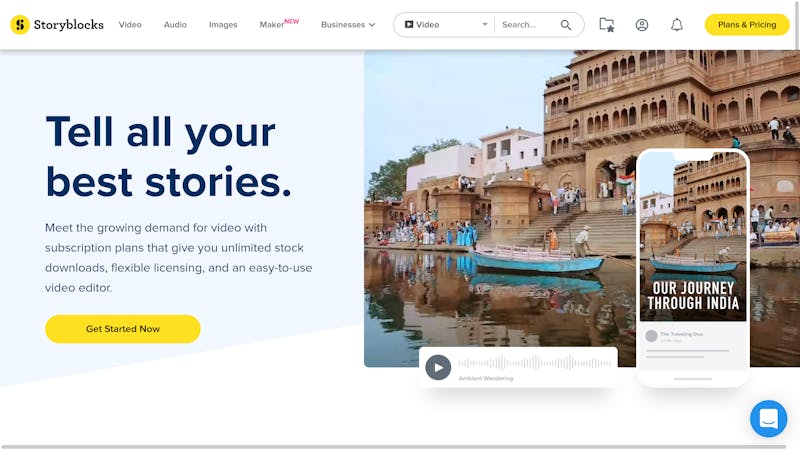 Storyblocks started out as a provider of video material, however, has since grown to encompass still images, audio, and plenty of useful tools.
Storyblocks Review
Licensing Conditions
10 / 10
Selection of Videos, Audio, Vector Graphics & Illustrations
9.4 / 10
Configuration & Usage
9.4 / 10
Stock Photo Selection
5.4 / 10
Great selection of video footage and audio

Affordably priced; straightforward licensing
Should you only want to browse through the database's offerings, you can do so without having to create an account. However, to purchase media, you'll need to register, which is easily completed by supplying your email address. It is slightly annoying that after registration you're automatically forwarded to a payment page, where the implication is that you need to purchase a subscription or credits to continue. Simply navigate past this - you don't need to pay to peruse the service.
After you've made it to Storyblocks' homepage, you'll quickly be able to tell where the platform's emphasis is, namely, high-quality, responsive videos. The search bar is located in the homepage's upper right, however, it lacks the ability to upload files and search for similar ones.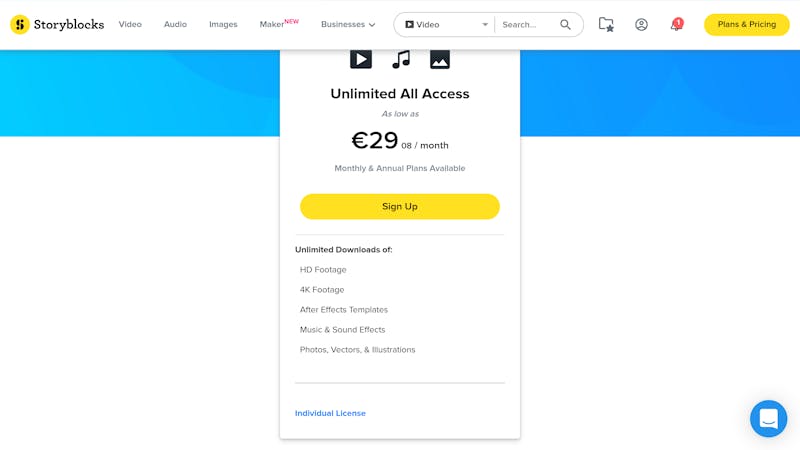 The first thing that you'll see after registering is a prompt to purchase a subscription, implying that the only way to use the platform is by paying - this is nothing more than pushy advertising.
Good images with average filter options
Even though Storyblocks' main focus is on videos, there are a number of images and illustrations available as well. Depending on the subject matter, the quality of these can be breathtaking. Unfortunately, the filters on offer are less stellar. Results can be refined by type, orientation, color, category, whether they have transparency or not, and if the model or property has been released. We would like to see some improvement in these, incorporating options to discern between the number of people in an image and their age, gender, or ethnicity.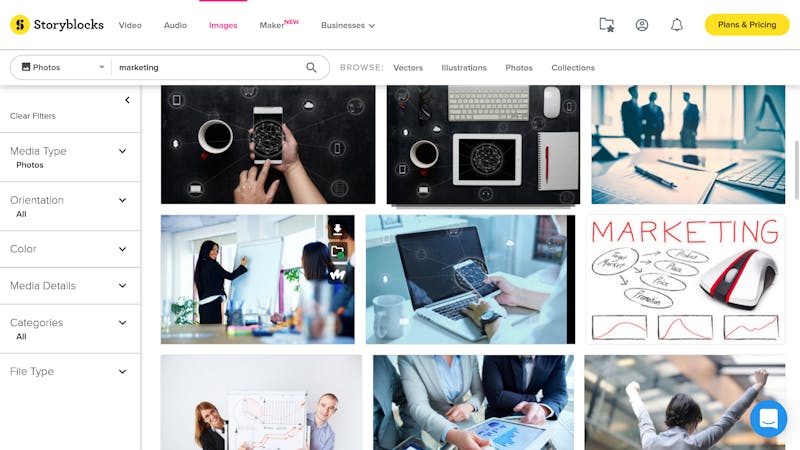 With Storyblocks, you'll be able to choose from a number of good pictures, however, the filter options are a letdown.
Easy to handle; designed with users in mind
At the same time, the platform handles remarkably well. Should you be a subscriber, you can easily download any media, either from user-defined folders (more on these later) or directly, by clicking on the download option that appears when hovering over an image. Whenever you click on an image, Storyblocks shows similar motifs below it. In the event that you don't have a subscription, you can download a preview of the image for laying out or a mock-up.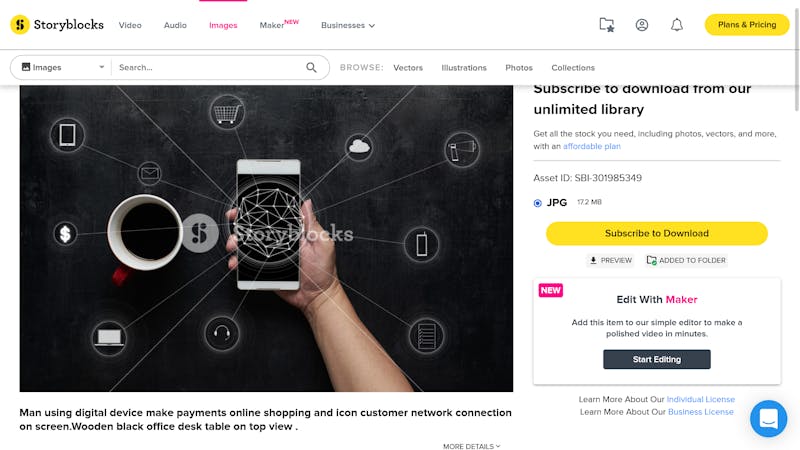 Storyblocks' homepage is intuitive and incredibly easy to use.
Efficient media management
Staying on top of media with Storyblocks is both convenient and efficient. For example, you're able to move your favorite files into user-defined folders, where they'll be sorted by type. The little green checkmark that appears on images or file previews in the database indicates which files you've already saved, preventing you from doing so again. On the overview page, you can also directly download files, search for similar ones, or customize them in Maker, the platform's editing tool.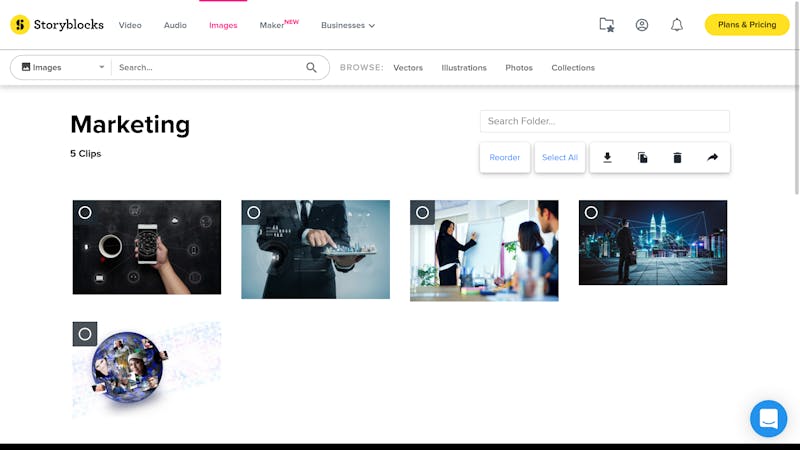 Storyblocks' folders offer a modern and neat approach to collecting media that has caught your eye. These can be arranged to your preferences and even shared with other users via link.
Illustrations
For those in the market for vectors and illustrations, Storyblocks has plenty, including a number of unusual and humorous interpretations. But that's not all, since the database also serves up plenty of useful tips and tutorials intended to make life easier for designers.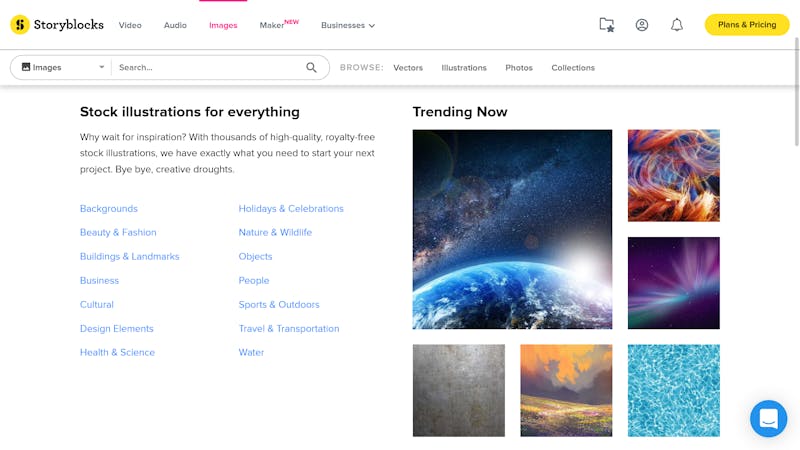 Storyblocks' selection of illustrations and vectors helps the platform stand out.
Material for professional filmmakers
So far as videos are concerned, Storyblocks is in its element, and it won't take long to realize that these are the platform's wheelhouse. Broadly speaking, the stock footage Storyblocks has is high-quality, creative, and thematically comprehensive. The only downside is that the filters don't allow for the number of people, their gender, or ethnicity to be discerned. At the same time, you can sort moving pictures by a variety of technical criteria.
After Effects and animated backgrounds
We've said it before: Storyblocks caters to filmmakers, and that extends beyond footage alone. Users can select from numerous animated backgrounds and effects, which should help make any video unique. There are innovative templates for intros, text design, or transitions, as well as plenty of tips and tutorials. Overall, it's a playground for creatives.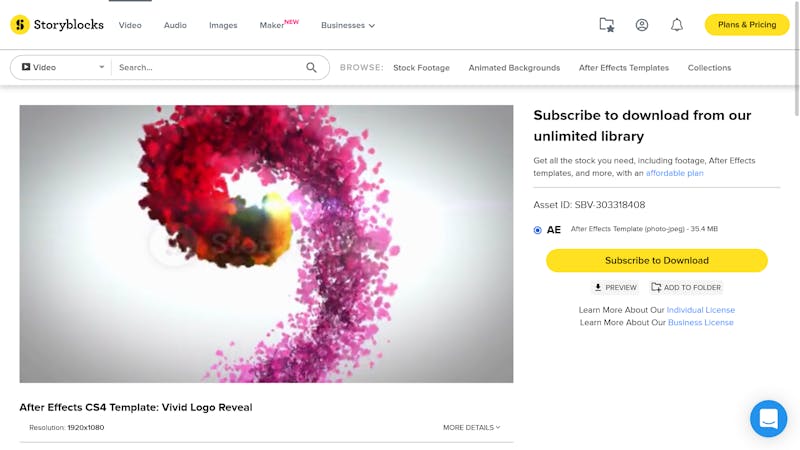 The platform doesn't only offer videos, but also, everything filmmakers need to put a production together.
Music that sets the tone
What would films be without the right music or sound effects? To round out their catalog, Storyblocks also offers all sorts of audio files that can be filtered by mood, genre, instruments, vocals, tempo, duration, and categories. Both quality and variety are excellent, regardless of whether you're making a corporate HR video or a travel vlog.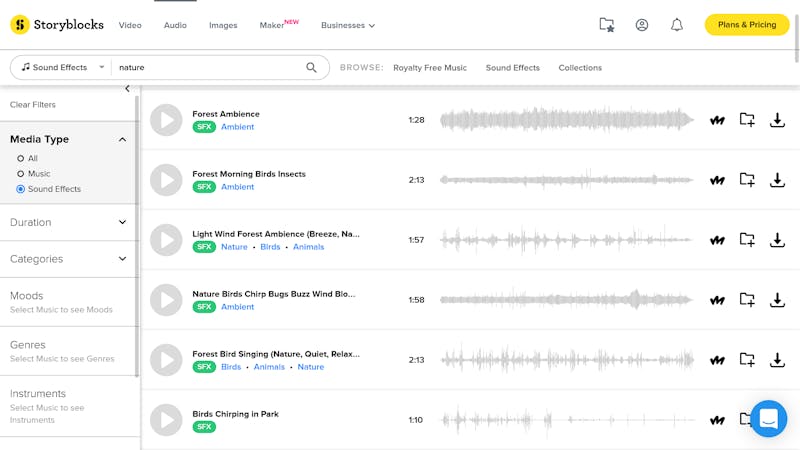 You'd be hard-pressed not to find the right music or audio for your project on Storyblocks.
Built-in editor with powerful features
Lots of other stock content services offer sleek media, however, Storyblocks goes above and beyond with its powerful in-house editing tool, Maker. In just a matter of minutes, you'll be able to create and download professional and impressive videos. During our assessment, we spliced together a short clip and were really taken with the end result. The only minor drawback is that you cannot search for individual sound effects while working in Maker.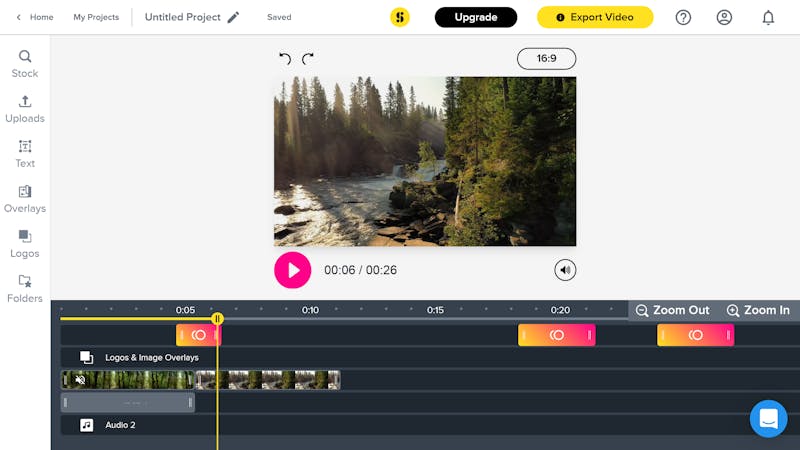 Storyblocks offers a powerful tool for creating videos or clips.
Good selection of media, helpful tools
Storyblocks provides more than just media for everyday use. With its video-editing tool and helpful tutorials, the platform wants to be a reliable partner for anyone working with footage. The selection of photos, illustrations, videos, effects, and audio should make it an appealing option for both private and professional users. Our only complaints concerned the lack of filters, particularly for images. And, as a minor aside, we'd also like to point out that Storyblocks does not, as of the time of writing, offer a mobile app.
Configuration & Usage
9.4 / 10
2.
Selection of Stock Photos
Storyblocks cut a good figure during our general overview, however, we wanted to know how they fared for everyday usage. Below, we assessed this on the basis of five keywords/phrases, namely: web hosting, ecommerce, antivirus, business, and email marketing.
Web hosting: Our first search, including illustrations and vectors, yielded 116 results. Unfortunately, barely any of these were photos, with most instead being illustrations or vector graphics. Even with slightly modified searches, such as hosting (115 results), the proportion of photos to illustrations and vectors only changed marginally. The 'best' results for this category were with the phrase Internet hosting (87 hits), however, nearly all of these were of server infrastructure.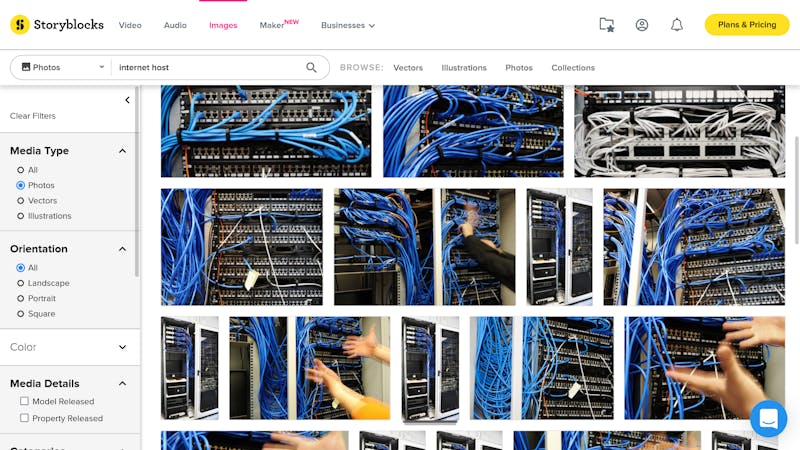 Our search for web hosting content on Storyblocks did not go particularly well.
Ecommerce: Our second search started out poorly, with 0 results for the term, a first in our entire sample. Undeterred, we tried online shopping which returned 382 hits. The advantage of having so few options is that the lack of filters isn't really noticable. At the same time, you shouldn't expect creative miracles as most of the choices are fairly run-of-the-mill.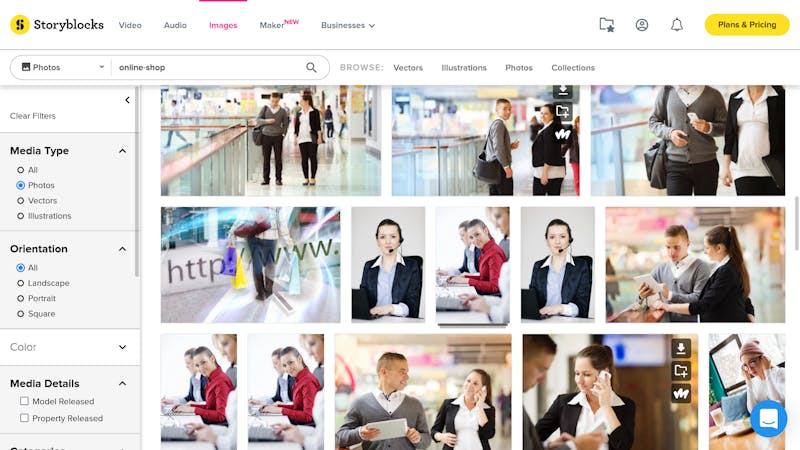 For ecommerce, Storyblocks yielded 0 results; with online shopping things were better, albeit still not fantastic.
Antivirus: For the second time, Storyblocks had nothing to offer for our search term. Anti virus gave nine hits, while anti virus software and anti virus computer each yielded three, but none of these were noteworthy.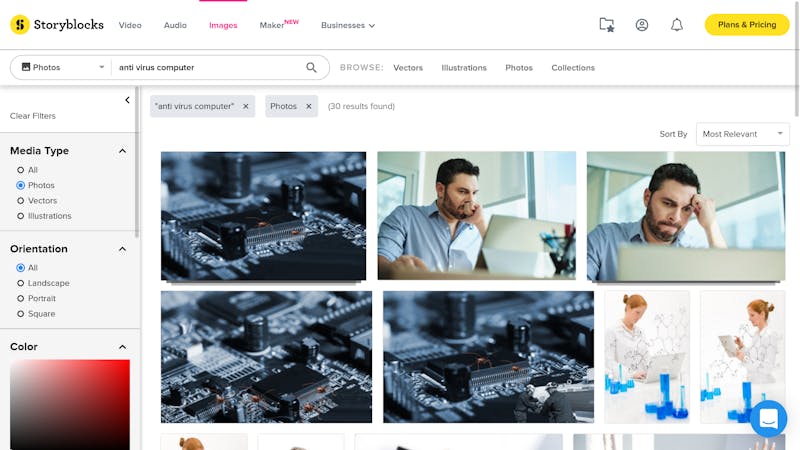 Another miss: We didn't find any usable results for antivirus.
Business: Our fourth search provided almost 14,000 results, among which were a number of really interesting options. Even though you cannot filter by whether people are in an image or not, the categories do help to specify the context of a photo.
Email marketing: For this search, we got 75 hits, however, almost all of these were illustrations or vector graphics. Even then, the overwhelming majority were text-based, and not particularly creative or groundbreaking.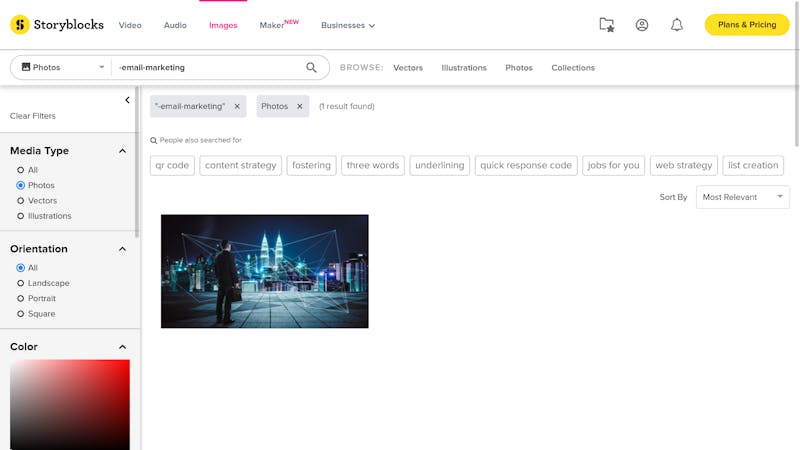 For email marketing, Storyblocks returned 75 results, almost all of which were text-based illustrations or vector graphics.
When looking for rather everyday motifs or subject matter, Storyblocks reveals an area where there's plenty of room for improvement. Even though we don't really expect a provider specializing in stock footage to excel in still images, more effort could have been made.
| Category | Score |
| --- | --- |
| | |
| | |
| | |
| | |
| | |
Stock Photo Selection
5.4 / 10
3.
Selection of Videos, Audio, Vector Graphics & Illustrations
Even though the selection of images is relatively lean, there are plenty of creative illustrations and vectors. Storyblocks' motifs for the latter two were not only good overall, but did well in all of our searches.
The platform's wheelhouses are, without a doubt, video and audio, and you'll find lots of high-quality files for these. We came across a good deal of material that would be excellent for corporate videos or short introductory clips. However, even here Storyblocks isn't perfect: The lack of concrete filter options makes searching more challenging than it needs to be.
| Category | Score |
| --- | --- |
| | |
| | |
| | |
Selection of Videos, Audio, Vector Graphics & Illustrations
9.4 / 10
Storyblocks' straightforward licensing conditions are another of the platform's advantages. Everything offered is covered under a royalty-free license, meaning that it can be used repeatedly without limits for any number of projects.
The only difference arises in terms of Individual and Business licenses. The first specifies that only one person has bought the rights to a specific piece of media and is entitled to $20,000 of indemnification in the event of a copyright dispute. For Business license holders, the entire company or organization holds the rights to the piece of media and is entitled to indemnification of up to $100,000.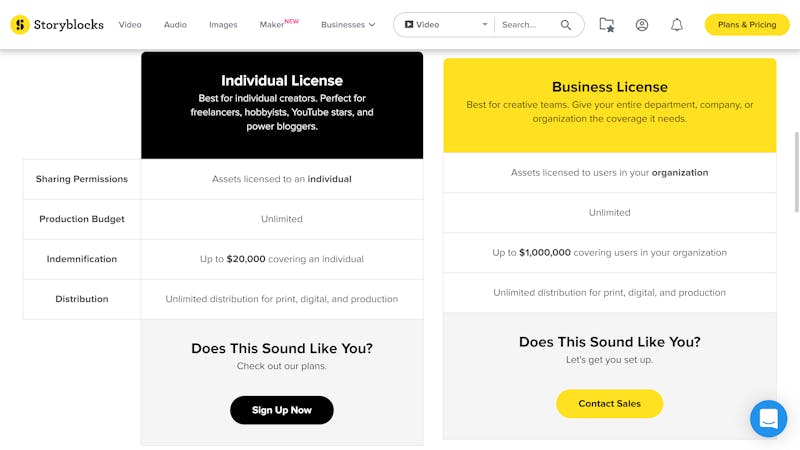 Storyblocks' approach to licensing is refreshingly easy and free from annoying fine print.
Licensing Conditions
10 / 10
Another area where Storyblocks excelled during our assessment was support. We sent a few queries, all of which were answered competently and professionally within a matter of hours.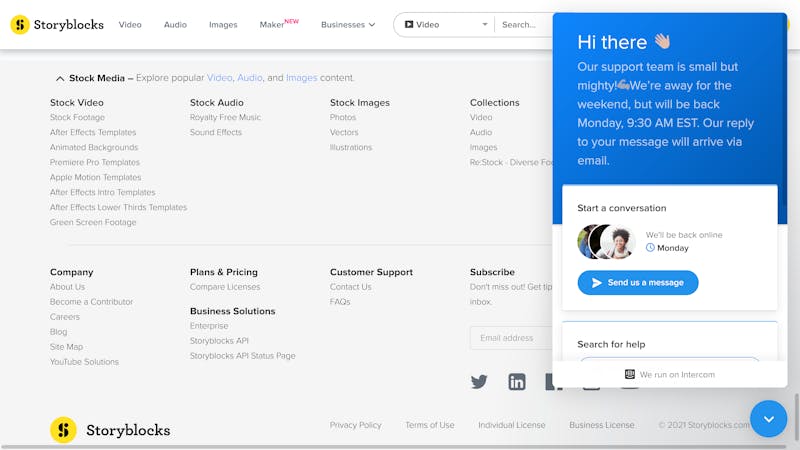 Options for contacting support can be found on the homepage's footer. Support is very fast and helpful.
Support can be reached by telephone, email address, or live chat (during business hours).
In terms of pricing, Storyblocks also does well, keeping things as straightforward as possible. Further sweetening the pot, the prices are fair and reasonable. Users can choose between individual unlimited downloadable videos and audio files, or packages. There are also mini-subscriptions for those interested in only downloading a handful of clips or audio files.
Below you can find an overview of current prices:
Starter
Unlimited All Access
Pro
Billing
Subscription
Subscription
Subscription
One-Time Fee
$0.00
$0.00
$0.00
Price per Month
$15.00
$30.00
$35.00
Contract Period (Months)
12
12
1
Included Content
Photos / Month
0
unlimited
unlimited
Videos / Month
5
unlimited
10
Licence For

Online & Print

Social Media

Marketing & Ads

Products

Online & Print

Social Media

Marketing & Ads

Products

Online & Print

Social Media

Marketing & Ads

Products
The table below shows the annual costs you can expect for purchasing 10 stock photos per month from Storyblocks in comparison to the other providers from our sample.
1.
2.
3.
4.
Depositphotos
Subscription 30
5.
Dreamstime
Subscription 15
6.
Shutterstock
Subscription 10
7.
iStock
Basic Subscription 10
8.
9.
10.
Storyblocks
Unlimited All Access
11.
Pond5
Footage Plus Subscription
12.
13.
Getty Images
10 Pack Small
Conclusion
Licensing Conditions
10 / 10
Selection of Videos, Audio, Vector Graphics & Illustrations
9.4 / 10
Configuration & Usage
9.4 / 10
Stock Photo Selection
5.4 / 10
Gauging Storyblocks is difficult: In terms of stock photos, it definitely cannot compete with most of the other providers from our sample. At the same time, its high-quality videos, audio, illustrations, and tools at an exceptional price make it one of the leaders in those areas.
Filmmakers and vloggers are bound to be more than pleased with Storyblocks, considering how much breathtaking material is on offer. Some improvements in terms of filters and the selection of photos available would make the platform a real contender.
Even though Storyblocks offers fewer images than its competitors, its high-quality videos, illustrations, and tools, all at an affordable price, remain impressive. The shortage of filters makes searching tedious, however.
great selection of videos and audio
affordably priced, easy licensing
8.8

good
Photos / Month
Videos / Month
Licence For
Billing
Storyblocks Starter
$15.00
monthly price
Visit Website*
Customer Ratings
Users are overwhelmingly positive about Storyblocks. We gathered these together for you to help see what you can expect from the platform.
Customer Ratings
2,566 Bewertungen
Visit Website*
We analyzed the reviews and ratings from various portals and found 2,566 ratings with an overall rating of 4.3 out of 5 .
Alternatives
Storyblocks fared very well in our assessment, except when it comes to photos. Should you need these at an affordable price, you can check out providers like 123RF.
Or maybe you're a creative, have a more sizable budget, and are looking for awe-inspiring photos and illustrations? If so, iStock might be the right choice for you.
Below, you can find more of the best alternatives to Storyblocks:
Depositphotos won our review thanks to its intuitive platform, huge media archive, simple licensing model, and fast support, all at a fair price. If you're searching for high-quality stock content, you won't be disappointed.
Photos / Month
Videos / Month
Licence For
Billing
Depositphotos Subscription 30
$24.92
monthly price
Visit Website*
iStock offers high-quality media material, efficient filter options, and transparent licensing conditions. Rounding out its solid package are fast support and copyright indemnification.
Photos / Month
Videos / Month
Licence For
Billing
iStock Credit Pack 1
$12.00
monthly price
Visit Website*
Getty Images, our test's third-placed platform, is the Rolls Royce of stock photo databases. Just keep in mind that exclusive images, incredible content, high-quality search tools, and an intuitive user experience don't come cheap.
Photos / Month
Videos / Month
Licence For
Billing
Getty Images Single Small
$175.00
monthly price
Visit Website*
Shutterstock serves up a huge selection of media and tools along with excellent support. For pros by pros. The platform is particularly well-suited for editorial teams and agencies with sizable budgets.
Photos / Month
Videos / Month
Licence For
Billing
Shutterstock Subscription 10
$29.00
monthly price
Visit Website*
Get 10 free images
For high-quality film and video material, Pond5 is the right choice. It's easy to use and offers helpful tools. Unfortunately, the lack of search filters makes finding what you need tough, while its pricing structure could be clearer.
large selection of videos & music
affordable and free content
8.9

good
Photos / Month
Videos / Month
Licence For
Billing
Pond5 Footage Plus Subscription
$83.25
monthly price
Visit Website*
* Ad disclaimer:
For links marked with an asterisk, EXPERTE.com may earn a commission from the provider. The commission has no influence on our editorial rating.

Julia P. Manzau has more than 30 years of professional experience in leading editorial and marketing positions in the premium automotive, mechanical engineering, and healthcare industries. She studied Political Science and History in Bonn, Marketing at the St. Galler Business School and earned a BA in Media Engineering (CCI). Since 2015, she has worked as a freelance writer. For EXPERTE.com, she focuses on software, the Internet, and marketing.
Continue Reading
Other languages
Deutsch