Make a Mood Board: 6 Steps to a (Free) Mood Board in 2023

Ad disclaimer:
For links on this page, EXPERTE.com may earn a commission from the provider. This supports our work and has no influence on our editorial rating.
Would you like to visualize sentiments or feelings that are hard to express in words? A mood board might be the best way to present your message.
While a portfolio is best for presenting your work, mood boards come in handy for more creative processes, such as marketing, film, design, or architecture. Below, we'll show you how to make a free mood board as well as what to pay attention to.
Create a Mood Board: 6 Steps to Making an Online Mood Board
A mood board, sometimes ]referred to as an inspiration board, is a collection of images, illustrations, and graphics that visualize a single idea. It can provide the foundation for creating a brand, a new product line (such as furniture or clothing), or your customer outreach.
In its analog version, which is generally more of a craft, different materials are physically attached to a pinboard. The digital variant can be created much faster. We'll let you know how to do it, step-by-step, from selecting the right online design software to publishing your mood board.
1.
Choose the Right Design Software
Before you can start expressing your creativity, you'll need to choose the right design software. In our EXPERTE.com comparison, we closely tested five of the most popular online design solutions in terms of their features, ease of use, and customization options:
We identified their advantages and disadvantages, as well as which target group each platform is most suited for. Canva, our winner, is also the first pick when it comes to creating a mood board.
Our Winner: Canva
Our winner from Australia impresses thanks to its intuitiveness, editing options, and a huge selection of layouts, elements, and stock content. With Canva, you get lots of power at a fair price.
impressive stock media database
good price-performance ratio
free premium trial available
9.6

excellent
Plan
Users
Speicher
Downloads/Month
Canva Free
$0.00
monthly price
Visit Website*
Canva impressed us with its huge selection of templates, photos, elements, videos, and audio files, to say nothing of its comprehensive editing features. New add-ons and tools are constantly being added as well. Users without any design experience will quickly come to terms with Canva and be able to make the most of its sleek and professional layouts.
If you'd like to try the platform out before purchasing a subscription and make a few mood boards for free, you're in luck because Canva offers a 30-day free trial.
Canva's Advantages and Disadvantages
Lacks media search filters

Unclear number of templates
Documentation & Support
9.4 / 10
Templates & Elements
9.4 / 10
Online Design Software Ranking
Canva isn't the only online design program with which you can make a mood board. In fact, there are plenty of comparable services with more launching every day. In the ranking below, you can check how each of the five platforms that we tested performed:
2.
Choose a Layout: Design Templates for Every Mood
Note: In this guide, we used Canva to create a mood board. With other design software, features and tools may vary.
Once you've signed in to Canva, you'll land in the user dashboard. Here, you can work on existing designs, create new ones, or visit the Design School and check out the platform's interactive tutorials and guides.
The quickest way to find a template for your mood board is by using the search tool. Simply type "mood board" and the program will list thousands of collages, Pinterest Pins, and other relevant templates.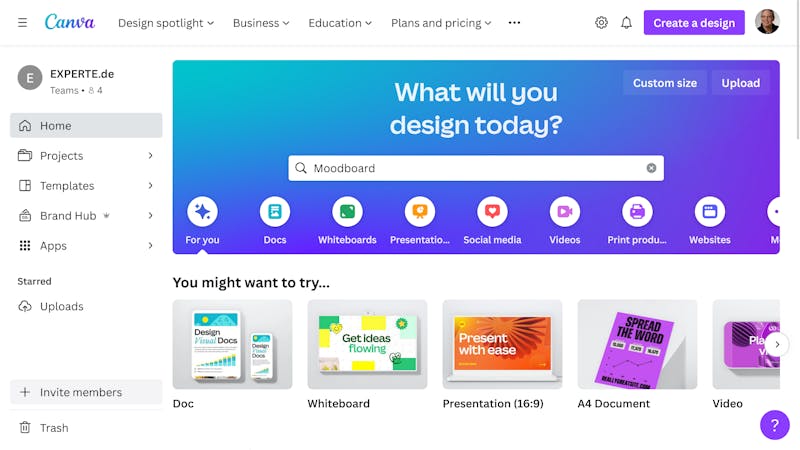 After signing in to Canva, you'll be taken to the landing page/dashboard, where you can start looking for mood board designs.
Even though Canva returned around 200,000 layouts based on our search query ("mood board marketing"), it didn't take long for us to find the template we wanted. To inspect a particular layout, click on its thumbnail, and Canva will open a preview.
Should you like what you see, click on the Customise this template button to work on it further in Canva's editor. In case you'd like to continue your search, but want to save a particular layout for later, you can add it to your favorites by clicking on the star icon.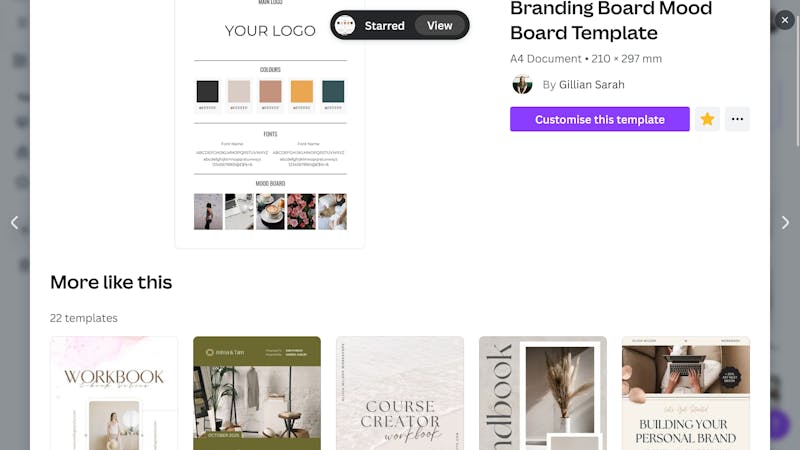 To add a template to your favorites (and save it for later) click on the star icon.
3.
Customize Your Mood Board: Visualize Your Vibe
After you've settled on a particular template, it's time to customize your mood board. In our example, we wanted to create a mood board for a travel blog. We included a logo, colors, fonts, and images that reflect the emotional look and feel of our fictional brand.
One particularly neat feature of Canva is that all of the items above can be designed and modified without leaving the platform. For example, Canva offers several ways to create a logo and offers suggestions that can be used as drafts or placeholders. This allows you to easily swap out a logo later on if you don't like the way the final product looks.
Don't forget: Creating a mood board is all about emotional brainstorming - include anything and everything that comes to mind!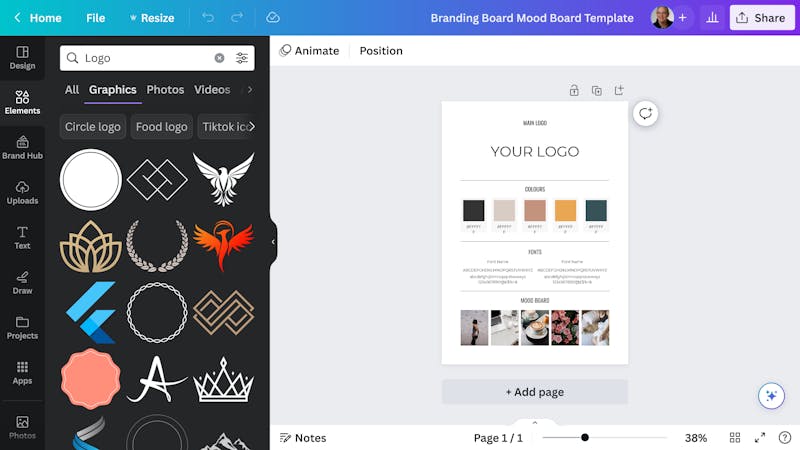 Creating a brand development mood board is like emotional brainstorming: Try everything!
Start by looking for graphics that best reflect your ideas. Once finished, the final logo will represent a combination of these. If you like a particular style, you can try Canva's Magic Recommendations tool, which displays graphics similar to those you've selected. In our example, we settled on three different logo graphics.
Specify Colors
Next up is planning your color schemes. We recommend familiarizing yourself with how to use colors and their meanings before settling on anything. If you're unsure which colors are right for your brand, mood, or campaign, a color palette generator can help. You can use Canva's or an external one, such as that offered by Coolors.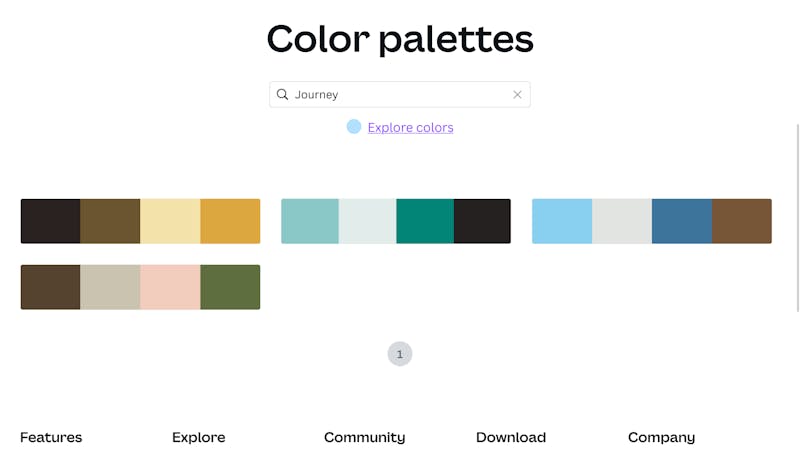 Are you having trouble deciding which colors work best with your mood board? A color palette generator can help.
To adjust your design's colors in Canva, click on the color icon on the editor's upper menu, to the left of the live preview. You can either input the color code supplied by the generator or freely browse through the color tones and choose your favorite(s).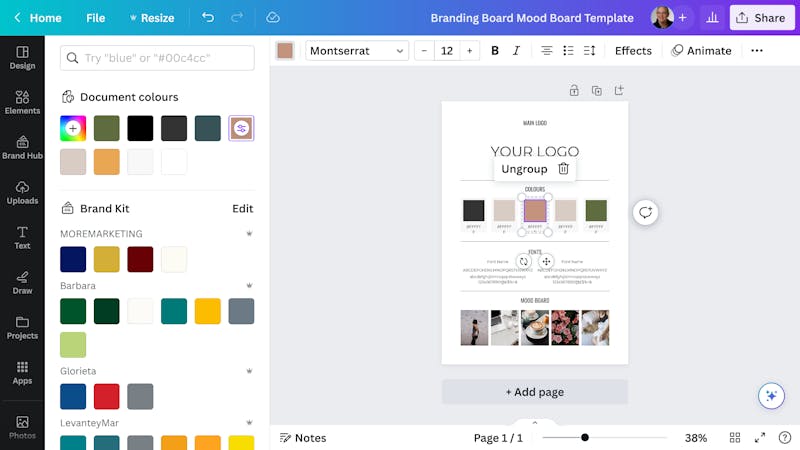 Every element in Canva's editor can be dragged and dropped to your preferences.
Select a font
To make sure that your mood board is coherent, it will need a uniform font. Canva offers a wide selection of these, which you can modify to come even closer to your preferences. If you're unsure about whether certain fonts work well together, you can use Fontpair. To change the fonts in your mood board, click on a text block and select a new font from the list in the upper left.
Choose the font based on your brand and target audience. If you'd like to impart a romantic mood, playful fonts are a good option - for a more serious or professional audience, go with something clear and sleek.
4.
Visualize Your Mood: A Picture Is Worth a Thousand Words
If you're making an image or photo mood board, you can skip over the above steps. All of the space that you would have needed to use for a logo, color palette, and font, can be filled instead with powerful images. In our example layout, we included five images, which we were able to modify to our preferences in the editor.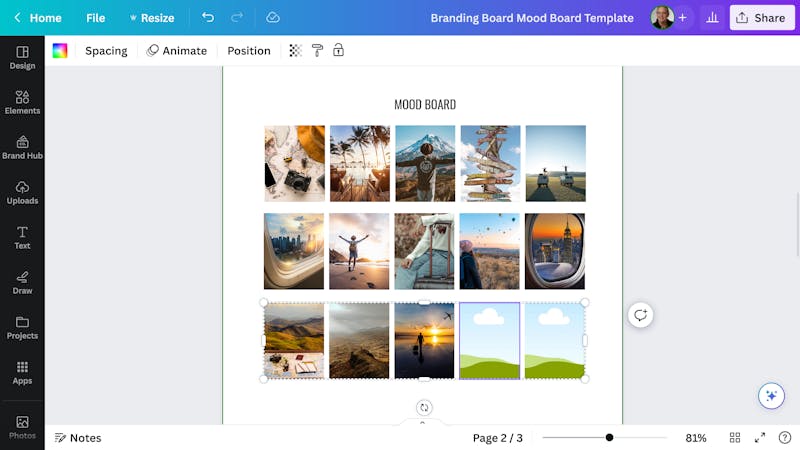 Images help to express emotions and ideas without words.
To make sure that our images were all the same size, we used a grid. Of course, you don't have to take this step and can display images in your mood board as a sort of collage.
To clearly convey your mood, make sure that the photos you select have similar coloring and style. It's a good idea to limit yourself to certain color tones - the more colorful elements are, the more difficult it will be to determine what sort of atmosphere you're trying to create.
5.
Mood Board: Publish and Discuss
Congratulations, you've completed your mood board! You might be wondering what the next step is. Answering this depends on what you intend to achieve with your mood board. In our example, we're working on developing a travel blog brand. As such, our fictional mood board serves as a basis for further discussion about individual aspects such as the brand's logo, website, and presence.
You can publish your mood board online, on platforms like Pinterest or various social networks, share it with friends, or present it as a sort of collage.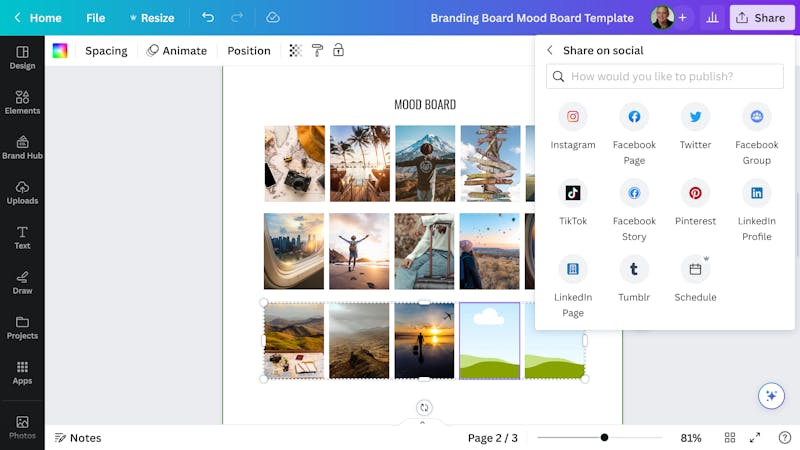 There are many different ways to use your mood board. In Canva, you can post it directly to your social media.
Conclusion
Mood boards are excellent tools for visualizing the emotions, feelings, and atmosphere of any topic or subject matter. They showcase what a brand, website, or blog should impart or embody, especially if it's difficult to express in words.
Once you've created a mood board, you can use it in several different ways: As the basis for brand development, an example on social media like Pinterest, or to show the marketing department what goals you want a campaign to achieve, or how a product line should be presented.
FAQs
Which online programs can I use to create a mood board?
⊖
These days, there are plenty of online design programs that you can use to create a mood board. We intensively reviewed five of them in our EXPERTE.com online design test. Canva came in first, thanks to its intuitiveness, comprehensive editor, and a huge selection of templates and elements.
Can I make a mood board for free?
⊖
Yes, if you're using an online design platform like Canva, you can make a mood board for free. It's possible to try out Canva's Pro version for free for 30 days and use its tools and premium templates for your mood board.
How do I make a mood board?
⊖
Once you've chosen an online design program, look for a suitable template, and open it in the platform's editor. You can use images to express feelings in a mood board, or, color palettes, fonts, and other design aspects.
What's a mood board for?
⊖
A mood board conveys a message that would be difficult to express in words, such as an emotion, a feeling, or an atmosphere. They're also used for developing a brand, product, or campaign. In this way, your mood board visualizes the feeling or atmosphere you wish to create.
* Ad disclaimer:
For links marked with an asterisk, EXPERTE.com may earn a commission from the provider. The commission has no influence on our editorial rating.

Julia P. Manzau has more than 30 years of professional experience in leading editorial and marketing positions in the premium automotive, mechanical engineering, and healthcare industries. She studied Political Science and History in Bonn, Marketing at the St. Galler Business School and earned a BA in Media Engineering (CCI). Since 2015, she has worked as a freelance writer. For EXPERTE.com, she focuses on software, the Internet, and marketing.
Continue Reading
Other languages
Deutsch