Best Pixabay Alternatives 2023: Our TOP 5 Alternatives

Ad disclaimer:
For links on this page, EXPERTE.com may earn a commission from the provider. This supports our work and has no influence on our editorial rating.
You've just put the finishing touches on your text, but need a striking image to accompany it? Or maybe your presentation is missing a graphic that ties everything together? In these and countless other cases, those in the know simply navigate to their preferred stock photo database. Alongside premium platforms, there are also a number of free providers worth exploring.
However, there are a few reasons to prefer the former over the latter. First, since many people look for options on free platforms, there's a greater likelihood that your competitors will come across and end up using the same visual content as you. Related to this, quality can also be an issue, since, more often than not, quantity trumps it in free archives. Most seriously though, "free" stock photo archives accept no legal responsibility for any consequences which might arise from using their images. This means, that if, for example, you download a stock photo from a free platform, use it, and then receive a cease-and-desist notice (or notification that you're infringing upon someone's copyright), you have to face it on your own.
This is the case with Pixabay, one of the most well-known suppliers of free stock photos, illustrations, graphics, videos, and audio. In this article, we'll let you know why Pixabay might not always be the best choice, as well as which alternatives we recommend from the other 12 platforms we reviewed.
Pixabay's Drawbacks
No indemnification in the event of copyright violations
One unfortunate consequence of using images from Pixabay can be a cease-and-desist letter, or notification of being in violation of a copyright, image right, or trademark. This has the potential to really ruin your day (or week) since financial damages will likely accompany the letter. As Pixabay offers no indemnification and absolves itself of any responsibility for the content hosted on its platform in its terms and conditions, you'll have to foot the bill on your own.

Poor filters and inaccurate results
Depending on what search terms you input, Pixabay's results might be disappointing. Even writing the term or phrase differently can return 0 results, which gets frustrating over time. At the same time, the few filter options on offer make sifting through lots of hits something of an ordeal.

Mass production instead of unique content
Seeing the same motif recycled over and over for websites or flyers catering to the same market segment saps trust in that product or service. Content needs to be unique - when it isn't, it vanishes into the crowd.
Top 5 Alternatives to Pixabay
In our comprehensive assessment of stock photo providers, we put 13 platforms to the test, checking their functionality, quality, selection, pricing, licensing conditions, and support. Those looking for free photos or footage should definitely consider the alternatives below. Even though most of them are premium services, the majority offers an assortment of free media.
1.
Depositphotos: Impressive Selection of Free Media
Depositphotos won our review thanks to its intuitive platform, huge media archive, simple licensing model, and fast support, all at a fair price. If you're searching for high-quality stock content, you won't be disappointed.
Photos / Month
Videos / Month
Licence For
Billing
Depositphotos Subscription 30
$24.92
monthly price
Visit Website*
The top service from our stock photo assessment doesn't only flex its muscles in terms of premium content, but also free media. Those willing to give it a shot can expect around 70,000 images, vector graphics, editorial files, and videos in its free archive.
Unfortunately, when searching, Depositphotos likes to show off everything in its free collection. You can limit results somewhat with different filters such as portraiture, point of view, date added, orientation, number of people, and a few others. Regrettably, there's no way to see only images, graphics, or videos. As such, if you're looking for free stock footage, you'll need a bit of patience to find just what you're after.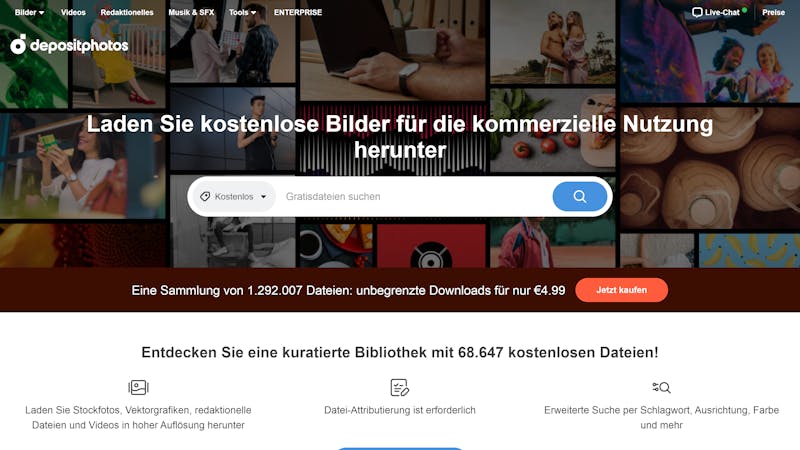 Depositphotos offers nearly 70,000 free pieces of media which can be used however you desire, so long as you cite the author and source.
All the same, there's no harm in having a quick look through the archive, if only for inspiration. Should you find something you want to use, you'll need to cite the author and source, which isn't the case with Pixabay. In exchange, Depositphotos provides the peace of mind that comes from knowing that the media won't produce any unwanted legal surprises. Another argument in favor of Depositphotos is that the quality and search result accuracy are both considerably higher than on Pixabay.
High-quality media
Depositphotos emphasizes the quality of its free files, meaning that those who are ready to invest a bit of time doing research will likely be rewarded with good media.

Legally secure to use
So long as you cite the author and source, you can use free media from Depositphotos without having to worry about whether or not its copyrighted or trademarked.
Lack of filter options
Although it's possible to filter search results according to their camera perspective or position, there isn't an option to view specific types of media, which makes searching rather stressful.
Selection of Videos, Audio, Vector Graphics & Illustrations
9.4 / 10
Configuration & Usage
9.4 / 10
Licensing Conditions
9.4 / 10
Stock Photo Selection
8.6 / 10
2.
iStock: A Media Journey That Skimps on Free Content
iStock offers high-quality media material, efficient filter options, and transparent licensing conditions. Rounding out its solid package are fast support and copyright indemnification.
Photos / Month
Videos / Month
Licence For
Billing
iStock Credit Pack 1
$12.00
monthly price
Visit Website*
Another one of the stock photo market's heavyweights is definitely iStock. Owned by Getty Images, a major global photo agency, the platform offers exclusive albeit pricey graphic material. Free files are hard to come by, maxing out at three videos and three graphics per month, plus three photos every week.
You'll find these under the "Inspiration" menu heading, however, we're not entirely sure who could be inspired by such a limited amount of content. Making matters worse, if you see something that might be appealing, grab it! iStock doesn't offer a free archive like Depositphotos or Adobe Stock, removing free content after a short period of time.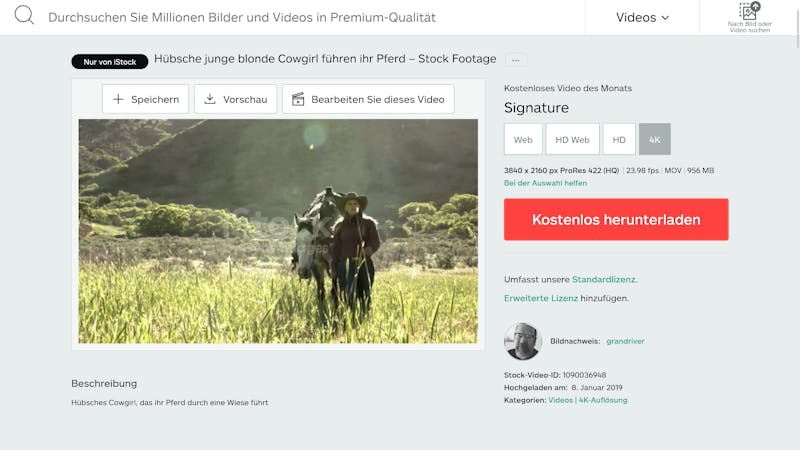 Slim pickings: Each month, iStock offers nine free files.
All the same, iStock is in a completely different league than Pixabay, making it hard to compare the two. Supposing that you have an iStock account and regularly purchase premium material from it, by all means, grab the freebies too. On the other hand, registering with iStock just to get the nine files every month, in light of what its competitors offer seems unnecessary.
Legally safe to use
The handful of free media which iStock offers every month can be used without worry, so long as you cite the author/source.
An extremely limited assortment of free media
Those looking exclusively for free material won't be particularly impressed with iStock's selection.

No archive
The provider determines what's offered for free. There's no way to see previously offered free content or look for specific subject matter or motifs.
Configuration & Usage
10 / 10
Licensing Conditions
10 / 10
Stock Photo Selection
9.4 / 10
Selection of Videos, Audio, Vector Graphics & Illustrations
6.6 / 10
3.
Getty Images: Free With a Catch
Getty Images, our test's third-placed platform, is the Rolls Royce of stock photo databases. Just keep in mind that exclusive images, incredible content, high-quality search tools, and an intuitive user experience don't come cheap.
Photos / Month
Videos / Month
Licence For
Billing
Getty Images Single Small
$175.00
monthly price
Visit Website*
Things aren't much better with iStock's parent company, Getty Images. While most of its photos and illustrations can be used for free, this is only for editorial or non-commercial purposes. Particularly the latter is loosely formulated and leaves a lot of room for misinterpretation, giving crafty lawyers all sorts of incentives to target you. Nearly every publication has some sort of monetary component - whether ad revenue on a blog or subscribers to a newsletter, it just isn't worth the risk. Following this logic, there are only a few scenarios where it seems legally sound to use the media.
But even supposing that your case is one of these, there's another catch: If Getty Images removes an image that you've integrated onto your own, non-commercial website, it will disappear from there as well.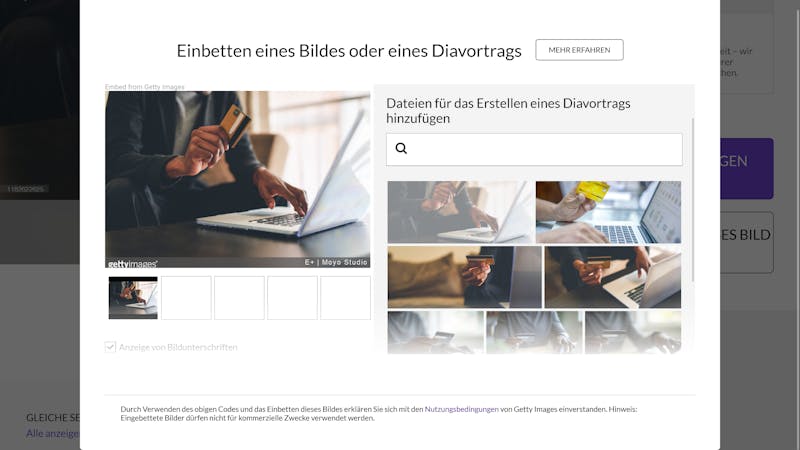 Integrating pictures on your site is possible, but you can't download them: A large part of media on Getty Images can be used as editorial content via iFrame, so long as you're not planning to use it for any commercial purposes.
Just because content can be freely integrated doesn't mean you aren't paying a price, since Getty Images takes a somewhat nosy approach to data privacy. If you're planning to embed its photos or videos on your own site using the embed code, you'll have to surrender extensive snooping rights to the photo giant. For example, if your site uses tracking tools to monitor the number or type of visitors, Getty Images will be able to indirectly log these via the embed code. As such, the service isn't really an alternative to Pixabay.
High-quality photos
Getty Images is a premium provider with a vast portfolio. You should be able to find nice motifs for almost any subject matter.
Free, but only for editorial purposes
Photos and videos can be added via the embed code, but only if your website or blog is non-commercial and/or the media is for editorial purposes.

Getty Images holds all rights
In its terms of use, Getty Images reserves the right to take advantage of its hosting service at any time. Possible scenarios include marketing materials or campaigns. In addition, if the service deletes the image or video from its portfolio, it will also disappear from whatever websites it's integrated on.

Free, but not without cost
In order to embed media from Getty Images, you won't need to register or sign up for a subscription. However, even though the media is free, you're still paying for it, since Getty Images can extract lots of information from your website through iFrame. This includes all tracking data, which is forwarded to the stock photo giant.
Configuration & Usage
10 / 10
Licensing Conditions
9.4 / 10
Stock Photo Selection
9.4 / 10
Selection of Videos, Audio, Vector Graphics & Illustrations
6.6 / 10
4.
Shutterstock: Free Media Only for Selected Themes
Shutterstock serves up a huge selection of media and tools along with excellent support. For pros by pros. The platform is particularly well-suited for editorial teams and agencies with sizable budgets.
Photos / Month
Videos / Month
Licence For
Billing
Shutterstock Subscription 10
$29.00
monthly price
Visit Website*
Get 10 free images
Shutterstock is another leading stock photo provider, however, its free media archive isn't too impressive. There's only ever a free photo and vector graphic per week, however, unlike other providers, these are kept in a dedicated archive. Although they're sorted into individual collections, it isn't possible to search for them by keyword or phrase.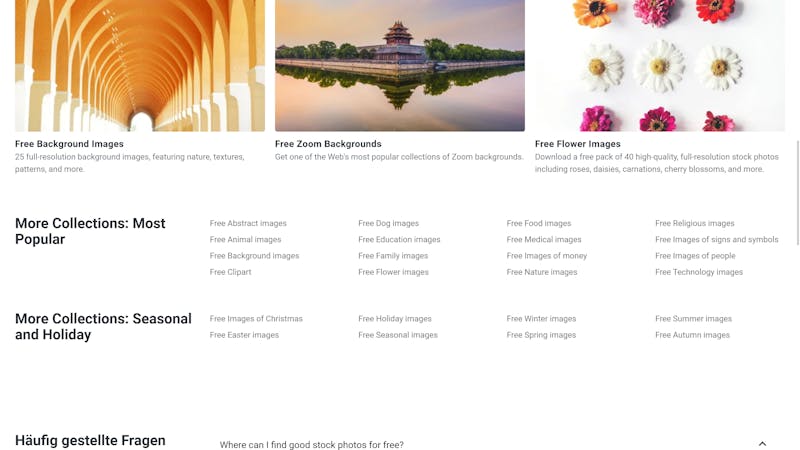 Shutterstock offers a small selection of topically sorted free images. Each week, a new photo and vector graphic are added.
Shutterstock's free photos can be used under the company's license, which allows 500,000 physical reproductions and unlimited digital copies. So long as your production budget is less than $10,000, the images can be included in film and video projects as well, even if they're ads.
The quality of Shutterstock's free archive definitely surpasses that of Pixabay. Only the quantity is a bit wanting, and no filters are included. In order to thematically expand your personal library of stock photos, it's worth taking a look at Shutterstock every now and then.
Selection of Videos, Audio, Vector Graphics & Illustrations
9.4 / 10
Licensing Conditions
9.4 / 10
Configuration & Usage
8.6 / 10
Stock Photo Selection
8.0 / 10
5.
Pond5: Video Specialist With a Free Multimedia Archive
For high-quality film and video material, Pond5 is the right choice. It's easy to use and offers helpful tools. Unfortunately, the lack of search filters makes finding what you need tough, while its pricing structure could be clearer.
large selection of videos & music
affordable and free content
8.9

good
Photos / Month
Videos / Month
Licence For
Billing
Pond5 Footage Plus Subscription
$83.25
monthly price
Visit Website*
During our search for Pixabay alternatives, we just couldn't overlook Pond5. The service took a respectable fifth place in our list of the best stock photo providers thanks in part to the free video it makes available each week and its impressive free media archive. However, you won't find these through the menu, but rather, via a link on the homepage.
Even though the stock footage specialist offers plenty of free photos, videos, and music, which are categorized, there aren't any filters for sifting through them. With that said, the quality of the media on offer is excellent.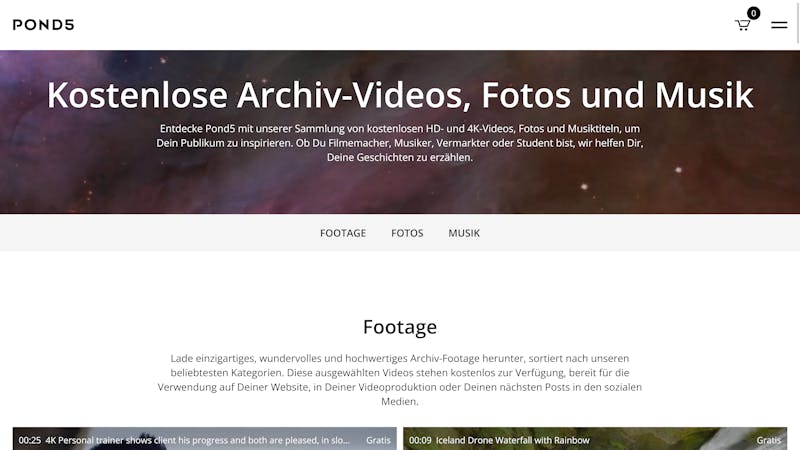 Pond5: Definitely an alternative to Pixabay if you're looking for free media.
Whether media can be used commercially and if so, with which license can be ascertained by clicking on the small question mark accompanying each image, video, or audio file. Whatever the case, you will need to cite the artist, but Pond5 offers examples of how to properly do this. Even though finding the right material can take some time, checking out the high-quality archive is worth it, as you can add professional media to your own collection.
Inspiring selection of free videos, photos, and audio

Legally safe, also for commercial purposes
Sorting only possible via keywords
Selection of Videos, Audio, Vector Graphics & Illustrations
10 / 10
Licensing Conditions
9.4 / 10
Configuration & Usage
8.6 / 10
Stock Photo Selection
6.6 / 10
Free Alternatives to Pixabay
Alongside premium platforms which offer free content, there are a few other services like Pixabay that specialize in 'free' stock content, such as Pexels and Unsplash. These all suffer from the same issue though, in that they don't offer any sort of indemnification in the event that the media you use is actually copyrighted or trademarked, or the models depicted therein own their image rights. Instead, this is shrugged off as being the "customer's" responsibility.
If you're after free artistic material, check out Unsplash. Keep in mind that whatever you use doesn't include copyright indemnification. For business subjects, search filters, videos, and illustrations, there are better options too.
high-quality, free photos
no copyright indemnification
lacks commercial subject matter
no illustrations or videos
5.7

satisfactory
Photos / Month
Videos / Month
Licence For
Billing
Unsplash Free
$0.00
monthly price
Visit Website*
Those just looking for images can take advantage of Unsplash's offerings though since the platform serves plenty of these up in top quality. To download a photo (all the service has), you won't need an account either, which makes doing so easy.
Pexels offers good photos and videos at no cost. However, since they don't provide indemnification, you could get more than you bargained for if a copyright dispute arises. A lack of useful filters means that search results are inaccurate.
Photos / Month
Videos / Month
Licence For
Billing
Pexels Free
$0.00
monthly price
Visit Website*
Pexels has quite the collection, all of which is of breath-taking quality. Its limited filter options make media research tedious and stressful though.
Overall Result
If you need visual material, there are plenty of stock providers out there who can be of assistance. Among these, you'll find premium platforms, which offer lots of free media. The advantage of using these is that the media is legally safe to use, and the provider offers indemnification in the event that it turns out to be copyrighted, trademarked, or otherwise protected.
During our stock photo comparison, we created an account with each of the 13 providers from our sample in order to thoroughly assess their catalogs, features, and conditions. Each section of our individual reviews was scored from 1 to 5, with 1 being the worst and 5 the best.
Conclusion
These days, if you'd like to create a blog, flyer, or video, you won't need your own archive to supply it with high-quality visual material. Plenty of professional services offer extensive archives of stock content, some of which is entirely free to use. To stay on the legally safe side of things, we recommend relying on premium archives that offer free media.
* Ad disclaimer:
For links marked with an asterisk, EXPERTE.com may earn a commission from the provider. The commission has no influence on our editorial rating.

Julia P. Manzau has more than 30 years of professional experience in leading editorial and marketing positions in the premium automotive, mechanical engineering, and healthcare industries. She studied Political Science and History in Bonn, Marketing at the St. Galler Business School and earned a BA in Media Engineering (CCI). Since 2015, she has worked as a freelance writer. For EXPERTE.com, she focuses on software, the Internet, and marketing.
Continue Reading
Other languages
Deutsch