Best (Free) PC Cleaner: 7 Tools for Cleaning Your PC 2023

Author
Janis von Bleichert
Our editors test and evaluate all services independently. For links on this page, EXPERTE.com may earn a commission from the provider.
Homes and computers have at least one thing in common: When things get messy, it's time to start cleaning! PCs that haven't been tidied up for a while are noticeably slower and less responsive. If you'd like to get into every nook and cranny of your PC and give it some sprucing up, special tools known as PC cleaners can lend a hand.
PC cleaners not only help to straighten up your system, but they'll also optimize it, and make it faster. But which programs actually deliver what they promise? Below, we'll fill you in on everything you need to know about PC cleaners, as well as which solutions impressed us the most.
What Are PC Cleaners and What Do They Do?
As their name suggests, PC cleaners specialize in tidying up your system by locating and deleting redundant and/or unnecessary files that take up space. With them, you'll be able to digitally de-clutter with just a few clicks, getting rid of all the junk that is slowing your computer down.
Broadly speaking, though, PC cleaners do little that the tools which come pre-installed with your operating system aren't capable of. As such, they're somewhat controversial, which isn't helped by the fact that some PC cleaners are actually adware or malware.
However, if you use a reputable program for a specific purpose, these tools can come in very handy. A big plus is their convenience factor, since they turn tasks that might be quite complicated or time-consuming with pre-installed programs into a matter of just a few clicks. Below, we've summarized some of the most useful features PC cleaners offer:
Get rid of junk files
The longer you use your computer, the more junk files will accumulate on it. PC cleaners track all of these down and delete them in one fell swoop.

Remove trackers
Lots of websites rely on a variety of different tracking methods in order to monitor visitor behavior. PC cleaners are able to identify and remove these, enhancing your privacy.

Clear browser data
PC cleaners can also help in tidying up your browser: With little more than a few clicks, you can clear your cache, browsing history, cookies, and more.

Remove unneeded programs
Some programs are a real pain to uninstall. And even when you think they're gone, they could leave traces on your computer that you might not be aware of. With PC cleaners, you can get rid of even the trickiest software once and for all.

Shred files
Deleted files aren't always gone forever. With some software, data you thought was long gone can actually be recovered. A number of PC cleaners offer users the ability to shred files, making them unrecoverable (without considerable effort).

Boost your system's performance
Many PC cleaners include optimization tools that improve how your system performs, making it faster. They achieve this by deleting files, preventing programs from starting up when you turn your computer on, or by deactivating specific apps.
Of course, this is just a small overview of what PC cleaners offer, and it's far from exhaustive. Some tools specialize in one or more of these features, while others include ones we haven't even mentioned yet.
The Best PC Cleaners: Our TOP 7
From tools that come installed on your operating system, to freeware, to premium solutions: There are lots of PC cleaners, each with specific advantages and disadvantages. Next, we'll briefly introduce you to some of our favorites, letting you know what they can and cannot do, and who they're designed for.
1.
Windows Disk Cleanup: The Go-To Windows Solution
If your computer uses Windows, you won't need to install another piece of software in order to tidy up your system. Simply type Disk Cleanup into the search menu and open the program that appears. After that, choose the drive you'd like to clean and check or uncheck the boxes next to the types of files you want to keep or remove. These include temporary Internet files, thumbnails, or files in your recycling bin.
In order to give your computer a deeper clean, click on Clean up system files. Windows will then scan your system (this can take longer depending on when it last occurred) after which you can again browse the files it found and decide what should be deleted.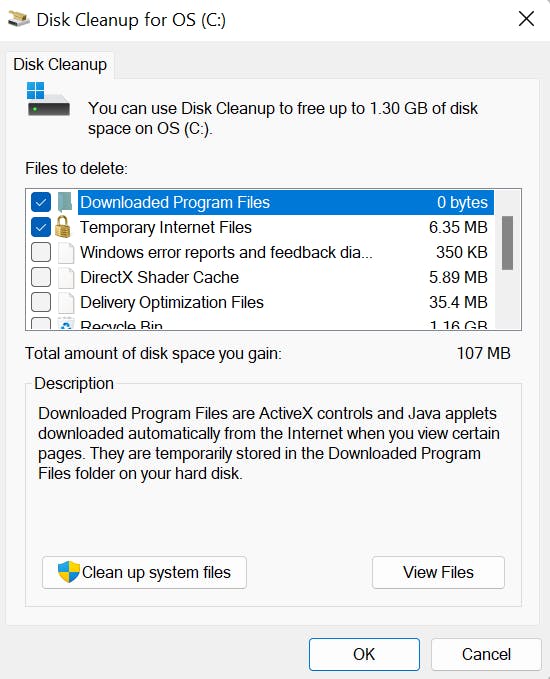 Disk Cleanup is a tool that comes pre-installed on all Windows systems.
What we like
The advantages of a tool that comes pre-installed on every Windows system are fairly obvious: Not only will you not have to install anything, but it's also easy to use.
Who is Windows Desk Cleanup for?
If you're a Windows user and want to quickly delete unneeded files, the integrated solution is the best option.
What we don't like
Unfortunately, Windows has ceased development of Disk Cleanup. A new tool called Microsoft PC Manager is supposed to take its place, however, but (as of the time of writing) it's still in its beta phase.
Another disadvantage is that Disk Cleanup offers fewer features than dedicated, third-party programs. Browser caches or cookies aren't cleared, and there's no option to perform a custom cleanup.
How much does Windows Desk Cleanup cost?
Since it comes with every Windows system, the program is free.
2.
CCleaner: Top Dog Among PC Cleaners
CCleaner* is arguably the most well-known PC cleaner on the market. First released in 2004, it has since become part of the antivirus giant, Avast's portfolio, having been downloaded more than 2.5 billion times. Each month, it helps users around the world clear upwards of 35 million GB of junk files.
The program's basic features are free, but a premium version of CCleaner is also available. After installing, click on Health Check in the menu, followed by Start, to launch your computer's first scan. Problems (i.e. trackers or junk files) are displayed as they're identified, after which you can choose whether to keep or delete them.
Alongside the regular scan, CCleaner also offers plenty of other features and settings options: You can delete certain browser files or check which drivers need to be updated. Premium subscribers can also use the Performance Boost features and additional security tools.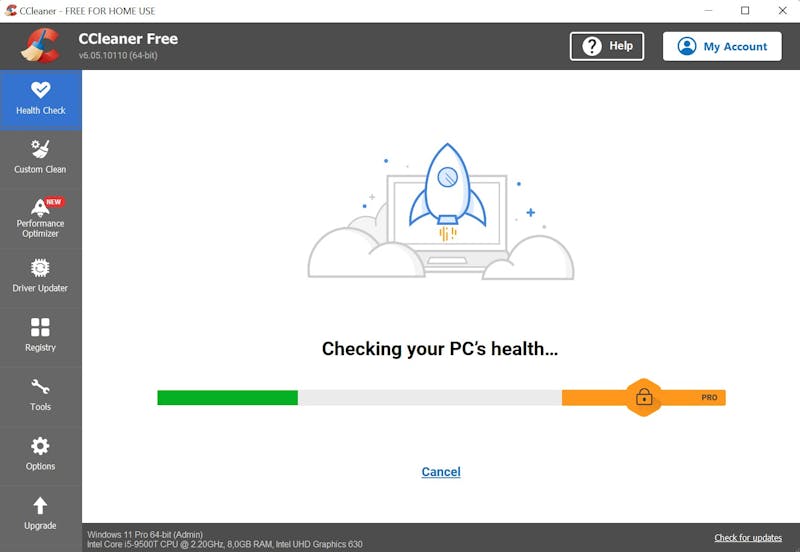 With CCleaner you can fine tune what to optimize on your system and which files should be deleted.
What we like
CCleaner gathers together settings and features that are normally spread out among system tools and utilities under one roof within a user-friendly interface. This makes it especially easy to get rid of unneeded files with just a few clicks. Thanks to its advanced settings, you can specify what CCleaner should and should not check.
Who is CCleaner for?
Lots of developers and system admins might turn their noses up at CCleaner (and similar software), but these tools weren't designed for them in the first place: They're aimed at less technically-versed users looking for an all-in-one program that can help them get rid of junk files on personal computers.
What we don't like
CCleaner fell victim to a hacking attack in 2017 after which the program was infected with malware. Hackers gained remote access to numerous computers that CCleaner was installed on. The problem was quickly cleared up and hasn't recurred since, however, a number of people still view the program with suspicion.
And of course, CCleaner has the same downside that applies to all third-party PC cleaners on this list: It doesn't do anything that system tools aren't capable of, which is why it's more of a timesaver than a must-have. On occasion, CCleaner can delete files that shouldn't be removed. With that in mind, be extra careful when you use features such as its Registry Cleaner (or better, don't use it at all if you're uncertain).
How much does CCleaner cost?
The basic version of CCleaner is free, however, two premium plans with advanced features are also offered:
| | Free | Professional | Professional Plus |
| --- | --- | --- | --- |
| | | | |
| | | | |
| | | | |
| Standard privacy protection | | | |
| | | | |
| | | | |
| | | | |
| Real-time junk data monitoring | | | |
| Automatic browser cleaning | | | |
| File recovery with Recuva | | | |
| | | | |
| | | | |
3.
Revo Uninstaller: Completely Uninstall Programs
Sometimes, a regular uninstall just doesn't cut it: Lots of programs leave traces on your computer, even after you think you've gotten rid of them. Others are so closely integrated with your operating system that it's difficult to clear them in the first place. Revo Uninstaller helps to completely uninstall programs, remove junk files that previously removed software might have left behind, and even get rid of Windows apps.
Revo Uninstaller is easy to use: In the upper menu, you'll find different modules. With the uninstall module, you can scan your system for programs and completely remove these. By clicking on Windows apps, you can see the programs that come integrated with Windows by default. Getting rid of these is possible with little more than a few clicks.
Under Extras, you'll find a few additional features: For example, you can manage which programs autostart when booting up your system, remove temp files, or clear your browser.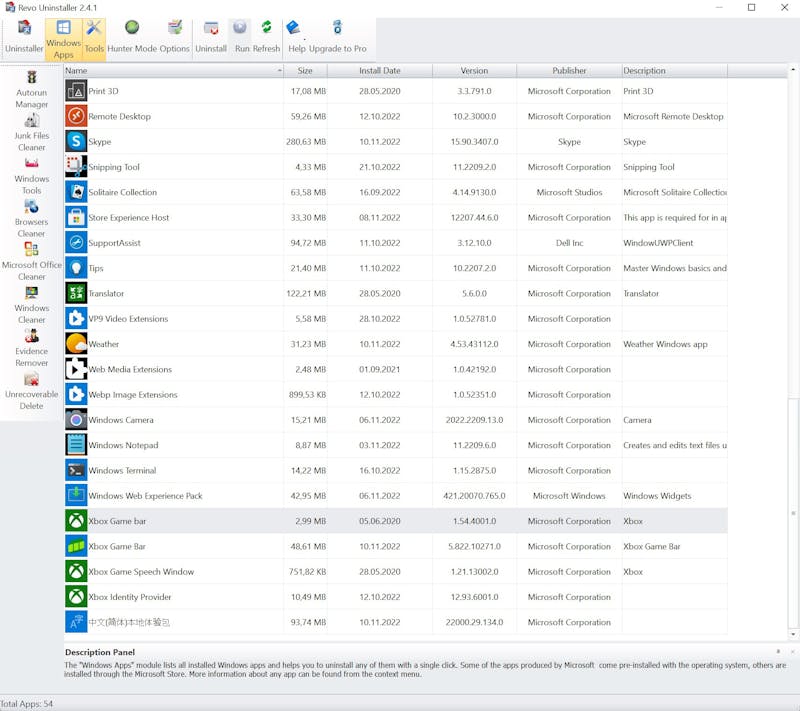 With Revo Uninstaller, you can get rid of even the most stubborn programs.
What we like
Revo Installer is free, quickly installed, and easy to use. We also like that, unlike other PC cleaners that just combine system tools into a single solution, the program has a specific purpose, which it fulfils effectively.
Who is Revo Uninstaller for?
If you want to make sure that uninstalled programs are gone once and for all, Revo Uninstaller is a helpful tool. Since lots of apps leave unnecessary traces on your system, Revo Uninstaller definitely isn't a one-trick pony.
What we don't like
The Revo Uninstaller app could use a design update. One or two of its features, such as the ability to uninstall multiple programs simultaneously, could be simplified as well.
How much does Revo Uninstaller cost?
As is the case with plenty of other PC cleaners, Revo Uninstaller is freemium software: Its basic features are completely free, however, advanced features and settings are behind a paywall. Below, we've summarized the program's three subscription plans:
| | Free | Pro | Pro Portable |
| --- | --- | --- | --- |
| | | | |
| Scan for data leftovers after a basic uninstallation | | | |
| Includes 8 additional cleanup tools | | | |
| Free professional technical support | | | |
| | | | |
| Remove browser extensions | | | |
| Forced uninstall – remove remnants of already uninstalled programs | | | |
| | | | |
| Extended scanning for leftovers | | | |
| Real-time monitoring of system changes & Logs database | | | |
| Multi-level backup system | | | |
| Supports program deinstallation via command prompt | | | |
| Dark mode and customization | | | |
| Uninstall programs and apps for regular users (non-admins) | | | |
| Scan for remnants on all Windows user accounts | | | |
| 3 new Windows tools and an option for adding custom tools | | | |
| | | | |
| Suitable for use with a USB stick | | | |
4.
BleachBit: The Open-Source Alternative to CCleaner
With BleachBit, we return to the domain of 'general' PC cleaners. The open-source tool is completely free and focuses on deleting unnecessary files, offering just a few extra features.
The program's user interface doesn't take long to figure out: On the left, you'll see a list of applications and their files (i.e. passwords, cookies, page settings, or cache). You can manually choose which files or programs should be deleted. Then, click on Preview in order to see how many and which files will be deleted, or just continue with the clean-up.
Clicking on the button in the upper left will open a few extra features, such as a file shredder.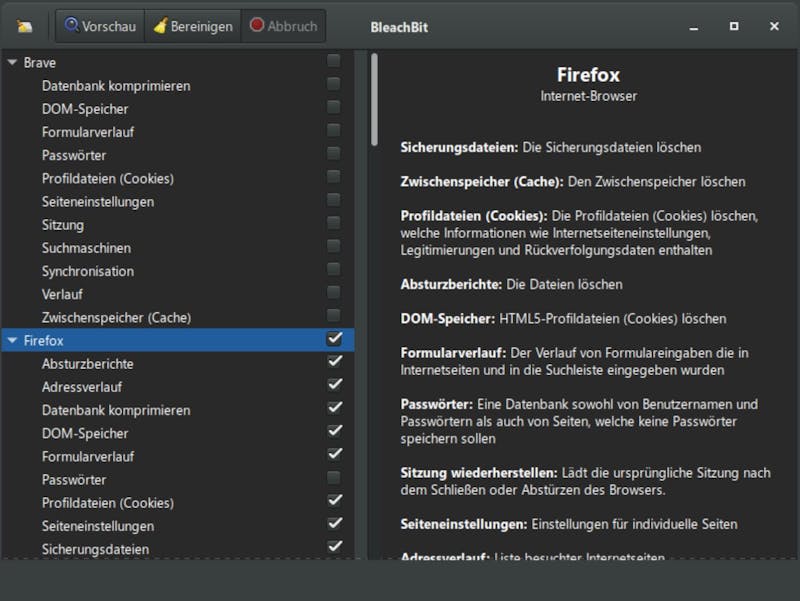 BleachBit comes in handy for quickly getting rid of unnecessary files on your PC.
What we like
BleachBit is lightweight, easy to use, and completely free. The software focuses on the most important aspects, allowing users to select which files should be removed. Its built-in shredder is particularly handy since you can use it to not only permanently delete individual files, but entire folders as well.
Who is BleachBit for?
BleachBit is a good open-source alternative to CCleaner for those who can make do without the latter's security tools or Performance Boost.
What we don't like
BleachBit's user interface is less polished than those of its competitors. You'll also need to manually calibrate the software, which, again, puts it at a disadvantage when set alongside solutions like CCleaner. And, as mentioned above, the range of features is rather limited.
How much does BleachBit cost?
BleachBit is open-source and free to use. No premium plans or subscription options are offered.
5.
PrivaZer: Privacy-Focused PC Cleaner
PrivaZer is a piece of freeware that offers both PC cleaner and file deletion capabilities. The program claims, for example, to adjust its overwrite algorithm based on the type of drive you're using (i.e. SSD or hard disk drive). In addition, the developers note that their software will remove remnants from the file table (FAT or MFT), making it impossible for deleted files to be recovered, even with dedicated software.
Once you've installed PrivaZer, click on Scan in-depth from the menu and choose the drive or device that you'd like to check. When it's finished, you'll be able to select which files should be deleted.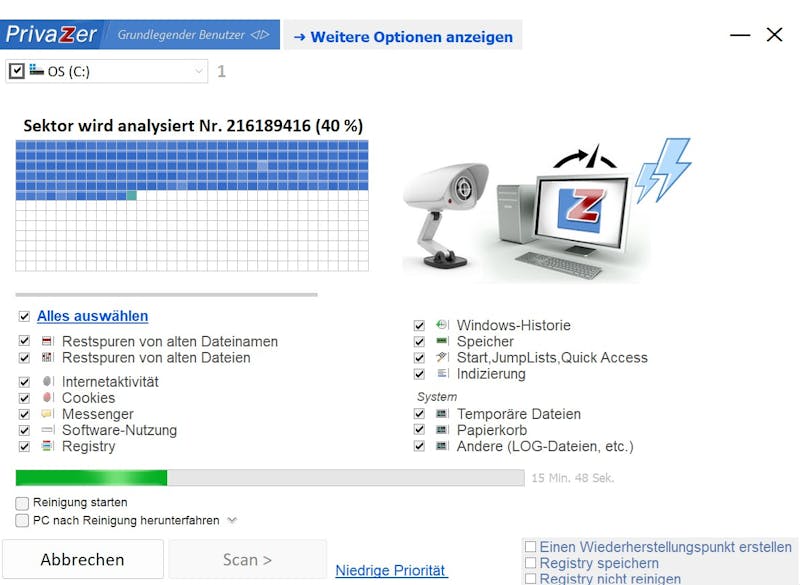 PrivaZer is particularly well-suited for deleting sensitive files.
What we like
PrivaZer allows quite a bit of customization in terms of configuration: For example, you can perform scans at specific intervals, or permanently exclude certain files and files from cleaning. In addition, you'll also be able to scan connected devices (i.e. USB sticks) to search for and permanently delete junk files on them.
Who is PrivaZer for?
The software is a good choice for anyone in the market for a more detailed PC cleaner, and interested in scheduling user-defined scans. Its emphasis on irreversible cleaning makes the tool particularly appealing for those looking to permanently delete sensitive files.
What we don't like
We're fairly certain that the tool is not going to win any beauty contests, and its user interface could be more intuitive. Those who only want to clear junk files can take advantage of less complicated options.
How much does PrivaZer cost?
PrivaZer is entirely free. No premium version is offered.
6.
CleanMyMac X: The All-in-One Optimization Tool for Mac Users
If you own a Mac, chances are that you've already heard about CleanMyMac X. Developed by MacPaw, the program helps not only to clear your system of junk files, but also lends a hand in removing malware and enhancing system performance.
The program is actually comprised of around 30 individual tools which allow you to monitor your Mac's condition, free up storage space, remove unused apps, and much more.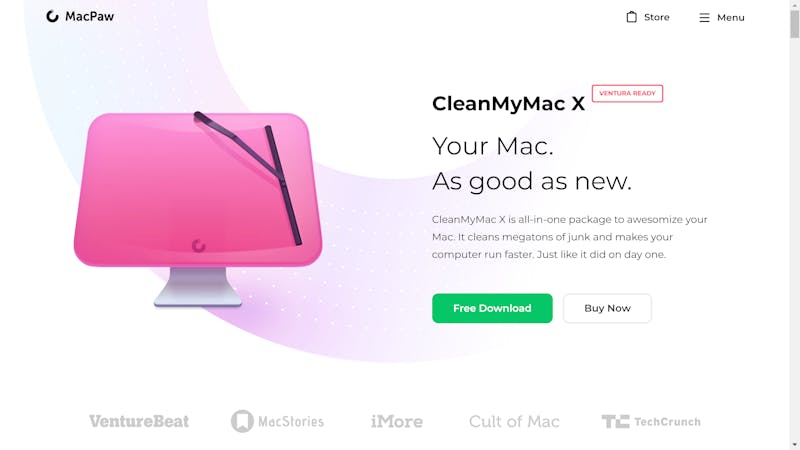 CleanMyMac X is a comprehensive program suite for Macs.
What we like
CleanMyMac X is by far the best looking from our Top 7. Optically, the software seamlessly integrates into the Mac environment, its installation is basically self-explanatory. The wide range of features is a plus: With CleanMyMac X you'll be able to do much more than just get rid of junk files.
Who is CleanMyMac X for?
CleanMyMac X is the best choice for Mac users who are ready to make a small investment in an all-in-one tool that's capable of getting rid of unwanted files as well as tuning system performance.
What we don't like
CleanMyMac X is the only program from this list lacking a free version. On top of that, it has the usual problems of all-in-one software: Not every user needs all (or even most of) the tools offered, and not all integrated solutions are equally good. For example, CleanMyMac X can't really compete with comprehensive antivirus tools despite offering this capability.
How much does CleanMyMac X cost?
CleanMyMac X is available either as an annual subscription or as part of a one-time license fee. The program can be bought for use on one, two, or five Macs, with a discount for each additional system. When it comes to features, there are no differences between the various plans.
An annual CleanMyMac X subscription for one Mac costs $34.95, for two Macs $54.95, and for five Macs $79.95. If you'd like to purchase a lifetime license, you'll pay $89.95, $134.95, or $199.95 for one, two, or five Macs.
7.
Malwarebytes AdwCleaner: The Powerful Adware Cleaner
The only reason Malwarebytes AdwCleaner comes last on this list is the fact that it's less of a PC cleaner than an antivirus program with PC cleaning features. There is quite a bit of overlap between these two types of software, since identifying and deleting adware or potentially unwanted programs (PUPs) is common to both.
Malwarebytes AdwCleaner is completely free. In case you want to tap into the provider's full anti-malware power, you can upgrade to Malwarebytes' antivirus solution – which, however, only received average marks in our EXPERTE.com review.
AdwCleaner is a very lean program, making it largely self-explanatory to use. In the dashboard, click on Scan now. Files and programs that are found will be moved to Quarantine, from where you can permanently delete them.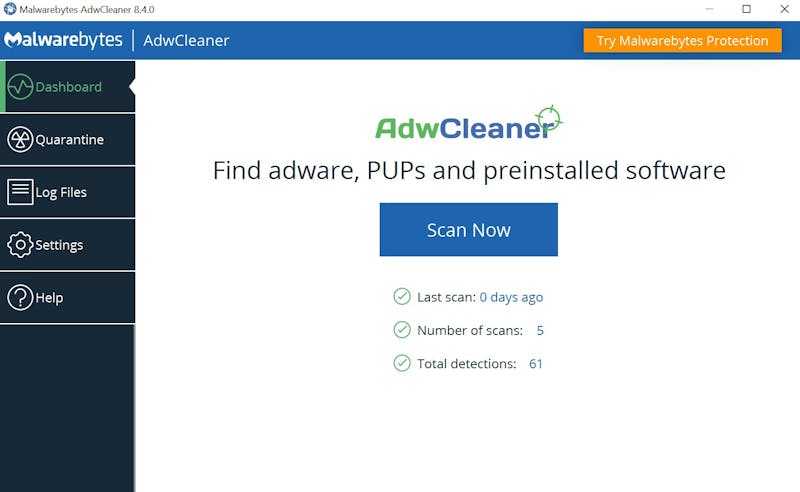 Malwarebytes AdwCleaner focuses on the basics – and does it extremely well.
What we like
Malwarebytes AdwCleaner doesn't include any unnecessary extras, concentrating instead on removing adware and unwanted programs. Most reviewers are unanimous: In this area, the program performs excellently.
Who is Malwarebytes AdwCleaner for?
Malwarebytes AdwCleaner might be the best free tool for removing adware and PUPs. Thanks to its ease of use, it's great for those lacking in technical know-how for whom some of the other solutions we've mentioned above might be too complicated.
What we don't like
When using Malwarebytes AdwCleaner, you'll have to make do without most of the classic PC cleaner features. Even getting rid of regular junk files or browser data isn't possible with the tool. Compounding this, AdwCleaner isn't a full-fledged antivirus program, since it lacks real-time protection and anti-malware capabilities.
How much does Malwarebytes AdwCleaner cost?
Malwarebytes AdwCleaner is completely free.
Conclusion
PC cleaners are neither silver bullets nor snake oil: Most of the time, they do little that the pre-installed system utilities that come with your computer aren't capable of. Instead, they wrap these in a more user-friendly manner, while combining multiple features into a single package.
So long as your expectations are realistic, and you're not looking to transform your old system into a supercomputer, it's worth checking PC cleaners out. If the integrated disk cleanup features that come with Windows aren't enough, you can try CCleaner's user-defined scans (which include the deletion of browser data). With Revo Uninstaller, you can get rid of pesky programs, while PrivaZer will help you permanently delete sensitive files.
And before finishing, a word of warning: Especially in this area, there are lots of dubious programs which are often little more than adware. With that in mind, do your homework about PC cleaners or optimizers before installing them, otherwise, you might create more problems than you'll solve.
FAQs
Using PC cleaners makes sense when you want to delete lots of junk files and data from multiple sources in one fell swoop. In addition, different solutions specialize in different areas: Some are great for permanently deleting files or getting rid of the remnants of long uninstalled programs. All the same, PC cleaners are not a necessity, since most operating systems include disk clean-up utilities that perform the same function.
What's the best free PC cleaner?
⊖
The best free PC cleaner is CCleaner, owing to how easy it makes the process of removing unnecessary files or junk data. We also recommend Revo Uninstaller, which will help to completely uninstall programs, and BleachBit, for permanently removing (shredding) files or even entire folders.
Does Windows have a PC cleaner?
⊖
Yes, Disk Cleanup comes installed with every Windows system. Unfortunately, Windows has ceased development of the utility, since Microsoft PC Manager is supposed to take its place. As of the time of writing, only a beta version of the latter is available.

Janis von Bleichert studied business informatics at the TU Munich and computer science at the TU Berlin, Germany. He has been self-employed since 2006 and is the founder of EXPERTE.com. He writes about hosting, software and IT security.
Continue Reading
Ad disclaimer
* For links marked with an asterisk, EXPERTE.com may earn a commission from the provider. The commission has no influence on our editorial rating.