Clone an HDD - How To Clone a Hard Drive

Hard drives, whether traditional hard disk drives (HDDs) or fast solid-state drives (SSDs) have a limited lifespan. Once this is exceeded and the disk stops functioning, you run the risk of irrevocably losing your data. Creating a clone of your hard drive can help you to both prepare for this eventuality, as well as to simply transfer your data to a faster disk.
Cloned hard drives are more than just secure copies, they're 1:1 working images. To get started cloning, you'll need the right software, hardware, and some background knowledge.
Below, we'll show you how easy and affordable (sometimes even free) it can be to clone your hard drive.
When to Clone a Hard Drive?
Since a cloned hard drive is a true copy of the original, it can replace the physical HDD or SSD should it ever be compromised or cease to work. Having a clone of your hard drive on hand also makes sense if you're upgrading your system with a larger HDD or a faster SSD: Data and settings will remain unchanged, and you won't need to reinstall or re-download any programs.
Getting Started
Before cloning your hard drive, it's important to take a few steps:
Create a backup
Important data should be backed up, either on the cloud, or with Windows-Backup. This prevents loss of data in the unlikely event that something goes wrong when cloning your hard drive.

Gather any additional hardware
Check whether the new storage device you're planning to install can be directly connected to your PC via SATA cable, or if it needs an adapter. In the event of the latter, most of the time, a USB to SATA cable will be more than adequate. Alternatively, you could use a docking station.

Ensure that you have enough storage space
To create a clone of all of your files on the new hard drive, it's important to make sure that the new storage medium has enough space.

Delete junk files
Duplicate or unneeded files don't only make cloning take longer, they also serve no purpose on your new hard drive. To safely get rid of junk files, be sure to check out our guide.
Hard drives can be cloned using either hardware or software. Below, we'll discuss both methods:
Cloning With Hardware
Some hardware makes it possible to clone a hard drive with a single click. On occasion, you won't even need to use a PC. When purchasing such hardware, make sure that it's compatible with your hard drive.
For hardware cloning, you'll need a docking station, which isn't all that cheap: Most of the time, you'll need to pay upwards of $100 for one of these.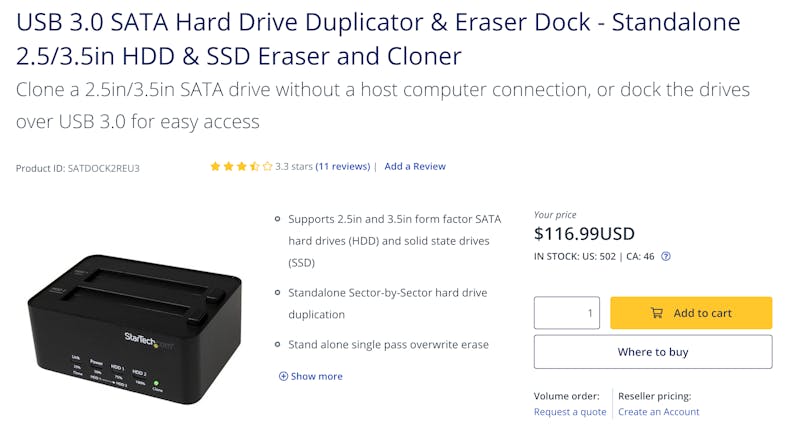 Docking stations make cloning hard drives incredibly simple.
If looking for a more affordable option, cloning via software might be more to your liking. For this, you'll only need a suitable port on your computer and, in some cases, an adapter, to connect the hard drive via USB.
Cloning With Software
Dozens of providers offer software for cloning hard drives. The majority are paid services, however, some are freeware.
When you purchase a new hard drive, such as an SSD, it usually comes with cloning software. Samsung offers its own "Data Migration Software", while Corsair provides this in the form of its "SSD Toolbox".
Should your new hard drive not come with any integrated cloning software, or if you'd just prefer to use a third-party solution, a wide selection of tools are available. However, not all of these are equally intuitive or efficient.
Below, we'll introduce you to four programs for cloning:
Macrium Reflect Free
Macrium Reflect Free is freeware developed by the British company, Paramount Software. Already in its seventh version, Macrium Reflect Free is one of the most popular hard drive cloning tools available, offering a nice selection of options for backing up files. Some of these include the ability to schedule regular backups or create a recovery CD that you can use to restore your system.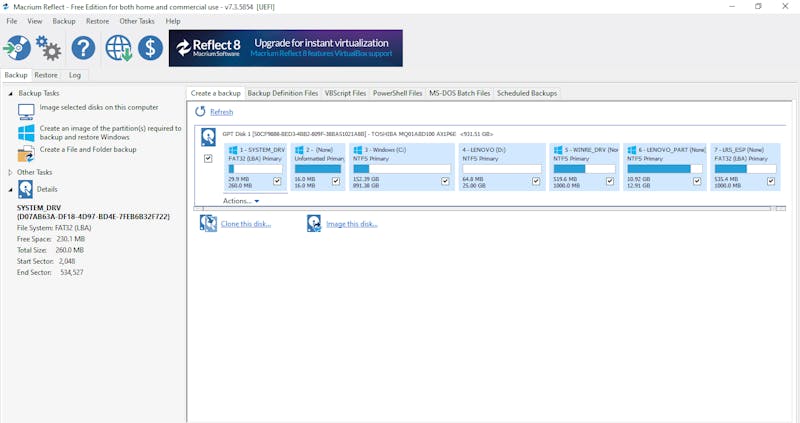 Macrium Reflect Free's interface is a bit old-school, but the freeware is highly popular.
Should the features offered in the free version not be enough, you can purchase a Reflect 8 license. With this, you can create incremental backups, and enjoy enhanced ransomware protection. Both the paid and free versions of Macrium Reflect are available for Windows.
EaseUS Todo Backup
EaseUS's Todo Backup also makes it possible to easily clone storage devices, but only if you book a paid subscription (monthly, yearly, or lifetime).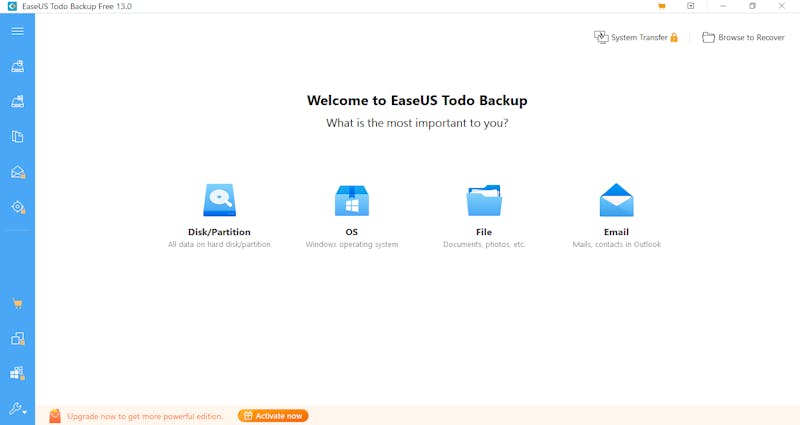 When set alongside the subscription's features, Todo Backup Free doesn't really have much to offer.
In addition to being able to clone hard drives or individual partitions, Todo Backup also simplifies system migration, system recovery, and, if desired, can create backups at half-hour intervals.
CloneZilla
Unlike Todo Backup and Macrium Reflect, CloneZilla is open source, and as such, completely free. The software, currently in Version 2.7, utilizes a Linux-based, live operating system. After starting with a boot-capable USB stick or CD, you'll be able to clone your entire hard drive, including Windows.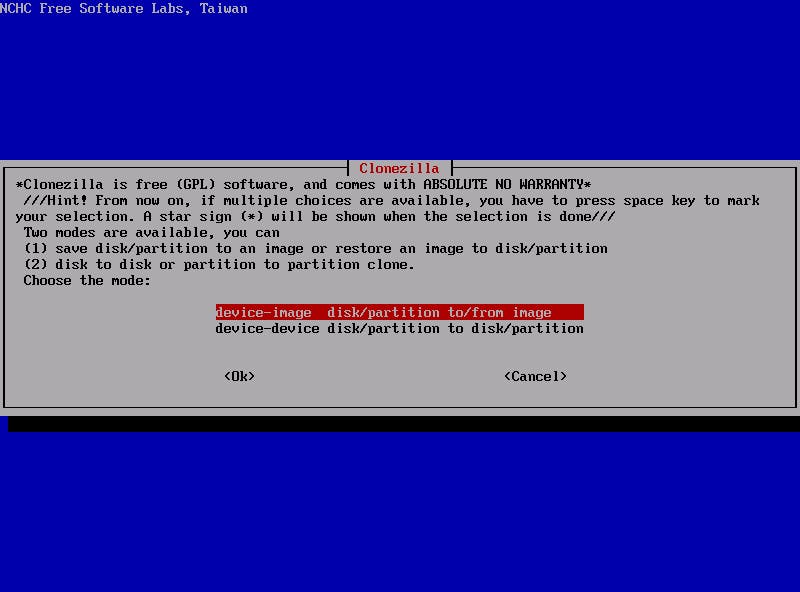 CloneZilla offers a free, open-source hard drive cloning solution.
As the saying goes, beggars can't be choosers, however, CloneZilla's user interface is outdated, particularly when set alongside the freemium and paid services we assessed. Users with less technical familiarity are also more likely to feel overwhelmed when using the software.
Acronis True Image
Not only does Acronis True Image provide users with the ability to clone hard drives, it also offers comprehensive malware protection. The basic version, "Essential", will protect you from ransomware, however, the more expensive "Advanced" and "Premium" subscriptions come with a full-fledged virus scanner as well.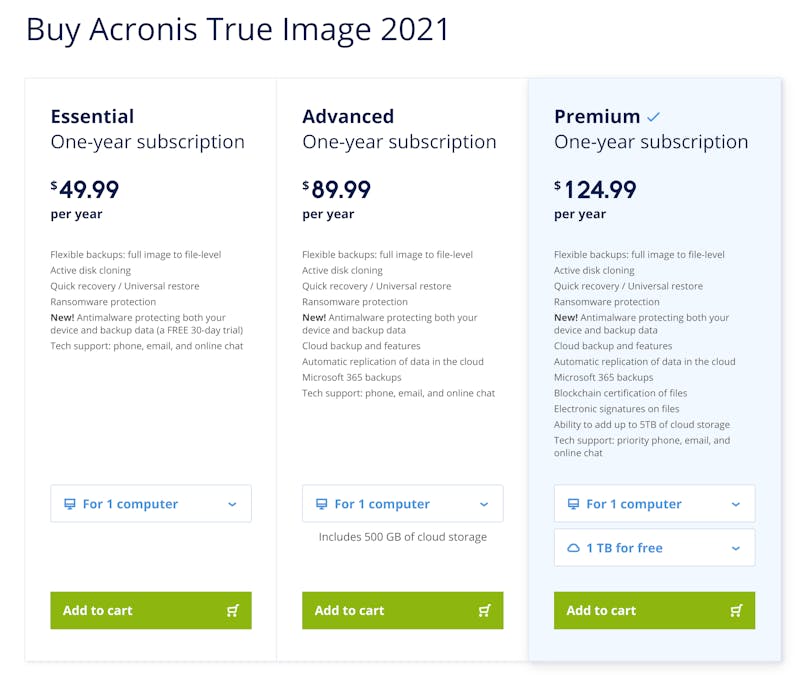 Arconis offers three different paid subscriptions for prospective True Image customers.
Thanks to its cloud backups and the ability (for Premium subscribers) to sign documents electronically using Blockchain, Acronis True Image offers a full-spectrum backup and security package. You will have to pay for this quality though, with a subscription setting you back between $49.99-$124.99 per year.
Potential Complications
Cloning a hard drive is not a particularly risky venture, however, problems and complications can arise. Often, after cloning and installing the new hard drive, the system can continue to boot from the older, slower hard drive, should this have not been removed. To remedy this, all you have to do is change your PC's boot order.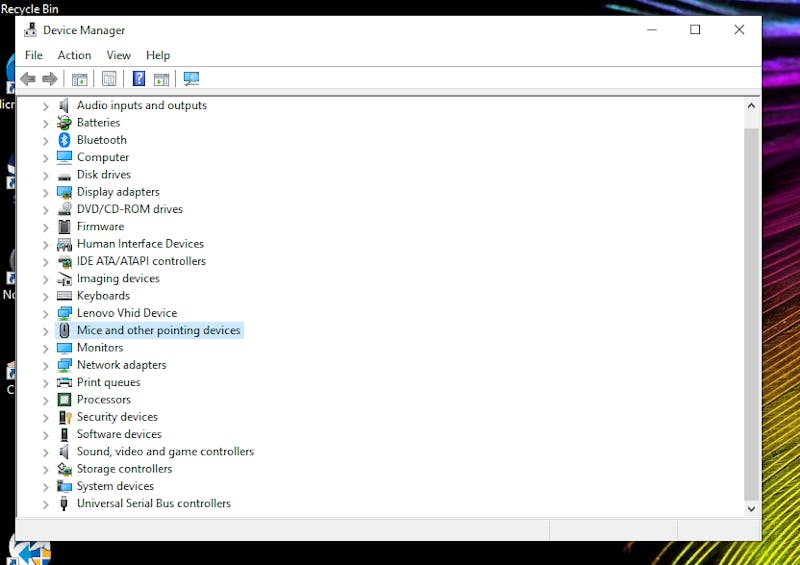 Before cloning a hard drive, you should make sure that the correct drivers are installed.
In the event that you receive a blue screen with the error message "INACCESSIBLE_BOOT_DEVICE", a more serious issue has arisen, namely, that Windows is unable to read the start partition. To overcome this, begin by checking whether the new hard drive is correctly connected. If it is, there might be a problem with one (or more) of your drivers. For this, you'll need to make sure that the correct drivers are installed prior to cloning.
If you're experiencing bad system starts or crashes, reinstalling Windows via recovery CD can help, since you'll be able to identify and fix any potential issues, like missing drivers, before cloning your hard drive.
Conclusion
HDDs and SSDs can be easily and safely cloned using docking stations or software. Among the latter, a number of free solutions are available for creating identical copies of your hard drive.
Cloning a hard drive makes the most sense if you need a full backup or want to upgrade your computer's hardware. Before cloning, it's prudent to back up important files and make sure that your (new) hard drive and system are compatible with one another.

Author: Thomas Köhler
Thomas Köhler studied German and history and is currently pursuing a master's degree in public history at Freie Universität Berlin, Germany. As a freelance author, he writes mainly about data protection, IT security and software.
Continue Reading