Cloud Backup for Small Businesses: 8 Online Backup Solutions Reviewed 2023

Ad disclaimer:
For links on this page, EXPERTE.com may earn a commission from the provider. This supports our work and has no influence on our editorial rating.
Is your company's data secure? Data leaks and ransomware attacks can severely damage or even ruin a business. Local backups are a good start, but most of the time, make it difficult to restore and recover all of your files.
Cloud backups, on the other hand, allow you to safely store all of your most important data on cloud servers. With our review series, you can find out which is the best for your business's needs.
Cloud Backup for Small Businesses: Testing 8 Online Backup Providers
We examined 8 of the leading cloud backup solutions, comparing how their ability to secure and recover data. During testing, we focused on five aspects: Configuration and Usage, Features, Performance, Support, and Pricing (not scored).
Beyond that, our reviews also looked at aspects that are particularly relevant to data security on a corporate scale. These include custom rates and packages, server backups, and conformity to privacy guidelines.
1.
Acronis: The All-Arounder
Acronis True Image is an excellent cloud backup solution for both beginners and advanced users, offering many features besides just syncing and backup.
Malware protection included
Backup for mobile devices
9.4

excellent
Storage
Devices
Contract Period
Acronis Advanced 50 GB (1 Computer)
$4.58
monthly price
Visit Website*
30 Day Free Trial
Acronis, the top service from our sample, offers businesses a variety of backup and security options to choose from. All operating systems, Oracle databases, SQL servers, Microsoft Hyper V machines, and mobile devices can be conveniently backed up with the software.
Its backups can be customized to your business's exact needs. For example, you're able to continuously scan all network devices and back up new or modified files to the cloud at regular intervals. Taking this approach makes it unnecessary to manually create multiple versions of each and every document or file.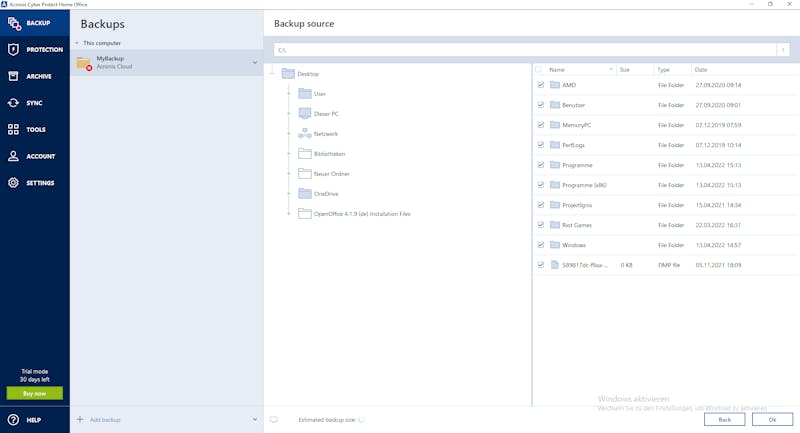 Acronis impresses with its flexible backup settings and straightforward features.
Thanks to the uniform data format Acronis uses, it's also possible to restore a Windows system to a Linux machine. The software safeguards your files with its wide array of anti-malware tools, and if requested, checks and confirms compliance requirements.
Another advantage is the software's flexible pricing: Small business packages are offered for companies with a limited number of computers, while additional options are available for those with extensive IT infrastructure. Unfortunately, Acronis is not one of the more affordable services from our sample, however, for an all-in-one package, it's worth every penny.
Virtual machine, server, and mobile device backups

Servers located in Germany

Lots of cybersecurity tools
Relatively expensive small business packages
Installation & Usage
10 / 10
2.
IONOS: Security and Flexibility
1&1 IONOS provides very good performance, moderate pricing and excellent support. It is suited for both private users and companies.
30 days money back guarantee
somewhat complicated setup
9.0

excellent
Storage
Devices
Contract Period
IONOS MyDefender Starter
$2.50
monthly price
Visit Website*
Try IONOS Now
Our second pick is offered by the well-known telecommunications giant, 1&1 and its subsidiary, IONOS. Based on Acronis, IONOS Cloud Backup is a data storage solution for small businesses with many of the same features. Admins can manage registered machines through the software's console, specify backup settings, and, if needed, access comprehensive reports.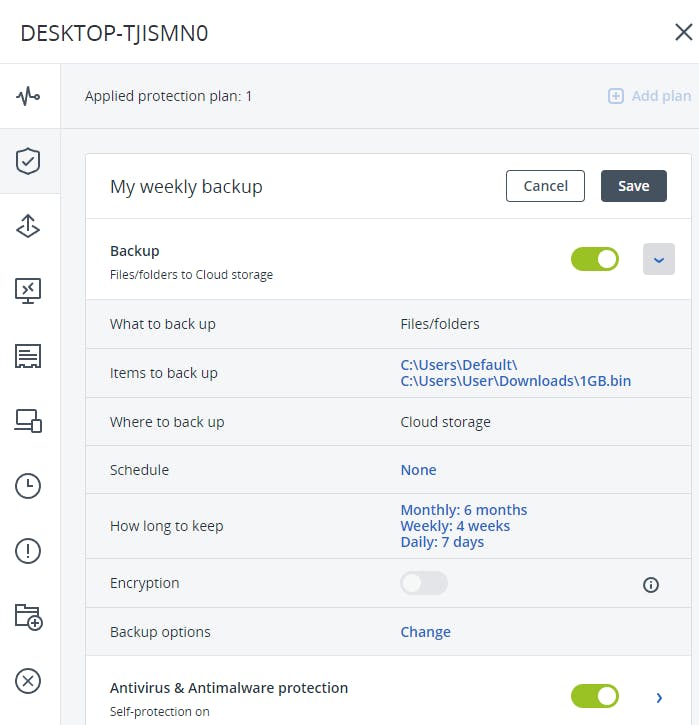 IONOS Cloud Backup backs up servers and virtual machines.
To protect your company against cyber attacks, you'll also benefit from its wide array of security tools. Importantly, these shield drives from ransomware and crypto mining, preventing dangerous programs from modifying your files and data in the background.
How much you pay per month depends on the amount of storage space you need. Even though IONOS isn't the most affordable solution we looked at, considering its solid performance, it's definitely worth the investment.
Comprehensive security solution
Relatively expensive small business plans
Installation & Usage
7.4 / 10
3.
SpiderOak ONE: Data Security and Easy Sharing
SpiderOak stands out with strong performance and end-to-end encryption, where data is encrypted before being uploaded.
Storage
Devices
Contract Period
SpiderOak 150 GB
$5.75
monthly price
Visit Website*
SpiderOak ONE is a US cloud backup solution that isn't intended for image or active server backups (hot copies). Still, it has something interesting to offer small businesses. To start, its software quickly performs data backups. It also allows backed-up files and folders to easily be sent to colleagues or customers through so-called Share rooms.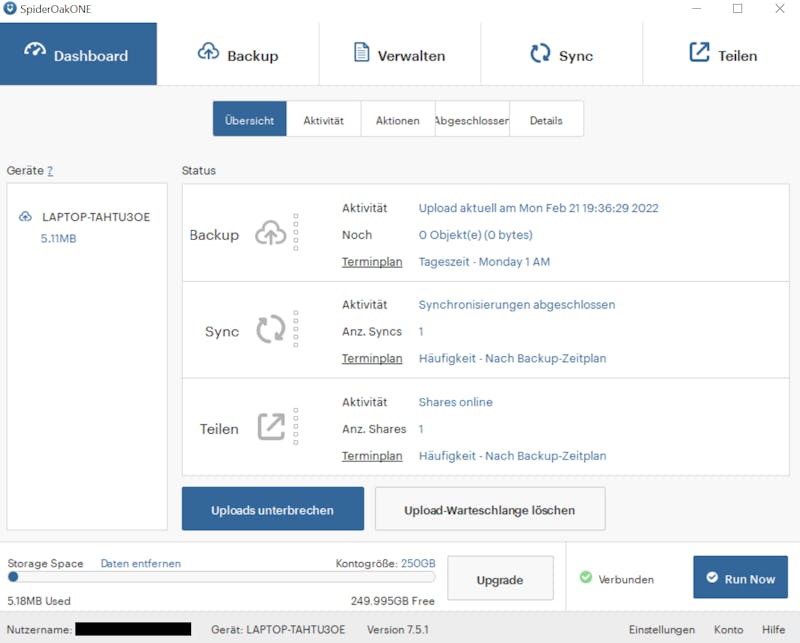 Despite its unimpressive selection of features, SpiderOak ONE has a good price-performance ratio.
By adhering to the zero-knowledge principle, which leaves you responsible for your files' cryptographic key, your SpiderOak ONE backups are safe from third parties. Some small businesses might have an issue with the fact that SpiderOak's servers are in the US owing to the data protection or privacy implications.
SpiderOak ONE is not well-suited for securing extensive IT infrastructure. At the same time, for freelancers or small offices with a handful of computers, it provides a straightforward and powerful cloud backup solution.
Data privacy thanks to zero-knowledge principle
Installation & Usage
9.4 / 10
5.
CrashPlan: Focused on Small Businesses
Crashplan is a solid backup program that features a user-friendly interface and unlimited storage space. However, image backups of the entire system are not supported.
simple, intuitive interface
no backup of mobile devices
8.2

good
Storage
Devices
Contract Period
CrashPlan Backup
monthly price
Visit Website*
30 Day Free Trial
While all providers in our sample offer both individual and business rates, CrashPlan is the exception, limiting its services to the latter. Plans are available for small businesses (up to 100 systems) as well as custom options for larger companies based on how much storage space is needed and the number of computers.
During testing, we were able to quickly and effortlessly back up our data, however, with fewer options than offered by Acronis or IONOS. This was offset by the unlimited storage space included with the small business package. Rounding things out, the software is very easy to use, which is sure to make it popular among those without a technical background or small businesses that don't have a dedicated IT department.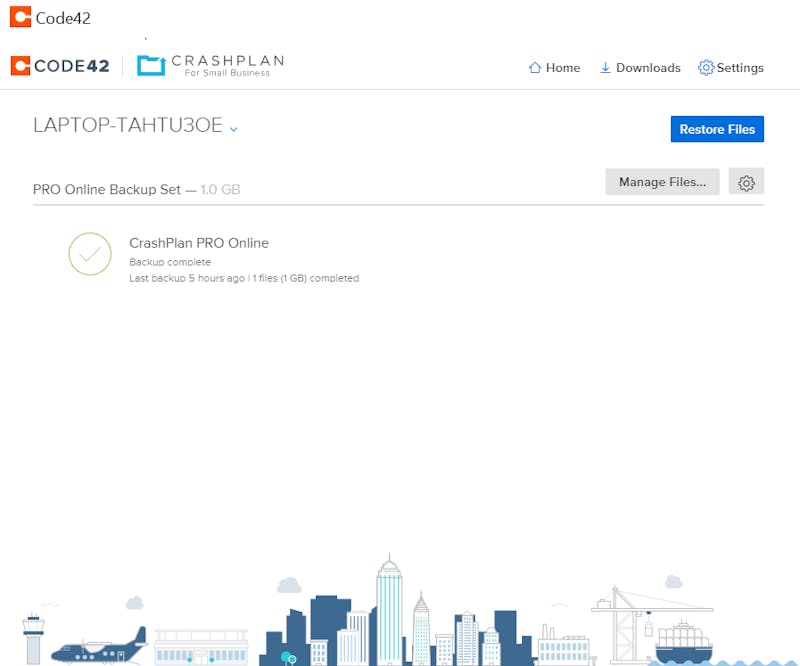 CrashPlan's cloud backup software is easy and intuitive to use.
However, security is CrashPlan's foundation. In addition to its default AES 256 encryption, the software also requires two-factor authentication when logging in. This ensures that your files are always in safe hands, even when your employees access them remotely or over an open network. Finally, in terms of price, CrashPlan is much more affordable than the other services above.
High security thanks to 2FA
Installation & Usage
9.4 / 10
Overall Result
Apart from our Top 4, we also tested four other cloud backup solutions. Backblaze and Carbonite offer unlimited storage but have fewer features than Acronis. Synology is a good option if you'd like to back up multiple systems in their entirety and don't mind being unable to select individual files or folders. And finally, IDrive put in an average performance, but will likely be appealing to small businesses on a budget owing to its low price.
Selecting a Provider: What to Pay Attention To
Throughout our test, we paid close attention to how easy each program is to use, its features, and its performance. We also assessed the quality of its support and price-performance ratio. In the sections below, we'll detail some important criteria that you should take into consideration when selecting a cloud backup solution.
Configuration & Usage: Flexibility Is a Must
Some small businesses operate their own servers and virtual machines. Others have 10 computers running different operating systems and containing lots of data. In this section of our reviews, we checked how flexible each cloud backup service was. Several are compatible with specific servers, while others work with all operating systems, virtual machines, and cloud-based platforms.
Another important factor is the ease of use. While in general, it's true that the more features, the better, these have to be logically arranged in menus and easy to find for any kind of user.
Features: Data Privacy, Version Management, and Security
All cloud backup programs offer their users a way to secure and restore their files. But that's where the similarities end since each provider takes a slightly different approach when it comes to achieving this. Synology uploads all files to the cloud, while Acronis and IONOS give users more choice in what they want to back up, for how long, and how often.
Once again, flexibility is key since your business shouldn't waste time and energy backing up endless versions of files that it doesn't need at the cost of those that it does. Some solutions offer the ability to take snapshots of your system, which allow you to restore your hard drive to a particular moment.
Data privacy is particularly important for businesses. Should your company's internal guidelines prohibit storing sensitive data on foreign servers that don't adhere to the EU's privacy laws, being able to select where backed-up files are digitally kept can be crucial. All of the German providers from our sample fulfill these criteria, while some US services make it possible to store files on EU-based servers.
Another criterion that played a role in our score is security. All cloud backup programs encrypt backups, however, some allow you to deactivate certain encryption options. SpiderOak ONE, for example, adheres to the zero-knowledge principle, meaning that the decryption key for your files isn't stored on its servers, preventing third parties from gaining access to it.
Nearly all cloud backup services offer two-factor authentication, with which you can make your login process even more secure. This is especially important if your staff works remotely or needs to access files on the go.
Performance: Fast Transfer Rates and Minimal Resource Usage
For businesses, it's much more important to have immediate and reliable access to data than it is for individual users. In the event of a cyber-attack, you'll need to recover your files quickly, not in a matter of hours or days. For that reason, during testing, we paid special attention to how quickly backed-up files can be downloaded.
In the table below, you can see the results of our performance test. Upload speeds were also taken into consideration. This is just as important as download speeds since it provides insight into how quickly continuously backed-up files are transferred into the cloud and, what sort of daily burden you can expect on your network connection.
Another important parameter is CPU usage. Regardless of whether files are continuously backed up, or just on a daily basis, all of your staff and colleagues should be able to continue working while files are uploaded to the cloud. Should a cloud backup solution utilize too much memory and processor capacity that other programs can't run properly, we deducted points.
Support: Quick and Informative Help
In the event that you encounter an issue backing up or recovering your files, you and your staff won't want to wait around for a solution. For this reason, we checked how quickly each provider from our sample addresses support queries and requests. Alongside speed, we also looked at how comprehensive and informative these answers were, as well as whether a telephone hotline or live chat is available.
Conclusion
Cloud backups provide comprehensive protection for privileged information. Since businesses' needs are different than those of individual users, most of the services from our sample offer packages tailored for the former. With their help, you can back up servers, virtual machines, and computers running a variety of different operating systems. Be sure to select a provider that supports the hardware and operating systems your company uses.
Another important factor is security. Encrypted backups are standard, however, locally stored decryption keys and two-factor authentication enhance your data's security even further. Performance shouldn't be underestimated either, since slow, or resource-intensive software can make your business less efficient, ultimately doing more harm than good.
Informative and responsive customer service is also worth taking into consideration since it can help remedy issues faster, saving you time and money. Taken together, all of the above gives a good indication of the strengths and weaknesses of a provider, but you'll also need to make sure that it fits your budget. The more information you have, the easier your choice of the best cloud backup solution will be.
* Ad disclaimer:
For links marked with an asterisk, EXPERTE.com may earn a commission from the provider. The commission has no influence on our editorial rating.

After her studies in physical engineering, Silvia Benetti was active in the development of wind turbines. She has been writing about technical subjects as a freelance author for several years. Her focus areas include IT, artificial intelligence, industry 4.0 and renewable energies.
Continue Reading
Other languages
Deutsch