Looka Logo Maker Test 2023: Easily Create a Logo Online?

Our editors test and evaluate all services independently. For links on this page, EXPERTE.com may earn a commission from the provider.
First impressions matter, and your business's logo plays an essential role in how new customers, partners, or clients perceive it. Is it modern or traditional? Do you operate locally or on the global stage? A good logo should capture a business's essence and leave anyone who comes into contact with it wanting more.
Since achieving all of the above is not a simple undertaking, there exist designers who specialize in coming up with logos for their clients, albeit at a cost. A more affordable alternative is offered by AI-assisted logo makers, like Looka.
What Is Looka?
Looka* (previously Logojoy) is the 2016 brainchild of its founder and CEO, Dawson Whitfield. After a decade of logo design, Whitfield grew tired of the scramble for clients, wanting instead to be able to offer solutions to million of users whenever they required them. He and his team employed AI technology to optimize the logo design process, making their creation as straightforward as possible. And they've had something to show for their efforts: Since launching, Looka has helped more than 5 million people across 188 countries design upwards of 10 billion logos.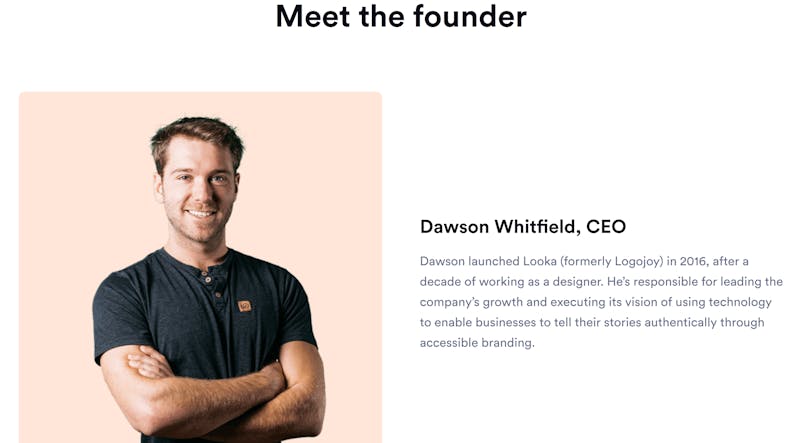 Looka's founder, Dawson Whitfield, was tired of manually designing logos.
Looka promises to help users create visually-appealing logos with a few clicks in five minutes or less. In this review, we'll let you know whether the platform stays true to its word, or if you should have a 'looka' elsewhere for your logo design needs.
Looka Logo Maker Review
Logo Customization
8.0 / 10
Simple and fast logo creation

Solid choice of variations in the logo editor

Available either for a one-off price or as a subscription
Editor lacks drag and drop functionality

Useless beginner subscription
To begin using the service, simply input your business's name on Looka's homepage and click "Get Started".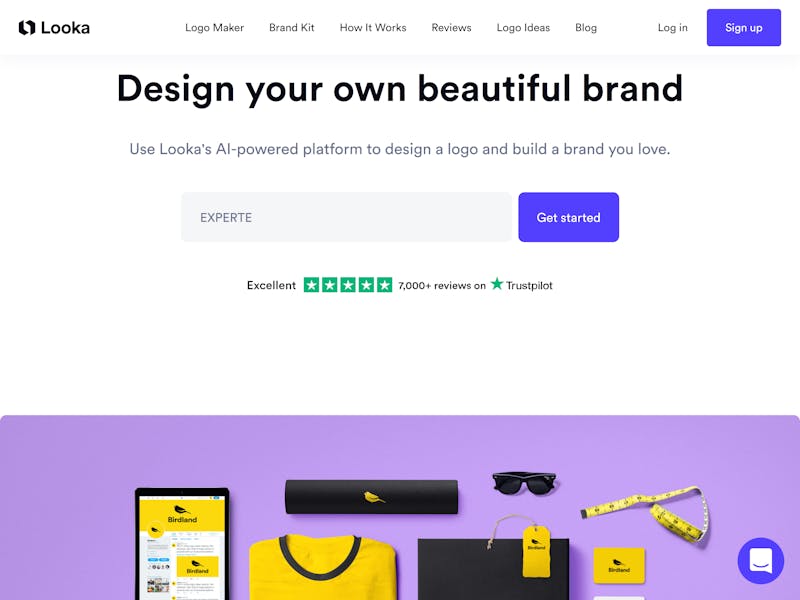 Simply input your business's name to get to work designing a logo.
Smart sample logos
Next, you'll have to answer a few basic questions. Once you've identified the branch your business is in, Looka will show you a selection of logos and ask that you choose your favorites. This helps the platform's AI to better match your preferences and determine what sort of style appeals most to you. Click on "Continue" once you've finished selecting the logos that you like. In the following step, you'll be asked for your color preferences.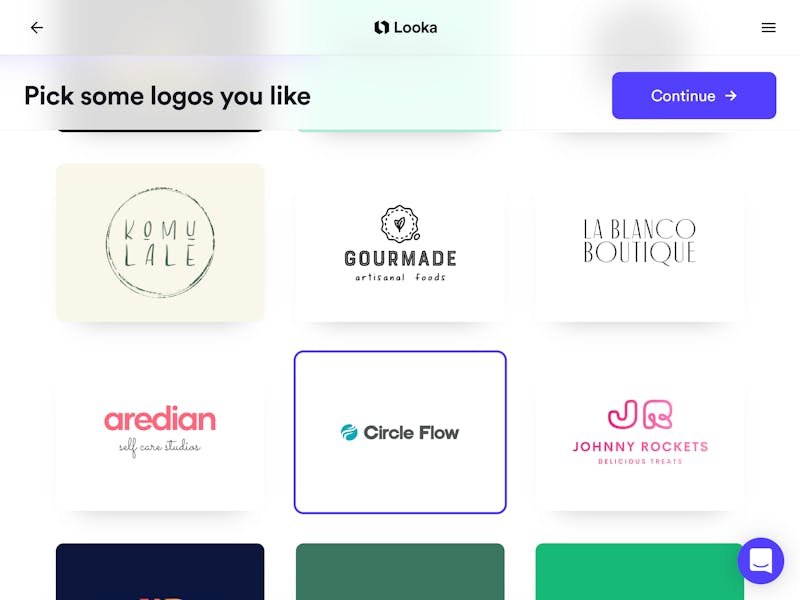 Which logos pique your fancy? Select your favorites so that the platform's AI can better understand your preferences.
Here, you'll be able to edit your business's name and, if desired, include a slogan to appear on the logo. Don't worry: You can change either of these later on in the editor.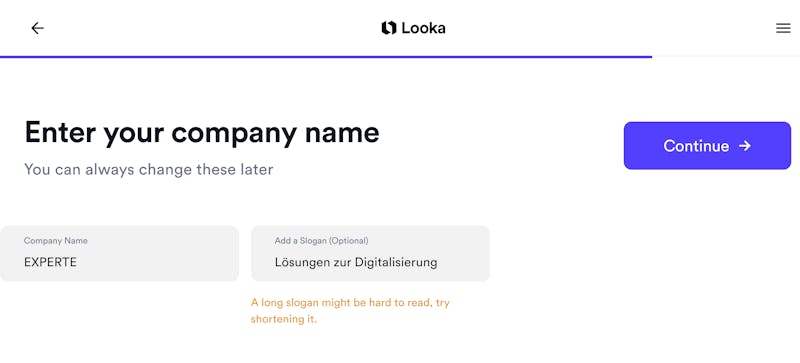 Looka lets you know if your slogan is too long.
Finding the right graphics for your logo
Moving along, you'll be able to select symbols to appear on your logo. Looka helps to refine the options by asking you to choose from words that might apply to your company, which in our case were "Innovation", "Internet", and "Digital". Should you not be in the mood for word games, you can select symbols manually by clicking on "I want to pick my own symbols" and then combing through the different types.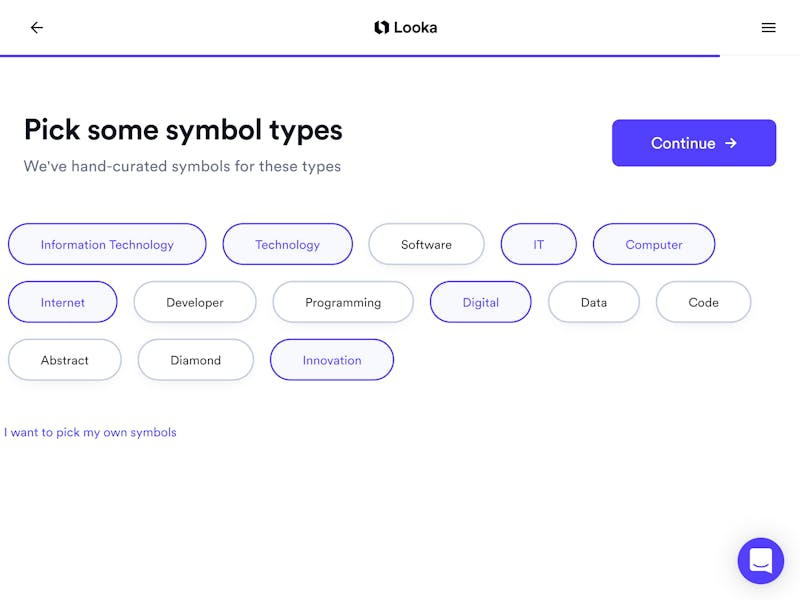 Incorporating the right symbol can elevate an otherwise bland logo, so choose wisely!
The AI takes over
Now that you've made your preferences clear, Looka's AI can handle the rest. Within a few seconds, you should be shown a selection of ready-made logos. In our case, some of these were more to our liking than others.
The selection of symbols relevant to the IT branch is nothing to write home about: Monitors, clouds, robots, light bulbs, and rockets. Nearly all of the logos that the AI yielded featured a symbol, with text-based logos (featuring our name) being the exception. In this area, other logo makers that divide their logo categories into sub-groups, like Tailor Brands, do a much better job of filtering out generic-looking results, something that in our opinion is an absolute necessity on AI-assisted platforms.
In terms of style, Looka also didn't really meet our expectations: After the tenth logo with decadent gold writing, we started to wonder whether we had accidentally selected "Glamor" or "Luxury" when inputting our preferences. Thankfully, it is possible to edit elements, like font or the logo's color in the next step.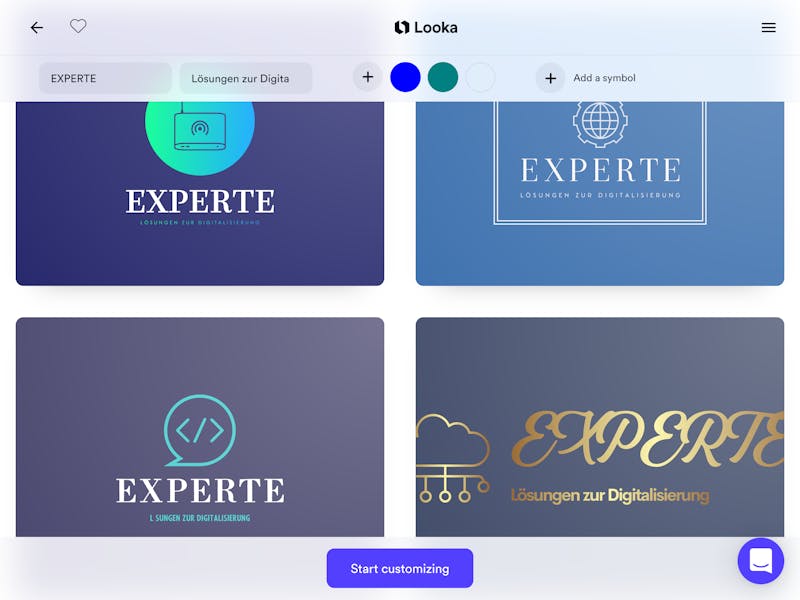 Choose your favorite logo: It doesn't have to be perfect, since in the next step, you'll be able to edit it.
Creating a logo with Looka is easy and, as advertised, only takes a few minutes. The results during our assessment were decent, even if there was quite a bit more chaff than wheat when comparing it to what we've experienced with other logo makers. On top of that, everything looked just slightly too generic.
Taking a more positive view of things, we were pleasantly surprised that it isn't necessary to login or register to create or edit a logo, with user data only required when making a purchase. Typically, most logo makers mandate registering to start using their editors.
As soon as you've settled on a logo in Looka's preview section, you can adjust it to your specifications by clicking on "Customize". In the editor that opens, you won't be able to drag and drop elements, like in Wix, instead working with sub-menus that open whenever you click on something (such as your company's name or slogan). In this sub-menu, you'll be able to adjust parameters such as the font, text color, size, or position.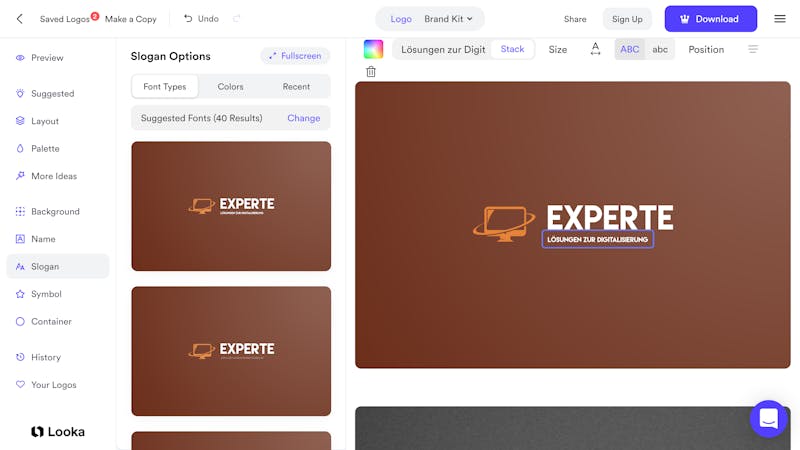 With Looka's editor, you can customize each logo to your liking, however, it lacks drag and drop functionality.
Ready-made variations
To the left of the editor, you'll find the main menu, which links to all sorts of sub-areas. In one of these, "Suggested", Looka provides a selection of different logos, most of which feature the same symbol, but varied layouts, color combinations, and fonts. The "Layouts" area, another of these, serves up different arrangements of the elements in your logo. By clicking on "Palette", you can adjust the color palette for your existing logo. "More Ideas" provides a few variations on your existing logo, spicing up its font, for example.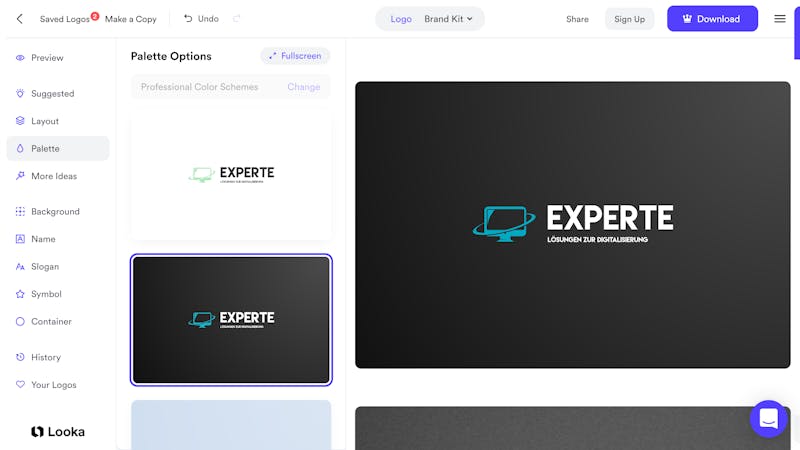 Which color combination is the one for your business?
Step-by-step
The remaining menu items cover other elements of your logo. "Backgrounds", for instance, is where you can adjust the background color, with the help of a hex code-based color picker. With "Name", "Slogan", and "Symbol" it's possible to change the shape, size, color, direction, and position of all of your logo's aspects. In the "Container" area, you can integrate background elements like frames.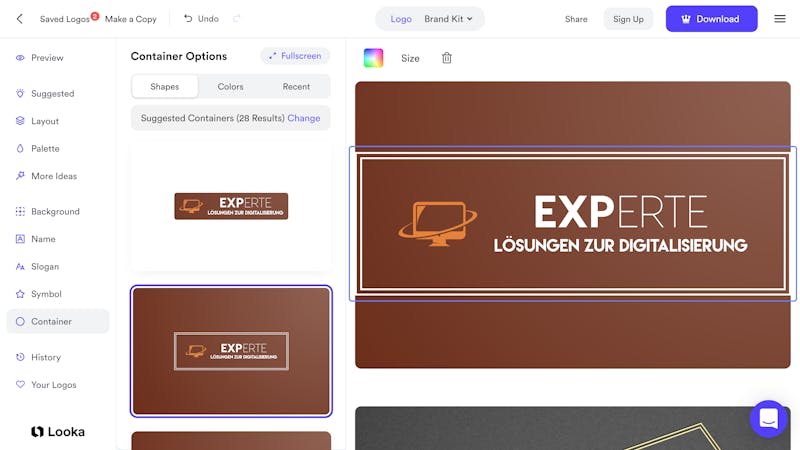 Icons, colors, background: Build your logo step-by-step.
One nifty feature we noticed is that different versions of your logo are saved in the "History" section, making it possible to go back to an earlier iteration. It's also possible to mark favorites, which will subsequently be saved in the "Your Logos" section of the editor. Once you're satisfied with your logo, click "Download" to purchase its rights.
Since Looka's editor lacks drag and drop functionality, the platform is missing some of the options for customization that its competitors provide. You can't freely move on-screen elements or adjust their opacity. It also isn't possible to incorporate multiple symbols in a logo, or upload your own symbols/images. All the same, we were relatively satisfied with the platform's options and the final result, especially since the editor's default settings and general approach are in step.
Logo Customization
8.0 / 10
Satisfied with your logo? All that's left to do is purchase the rights to it. A variety of options for doing this are offered, grouped into two types of rates: Either a flat, one-off fee for your logo, or a Looka subscription. Three of the four rates provide full commercial and non-commercial rights to your logo. If purchasing a subscription, you'll continue to own the rights to your logo even after your subscription expires.
Logo files depending on your package
Which and how many logo files you receive depends on the package you select. The lowest-priced, one-off Basic Logo Package only includes a single, low-resolution PNG file of your logo (with a non-transparent background). The Premium Logo Package provides 16 different versions of your logo with a transparent background, various color combinations, and vector graphics. The last of these are particularly important should you want to adjust the size of your logo, without having to worry about a loss of quality, such as when printing banners or t-shirts. In addition, this package allows you to modify your logo as often as you want.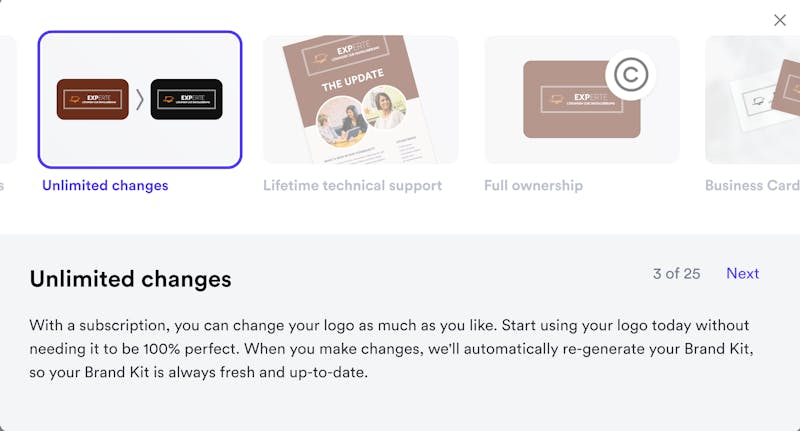 Three of the four packages allow you to modify your logo as often as you like.
Even more assets and features are offered with the subscription packages. The Brand Kit Subscription includes all of the above, as well as extra logo designs, such as those for business cards, email signatures, usage on social networks, or invoices. Beyond that, you can download brand guidelines, which will help your webmaster and design agencies keep your brand's image and identity uniform moving forward.
On top of all that, the Brand Kit Web Subscription throws in an AI-generated website featuring your logo and adhering to your guidelines.
Inflexible subscriptions
Unfortunately, the Basic Logo Package is fairly useless, with other logo makers offering more for those just starting out. Looka also clearly tries to direct users towards booking subscriptions, as many of its designs aren't available for the one-off fee. In contrast to our experience with Tailor Brands, it isn't possible to book a monthly subscription and then cancel it after one month, since all of Looka's subscriptions are annual. Overall, the platform appears less flexible than most of its competitors, especially when it comes to securing the rights to your logo. Those who do book a subscription, however, can look forward to a nice variety of features and assets.
In Looka's help center you'll find a small selection of FAQs that can be full-text searched. This is enough though, as we can't imagine too many questions arising when using the platform.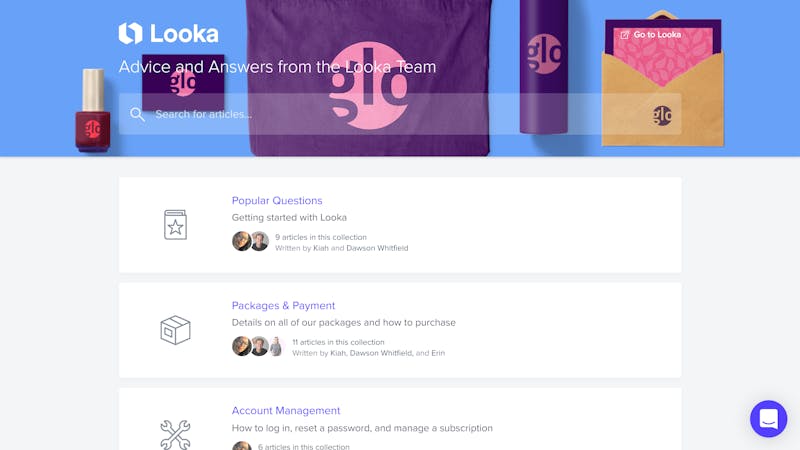 Looka's support is compact, but features a live chat option.
Direct support is available via live chat or email. For the latter, the chat window opens when clicking on the support button in the lower right. If a staffer is immediately available, you can start typing right away, otherwise, simply leave your email address, and someone will get in touch. The latter was the case with us, and we waited around three hours before we received an answer to our question.
Looka's support is definitely of high quality, leaving us with little to critique.
As mentioned above, there are four payment options with Looka, two of which are one-off (Basic Logo Package and Premium Logo Package), with the remainder being subscriptions (Brand Kit and Brand Kit Web). We advise against the Basic Logo Package, since, if you're going to pay for your logo, you should get more than just a single, low-resolution image file which you won't be able to modify later on.
Below, you can find a current price list:
Basic
Premium
Brand Kit
Purchase Price
$20.00
$65.00
$0.00
Price per Month
$0.00
$0.00
$8.00
Contract Period (Months)
0
0
0
Logo Design
No Subscription
Commercial Use
Export Logo
PNG
PNG (transparent)
SVG
Favicon
Social Media
We're not going to mince our words here: Since Looka's Basic Logo Package is so useless, you should be ready to pay for the Premium Logo Package or a subscription if you're intending to use the platform. When booking one of these, Looka is far from the most affordable logo maker on the market. In the table below, we compared rates for all of the platforms from our sample that include the download of a transparent PNG file. According to this criteria, Looka is the second most expensive (behind Canva):
1.
2.
3.
4.
5.
6.
7.
Conclusion
Logo Customization
8.0 / 10
This might come as a surprise, but compared to the final results most of the other platforms we assessed yielded, Looka's logo was actually one of our favorites. Creating it was relatively painless, and in contrast to the other platforms we sampled, we didn't need to register an account until we wanted to download and purchase our logo.
Unfortunately, relatively few of the designs that Looka's AI returned caught our eye, with many looking overly generic. Continuing with the negatives, its editor lacks drag and drop functionality, drastically limiting creativity. Beyond that, the pricing structure, while easy enough to come to terms with, proves far less flexible (and more expensive) than those utilized by most of its peers.
There's no reason not to try Looka out and see if the logo it creates suits your needs, since this is both free and doesn't require registration or an account. Still, other logo makers offer more design options and a better combination of price and performance.
Looka makes creating logos simple as pie, but it restricts your creativity more than some of its rivals. We like that fact that you don't need to create an account to design your logo – only to buy it once you're done.
simple and fast logo creation
solid choice of design variations
either one-off price or subscription
editor lacks drag and drop
7.7

good
Plan
One-off Price
Transparent (.png)
Vector (.svg)
Looka Basic
$20.00
Visit Website*
User Reviews
But what do users have to say about Looka? We checked how the platform fares on a few review portals and collated our findings for you here. Overall, the logo maker averages a very good score, with customers praising its high quality of service and designs.
Customer Ratings
23,687 Bewertungen
Visit Website*
We analyzed the reviews and ratings from various portals and found 23,687 ratings with an overall rating of 3.9 out of 5 .
Alternatives
Do you want an easy-to-use logo designer with drag and drop functionality in its editor? If so, we can suggest Wix's logo maker. Should you crave more creative freedom, and less hand-holding, Canva is worth checking out. The graphic design platform offers far more than just the ability to create logos but is considerably more complicated and expensive than the other services from our sample.
More of the best alternatives to Looka can be found below:
The Wix logo maker builds on the strengths of its website builder, and makes logo creation easy with its intuitive drag-and-drop editor. Even beginners should be able to create professional looking logos in no time.
well-performing, intuitive editor
preselected logos disappointing
8.9

good
Plan
One-off Price
Transparent (.png)
Vector (.svg)
Wix Basic
$49.00
Visit Website*
Canva is so much more than 'just' a logo maker, but logo creation is definitely one of the platform's many strengths. Because it's a lot more versatile than its rivals, however, it also requires a bit more creative talent.
comprehensive graphic design platform
offers more than 11,000 templates
powerful editor with extensive options
8.7

good
Plan
One-off Price
Transparent (.png)
Vector (.svg)
Canva Free
$0.00
Visit Website*
Fiverr's logo maker offers a nice selection of symbols and layouts, but it's not as versatile as some of its competitors. Despite the drag-and-drop approach, personalization is quite limited
quality logos from Fiverr designers
designs could be more versatile
limited customization options
7.3

good
Plan
One-off Price
Transparent (.png)
Vector (.svg)
Fiverr Essential
$30.00
Visit Website*
Tailor Brands takes users by the hand, so even beginners without design expertise can create professional-looking logos in minutes. But because your creative freedom is quite limited, the results can be pretty generic.
few customization options
only available as a subscription
7.1

good
Plan
One-off Price
Transparent (.png)
Vector (.svg)
Tailor Brands Basic
$47.88
yearly price
Visit Website*
Placeit shines as a creative platform for mock-ups and design templates – its logo maker is more of a 'handy little extra'. You can quickly create a nice looking logo, but the customization options are quite limited.
fast and easy logo creation
lots of design and mockup features
unimpressive editing options
lacks 'smart' AI-aided customization
6.4

satisfactory
Plan
One-off Price
Transparent (.png)
Vector (.svg)
Placeit Single
$9.95
Visit Website*

Martin Gschwentner majored in American Studies and Media Studies in Germany, the USA and France and works as a freelance editor in Paris. He is a doctoral student at the Institute for English and American Studies at the University of Paris Diderot, where he is researching the influence of money on US politics. On EXPERTE.com he writes about IT security, data protection and software for the self-employed and small businesses.

Translator & Editor: D Bare
Continue Reading
Other languages
Deutsch
Ad disclaimer
* For links marked with an asterisk, EXPERTE.com may earn a commission from the provider. The commission has no influence on our editorial rating.