Tailor Brands Review 2023: How Well Does the Logo Maker Work?


Ad disclaimer:
For links on this page, EXPERTE.com may earn a commission from the provider. This supports our work and has no influence on our editorial rating.
There's almost nothing more important in life or business than making a good first impression. So far as your brand's identity is concerned, this usually starts with your logo.
Investing in your business's image is a wise move, however, not everyone can splurge on a professional designer or put aside the resources that larger corporations do for marketing. To help even the playing field, online logo makers have grown popular, and below we'll review what one of these, Tailor Brands, has to offer.
What Is Tailor Brands?
Tailor Brands* is a New York-based company that claims to have designed the world's first AI-automated logo design and branding platform. Its user-friendly design tools help small and medium-sized businesses craft a unique brand identity, even without any design know-how. One key component of this is a corporate logo.
We review Tailor Brands's logo maker, and below, will let you know whether it's as user-friendly as it claims to be and if we would entrust it with creating a logo for us.
Tailor Brands Review
Logo Customization
5.4 / 10
Possible to create three types of logos

Competitively priced thanks to a subscription-based payment model
Rigid editor offering few options for customization

Only available as a subscription
Tailor Brands' logo maker is the core of its platform, so it shouldn't come as a big surprise that it features very prominently on its homepage. To get started, simply enter your company's name, and, if desired, a tagline or slogan. After that, click on the "Design!" button. You won't need to create an account yet.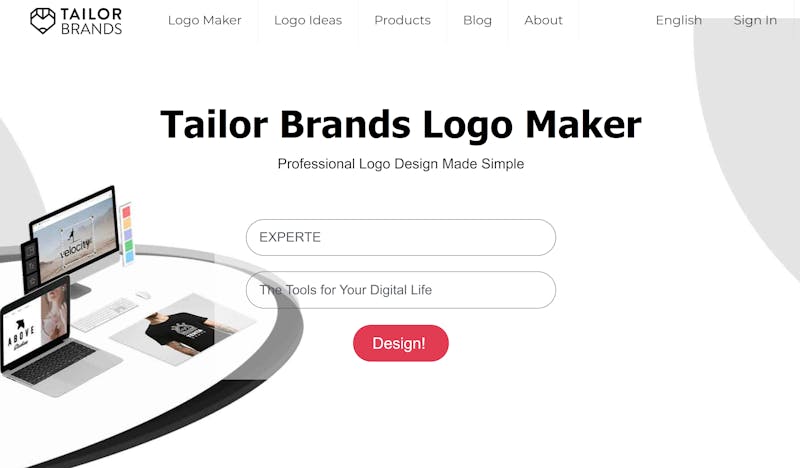 The process of creating a logo starts as soon as you enteri your company's name and (optionally) slogan.
Tell Us a Little About Yourself
Before you can design your logo, you'll answer a few questions and provide some information about your business, such as what it sells. Options include Physical Goods, Services, Leisure & Hospitality, Original Content, and Technology and Software. There's also Other if none of these apply, or you can skip the question altogether. Next, specify your branch and write a few words about it to help Tailor Brands generate relevant logo designs.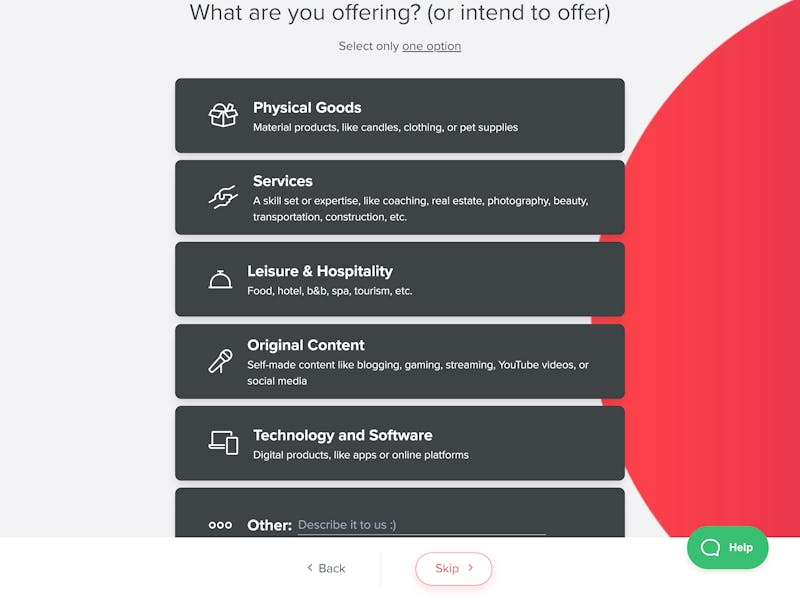 What does your business offer? Your input here helps the platform's AI to narrow down the choice of suitable logos.
Now, you'll have to select what type of logo you'd like to have from three different options:
Icon Based: The central element of your logo is a shape or symbol

Name Based: Emphasize your brand's name

Initial Based: Make your company's initials stand out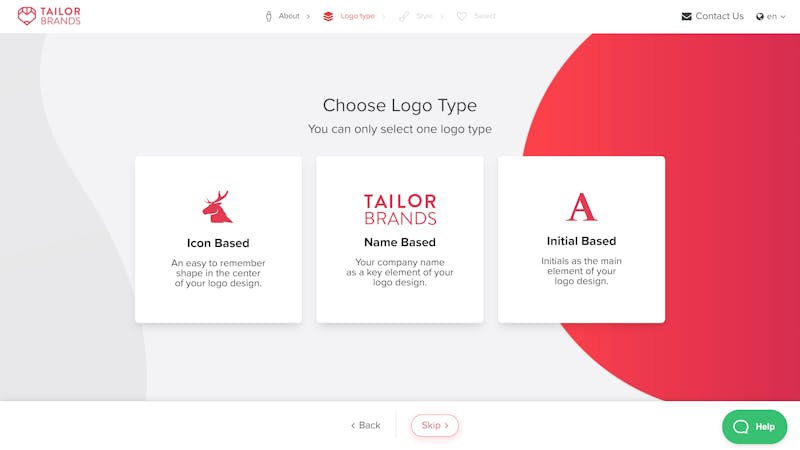 You can select which type of logo you'd like to have from the three options above.
Wide Selection of Shapes
How things progress from here depends largely on which type of logo you've selected. Should you opt for an icon-based logo, you'll be given a variety of geometric shapes. Alternatively, you can search through the options by keyword. "Technology", for example, returned hundreds of results, ranging from simple WiFi symbols to robots, Gameboys, and satellites, all either in black and white or color.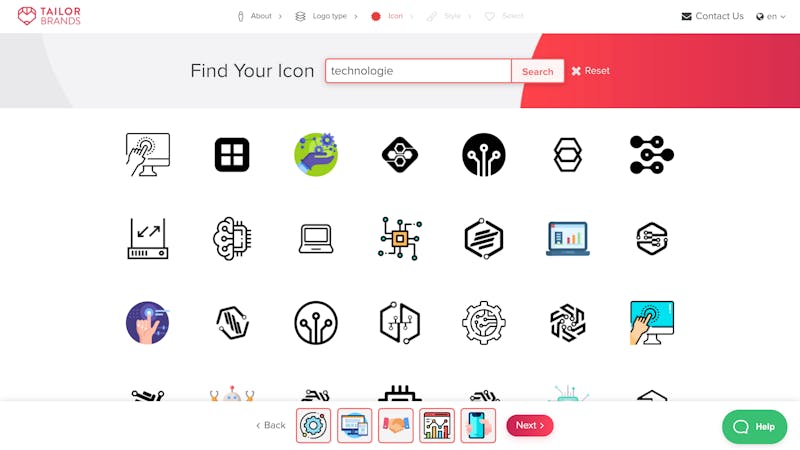 Tailor Brands offers a nice selection of icons pertaining to different topics.
Different Fonts
Next, you'll need to provide some insight into your style preferences (should you select either a name-based or initial-based logo, you'll start from this step). Choose three styles that speak to you and click on "Next", so that Tailor Brands can start generating suggestions.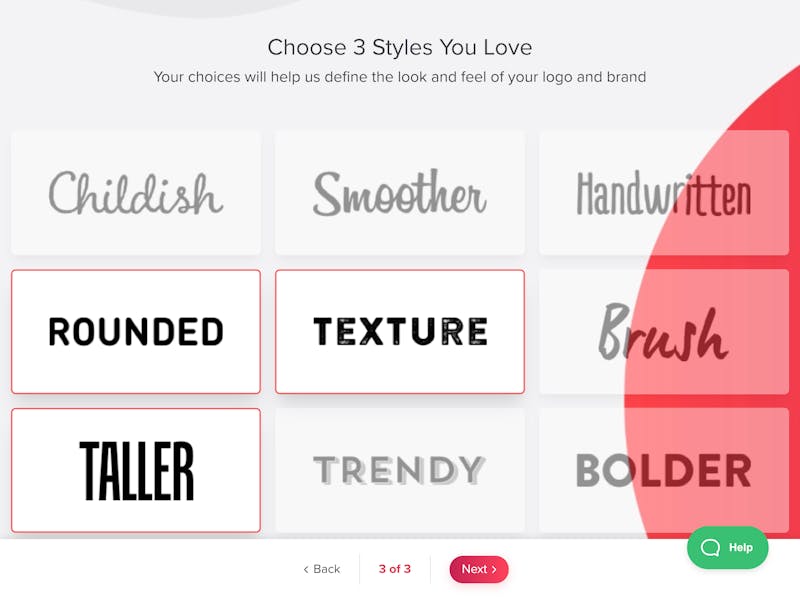 Which font style appeals most to you? Select three so that Tailor Brands can approximate your taste.
Results After Registration
Tailor Brands was ready with its suggestions for us in less than a minute. To view these, you'll need to have an account, which can be registered via email, Facebook, or Google.
Once you've signed in, you'll be able to see the logos that Tailor Brands prepared. Despite our icon-based preference, we also received name-based and initial-based suggestions. This isn't a mistake on the AI's part, but an attempt to offer more options. We were bothered that our style preferences were ignored. Even though we chose "Smooth" and "Straight", Tailor Brands presented us with a number of logos with cursive and curved text.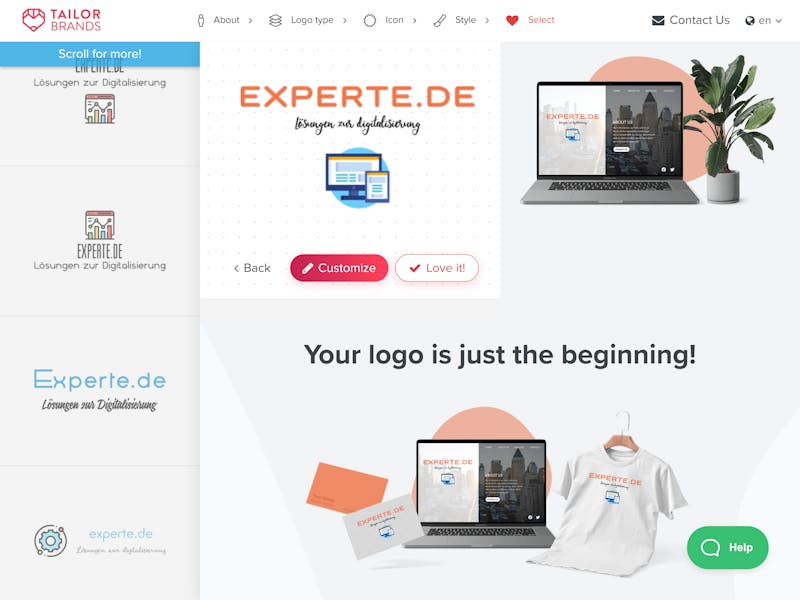 Once you've input all of the necessary data, Tailor Brands will display its suggestions. In the next step, you can customize and edit these.
Easy to Use, Satisfactory Results
This selection is just the starting point. From here, you can further refine the logo to your precise specifications by modifying key elements, like its font and text type.
The selection process with Tailor Brands is relatively user-friendly and straightforward, with the division into three different types of logos particularly sensible. Unfortunately, the suggestions that the platform presented didn't match our preferences, and many were generic or too reliant on the shapes and icons we had chosen. At the end of the day, most logo makers present generic results at first. As a silver lining, Tailor Brands was easy to use.
Those logos that you found most appealing in the last step can now be adjusted to your exact preferences by clicking on the "Customize" button.
Basic Editor Lacks Drag-and-Drop Functionality
Even though the editor is relatively straightforward to use, it's too rigid for our tastes. In contrast to those of other platforms like Wix or Fiverr, Tailor Brands's editor lacks drag-and-drop functionality, making it impossible to freely move elements around. One advantage to this is that there's relatively little danger of doing something wrong or accidentally ruining your logo.
On the left of the screen, you can jump between "Type", "Icon", "Color", and "Layout." In these, you'll be able to adjust individual logo elements according to the program's guidelines. "Type" allows you to modify the font that your company's name or slogan is written in. You can even modify the tagline, but not the company name. It's also easy to adjust the logo's style, and doing so generates new font suggestions.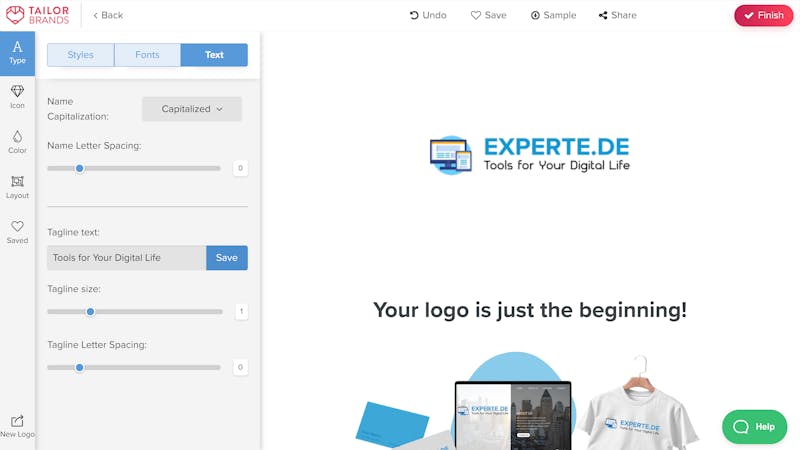 Adjust individual logo elements in Tailor Brands' editor.
Paint by Numbers
Next, you can change your logo or adjust its size. Click on "Color" to manually change its primary and secondary colors or revert to a preset color combination. In the "Layout" area, you can arrange and modify the positions of logo elements, however, without drag-and-drop functionality, you'll have to settle for the templates on offer. You can position logos next to, under, or above text. Other logo makers offer more creative freedom.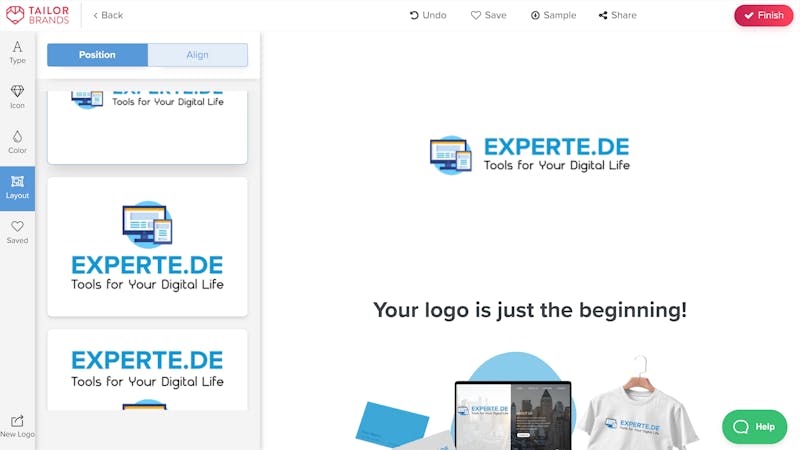 With no drag-and-drop functionality, Tailor Brands's editor is far less flexible than other solutions we've tried out. All the same, it's very easy to use.
Once you're satisfied with the results, click on "Finish" in the upper right corner of the screen to download your logo.
Limited Customization Options
Tailor Brands' logo maker is one of the easiest platforms to use from our sample. Unfortunately, this comes at the cost of creative freedom, since many other capabilities that you might be accustomed to are unavailable.
For example, with Wix, you can use and combine multiple icons, and position elements by dragging and dropping them, or send them to the foreground/background. For text, transparency and contours can be adjusted. Tailor Brands' logo maker doesn't offer any of these capabilities, instead rather severely limiting users.
Tailor Brands's logo maker is definitely not for the more creatively minded, or anyone who wants maximum control over how their logo is designed. On the other hand, if you prefer to work with fewer options, 'color within the lines', and place a high premium on user-friendliness, Tailor Brands's logo maker might be just what you're after.
Logo Customization
5.4 / 10
Unlike most other logo makers we've looked at, which charge a flat fee for logo usage rights, Tailor Brands relies on a subscription-based pricing model. But don't worry, you'll continue to own the rights to your logo even if your subscription lapses. With that in mind, should you only want to create a single logo and don't intend to take advantage of Tailor Brands' other design options, you can book a one-month subscription.
This includes all commercial and non-commercial rights to your logo, allowing you to use it however you please. These aren't exclusive rights though, and you'll have to handle things on your own if you want to trademark your creation.
Subscription-Based Logo Files
There are three types of subscriptions: Basic, Standard, and Premium. All include high-resolution logo PNGs, with both transparent and colored backgrounds. You'll also get logos for social media and be able to adjust your logo's size at will. Rounding things out, you can create a digital business card (link format) containing all of your company's information and logo, and use Tailor Brands' website builder which includes a free domain.
Vector graphics (EPS) are included starting with the Standard subscription. These allow you to adjust the size of your logo on your own. This is important, in case you want to use your logo in different formats or on posters or t-shirts. Standard subscribers and above can also create and download business cards. Premium subscribers get access to all of the above and some ecommerce features as well.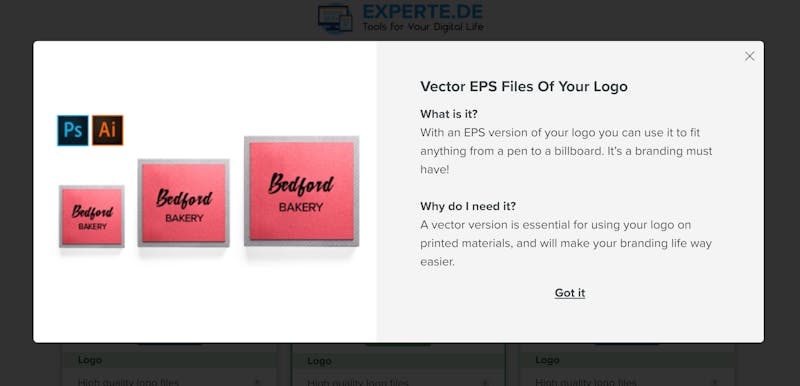 Vector graphics are only offered to Standard subscribers and above.
One Logo per Subscription
The most important takeaway is that regardless of the subscription you choose, you'll secure lifetime rights to your logo. However, you won't be able to create as many logos as you'd like: Each subscription includes a single logo, which, thankfully, can be edited as often as your heart desires. Keep in mind that only certain elements can be edited (colors, taglines, and layout) while others (business name, icon, font) can't be changed.
We feel that Tailor Brands could offer a more streamlined pricing structure for those who only want a single logo as the subscription-based model doesn't make much sense.
In the lower right of the editor, you'll see a question mark button. Clicking on this at any time opens a small help window that includes relevant FAQs, as well as an option for contacting the support team. Alternatively, you can access the developer's Knowledge Database (with full-text search) through the Tailor Brands website. There, you'll find several articles sorted by category.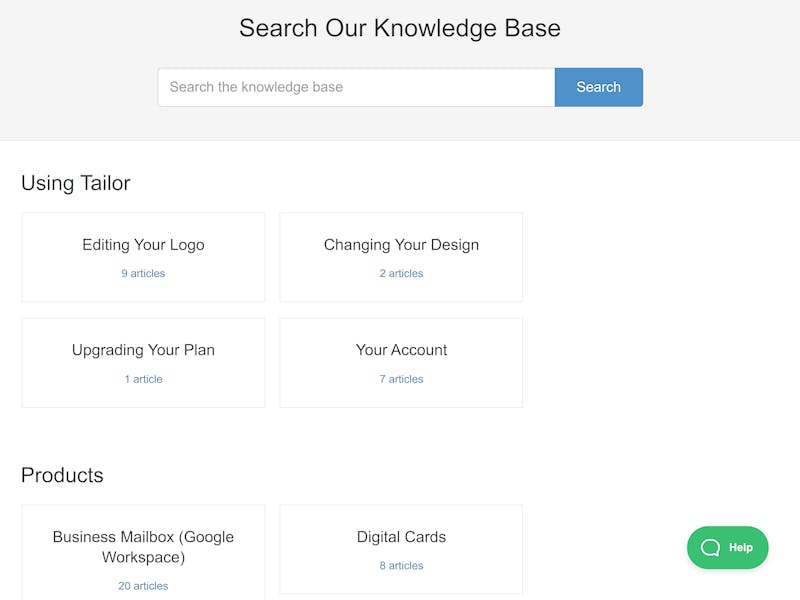 Tailor Brands support is easy to access.
During our assessment, it took the Tailor Brands support team around six hours to respond to our query. It would be nice if a live chat or hotline was offered, however, the platform is so easy to use that we can't imagine many people requiring assistance.
As mentioned above, Tailor Brands uses a subscription model. This means that the amount you pay depends entirely upon the subscription you book and its length. If you only want a logo and don't intend to take advantage of the provider's other features, a one-month subscription should suffice since it includes all logo rights. With this option, Tailor Brands is one of the most affordable logo makers on the market.
It is somewhat surprising that Tailor Brands doesn't offer logos for a flat-rate fee, especially considering how central the logo maker is to the company's portfolio (as opposed to its website builder or ecommerce features). Still, since the cost of a Tailor Brands logo is cheaper than most of its competitors (even with the added hassle of having to cancel the one-month subscription), we're sure that some will be able to look past its quirks.
Below, we've provided a current overview of prices:
Basic
Standard
Premium
Purchase Price
$0.00
$0.00
$0.00
Price per Month
$3.99
$5.99
$12.99
Contract Period (Months)
12
12
12
Logo Design
No Subscription
Commercial Use
Export Logo
PNG
PNG (transparent)
SVG
Favicon
Social Media
Tailor Brands' subscription-based pricing model makes it one of the most affordable logo makers on the market, so long as you book and cancel a one-month subscription. Even after doing so, you'll own lifetime rights to your logo. On the other hand, if you subscribe for longer, or fail to cancel after one month, the platform's price advantage disappears.
Below, you can see a comparison of the other logo makers from our sample ranked according to their price:
1.
2.
3.
4.
5.
6.
7.
Conclusion
Logo Customization
5.4 / 10
Creating a logo with Tailor Brands is about as easy as it gets since you're walked through each step of the process. Any of the automatically-generated logos that catch your fancy can be (somewhat) customized in the platform's editor, with decent results. At the same time, because it's so simple, you'll have less creative freedom than elsewhere. Should you want a free hand in designing your logo, Tailor Brands likely isn't for you.
In terms of pricing, creating a logo with Tailor Brands can turn out to be a bargain: Owing to the developer's subscription-only pricing model, a one-month subscription (immediately canceled) is a real deal, and you'll have logo rights for life. Of course, if opting for a longer subscription, to take advantage of the platform's website builder or ecommerce features, the difference in price to other, more versatile logo makers, isn't significant.
Tailor Brands takes users by the hand, so even beginners without design expertise can create professional-looking logos in minutes. But because your creative freedom is quite limited, the results can be pretty generic.
few customization options
only available as a subscription
7.1

good
Plan
One-off Price
Transparent (.png)
Vector (.svg)
Tailor Brands Basic
$47.88
yearly price
Visit Website*
User Reviews
Tailor Brands has received "good" overall scores on the review portals we checked. Some have noted its "subscription trap", with customers wishing to book a one-month subscription being charged for an annual subscription instead. As a result, we recommend paying close attention to which subscription option you select, as well as any charges to your credit or debit card.
Customer Ratings
6,415 Bewertungen
Visit Website*
We analyzed the reviews and ratings from various portals and found 6,415 ratings with an overall rating of 4.3 out of 5 .
Alternatives
If you want a more versatile logo maker, we recommend taking a look at what Wix has to offer. It's as easy to use as Tailor Brands and its editor has drag-and-drop functionality, providing significantly more creative freedom.
Canva, a design platform, offers considerably greater variety, making it possible to not only create logos but an entire corporate identity, without any design know-how. Like Tailor Brands, Canva is subscription-based, albeit, with a higher price tag.
Below, you can check out more of the best alternatives to Tailor Brands:
The Wix logo maker builds on the strengths of its website builder, and makes logo creation easy with its intuitive drag-and-drop editor. Even beginners should be able to create professional looking logos in no time.
well-performing, intuitive editor
preselected logos disappointing
8.9

good
Plan
One-off Price
Transparent (.png)
Vector (.svg)
Wix Basic
$49.00
Visit Website*
Canva is so much more than 'just' a logo maker, but logo creation is definitely one of the platform's many strengths. Because it's a lot more versatile than its rivals, however, it also requires a bit more creative talent.
comprehensive graphic design platform
offers more than 11,000 templates
powerful editor with extensive options
8.7

good
Plan
One-off Price
Transparent (.png)
Vector (.svg)
Canva Free
$0.00
Visit Website*
Looka makes creating logos simple as pie, but it restricts your creativity more than some of its rivals. We like that fact that you don't need to create an account to design your logo – only to buy it once you're done.
simple and fast logo creation
solid choice of design variations
either one-off price or subscription
editor lacks drag and drop
7.7

good
Plan
One-off Price
Transparent (.png)
Vector (.svg)
Looka Basic
$20.00
Visit Website*
Fiverr's logo maker offers a nice selection of symbols and layouts, but it's not as versatile as some of its competitors. Despite the drag-and-drop approach, personalization is quite limited
quality logos from Fiverr designers
designs could be more versatile
limited customization options
7.3

good
Plan
One-off Price
Transparent (.png)
Vector (.svg)
Fiverr Essential
$30.00
Visit Website*
Placeit shines as a creative platform for mock-ups and design templates – its logo maker is more of a 'handy little extra'. You can quickly create a nice looking logo, but the customization options are quite limited.
fast and easy logo creation
lots of design and mockup features
unimpressive editing options
lacks 'smart' AI-aided customization
6.4

satisfactory
Plan
One-off Price
Transparent (.png)
Vector (.svg)
Placeit Single
$9.95
Visit Website*
* Ad disclaimer:
For links marked with an asterisk, EXPERTE.com may earn a commission from the provider. The commission has no influence on our editorial rating.

Martin Gschwentner majored in American Studies and Media Studies in Germany, the USA and France and works as a freelance editor in Paris. He is a doctoral student at the Institute for English and American Studies at the University of Paris Diderot, where he is researching the influence of money on US politics. On EXPERTE.com he writes about IT security, data protection and software for the self-employed and small businesses.

Translation: D Bare
Continue Reading
Other languages
Deutsch